Regardless of the presence or type of faith in one's life, I think Easter simply represents Life. Coming appropriately in spring when things are hatching and blooming and green is finally awakening under blankets of melting snow, it just seems right…to celebrate life in and outside our homes. With traditions and togetherness, family meals that call for the gathering of many bodies hustling over baked hams in the kitchen, excuses to wear pastels even when our skin tones beg to differ, and meaningful ceremonies for littles…like egg hunts and strategically nibbling the ears off chocolate bunnies.
I'm a holiday nut, and I suppose it won't be long before I'm salivating over the arrival of even less celebrated holidays. Like a family barbecue for George Washington's birthday, perhaps. We could decorate the place in dollar bills and wear wooden teeth and powdered wigs. It'd be totally fun. I kid and yet there's something about calendar holidays and the way they offer us a perfectly good excuse to be high on life that lights my fire.
So it began on Easter morning as our strawberry nightgowned one (with the complementary troll doll morning hair) woke up to the realization that the Bunny had been here and it was time to get busy. So she waited, at 7:30 a.m like a pre-sprint Marion Jones at the start line, careful not to cross the carpet of our bedroom door until I had my coffee in one hand, camera in the other, and commenced our indoor egg hunt with a "Go!"
And off she ran, the crazy-haired one, this time not even attempting to hide her shy smile or mask her excitement. She squealed with delight at each new found egg, popping it open right there on the spot and rifling through the treasures that landed in a happy heap on the floor.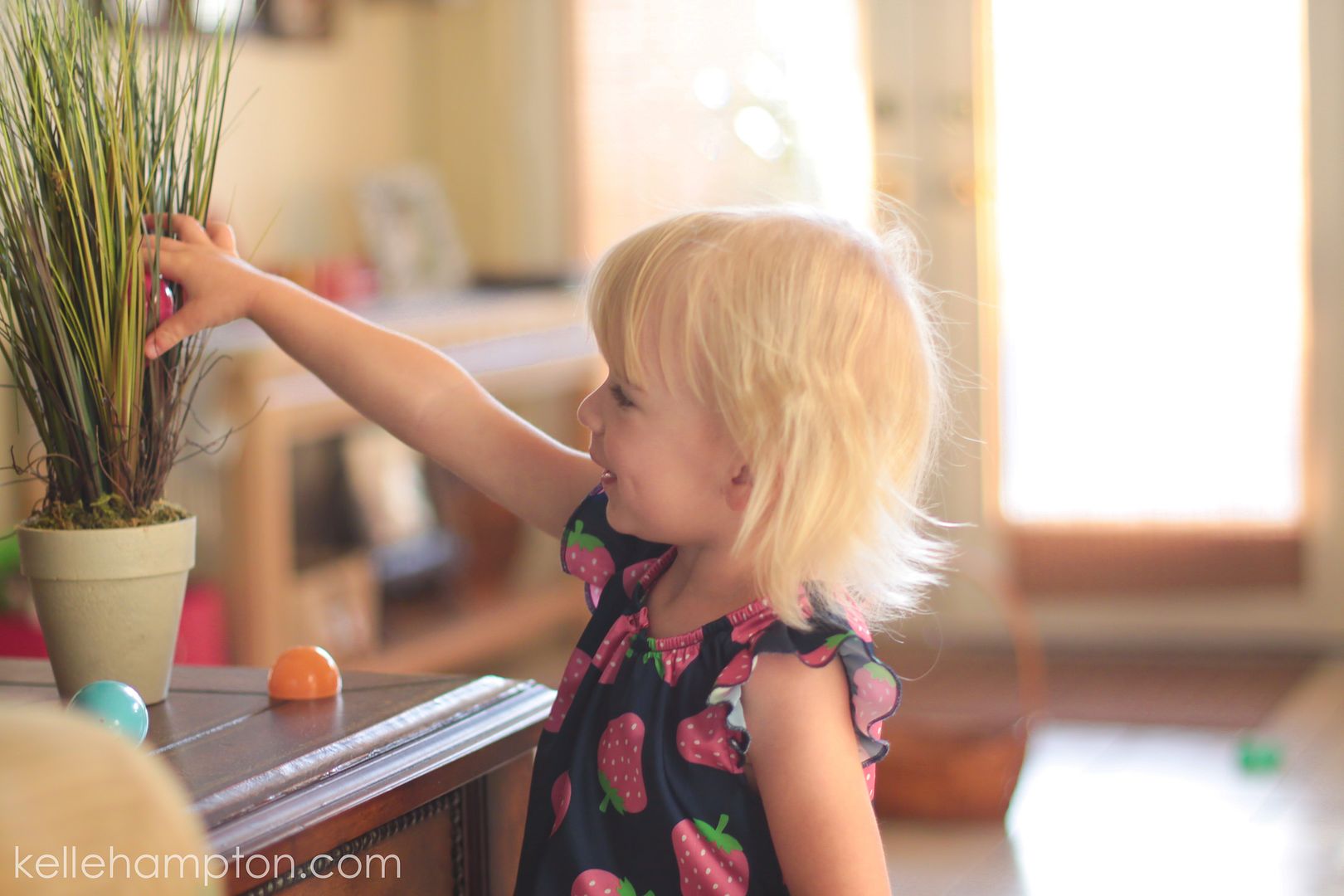 And we watched and smiled and sipped our coffee and didn't even mind the fact that our Easter morning included a pile of significantly wrinkled laundry heaped on the left half of the love seat or that last night's dinner dishes were still sitting in the sink. Easter's about miracles and I figured there might be a chance in hell the kitchen would miraculously clean itself.
Didn't happen.
But my girl did love the $7 sandals I scored for her Easter basket.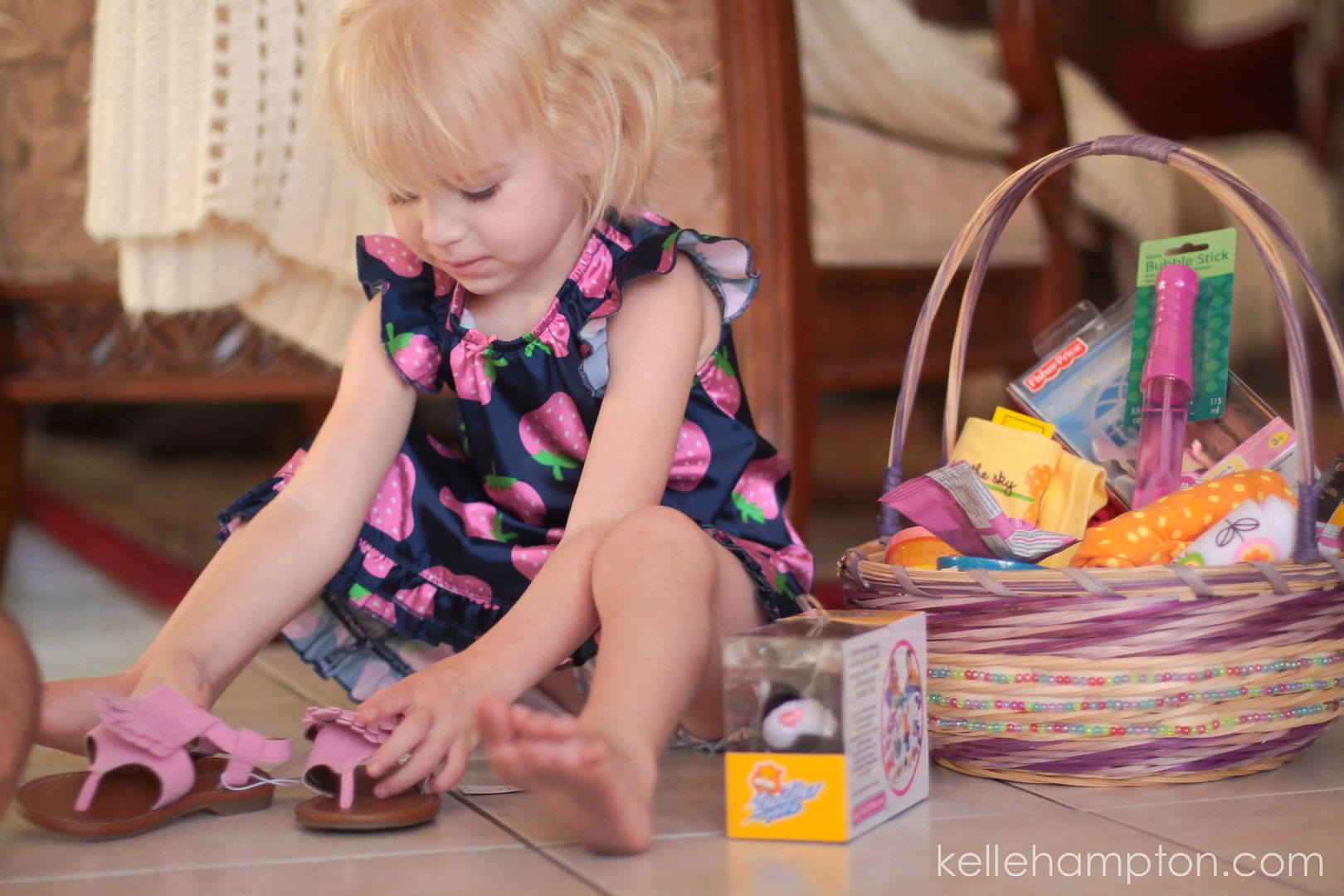 Our Easter continued with our first dip this year into the pool…
The water was too cold for Nella (just a footie dip sent the little Present into the greatest flinch of her life), so she did a little sunbathing.
…and later, we joined friends and family for a big dinner at the boys' mom's house where I watched as another holiday brought about that magical "life" that suddenly awakens in a kitchen on special days like these.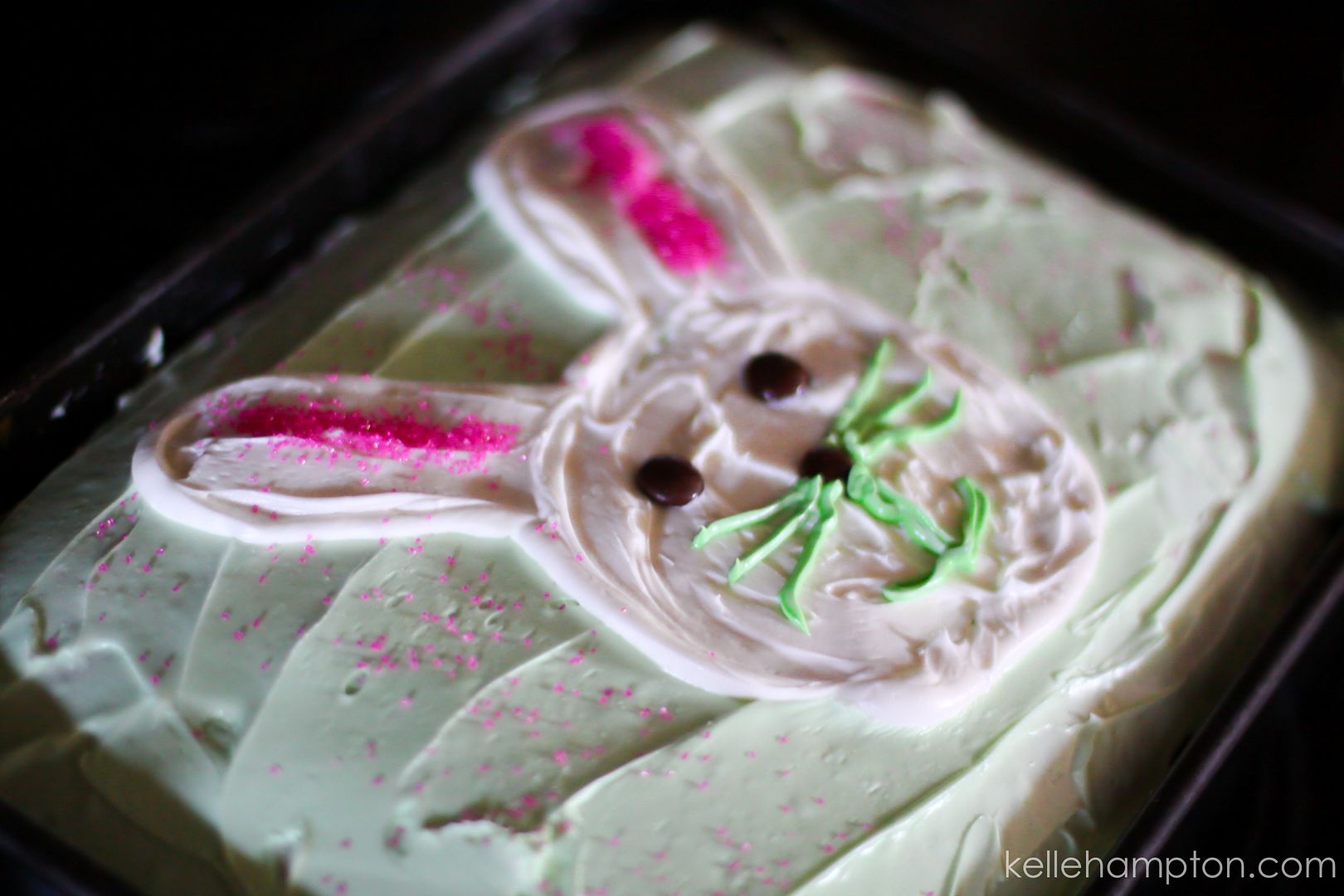 And I love it. The "excuse me's" you hear as the day's cooks bump into each other, stretching to stir the gravy, reaching to turn off the potatoes. The chop, chop, chop of the knife against the cutting board as carrots and onions are sliced. Wet hands being dried on the front of aprons, dishes piling in the sink, steam rising from boiling pots, oven timers dinging and the laughter and chatter of friends and family as anticipation for the big meal slowly grows.
I love holidays and the Life that rises to the surface because of it.
And the dresses. Easter is a perfectly good excuse for pretty dresses.

Thank you, Nana Kate for our Easter dresses!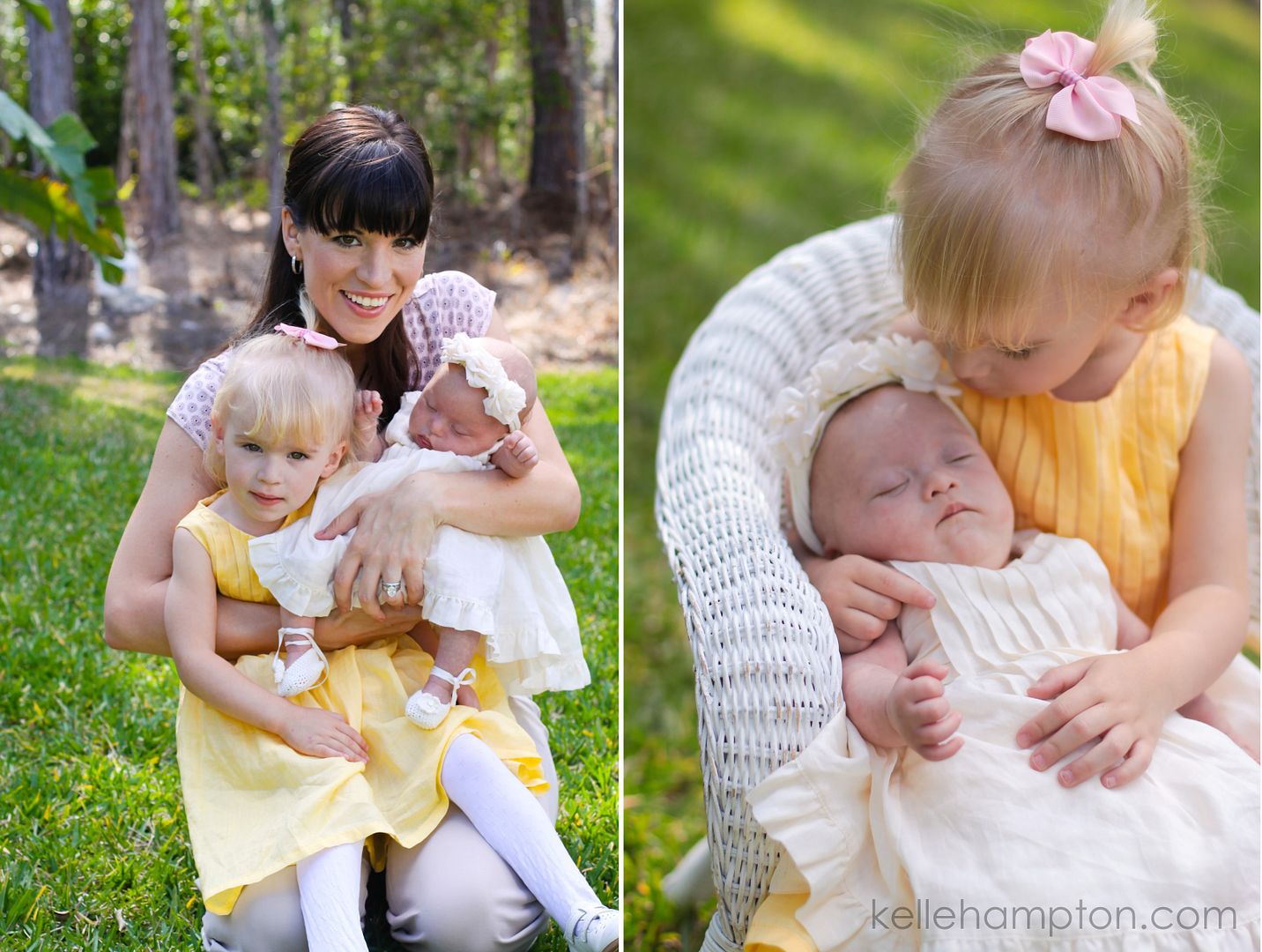 And, let me just add, getting a picture of Lainey actually holding Nella–and by holding, I mean two arms wrapped forcefully enough around her body to keep her from slipping off and yet gently enough to not cut off her circulation–is comparable with capturing Big Foot. And a total bonus if I can get three shots before she decides she's suddenly done and drop kicks her to the floor.
Nella, fortunately, is very forgiving.
And did I say she smiles? I love her smiles. They are as gentle as she is. Soft and subtle with a little *wink* of those almond eyes. Like I said…that extra chromosome? Holy Magic, Batman.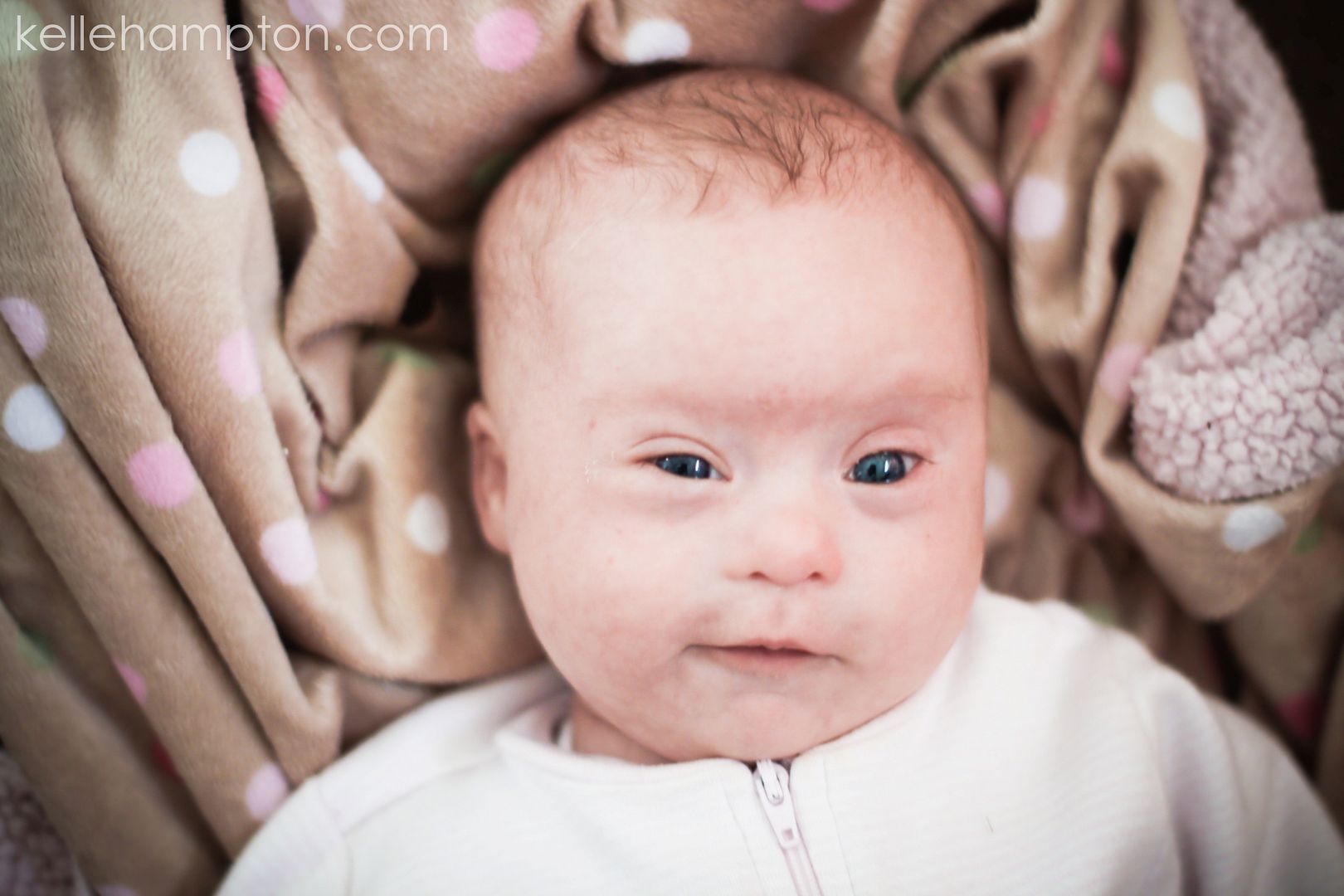 And now here comes the fun of this post.
First, my very good friend Nici at Dig This Chick made my girls some new digs. And let me clarify "very good friend." Nici & I have never met. And yet we've "known" each other for over two years now. I met her through blogging…back when I wasn't so sure about this whole thing. And then we "fell in love." We both have two girls, we both love being mamas and we both have this insane need to drink the bejesus out of life and write about it while we're doing it. Over the years, Nici and I have talked, texted, sent packages, enjoyed Skype chats and she was one of the first I called in the delivery room just ten weeks ago…she was waiting for the call…and although it wasn't I'm sure what she expected, she was right there with me for the whole journey. She is insanely talented, she is close to my heart, and she makes killer clothes. Like these ones here.
So glad my little Florida Crackers now have the shirts to prove it!
Nici's offering a 20% discount for my readers at her Etsy shop! Type in "enjoying the small things" at checkout, and she'll refund your 20% the same day of purchase.
Soon, I will take my girls to the hills of Montana to meet her and, as much as we've already bonded, I picture our greeting totally movie-worth. Like slow motion, hair in the wind, running through a field of daisies with the Chariots of Fire theme song playing. And we will hug. And weave daisies into crowns for our girls and walk hand-in-hand into the Montana sunset. Okay, so real life doesn't always pan out like that but I do know for sure, we're gunna dig each other.
So that was Fun #1.
Ready for Fun #2?
Really?
Another Giveaway. But you have to work for it.
First of all, the goods.
I recently fell in love with a friend's necklace that embodies a mama's love like none I've seen.
Tina Steinberg of Tina Steinberg Designs captures your children's fingerprints in her beautiful jewelry and puts them as close to your heart as you can get 'em. One reader will receive her 3-print "Mini Loves" necklace seen here: ($200 value)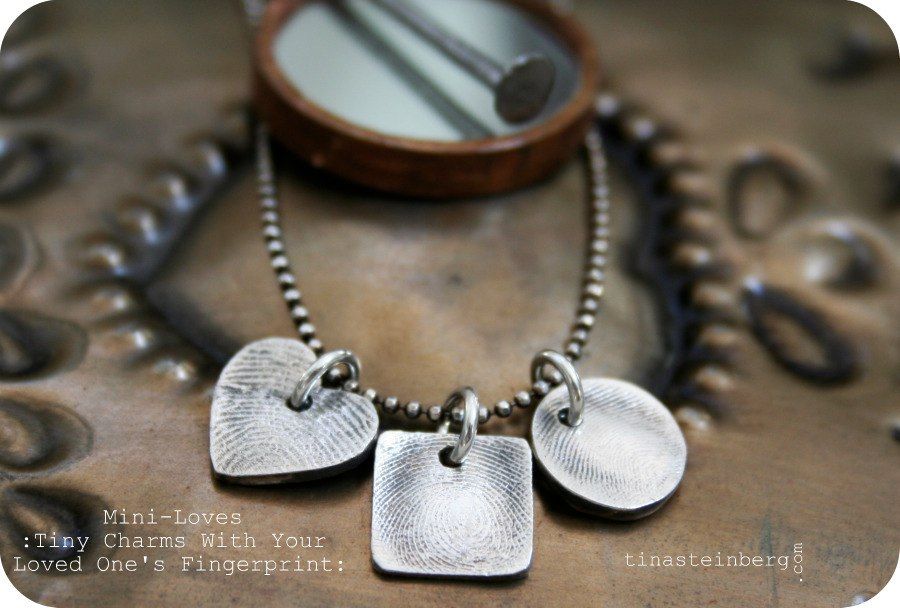 (Become a Facebook fan of her work HERE. There's some great energy on that page!)
So, what do you have to do?
I've been thinking a lot about "Life in a Home" and how there are certain corners, nooks, rooms where life seems to evolve a little more beautifully in every home. As I mentioned the hustle and bustle of the kitchen on a holiday, there are others. The magic that awakens in a bathroom when littles are bathed at night, the hum of supper converasation around a dining room table when Dad comes home from work, the creativity that erupts from spools of ribbon and scraps of fabric in a craft room…
…where does Life occur in your home?

I'd love to hear in your comments about the lively place in your home. So, leave a comment please. But, if you want to be part of the giveaway, give me a little more. Take a picture of your 'lively place' and e-mail it to me at [email protected]. You don't have to be a photographer, you don't have to edit it, and I certainly won't judge on photography experience. Just be creative and capture that feeling of life in your place as best as you can…organically and beautifully–unposed. I will post some of my favorites on the blog for all to enjoy over the next week. Please enter your photo along with a short description of the place in your home you chose before midnight EST on Sunday, 4.11.10. Winner will be announced the following Monday. And if you just want to comment for the heck of it, well that's perfectly okay. Please keep in mind, if you send me a photo, it may be published on the blog (first names only!).
And I'll start with a favorite of ours:
Life in our home awakens at the changing table. While some may see it as just a station for a quick change, equipped with a stack of diapers and wipes and an array of creams, it is far more than that in our home. Over the years, it has become the place where we linger after the diaper tabs have adhered and the snaps have been fastened. We linger for coos and goos and little smiles. On that table, tummies are tickled, toes are kissed and Burt's Bees buttermilk lotion is massaged into tiny cowlicks and cookie-sweet cheeks. The family often gathers for changes, Lainey perched high on her stool, Mama snapping pictures and Daddy coo and gooing all the while. And the sun stretches into the window in the morning just like magic, casting its golden glow onto the black & white flashcards that entertain baby eyes right above that place of Life. No, it's not just a changing table. In our house, it is where life occurs. Where first smiles are noted. And where the monotony of the day disappears but for a moment.
I'm so excited to hear about your homey places full of life.
In the meantime, my nieces are in town and there's some fun to be had this week.