So, while my life generally consists of a nice juggling of laundry folding, picnics in the yard and afternoons scouring cookbooks for recipes with ingredients we actually have on hand, there are times when a whole lotta fabulousness rains on us all in one weekend. Not that home making isn't fabulous. I wouldn't trade my days home with my girls for the world. It was my first pick for The Life I Dreamed Of. And fortunately, I won the lotto there. But, if The Life I Dreamed Of hadn't panned out, I had The Back-up Plan. And The Back-up Plan involved some fabulous city, hailing cabs, wearing heels and pretending I was really, really important. It's still my alter ego. And, this weekend…I dipped into it, head first.
Here's the cool thing. While previous fabulous nights had me choosing between kids and crazy fun like there was a difinitive line separating the two, sometimes fabulousness allows us to merge the two. Sometimes, we can wear heels and feel like a rockstar while slingin' our baby to our chest–get this: at the same time. Gasp.
So it was Friday night when I glossed my lips and slipped into my heels to join the girls for the Sex and the City movie.
And, because my girl won't take a bottle, she got to come with. And, how cool it was to blend my polar opposites–my home-lovin' mama heart with my inner city girl–as I jammied my girl and patted her down with some Burt's Bees to make her smell extra delicious for all the lovins I knew she'd be getting from my friends…and popped her in the sling, nestled right next to my fabulous dress, and high-tailed it out in my sky-high heels for a night of fabulousness…baby on board.
And I spent the evening huddled in a dark theatre alternating my eyes between Carrie Bradshaw and my sleepin' girl who was passed down the line of my friends.
…who looked really fabulous, might I add.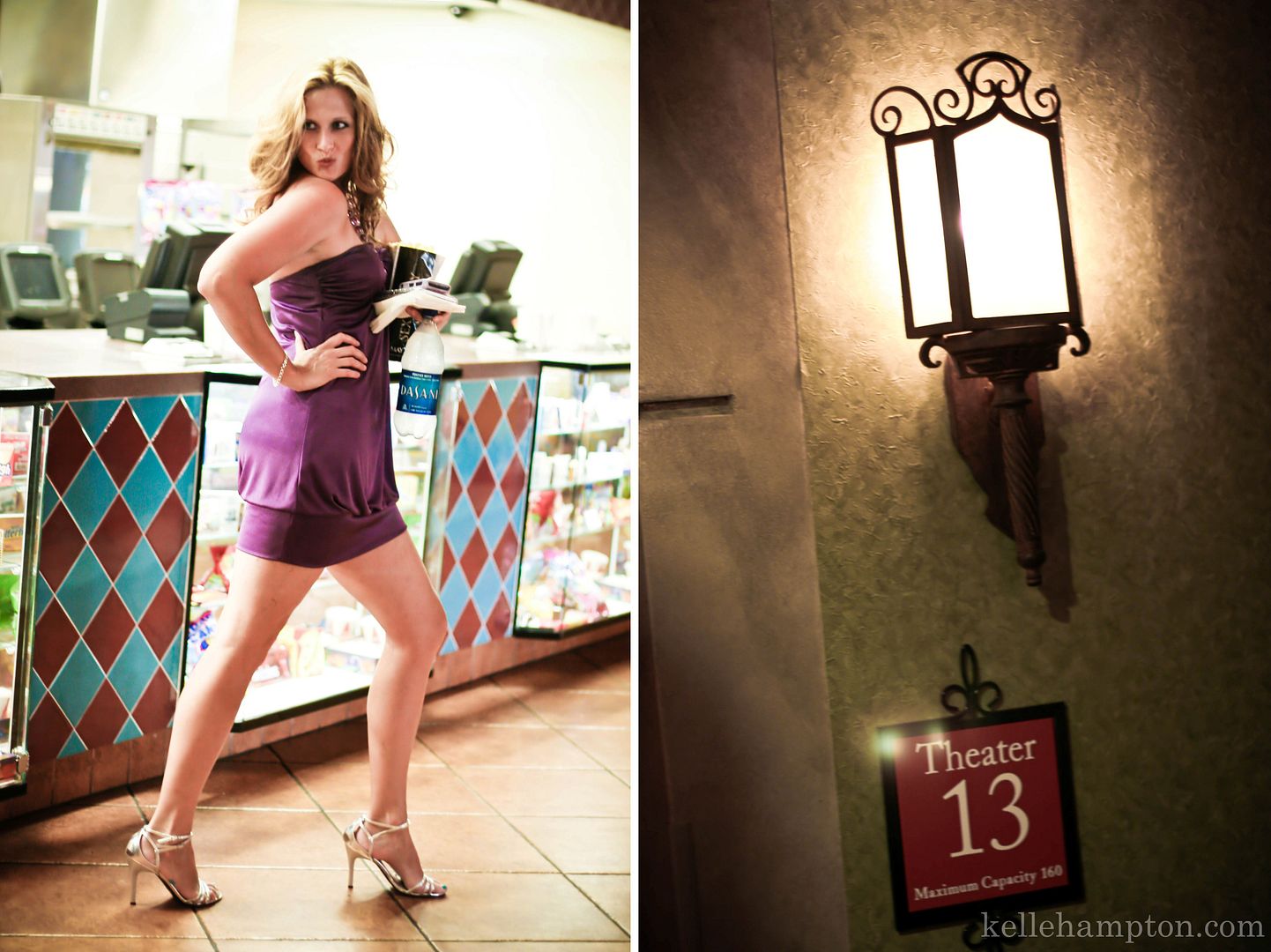 And here's my great shoes, juxtapositioned nicely between the wad of toilet paper resting on the floor in my bathroom stall.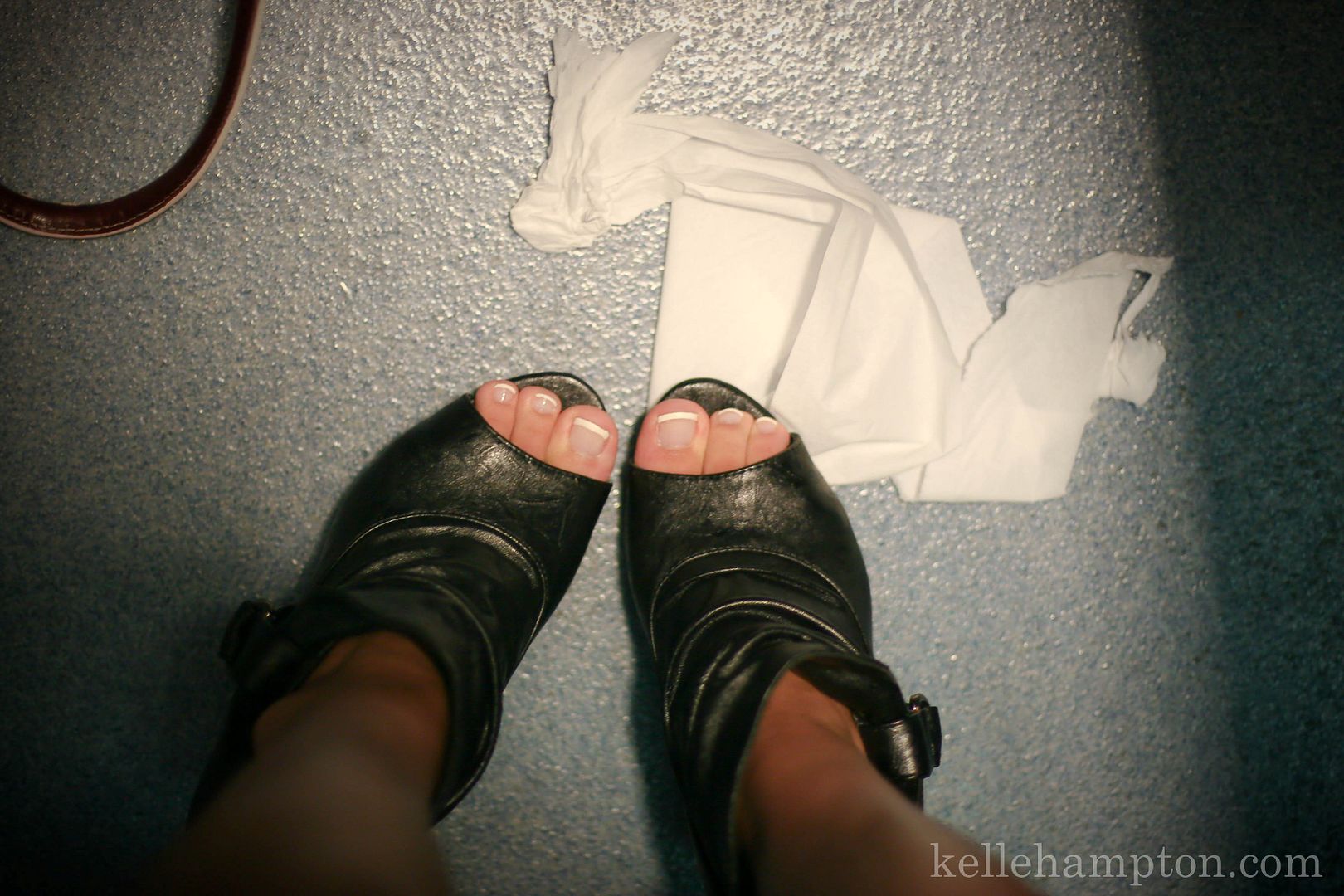 And that was only the beginning of the weekend's fabulousness because Saturday morning, my girls and I headed out across 75 to the other side of Florida to meet Katie in Miami.
I met Katie the night she was the scheduled nurse for Lainey's delivery. And then she just went and crawled up in my heart and never came out. She loves my girls and we love her. And she lives in a fabulous condo overlooking the Miami skyline.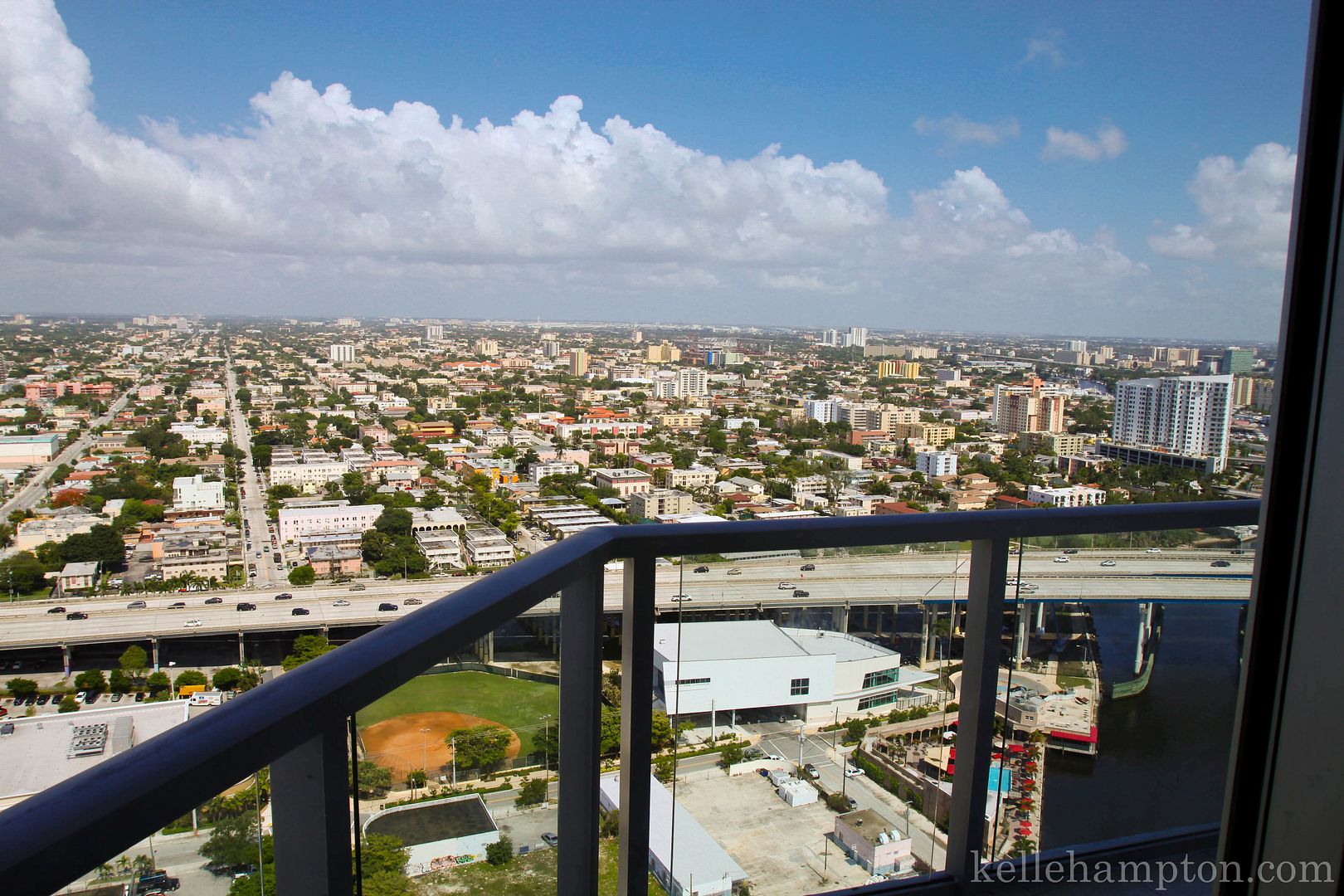 We commenced our morning strolling up Lincoln Rd., stopping in little shops, sipping lattes in cafe chairs, and fanning menus to cool the sweaty babies (who we eventually let strip down to diaper/undies because it was that hot).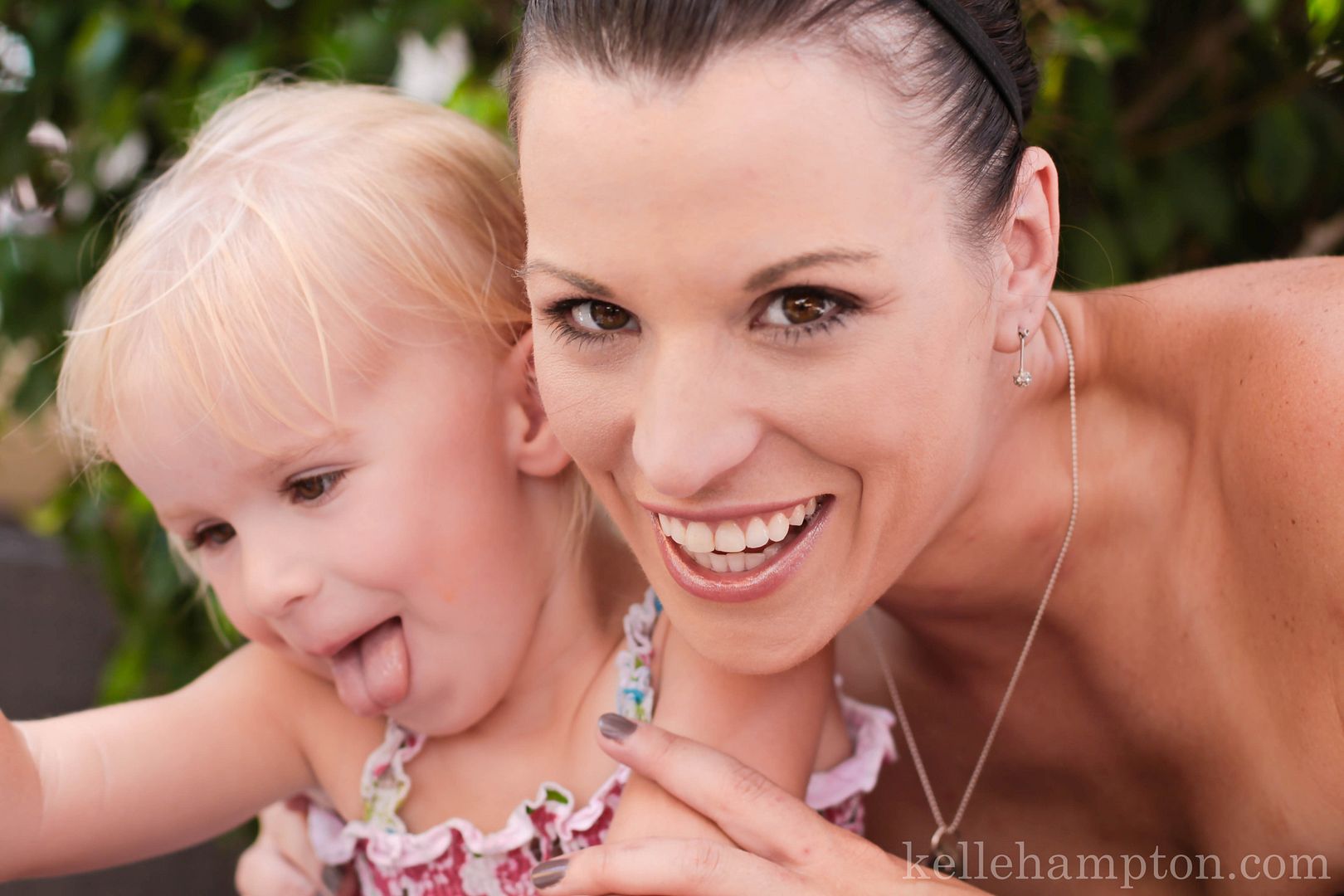 We savored sangria, meandered our way around the palm tree peppered streets and dove into air-conditioned coffee shops every ten minutes to cool off the babies…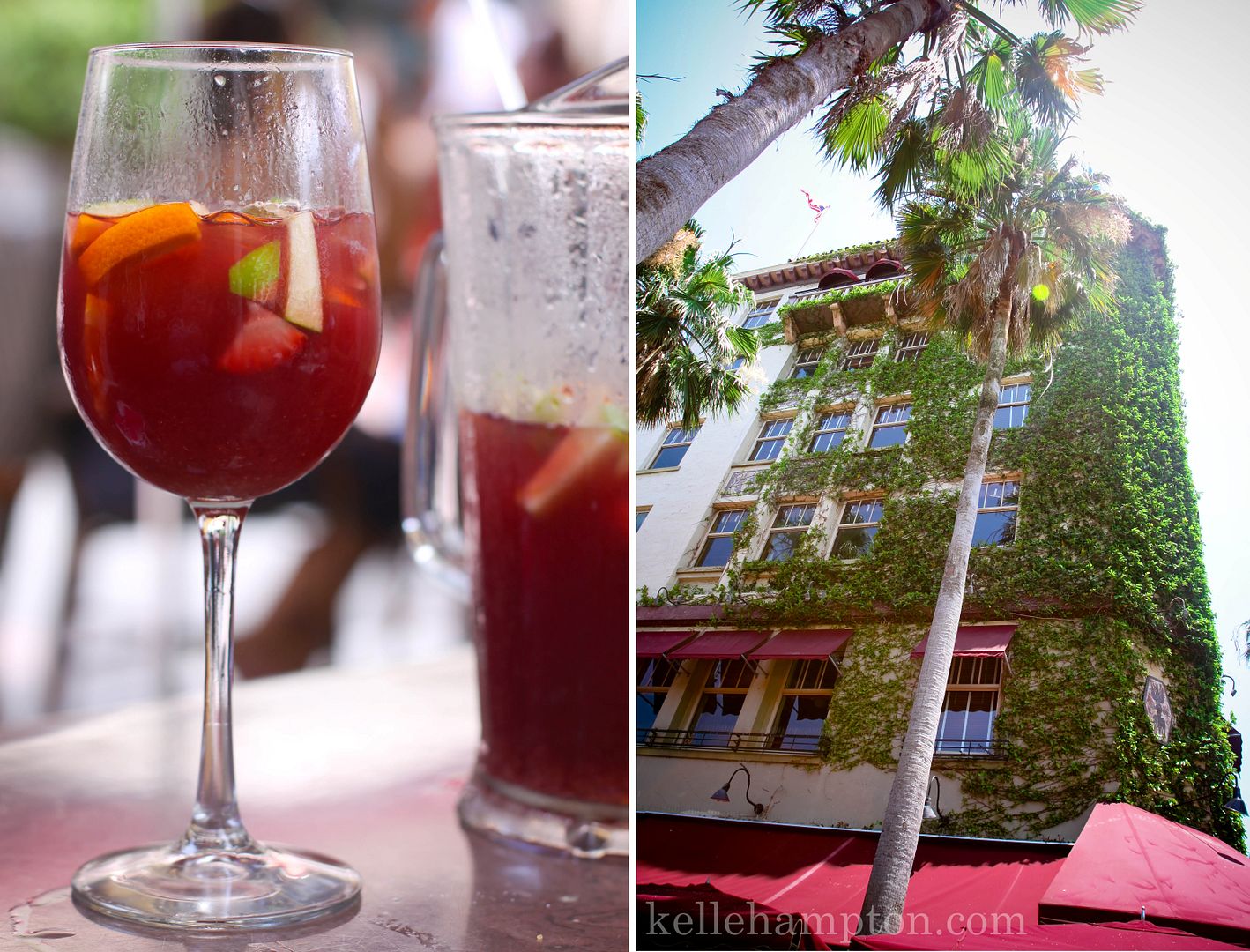 Miami Beach is saturated with culture and color. As we zig-zagged the stroller through throngs of bikini-clad women and cigar peddlars and made our way past art deco hotels piping out Cuban beats and graciously cooling us pedestrians with fan misters, I tried to drink it in…the moment…the memory…the awesome truth that there are so many fabulous places in this world that allow us to suck the marrow out of life a little more and still be mamas.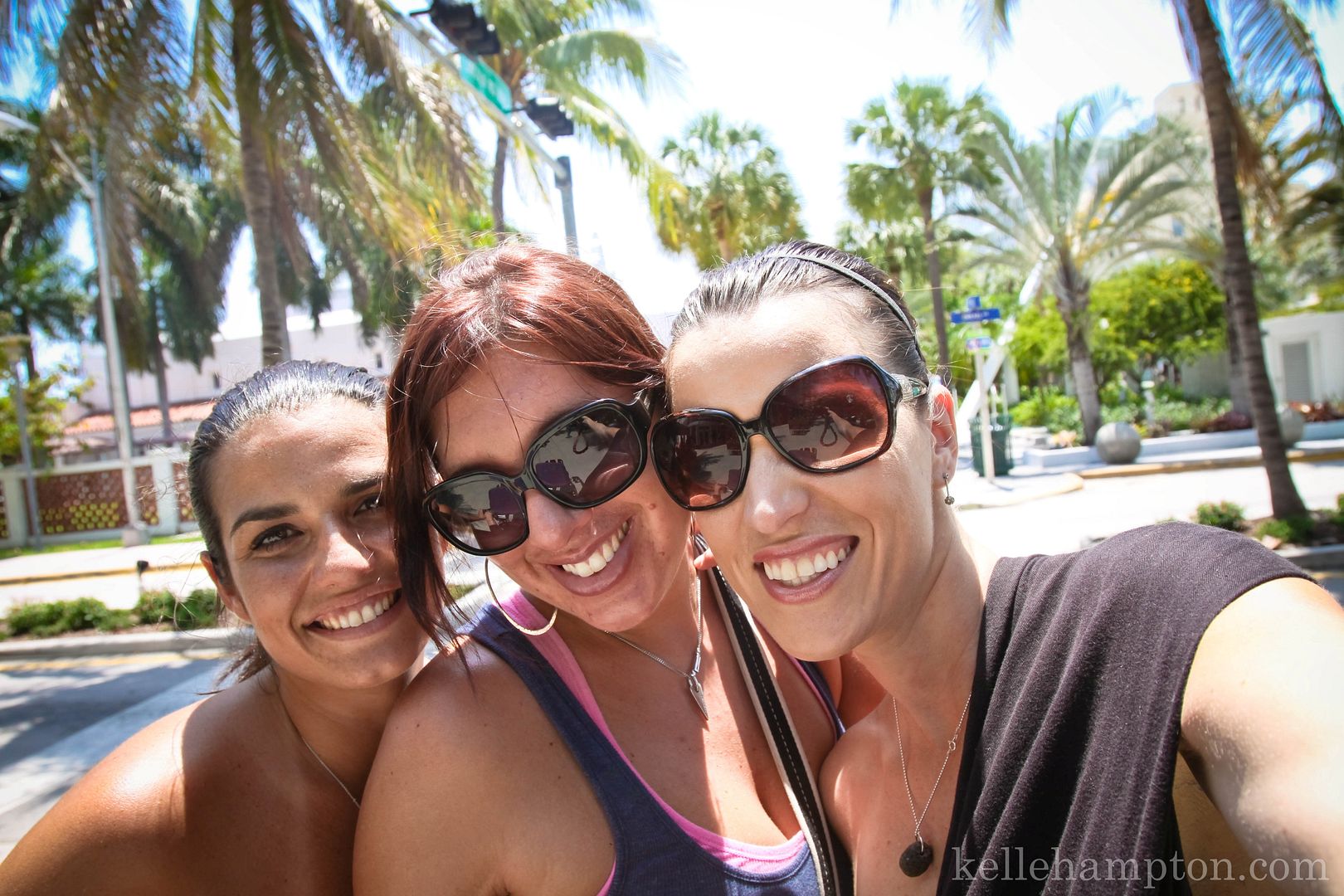 That's a bike with no seat. ???? What the? Uncomfortable.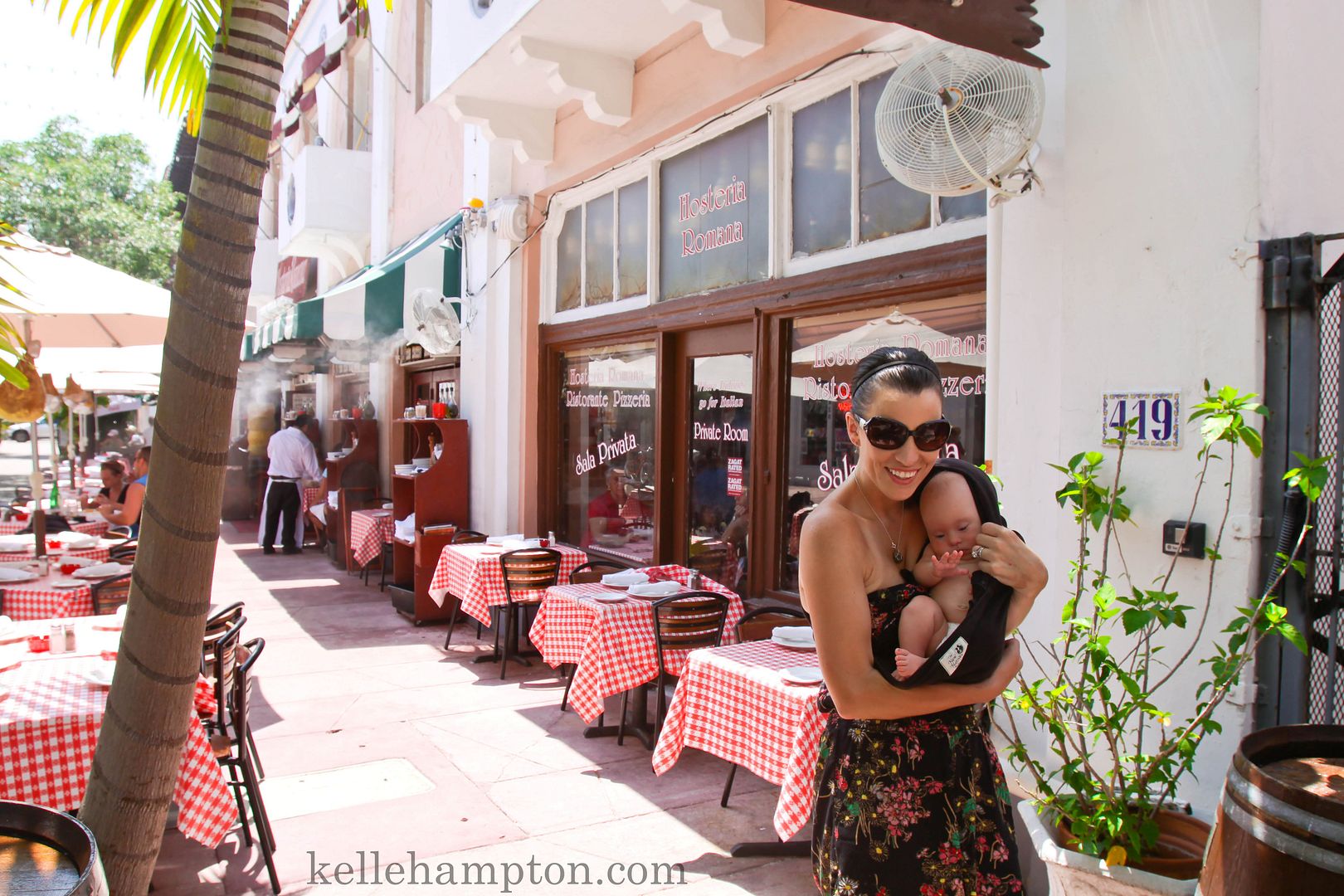 By lunchtime when we breaked for an ice tea at an outside cafe on Ocean Dr., it was torturous hot. We were greased with sweat, blowing on the babies to keep them cool and I couldn't even cross my legs without them slipping apart. Discomfort that requires expletives for explanation, in case you were wondering. So, Lainey and Nella and I ditched inside Sephora while Katie took a cab back to get the car. Lainey thought Sephora was heaven. I allowed her three disposable lip gloss wands and we strolled through the aisles until she pointed out the lipgloss she wanted to try. A purple Lancome. A pink Clinique. A peachy Yves Saint Laurent. You would have thought I took her to Disneyworld.
Two minutes and three used lipgloss wands later, we were, I'm sure, annoying the associates. So we left back into the heat and onto 8th and Collins where I stood on the corner, attempting to discretely nurse a sweaty Nella and keep a stroller from rolling into the street while waiting for Katie to pull up and rescue us. Some guy holding a stack of nightclub V.I.P. passes actually came up to me and said "You lookin' for a nightclub tonight?" Dude, does it look like I'm looking for a nightclub? I'm nursing a baby and pushing a stroller. When in Rome doesn't exactly apply to everyone.
We skipped the nightclub and instead headed back to Katie's where the pool welcomed us and we happily dove in…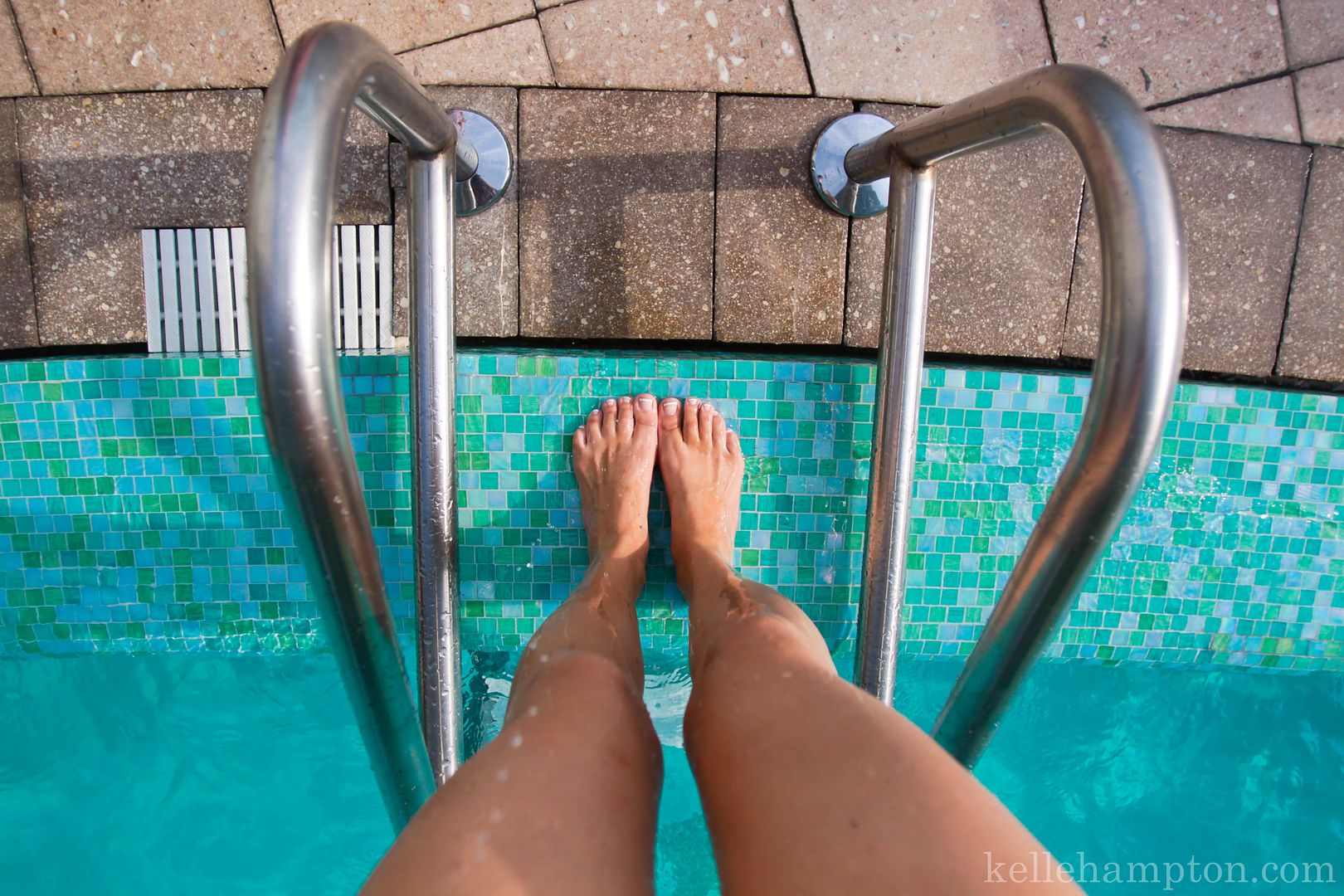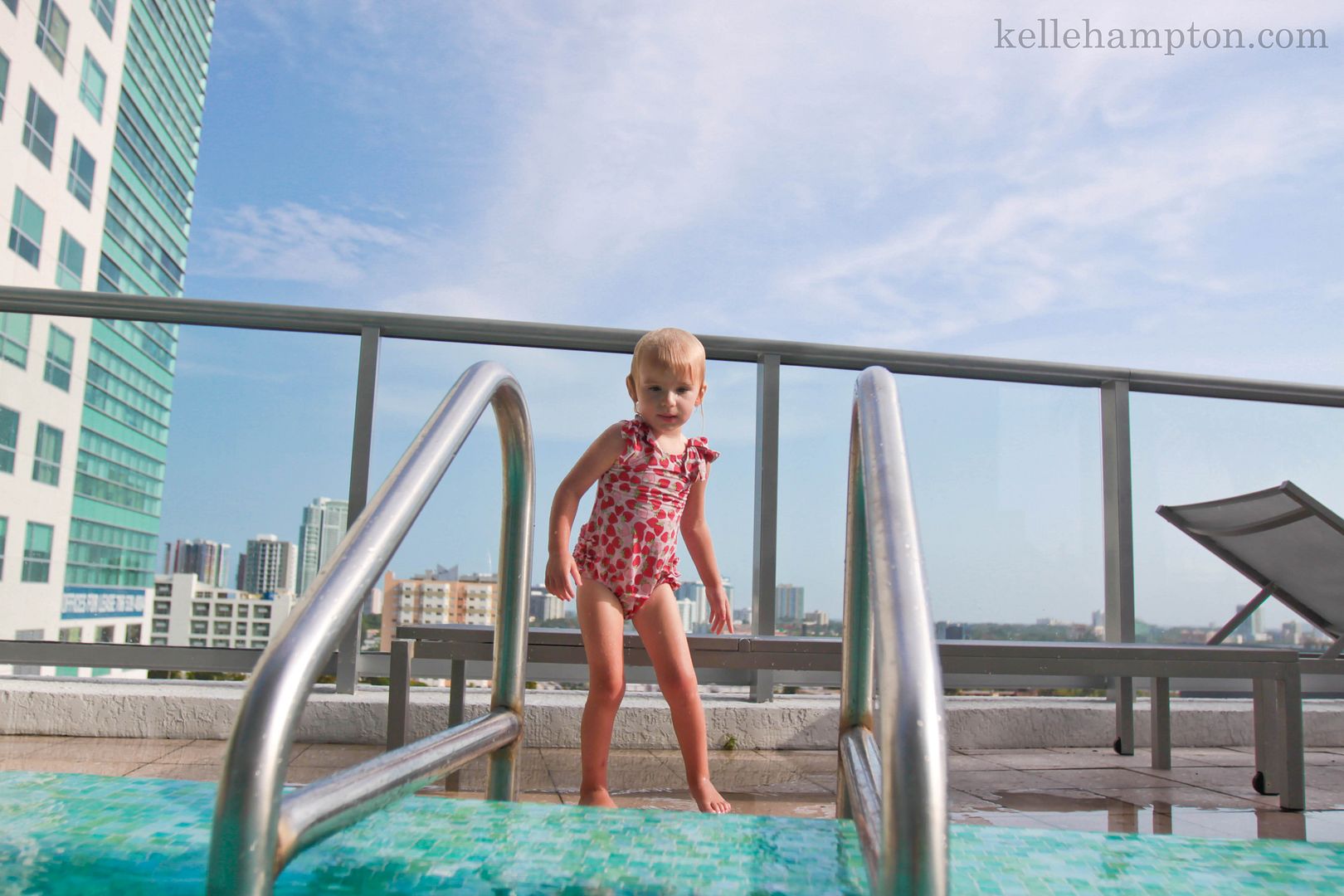 How's that for a pool view?
And, just about the time we were going to head across the Ally back home, the sky went from this…
to this…
And driving on a narrow stretch of freeway between two alligator-laden swamps in the middle of a monsoon is not my idea of a good time…or a safe one, so we called it a night and opted for a sleepover right there on the 32nd floor, overlooking Miami.
The view from our bed last night…
…and this morning…
Good Morning, Miami!
Katie, we love you so very much. If we can borrow your happenin' city single life from time to time, you can borrow our cozy family waffle-making, cookie-baking life anytime you want. xoxo
And the icing on the cake was arriving home today to a package from my cousin's wife who made my girls the most beautiful matching apron dresses that they just might live in for the rest of their lives. Thank you, Madison! Her Etsy shop here.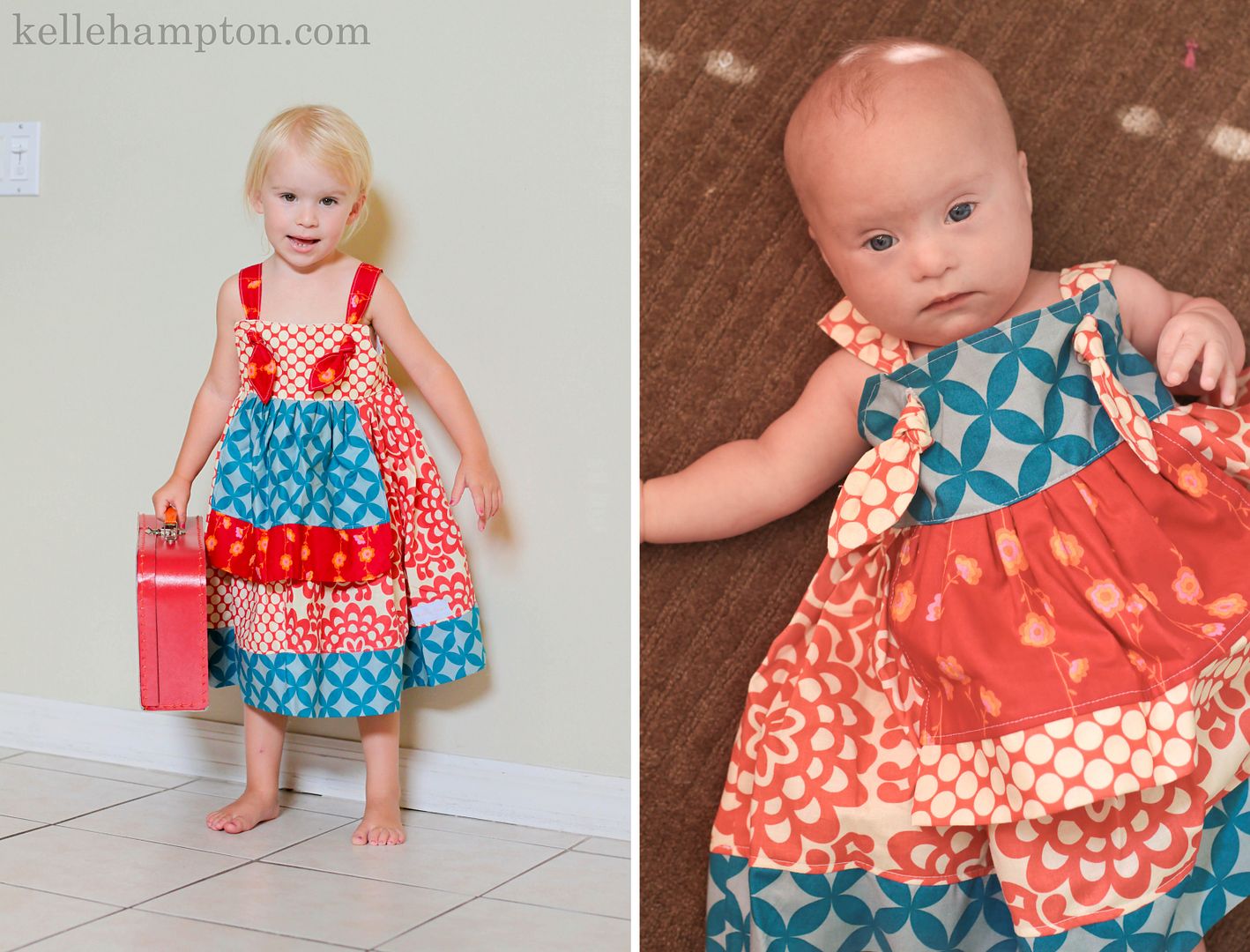 So, the fabulous weekend may have come to an end, but joy still awaits in the morning.
Oh wait…walked by this cool store in Miami…
…which had me thinking…how 'bout one? A random commenter will win a $50 gift certificate from Belkai Designs. Winner will be announced this Tuesday. Oh, and if you feel like it, let me know where you're from when you comment.
~k