Nella Cordelia is named after Dorothy Cordelia Cryderman, mother to four boys, grandmother to thirteen grandchildren, and great-grandmother to thirty, although she never had a chance to meet the last seven.
Today is Dorothy Cordelia's birthday. She was a matriach, a virtuous woman, a strong and loving soul. She was my grandma.
If your first name is common and your last name defines you, then what lies in the middle is the mystery of who you are, the secret of what lies within.
I knew her middle name would be Cordelia before I knew her first name would be Nella. And it was so very meant to be.
Shortly after she was born, I talked to my grandma hoping that maybe somewhere she could hear me. I told her I was so happy my girl bore her name. I told her if she had anything to do with giving me this gift…then thank you. I told her I missed her and that I wished she was here so that I could watch her rock my girl, humming soft songs like she did to all the other grandkids.
For three years in college, I lived with my grandparents in a little blue house on Dorothy Lane in Spring Arbor, Michigan. It was a small town, vast with cornfields and deer-stocked woods–deer that felt compelled to ram themselves into the cars of just about every member of my family, thank you. I was an off-campus student at a small Christian college living with my grandparents and I was nervous, lonely and homesick like hell at first. I wasn't sure how to act—if I was supposed to be home a certain time or have friends over or tell them where I was going when I left the house. There was old people furniture and orange linoleum floors in the kitchen, a doll with a big crocheted skirt that sat on top of toilet paper rolls on the counter in my bathroom and about a hundred ceramic knick-knacks for every square foot of space. It felt very un-college student, and I wasn't sure if I would fit in.
Oh, but I did. We fit like a glove. And for three years, I became witness to the love, the art, the magic of Dorothy Cordelia.
Alzheimer's stole a bit of that magic those last years, but it still dwelled deep within her.
And in October of 2005, on a cold rainy night in Michigan, Brett and I drove like mad in the darkness, windshield wipers screeching, from Detroit Metro Airport down I-94 to get to her. I remember my cell phone ringing, just ten minutes away…"Hurry," my cousin said, "please hurry. I think she knows you're coming."
I made it. I made it in time to have a moment alone with her. To kiss her face and wash her cheeks with my tears. To brush her hair and tell her I would always remember the grandma I knew…the one who hummed in the kitchen and kept Fig Newtons in the cookie jar. The one who bathed all her grandkids in the Airstream trailer bathtub with Avon bubble bath–the pink bottle. The one who combed the "rats nests" out of our hair and tucked us in at night in the twin beds of their guest bedroom with the flowered wallpaper and whispered "There you be." I told her I met someone and that he was wonderful and that we were going to get married. I told her that someday I would have babies and that I would tell them all about her.
She died the next day. And when we got the call, we did not fall to our knees or huddle in tears. We smiled. It was okay. That night, our family huddled in a private room at our favorite Italian restaurant. And we laughed. Told stories. Sipped wine. And cried. And those last days of gathering together with cousins and aunts and uncles to remember her…to make beauty of her memory…was nothing short of sheer poetry.
I think of my grandma all the time. And I believe my girl carries more of her than just her middle name. I think she has a piece of her heart.
Both my Lainey Love and Nella Cordelia have the faint pink speckles of a "stork bite" on the back of their scalps. And I tell them it's where Grandma kissed them in heaven.
My grandma was a matriarch. She left big shoes to fill, but I'm working on it. I've learned to hum in my kitchen, keep my pantry stocked with Fig Newtons and tuck my girls in with a "There you be."
And I'm so happy my girl carries her middle name. And on this, her birthday, we're remembering our grandma.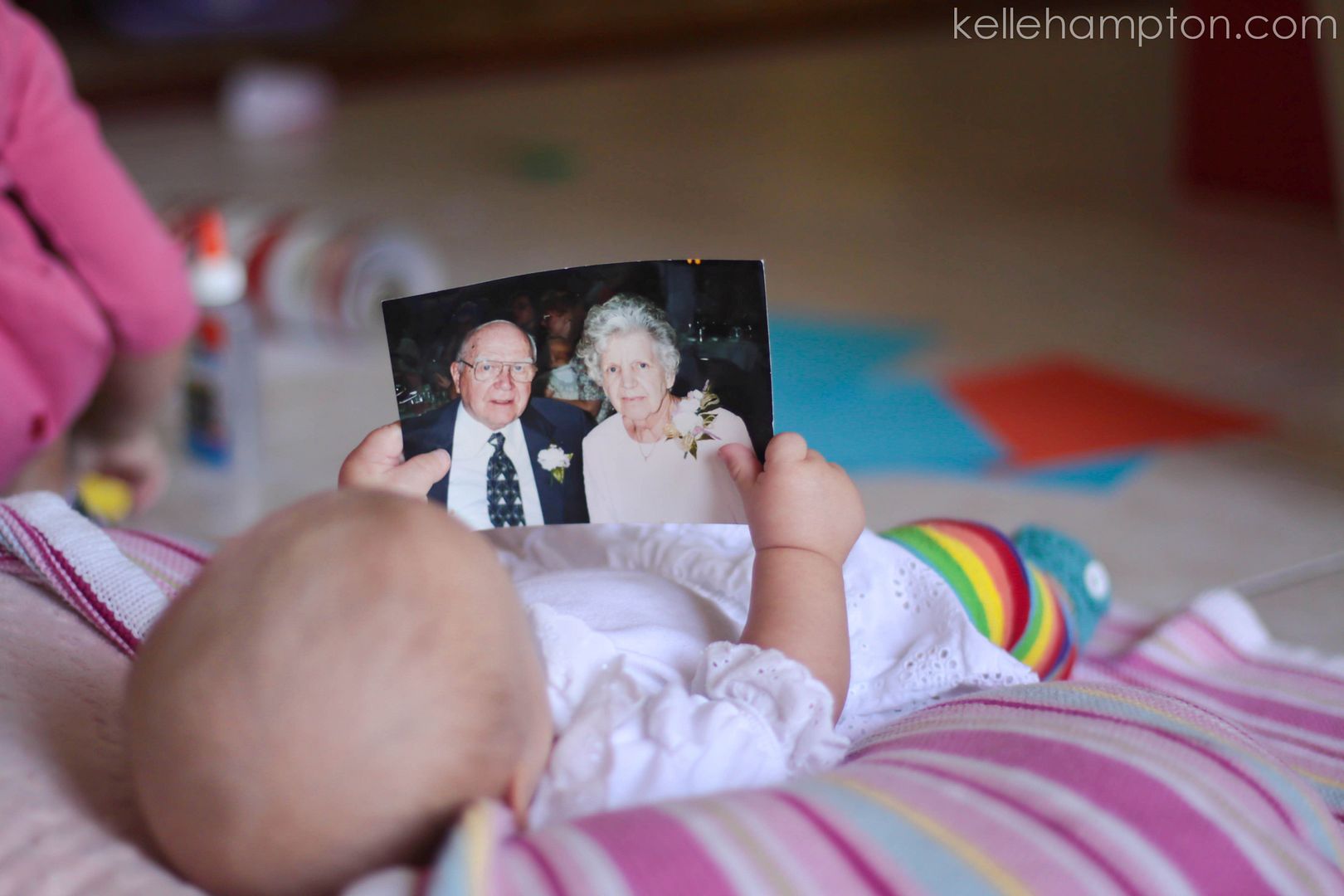 And the giveaway winner for the Vintage Pearl gift certificate is Comment # 1735:
Jen: I can't wait for the day Hayes decides she wants to take ballet or play softball or even join the wrestling team! It's so wonderful to see a mommy pouring herself into her babies. Thank you for sharing!
Jen, please e-mail your contact info to: [email protected]
Congratulations!

There you be.