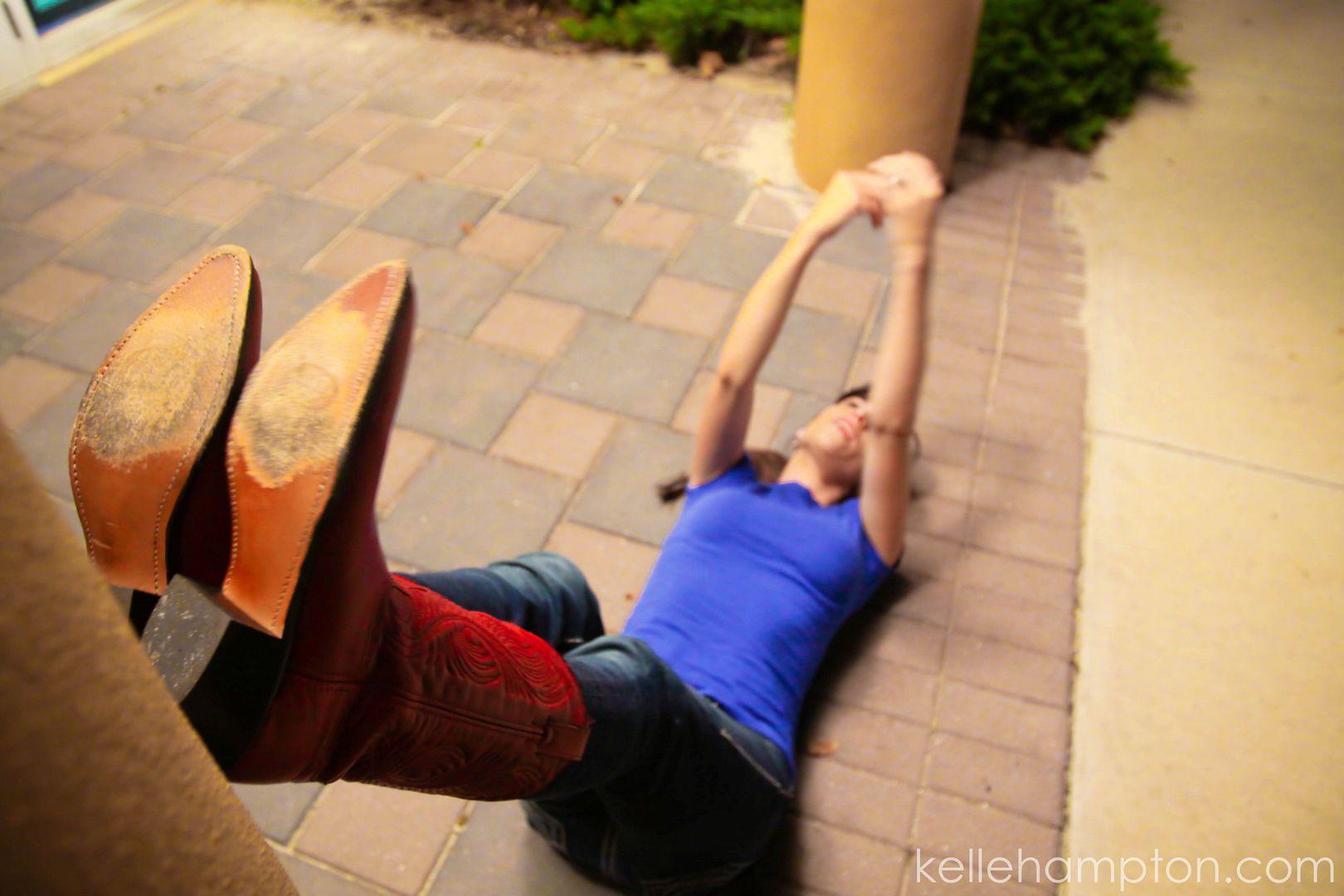 …and the craziness of this behavior and the fact that, under the right conditions my maturity level can be subtracted to exactly half my age, can mean only one thing.
She's back.
Heidi has returned from Michigan after seven weeks, and our forces have finally reunited to bring more moments like this to a street near you. And half of her age plus half of my age equals something around one whole of us, so the mature moments are bound to happen eventually. The truth of the matter is my back went out this weekend–like I bent down to get something at the exact moment something snapped in my back and I screeched and collapsed and just laid there in some chalk-drawing crime scene position in the kitchen, laughing hysterically because I seriously couldn't move and a grown woman lying under the stove while people walk around her, pouring coffee and washing dishes completely oblivious to the scene is really, really funny..
So, the stretching in streets thing serves a purpose, really.
When we weren't stretching in streets last night, we were catching up behind hot wings and cold beer.
Nella had a few things to say about Heidi's absence which she reenacted in this scene I like to call Where the Hell Have You Been?
Followed by Much Love, Much Love.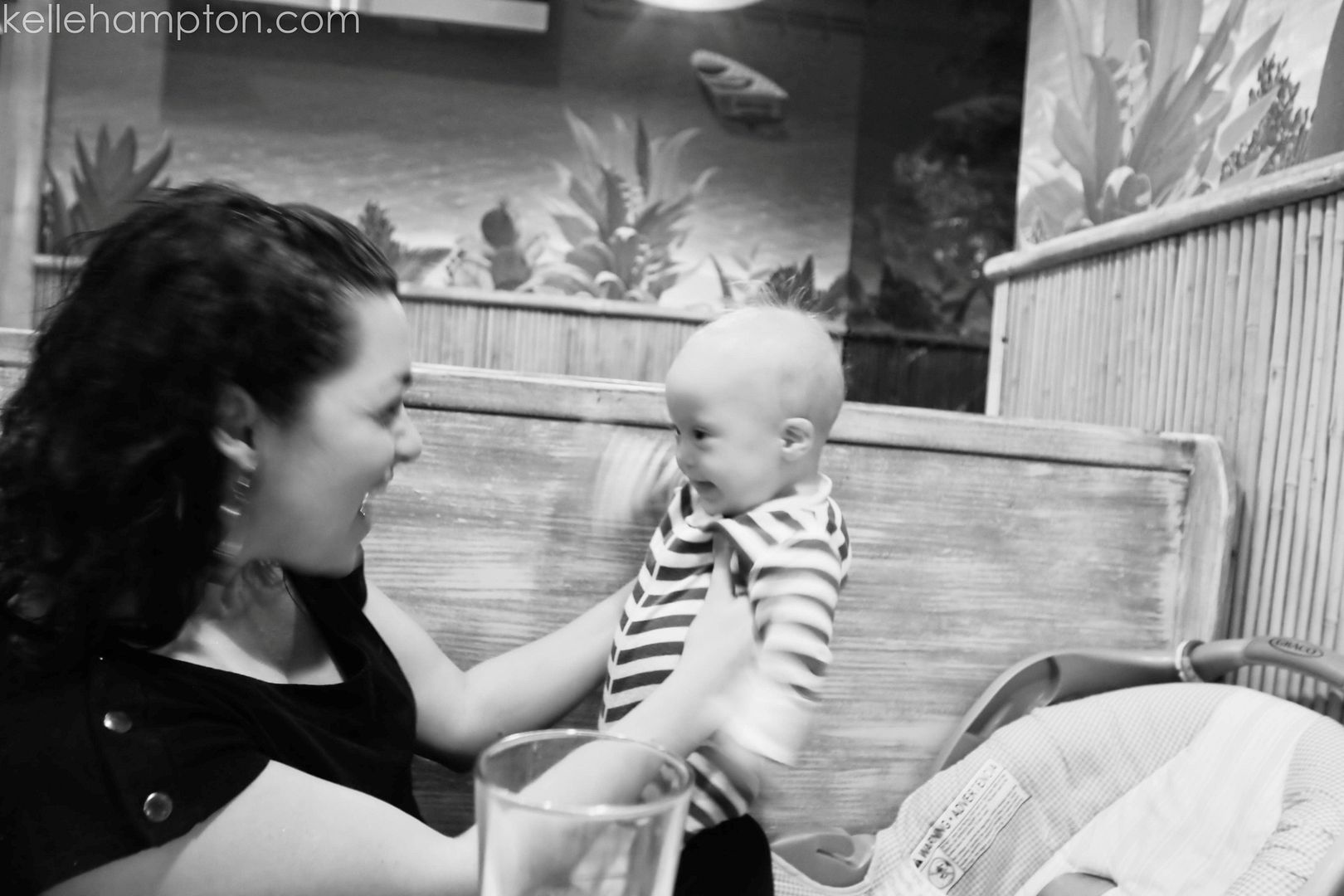 Notice Nella's enthusiastic wing-flap.

There's something extra delicious about a jammied baby out past her bed time.
I like when she does tai chi on my face. Hai-ya!!!
And the moral of the story is something like we had a lot of fun. And we have big plans for enjoying-the-small-things this fall. Like I do believe we threw around the words "Road Trip." Enough said.
Back to the weekend.
Ah, the weekend. Where much crafting was done. If your kids are ever bored and climbing the walls, might I suggest the handy-dandy collage. Cut poster board, a handful of buttons, beans, yarn scraps, paper and a bottle of glue…voila. A half hour of creative silence. It's beautiful.
And then when they're done, you have this beautiful creation to hang on your fridge. And, as we all know, in a perfect world, all fridges are covered with three-year old collages.
While other weekends have us beach-hopping and Isle-of-Capri'in it, this one had us home-basking and enjoying the randomness of our every day life.
I set out for a Mama date yesterday with my sprite, but five minutes down the road, I turned back to see this: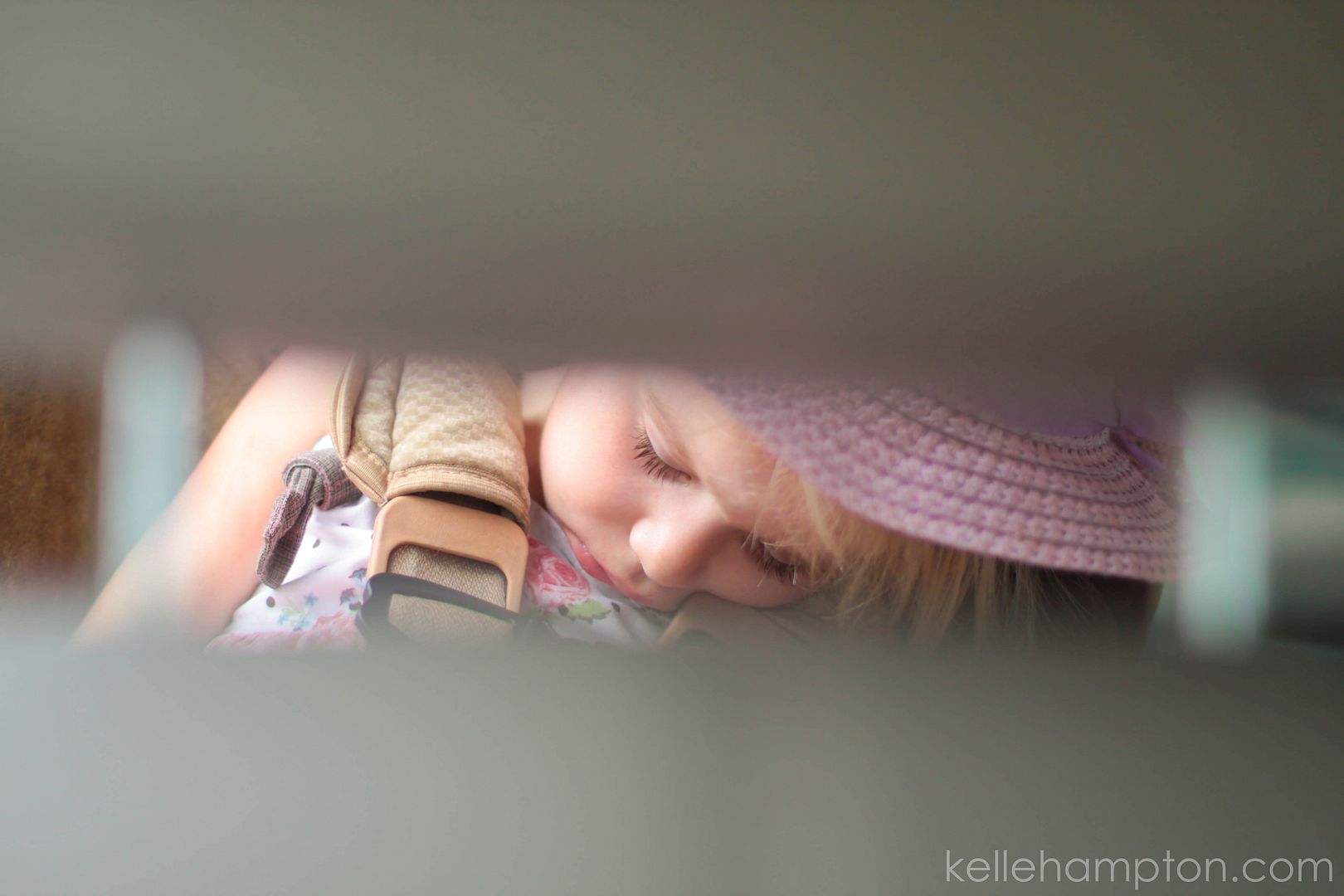 So, we U-ied back home for some rest and later settled for some post-nap dress-up and big-girl fun with mama's dresser accessories.
And if they made this dress in my size, I too would parade about the house in it.
Me loves metallic polyester. And the fact that the tag on this dress not only says "Warning: Keep away from fire" but also "Do not wash. Do not dry. Do not iron. Do not dry clean." In other words, just throw it away if it gets dirty.
I love the time-slowing phenomenon of weekends. Because life flows a little more gently and hours pass a bit more smoothly so that we focus a tad more on our family unit and how we make deposits in its account. Our account grew richer this weekend. And the interest rate is pretty high. So, that makes us gazillionaires years from now.

Well, Hello there Little Pea.

And, finally this brings me to the Dora Cupcake episode of the weekend. Lainey saw this commercial on Nick Jr. last week featuring these adorable Dora cupcakes that totally sold me with their cool chocolate shell wigs. After asking me to make them several times, I folded and made a grocery trip to gather the necessary goods.
I'm a pretty ambitious mom in that I attempt to make crazy fun memories for my girls. But ambition only gets you so far. I guess what I'm trying to say is my ambition for this project got me three cupcakes.
Three cupcakes that were carefully crafted to look just like Dora.
But after tediously piping three faces with various shades of eye-color brown and lining up chocolate chips for pupils and kitchen-shearing tiny triangles out of fruit roll-ups which, might I add, takes about fifty cursing attempts to get it right without the roll-up sticking to the scissors, and when I finally got it to land in the frosting right where a mouth should be…well, let's just say I called Dora some not-very-nice names in the process. And, like many other shoot-for-the-moon attempts in super-momming, I got three nice cupcakes and half-assed the rest.
And Lainey pointed to them and cried.
"That's not Dora!" And I, frustrated and frosting-stained, snapped back. "It's Dora. Eat it."
She only ate the good ones.
And what was left of the weekend was 21 sloppy-faced cupcakes and a whole lot more love.

Her Price-is-Right wheel is still her favorite toy.

And, finally, what's a Monday without a giveaway?
I was thrilled when Shabby Apple contacted me about a giveaway. Thrilled because one of my very best dreams was that I had an online shopping spree to their store and I cleaned them out of their Central Park and Oh La La collections. You see, a perfect world not only has three-year-old collages on all the fridges, but one of every Shabby Apple dress in my closet.
You like? Well, a lucky random commenter will be winning the Bethesda Fountain dress (top left) like mine. I'm thinking holiday dinner with pearls. Get a load of the bow. The sumptuous bow, as the site describes. Delicious.
Winner will be announced Wednesday evening.
Have a sumptuous Monday.
"Don't ask yourself what the world needs; ask yourself what makes you come alive.
And then go and do that. Because what the world needs is people who have come alive."
– Howard Thurman