Sometimes I have great intentions. And my intentions were to post last night, but there we were–two long lost friends snuggled under afghans, sipping wine, laptops perched before us, typing away but stopping to chat every few minutes or so. And it was late, even by Mountain Standard Time. And my brain was clearly not capable of transferring words onto the computer. When Nici finally looked up and said, "Hey, wanna go to bed?" I jumped at the chance.
So Monday I traveled 12 hours across the country schlepping bags, shhhhing babies and shaking exhaustion all to meet someone I've never met before. And, as passionate as I was to get this all happening–booking our flights, packing the suitcases, googling Missoula weather–about two hours before we landed in the mountainous town, I went white-knuckled…and not just because of the turbulence (which, by the way, had every passenger gripping their armrests and bracing their whiplashed heads–all except Lainey who was shreaking with laughter and squealing, "This is fun!"). It dawned on me that I was going to be spending a week with someone I've never really physically connected with. And what if, on Day Two, it was a total bust and I wanted to go home? What if we bored each other and I dragged my girls across the country for nothing? What if this was a blind friend date gone wrong? What if she was…crazy? You never know.
Two hours later, my fears melted when I stepped off the plane into the quaint lodginess of the little Missoula airport and saw her standing there waiting for us. Her wild curls were pulled loosely into two twirly buns and an artsy string of turquoise beads dangled from her ears, distinguishing her as the creative free Missoulian I had come to love through words and chats.
And, just as the mountains had me at hello, so did my friend I've never met. I knew there in the middle of the airport as we hugged and cried and barricaded the exiting passenger route for a good minute or so while we huddled, that this week was going to be just fine.
Our girls have settled into this delicious comfort zone brew of holding hands and skipping and trading tennis shoes seasoned with a few good "I had it first" face-offs to keep it real. And the fact that there are piles of our crap in their living room corners and I don't even feel compelled to clean them up goes to show you just how welcoming they've made us feel. It feels like family, and we are drinking it in.
So, as two blogging mamas memorializing this experience, Nici and I are asking each other five questions about this whole gig on our blogs.
Nici's Questions:
1. How do you like Montana, you Floridian? What's how you thought it'd be and what's different?
Dude, for starters, your mountains slay me. I always talk about the beach being my church and this spiritualness I get from sunsets and salty craters on Isle of Capri, but I feel it in a different way here. It's gorgeous. Even your sunlight is different. Our sun is exuberant and wild, yours is lazy and care-free. Both good…but different. From how you've described it in the past, I've always felt Missoula has this major creative energy flowing from it, and I certainly feel it being here. As far as what's different that what I expected? It feels more like home than I imagined which just goes to show you not only how much you've shared of "your place" but how you can be anywhere and find something to relate to.
2. So you met me, a person you've talked to for years and thought you knew. That's crazy. How'd I measure up to your expectations? Be honest. And please don't talk about my b.o. yesterday morning.
I know we've talked about this, but it's amazing how much hasn't surprised me in that I feel like I already knew you so much even without ever having hugged you or shared a cup of coffee with you just through your words on your blog and our e-mails and phone chats. And my expectations of you were simply that you were a beautiful person with a beautiful soul, someone I connected with over our passion for life and living and being mamas and wives and friends and women. And meeting you in person only confirms that connection. So, it's all good, Baby. Even the B.O.
3. I am completely in love with the fact that, despite our different lives, we've connected in a real and powerful way. I mean one doesn't just pick up and travel across the lower 48 with two babies for nothin'. There's something really cool and unique here. How do you think the medium of blogging has contributed to our friendship? How might it have been different if we met on a playground?
I think blogging allows us to reveal a part of our being that a chance encounter on a playground or at a party doesn't allow. I may have generalized, not in a bad way, but in a she-likes-different-things-than-I-do kind of way that may not have had us pursuing a friendship. I don't can or grow my own food or may not share your same views on some political issues, but because of what we are passionate about and the goals we are trying to achieve and the way we live life, we really are more alike than different. And the way we have connected has, to me, opened up my eyes to realizing the bigger picture…that we are all more alike than different.
4. Margot bloodied her whole sweet face when she fell onto concrete from four feet up. She wanted you to help her pick out a new shirt. Lainey let me read her a book and put her to bed. Both events were surprising because we both would have staked millions on our girls wanting their mamas. Huh. What do you think about that?
I think that it's just pure evidence in the cosmic forces that have fatefully collided our kindred spirit souls. In non-galactic mystical terms, I think the wise little souls in our littles sense the same kind of love and passion we share. And they're cool with it.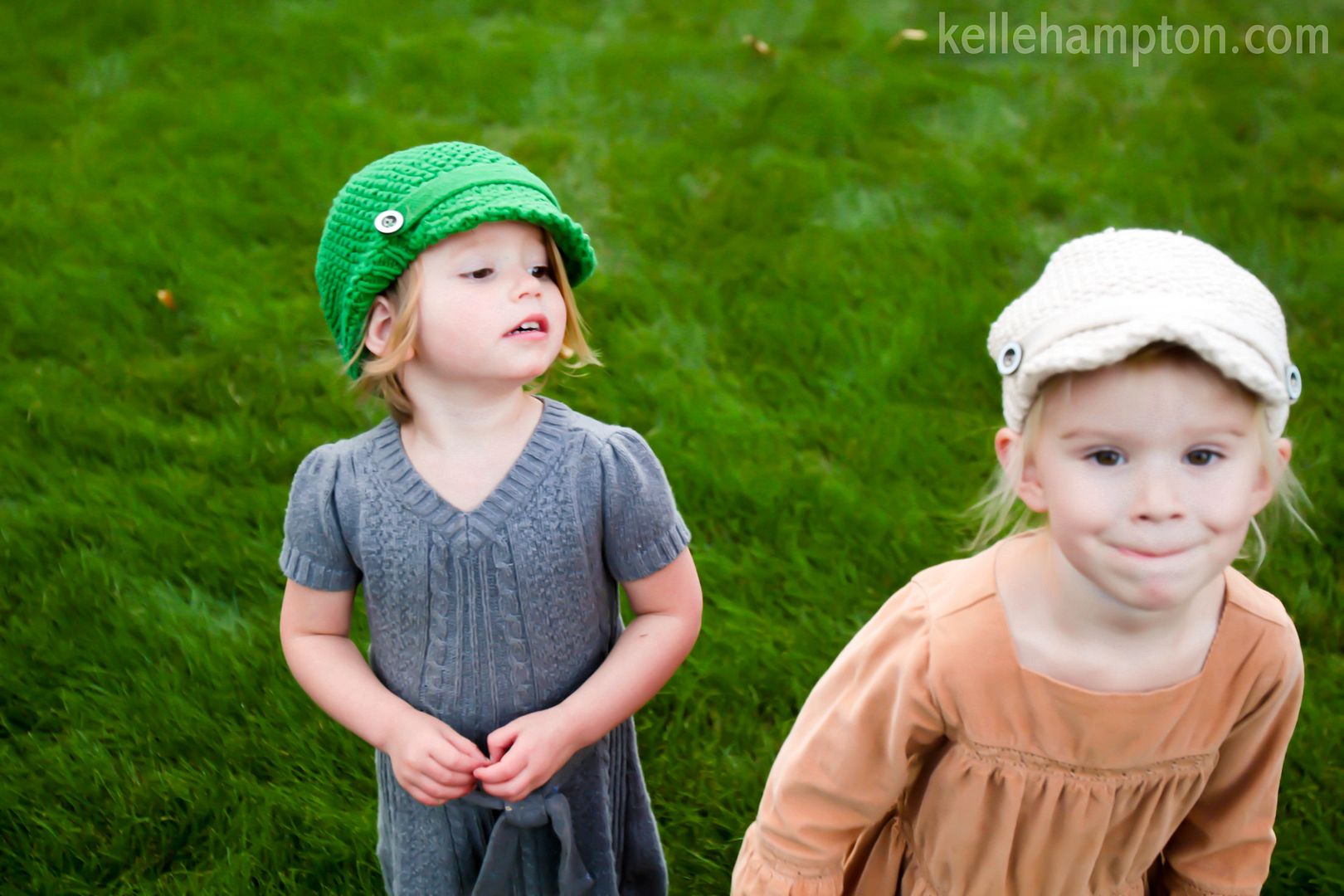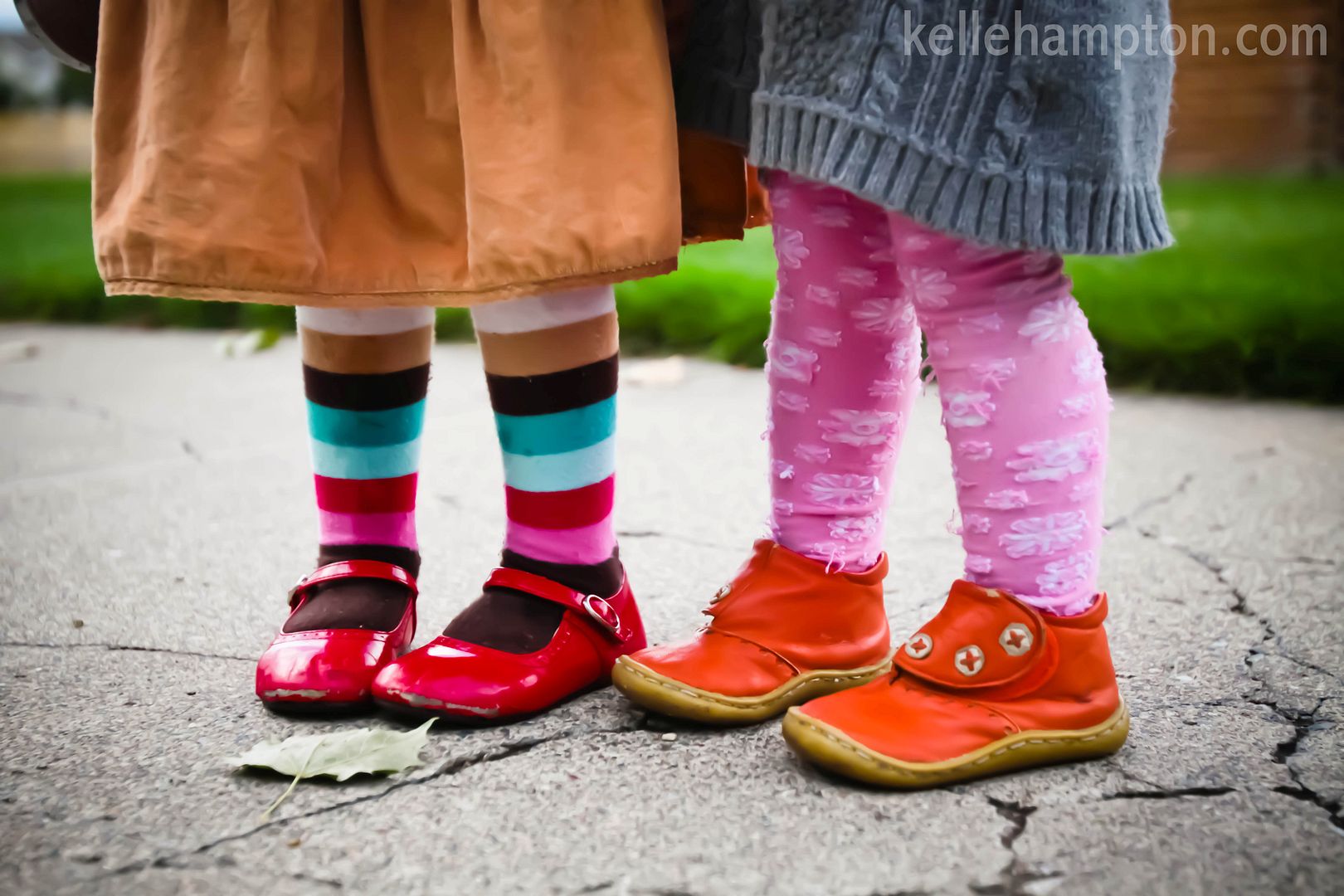 5. We're on day two. What's your favorite so far?
Oh, don't make me pick. I still love that first night…the way our girls instantly connected and ran off to Margot's room to play…and those awesome hours after putting the girls to sleep when we curled up in the living room and lost track of time talking about each other's lives.
And because I have way more pics to share, I'm expanding.
My favorite was kitchen table art after coffee.
And watching my girl love your chickens.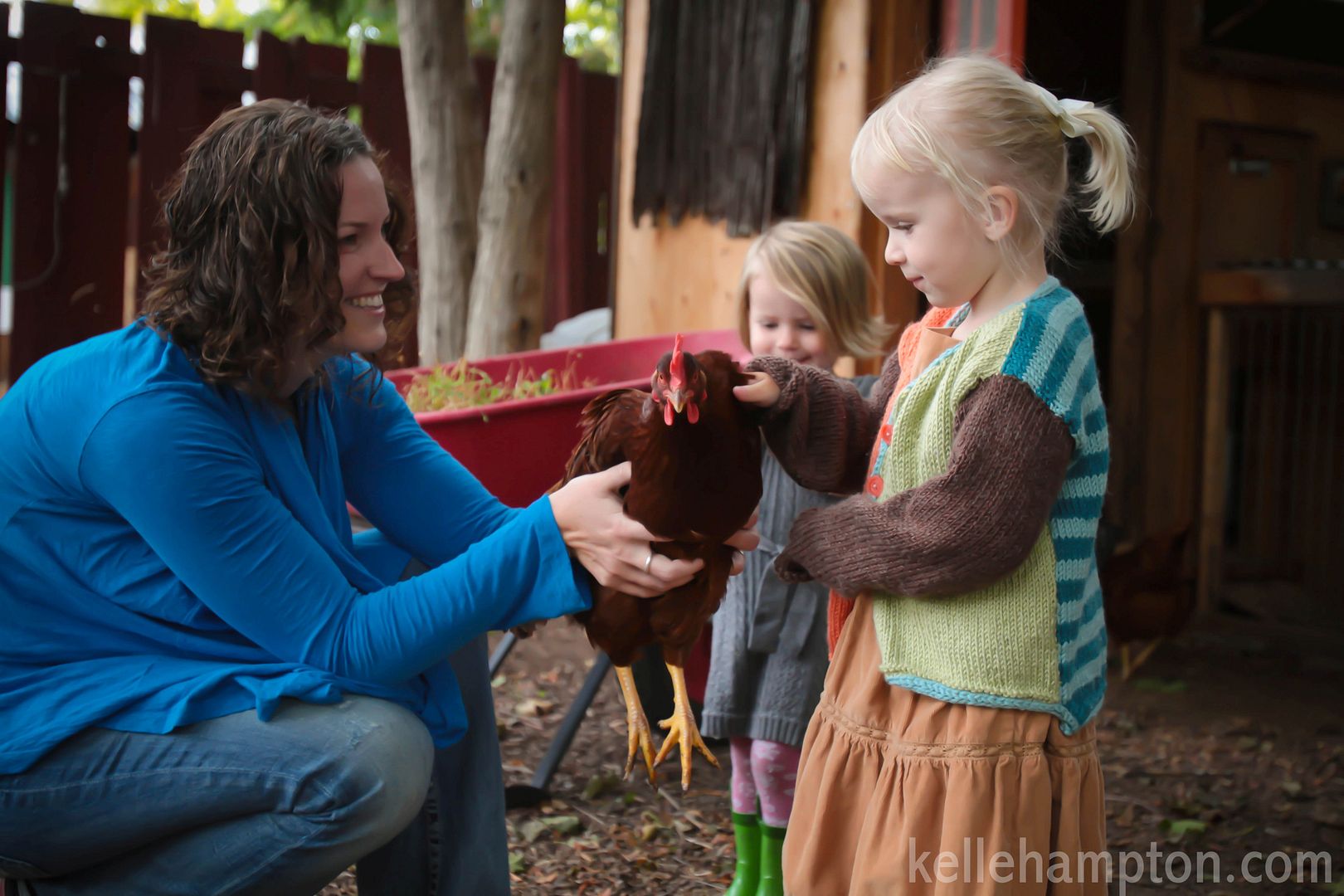 And the other chickens too.
And getting to visit a place that's a big part of who you are.
And walking past these character-filled houses on your streets, pulling a rickety wagon full of 60 pounds of peaches knowing they will be transformed to sweet peach butter in your annual ceremony that we are privileged to be a part of this year.
But mostly…the girls. Knowing this is a purposeful adventure for them too…and looking forward to how they will know each other in the future and what they will learn from each other…how they will love.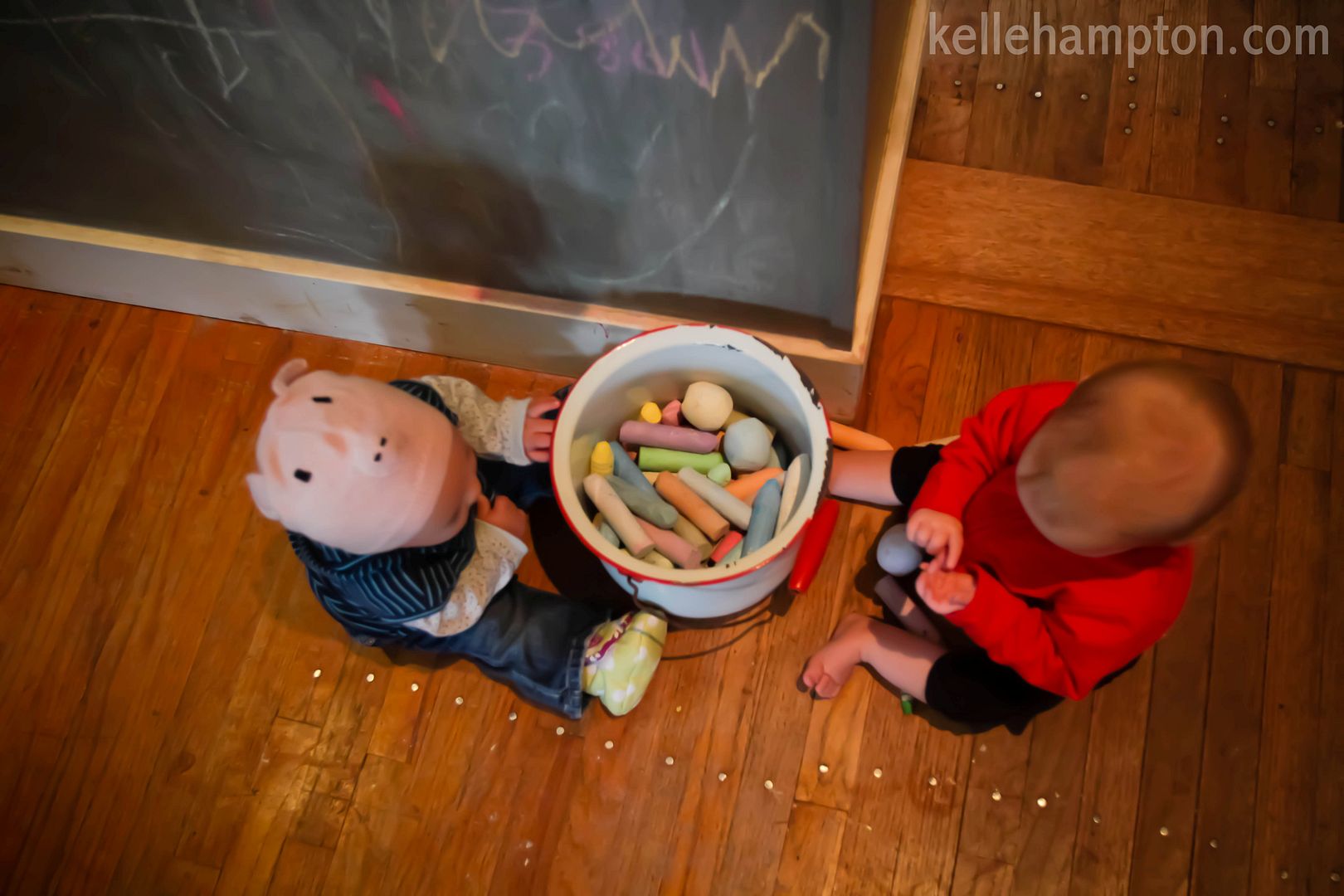 And Dig…it's only Day Two. I love that. And I have a feeling these first days are just the icing. There's good cake underneath. With pudding filling.
Diggin' in.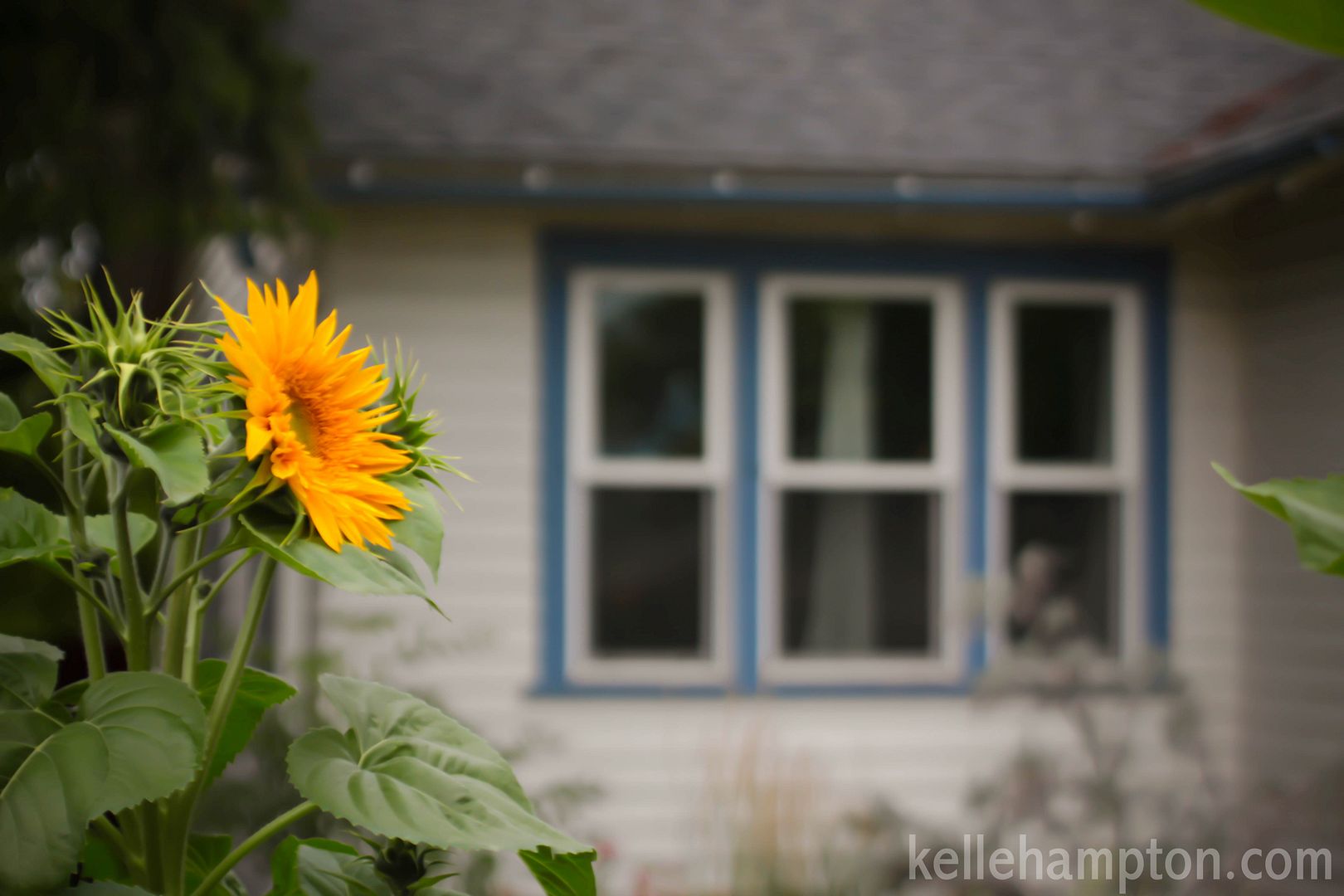 Cheers to that.