I drove alone yesterday—only a half hour to the pottery place downtown to pick up some pieces Lainey had painted and intended to give away for Christmas, but in true Hampton fashion, we forgot about them and they've been sitting, homeless, on a shelf since December 21st.

Family, see anything you like? Make your dibs.

Brett stayed home with the girls and I had a small window of time to get there and back as Nella had therapy and I like to be there for it. But traffic was a real rhymes-with-witch-and-starts-with-a-B, so come the third red light on the way home and getting stuck behind some old man who might as well have pedaled his bike along 41, I was tense, tapping the steering wheel and muttering a whole lot of "Oh, Come on"s. Until I realized I needed to chill out. I was alone, and I'm never alone. And though I love tilting the rear view mirror to catch a blonde head behind me to the left and chubby feet kicking to the right, sometimes it is nice to breathe and think and replenish the parts of myself that are separate from the all-encompassing title of Mama that defines so much of me…even though I wouldn't have it any other way.
So I rolled down the windows, cranked up the volume and sang with gusto Sheryl Crow's Strong Enough so loudly, I'm pretty sure the old man who should have pedaled his bike heard it too. I know every word to that song. I owned that CD when I was 16. Except a week after I got it, my church youth group said it was worldly and evil and coaxed me into breaking it in half along with the other 12 worldly CDs I had just scored for free from my BMG music club subscription, and I've never gotten over it. It makes me sing that song really passionately. Pent up anger.
I want my CD back.
I called Brett and told him I'd be home in two seconds. Which means "I'm going to Dairy Queen by myself and I'm not going to tell you."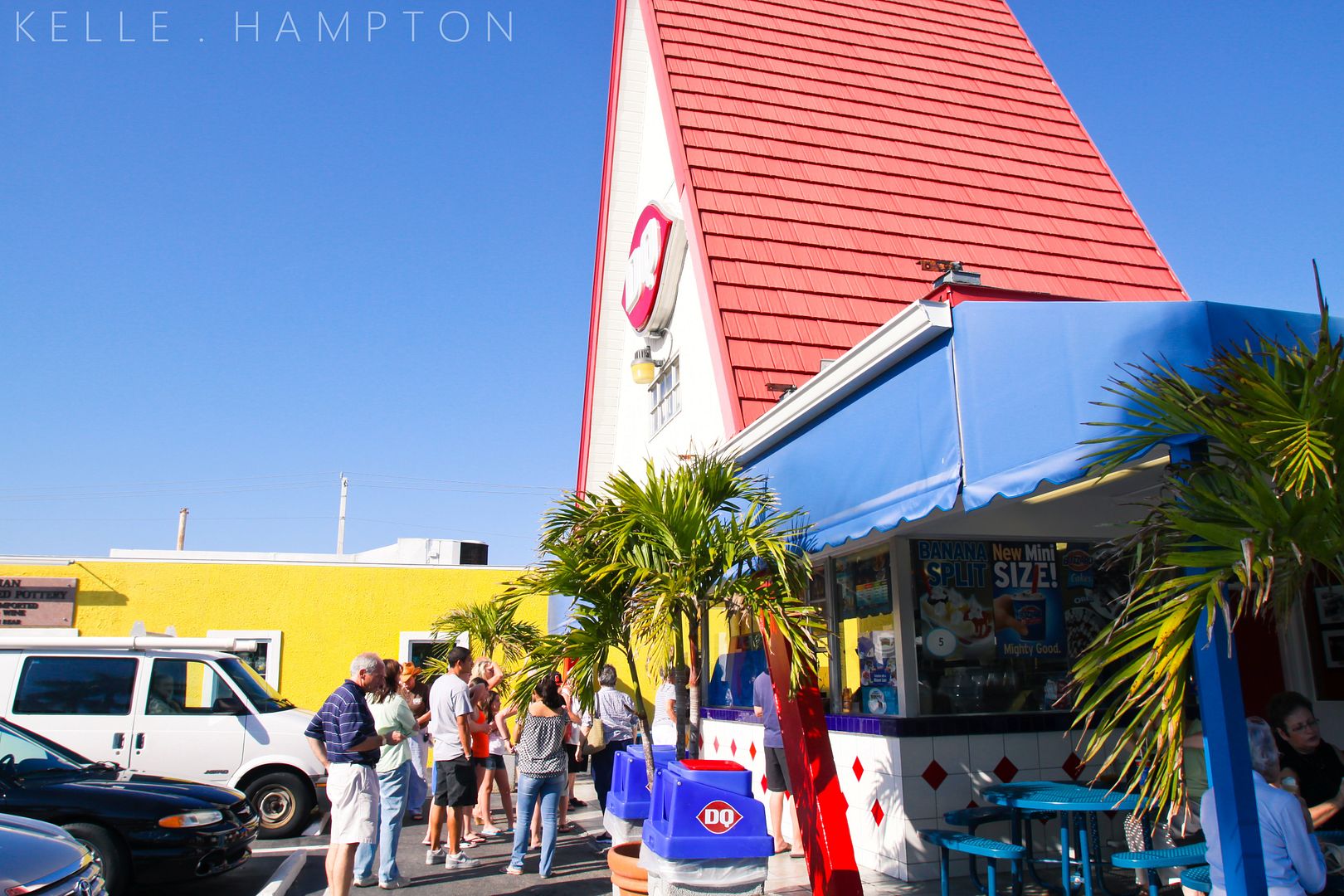 So, while Lainey helped Jonah coax Nella to stand and stay on all fours and Brett waited for me to roll in the driveway in my promised "two seconds," I hovered over a hot fudge sundae with extra whipped cream under the old red A-frame roof of the Naples DQ and downed my ice cream like a Hoover vac.
I picked a hidden picnic table in the back, but I saw one of the workers watching me eat from a window where he was making a Blizzard or something, and I was embarrassed because of how fast I was eating. I inhaled that poor sundae, scraping the last bits of hot fudge with my fingers and licking them clean. But, oh you have to do that sometimes, eh?
I drove the rest of the way anxiety-free. I waved on anyone who tried to cut in front of me. I smiled. I pulled my left knee up on the seat all cool and casual and heard my driver's ed teacher yelling in my head. I tried to memorize the words to the new Kesha song on the radio and imagined how I'd bust out the lyrics later when I had it down pat. Maybe I'd throw in some cool moves. Definitely something my old youth group wouldn't approve of. To get back for all those CDs they made me break.
Oh, but I'm off on quite a tangent. Redirecting…
I returned for the last fifteen minutes of therapy and Jonah joked I should have stayed away. Because my girl is stretching and reaching for me and she'll have nothing to do with crawling and standing now. I love that my girl stretches and reaches for me.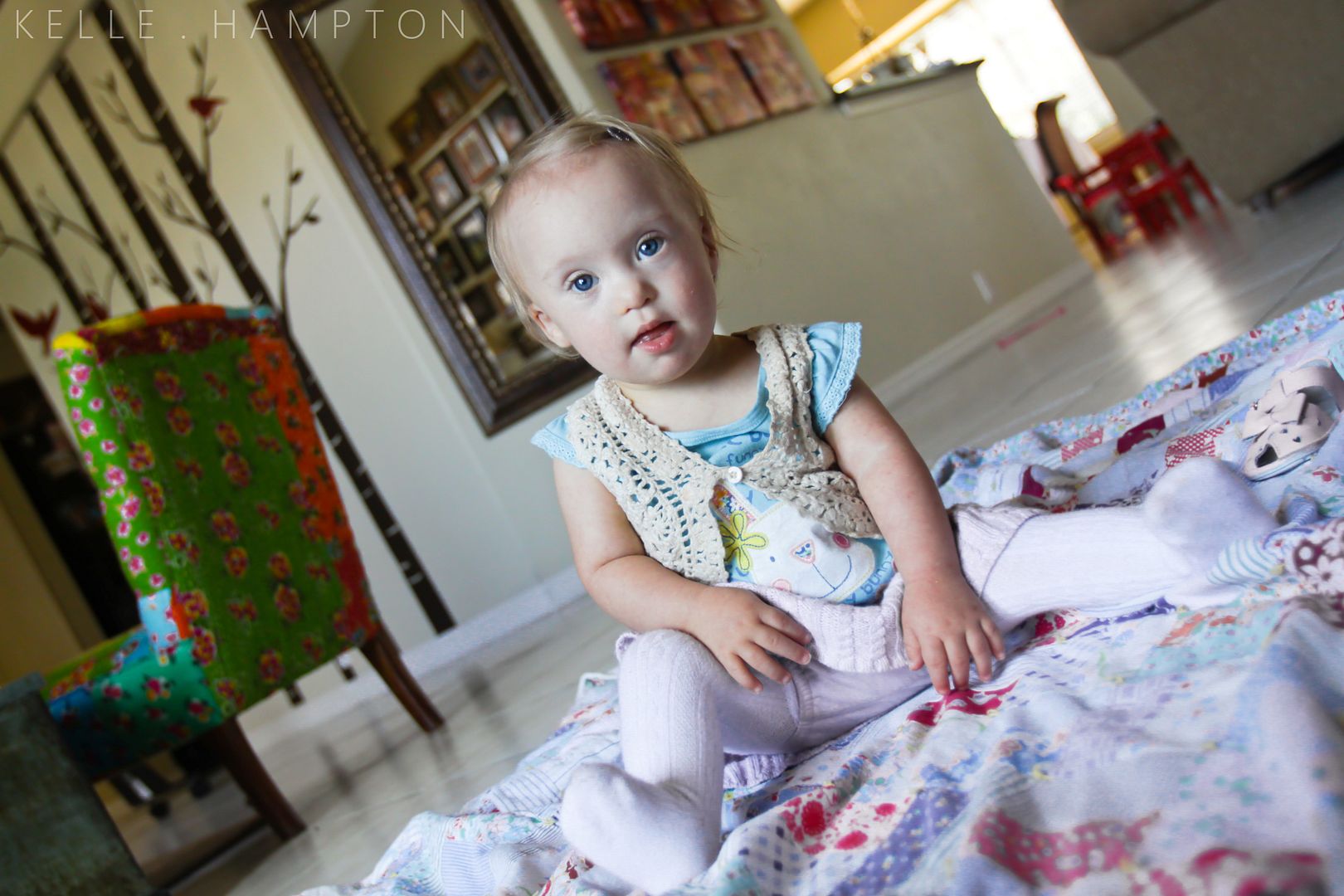 I missed them. I missed them for two silly hours and though I very much liked my car solo and riding with the windows down and learning the words to the Kesha song (hot and dangerous, if you're one of us then roll with us cuz we make the hipsters fall in love when we got our hot pants on and up and yes of course we does…okay, that's all I got and I'm good at botching lyrics)…where was I…yes, though I happily swim in the tranquil waters of my rare alone times, I even more happily cannonball into the vibrant ripples of the good, the loud, the empowering laughter and neediness and loveliness of my family.
Today, we drove again. A different drive. One where I was reaching back to shovel wheat puffs in a little mouth and asking Lainey to stop kicking Daddy's seat. And after a few errands, I asked Brett if we could just drive.
"You just want me to drive?" he repeated.
"Yeah, can we just drive for fun…like a local road trip?"
And he smiles and turns the opposite direction of home. And I am happy.
We ventured down hidden streets and found secret horse farms and empty lots. And on the way home we passed my favorite tree, and Brett pulled over so Lainey could pick some fallen flowers.
And the funniest part of this story is that A, you should know I'm terrified of cops. Like I think I'm going to get arrested at any given moment. Like I'm not kidding, if I go in Dunkin Donuts to get a coffee and there is a police officer paying for a donut, I am quite certain he is going to think I stole my coffee and cuff me. And B, while we are picking flowers, I see two men on bikes. They are pedaling toward us and they are wearing white shirts and ties. And I freak out and say to Brett, "Here come the cops." Because I just know they're coming to get me for picking flowers and they are going to cart me off all cuffed and arrested on the back of their bikes. And I'm not joking. Brett starts laughing and says, "Kelle, I think they're Jehovah's Witnesses" and I suddenly see their backpacks with their Bibles and my shoulders drop and I am so relieved I'm not going to jail. Even though I know there is nothing illegal about picking fallen flowers in an empty lot.
I love how Alone and Together live in harmony. Like orbiting planets pulled together by gravity. We don't have to be defined by motherhood because there's an intricate infrastructure of talents and dreams and passions that makes us women who are strong enough to stand alone. And yet, ask any mother and she'll probably tell you there's nothing more incredible she'd rather be defined by than the amazingness of her littles and her family.
Lovin' my solar system tonight.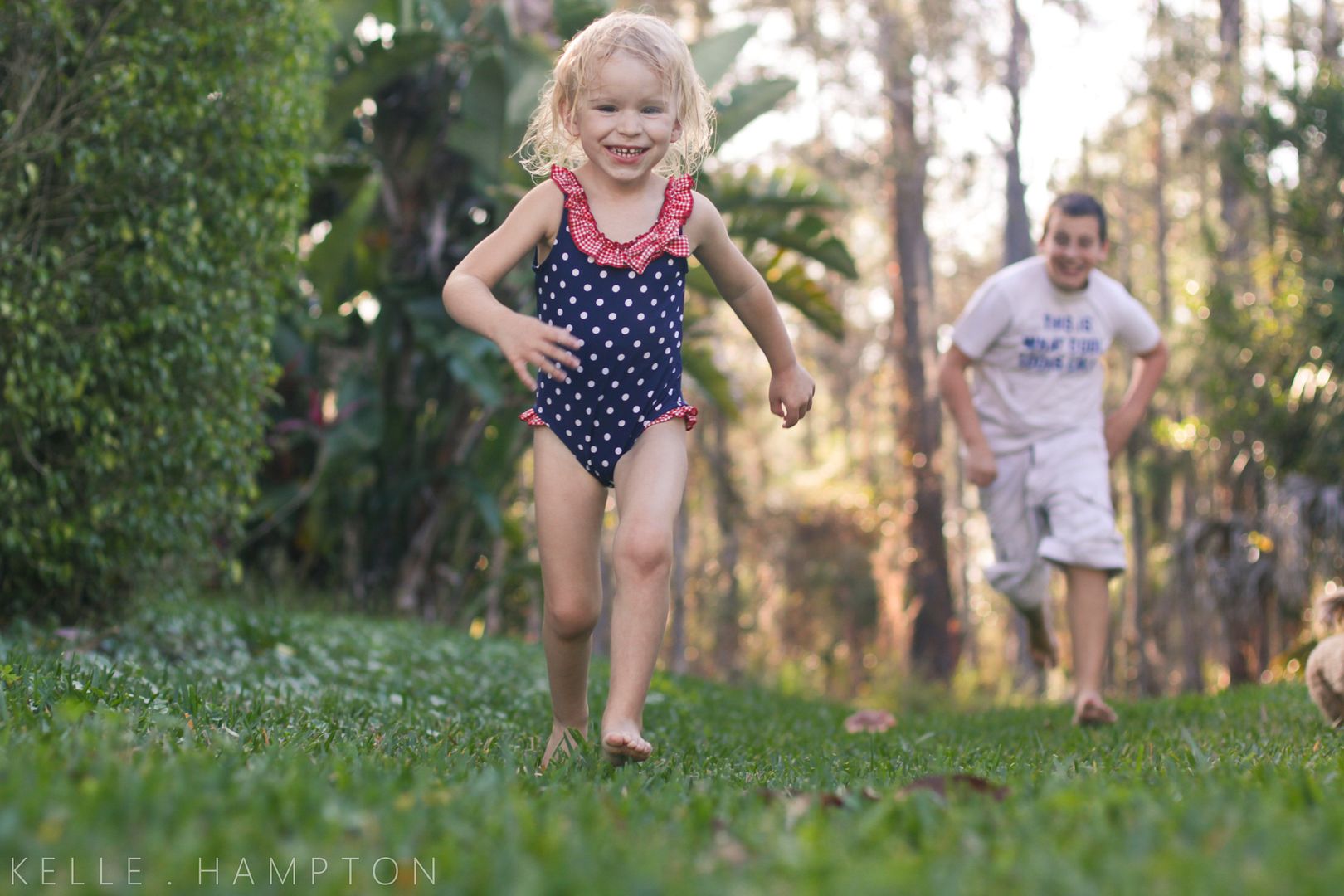 And thrilled to lick and turn the pages of the next chapter, soon to come…spring is on the way. Brett predicts the significant cold fronts are over, and we're in for the steady incline of blue skies and hot sun. We are preparing appropriately with popsicles and garden hose showers.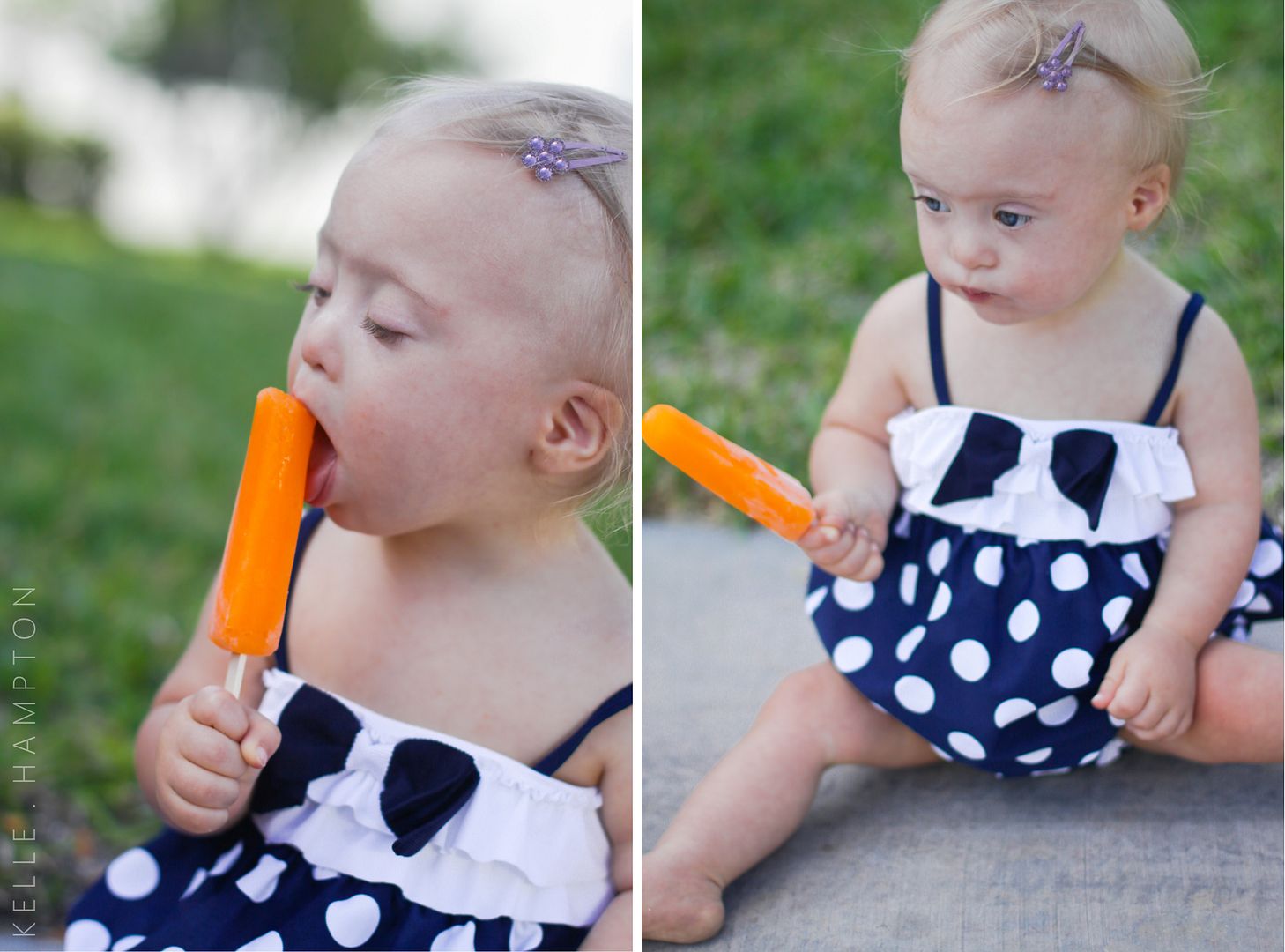 Nella's first popsicle, but you would have never known it. She knew just what to do, thanks to watchin' her sister like a hawk.


Happy Sunny Skies.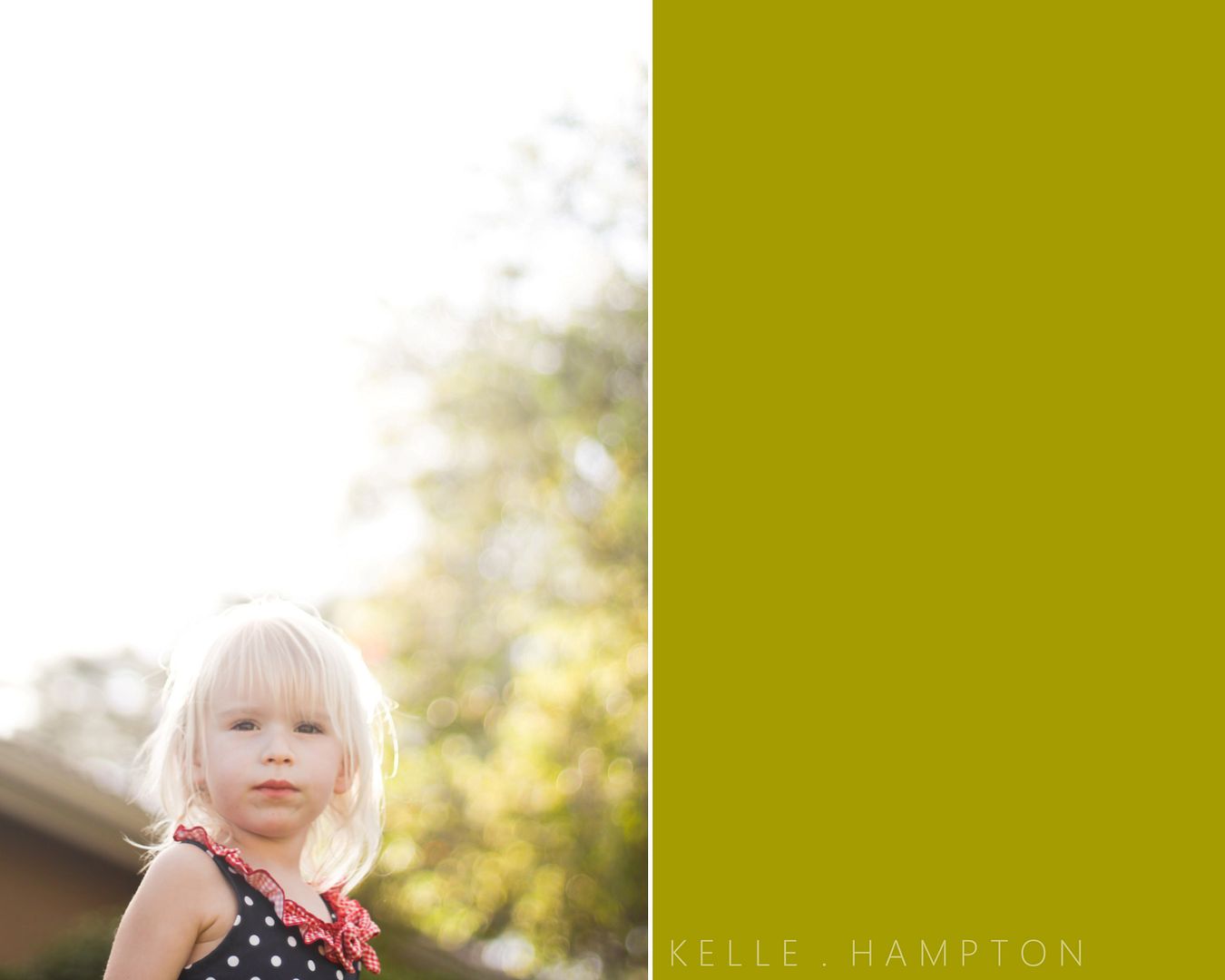 The winner of the Tiny Hiney onesie is Commenter #426, Emily: We curse tile, too (and hard wood, and concrete…the boy has a BIG head!) Beautiful analogies and gorgeous pictures. That Millie is adorable, as are her big sis AND mama! Craving frozen yogurt (and a sunny afternoon to enjoy it!) now…

Congratulations, Emily! Please send your contact info to kellehamptonblog@comcast.net.