Totally loved the last batch of comments and laughed at how many people share a CD destroying past and fear of cops. For all of you, I will make up for the past and have a ceremonious blasting of speakers today while I clean house. Ace of Base, Baby. Just because "all that she wants is another baby" doesn't mean she's goin' to hell.
It feels like Spring here. Like Warm and Cool have exchanged vows in a beautiful blue-skied ceremony and have brought forth a love child who dwells right here, right now. She is splendid, this love child, and she brings with her breezes that send our curtains fluttering and call the babies outside.
The garden I thought was a lost cause has suddenly been born again or, as Brett says, "goin' nuts," and I'm in a rare mood to plunge my hands into sudsy buckets and slop wet rags along floors and base boards and clean some house.
And since most of the country still has a snowy hump to summit before surveying blue skies and blooming crocus, I will bring you Spring. I'm a good sharer, so you can have some of ours.
I remember two main times in my life when I think of Spring. One was about seven years old. I remember our neighborhood, the kids who thought 55 degrees meant shorts and jellyshoes and the adults who washed their cars in their driveway when you could still see your breath. I remember picking out Easter dresses, new white tights and black patent leather shoes I'd lose a week later.
The other memories are much clearer as it was more recent. I lived with my grandparents when I attended college. In a small blue house on Dorothy Lane in a town known for two things–its Free Methodist church and its Free Methodist college. The juxtaposition of a young girl trying to find her place in the world living with her eighty-some-year-old grandparents very secure with theirs was interesting and made for a very enlightening, nostalgic and sculpting-of-the-soul experience. Regardless, I'll never forget a Spring Arbor, Michigan Spring. How the amaryllis my dad gave my grandma every Christmas finally bloomed and how my grandma would call him up to tell him. How snow melting off the deck swing meant it was time to tidy up, pull the grill out, place pads on outdoor chairs. I remember bright yellow forsythia blooms were the first to show their colors against the gray leftovers of winter and how they signaled yard work and longer walks with Koko, the one-eyed cocker spaniel. Spring meant a good cleaning–the smell of Barkeeper's Friend, a glossy finish on the gold linoleum, a switch-out of grandkids' pictures in frames. Spring meant I'd attempt to clean all the crap that had multiplied over winter in the back seat of my teal Ford Escort wagon with the duct-taped fender (a.k.a. "The Staysh") because it was the one thing I owned and cleaning it gave me a sense of control even though it didn't really matter if it was clean or not. I mean, come on. It had a duct-taped fender and the passenger door didn't open because I ran that side of the car into a tree which is a moot point, but still.
And now, I merge the past with the present in my love of Spring. I plan my girls' Easter dresses, search out some good jelly shoes, and slip a can of Barkeeper's Friend in my grocery cart…for old time's sake.
Behold, I bring you Springish things we're loving. A sneak preview of things to come your way.

Pastels
Apple Blossom Candles
Mirror Makeover
Once dull and goldish and unnoticeable. Now red and vibrant and happy. Brett said yesterday, "What are you doing to our house? You're, like, spraypainting every day." And, as my friend Nadya coined, "I'm debeigeifying," I tell him. Important in homes just as it is in our personalities. Debeigeify. Color it up, Dude.
Besides, red looks really nice with our $10 blue tablecloth.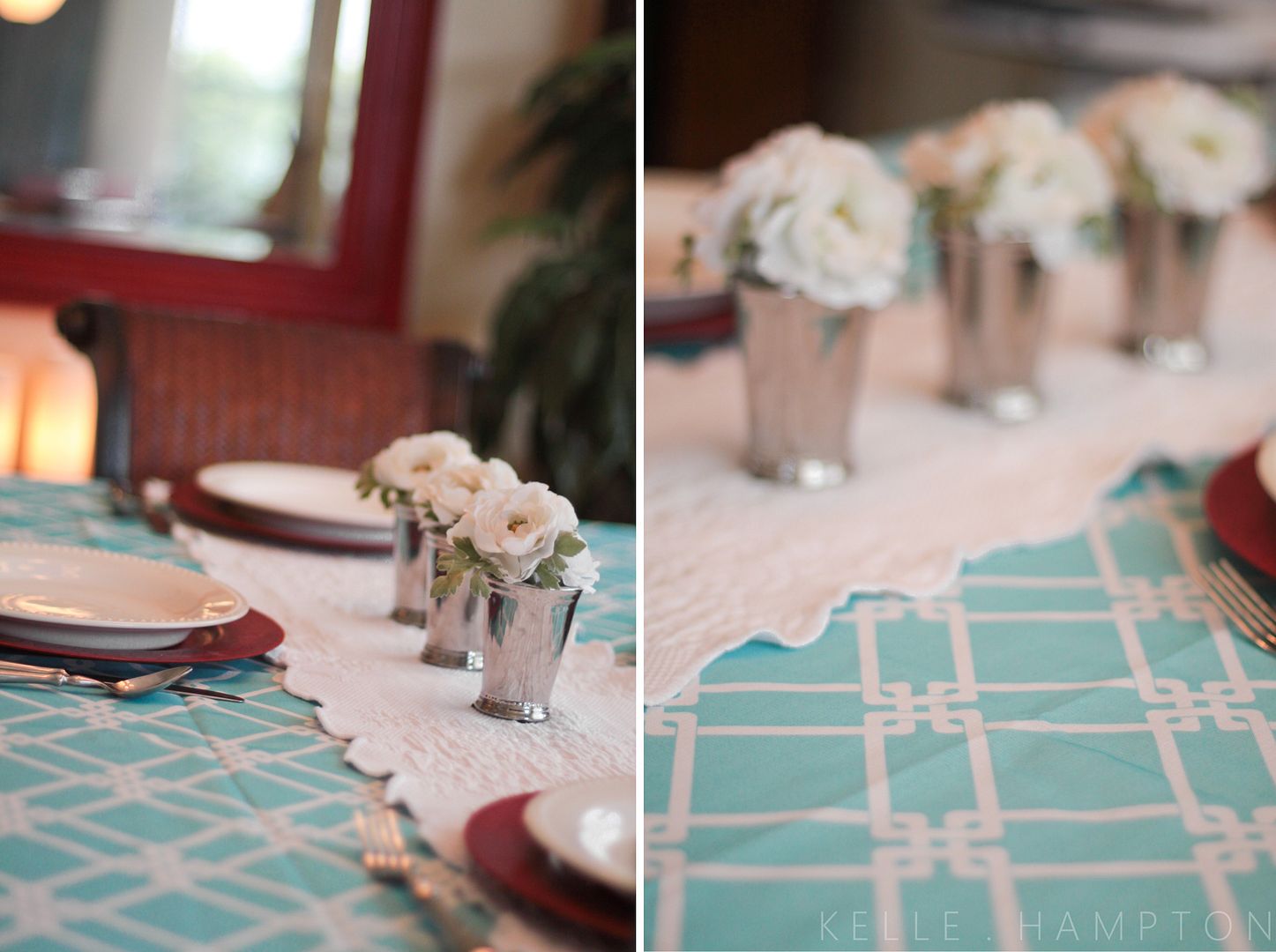 I know, the creases. Iron, much?
I'll have you know the inspiration I got from setting that table yesterday fueled me to clean the bejesus out of my kitchen.

Reemergence of Vibrant Clogs
I dug out the hot pink clogs I bought five years ago and have only worn maybe three times. That's about to change.
And pink clogs plus pink skirt plus pink bike screams pink in a way that says "Hey, I'm high on life, how 'bout you?"…which is how I like to greet people anyway, so it works out great that I get to save my voice.
Bare Feet
Swimsuits
And Flower Cupcakes served with Butterfly Napkins
And if that wasn't enough to carry some Spring over to your weekend, then how's about a Pre-Spring giveaway?
New Sponsor, Tahnie Woodward and her Stella & Dot shop are climbing aboard the sidebar, and we're loving everything her shop has to offer. After you order, shoot her an e-mail (tahnie@gmail.com), and she'll refund you 10% off.
Favorites?
These badass spring green earrings. Long and dangly and very catch-your-eye but still comfortable. I'm in love.
…and a whole line of Little Girl jewelry. Lainey loves her new necklace, the Little Charlotte (and the pretty canister it came in that's now home to one Laffy Taffy, three Squinkies, a barette, a lipgloss and a fuzzy Dora sticker that lost its stick).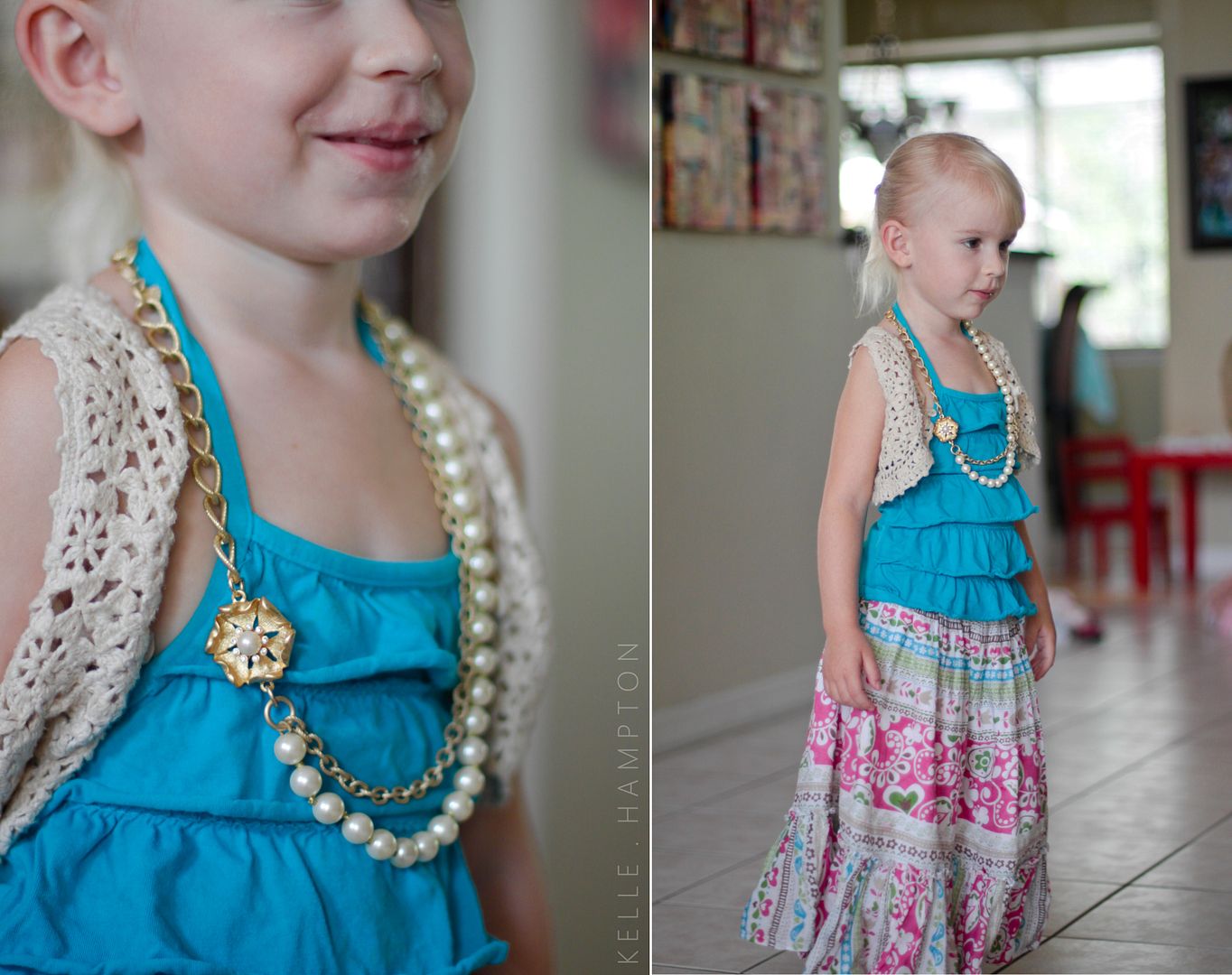 she's wearing Nella's size 3 month vest too. Ha.

A random comment will be selected to win a $40 gift certificate, provided by Tahnie, to her Stella & Dot shop. So tell me five of your favorite past spring memories. Did you make kite collages in kindergarten or chart your In-like-a-lion and In-like-a-lamb predictions for March 1st? Did you convince your mom to buy you one of those silly broad-brimmed lavender Easter hats or shape rice crispy treats into bunnies and chicks? Do tell.
Now pardon me, I have some Ace of Base calling for a dance with the mop.