"You should see my house" has been my compliment comeback of choice for some time now because first, it's true–some area of my house is, at any given moment, likely to be in shambles–and secondly, I've wrongly assumed you're always supposed to shoot back compliments with some stupid self-deprecating statement. Just because someone tells you they like your dress doesn't mean you have to cancel it out with how disgusting your kitchen counter looks. It's okay to own a compliment and not everyone needs to be spoonfed the fact that if a woman is pulling it off in one area, there's another area falling apart. I'm now assuming this is a given, and from this day forth, any success in my life comes with the disclaimer that somewhere, something looks like hell. And if, by chance, it doesn't, don't say anything 'cuz, God forbid, you'll jinx a miracle.
The thing is, I'm not a good housekeeper, and snapping back with a forced laugh and a "you should see my house" is getting old. I'm tired of using heaps of wrinkled laundry for toss pillows and tripping over doctor kit pieces scattered like shrapnel across my living room floor. And I'm ready, when complimented on my red dress, to smile and reply simply, "Why, thank you. Red's my favorite color."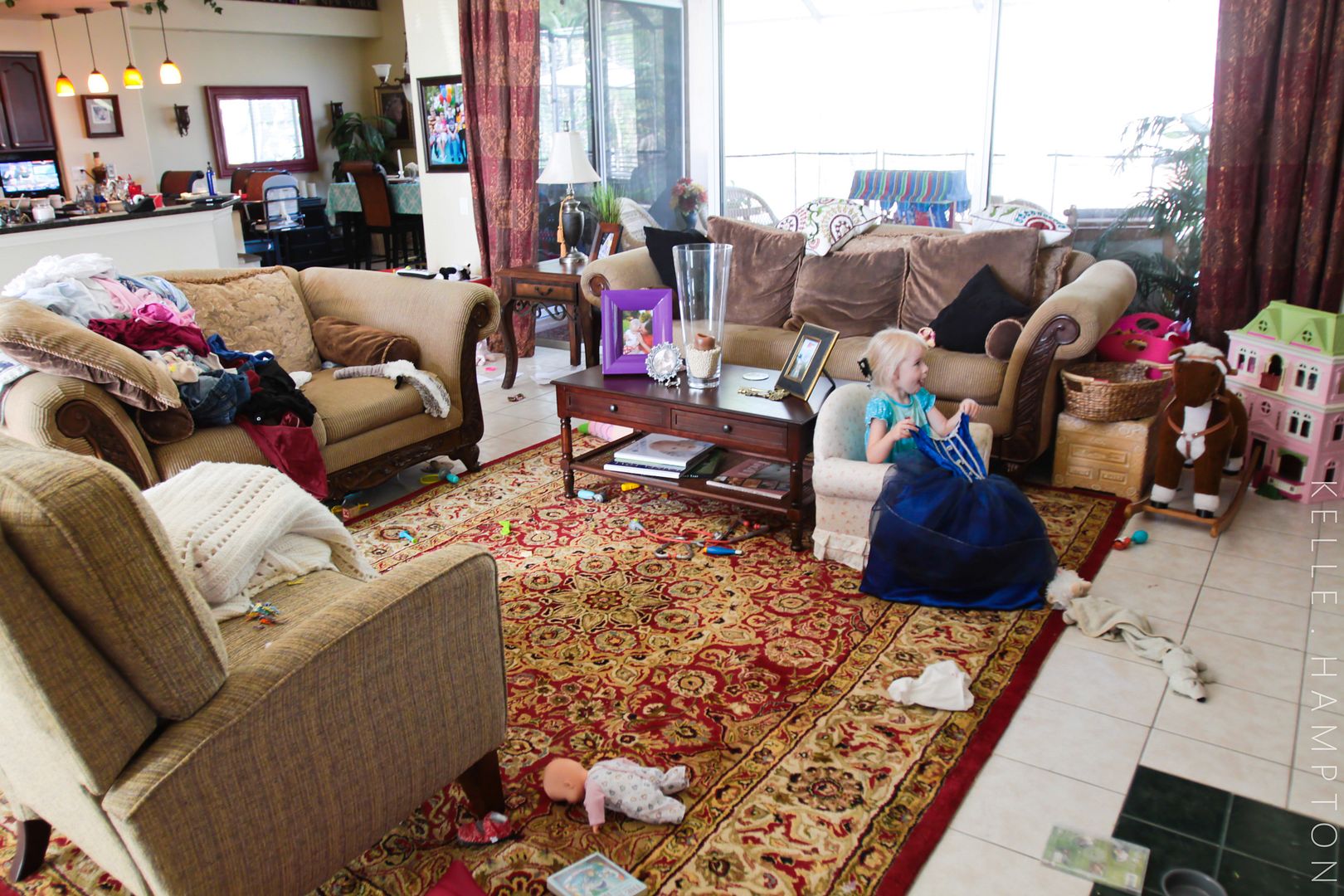 But the house thing has gotta change. Over Christmas break, our neighbors came over and, while I tried the old company stand-by of room spray, candles and a lot of closed doors, their kid ran into our bedroom. I'm pretty cool with being up front that I'm not the Type A Cleaner, but we're still in the first impression stage with these neighbors and I wasn't ready for full disclosure or the explanation that our room is where we dump every pile that doesn't have a place two hours before company comes. You have to desensitize cool neighbors first–with my buffalo chicken dip and free beer and our whole hey-we're-really-cool-friends act, and we hadn't quite yet sold them for the second stage of here's-who-we-really-are. …pigs.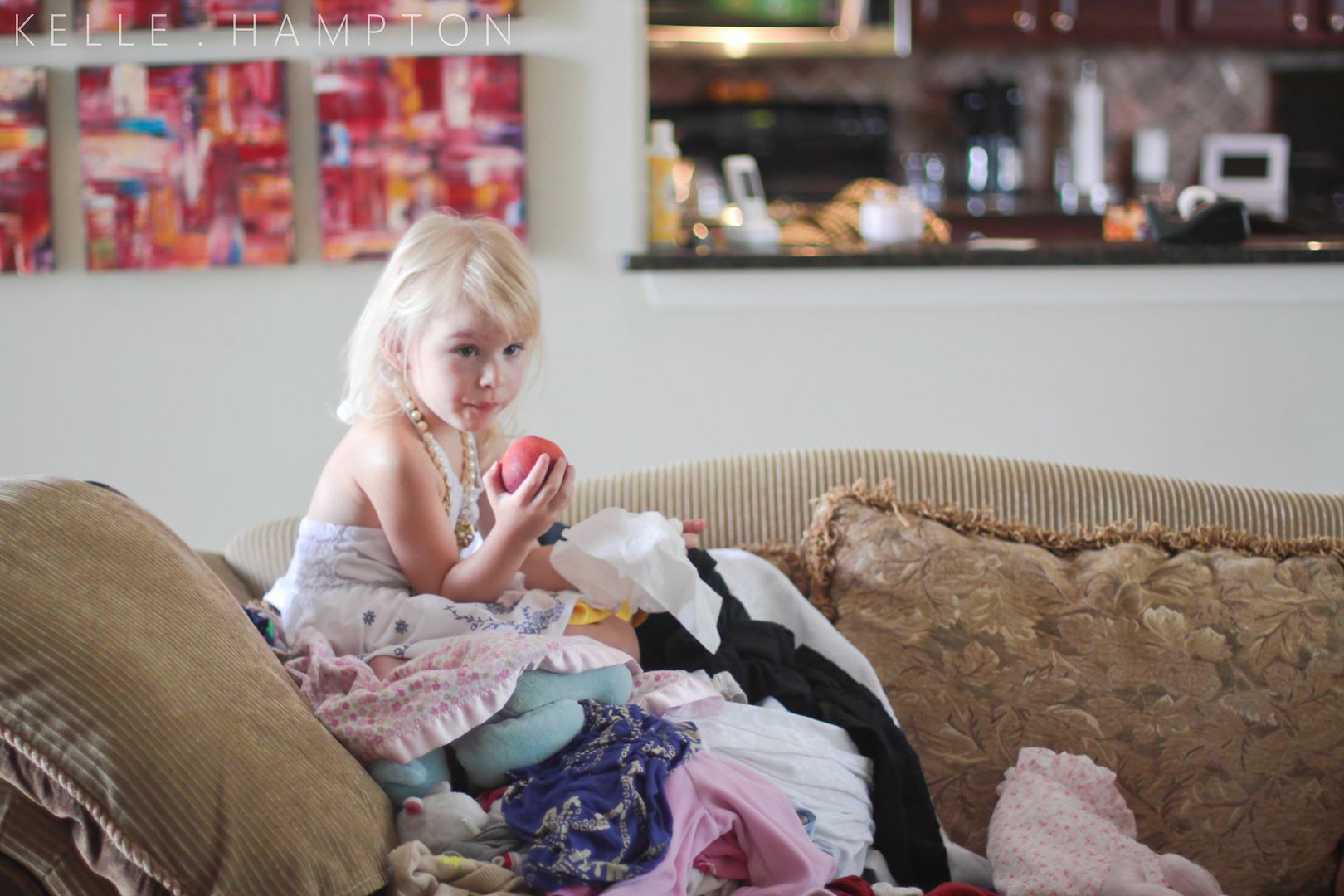 So, I run to close the door and shoo kids before anyone sees, but it was too late. Cool Neighbor Friend Dad walks in and, swear to God, couldn't hide the horror. If I recall, it went something like "Holy S@#t, what happened?" And I honestly considered two lies. One: We're moving. Two: We were robbed. Instead, I bailed. Ran out of the room in embarrassment without any explanation and, from another room, called my friend Laura laughing so hard, I couldn't spit out the punchline…the "Holy S@#t, what happened?" part.
And I say this all for two reasons. It might look from the blog like we get a lot done and I craft and I bake and take pictures of spring cupcakes, and yes that might be good and inspiring, but there's always not-so-fun stuff that gets left out here. Cleaning house is one of many. But also, sometimes writing about something helps me overcome it, and it feels good in that proclaiming-New-Year's-resolution way to publicly sign a declaration of Hey, I have a problem and Hey, I wanna fix it.
I will never regret letting the house go to spend important time with my kids and that will never change. I couldn't care about fingerprints on windows if I tried (in fact, I kinda like them). But, there has to be a happy medium, and a love seat slip cover made of wrinkled t-shirts is not it. I'm confident in the fact my kids will grow up in a relaxed environment knowing we chose Candyland over dishes, but I also want them to feel the security and comfort that comes from order and the beauty of aesthetics. Besides, clutter in the home inevitably interprets to clutter in the mind, and I'm a better mama when I make efforts to avoid chaos and attempt simplicity.
So, I'm going to try really hard to change this problem. This week, I'm weeding out, tidying up, and reorganizing some priorities. For my family, for my kids, but mostly for me. Because I'm really good with new challenges.
But oh, you should see my house.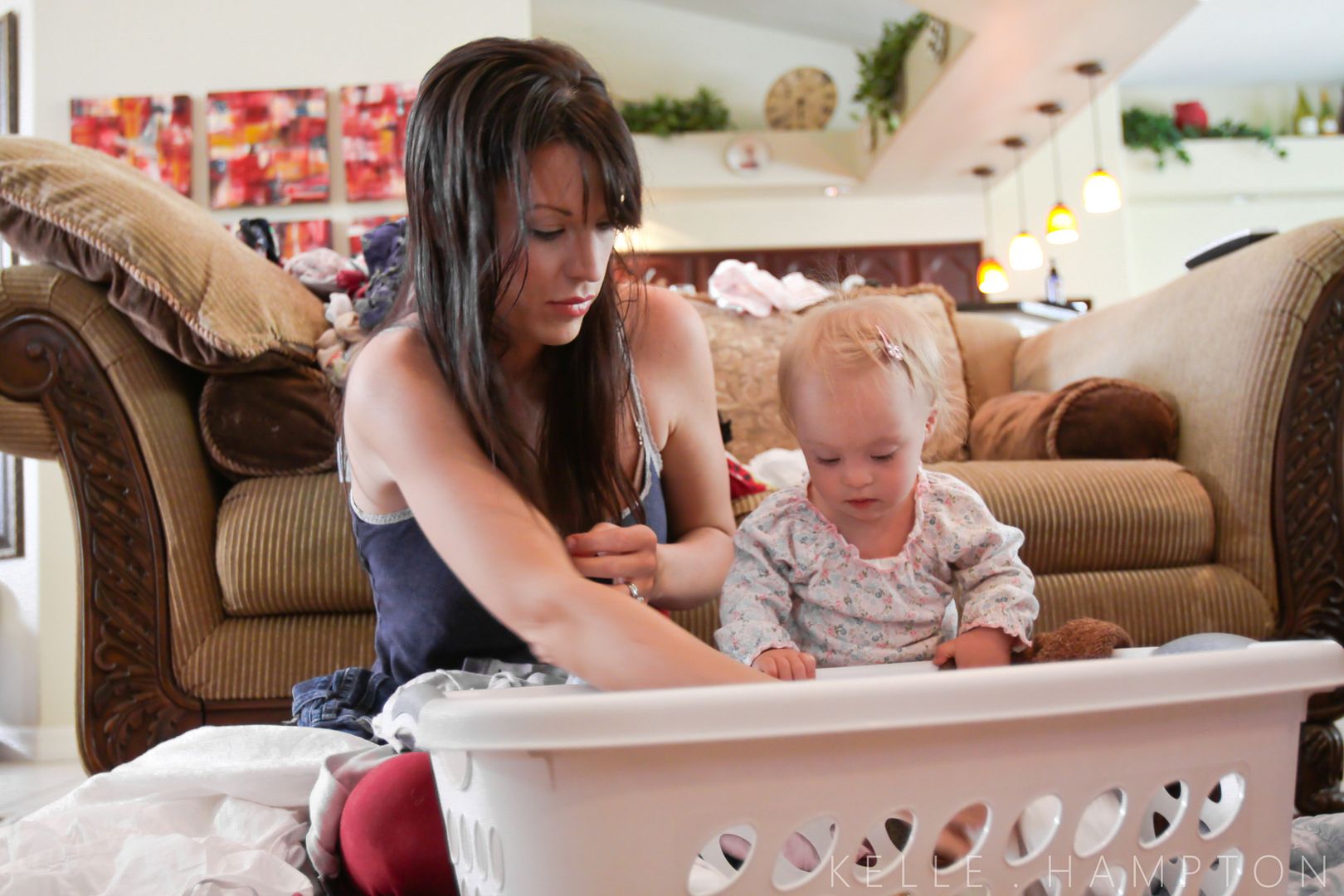 * And the best part about cleaning house is rewarding yourself afterward. Try an antiqued mirror, a vintage inspired soap for your guest bathroom, or some pretty glass milk bottles for displaying spring blooms from sponsor, Timeless Settings.

And the gift certificate winner for Tahnie's Stella and Dot shop is Comment #54, Jen Green:

1. Silly easter hats that I loved…they were hideous
2. The one year I got an easter basket
3. The first sunburn from a spring soccer tournament and going to church with crazy burn lines.
4. Smell of lilacs
5. Washington states spring rain showers…nothing compares to the smell.
Love your blog and I laughed out loud when you said you had to break your CD's…so close to home.
Jen, e-mail your info please to kellehamptonblog@comcast.net. Thanks!
Happy Monday.