This post is sponsored by Kohl's.


Now that we're back in the game of school schedules and homework, I've been wanting to designate a kids' work area. Up until now, we've used countertops, the kitchen table and a very small kids' table for homework and projects, but all of these spaces are in the main area of our home, open to distractions. They also function as eating areas, so there's really no room to store supplies. I've been dreaming up a simple multi-functional space where resources are easily accessible–a space that would work for homework, art projects, crafting, quiet reading and Nella's tutoring (our poor tutor has been sitting on a tiny kids' chair, hunched over a small table–"I'm fine, I'm fine," she keeps saying.). We recently did some rearranging to create an office space, and with lots of room leftover, I figured it was the perfect place to add a work area for the kids. With this all up in my brain, imagine how thrilled I was when Kohl's approached me: "Hey, would you be interested in working with us? We'd love you to create a back-to-school space in your home." It was like they were IN MY HEAD.
So we did what we do best–work with what we already have (table and chair) yet add some fun and functional new pieces to create a cozy, colorful space for our kids to study and be creative. Kohl's made it easy and affordable by offering a great selection of home goods that were inexpensive yet on trend. From desks to lamps to fun accessories that match each child's personality, Kohl's has an array of products to help create an exciting place to learn and grow outside of school. The result? Two new functional kid nooks in our office–a creative desk space and a quiet reading corner.
Without knocking down walls, calling a designer or spending a lot of money, you can easily make a creative work space for kids. The bonus? Work is more enjoyable. Kids are no different than adults–I've had a few different work spaces over the years, and I enjoy writing and creating far more when my desk area is clean, when there's good light and when the surrounding area is fun and creatively motivating.
Dreaming up a homework nook in your home? A reading corner? A project table? Here are a few tips for creating that perfect space for your kids.
Creating a Cozy Study Space
1. Go to the Light
Kids need to be able to see well while they're working, especially in the evening, so make sure work areas are well-lit–a desk lamp, good overhead lighting, a book light for reading nooks. Sunlight was a huge factor in deciding where to put my own desk–it's energy, happiness and motivation all funneled into super power sunbeams, pouring into my work space.
2. Make it Comfy, Cozy
When I taught fifth grade, my students loved when I let them take a project to the rug or find a cozy space to read other than their desk. You can easily create a reading nook with some pillows, a blanket, a rug and a basket of books. We found a super comfortable backrest pillow and a sweater-knit throw pillow from Kohl's that together, tucked in a corner, created a cozy floor nook. Keep clipboards on hand, and kids can use the same space to take homework to the floor. And a little insider tip? Call the nook the Secret Reading Nook, and your kids' interest in spending time there will instantly double. Kids love secret things.
3. Lots of Accessible Books
Baskets, storage totes, old suitcases–any of these can be used to keep books out in the open, a welcoming invitation to read. Keep favorites in it, but switch them out for variety and interest. Make sure to include on-level books including picture books, board books for toddlers, chapter books for bigger kids (within their reading level) and non-fiction for fact-lovers. Florida has a Sunshine State Reader program where a suggested list of the best new reads is released each year, so I just refreshed our library with several new chapter books from the list.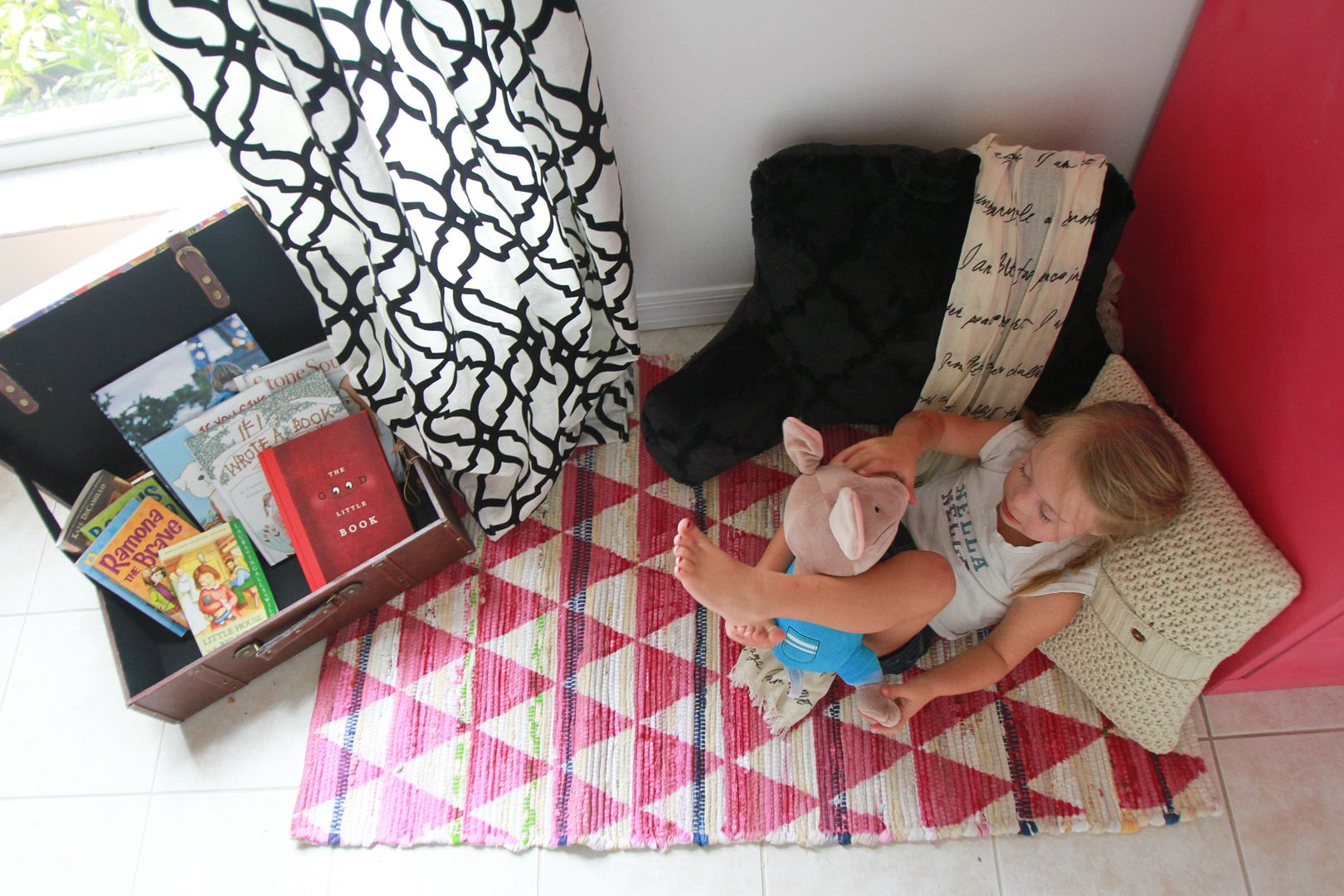 4. Keep the Basics on Hand
There's nothing worse than going to start your homework and having to search for paper or a pencil that's not broken with a chewed-off eraser. Always keep your study area stocked with the basics: paper (stackable trays work great for storing both lined paper and plain paper for drawing), pencils, erasers, and a pencil sharpener.
5. Add Resource Tools
Other great things to keep in your study area: a student thesaurus, pocket dictionary, ruler, scissors, math manipulatives, flash cards. I like having these things on hand because if I tuck them away in a cabinet, I'm likely to forget they're there and not use them. Since we've kept our flash cards out on our desk, we remember to spend a few minutes practicing every night. We also keep preschool workbooks in our study area for practice with Nella and Dash (you can often find them in dollar bins) as well as some occupational therapy tools–fat pencils, grips, etc.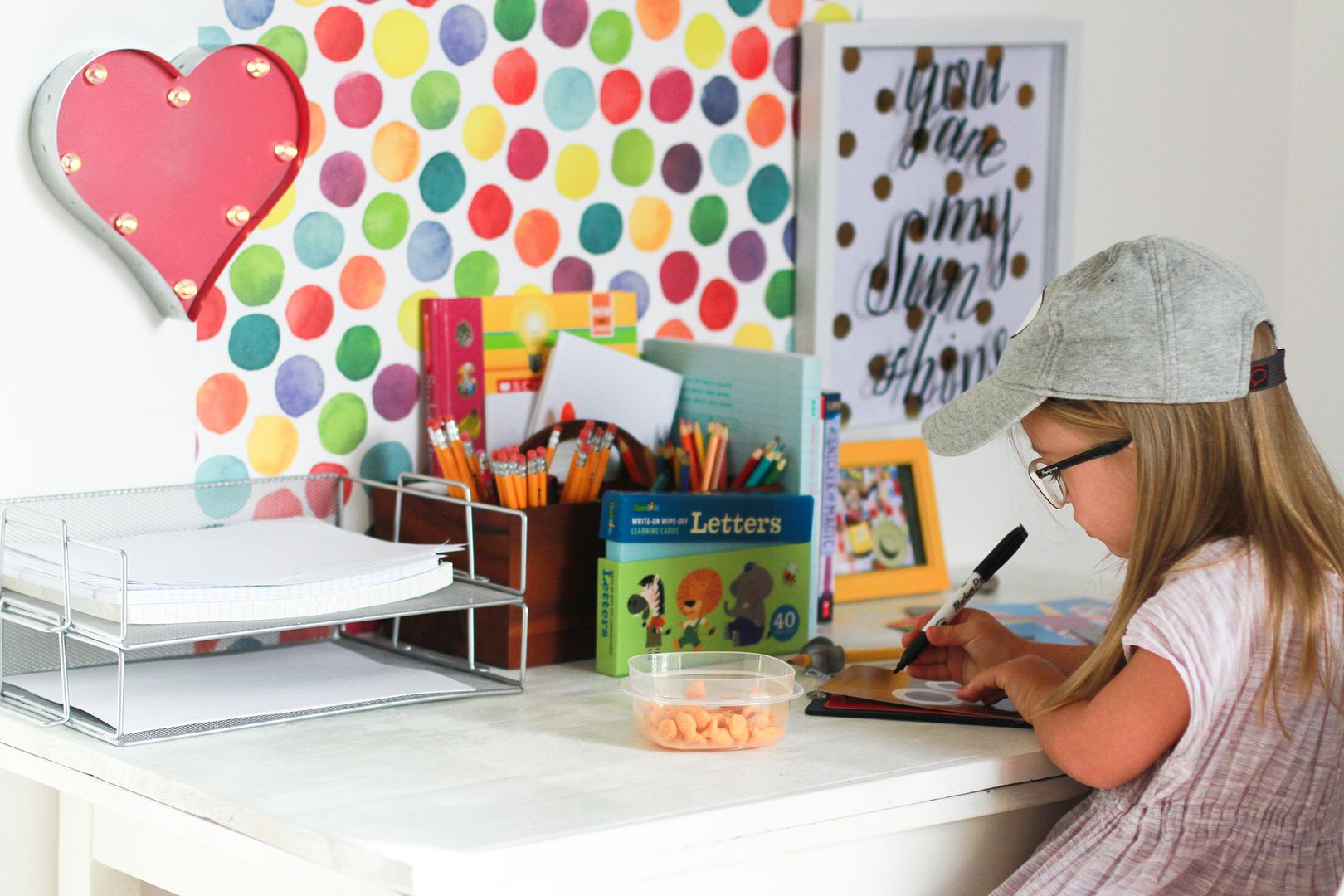 6. Store Creative Utensils
The great thing about study spaces is that they can double as creative art spaces. We found an awesome wood utensil caddy at Kohl's that holds everything in one place–crayons, markers, colored pencils, glue, scissors, etc. And it can be easily moved to other places without making a mess. When the kids aren't using our new spaces to do school work, they can use them to draw, make art, form Play-Doh structures, color, etc.
7. Personal Touches–Express Yourself!
This part was our favorite–adding the fun stuff. Lainey loves the light-up heart marquee in her desk space, and we had fun personalizing the wall hanging by adding photos and color. I hung a strip of designer wrapping paper (adhered with wall putty, easily removable) above the desk and added some positive message prints we found at Kohl's, great encouraging reminders for creative work time. Without overwhelming a space with distractions, you can neatly arrange a few prints, taped photos, positive messages and kid artwork to make a study space unique and personalized.
8. A Display Board
A bulletin board, magnetic wipe board or chalkboard works great for posting reminders and due dates. We transformed a great wall hanging we found at Kohl's into an expressive display board simply by taping up some photos and slipping some S-hooks through the slats to hang things. Now we can hang weekly spelling lists, project requirement lists and important communication/dates from the teacher so that we don't forget.
9. The Perfect Ambience
Your space is created, your kids are ready to work, everything's in order. Just a few last touches to set the tone for a positive learning environment. A few optional additions to include in the room of a study space: house plants (research shows plants enhance productivity and reduce stress in the workplace), an essential oil diffuser (try citrus blends for "waking up", lavender to calm or rosemary for focus) and an audio player and speaker for kids who might benefit from some background classical music or audio books. Also, I always burn a candle at my desk when I work, and Lainey has inherited my candle love, so when I'm working in the office with her, we'll add some candlelight to our work session.
Creating a cozy study space is a fun challenge and one your kids will enjoy helping with. We all love our new study nooks and are grateful to Kohl's for working with us and providing all the accessories we needed to make our space unique and colorful.
The following accessories are all from Kohl's:
Desk Area
Large wood slat wall art (the open slats are great openings for S-hooks so you can hang things from it!)
"I love you to the moon and back" block print
"You are my Sunshine" framed print
Yellow picture frame
Heart marquee
Utensil caddy
Geometric rug
Reading Nook
Black backrest pillow
Chaps cable knit sweater pillow
Geometric rug
If You Give a Mouse a Cookie book and stuffed animal