In my secret quest to rid the world of carpet, we recently ripped the girls' room's hideous dark carpet that the dogs had taken full control of with their bladders in a revolt against the humans. As long as that carpet remained, there was nothing we could have done to that room to make it cute or cozy or anything outside the lines of living-in-a-litter-box. Once we replaced the flooring, it was finally time to give that room a little more love, so this past weekend we did a mini transformation. I had three main goals: 1) Carpet, be GONE!  2) Replace bulky, dark ceiling fan light fixture and 3) Incorporate subtle color with Lainey's chosen wall color–pink. I also wanted to blend their age gap with a room that represents both little girl and big girl–some dolls and stuffed animals still neatly tucked away.
A quick phone picture mid-paint and pre-carpet-ripout:
And the finished product:
We switched the bedding with new sheets, pillows and versatile white quilts that can be paired with anything for a new look and still work with our prized Vintage Giggles heritage quilt made from all the kids' baby clothes. The girls love the new space, and I practically made out with the new floors because they feel so fresh and clean.
The large scale art prints of the girls take up an entire wall space, and I love how they turned out. If you're interested, there's a D.I.Y. at the end of this post for creating, printing and hanging prints like these.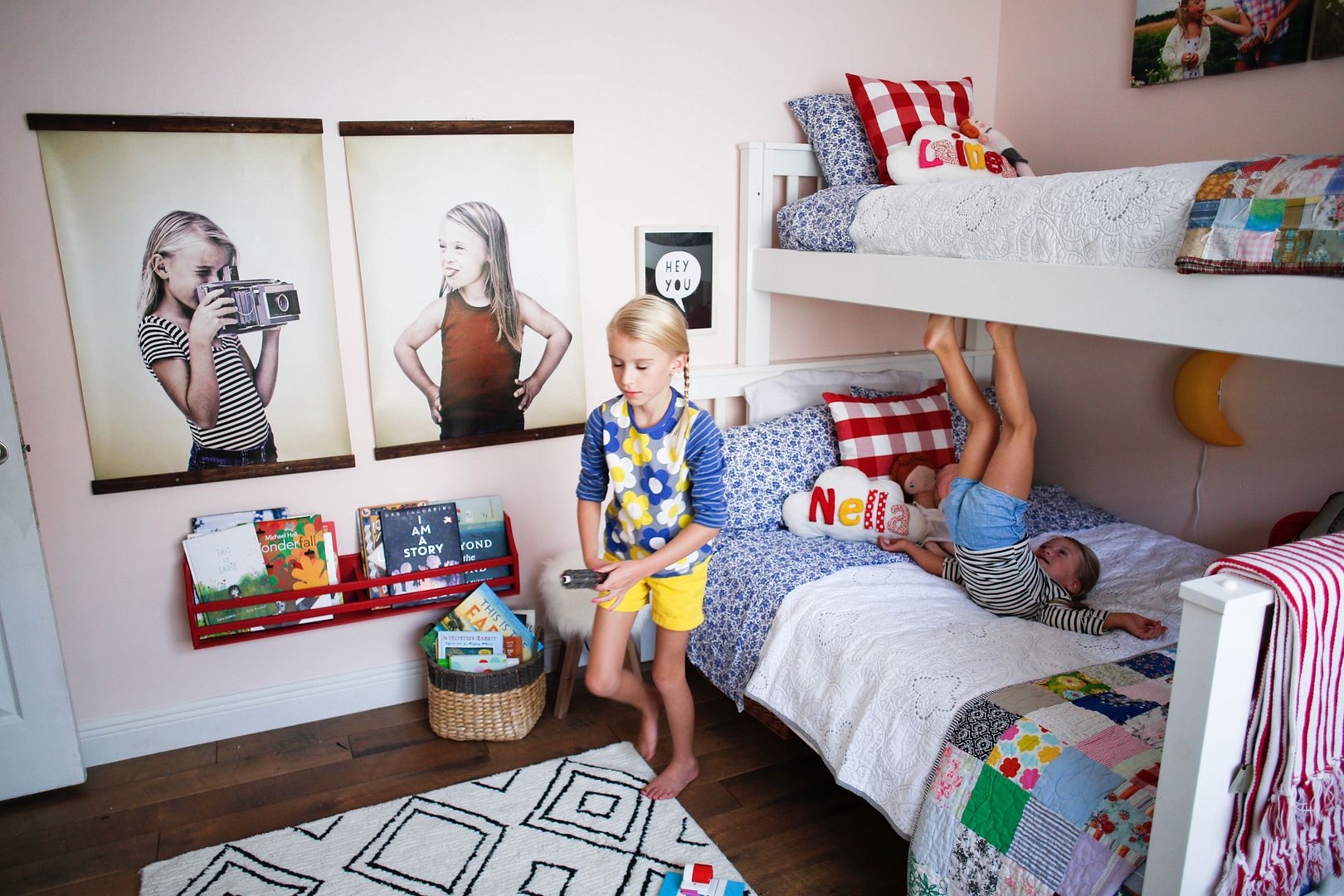 We have Nella's sight words at her eye level everywhere in this house right now, and it's so great for reminding us to work on them. You can't walk down a hallway or into a room without stopping for a moment to pick a few out and test her. She loves it and is very proud of learning how to read.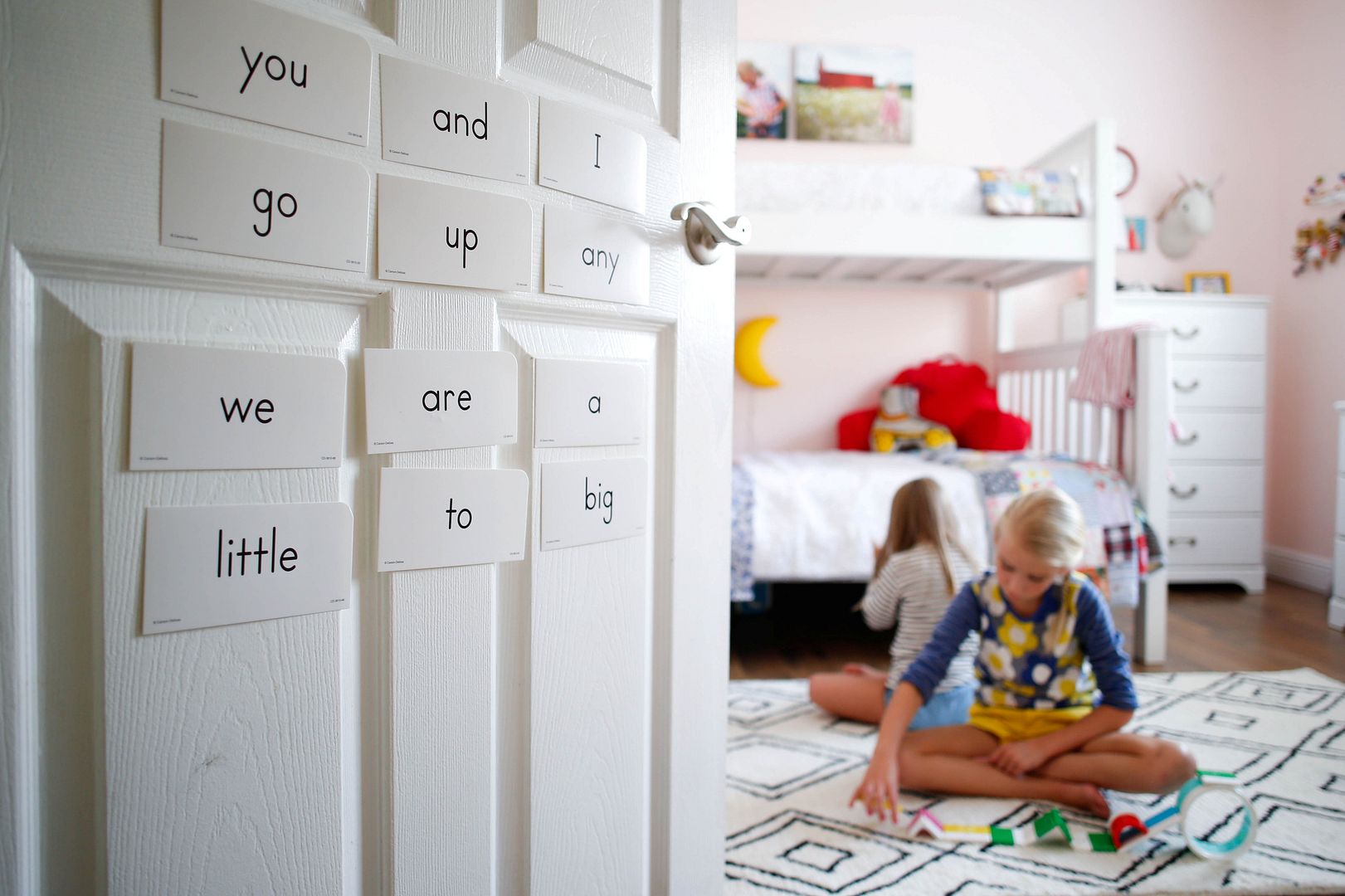 I love these reversible white quilts (gray on the other side) from Target. They were inexpensive, can be washed at home, and I love that I can create an entirely new bedding look by simply switching out the sheets and toss pillows. One of the girls' favorite things in the room are the hot air balloon paper lanterns I found on Amazon. Dash isn't allowed on the top bunk, I should add (we keep the ladder off, and usually there are bed rails on the side of the top bunk).
Will it stay this clean forever? Hell to the no. But it definitely helps to love your space so that you'll want to keep it clean. In changing things up, we went through a lot of clothes and toys–got rid of what we didn't need and organized the closet with designated places for games and crafts, so hopefully we're on the right track. Also, these are fresh-from-transformation photos. We look forward to added bits of character with the girls' artwork taped to the walls and handfuls of Shopkins and tiny treasures piled on the dresser.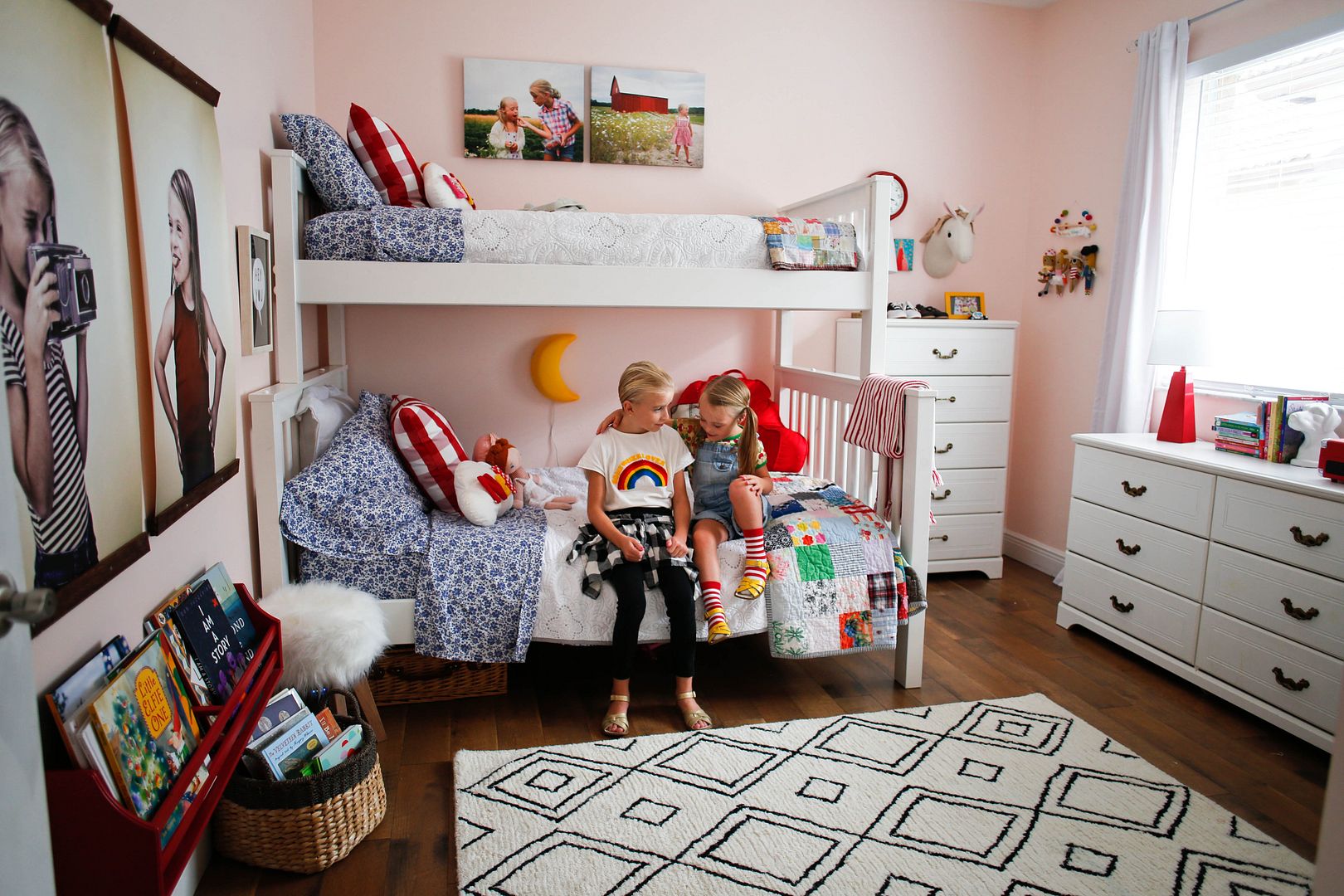 Room Sources
Paint Color: Behr Island Hopping
Bed: Cargo Kids, purchased from our neighbors. Similar twin-over-full sets: this one ($420) and this super inexpensive set ($162!).
Primrose Blue Floral Sheets, Tommy Hilfiger: (found only one set at Marshall's, found the other one on Amazon)
White Quilts (reversible with gray on the underside–love them!): Xhilaration, Target
Red Gingham Down Toss Pillows, "Hey You" print, fuzzy stool: Hobby Lobby
Moroccan Wool Area Rug
Hot Air Balloon Paper Lanterns (5-pack)
Moon Wall Light
Now for those big prints, one of our favorite things in their room:
You can make these from any photos you have, but I think they stand out best when you give them a studio look with a white background. With two sisters, I knew I wanted side-by-side photos, taken at angles so it looked like Nella was facing Lainey's camera. You could create whatever fun look you wanted with these though–throw the kids in superhero costumes, have them making faces at each other, have one kid cupping their mouth "telling" a secret and the other holding their ear out to "receive" the secret…the possibilities are endless. I borrowed my neighbor's vintage Polaroid for a prop for this shot (that her mother bought for her parents in the 60's–still in perfect condition!), and created a studio in five minutes by rolling out my seamless white background paper in front of our garage (shot in natural light, but under the roof overhang for shade to avoid harsh sunlight) and securing it with hot pink duct tape because HEY NEIGHBORS! I AM SO PROFESSIONAL! This is how I do most of my "studio" shots as well as my friends' Christmas card photos, and I always make sure I have a clean roll of white background paper in my closet.
Lainey stood in the corner to give Nella someone to look at and create the angle I wanted, and we repeated the shot switching the girls' out at the other angle.
I edited these with a high-contrast/desaturated/vignette filter (I think it was "mystery bus" from the Totally Rad Lightroom presets) to give them a bit of a retro look.
As for printing these, I am fortunate to have a kind father-in-law who does all his own printing and thus owns very large printers that use canvas rolls, and he doesn't mind printing photos for his daughter-in-law from time to time.  But there are several online sources that will do the same, for less than a stretched or framed canvas.  At UPrinting, you can order your print in a rolled canvas and have it custom sized to exactly what you want. For a 25 x 36 in. print like the ones hanging in the girls' room, it runs about $37. Easy Canvas Prints also prints rolled canvas for about the same price. For a little less, you can skip the canvas and make the same display from large-scale regular prints. Costco makes a 20 x 30 print for $9.99. Just make sure you choose a photo with good image quality for blowing it up this size. Trim off any white border before hanging.
To hang them, I wanted to do something similar to this picture hanger we have for a print in our bedroom, but I knew I could make them myself. The print is basically clamped between two wood boards on both the top and bottom to create a casual framed look. I purchased flat 2-inch wood from Home Depot and cut 4 equal sections to the width of my canvas print (25 inches) so that each print would hang gripped between 2 boards–front and back–on both the top and the bottom (so, 8 total wood pieces, 25 in. each, for 2 hanging prints–have I lost you yet?). I should add that, while I like to make things, I'm often intimidated by D.I.Y.s that venture beyond a glue gun. So when I was using a power saw (dug through Brett's tools without telling him and even figured out how to pop the battery pack in) to cut these on my own, I wanted to yell to all passing neighbors: "DO YOU SEE ME? I AM MAKING THINGS! I AM OWNING THIS SAW! LOOK AT ME! I CAN SAW THINGS ON MY OWN!" because I'm humble like that. You could leave the boards as is for a natural look, but I slapped a walnut stain on ours to richen them up. WordPress is telling me richen isn't a real word, and they are so wrong.
I don't have pictures of the this middle step, but stay with me…
Once the boards were dried, I laid my canvases on the floor and slid the "back side" set of boards under the top and bottom edge of the canvas, setting the canvas in place with a few strips of clear tape. Line up the "front side" set of boards on top so that the canvas print fits between them. Secure in place with a couple screws ("DON'T MIND ME, NEIGHBORS! I'M JUST USING A POWER DRILL FOR THESE SCREWS! LOOK AT ME!") and tighten a nut (they're called nuts, right?) on the back to lock in place.

I wound some wire around the top two screws to hang.
And there you have it.
A room for my sister bears. xo