Since it's officially September and in the Makebelieve Internet World we can be anyone we want to be and create our own reality, I am ringing in September with a giant party in the world's biggest apple orchard, and you're all invited. There are quilts spread out along every tree lane–go ahead, pick any one to take a seat–and it's a wee bit chilly so bring a sweater. We're passing around cider–freshly pressed–and warm donuts–the soft cakey ones rolled in sugar. It's too early for the leaves to turn but if you close your eyes and listen to them rustling, you can imagine this entire orchard a golden sanctuary just a few weeks down the road. Let the kids run, taste the apples, listen to the music (folk band by day, string quartet by night), feel the wind in your hair, stay for the wine tasting and my mom's chili later tonight.
Oh, hey September.
Since it's 89 degrees here with a makeup-slides-right-off-your-face humidity level, my alternate plans for welcoming September include going to Michael's. When I was in college and often feeling lost/homesick/out-of-place-at-a-Christian-school-tucked-between-cornfields-in-a-small-town, I'd skip class and drive to Jackson, Michigan, the nearest town with a Dunkin Donuts, a Michael's and–if I was feeling really crazy–Applebees (woo-hoo! Girls Gone Wild!). Michael's was my happy place, especially when I had just returned to classes and seasons were mid-shift. Occasionally I'd splurge on colored pencils or cinnamon-scented sticks, but usually I'd go simply to walk the aisles–my favorite, the sticker aisle where, back in the day, you could find packs of Susan Branch stickers, categorized into themes like Summer Picnic and Autumn Baking. Don't know who Susan Branch is? Leave now. Just go. Click out. Just kidding.
Susan Branch is a happiness maker, a self-taught artist, a purveyor of "enjoying the small things"–writing and painting little bits about cooking and gardening, entertaining and family, from her studio that–wait for it–"overlooks a picket-fence garden in Martha's Vineyard."
A sweet friend who came to a book signing brought me the sweetest gift a few years ago–Susan Branch's Heart of the Home Autumn book, signed just for me.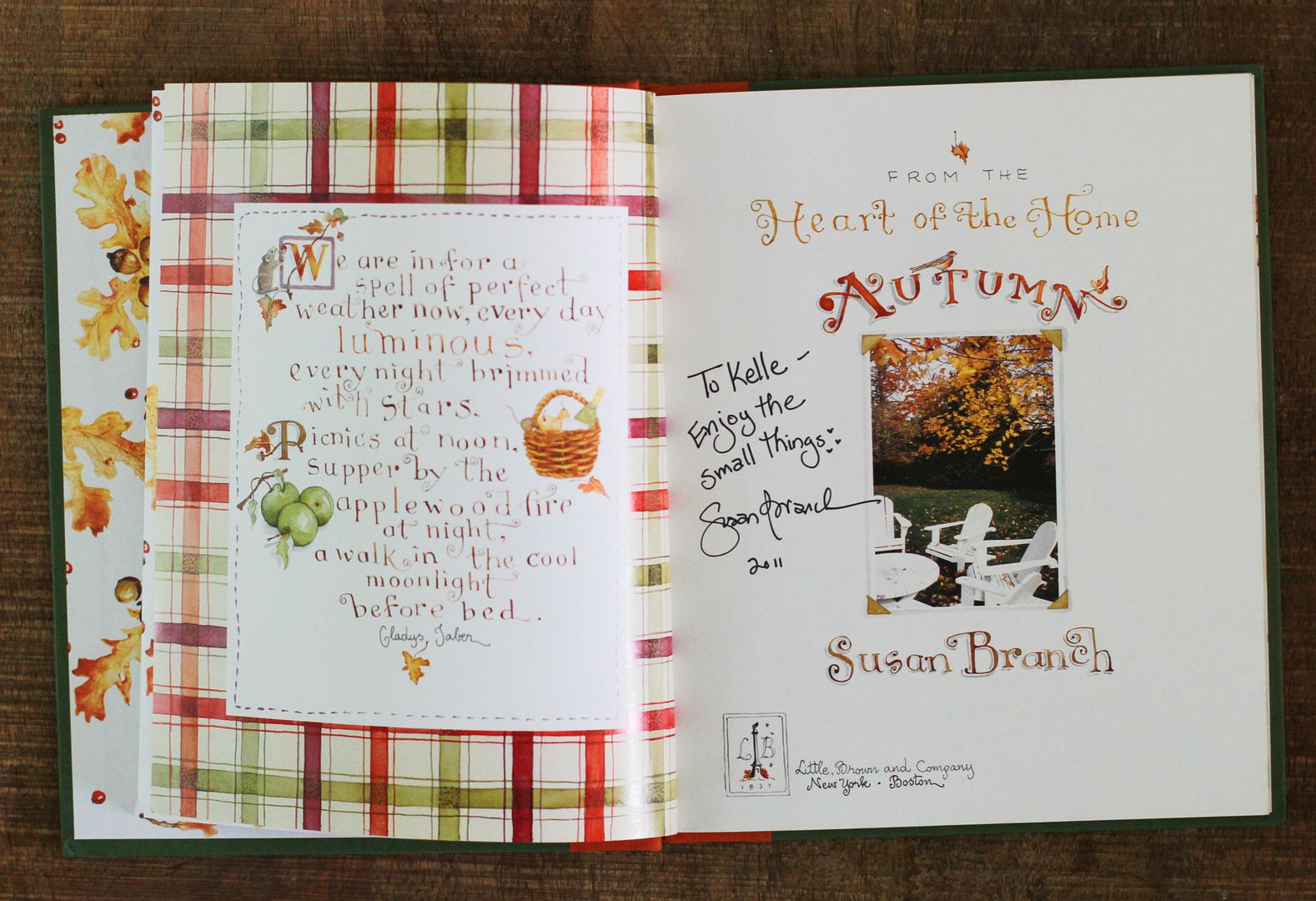 I pull it out every September and dive into the pages, remembering why I skipped classes for a coffee and a pack of stickers–because her curly letters and her watercolor wildflowers and her sketches of little couches and quilts and teapots and biscuits made me feel at home. Even then–when I was stuck between school and homes and dreams, not yet a real adult and unsure of where I belonged (note: still not a real adult and lose belonging footing from time to time), her art made me excited to one day create my own home in a way that felt intoxicating. From stickers, yes stickers! The power of tiny little shit!
I'm here now–home–and where can you find me come September? Back in Michael's–high on things that make me happy, motivated to make art, make smiles, make home a little homier.
I skipped the pumpkins (not quite there yet), walked past the scarecrows, bypassed the skeletons and settled for two little fawn. Meet Bob and Phil. They're brothers. Identical twins, actually.
If you give a girl two tiny fawn in September…she's going to ask for a glass of milk.
What shall we make with Bob and Phil?
Well, I'll start with Bob's path. He's a foodie, so we put him to work in the kitchen and before long, he found his throne atop a bed of chocolate cupcakes. It's no golden meadow, but it's 89 degrees here, so we work with what we have, okay?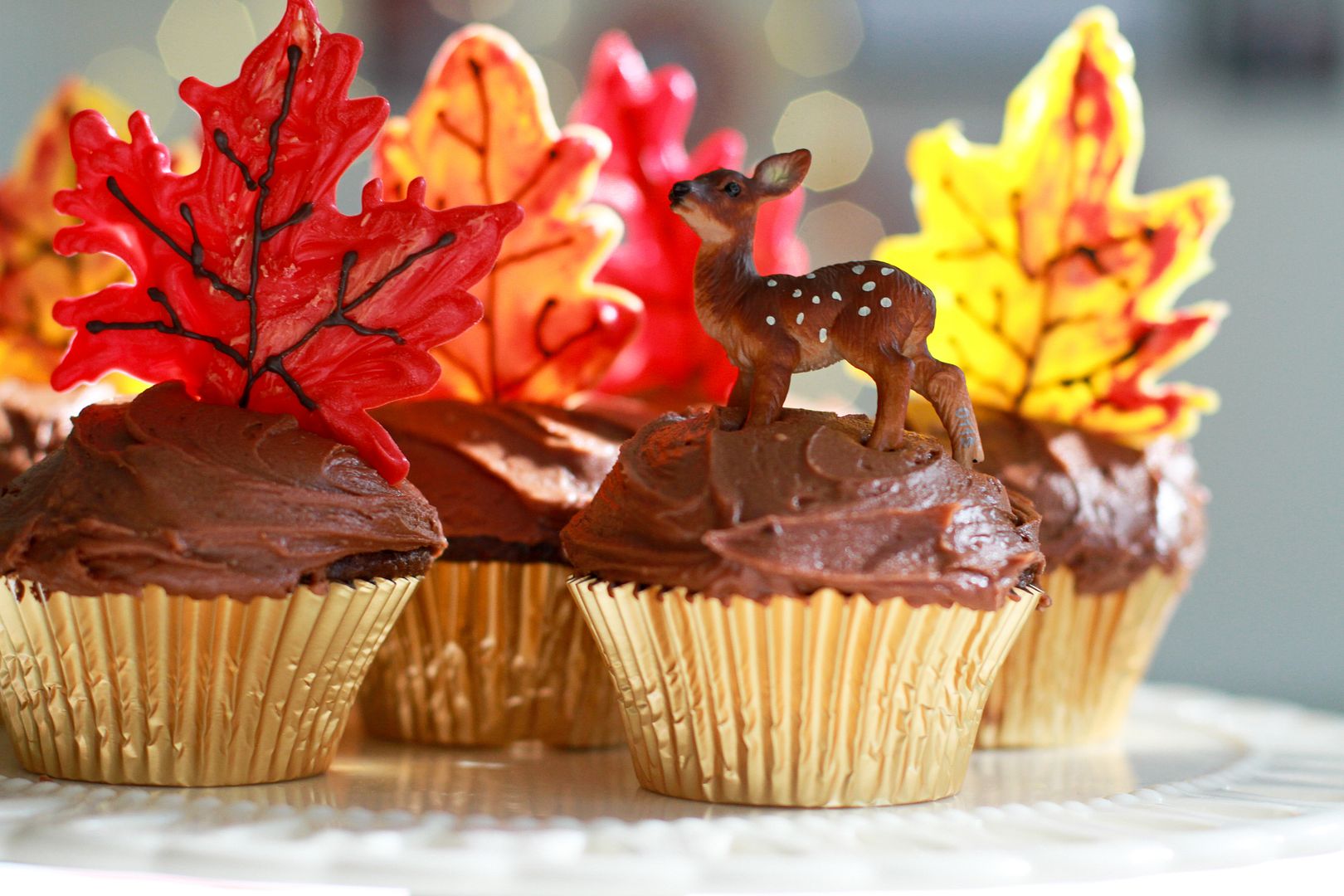 Fall Foliage Chocolate Cupcakes
Inspired by the old candy melt method we used a few years ago for Dora cupcakes (ahhh! Those babies were so little!), I made fall leaf cupcakes for an after school treat to celebrate September this week. Any favorite cupcake and frosting recipe works. I made my favorite chocolate buttercream frosting for these: a stick of butter, heaps of powdered sugar–I never measure it–a teaspoon of vanilla, some cocoa powder and half-and-half to make it creamy. And yes, it's fat free and really good for you–I knew you'd ask.
For the leaves, we used Wilton candy melts (orange, red, yellow and dark cocoa to pipe the veins).
Draw a few leaf shapes on paper and lay a sheet of wax paper on top (will work like tracing paper).
Working with one color at a time, melt a scoop of candy melts (we had lots left over) in a microwave-safe bowl for 60 sec. and then 30 sec. increments until it stirs creamy. Transfer to pastry bag or large Ziplock bag with a small hole cut in the corner, and pipe into leaf shape on wax paper.
This will slowly harden and then slide right off the wax paper, so make sure it's thick enough and the leaf is completely filled so that it won't break when stiff. As you repeat method with different candy melt colors, you can mix some of the colors and swirl with a small paintbrush for a "painted leaf" effect. This works better if you swirl them before candy melts harden. You can always remelt in the microwave if needed. Once hardened, melt a scoop of the dark cocoa melts, transfer to bag and cut an itty bitty hole so you can pipe fine lines for leaf veins. Once the leaves are good and hardened, you can carefully peel the wax paper back and pull them off. Push them into the cupcake frosting, and there you have it.
Bob loves his new place in the world.
And my kids loved the treats.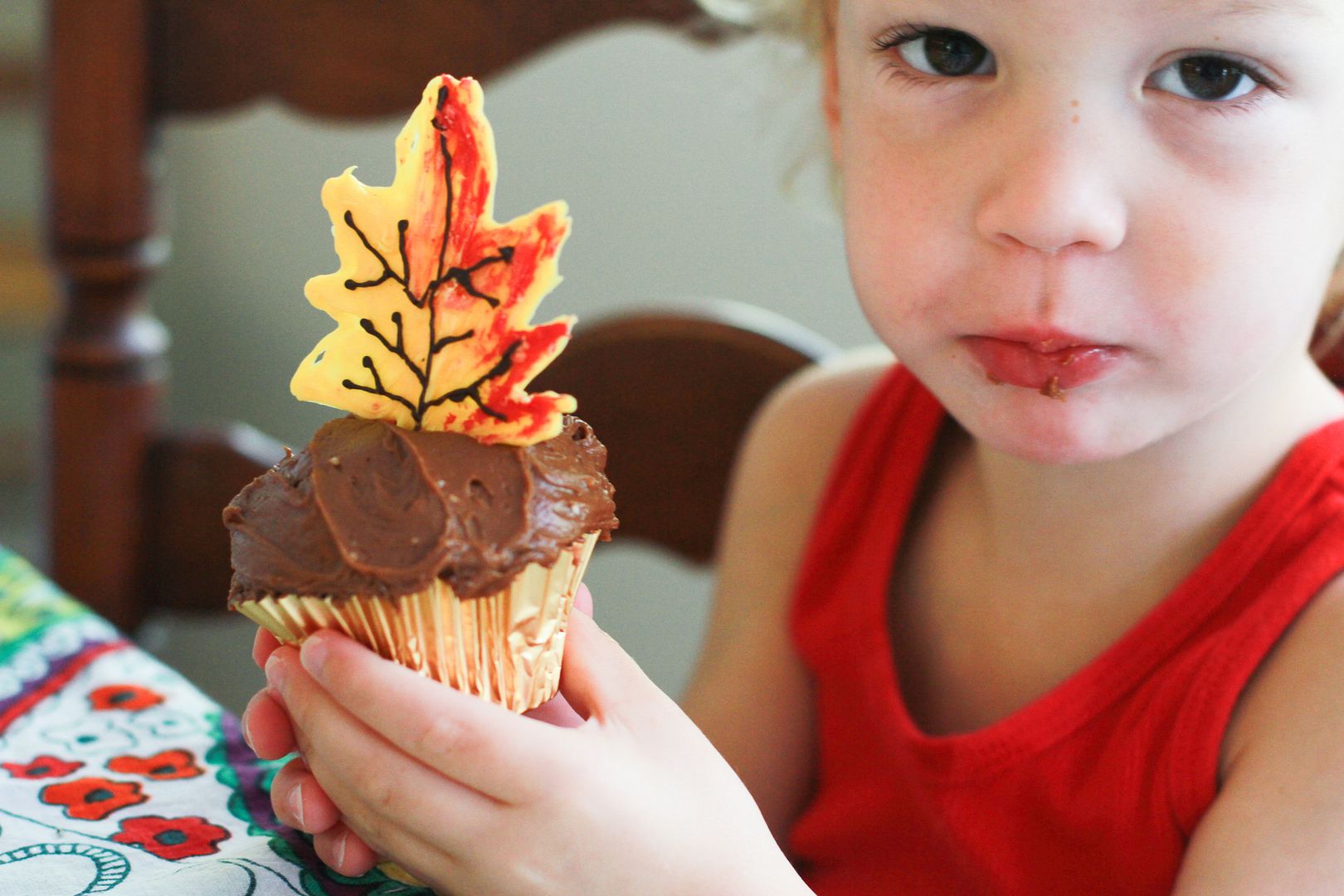 As for Phil–don't worry, he's happy too. More of a wildlife guy than a foodie, he settled for a fall terrarium job in the living room.
He can see his brother from his perch, and he's with all his favorites–moss, toadstools, apple trees. Look at him. He's so happy.
Also it's important to note for the animal lovers that we care about wildlife very much here in the Hampton home which is why we developed our Wildlife Relocation Program, put in place to protect deer from potential predators who may pull them out of their terrarium habitats. Because of that program, Phil has been moved to a higher table in our home. We also have a candle relocation program because we care deeply about wax and wicks too. And kids who aren't afraid of fire.
So, YAY September! Pull the apple candles out, perfect that pumpkin bread, send an invite out right this second for a dinner party at your home in three weeks. Get excited planning for it. Make stuff, bake stuff, wake stuff up–the sleepy creative parts of you that want to be fully alive this fall. Need inspiration? Buy some stickers. Or a couple little fawn. Don't forget to name them.