Every Tuesday after ballet, we go get a bite to eat with friends from class. Sometimes we go to Einstein Bagel because I like to say the word "shmear" when I order, and sometimes we go to Chickfilet because it has the only playscape in town that doesn't smell like feet. This whole ritual of ballet plus mom convo over coffee feels very "mommish", the kind of thing my friend Tisha and I used to act out when we were nine and played House. Speaking of, did anyone else ever play "House?" That's what we called it. Just House. And I guess the rules were simply pretend you have a house and you're a mom and you cook and stuff. Say "Honey" a lot. And walk out the pretend door with your imaginary purse and tell everyone you're going to the store.


No more House. I got the real deal.



I like House. And now that playing it has turned into living it, I have these moments of Whoa now and then. As in, Whoa, I've arrived. Ballet followed by Chickfilet on Tuesdays can do that to me. It's just so stereotypical. Until I attempt to take Nella down the twirly slide and get stuck in the middle of the S-curve. And my skirt is riding up and there's bare skin skidding on plastic and Nella's crying and kids are rudely yelling "GO" and my body is going nowhere and I am laughing so hard, I'm this close to wetting my pants. Yesterday, it was clearly a moment of "I haven't arrived." And, for that, I am thankful. Yes, potential.
Your comments on the last post were thoughtful, honest, funny and heartfelt. I so enjoyed reading them. What a powerful thing–pages and pages of dreams.
A few among many that made me smile:
Pammy K

I want to own a shop – I have a few different versions in mind. I want to live on a boat. I want to own an apartment decorated in all pink. I want to discipline myself to wake up early. I want to have really great relationships with my kids
Amy

When I grow up, I want to re-harness my inner diva and sing "Defying Gravity" in front of an audience
Emily

When I grow up I want to work at Sea World and swim with the whales, I want to play the violin on the big stage, I want to be an artist who sits outdoors and paints on a big easel, and I want cook, a lot.
Mobacks

when i grow up i want to open a coffee shop with my mom and sisters!!! we have so many great plans!
Ky

when i grow up…i want my big family to visit me for holidays at my waterside cottage with the big yard. we'll all play football and have a talent show just like they did in "Dan in Real Life".
A

When I grow up, I am not going to compare my life with others', and I am not going to care one bit what other people think. The end
The BookSylph

When I grow up I want to be able to parallel park properly, to cook meat without burning it out of paranoia (I'm a microbiologist…I think I know to much :), to embrace frizzy hair, and learn another language
Nella had shots today, is up past her bedtime and is performing a super-charged crawl in the other room. So I'm not going to be long.
Just a few very simple things that, in the midst of a hectic schedule right now, bring peace and happiness to our lives.
Tree Climbing.

My Mowgli is brave and agile.
Sister watches from the ground.
New Ride-on.

I debated buying this for Nella for weeks. Our garage is a cluttered mess of trikes and bikes as it is, and we really didn't need another ride-on toy. But Nella can't ride the tricycles yet and Lainey's old ride-on toy has broken seat belts, and that made me nervous. She gets bored in the stroller when we're playing outside, and if I put her down she scoots toward the street faster than I can keep up with her. I wanted something low to the ground so she could be part of the play and feel like she was riding toys like the big girls. So finally I cracked and went to buy it. It was gone. At three stores. Until I found it this week at a different Target on clearance for half the original price. Booyah.
She loves it. And her favorite speed is Crazy Fast.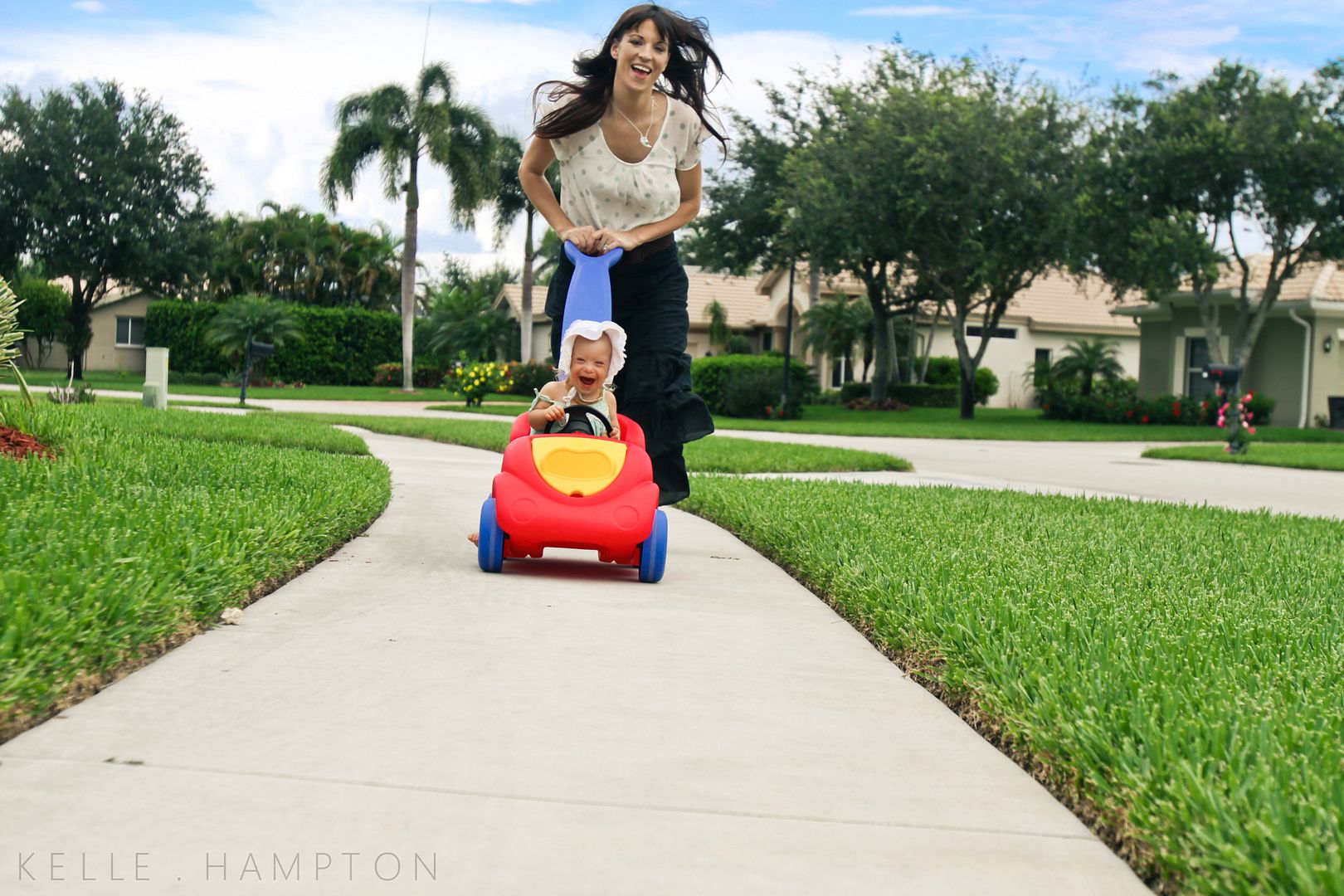 Just like the big girls.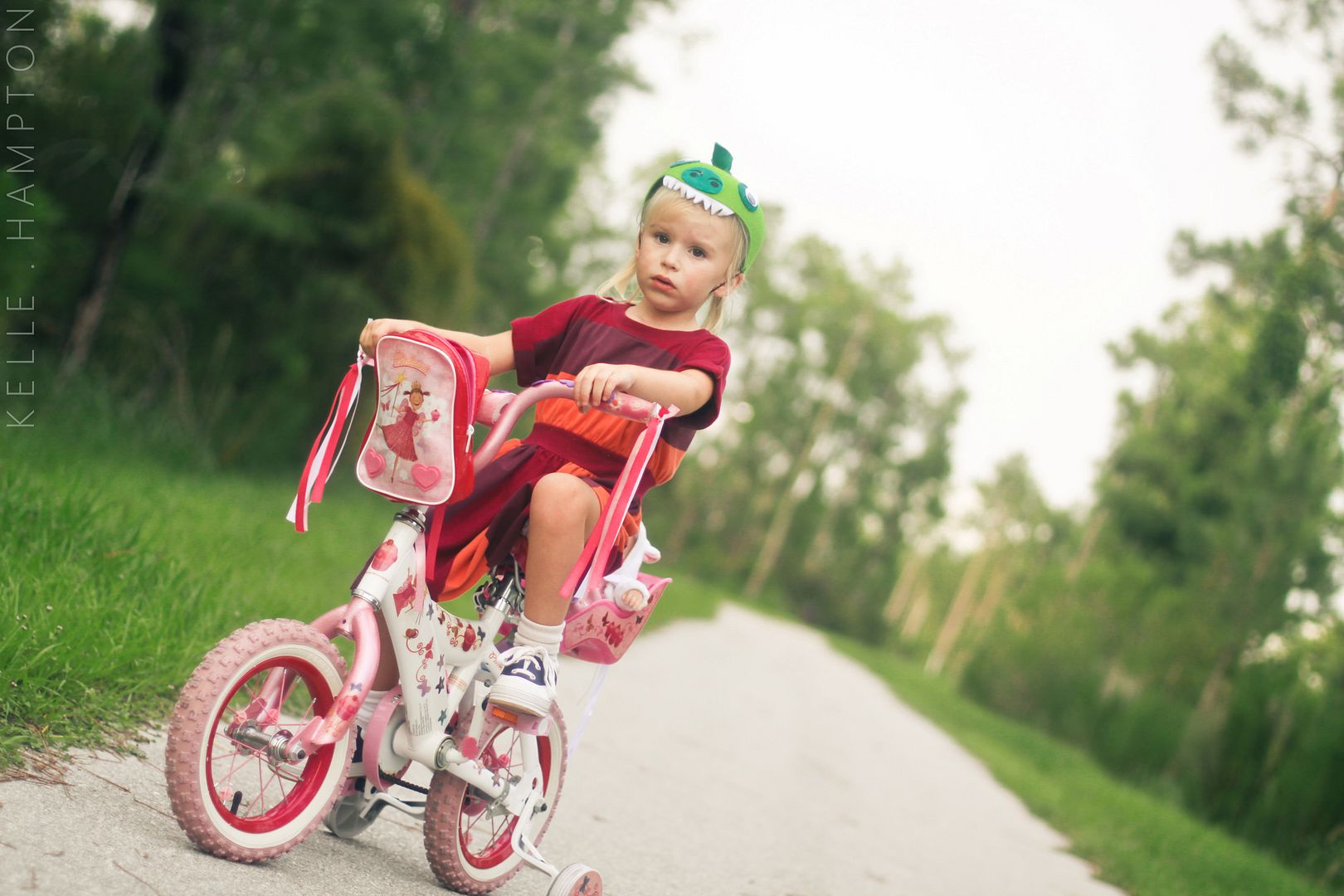 Lainey's dress, Tea Collection
Summer Fruit.

Peach Pie in the works.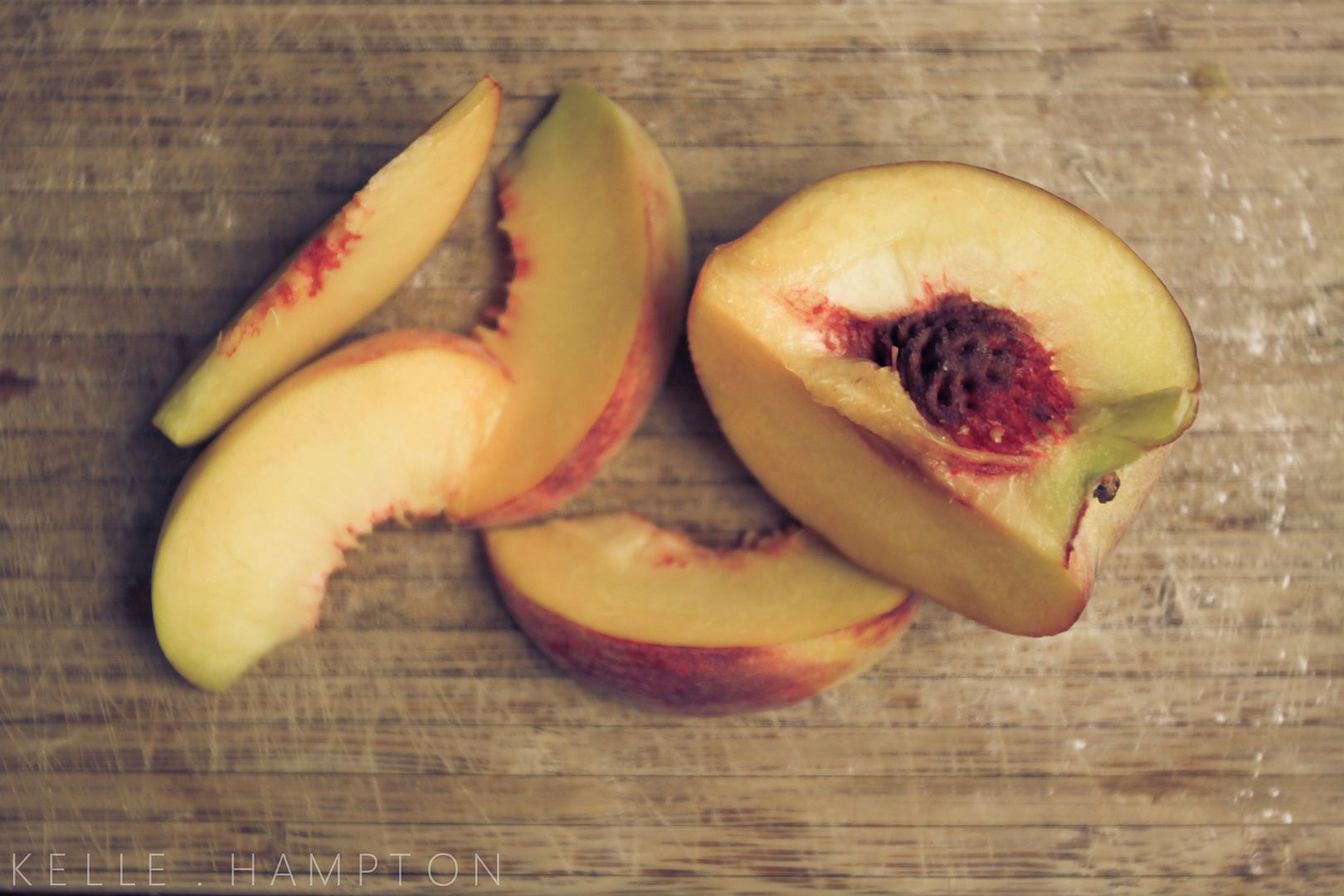 Reading Books Outside.




Lainey currently likes this one.




Sweetbay Seaworld Trips.

You'd think it was a theme park. A trip to Sweetbay, the grocery store with the lobsters. She asked to bring her camera tonight.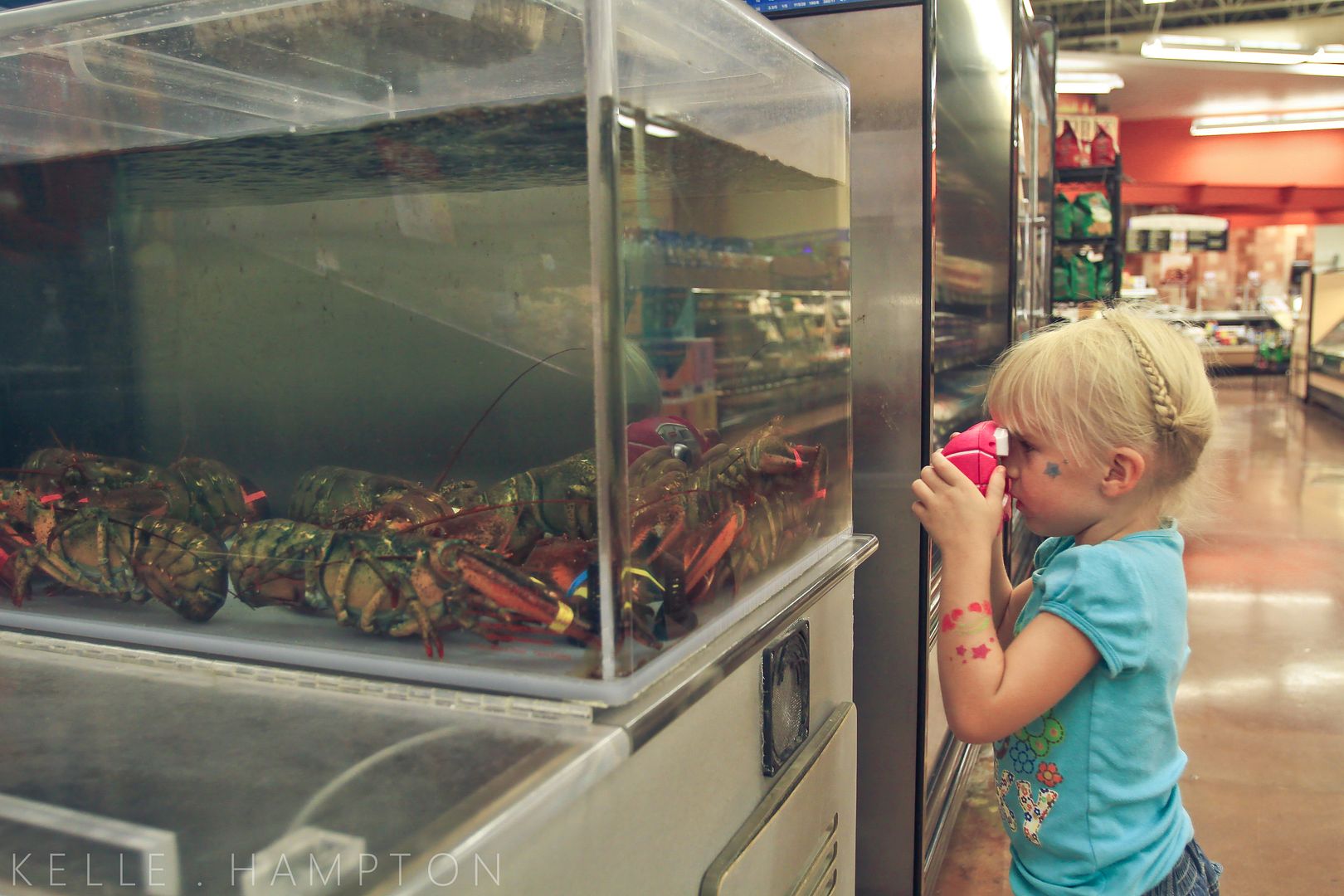 They could sell tickets to this show.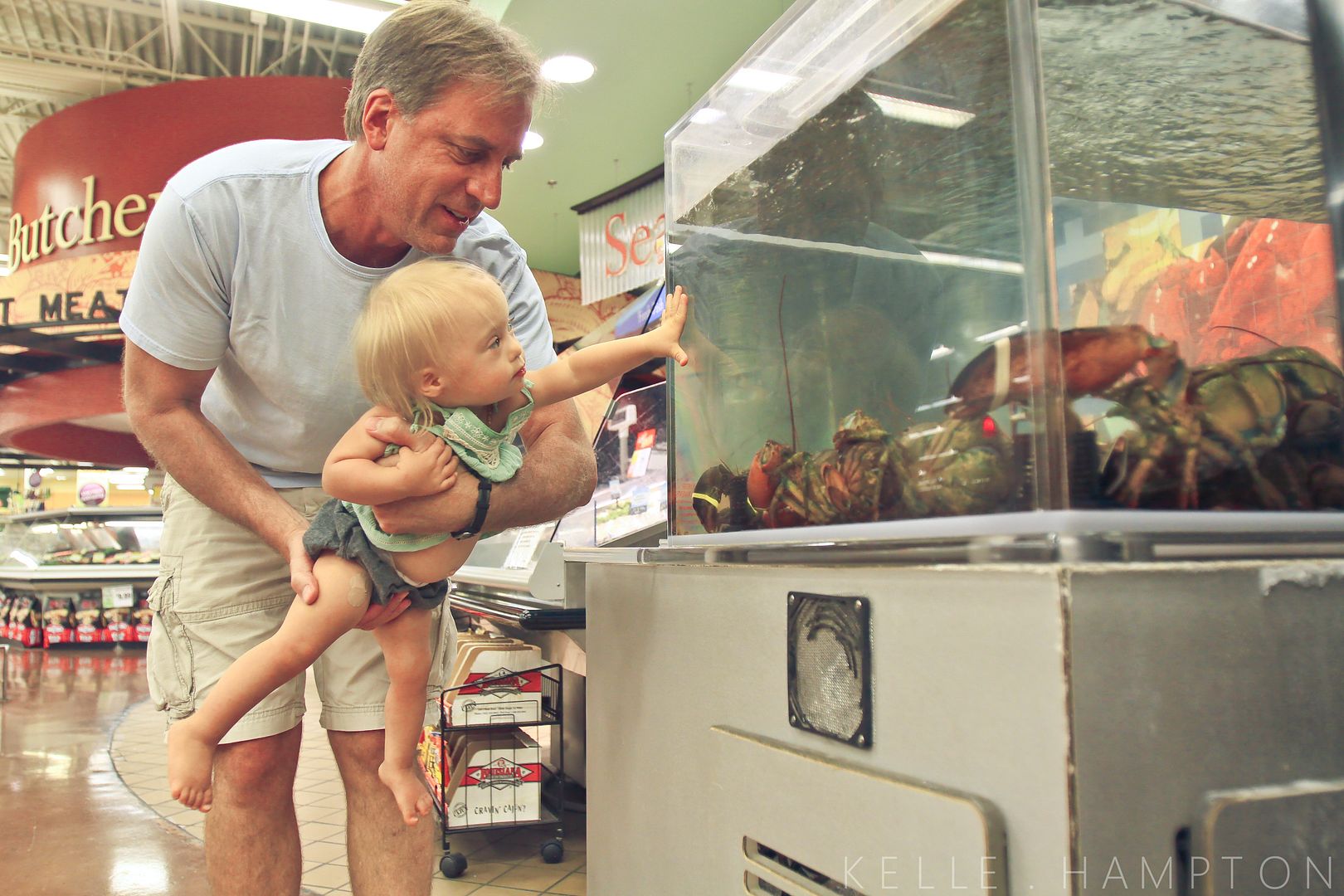 *****
The Darlybird $50 gift certificate winners: I usually use Random.org, but tonight I was feeling fancy, so I yelled to Brett "Pick two numbers between 1 and 1120!"
"420 and 1070!" he hollered from the kitchen.
Comment #420, Michelle: When I grow up, I want to be the funky, cool Gramma that makes all the other kids wish I was theirs. 🙂
Comment #1070, Carrie: I want to learn how to play the banjo when I grow up! I imagine baby sing-alongs while I do some fancy finger work on my banjo!
Congratulations, Michelle and Carrie. Please e-mail your contact info to kellehamptonblog@comcast.net.



****
New sponsor The Devyn Bag joins us this month, a fantastic carry-all option for multi tasking moms. Featured in Pregnancy Magazine and used by many moms on the go, The Devyn Bag is a three-in-one travel solution: purse, laptop holder and hot/cold insulator. Surprisingly sleek and easy to carry, this bag features multiple pockets, a padded compartment for a laptop and a hidden storage area with ice packs included to keep things cold for up to 12 hours. It's a fantastic solution for nursing moms on the go (no more storing your breastmilk next to Coworker Bill's sandwich in the company fridge), working moms who pack a lunch, or stay-at-home moms who don't want to lug around five different bags. Plus, it's cute.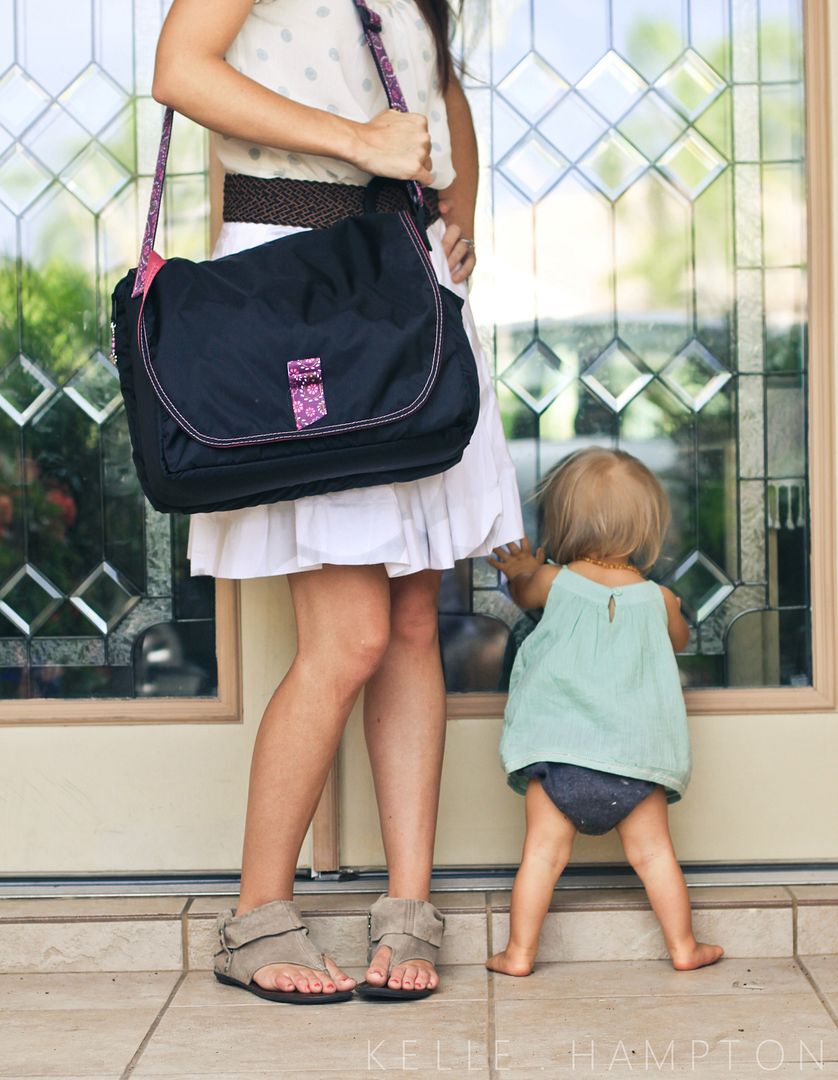 Use Code "Kelle" for 10% off your order.
*****
I gotta get my girl to bed.

Goodnight.