An easy 134 miles separates our suburban town from the kaleidoscopic culture of South Miami Beach. It's silly I don't make the jaunt more often–perhaps because Brett likes South Beach in "itty bitty doses." I'm kind of more a drink-the-whole-cup-down girl. So I did. I drank up this city these last two days in a keg stand with no breaths and yes, that's a sloppy drinking metaphor for a cultural city that deserves more but, in this instance, it works.
South Beach is vibrant and loud and brilliantly marries purposeful and unintentional in a successful union. Women purposefully wear heels and body-hugging leopard print for simple excursions like fetching a Cuban sandwich up the street, and nobody rolls their eyes or assumes they're overdone. At the same time, anything goes–flip flops, frayed shorts, tacky t-shirts, done, undone, overdone. It really doesn't matter.
While Brett made jokes at every corner like "Hey Babe, take a picture of that"–pointing to a littered beer can, a dirty wadded napkin, a crumpled strip club brochure–I couldn't help but be fascinated by so much, and the gazillion photos I tried to narrow down attest to the glory that is South Beach. (I edited these with my laptop and the screen brightness is a little off, so sorry, these are a little too saturated and contrasted. But South Beach is a little over saturated and contrasted too.)


As always, assume with any high-on-life post that babies cried, we forgot diapers and, after I spilled half and half and it soaked in and roasted in the heat for two days, our car smelled like rancid nasty on the way home. Can it just be a given in any blue skies post that there could be an equal amount of photos of mildewed beach bags and unhappy kids in car seats? Good.
So, South Beach. Where were we?
It really was lovely and adventurous. The girls were too fascinated with colors and sounds and people to even think about complaining and while Brett worked during the day, we girls walked and walked and walked. And when buildings and shops started thinning out, we turned left, found another street and walked and walked and walked again.

Who needs a double stroller when you can pile your kids on top of each other?

Someone asked on Instagram, "Do you plan your trips or do you just stumble upon?" and I smiled and fell in love with that term–stumble upon. My whole life seems to be a bit of stumble upon and, while it doesn't work for everyone, I really like it that way.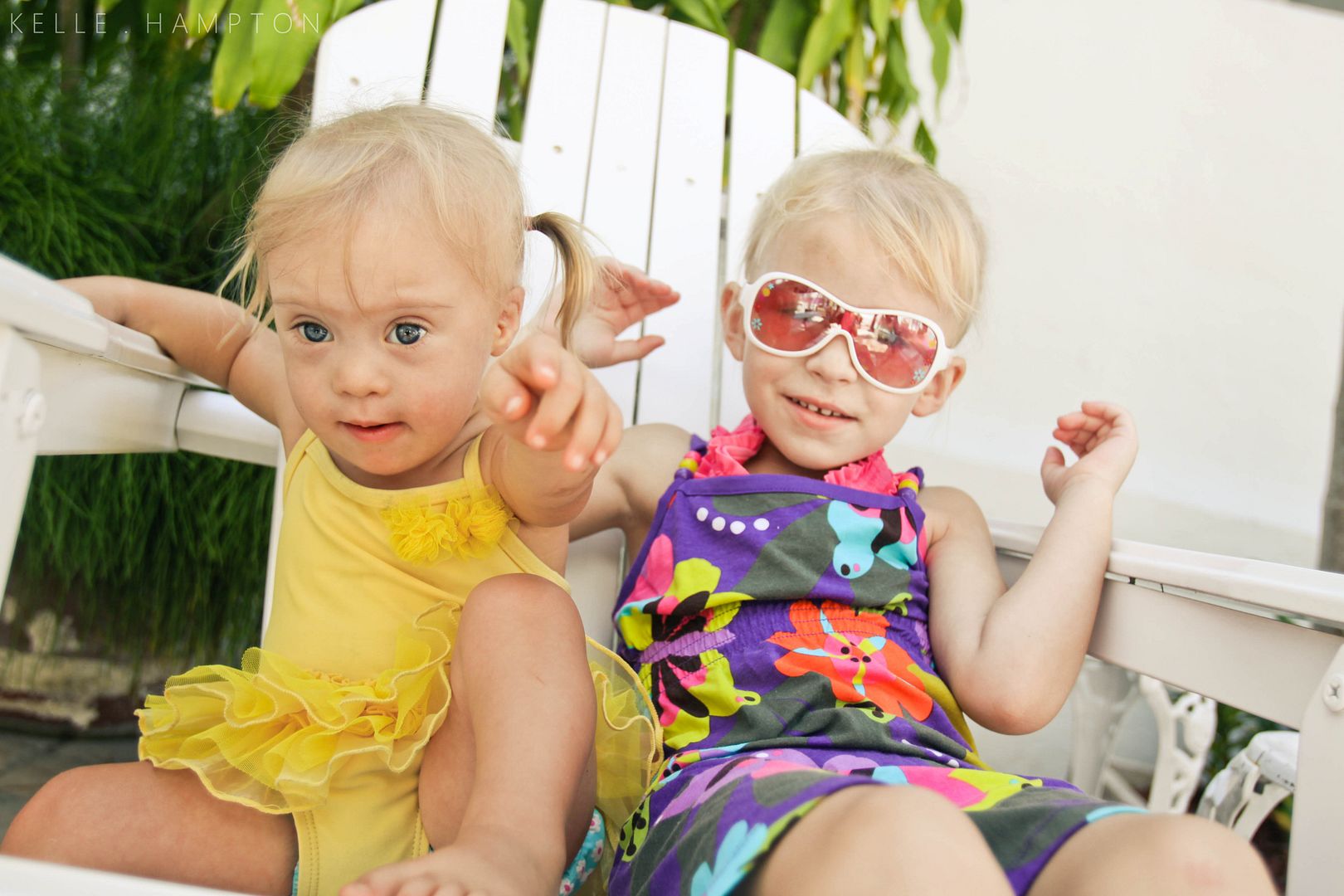 We stumbled upon any street that looked inviting, any shop that looked unique, any street fountain that begged to be dipped in.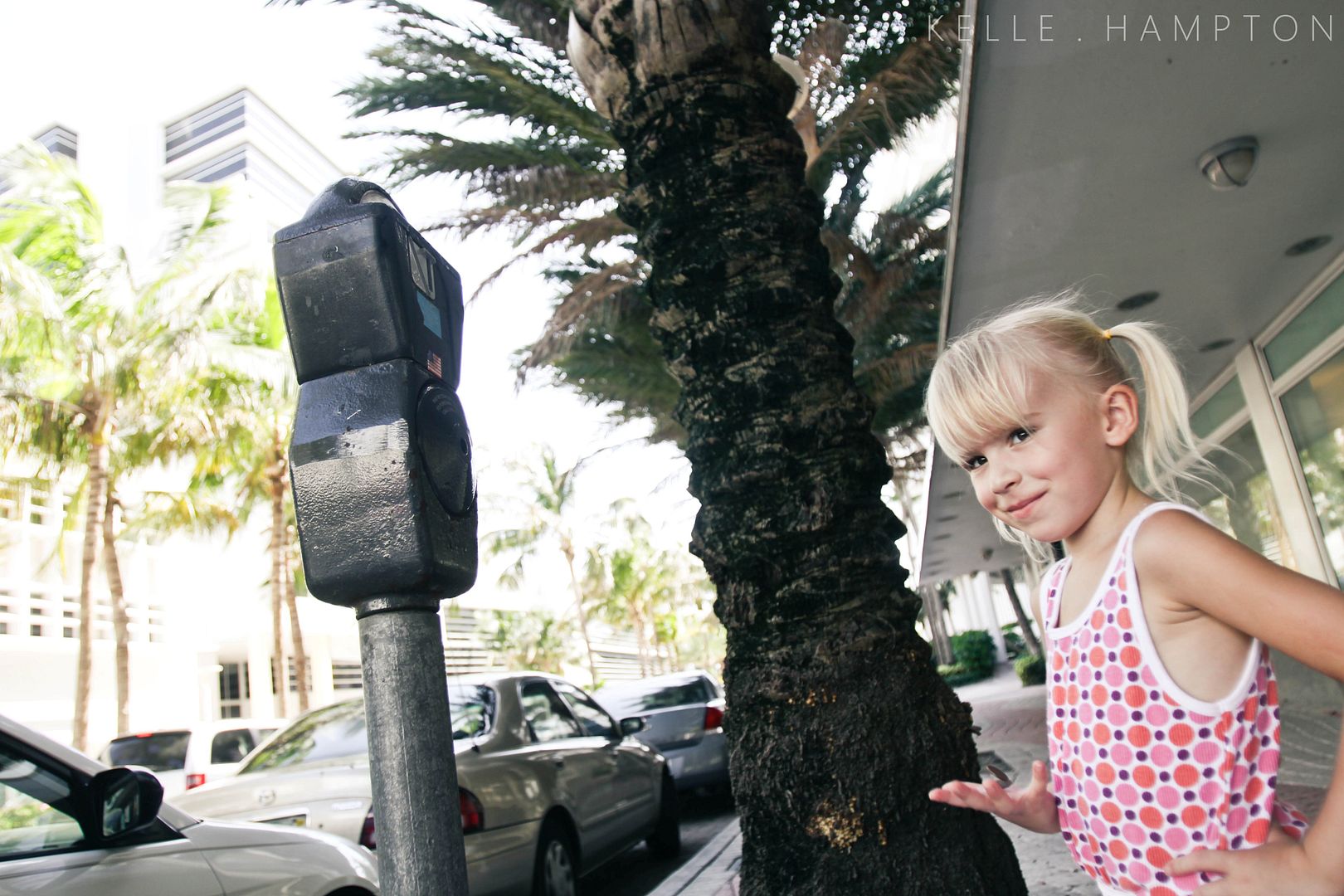 We met up with our dear friend Katie whose face was the very first my girls embraced when they were welcomed to this world.
She and Oliver accompanied our city adventures, and she introduced us to the most fabulous gelato on Lincoln Ave yesterday.
Bottom scoop Dulce de leche, top scoop coconut.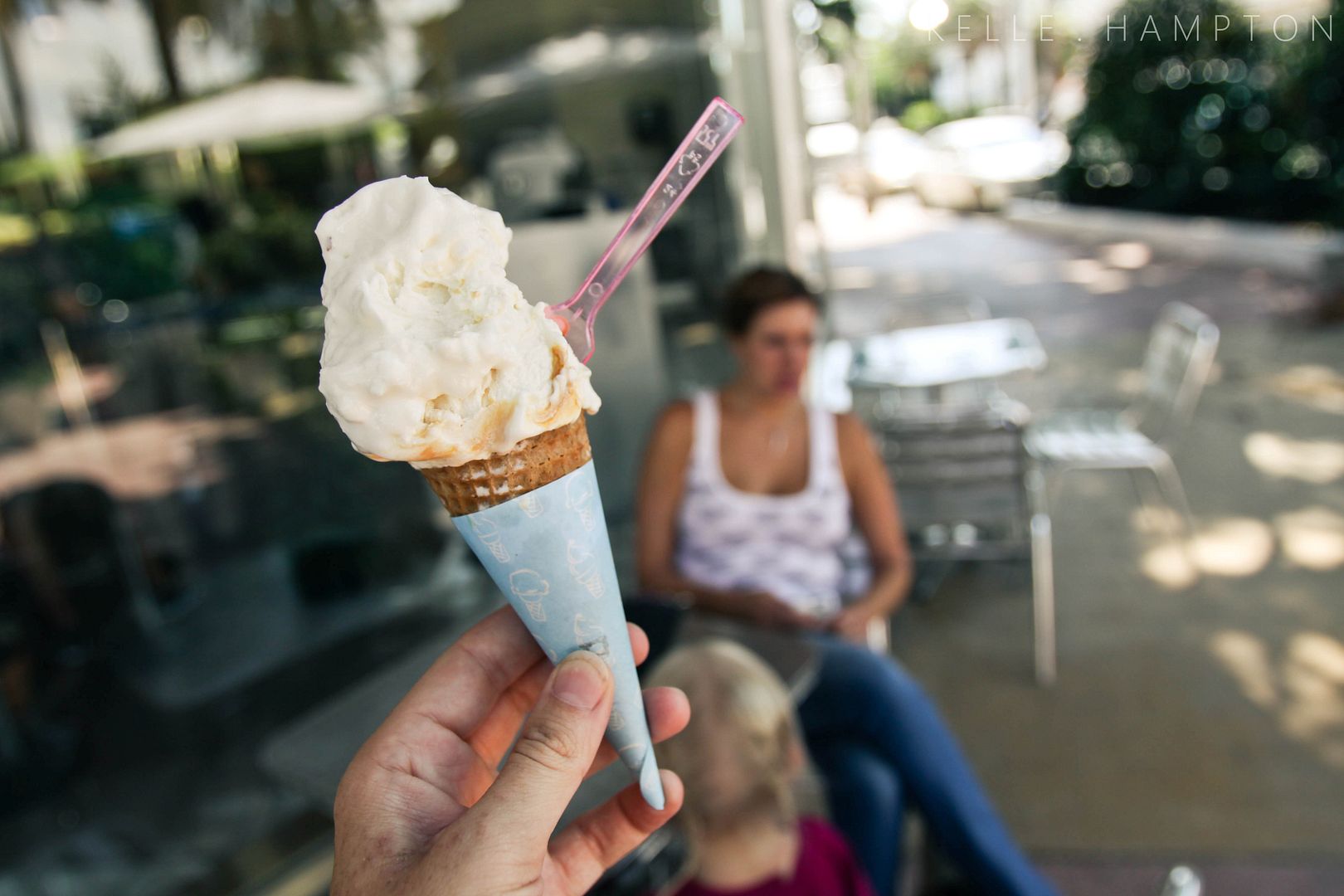 I have decided the Tree of Good and Evil was made of coconut gelato. This I can understand because I too would consider sending the fate of the world to hell in a hand basket if you told me I couldn't eat this.

Lainey chose a scoop of strawberry topped by kiwi.
…and Nella stole mine while I practiced motherly selflessness.
Lainey asked for one souvenir–a pool toy that shoots water. I obliged and we left the store with her gripping the cheap penguin water shooter and smiling. Two blocks later, we're passing a street fountain, I see that look in her eye, and I know exactly what she's thinking. And, because I didn't get that gene that tells you "this probably isn't a good idea," I smile and nudge her on. "Go ahead. You can." She smiles and looks at me, shocked I gave her permission. And somewhere between her loading her water gun from the street fountain and it shooting a geyser up the side of Bank of America, it dawns on me…maybe this is kind of rude.
So I say really loud so people hear me, "Babe, I don't think we should do that." And then I picked up three pieces of trash on the ground and threw them away because it made me feel better.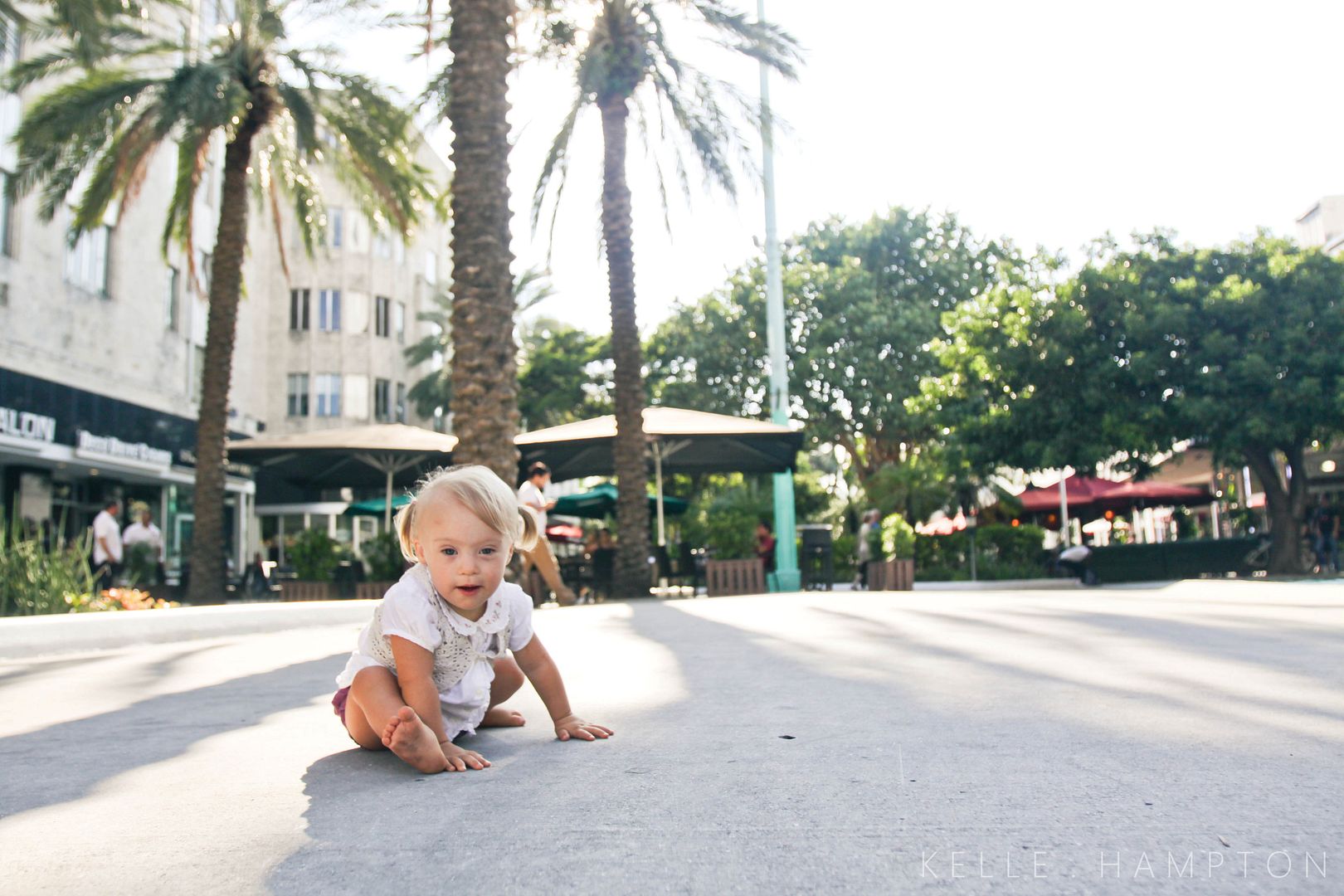 Favorites of the trip?
*Sun Flare on Crack.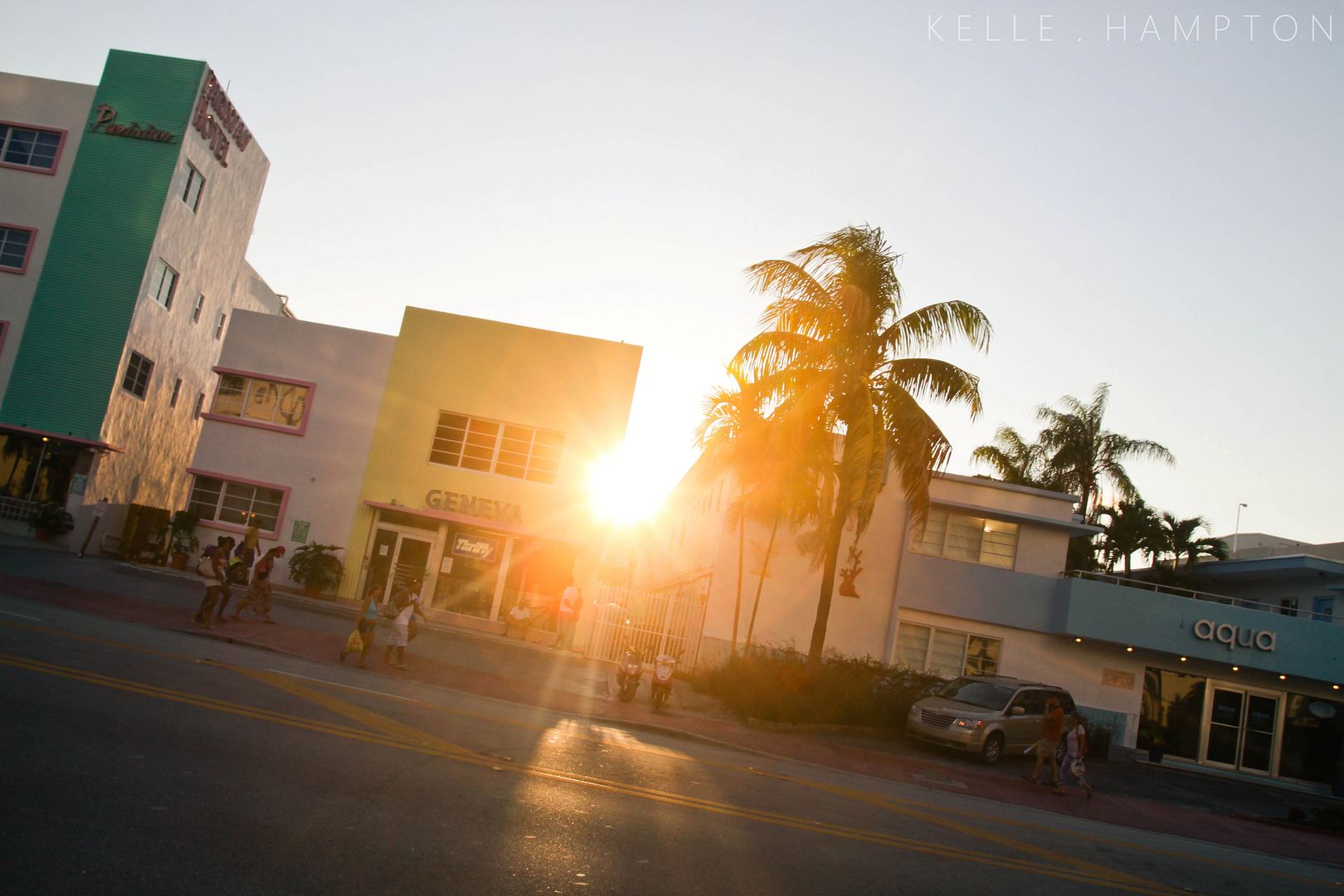 It just seeps in between buildings, through palm fronds, grazing the sides of hotels and cafes and spilling golden light everywhere come early evening. And I was bananas trying to ladle it up. Liquid gold, Baby.
*Hidden Messages.

See that up in the trees? We almost missed it, but Katie spotted it dangling over our heads.

*Fancy Pet Stores.
Little dogs are accessories here. They frost the arms of the fashionably dressed, and consequently, fancy pet stores grace the streets. Where else do puppies sleep in pink shredded paper?
Nella and the little chiguagua had a moment.

We almost had a moment of childhood trauma after we left Lainey's puppy blanket at the pet store, unbeknownst to us. Thankfully, the nice man who works there ran–panting–past a block, three bums and thirty billion cigarette butts to bring it to us.

*Fly Boutique.
My favorite sweater I bought years ago is from this little vintage shop on Lincoln, and now we have to drop in every time we go to South Beach. It smells charmingly old–like vintage leather and clothes with stories, and it's dripping with treasures–old suitcases, interesting jewelry and hats, chandeliers, tapestry rugs, velvet couches. Dreamy.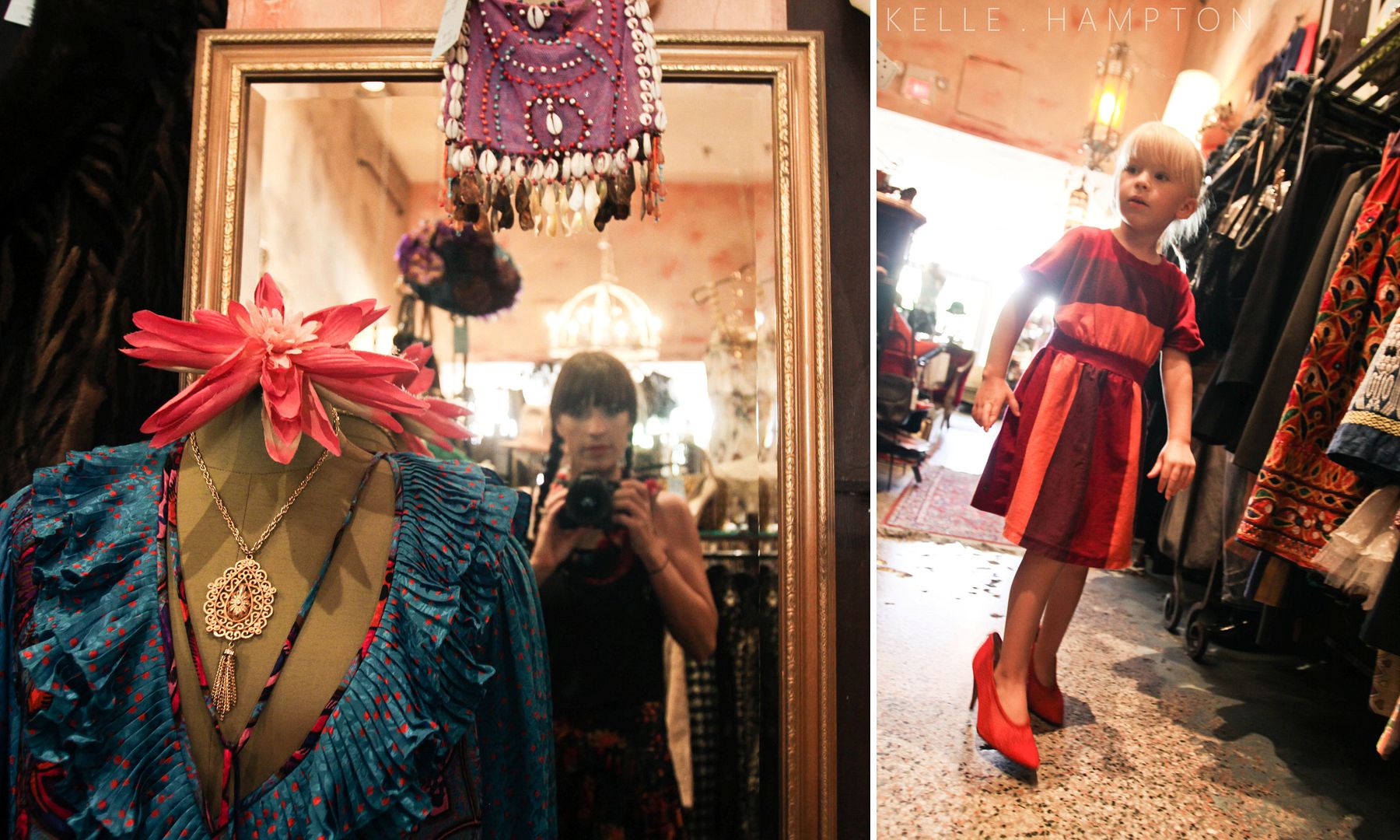 *The Beach.
Sweet mother, the beach here is amazing.
Our beaches are lovely, but our mangroves leave the water looking brown. Here, it's a picturesque turquoise, contrasted beautifully by a few dispersed white caps and a backdrop of cerulean sky.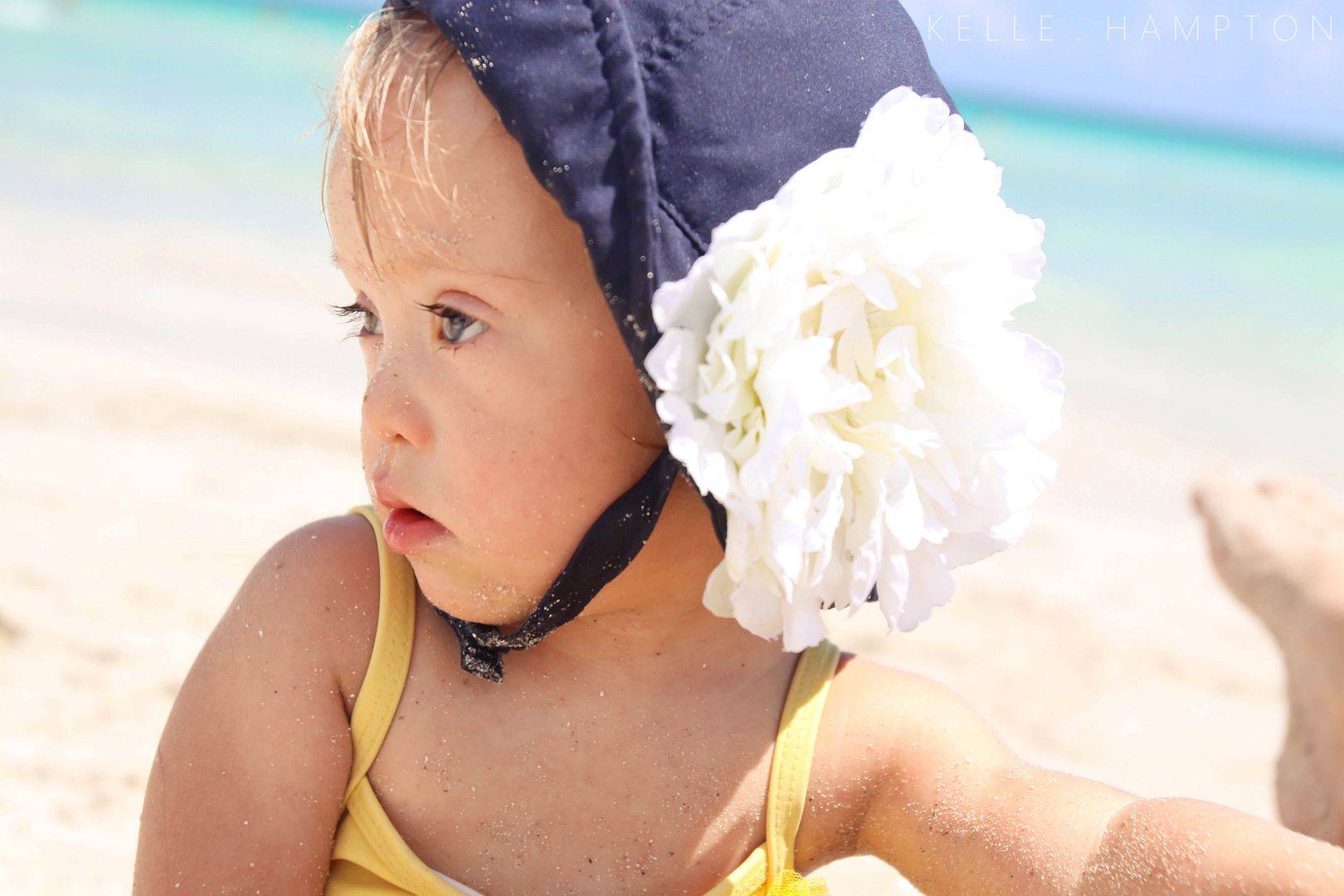 Nella's hat: La La Lee

The girls played for over an hour the other day, quietly entertaining themselves with a shovel, a pail, and a couple mangrove seeds that transform quite nicely into beach pencils.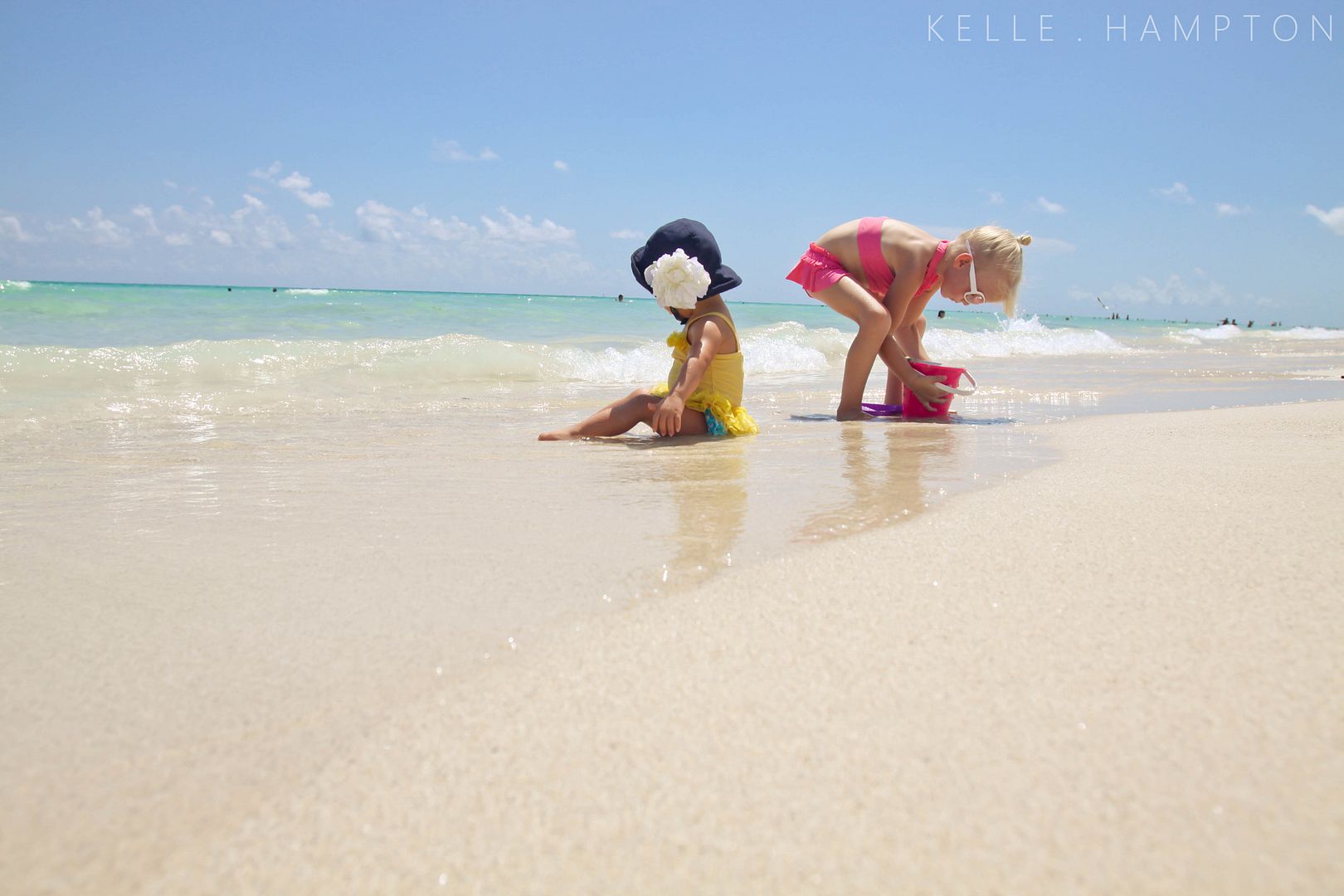 I love life guard stations. I wish our beaches had them.
*Pink Caddys.
*South Beach Narcolept.
Nella slept everywhere. In strollers, on chairs, in slings, propped up, tipped over, hugged against my chest, the car seat, the pack n' play. Sister rolls with it.
*Sea Salt and Water Bottle.
This is a bottle of water and a little bowl of sea salt with a tiny spoon. It was sitting at our cafe table, and I have decided we shall take a bottle of water, a bowl of sea salt and a tiny spoon with us wherever we go when we'd like children to be happy and entertained.
*Street Misters.
When you're pushing the stroller, wiping your brow, repositioning the baby who's slipping on your sweaty hip, it comes just at the right time. Ahhhh.
*Flamenco in the Night.
Perhaps my favorite moment of the two days. Late night dinner on Ocean Drive, oil lamps, Italian food, full moon, babies up past their bedtime, Gypsy King cover songs, Flamenco shoes pounding, ruffled skirts swishing, hands twirling and clapping. It was delicious.
And this picture makes me laugh. Brett was attempting a cool shot of Nella and me peering between a plate rack, and I'm assuming the focus on the enthusiastic dancer in the background was accidental. Right?
So yes, we stumbled upon, and it was good.
The harvest moon delivered…South Beach style.
*****
September delivers with a fun new sponsor, just in time for fall. Introducing Happy Camper Studio, featuring hand-dyed comfortable clothing for both children and pets.
Their candy corn dresses are adorable and are made from thick, soft quality cotton. They're great for photos and come in a variety of styles (t-shirts, onesies, etc.) One commenter on this post will be randomly selected to win a hand-dyed dress (or t-shirt), courtesy of Happy Camper.
*****
There are bags to be unpacked.
Happy almost-Friday!