Q: How do you keep on top of your photos?
A: I take photos almost every day. Without even thinking about it, my routine is to download them at night and click through them to choose my favorites. I store them in folders by date and tag words like "South Beach weekend," "Lainey's birthday party," or "Mom's wedding." I have three external drives right now, and every 3-4 months, I go through folders and clean them up–delete the extras and leave only the best of the best. This is getting easier than it used to be. Three years ago, I could have had 25 shots of Lainey eating an ice cream cone–all of them similar–and I'd be paralyzed, feeling guilty to delete just one. After four years though, I know my kids and their childhood are more than well represented. Between the blog, Photobucket, the books I make for them each year, and my hard drives, I'm confident I won't lose sleep over deleting unused photos.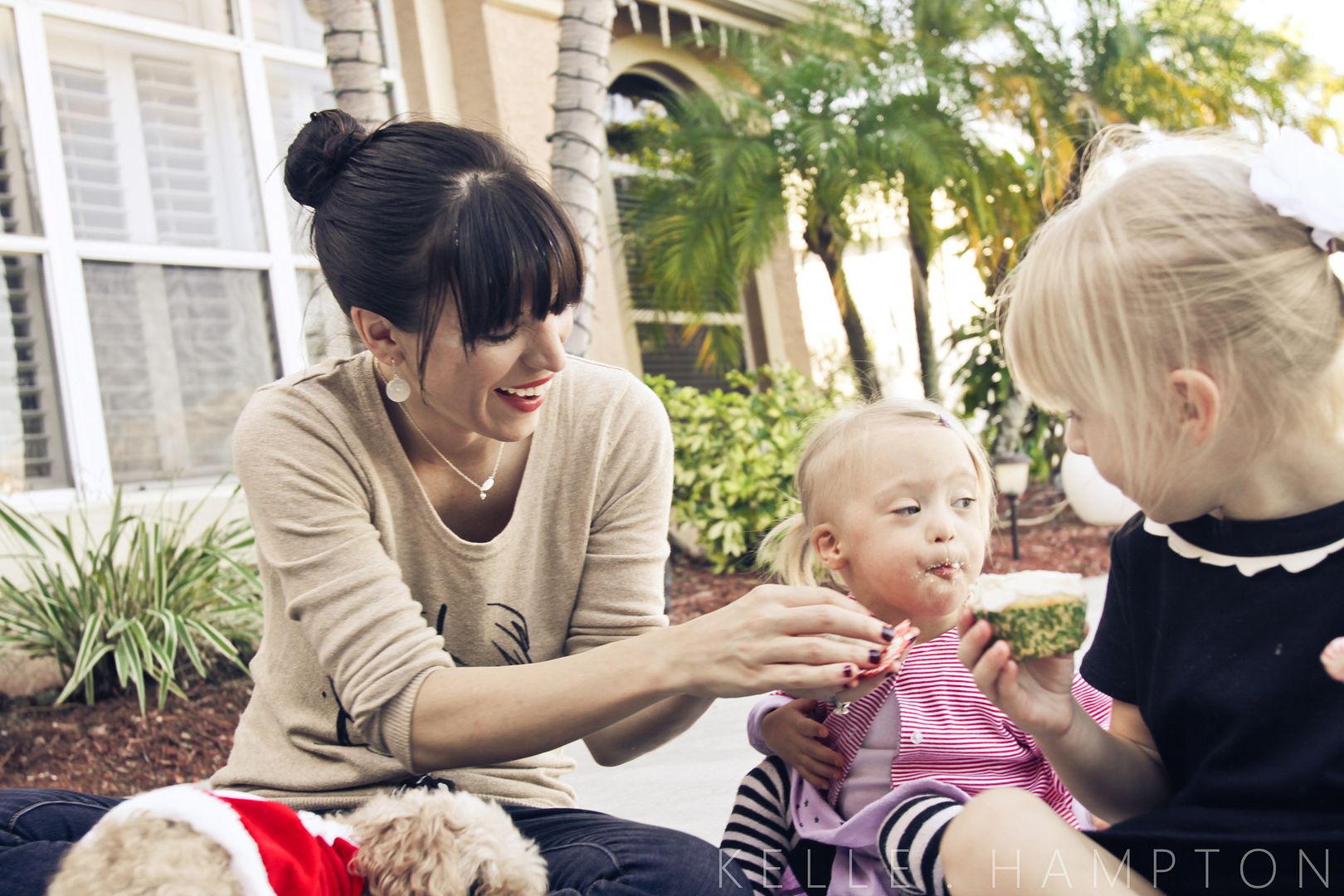 Q: How do you take your camera out?
A: If I don't want to lug my camera case, I will wrap my camera in a scarf and put it in my purse (I carry a larger purse in these instances, and sometimes I'll pull the diaper change mat from a diaper bag and line my purse with it). In these cases, I'll settle on bringing one lens–usually my 16-35 mm. Obviously, I take my camera to the beach as well. I always bring my camera case if we're going to the beach, and I'm careful to make sure my hands are clean and sand-free if I change lenses. I also use an air blower like this one to clean off the camera when we're home. I send my camera to Canon at least once a year for a "tune-up"–sensor and body cleaning.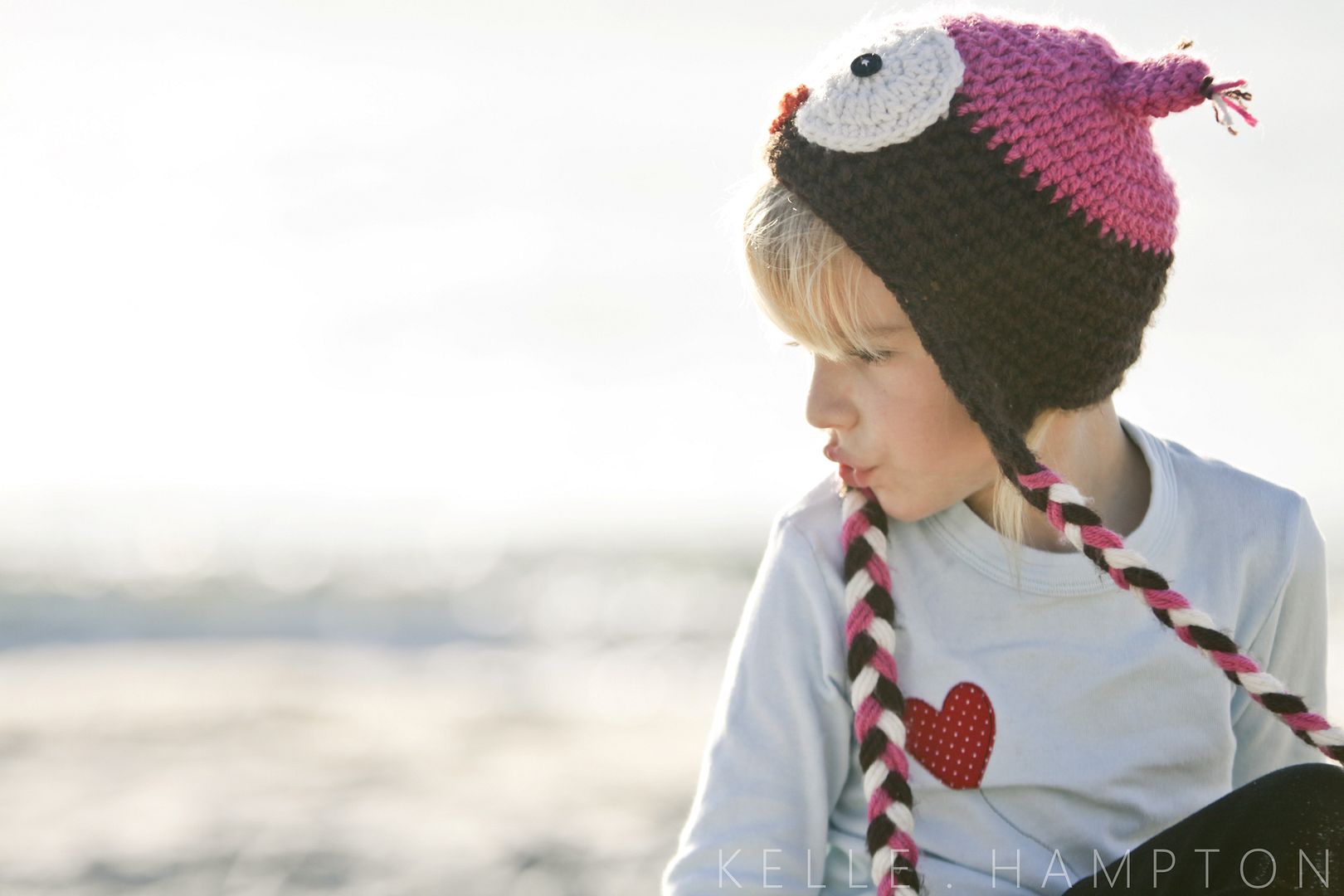 As far as photography goes, I have some really cool new ways of sharing some photo-taking tips (always a work in progress) with you come January. I can't share yet, but I'm excited about a collaborative new project!
Q: How often does D.S. weigh on your mind?
A: We're almost two years in this. D.S. is part of who my child is. I think about my children all day long and consequently, Down syndrome is part of that. There are so many times when I look at Nella and just feel–I don't know, I can't explain it–calm…content…thankful. Her eyes? I'm crazy over them–so exotic, so beautiful.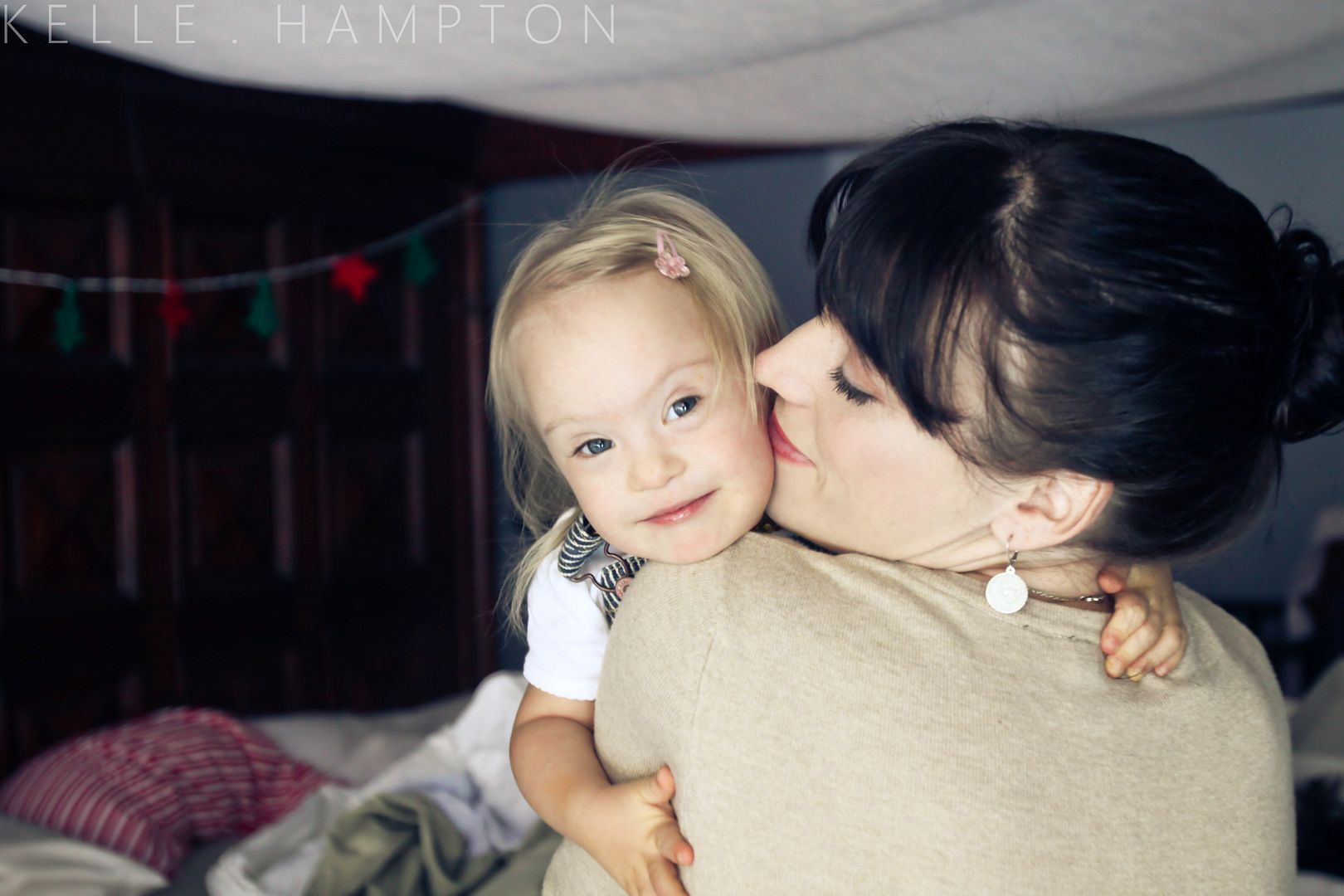 We still talk about how this has changed our lives in so many good ways and how we will continue to grow and learn in years to come. So, to say we don't ever think about it isn't really true. We do, however, forget about the things we used to think about. The fears. The uncertainty. Or, rather, we've become accustomed to it. There will be tears. There will be days when I will say yes, this is hard. But so far, I've thought so many times–how could I have ever underestimated this love? I have two daughters. Unmeasurable joy times two. Period.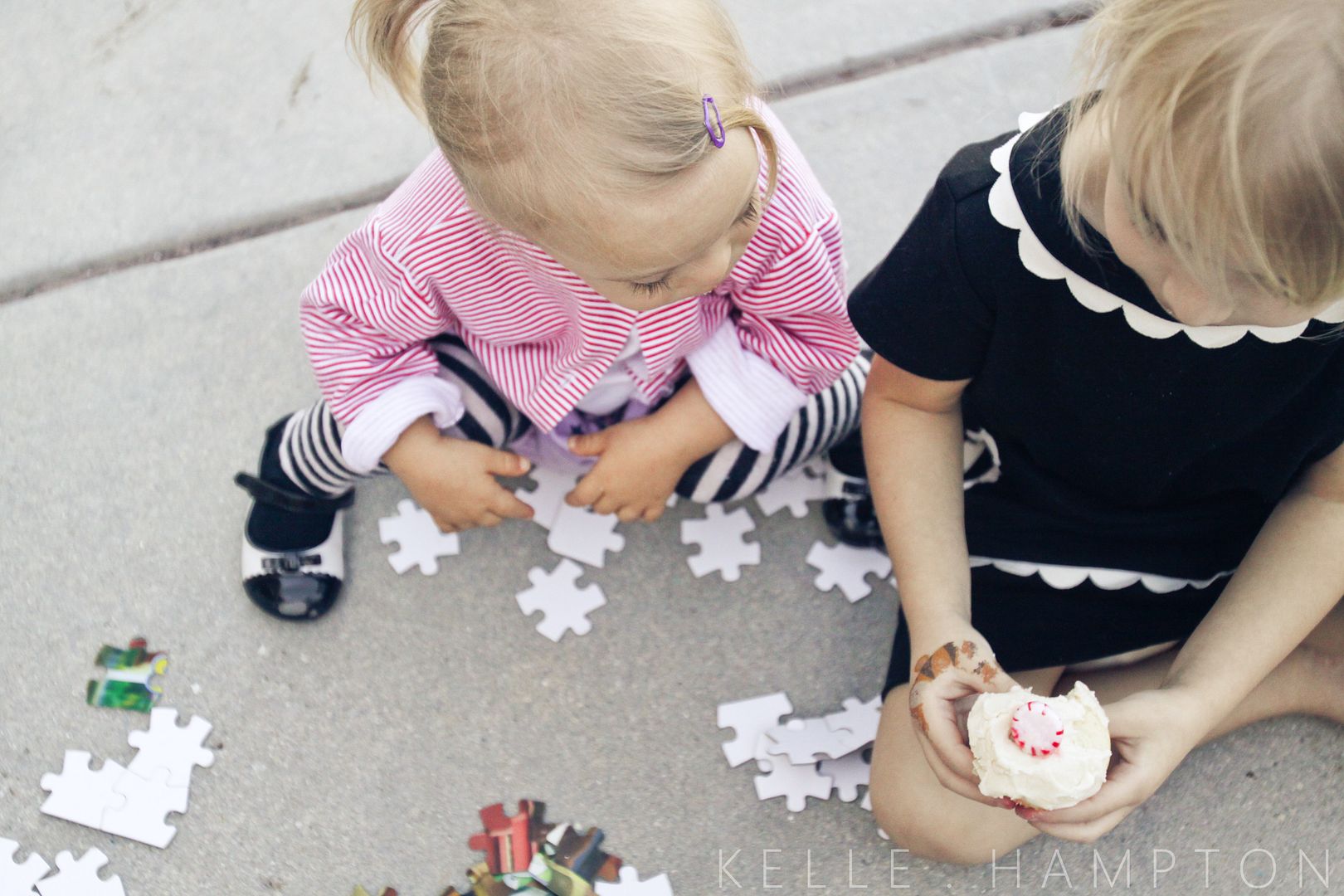 Q: Do you ever worry about Lainey feeling overshadowed by Nella's special needs?
A: I used to. It consumed me those first couple months. But I didn't give myself enough credit as a mom. I love my children equally. How silly of me to think I wouldn't be able to express that. The more I rely on my natural ability to love, nurture and mother the way I was born to do, the less I worry about things. I've realized I never miss a beat when either of my girls need more of me–I just know. And I react instinctively. I've never been more confident that my girls will both grow up knowing they are so special–each unique and talented in so many ways. The more I trust myself, the better I love.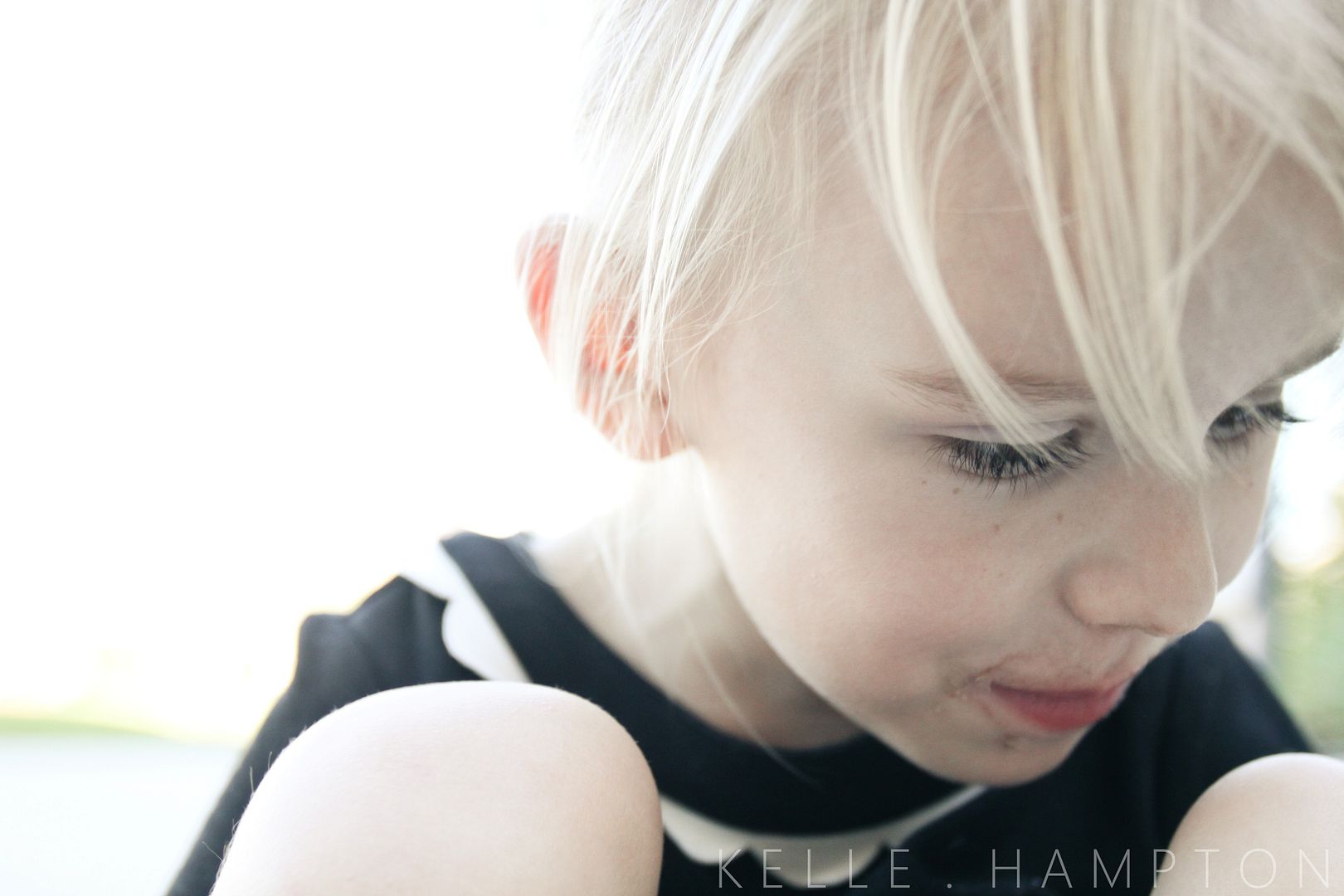 Q: What kinds of therapy is Nella getting? Are you doing anything with her that you think contributes to how well she is doing?
A: Nella has O.T. (occupational therapy) and P.T. (physical therapy), each once a week, and an I.T.D.S. (Infant Toddler Development Specialist) comes to our house every two weeks and does play therapy, evaluations, etc. This is all provided by the state as part of a federally funded Early Intervention program. These programs are incredibly vital for children with special needs, and we need to continually advocate to see that they are appropriately funded and remain in place.
If there's any one thing we do with Nella that I feel directly affects her progress, I'm happy to share (I love the tips I've received from the D.S. community on resources they've found useful). While I believe the accepting environment we provide for Nella, where we expect so much of her and treat her equally, helps promote her milestones, I don't ever want to suggest that a child who isn't reaching the same milestones doesn't have parents who work with them. Regardless of special needs, children develop differently and at their own pace. In the meantime, we invest our time, love and praise into every one of our kids, celebrating their accomplishments, supporting their needs.
Q: It seems there are so many categories of moms these days, especially on blogs. What kind of mom do you consider yourself?
A: Just a mom. I don't want to sum up what kind of mom I am in one word because that's limiting. I don't like being put in a box and I'm way too impulsive to fit into just one category. I've written about this before, but I think sometimes we feel like we can't explore a new area if we don't completely fit in the box. Like "I'd really like to buy that vintage plate because I love it, but my house is too contemporary and I'm not really Vintage Girl." Who says you have to be just one thing? Buy the damn plate if you love it. Our society is fabulous at pigeon-holing people and identifying them into categories as if they have to abide by a certain set of rules–and judgement and assumption often follows. We've identified the urban mom, the hipster mom, the churchy mom, the homeschool mom, the wild mom, the funny mom, the divorced mom, the laid back mom as if once you have a label, that's all you can be. That's so constraining and yet, I admit, I fall victim to the labeling. Like I thought I couldn't make my own laundry soap because it meant I'd also have to drive a hybrid car. Holding a solid faith and dancing out with the girls don't have to be opposites. Having a home in a suburban neighborhood doesn't mean I can't funk it up with crafts and cherished kitsch. And writing about "the small things" certainly doesn't mean I don't pay attention to "the big things" in life too. I want to passionately explore a multitude of areas in life and, while some areas might bubble to the surface with noticeable expression, some simmer beautifully and quietly underneath–not to be forgotten. I'll dip my toes into different hobbies and ways of life if I feel drawn to them, and I won't let the box of "who I'm supposed to be" stop me for a hot second. And I learn–oh, do I learn from so many other kinds of moms who continually broaden the definition of motherhood with their insight and experience.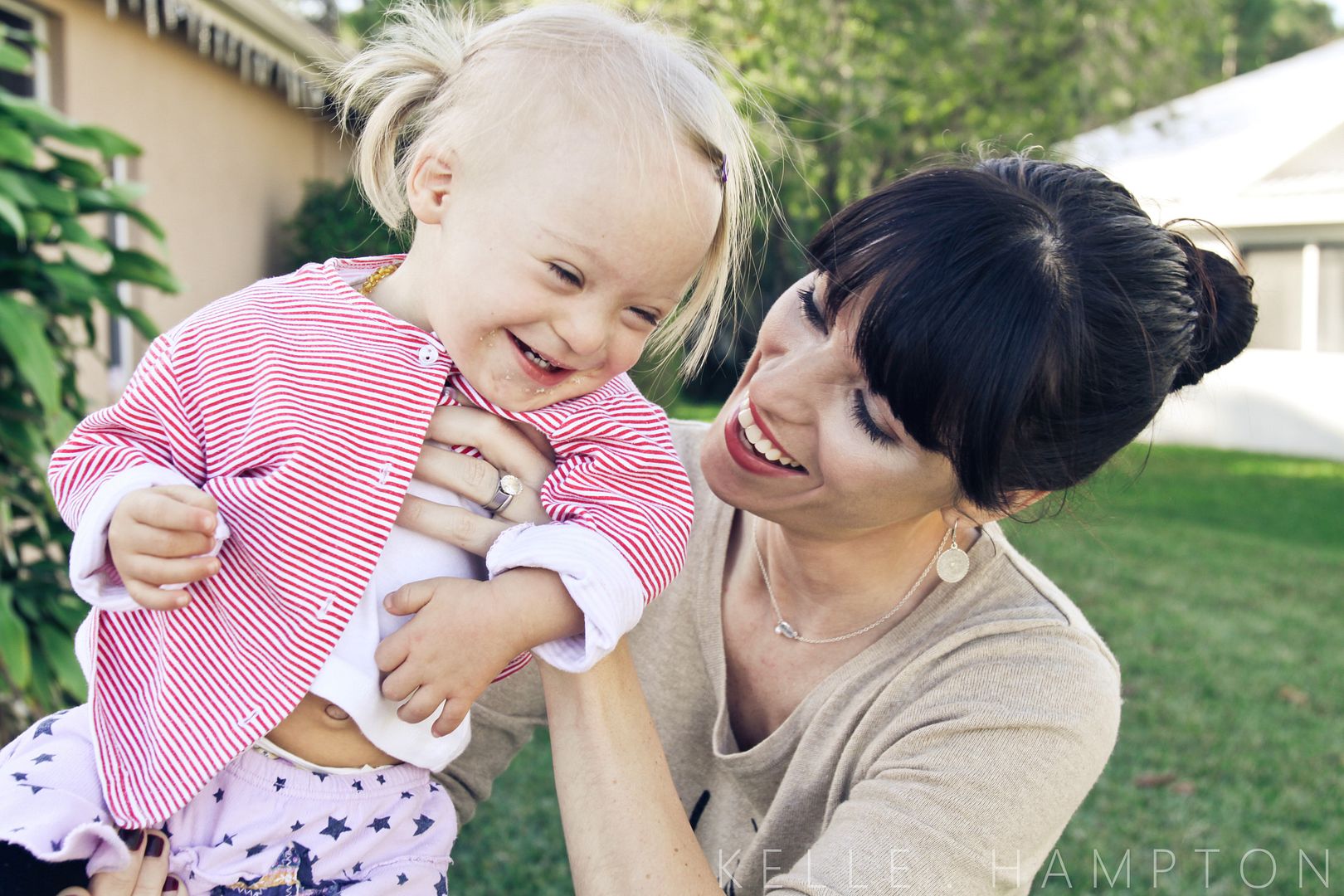 We're women. We are multi-faceted. We don't have to fit into a box. We follow our own rhythms and we celebrate our movements that may change over the course of aging, mothering, learning, exploring, loving.
I follow my instincts and listen to my heart. That's the kind of mother I am.
Q: Do you read the comments?
A: Yes. I really try and read all of them. You took the time to write it, I want to take the time to read it. Sometimes I go a couple days before I sit down and catch up, but you'd be surprised how many of you I know by name. I try to visit blogs and leave comments when I can although, obviously, my first priority is time with my family. If you ask a question in the comments, I will try and answer it in another comment in the same post.
Q: With a public blog, how do you deal with negative criticism?
A: I wish I could say I've always been one of those people who shrug off criticism and make no qualms about how people perceive them. I've always wanted to please people, and that comes with the realization that when I don't, it's disheartening. When this blog gained publicity, I soon discovered that it also opened the door to criticism and sometimes false assumptions about how we live our lives, raise our kids, deal with issues, what I write about, what I don't write about, etc. Here's the thing–everyone should go through negative criticism at some point in their life because it is so good for you. It never feels good at the moment, but the process is enlightening. You sharpen your beliefs, gain confidence and, over time, stand firmer and stronger.
No one is invincible–I do get my feelings hurt, and that icky, self-analyzing, defensive cave I've slipped into is just gross. But necessary. You grow. From blogging and putting myself out there, I believe even more Shakespeare's advice, "To thine own self be true." And you don't need a blog to discover that you cannot change yourself to please others nor can you be so arrogant to think that you're never wrong. But you can own what you say…and learn more every day from the experiences that help shape us–and that includes criticism.
Q: Where do you get your quilts?
A: My mama's always loved a good quilt, and I inherited her obsession once I had babies and fell into my style a little more. I like cozy. I like homey. And I love me some Ebay. I don't think I've paid more than $30 for any of our quilts. They were all found on Ebay–old, used, a bit tattered…but perfect. I search words like "vintage quilt," "vintage patchwork quilt," "granny square afghan," "homemade patchwork quilt" and about a hundred other combinations that have scored me some pretty cool finds.
Q: How did you and Brett meet?
A: This is definitely the most repeated question. I suppose my avoidance suggests some sort of scandalous story like we met in Las Vegas when I was a showgirl and he was a stage hand. Oh, but only if it were so storybook. Didn't happen that way, although he did propose to me at dinner while we watched the Bellagio fountains from the Eiffel Tower–the Vegas one–and I do have a nice showgirl high-kick when I'm reenacting Sally O'Malley, if I don't say so myself.
There is a story behind our meeting, and I did finally write it all down.
But it's in Bloom, and you'll have to wait until April 3 when the book comes out. There are a lot of issues in the book I specifically discuss that I don't talk about a lot on the blog–my past, faith, family, etc. On the blog, my intent is that these issues breathe through stories, photos and words in a read-between-the-lines kind of way and, occassionally, I will expound when I'm inspired to do so.
The book opened up the opportunity to explore a lot of untread territory though. Writing it was the most cathartic personal experience of my life–a ten month therapy session, of sorts. I am excited for next year and the release of a story that is so precious to me–one in which I hope you find shared sentiments, determination and celebration. As it gets closer, I will talk about it a bit more, but for now you can pre-order a copy of Bloom: Finding Beauty in the Unexpected by clicking any of the four distributer buttons on the right sidebar.
Finally, I promise…I don't do it all. No one does it all. There are never enough hours in the day to finish what I want to accomplish, and there are nights where I go to bed with the house in shambles and thinking to myself, I could have done better. I am forgiving. I am realistic. And I love the thrill of waking up the next day and deciding…what is it we want to do today? How are we going to make this day great? Happiness is a choice. Sometimes it isn't easy. There are moments it doesn't come naturally…but when you repeatedly practice finding the good, it has a way of finding you.
If I didn't answer your question, you might find it on this old F.A.Q. post or the F.A.Q. tab at the top of the blog or perhaps the Photography F.A.Q.