Cold pad thai, broken chopsticks, and what's left of my sweet balsam candle sit beside me on my desk–the latter enticing me with its clear pool of hot wax that begs to be played with. I did it–I listened to my inner child and dipped eight fingers (the thumbs wouldn't fit) into the candle until each was covered with a thin wax shield which dried and was removed in a process that brought me far more satisfaction than it should have. I tell you all this because I am tired, and my short cloud of writer's block was interrupted by the brilliant idea of setting the scene. My bad.
Highlights of this weekend:
Saturday morning coffee with friends which I like to think of as the gun blast in the horse race that initiates the trot of stallions to follow. The tired horses assemble at the starting line. And then Bam, coffee. Bam, conversation. Bam, cheesy egg hashbrown thing. Giddy up, Weekend, here we come. Really, I just like relating things to derbies. There are a lot of untapped analogies there.
****
I ran into this thing the other day.
It grazed my face upon entrance into the woods, its sticky threads kissing my cheeks and sending me springing back in a crazed, arm-flailing response. Surprisingly, it stayed intact, and my disgust melted into "oooh pretty."
*****
Lainey does a mean plié. She throws in one legitimate ballet technique for every 20 of her made-up interpretive moves.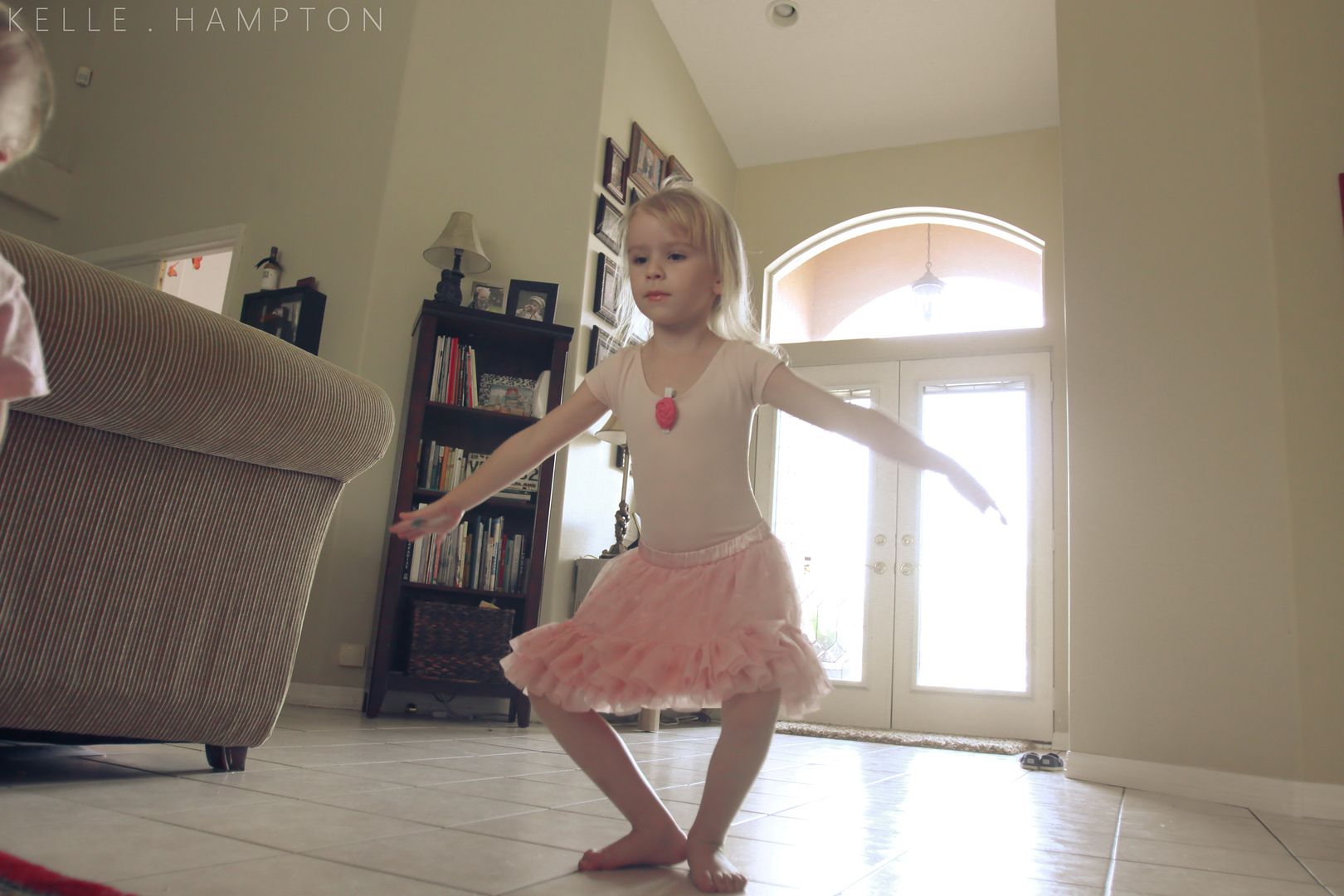 *****
Alec, Lainey's buddy across the street, is one of her favorite people. Sometimes she looks out the window and waits for him to take his dog out and, when he does, she tells me we need to take our dog out too–at that very moment. This "chance encounter" often leads to an invitation to play. This weekend, Lainey and her bud played camping. A real tent, fire, flashlights and a bubbling brook they rigged up with a hose and a few rocks.
*****
After being gone last week, my awareness of every little precious detail of my kids was hyper stimulated this weekend. Like how good their hair smells after a bath, how Nella holds her pointer finger and thumb together on the "roll, roll, roll" part of Patty Cake, how Lainey smiles with her melty chocolate eyes. We made up for our two lost days this weekend. Fo sho.
*****
This is Ginger, the new temporary member of the family.
We've been watching my dad's puppy for a couple weeks now, and Lainey's in love. Ginger spends most of her time in Lainey's arms, skipping behind her, or tucked in a fuzzy backpack on her back. Which is where she chilled during our round of putt putt Sunday evening.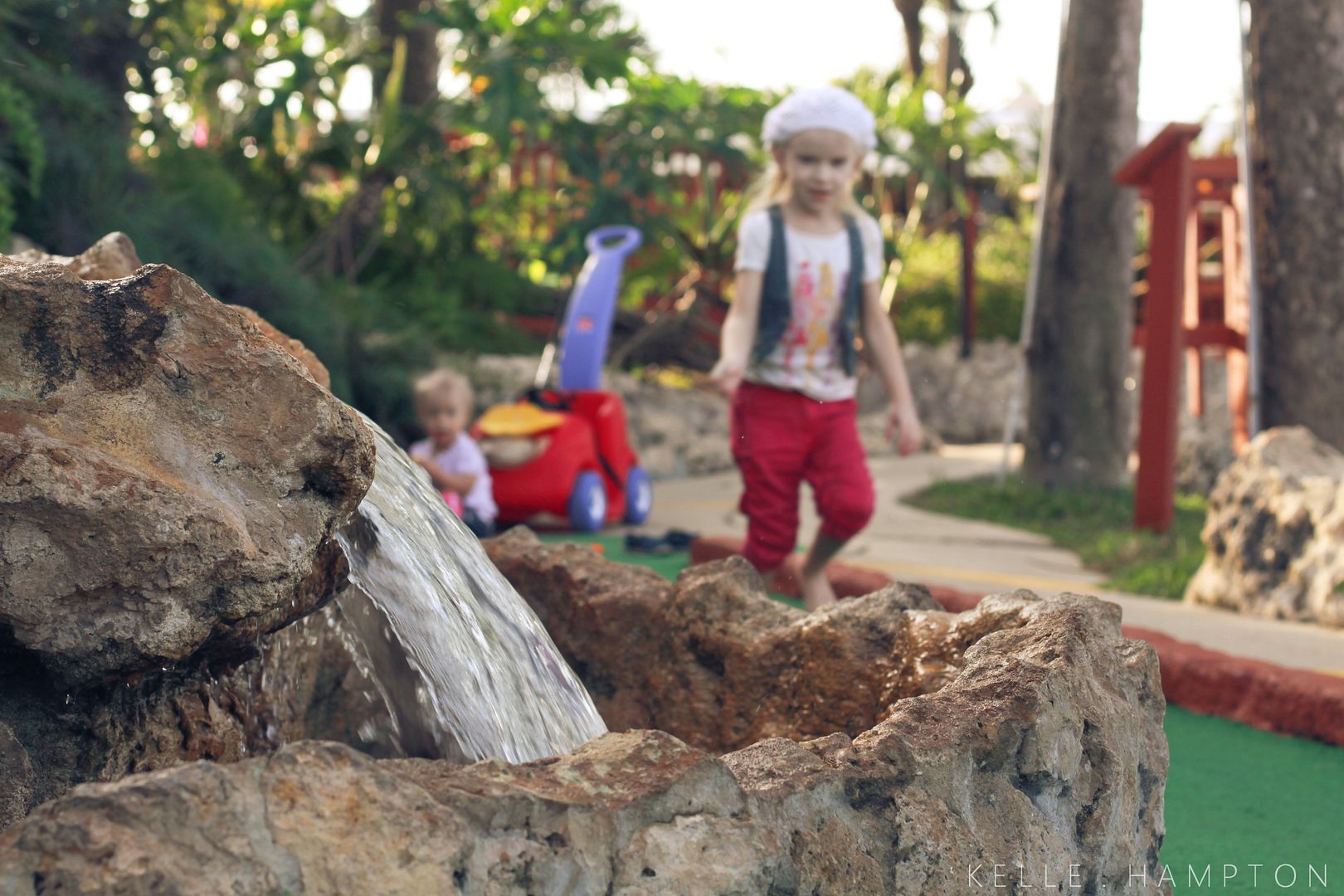 I forgot how much fun putt putt golf can be. Especially when you bring a push car for your kid and it doesn't fit through all the pathways and bridges and narrow stair cases.
So you carry it. While you carry a baby in your other arm, fetch thrown-off shoes (can't count how many times we asked other golfers "have you seen a pair of kids shoes?"), tend to a dog in a backpack and chase after wandering balls.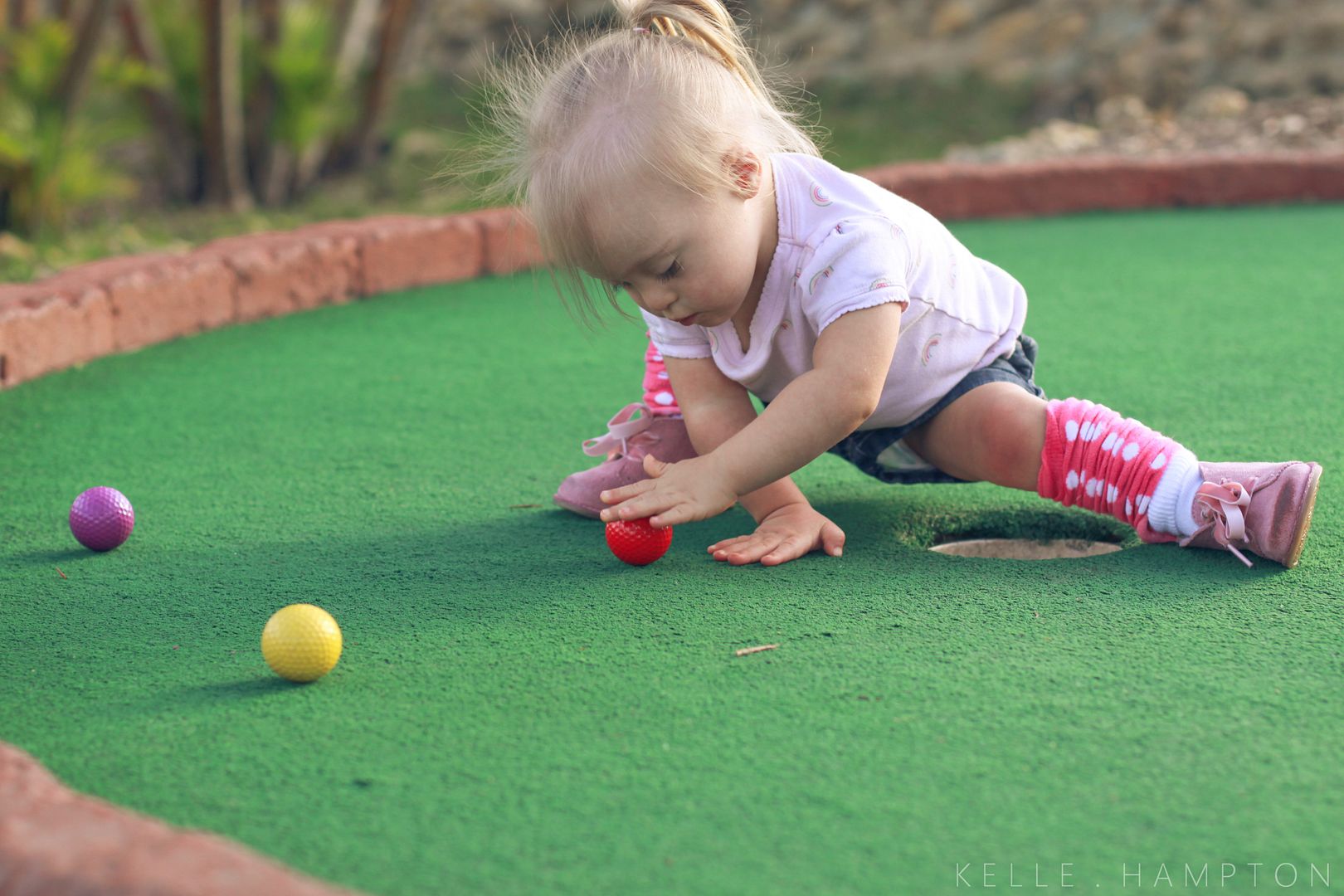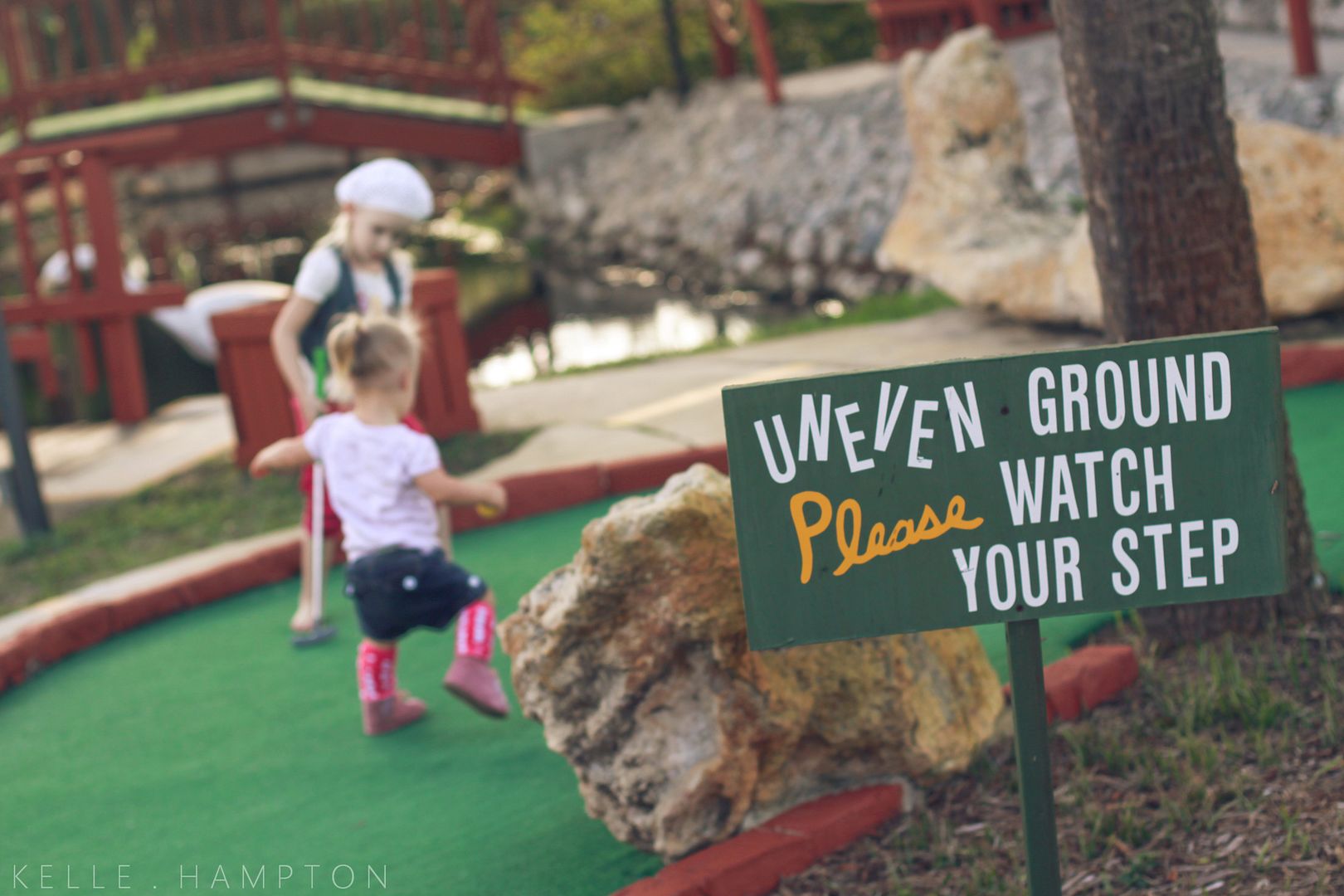 I got so embarrassed of walking up to get another ball after ours fell in the river/waterfall/manmade ravine that, after Hole #13 left us ball-less once again, we called it quits and walked out.
Only after we made up our own games for the green though.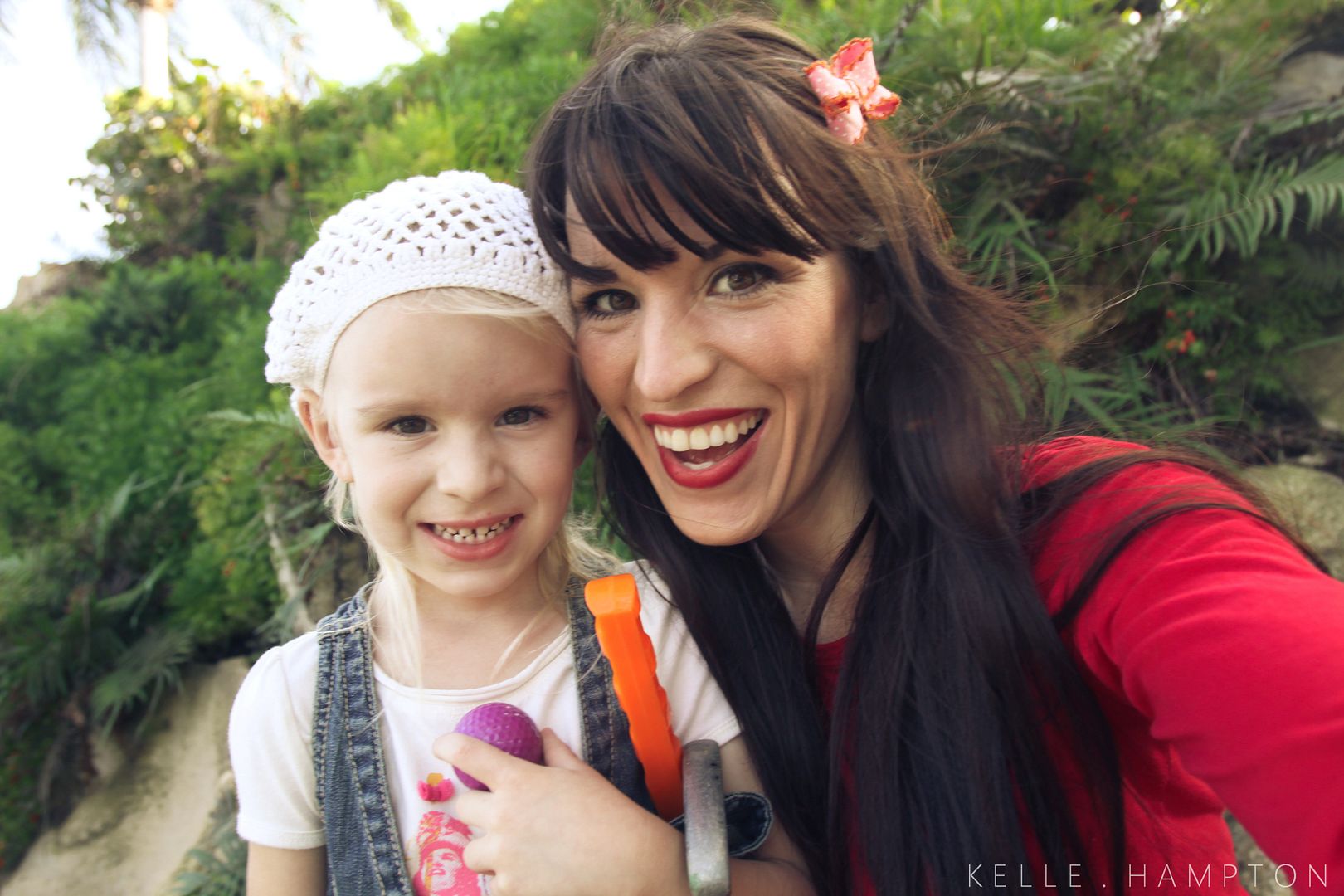 Post golf grub.
*****
Finally, she's off.
As if she blew the final wisps of babyhood away with those candles last week. The walking is a done deal now, and it's been hard to get used to this different baby in our home. It really changes so much, and though I mourn the last of that itty bitty girl–the one I got to enjoy a bit longer than most–I can't help but smile with the onset of new changes.
Mainly, how they play. Less Big Sister/Little Sister and more…just sisters. Now with a level playing field.

A cardboard box–the most captivating of toys.


Her body even felt heavier tonight as I walked her to sleep under the stars–lengthier, stronger. A big bad walker.
And speaking of the big two year mark, my e-mail box was flooded this morning, the subject line all the same: "You Made It! You Made It!" It being Nella's 2 for 2 Fund. This weekend, the fund stood a little under $10,000 of making our goal. And that in itself was amazing–you all raised a whole lot of money these past few weeks. But then came the kindness of one person–a single $10,000 donation that tipped us over the scale. And my, how I am inspired by kindness today. Pay it forward this week, in some way, to another.
*****
Welcome to new sponsor, Independent Silpada Consultant Debbie Smith.

love this simple, delicate Dream necklace

If you're not familiar with Silpada designs, I suggest you browse her catalogue just for the fun of it. Ranging from classic and simple to striking and unique, Silpada offers a variety of quality jewelry pieces that accessorize any wardrobe.

Silpada Ring

Debbie Smith has made the generous offer of donating 20% of all sales right now to Nella's 2 for 2 Fund, so you can shop with a cause (choose "Nella's 2 for 2 Fund" as the hostess when you check out.)
*****
My candle just burned out. Literally, figuratively. Good night.