I am excited to renew my relationship with a company whose mission I admire–the Hallmark posts will continue this year. This post is another Hallmark sponsored post. I am being paid by Hallmark to write it, but all writing, ideas and opinions are mine. Thankfully, Hallmark and I share the same idea–that little moments are to be celebrated and that good people, good efforts and good intentions deserve a spotlight. See Hallmark Life is a Special Occasion for more details, like them on Facebook, and/or sign up for their e-mail messages HERE.


My grandma was not a sophisticated cook by today's sense of the word. Nothing was "infused," she loved her pressure cooker, and I'm sure she didn't know how to pronounce endive. She used white Wonder bread, considered Heinz 57 a fancy condiment and referred to Costco's vidalia onion salad dressing as "the good stuff." Her meals were, in a sense, completely ordinary–delicious, well planned, but common. But those who sat at her table found them anything but. It was the thought she expended to transform completely ordinary into memorable. Ketchup was served in a tiny bowl with a cocktail spoon. White bread was nestled into a basket and wrapped in a damask napkin. Sweet relish was poured into a dish that held a story of a missions trip to a faraway place and a kind friend who gave it to her as an anniversary present–and as she prepared meals, she'd tell me these stories. There were special juice glasses for the grandkids, the perfect cookie jar for Fig Newtons and, on reserved occasions, the Cryderman plates–fine china saucers bearing our last name, hand painted in Japanese letters.


I still use my plate today–reserved for special occasions, like an afternoon snack.


Our family remembers the way my grandma turned ordinary occasions into memorable ones, and in motherhood–in life–it goes beyond the kitchen table.
The thing I love about these memories of my grandma, especially now that I'm old enough to understand that grown-up life can sometimes come with a sort of dissatisfying monotony, is that she never expressed discontentment. Perhaps it was her generation when "ain't nothin' but a mama and a housekeeper" was a medal of honor (in my opinion, it still is). She was proud to be a pastor's wife, a faithful housekeeper, a diligent mother to four boys, and she found such contentment in the ordinary–folding laundry, making sandwiches, preparing coffee trays just the way my grandpa liked them. I like to think, though, that her contentment in everyday life went beyond her generational stereotype. That maybe she was content with what some might call an ordinary life because she made efforts to keep things exciting.
Things are different now, yes. Women do more. More is expected of us. That comes with both applause and exhausted sighs. We are powerful, we are tired. We are inspiring, we are overloaded. We are capable, we are stressed. No matter the circumstances though–whether we're changing diapers everyday, stuck in a cubicle, yawning our way through morning carpool duties, struggling to make ends meet, working long hours to stash money for college and yes, enjoying it along the way–we gain the upper hand when we take time to spice things up. When we grasp the perspective of viewing mundane routines as opportunities to transform ordinary into extraordinary. Wonder bread on fine china.


Rule #1: Wear red shoes. Or red lipstick. Or red underwear. Red is Ordinary's kryptonite.
While the term extraordinary may sound intimidating, it requires only simple attention. You don't have to take your kids to Disney World to impress them. In fact, I was surprised when, after a recent day of considerable chaos and not taking the time to be present like I'd have liked, Lainey asked me at the end of the day, "Mama, can we do something special?"
I immediately braced myself to let her down easy. I was exhausted, it was late, and whatever special thing she had in mind–going for ice cream, building a fort, heading to the bookstore–I was sure it wasn't feasible entertainment.
"What do you mean by special", I asked? "What would you like to do?"
Wide-eyed and grinning, she replied, "Moon walk." As if it really was a trip to Disney World.
That night our long, ordinary day was reframed to include a starry onyx sky and lizards that skittered across the moonlit sidewalk. It was sealed with sweet, quiet moments of my girls snuggled in their stroller and was slowed to the rhythm of my steady calm breaths that were synchronized with my stride. The day suddenly seemed anything but ordinary.
The moral of that story? Taking time to reframe the mundane doesn't just benefit our children–it restores our own motivation and perspective. Moon walks have become a special thing in our home. Not every night, but many nights we set out in the dark to count the stars, jump over sidewalk cracks, and hunt for lizards because yes, like remembering my grandma's cocktail spoons and cookie jars, I want my girls to recall my efforts in creating an extraordinary childhood. But I do it for me too. I am inspired when we drop everything and gear up for a walk, and the contrast of night exploration against our everyday routine feels adventurous and special.
The magnificent thing about all this? It may start as effort but over time, like eating better or exercising, finding ways to create extraordinary from ordinary becomes a way of life. An enjoyable way of life. I don't think my grandma asked herself at every meal, "Now how do I make this special?" It just came naturally because for so long she had practiced finding ways to create memorable moments.
Likewise, I instinctively respond to my appetite for color, for adventure, for something a little bit different among our common routines. Over the years, we've created our own list of simple things that turn monochromatic days into something technicolor.
Like buying balloons…just because.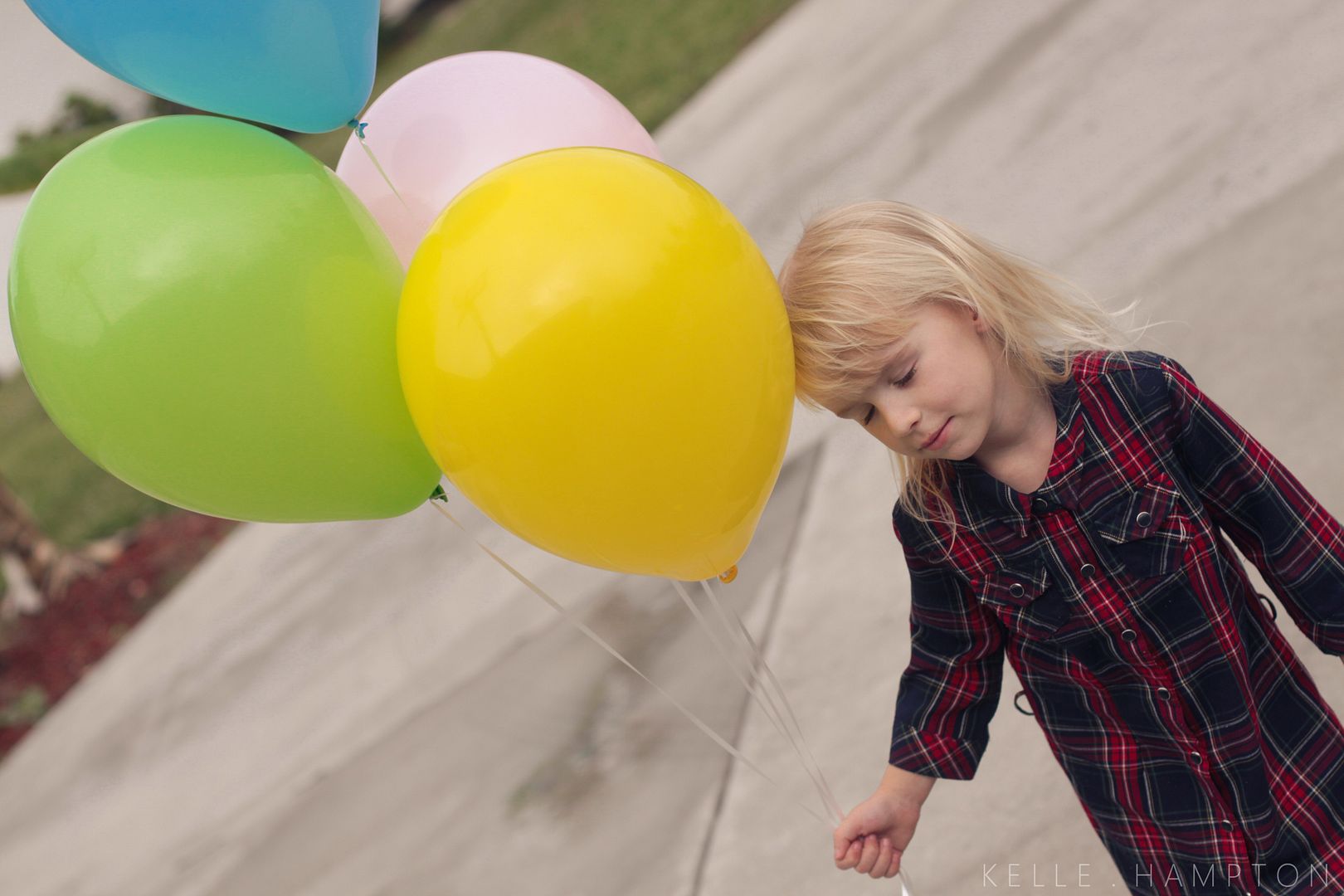 Pulling the hose out to create our own storm.
Or taking the kid cart to the grocery store to make shopping a little more interesting.
It becomes a delightful challenge–this ordinary transformation, and I find myself eagerly searching for ways to "keep it interesting." In fact, yesterday afternoon, as I was challenged with keeping the girls entertained while I finished some work, I began stretching my creativity, thinking like my grandma–"WWGD?" And when a simple idea came, I smiled in satisfaction. "Lainey, want to get your bathing suit and go swimming in the bathtub?"
She smiled her delight, and Nella pulled at her shirt in response. I made a cup of tea, lit a candle and dragged my laptop into the bathroom where I finished my work while the girls made cakes out of bubbles, washed three Barbies' hair and pruned their skin for an hour. Taking baths may be ordinary, but our afternoon bathroom swim party was not.
There is a world of extraordinary opportunities that lie in the realm of ordinary, and we all have ways in which we do simple things to breathe more color into our days. I wear red lipstick, use my favorite coffee cup, carry a good pen, light candles ("A candle is a poor man's fireplace," my grandma used to say), make breakfast toasts with my daughters, spray whipped cream smiley faces onto pancakes and take enchanting moon walks when the day is done.


Under the full moon, last night
What do you do?
Hallmark and I would love to hear about the things you do to reframe the mundane. In your comment, please share any traditions, ideas or simple acts that help you make life a special occasion.