This post is a Hallmark sponsored post. I am being paid by Hallmark to write it, but all writing, ideas and opinions are mine. Thankfully, Hallmark and I share the same idea–that little moments are to be celebrated and that good people, good efforts and good intentions deserve a spotlight. See Hallmark Life is a Special Occasion for more details, like them on Facebook, and/or sign up for their e-mail messages HERE.
I don't think I really understood the importance of holiday tradition until I became a mom. My grandparents–the authors of many of our Christmas traditions–passed away just months before Brett and I got married, and Lainey was born just a little over a year later; so 2007 was it for me–my daughter's first Christmas and my opportunity to instill years of favorite memories into my own little family. Some of my favorite childhood traditions have long passed, preserved only in my mind. Others live on, their memories rekindled with perfect accuracy by my own children who reenact similar stories from my past. And some are just beginning—new ideas that we've created for our own family.
A Few of my Favorite Holiday Traditions:
Chocolate Covered Cherries: Christmas Past
How this tradition began, I'm not sure, but it lasted for as long as we shared Christmas with my grandparents. It was reserved for only the women of the family—the four wives of the four sons, but soon grew to include granddaughters when they reached the age of chocolate covered cherry initiation. We had big Christmases every year with my dad's side of the family. We called our celebration "The Holidome" which referred simply to the hotel where it was hosted but represented far more than that—aunts and uncles gathered around the pool, little cousins running from room to room, big cousins staying up into the wee hours of the night to tell stories, and food spreads that always included ham-wrapped pickles with cream cheese. Every year at a given point in the evening, we gathered in one of the hotel conference rooms, a giant circle of chairs uniting us all. Grandkids played recital pieces on the hotel piano, the uncles sang carols in harmony and made my grandma cry, and Grandpa stood in the middle and prayed, giving thanks for the family he loved and for all we were blessed to experience that year. When teary eyes opened, the real ceremony commenced—money envelopes passed out to every grandchild, gifts exchanged, fruitcake handed out to the boys and then the chocolate covered cherries. The aunts' names were called first, one by one, and everyone watched as each received her box of chocolate cherries and returned to her seat, smiling. And then we waited to hear if any new names were called—if Grandpa had deemed a new granddaughter ready for her rite of passage. There was no age requirement, no explanation for how you were chosen, but when your name was added to the chocolate covered cherry list, you knew you were no longer a child in Grandpa's eyes. I remember the year my name was called. I remember smiling as I walked to receive my prize while cousins laughed and hollered "she's a woman!" from the sidelines. And while I don't particularly like drugstore Marciano cherries covered in milky goo and chocolate, I buy them ever year. I'm a woman, and it's tradition.
Follow the String: Christmas Past and Christmas Present
Again, I don't know the origin, but for every childhood Christmas I can recall, the last "big gift" we opened always began with the end of a string Santa left for us to follow. It led us in circles, in and out of bedrooms, around the kitchen table, up the staircase and ended in a room where that last special present was hiding–a new cocker spaniel one year, the Cabbage Patch Kids we thought we'd never get, another. This is a tradition I've insisted on repeating. Watching my girls unravel the string and following its twists and turns toward their gift, their anticipation building as they get closer–it brings back all the magic of those early innocent years.
Reindeer Runway: Christmas Present
Brett started this one a couple years ago, prompted by his obsession of never letting Christmas lights go to waste. With a few unused strands, he decided Christmas Eve that they were the perfect length to light our driveway for Santa's sleigh. So he and Lainey carefully arranged them to create a reindeer runway, a path to guide them to our home.
The creation of the runway belongs completely to Brett and the girls–I'm not allowed to touch. So I take pictures while they straighten the lines and Brett stands back, directing Lainey: "A little more to the right. Straighten that side out. A little more space between 'em…perfect." Secretly, I think this satisfies his never ending little boy obsession with planes and flight and airports. Either way, it makes for a great family tradition, one that hopefully lives on for years to come.
I love our holiday traditions.

Christmas Eve, Past and Present: New jammies and kids sleep in the same bed.


Christmas Present: The Annual Santa Photo (we have yet to do this year's). And that's totally a real beard on this thirty-year-old Santa. No really, it's not from Party City. It's real.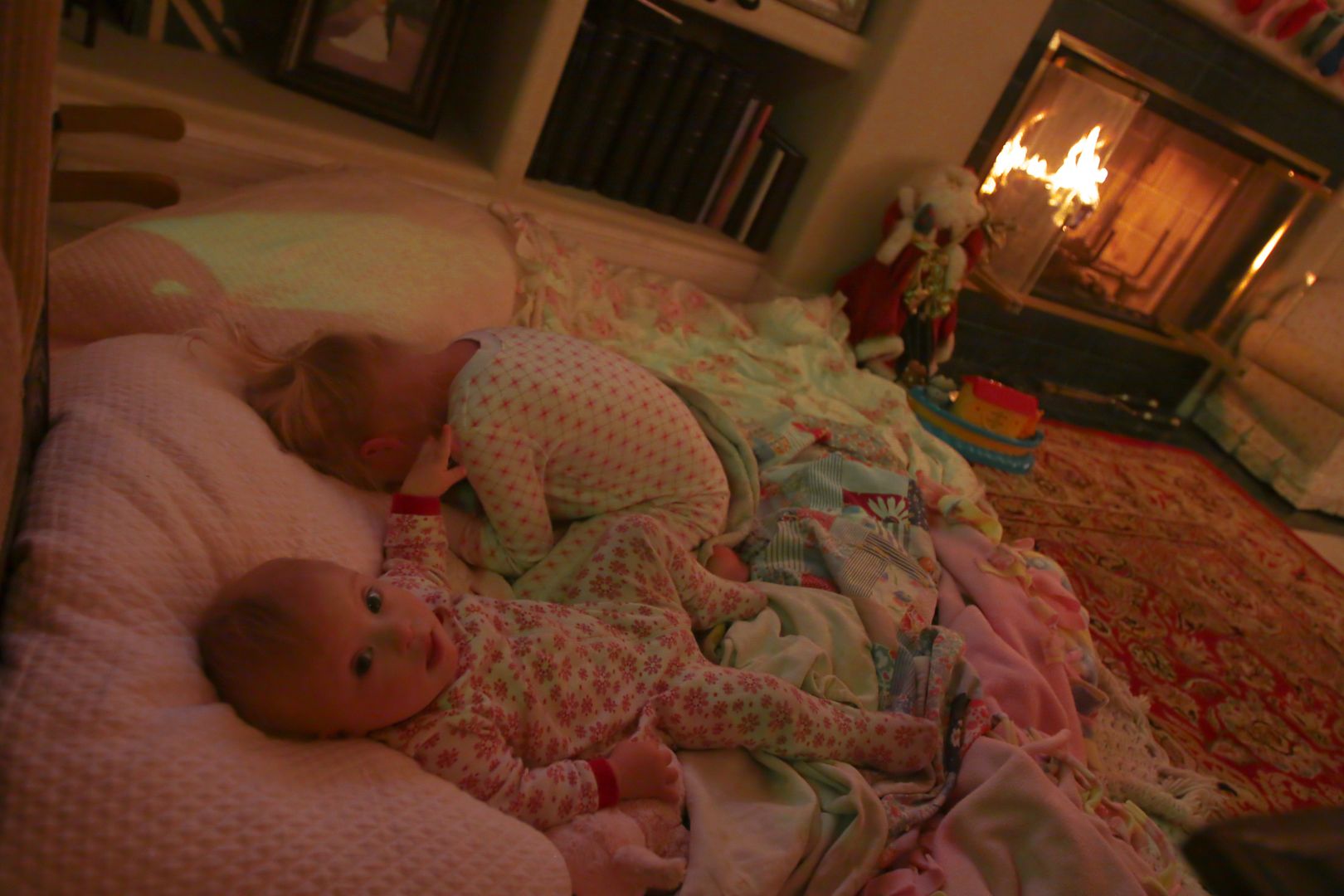 Christmas Past and Present: Fireside Movies; Sister pouting, optional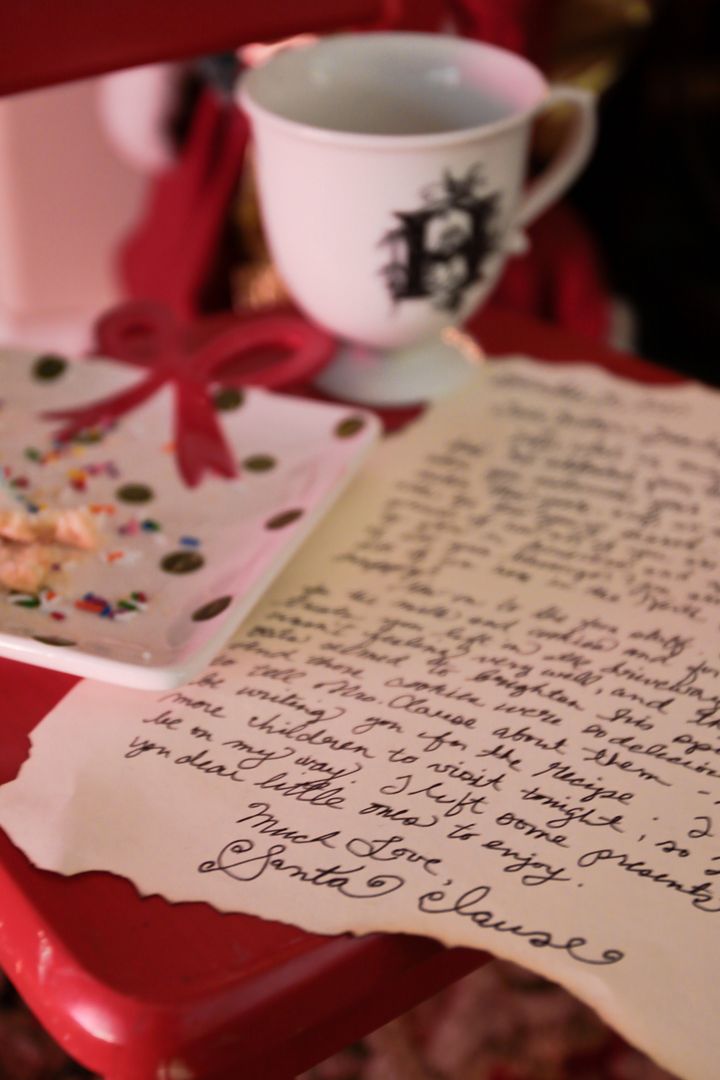 Christmas Present: Santa's cookies devoured and a note left to the kids
What are your favorite family holiday traditions? Any unique rituals that have withstood the years or new traditions you've started with your own family? Hallmark and I would love to hear your response.
To see other Hallmark posts on this blog, click HERE.