A couple weeks ago, with a little urging, Lainey agreed to put her shyness aside for a bit to sing "Happy Birthday" over the phone to her grandpa. We called from the beach at Isle of Capri, and I was thrilled with how willing she was to leave her sand castle for a few minutes to make her grandpa's day. After the last "to you," she skipped back to her pail and shovel while I finished the call and later conveyed her grandpa's gratitude to her.
"Did you know how happy you made Grandpa just by singing to him?" I asked. "He loved that."
Lainey smiled, thought about it for a moment and argued, "But I didn't give him a present."
"Oh, but you did give him a present," I answered. "You gave him good feelings."
Corralled by docks beside us and the gulf before us, we sat and continued to talk about good feelings right there on the beach–how things like Mickey Mouse pancakes, Hello Kitty stickers, red popsicles and sister hugs make Lainey happy and how beach sunsets, yellow sandals, daisies and daughter smiles make me happy.
The subject shifted to what we were ordering for lunch, but right before we stood up to put the final touches on her sand castle, Lainey stopped and asked, "Mom, can we talk about good feelings again?"
Sister's figured it out–the fact that no matter where we are or what we are going through, good feelings make us happy, and whether or not we have sunsets, daisies or Mickey Mouse pancakes, it feels good just to talk about them.

Getting the hang of Jacob's Ladder, a treat from the Easter Bunny

And all that can be summed up into a number of post tags, including but not limited to: Why I Blog, Unicorns are Cool, Look for the Good, Pick Up Your Camera, My Glass is Half-Full, Suck the Marrow, Buy Some Flowers, I Like Happy People, Can We Talk About Good Feelings Again?.
And how's about another Selah for good measure? Selah.
Good Feelings in Easter Form:
It's obvious I have this thing for holidays. I dig the whole late night preparations of stuffing Easter baskets and hiding eggs. This year though, I found myself completely exhausted Saturday night after staying up to dye eggs and still mending the tail end of a cold.

Egg dying by candlelight this year

I put the girls to bed with plans to stay up, clean the house, set the table for breakfast and Mary Poppins the place into dreamy childhood conditions. And then I closed my eyes for a fraction of a second and woke up Sunday morning. No baskets, no eggs. Chim-chimmeny charoo. I shot out of bed while the girls were still sleeping and gave new meaning to The Shakedown. It was…amazing. We took the egg hunt outside because there's a far better chance of finding them there and somehow, we managed to still light candles, sip coffee, and dust up some bunny footprints.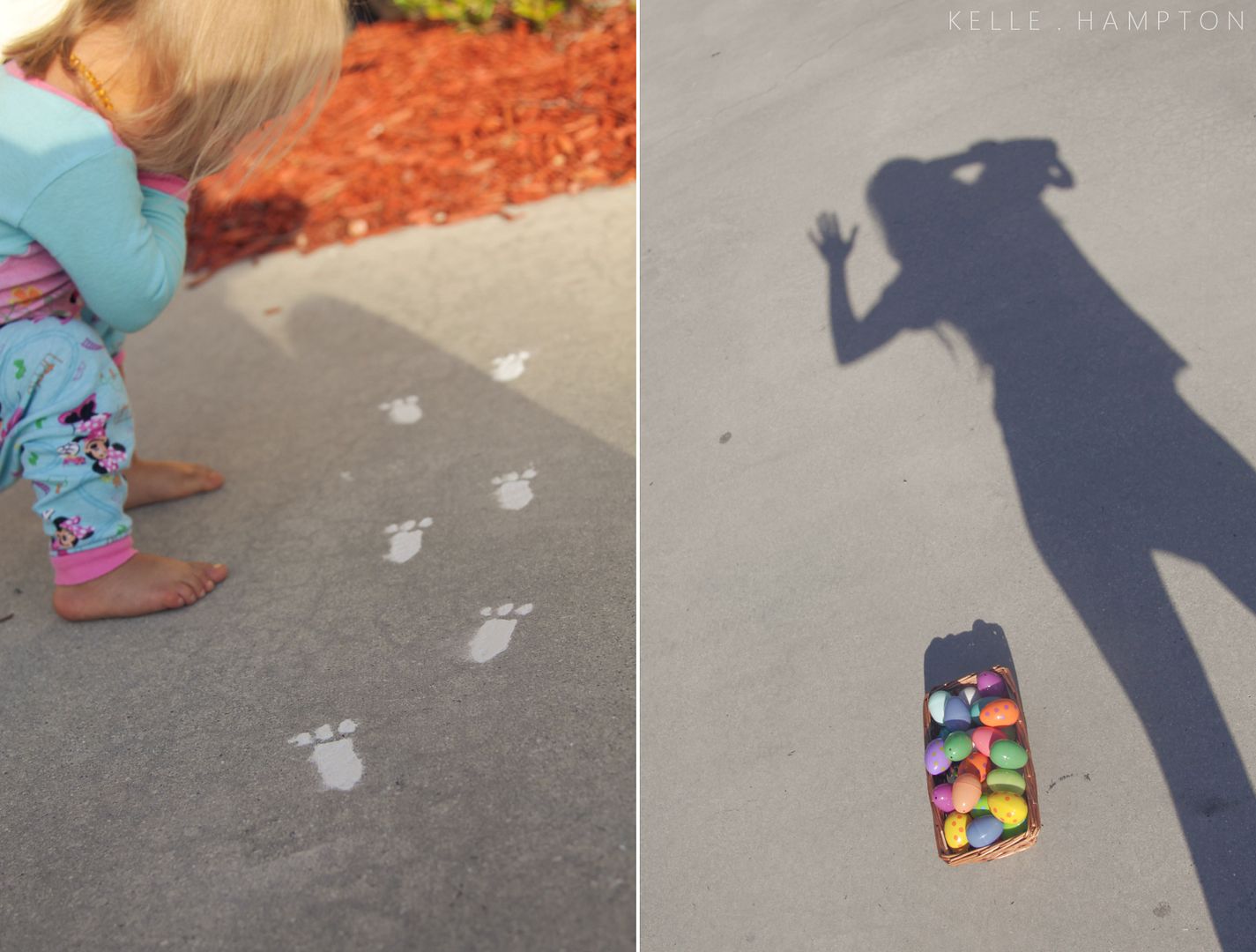 These melted into warped puddles in all of about three seconds


The girls were thrilled. Permagrin thrilled.
I am reminded again that so many of our expectations in motherhood are more about us than our kids.
My girls like seeing candles at the breakfast table, wearing dresses on special days and repeating annual traditions that give meaning to our family's story. But mostly, they just want our attention. Their Easter baskets had measly grass and one had a broken handle this year, but my girls had us.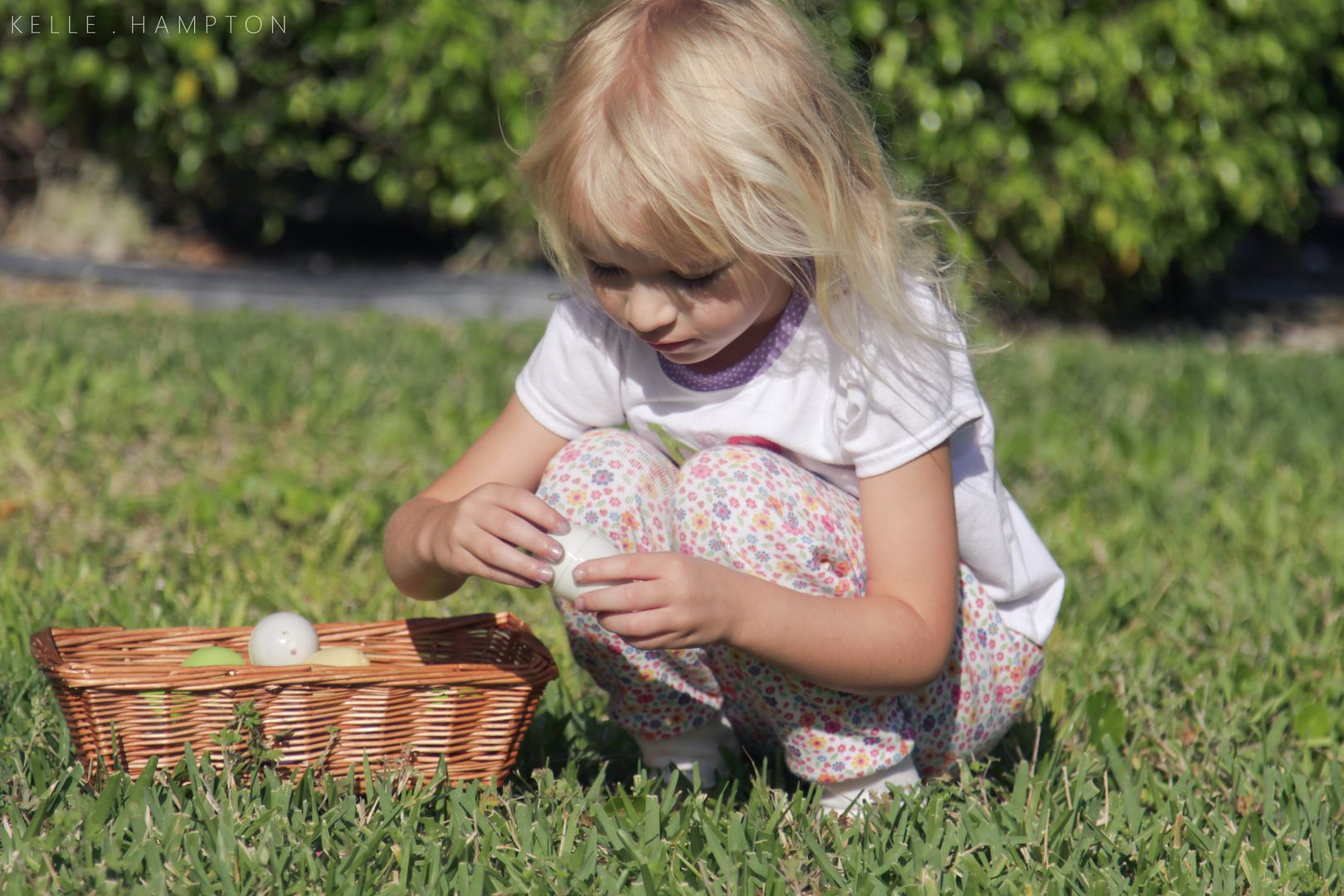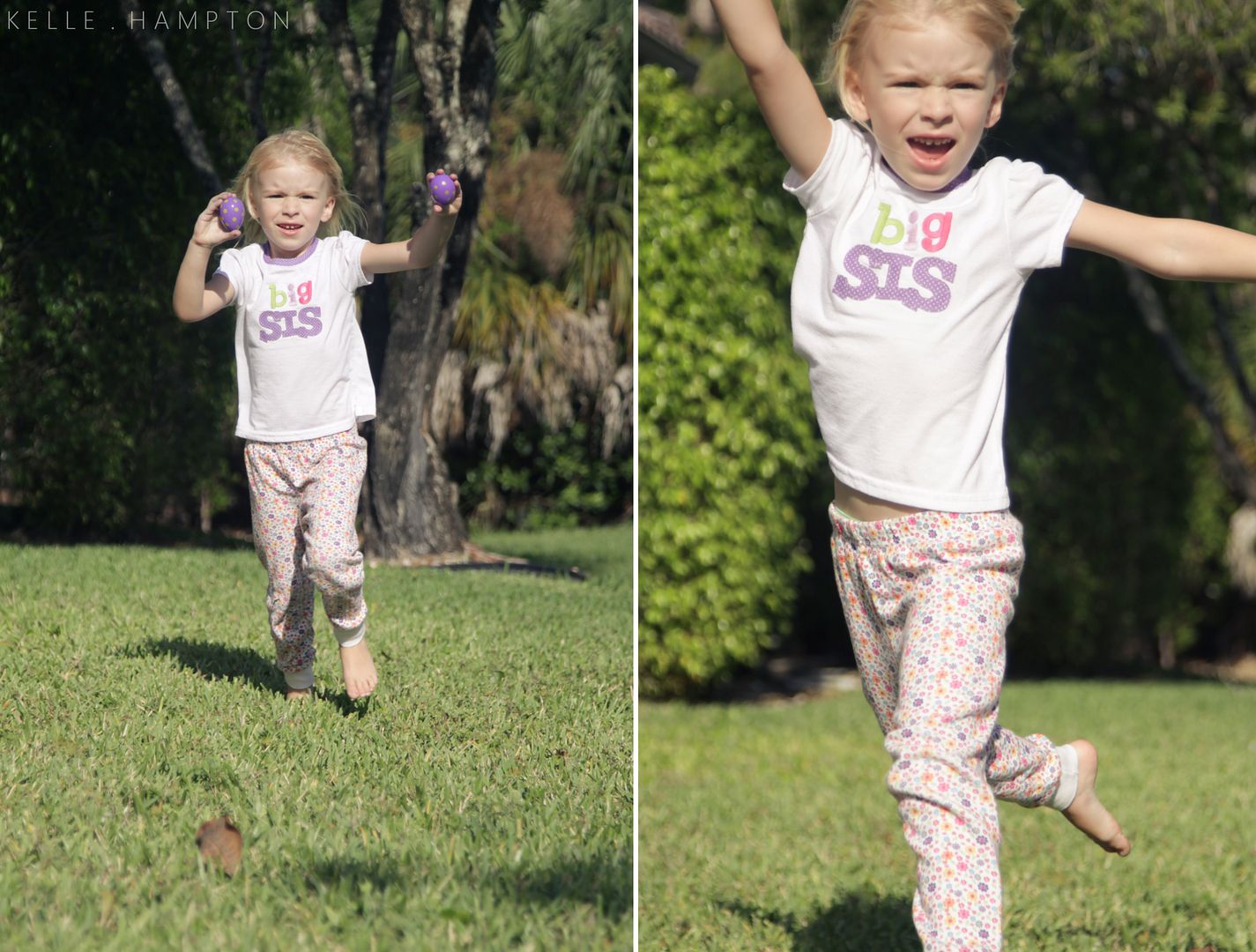 And that makes a very happy Easter.

If all else fails, hide a golden egg. It's flashy. It distracts from broken handles.

*****
I've been meaning to share details about my new camera bag. After a long search for a fashionable camera bag that holds multiple lenses, I found one close by. My friend Lola on the east coast has started Lua Handbags, a line of darling camera bags that dual function as purses. There is plenty of room and pockets for lenses, accessories, my wallet, a couple diapers, etc. and everything is well-padded and protected.
Lola is currently offering free shipping on orders. Check her out!
*****
And another wonderful story of paying it forward. My dear friend Elizabeth (her story is a beautiful one, and this mama teaches me about strength and love every day) has a very big heart for Reece's Rainbow orphans. She works hard to raise money to bring them home, and Elizabeth has started an eBay auction of goods where all proceeds will go to the Archer Family's adoption fund. I will be adding some things around our home to the auction soon (there are personalized signed copies of books up for grab), so keep checking for new items added (saying goodbye to my favorite color block granny square afghan for the cause…stay tuned).
And that brings me to the socks. Elizabeth knits socks for her friends. She says there is a prayer in every stitch, and those who are lucky to receive a pair wear them on special days. When we need it. A little sock club of inspired women has sprung up, and you can be a part of it too.
More socks will be added (she's knittin' her heart out) to the eBay shop soon. And every penny will be saved to bring home three little boys.
*****
Tomorrow, I'll be headed to New York for a little adventure. Join the fun:
I'll be back on Thursday to wrap up the week watching the stars from our driveway, taking late moon walks to put babies to sleep and settling back in to the welcoming scene of scattered toys and laundry cushions. Life is wild and interesting and full of opportunities to both be inspired and to give back.
If you're in the Naples/Fort Myers area, I'd love to meet you Friday night at a book signing for Bloom. 7:00 p.m. Barnes and Noble, Waterside Shops.
*****
Stay Cool, Lylas. And Good Feelings this week to all of you.