Give a girl a list, and she's going to want to cross things off.
That said, I'm movin' right along with my mini bucket list. Large paint strokes in varied shades of pale blue are staggered across one living room wall, a thin layer of sand covers the laundry room floor from our return from beach sunset Monday night, and last night, the girls and I transformed our bathroom into a spa.
This will be a weekly event now because all the sistahs in the house enjoyed it.
Lainey: Mom, we need cucumbers for our eyes.
Me: We don't have any cucumbers.
Lainey: We can use bananas.
Me: You are brilliant, Child.

Moon River can accompany anything. I love that song.
*****
And ballet? One week in, and Sister owns the place.
I can't take the leotard off after class. I let her wear it all day because it makes me smile. And then at night, when I finally take it off and put it aside, I stand there for a minute, next to her dresser, staring at the small square of folded pale pink spandex next to the tiniest ballet shoes you've ever seen. And I have a mama moment where I connect with my twelve-year-old self. The one who spent many daydreaming hours wondering what it would be like to have little girls.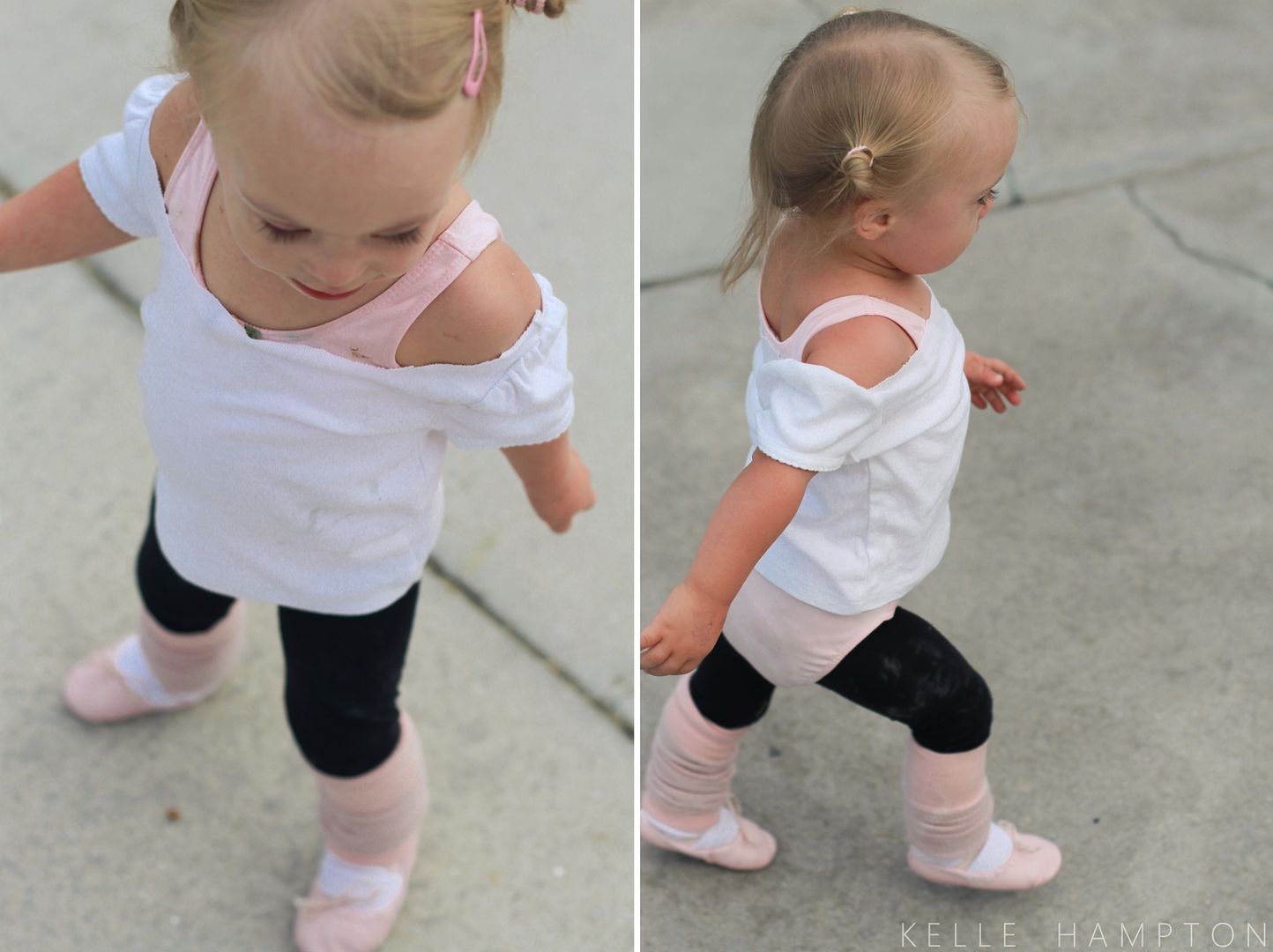 So maybe I cut a shirt. Do it. Take a little baby t-shirt and cut the neck off. Bring back the Flashdance.

*****
Finally, the beach. Monday night was glorious–glorious, I tell you. A spontaneous text. Mamas who answered. And this wonder-twin-powers-activate moment where we put our imaginary fists together and promised that yes, we're doing this. Many times this summer.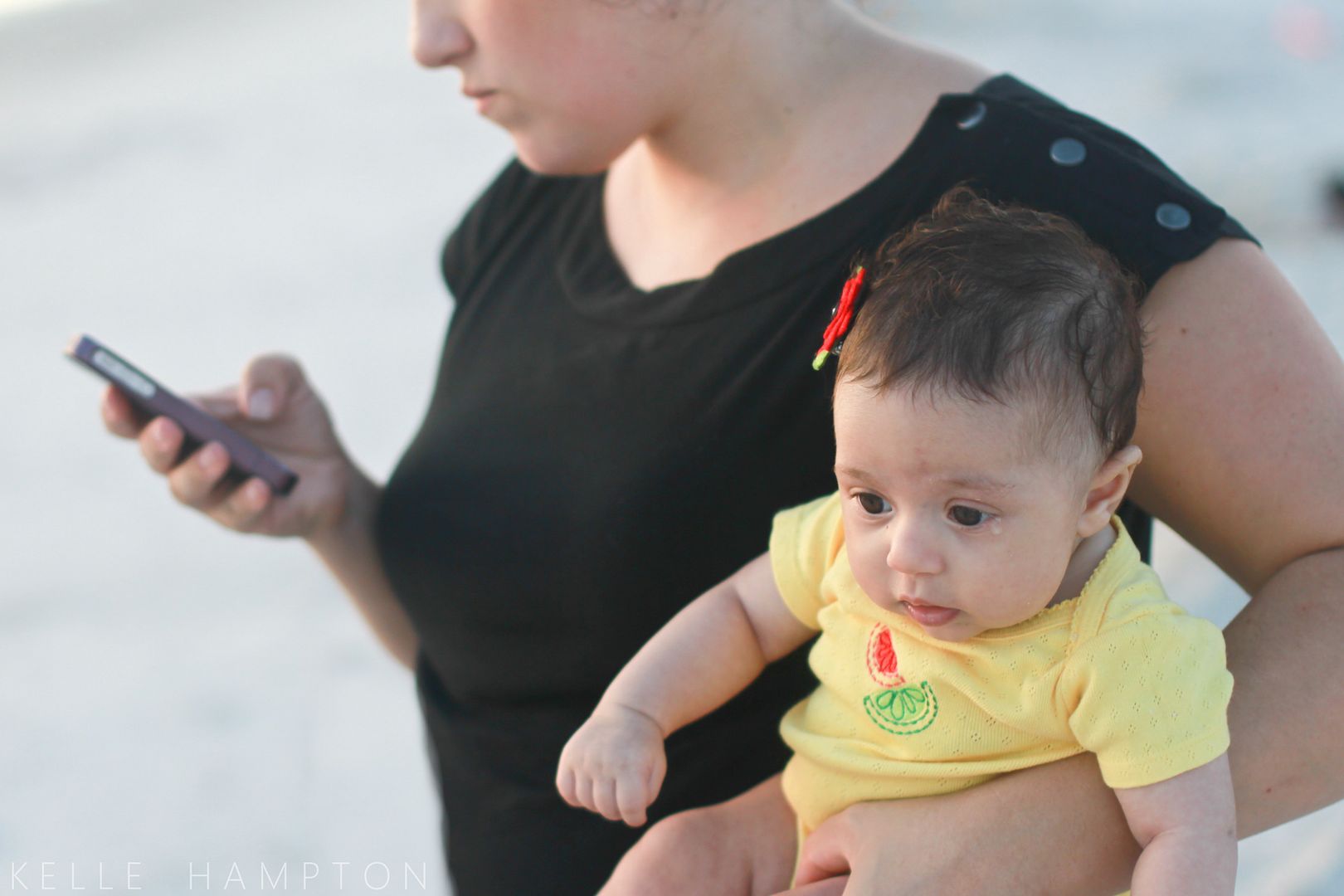 Lainey's friend Lauren giggles. All the time. If you barely look at her, it starts. Belly-shaking giggling. It's contagious.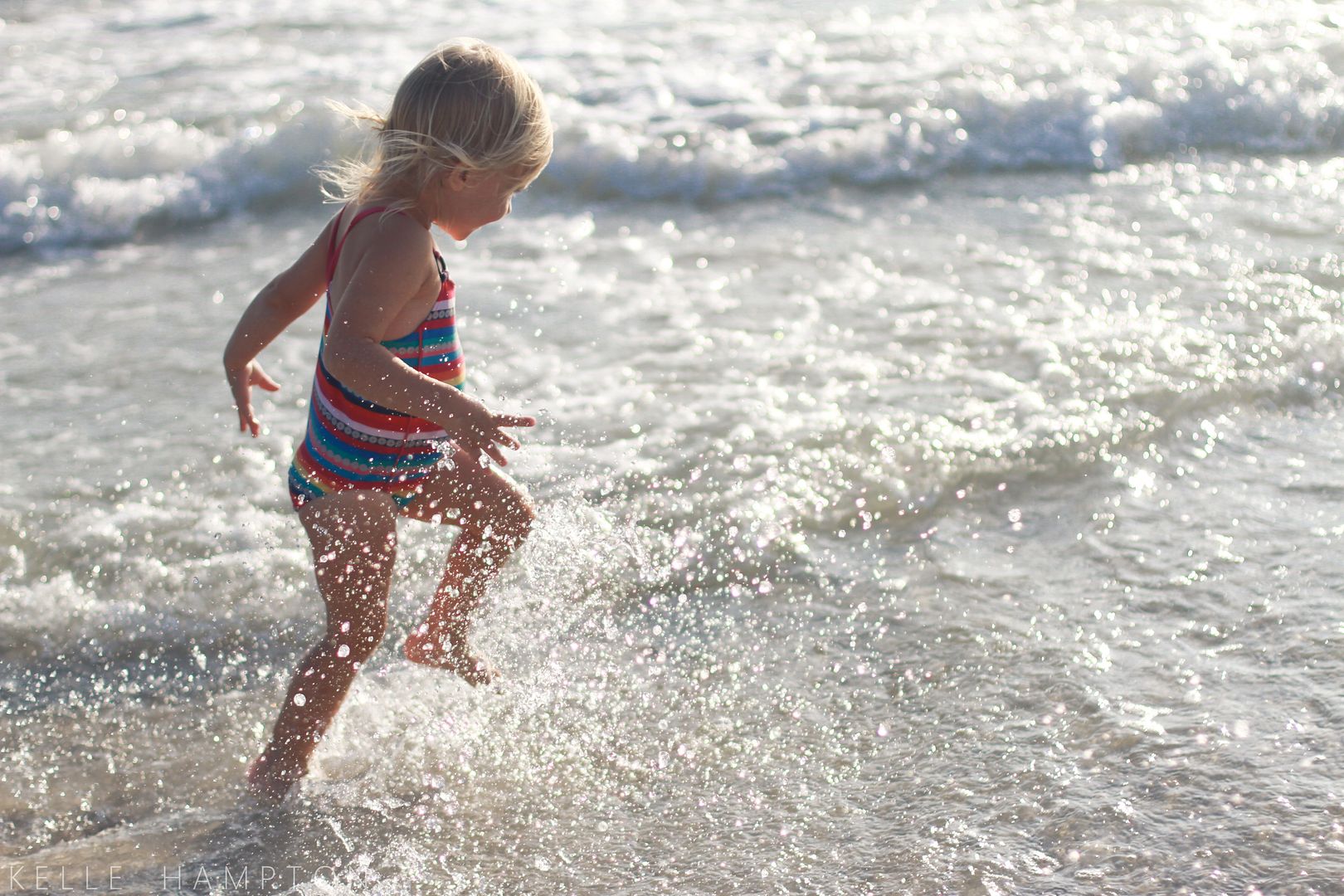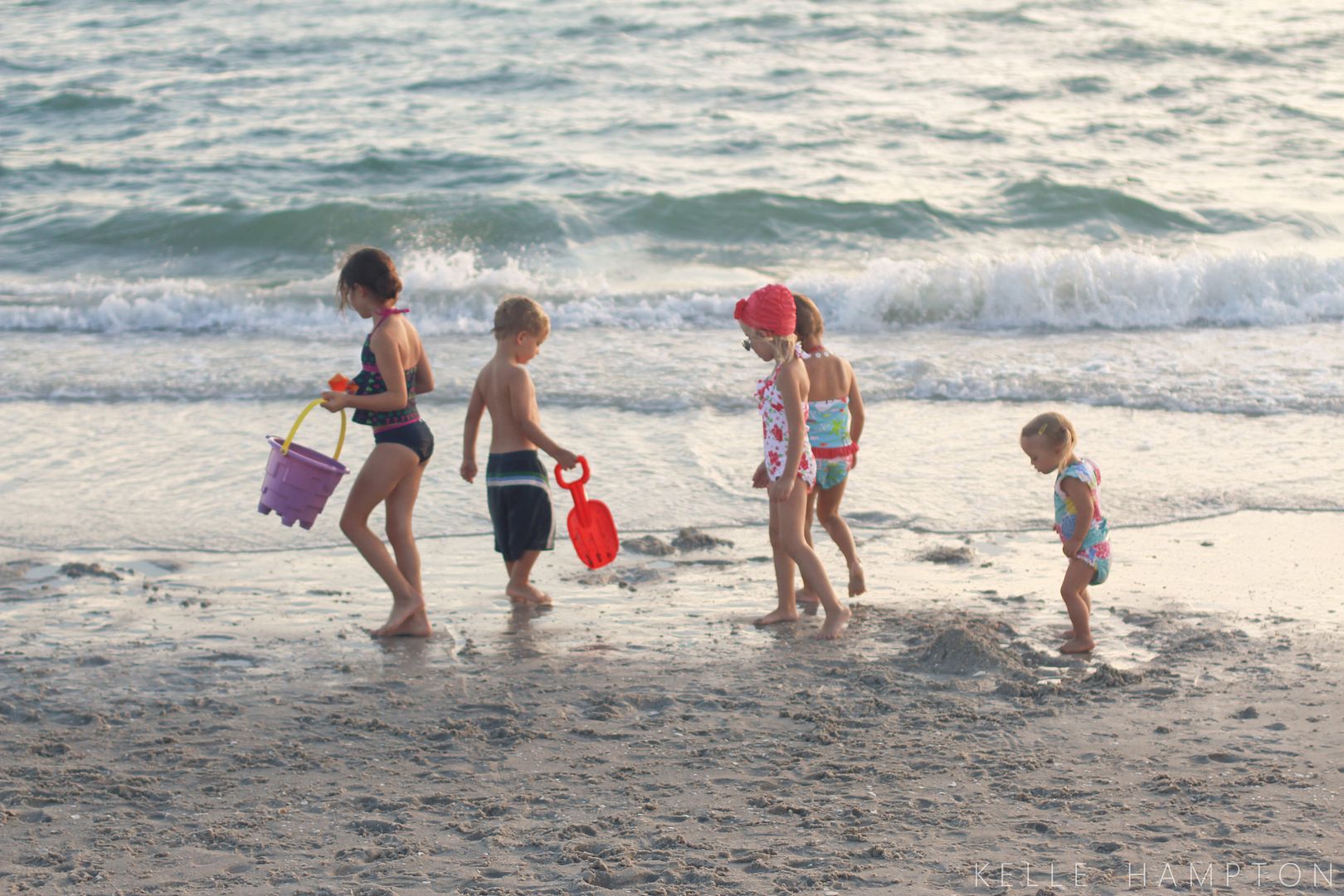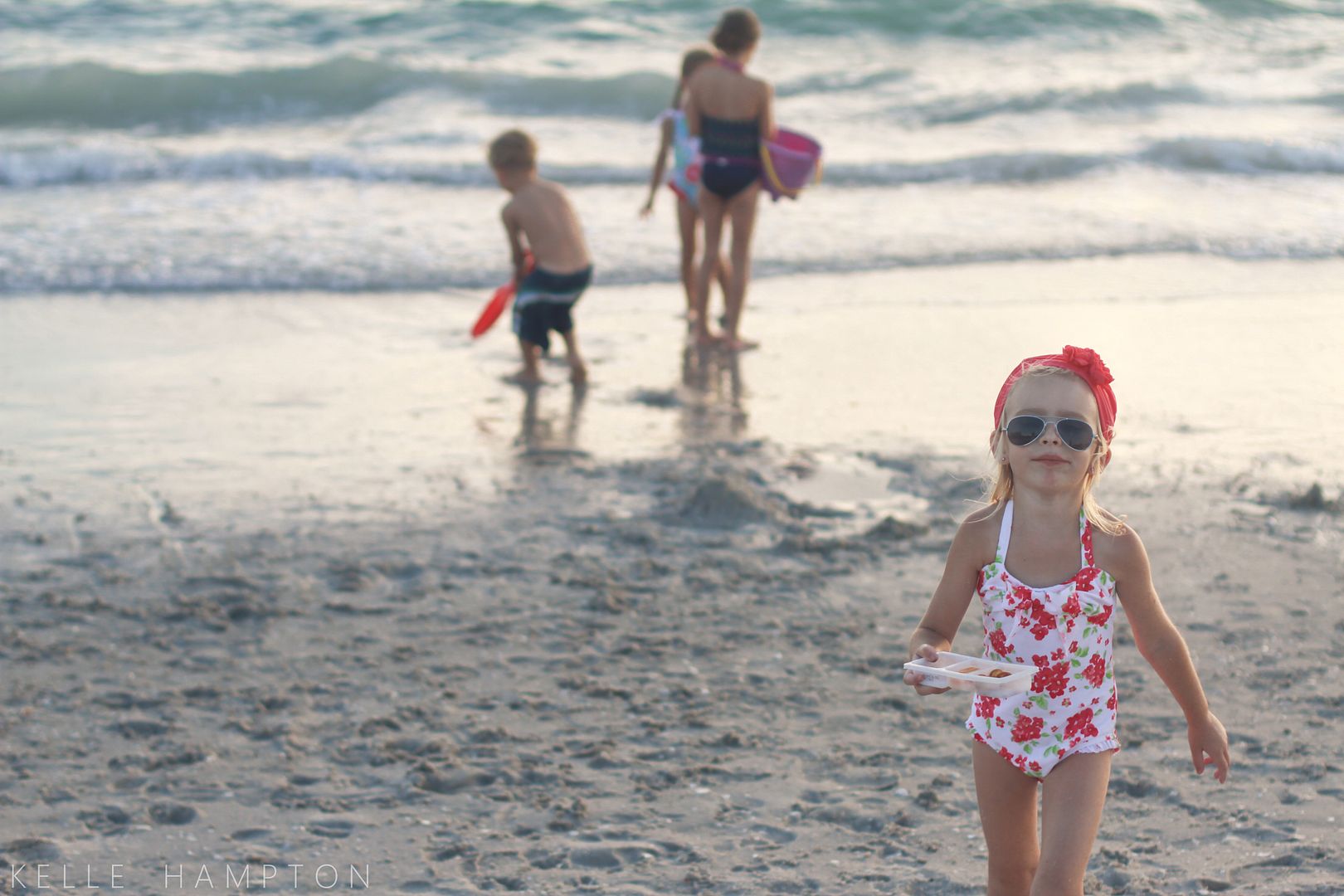 Nella ran fearlessly, right toward the waves and right past the shells that border the water's edge. And yet she knew to stop at shin depth, bracing herself for the few white caps that knocked her down, and then standing again, proud and smiling.
In a book club Skype chat the other night, we were discussing sibling needs. I explained some recent feelings I had regarding how we recognize and praise Lainey's strengths. Her attentiveness and love for Nella is, no doubt, obvious to so many, and she hears "you're an incredible big sister" almost every day. I love that–I dreamed of that, and yet I've been very careful lately to recognize the other qualities that make her who she is as well–her creativity and ingenuity, her free spirit, her imagination and her constant awareness of others' needs. Her personality is complex, and it's important for me to continually embrace the many things that make my girls unique individuals, one of which is their incredible attentiveness to each other.
I love that these moments of recognition and readjusting how we parent just naturally evolve. We figure things out. That truth reminds me not to worry so much about the future. All those questions we have? What will their relationship look like? How will we meet their needs? How will we teach them? How will we know when they need something? I am confident that we will figure them out. And it might mean doing something one way and changing it a week later because we realize we need to readjust.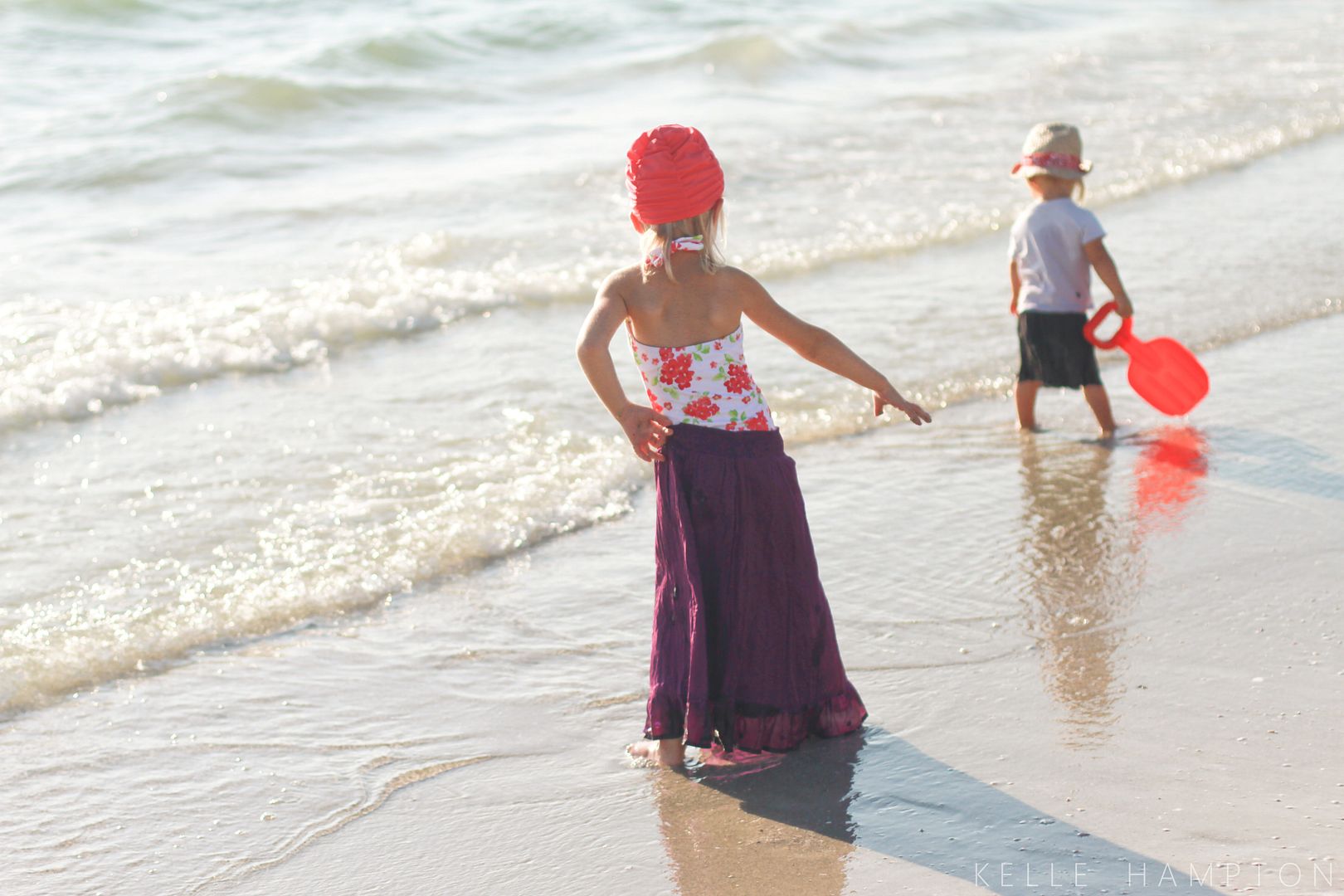 Either way, we'll know. Mama's intuition.
*****
I loved reading your week mini bucket lists and made note of several new things I want to do this summer.
A few of yours:
* Pay for someone's order behind me in the drive through line ~Maria
* Write a heartfelt letter to my daughters AMAZING kindergarten teacher's principal about how incredibly awesome she is ~Michelle
* Learn some crazy Thriller moves and practice the hoola hoop for our last day of school teacher skit ~Kelly
* Pick pea shoots from my vegetable patch and eat them on the lawn ~Fiona
* Celebrate the end of another successful school year for my kiddos with roasted hot dogs and marshmallows ~Halie
Summer is on the horizon, and an upcoming family road trip has me excitedly dreaming.
(Chicago and Michigan book signing information to come!)
*****
Tea Collection is returning in sponsorship this month, bringing beach essentials and vibrant prints, just in time for summer. Tea's soft, lightweight knits are perfect for our tropical weather, and I love the global infusion their styles reflect. We love our Indonesian Batik Dress (on sale!) and wear-with-everything Sanuk sandals (also on sale).
Inspired by world travel and notorious for comfort and style, Tea Collection continues to provide unique and colorful clothing for both women and children. In addition, their company supports global efforts that benefit children. We love our Tea clothes, and we love having Tea Collection a part of Enjoying the Small Things.
*****
There is a happy summer laziness that is slowly seeping its way in our home. The boys are counting down the days for "school's out." I am making lists in my head of what we will pack for our road trip. The bucket of sidewalk chalk holds nothing but nubs, and we're due for new bubbles, new chalk, new flip flops and some front yard planting.
Good night.