I don't know how I had forgotten but suddenly it was Tuesday morning—a very special one—and Nella had nothing to wear to her first ballet class. And by nothing to wear, I mean she had a closet full of clean clothes but not what I had in mind for my girl's first class, which is just as much about this thing I have with ballet and my own little moment in motherhood, as it is a daughter's milestone.
I tied my hair into a ponytail yesterday morning, poured some coffee to go and slipped out of the house early to find the smallest leotard—smaller than Lainey's old one I found in the dress-up box, smaller than the pink bathing suit the big sister insisted would work. I don't know why that little leotard was so important, but $7 later, I felt prepared. Nella needed that new leotard.
Putting it on was an event. Lainey ran to help as we laid the little sister down, changed her diaper and pulled from the pile of ballet necessities—tights, legwarmers, leotard, tutu. I called for each one while Lainey proudly passed them to me. The finishing touch—two soft slippers, the smallest ones we could find.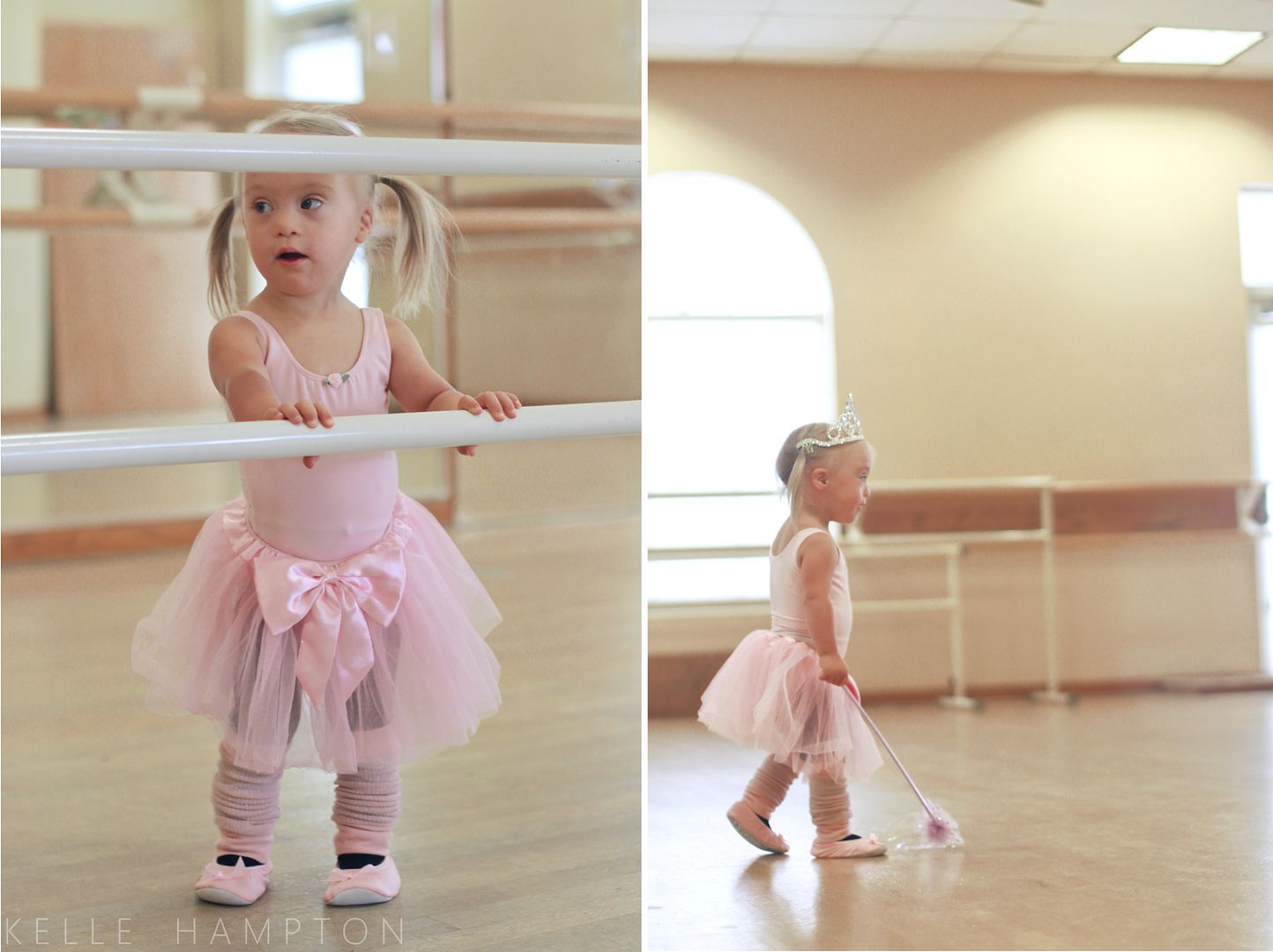 Maybe my tears had nothing to do with inclusion and expectations and how having a syndrome somehow makes milestones seem more obvious, although I celebrated Lainey's first day of ballet very much the same. Maybe my tears were just the same ones every sappy mama spills when they're standing in a ballet studio, listening to classical music while they watch their toddler transform into a little girl. I do know though, that my heart hurt in the same way it did when I choked through wedding vows or that first Happy Birthday chorus. It hurt good.
I am so proud of how she learns, how she observes those around her, how she mimics and how she smiles that tiny little "I'm doin' it" grin.
She's doing it.
Thank you to Miss Blair, our wonderful ballet teacher who is extra special, extra gentle and attends to each and every student's needs so seamlessly.
*****
Several of you have asked how I make my photo/video slideshows. I am no expert, and my attempts at movies are more for just preserving some memories, but it is very easy and quick to make one of these (the Windows software is free online). I ran through a quick instructional video if you're interested.
*****
We're party planning…someone's turning five here this weekend.

Dropped my phone under my bed this week–dug to get it and found the other earring to my favorite Darlybird pair. So, yay.

We're learning the hula hula.