Our beach at the Isles of Capri welcomed us yesterday, its skinny shore recently renovated with a line-up of new adirodacks in jelly bean hues that nicely compliment the kids' swimsuits. Lime and lavender, melon and mint green, a great sea blue and my favorite–the yellow chairs, pulled to the front stage of knee-deep water.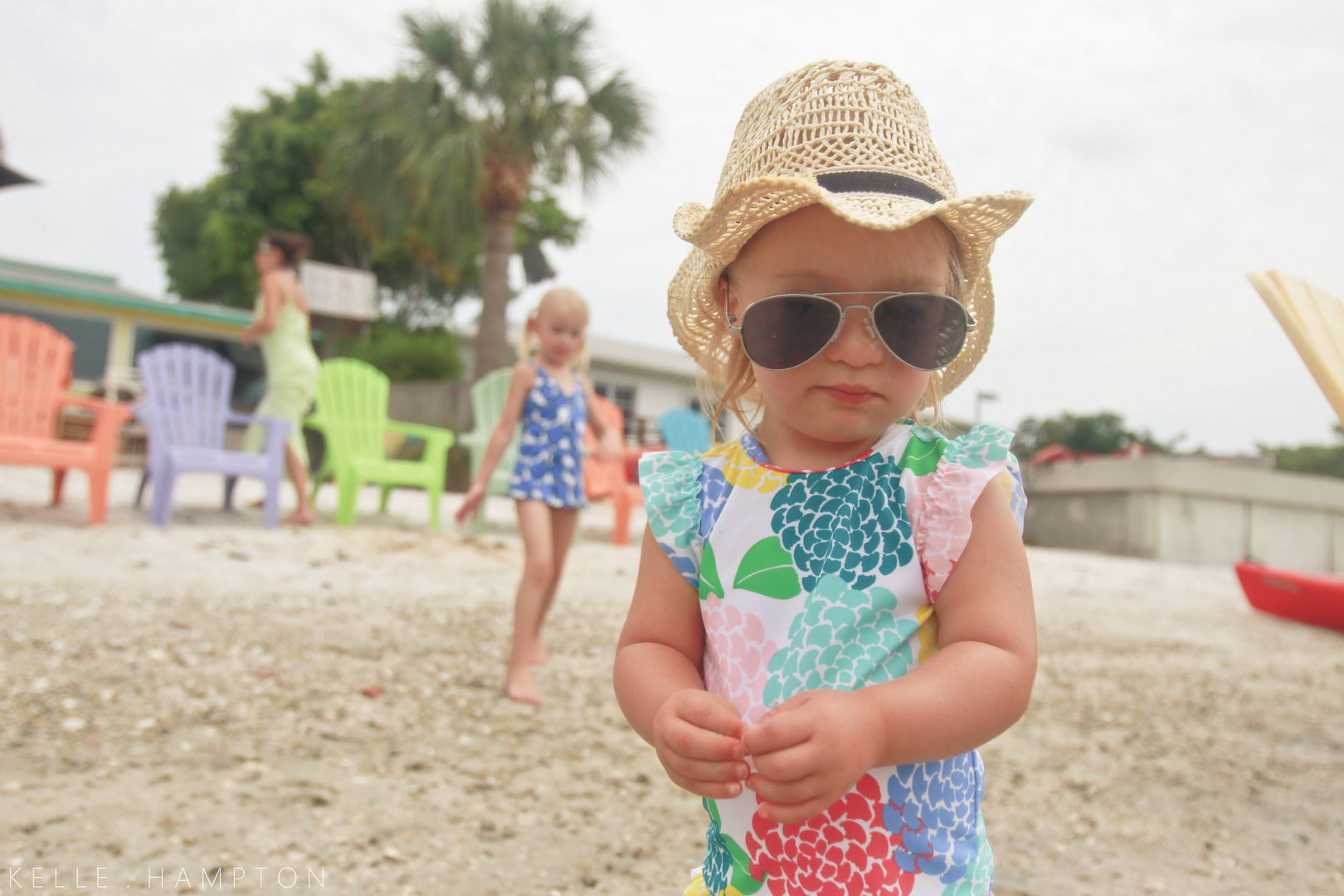 Circling the colored chairs are red kayaks, walls painted yellow and trimmed in turquoise, a crayon box of colors represented in scattered beach toys, and a small community of sun-kissed children, darting from dock to shore in suits of blues and greens and loud purples. Together, it is quite a kaleidoscope of colors–an island buffet of happy hues, which happens to be exactly what I was craving for Mother's Day.
Gulf water temperatures never drop as low as the Atlantic and, in Naples, you can damn near take a warm bath–a salty one–in August when swimming in the gulf offers little refreshment from hot and humid afternoons. But right now, the gulf is the perfect blend of inviting and adventurous. You can glide from knee-deep to waist-deep without holding your breath and yet, right when your brow is sweating and your legs are sticking to that lovely yellow chair, a trip to the water makes it all better.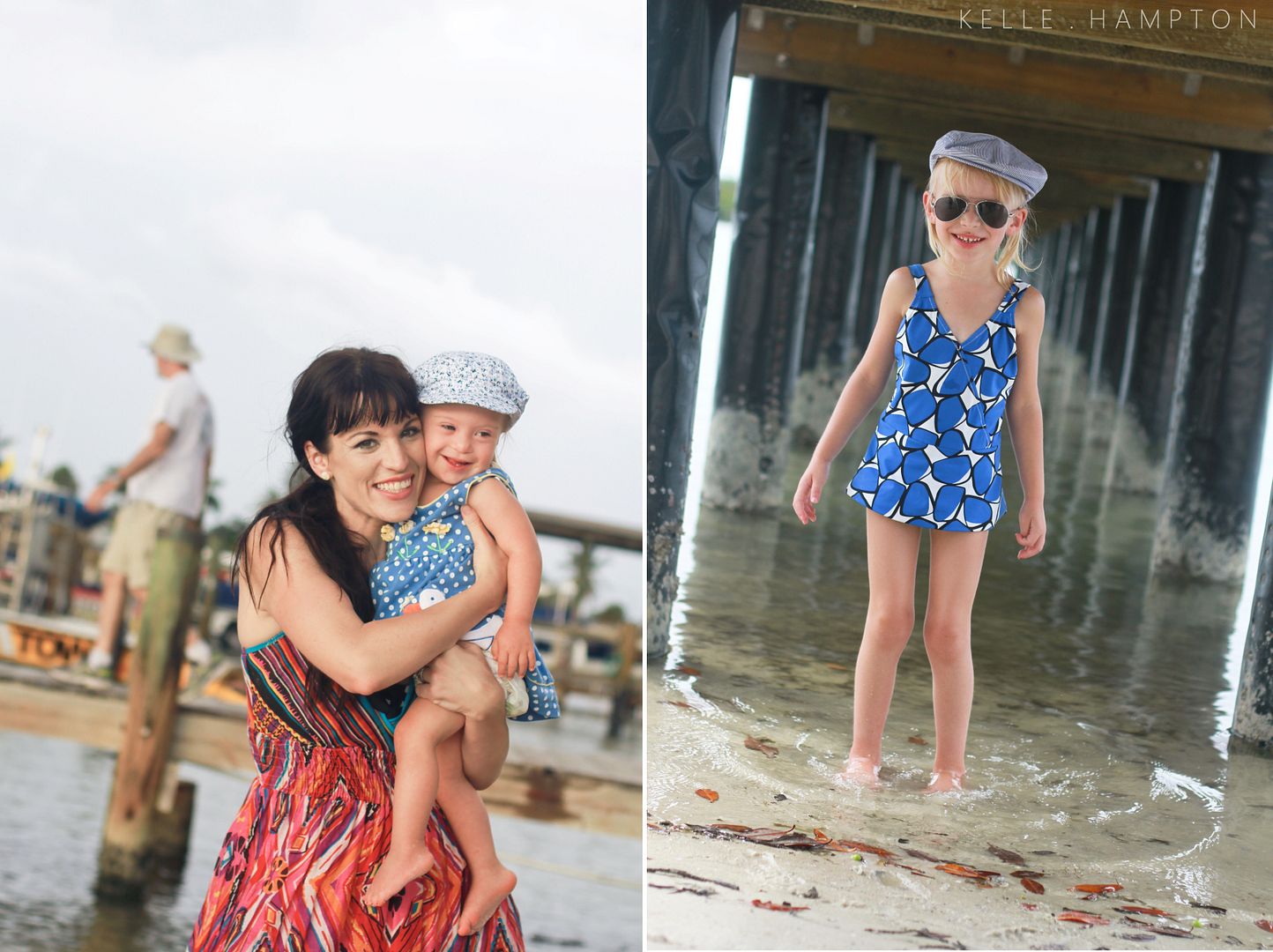 Lainey and her Grandma Colleen
Because the beach is truly alive with the sound of music and Julie Andrews is one of a great many heroes, let me break it down for you Fraulein Maria style.
These are a Few of my Favorite Things (about our famous happy place):

By the way, I am singing this part. In a nightgown.
1. It's a natural play pen. The beach is small, bordered by a dock, a cluster of mangroves, a stack of kayaks and Johnson's Bay. There is no place for babies to wander off to but right here. No Nella chasing. No panicking because I can't see blond pigtails in my peripheral vision.




2. Tide Changes. In the span of nine hours, the shore line will change–pushing forward while we pull chairs back and fetch floating shovels that have been swallowed up; and pulling back, revealing muddy puddles and dense sand that entertain the kids for hours. Nella flings wet sand.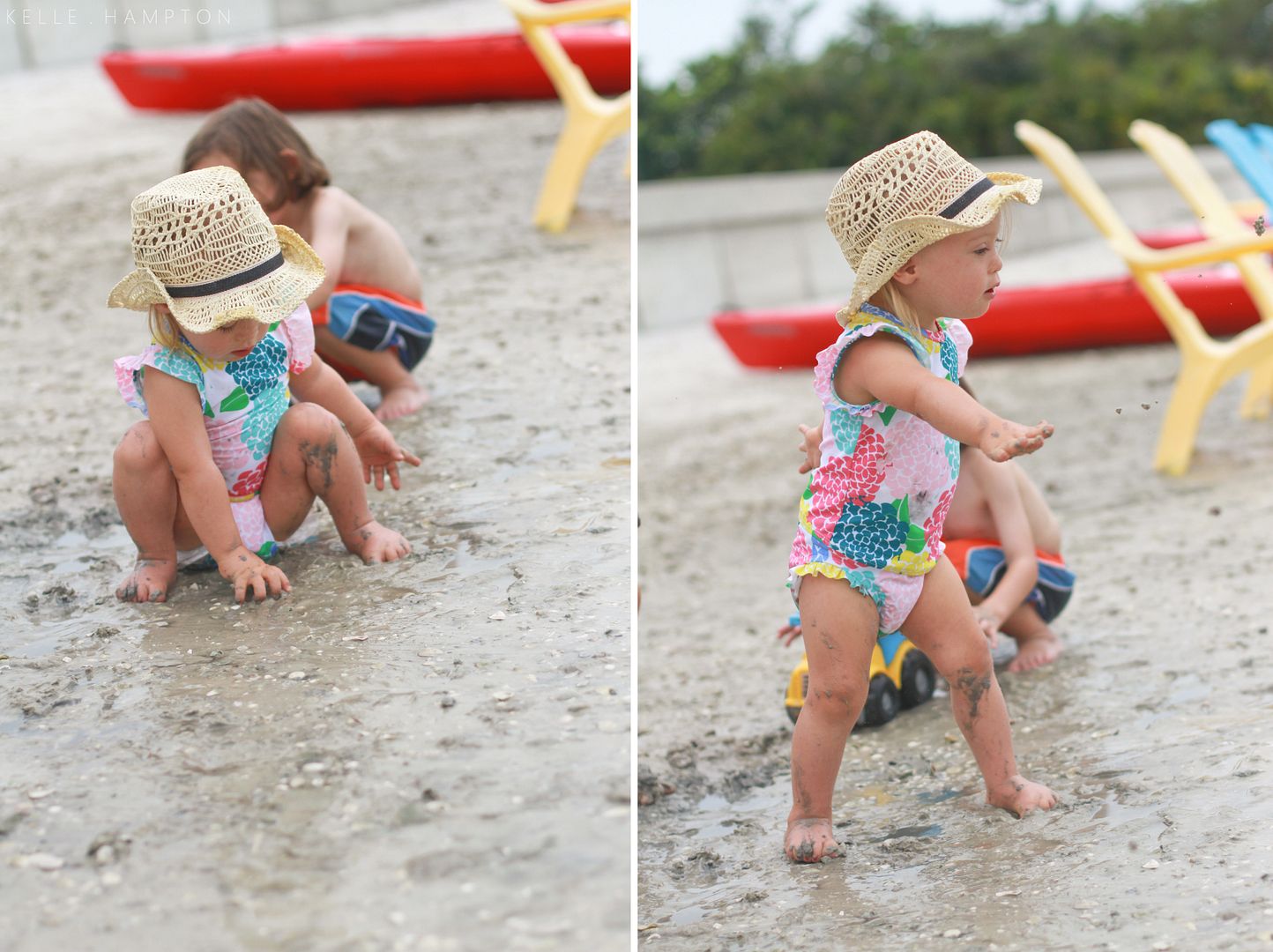 3. Island Adventures. There's one sidewalk that trails around the one main street on the Isles of Capri. When we're feeling adventurous, we'll leave the happy confines of our beach sanctuary and walk barefoot past the newspaper stands, past the marina, past the little bait shop with the live shrimp that jump out of their pool, past the vegetable stand with the rainbow umbrella–the one where the woman stands inside and says "ONLY VEGETABLES." Even when you point out that there's also fruit and a cooler of soda and a coffee pot in the back next to the inviting tables that, you swear, are for guests–she still firmly demands "ONLY VEGETABLES!" We found two treasures yesterday–well two if you count a graveyard of fly-ridden crab pots that reeked of dead fish a treasure. The other was a closed island mart–abandoned on a Sunday afternoon but practically rigged with a sign that said "Please Visit." I mean, there were two chairs, a small table and a deck of cards just waiting for us. We Goldilocks-ed the place.
4. Island Initiations. For first-timers. (This includes newborns). I still haven't perfected the initiation ritual in my mind which–not to get you excited–but involves some sort of chanting, a rain dance, some burning sage, a pelican feather, a shot of Jamaican rum, two conch shells, and the scales of a native fish. Until then, we say "Welcome to our happy place," slap a dollar on a bar beam and take a picture for posterity's sake.


Nella's P.T. and O.T. and family joined us yesterday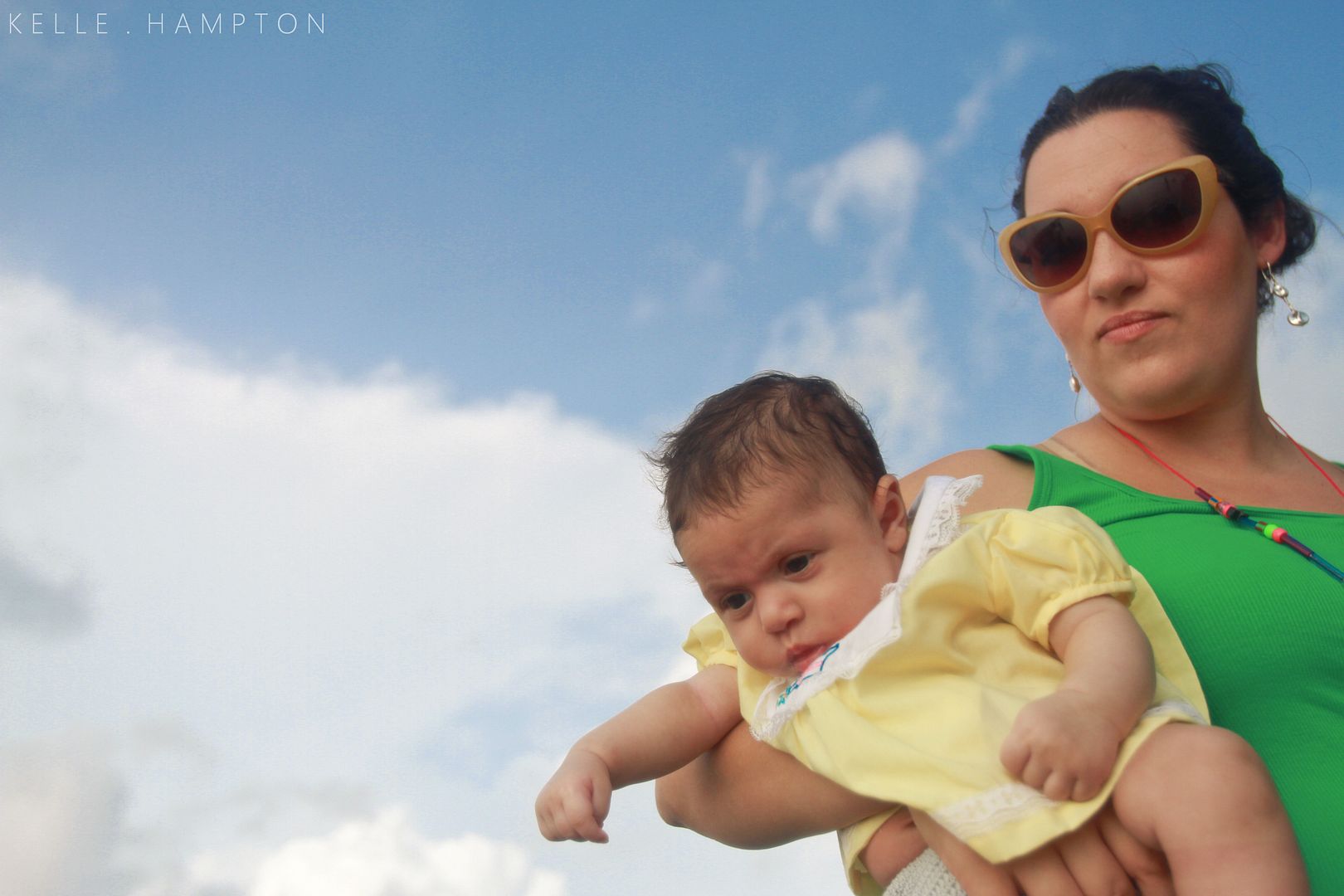 'Sup, Ivy? It's your FIRST TIME to I.O.C.!


My friend Rebecca's cutie husband, Ian (when a guy can hold a baby like that, I think we can all agree, he's cute).



5. Heavy skies. They glide in like time lapse photography, sending us excitedly running to grab our bags and move camp to the tiki hut. On a perfect Sunday, this happens right after sunset, and the remainder of the evening is spent huddled around bar tables where we share drinks, wind down and brush sand off the babies.




There are more favorite things, of course, but I have to leave room in the song for when I jump off the bed, grab the curtains and decide to chop them up into little German rompers for my girls to wear next picnic.
The crazy part about Sundays at Isle of Capri? Going home is just as much a part of our enjoyable ritual as packing the car and getting there.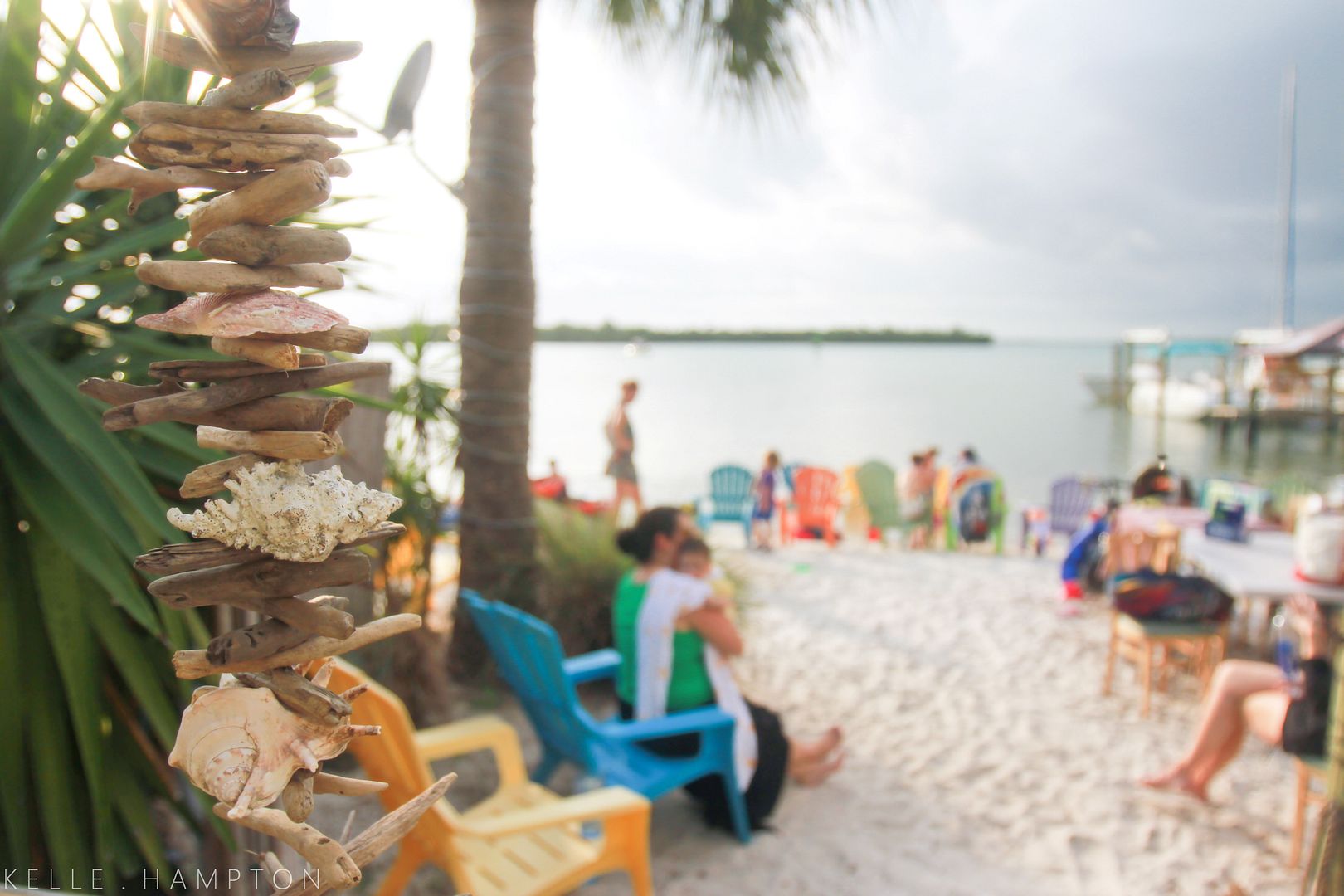 I usually hate endings. I'm a walking ad for Zoloft the day after Christmas holidays, and the last day of vacations might as well just be a wash because I'm so sad it's over. But Sunday nights, after the perfect Isle of Capri day and right before the dreaded Monday? I'm actually cool with it. The wind-down is necessary and good. The drive home is quiet. We all process our memories in our own way, and as we arrive home and unpack, quickly bathing the kids and tucking their tan little bodies under sheets, I'm always ready to go to bed and start a new week. Maybe I'm just getting older–understanding that work and routine are just as important as fun and relaxation.
Either way, I appeciate them both. Fridays and Mondays…and all the in between.
*****
Introducing new sponsor, Miss Mommy, an Australian shop offering a variety of handmade items, including antique necklaces, hand stamped jewelry, and leather wrap bracelets with a number of unique clasps to choose from.
I love the little elephant clasp on my Miss Mommy bracelet.
Shop owner, Nicole, is offering readers a 15% dicount off orders, using Code NELLA15.
*****
I hope you all had a wonderful Mother's Day.