They shovel sand and shell bits side by side, quietly concentrating on leveling their own space. They mind their own jobs, seemingly unaware of each other's presence yet I know they are very much aware that they are not alone.
Both blond. One wispy with bangs, one neatly combed and parted.
Their differences and their sameness are exhaled in equal breaths tonight, and I am comfortable with that. How little or how much they talk, how steady or uncertain they walk, how closely their actions parallel their peers, how each of their imaginary futures looms in my mind–thoughts all present but stationed to the back stage because what dances in the center, under the lights, in front of the crowd, is good. It's what's happening right now.
Right now, a five year old yells from her bedroom and tells me she can do her own pig tails. I run to inspect and there she is, her chocolate eyes smiling with pride as she turns her head from side to side, flaunting a perfect pig tail secured with a triple wound rubber band on each side. "Wow," we all say.
Right now, I hear tiny bare feet slapping on the tile–a pattern I know well. Slap, slap, slap–a series of them that echo down the hallway as Nella runs with a mission to find a lost bottle. "Baba, where are you?" she clearly articulates and, while she's simply repeating what Brett just said, we turn and acknowledge her perfect full sentence with a proud glance to each other.
One turns the pages of favorite books and makes up stories that begin with "One time" and end with "…and then they all had a party." The other reaches up to grab my hand, pulling it to lead me to the stereo where she points and asks for music–for dancing. One loves "peanut butter sandwiches with just jelly" and one loves apples, sliced and peeled. They both love the pool and long baths and pulling everything out of my purse. One sleeps deeply, still and quiet all night. One flips and turns and cries when her legs get stuck in the crib rails. Both want breakfast within thirty seconds of waking up.
My girls who are different and the same both continually make me feel proud and capable and excited for tomorrow.
*****
Last night, Nella played with this baby doll on the beach for forty minutes. She talked to her, patted her, nursed her, turned sand strainers into blankets, walked her, kissed her and demonstrated all the best mama qualities. I finally captured a full care session on video. It makes me cry.

Song: Beach Baby by Bon Iver

*****
Friday Photo Dump:

Friday Phone Dump photos are taken on the Instagram iPhone app (free) and dropped into a 12×12 collage using a photo editing software (Photoshop Elements works). I am @etst (enjoying the small things) on Instagram if you care to follow the feed.
And your #enjoyingthesmallthings photos. (If you use Instagram and have a photo that makes you happy, share it by using the hashtag #enjoyingthesmallthings. Yours may be chosen to be shared in a Friday post.)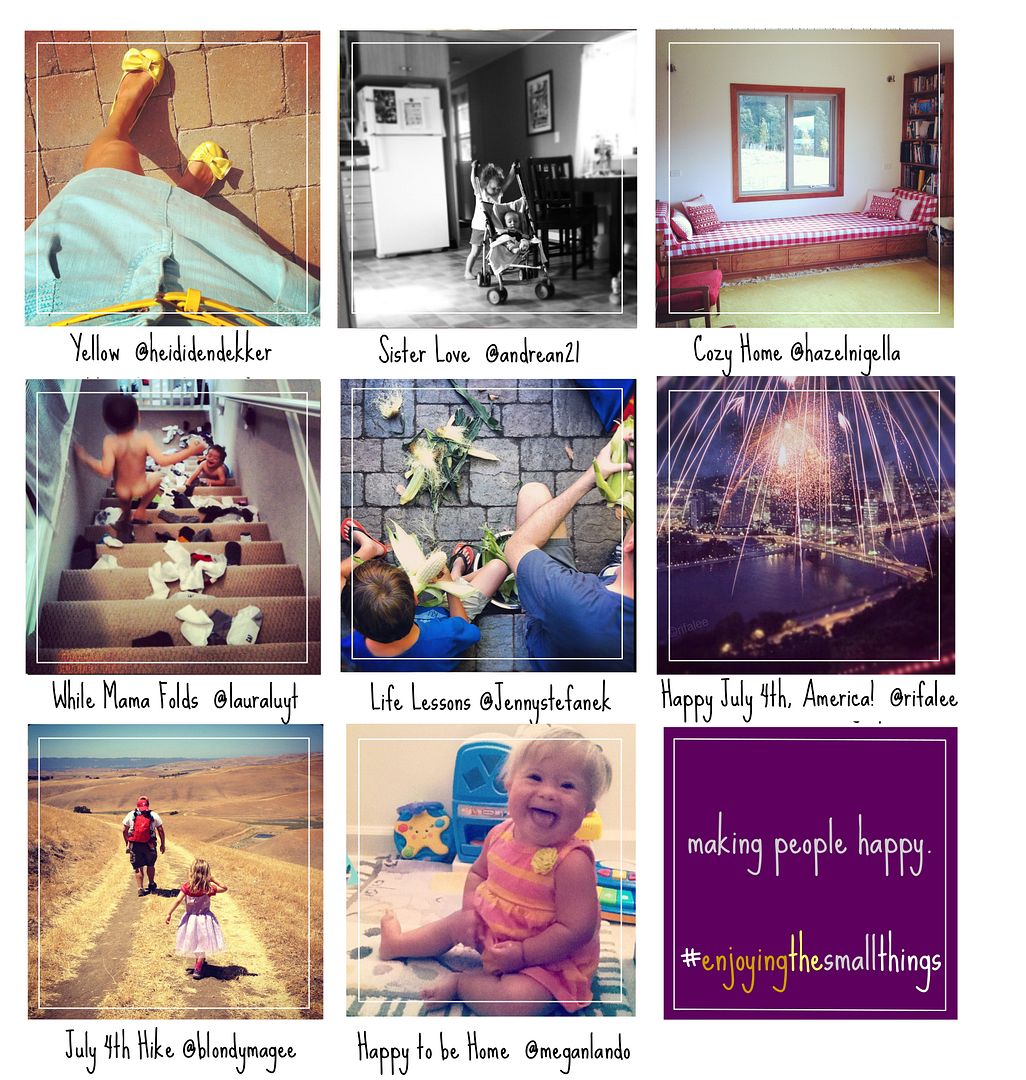 Happy Weekend.