I couldn't answer them all, but I tried to pick the most repeated questions. I'll share more later about Nella's therapies and what we do in our home to promote speech (Lainey's really in charge of that one), and there are a couple more questions I'll address in coming weeks. Like the girls' twirly buns. Funny how many people ask about that one. It's easy, and I'll have Brett re-record the blurry tutorial he filmed today and share later this week.
Thank you for your insightful questions. They make me evaluate our choices and routines, and that's good.
*****
Q: Before I (ask this), I'll preface by saying that my sister has a lovely baby boy with Down syndrome and she is terrified of getting pregnant again. How did you come to the decision to get pregnant again? And please give us some tips on how you hope to remain calm through this pregnancy.
A: I think this is an important question. While not all women who welcome a child with special needs share feelings of fear about having another child, I completely understand that anxiety. We are human, and worrying about pregnancy risks and the possibility of our child facing limitations, regardless of whether we've already faced it, is a natural response to anticipating a child.
If you're into facts, they are as follows (provided by the NDSS):
* For a 33-year-old woman, Down syndrome occurs in one of every 600 pregnancies.
* Once a woman has given birth to a baby with Down syndrome, it is estimated that her chances of having another baby with Down syndrome is 1% greater than her chances by age alone.
While I am comfortable sharing my feelings about our decision to have another child, please understand that not everyone shares these and not everyone is comfortable talking about them. There are a number of factors that couples consider when planning to expand their families, and every family's circumstances are different. We respect those differences.
Really, I hoped before Nella was even born that she would not be my last child. And the addition of her life and all the joy she's brought and yes–that unexpected diagnosis too–does not change that hope but ignite it. Would we welcome another Nella? Absolutely. While it is statistically unlikely that our new baby will have Down syndrome or another chromosomal abnormality, it's something that we've talked about with each other and with our physician. And I wouldn't be honest if I said it wasn't a worry at all–a different worry as, if that were the case, I'd know our child would be okay and so would we. I love Nella for everything she is and everything she has and will continue to bring to our life. But I'm still sad for the limitations she will face in life and, of course, I hope for health and opportunities and the greatest happiness for all of my children. That's being a mom.
There are a lot of things that scare me in life, and risks of being hurt or losing something or someone present themselves every day. We climb in cars, we board airplanes, we fall in love and get married despite the divorce statistics, we buy houses, we sign on for new jobs, we send our kids on adventurous trips and hope they'll be okay, and we make decisions to have babies, understanding those decisions come with risks. I have faced risks in life, and I've been that "1 in 600" before. It is hard, but I moved forward. If anything, I've learned not to let fear and hesitation guide the choices in my life. I whole-heartedly embrace life with its challenges and rewards. I chase my dreams, and I dream of a big, loud Thanksgiving table someday and a circle of beautiful children I'm proud to call my family. Each of our children are unique, and I can't wait to celebrate new beauty and new life with the addition of this sweet baby.
Q: Do your kids ever throw tantrums, get time-outs, act up, etc. Do you ever lose your patience with them? Any tips on how to foster more quiet time play?
A: Yes! While Nella is pretty young to knowingly "act up," she throws a few fits and needs to be reminded occassionally to "be gentle" and "love nice." Lainey has her moments as does any child, and I've learned based on her personality and experience what works best for consequences or cooling down.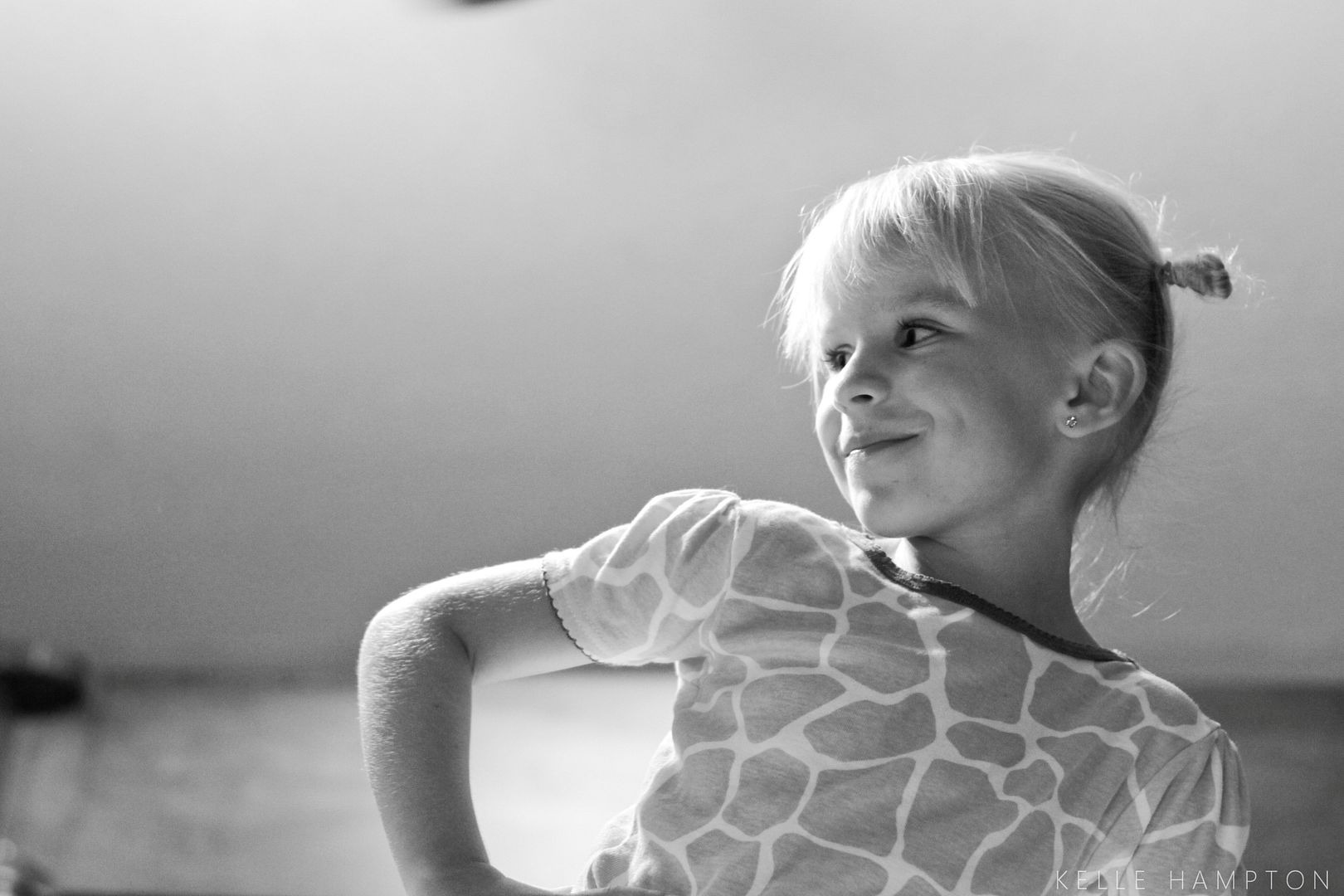 Sometimes, I raise my voice or lose my patience, and I usually don't like how that makes me feel afterward (and it generally doesn't solve anything). I remind Lainey that I get frustrated and upset just like she does. I apologize when it's necessary. Chilling out in her bedroom with the door closed and the timer set usually works well for Lainey. And we've left parks and canceled play dates before, and she knows that's not something she wants to happen, so it's not often this occurs anymore. I try to be consistent and follow through. And I try to watch for clues to avoid meltdowns (if she's frustrated with Nella invading her space, I separate them and let her have alone time). I am lax about creative messes but strict about kindness and respecting others. I continually learn from other mamas who have great tips for solving problems, but I also know that we all parent differently, and our family does things that work best for us.
As far as quiet play time, I think the best way to achieve this is first to model it. Our kids need to see us sitting down to write, read, knit, cook, color, etc. if we expect them to do it. And sometimes it takes a little creativity to make it fun. By making a blanket fort and giving Lainey a flash light, I've extended fifteen minutes of books and coloring into an hour. We treat quiet independent play time as a privilege, not a punishment. A child will react far more positively to "Why don't you get your bead kit and make a necklace at the table while I cook?" as opposed to "You're being noisy and rambunctious. Go to your room and do something quiet."
Q: I really want to start a blog about life – the good and bad stuff in it. It is a dream of mine to write. But one thing holds me back, and it is knowing that if I am writing about my personal life I have to be truthful and not hold back. And I just don't know if I want all of my small town to know everything that I am feeling. I would rather just everyone else out in the big world to read it. 🙂 How do you get past that? And how do you decide what to share and what not to? I just can't get past this.
A: This is a great question. While the Internet and blogging present wonderful sharing and connecting opportunities, it also means your words can be seen by anyone, and they are permanent. Everyone has a different comfort level, and you need to remain true to yourself and what feels good to you. I maintain a certain level of respect on my blog and will never use it to defame someone's character or hurt someone. If I ever question "Will I regret writing this?," I think long and hard about why I'm asking myself that question. I have shared personal stories that may cause judgment, but that happens in real life too. The people whose feelings I care most about embrace me for who I am. Whenever we write about our lives–on a blog, in a book, in an e-mail–we are sharing a piece of ourselves. A piece. By selecting which pieces to share, do we run the risk that people will assume things that aren't true or misinterpret our words? Absolutely. When I write publicly, I think about what I'm choosing to write about, what good will come of my writing, and how my words will affect others. And if I feel good about those choices, I write on.
Q: Are you finding out the baby's gender and are you sharing names?
A: We are finding out the baby's gender. Brett wants to keep it a secret, but I don't think that will fly for very long. As for names, we kept Nella's name a secret until she was born (despite my friend Wylie's attempts to bribe the pottery lady with $50 to show her the name I painted inside her mug), and we loved the excitement of sharing "new" news with her delivery. So we're doing that again. I love our short list so far, and Wylie, it's locked up in a very secret spot, so don't even think digging through the house to find it.
Q: I know you didn't grow up in Florida and yet you have this wonderful and extensive circle of close girlfriends. What are your tips for making new friends in a new place? While I have made some lovely new friends in my not-so-new area, I struggle with creating those super close friendships like the ones I left behind.
A: My closest friendships involve vulnerability, honesty, and effort. If you want to get past the "what brand of sippy cup do you use?" level of friendship, you have to make efforts. Have a dinner party. Put yourself out there. Tell your story. Ask to hear your friend's. Meaningful friendships mean you have to talk about meaningful things. My deepest friendships have evolved with being vulnerable, with making mistakes, with communicating through good and bad, with accepting that sometimes we are different, with honestly expressing my weaknesses and asking for support, and with making efforts to spend time with friends who make me feel good.
Q: Do you still make scrapbooks for the girls and will you share them?
A: For the first time since my girls were born, I'm behind on the scrapbooks. But they mean a lot to our family, and I plan to catch up soon on some lazy weekend. I will share when I'm caught up.
Other F.A.Q. posts can be found here, here and here.
*****
Our new sponsor not only has great products but an honorable mission as well. The Shine Project is a non-profit organization that raises money to send at-risk teens to college. Its mission is to inspire others to do something good and give back to their communities. Through the sales of their shine tees and necklaces, scholarships are provided to send inner city youth through their first year of college. And by buying their threads (jewelry made by inner city youth), you are helping provide jobs for at-risk teens who dream of a bigger life. You can read more about their mission here, and you can shop the Shine and Threads stores and find beautiful products to help support their mission.

Be the Change You Wish to See Tee


The best part? Every time someone asks you about what you're wearing, you get to spread the mission of Shine.
*****
Think of something happy. Like clearance sales or chocolate malts or freshly sharpened pencils.
Goodnight.