Today, I'm doing something I've always wanted to do but never made a priority–I'm going away. Alone. A three day writing retreat away from home. There are things to do here and a number of reasons that make spending three days alone in a hotel not the best idea right now but far more reasons that suggest this is an important investment, not only for my writing but for myself. I am looking forward to some clarity and focus, morning beach meditation and transferring a lot of recent thinking into words. My goal is to write uninhibitedly and inspired. The bonus, of course, is being able to take a bath without Barbies and foam alphabet letters floating in my way.
Our weekend, in review:
Rainy Mornings with Coffee and Fall Inspiration
I smell fall coming. Considering I live in South Florida, that means I have hound dog scent capabilities. I cannot wait to return to crafting and nesting, baking and entertaining. And if I have to hike on foot eight months pregnant up to the Midwest this year, I will. Mama's going to make it happen. In the meantime, I'll dream of what harvest display I'll create at our front entrance this year, how I'll rearrange the living room to say "Whassup? We're high on fall," and just how many gourds I'll need to create that kitchen table centerpiece.

In the Absence of Lightning
It rained a good part of the weekend which always extends the length of time we spend in pajamas. I'm a pretty good judge of what weather conditions allow for outdoor puddle play but even so, I ask Brett "Is it safe to take the kids outside?" because it strokes his weatherman ego to suggest I need his expert radar-reading advice to give the okay.
We might not be able to find a clean cup in our house, but I'll be darned if there isn't a pair of rain boots in every corner. What can I say? It's my thing. I'm obsessed with wellies.
Fort Making
I had just refolded every single quilt we own and stacked them nicely where they belong. Five minutes later, I walked into this…and could do nothing but smile.
Potty Time
We're taking it very slowly, but the beginning stages are sweet.
We're following our method with Lainey (who potty-trained remarkably) which includes following her lead, leaving a potty chair out in the main areas of the house, keeping a potty chair in the back of the car, making a huge deal out of cute underwear, putting her on the potty a trillion times during the day and praising the heck out of successes. We're in the introduction stage right now, and Lainey is the best little potty cheerleader ever.
Pool Heat Escape
Funny Tea Party
Note to Self: Don't use real glass with a two-year old. We managed to exit the party, tea set unscathed, but there was a lot of clinking sounds and cement bouncing and "NELLA!!!!!" shouts from the older sister.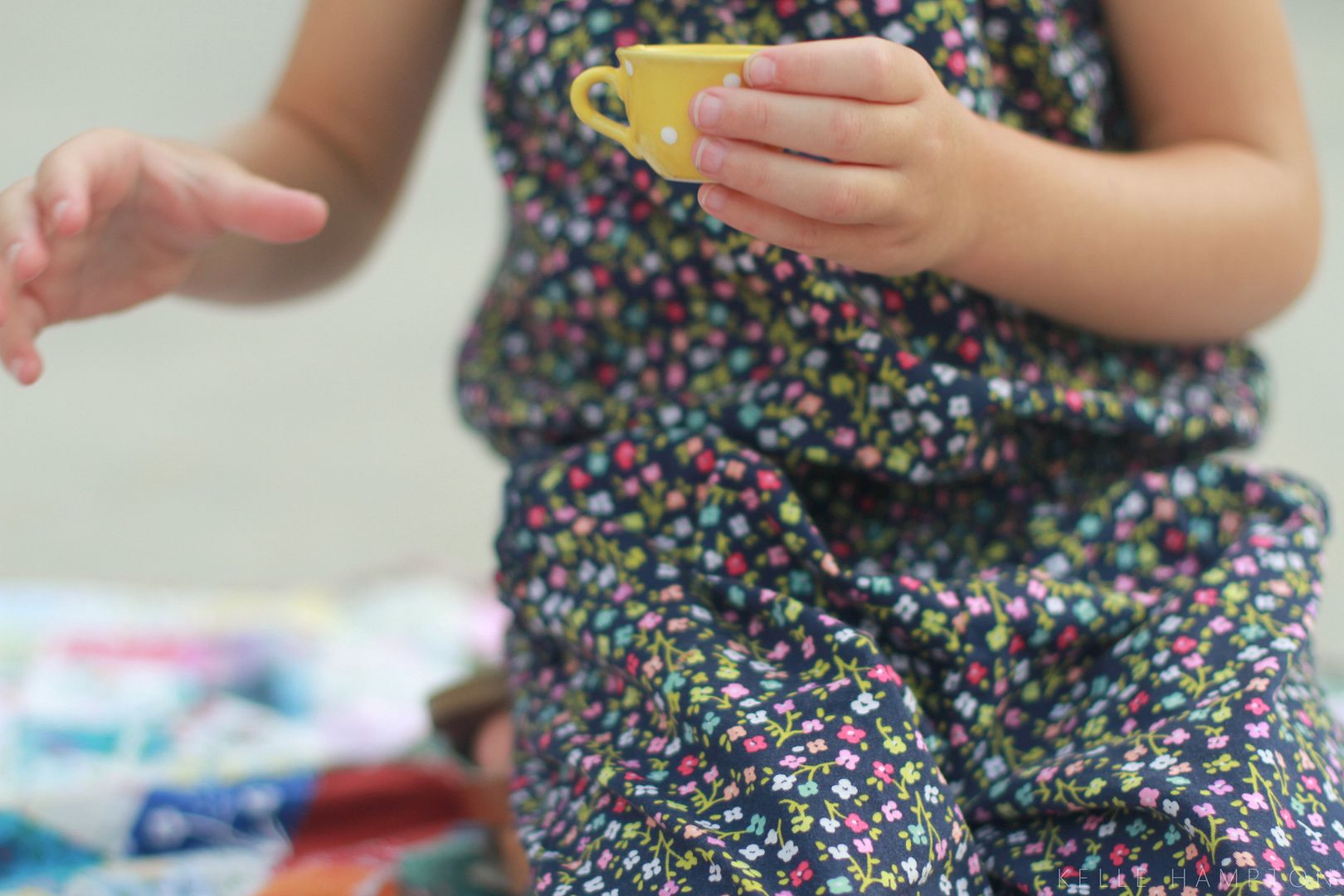 We swapped her cup for a banana, and Sister took off all "I'm outta here."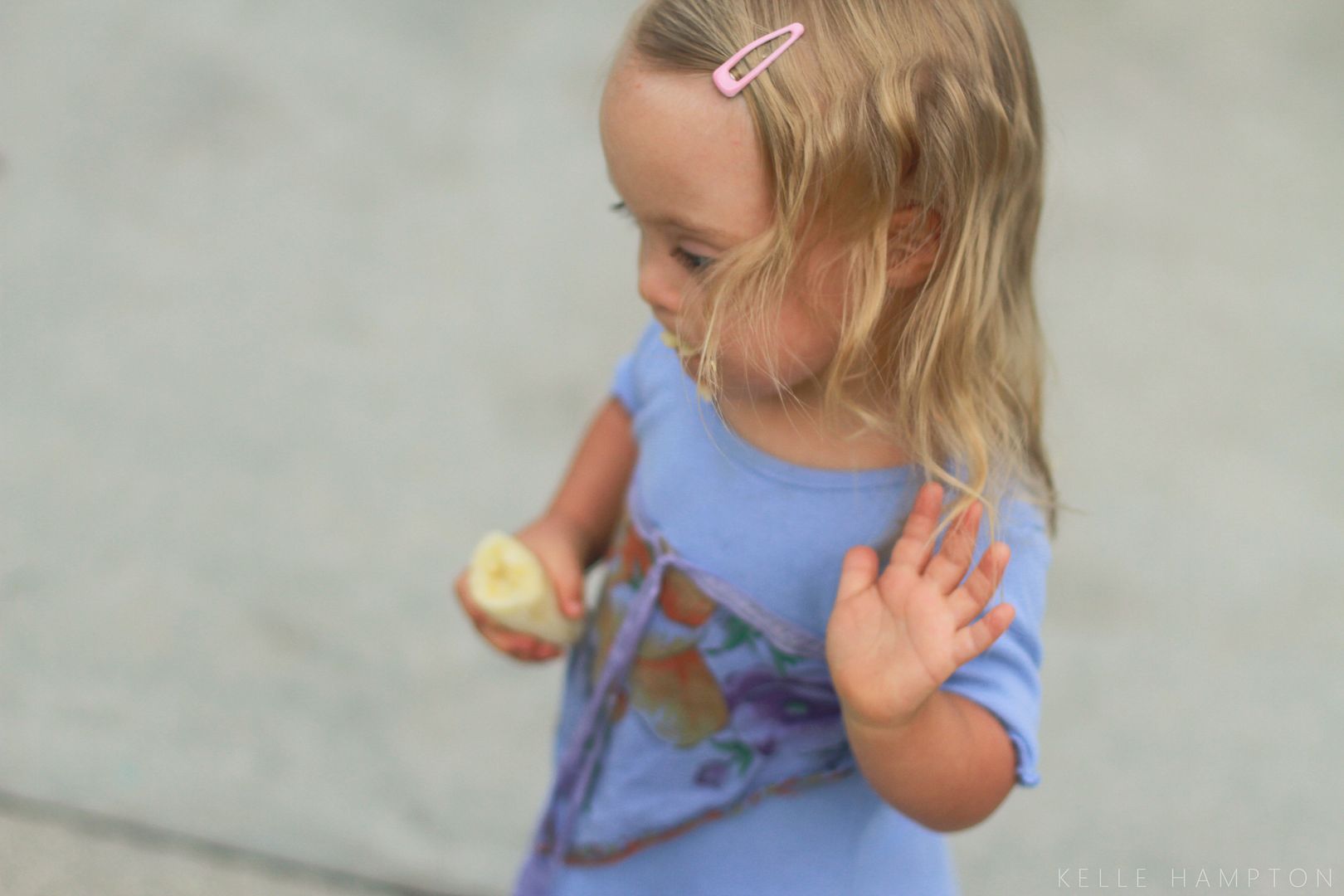 If she couldn't have a real tea cup, she figured she'd just run like heck down the sidewalk until we caught her.
Saved by the containment of the push car.
Her spirited energy is contrasted perfectly by her generous affection.
And our weekend has provided a running start to a big week sprint.
P.S. The first trimester flag has been staked. Maybe I struck a victorious Bolt pose to celebrate.
*****
Tea Collection is returning in sponsorship this month, and their new Nordic designs and back-to-school staples might be my favorite Tea collection yet. From now until 8/19, you can shop their "3+1" items and use Code "3PLUS1" to receive a fourth item free with the purchase of three regular priced items. I picked out some of my current favorites this weekend. As always, Tea flawlessly combines comfort, versatility and colorful design to offer unique yet wearable children's clothing.

From left: Mikko Floral Romper, Naturino Boots, Finn Flora Dress, Polka Dot Knee Socks, Umi Moraine Shoes, Lunefeld Flutter Romper, Mod Stripe Tee, Levi Slim Straight Jeans, PF Flyers, Patagonia Beanie.
*****
Lots of kids and teachers back to school today. I'll be talking about back-to-school later this week. Cheers to a new school year, and to all the teachers who are returning back…thank you for what you do.
Happy Monday.