I am undoubtedly a people person. I come alive in airports, on dance floors, crushed between bodies at concerts. I call people in the car on a four-minute drive so I can talk my way from my house to the nearest Publix, and I hug instead of shake hands. It's not that I don't like to be alone—I dream of island hammocks and quiet mountain hikes. It's that I've forgotten how to really be alone. I've fallen victim to bad habits that have trained me to think I need to be stimulated—my kids, my friends, my phone, my iPod, my house, my work. I need to be doing something because there's always something to be done. And when I'm alone, I twitch. My solitude muscles have atrophied.
It was Brett's idea for me to go away alone. I had been complaining that I'm having trouble focusing, I can't find a lengthy enough chunk of time to really unravel some things I've been thinking about, and I haven't challenged myself recently in writing. I'm too comfortable. I've been writing simply what I know and what feels good and easy, and while that's great, that's not the kind of writer I want to be. Sometimes, yes. All the time, no.
I knew this little retreat wouldn't just be for my writing though. I'd be quiet and still, and in that quiet and stillness maybe I'd find a little part of me that's been forgotten—the part that whispers "Hello? I'm here. Listen to me." I don't really know what the perfect scenario for having a conversation with that little voice looks like because it's been a while, but I imagine it will happen on the beach when I'm sitting alone in the moonlight wearing something flowy. So I pack my white skirt.
I'm staying twenty minutes away from my house, but in this palm-corralled piece of heaven, I feel like I'm far away. I arrive Monday afternoon, welcomed at the lobby desk with, "Ms. Hampton, we have a gulf-view suite upgrade for you at no additional charge" which, translated, means "Ms. Hampton, if you'll just hop aboard this unicorn, we'll fly you to your room." Not one to argue, I oblige.
My suite is beautiful. Wide-plank wood floors, endless light, a massive bed with soft white linens and pillows perfectly stacked in three pairs. It feels more like a Tahitian villa than a free staycation upgrade twenty minutes from home, and as soon as I'm in the door, I drop my bags and collapse into the bed like one of those trust exercises where you close your eyes, stretch out your arms and fall backwards into arms that hopefully catch you. I stare at the ceiling, the clock, the cuticle I ripped off my middle finger earlier this week, the chipped polish I meant to fix on my toes before I left. Who cares, there's no one but me to notice.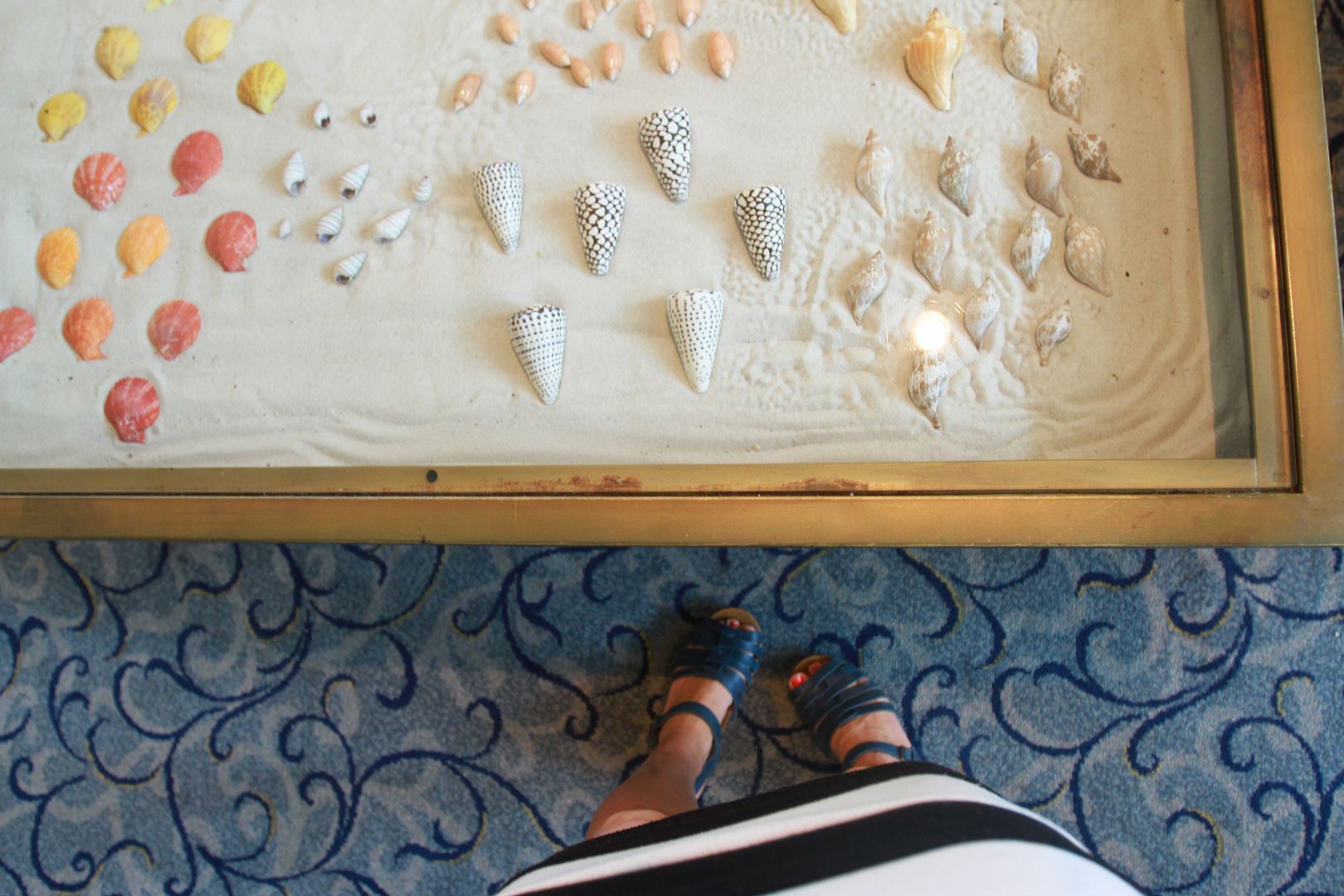 I am twitchy, so excited yet overwhelmed with the possibility of three days alone that I feel like five minutes on the bed is wasted time. And it bothers me that I think this because it defeats the purpose of this entire experience. I know that rest and recharging and just being still are as important to creative productivity as the act of creating itself. I open my laptop and stare for a bit, waiting for the flood gates to open because that's what's magically going to happen on a writing retreat, right? But instead I notice my bangs are crooked in the computer screen reflection.
I brought a stack of my favorite books, and I pull one out and head to the outside deck to read for a bit. Ignore Everybody and 39 Other Keys to Creativity by Hugh MacLeod, definitely a randomly-flip-open-to-any-page-and-get-something-out-of-it kind of book. So I do just that and find the following:
"You have to find a way of working that makes it dead easy to take full advantage of your inspired moments. They never hit at a convenient time, nor do they last long…Conversely, neither should you fret too much about "writer's block, "artist's block," or whatever. If you're looking at a blank piece of paper and nothing comes to you, then go do something else. …If you have something to say, then say it. If not, enjoy the silence while it lasts. The noise will return soon enough."
I'm enjoying the silence while it lasts. I grab my room key and walk down to the beach bar where I order a virgin Pina Colada and suck it down like Lindsey Lohan, ripping the cherry off the stem at the end. And then I order another one because I feel like the world is my oyster and I am its pearl—its clueless pearl who doesn't realize virgin Pina Coladas are only a buck cheaper than the real thing.
It takes me a little while to really settle in and wean myself of overstimulation (alright, I failed to give up Instagram—that motherfreakingInstagram), but two hours after my arrival, I'm already drunk on solitude. "Look at me! I'm alone at a hotel with nothing to do. Free Bird! Free Bird!" I want to sing all Fraulein Maria as I twirl in the hotel courtyard. And when I pull my computer out because the noise returns soon enough, I choose not to pay the extra $10 for Internet service because I know I'll toggle between Word and Google, Word and Facebook, Word and E-mail, Word and awkwardfamilyphotos.com.
I'm tempted to call friends. They would love this—this suite, this couch, these pillows on the floor, these adirondacks lined up in the sand. And my girls—there's room for them here. They would love this pool.
This is my time though.
So I write. I write in the bar, I write by the beach, I write in plush chairs in hidden corners of the lobby. I write in my room, I write wedged between jagged rocks on the shore because it seems a very Thoreau thing to do (it's a stupid idea, I scratch the hell out of my thighs).
By write, I don't necessarily mean fingers madly skipping across the keyboard. Some of that is thinking or staring or closing the screen and watching the tide. I read a little bit, I walk, and I take breaks to swim and wander the property and yes, answer phone calls even though I swear I won't. Brett calls the first night, after my first five hours alone, and excitedly asks, "So? Do you have, what–like, fifty pages written now?" because he thinks my retreat is going to magically transform me into the Bionic Writing Woman. "Brett, that's not how writing works," I explain, "I can't just rattle off things. A lot of writing is thinking and learning and talking things out in my head. I have a page and a half, okay?"
This time away has been incredibly productive, at least in my subjective definition of "productive." I've seen three sunsets in a row now. I've watched from the bar, a curtain of sea oats between me and the ocean stage where the spectacular show takes place every night. And when all I want to do is grab someone to share the beauty with me–to point out to the sky and say "Isn't it incredible?"–I say it silently to myself.
While I thought that three days alone with nothing to do but think would have me reevaluating all life's rituals, I am surprised by how clear my mind has been. Actually, I take that back. Last night I called Brett to catch up. He told me how Nella emptied the silverware in the dish washer again, how she passed each fork and spoon and how she smiled when he said "thank you" after every one.
"I miss her," I followed. And then, out of nowhere, "Babe? Am I a good wife?"
He laughed. "Yes, why?"
"I don't know, I'm alone, I'm thinking. Am I the kind of wife that, after twenty years, you'd say—," and I couldn't even finish my sentence because I started laughing, realizing I've gone all Oprah after only one day in solitude.
Brett yawned. "Babe, I'm watching Shark Week here. Can I like, let you go and you can write?"
Of course.
So, what did these few days accomplish?
Well, for starters, I faced my shark fear (during Shark Week, coincidentally) and briefly swam in the gulf after the sun set because Brett swears I'm wrong in thinking all dusk swimmers get eaten by sharks. (P.S., I lived.)
I did write–some personal writing I've been wanting to do, a little bit of project writing, a little bit of blog stuff. I evaluated the process of writing too–how it's easy to fall in the "careful" trap. Don't offend. That could be misinterpreted. Who might be reading? I don't necessarily have anything specific in mind that's controversial, and I'm not suddenly going to start writing political rants or polarizing posts. It's just my writing needed a little defibrillation, and maybe my soul did too. Anything we seek to give–our words, our art, our talents, our voice, our ideas–must have time to grow first. If we value our gifts and our passions, we will take care of them. I understand more deeply right now the importance of solitude and how it feeds the creative soul.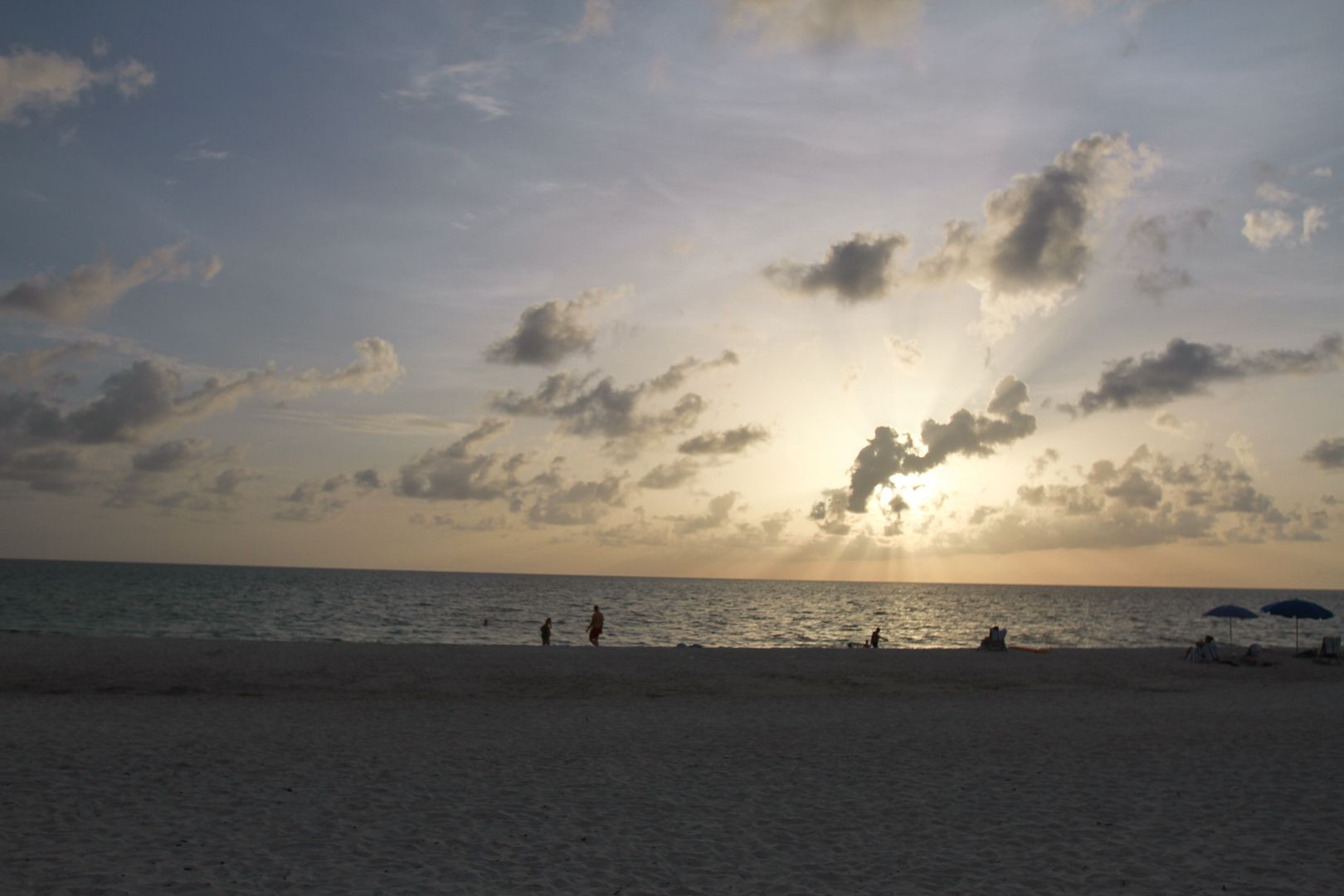 I will make more efforts to be alone and to rest. And the Solitude Retreat of 2012 is the first of many that will follow.
And look–a few guests join me on my last night.
From the Tahitian villa twenty minutes from our home…goodnight.
*****
Matilda Jane Independent Trunk Keeper, Kelly Ewbank, joins in sponsorship this month, appropriately timed with the Character Counts clothing line released by Matilda Jane today. Matilda Jane has long been a favorite of mine–since Lainey was a baby–and my girls often wear their fun patchwork patterns, ruffled pants, striped tights and girlish designs.

Lainey's outfit from the Serendipity and You & Me collections
Shop any of Matilda Jane's collections, use Trunk Keeper #302 with your order, or contact Kelly through her site and she'll guide you through your order.
Nella's already wearing Lainey's old Matilda Jane pieces this fall (in perfect condition still), and a few new pieces have been added to Lainey's closet.
*****
Some nice sand boobies to end the post.