Before I write anything, I have to thank you for the kind words and all the love you've been sharing this past week. From kindergarten stories to hang-in-theres, this little space (and my Instagram and FB buds!) has felt like such a community–a reminder that no matter where we are or what our lives look like, we really are so very much the same. We need support, we give support. Both of these factors–needing and giving–are equally important to emotional survival.
I've had three major topics swimming around in my head this past week, and I've wanted to write about all three. They probably each deserve a separate post, but then I'd get very behind and while I was waiting to write about those, three other topics would climb aboard the write-about list, and words would begin backing up. I'd need some sort of mental Activia to regulate my brain. My friend Rebecca calls this state of mind mental mastitis. Which is just great–we have irregular bowels and swollen breasts to which we compare our need to write. What does that say about us?
I'm eatin' my yogurt, I'm ice-packin' my brain. Here goes.
First and foremost, Brett is great. In fact, the doctors swear he's some sort of nutritional athlete based on his tests–a fact he finds funny. Cholesterol, EKG's, stress tests–they all shout "Be Grateful." And we are. Other than the crop circles shaved out in his chest hair and the hilarious stories my hospital/medicine/doctor/needle-phobic man has to share of his experience, you'd never know we were scared shirtless earlier this week. Yes, shirtless because my dad will let that one slide.
My favorite story–the one that had me curled up on the couch clutching my side with laughter–was Brett's rehash of his stress test. The way they sanded–sanded his chest with sandpaper. And the man who walked in holding a Back-to-the-Future metal vial that had "NUCLEAR" printed in neon letters on its side and said "I'm here to inject you." My husband thinks epidurals are poison–you can imagine his feelings on this space-age ritual that involved needles, the word "nuclear" and…his body. Apparently after pokes and strange sensations, he tasted metal in his mouth and said something to the nurse who said, "Oh honey, that's just the mercury you're tasting." It is a wonder he didn't really, truly have heart problems after that experience alone. And for all those sweet medical professionalists who have written in concern–promise, we are following up with a regular physician.
Three topics, one post. Let's break it down outline style.
I. Kindergarten, Week 2
This whole thing has been like Bloom: Finding Beauty in Five-Year-Old Anxiety, Lainey's follow up version to her mother's memoir. The same principles abide:
A. Life is Hard.
B. You have to go through it.
C. You learn.
D. And then you grow.
Day two, three and four didn't magically get better. She still cried and I still cried and we talked, talked, talked through all of it. But I've had my favorite conversations to date with my daughter, communicating through all of this anxiety, comforting her on the drive to school, lying in bed at night discussing what this is all about. After quickly growing accustomed to the comfort and security within her own little classroom, she still expressed so much fear in the morning regarding her day–enough to cry through morning routines and skip breakfast the entire first week. "I'm so scared," she would say. And when we would prompt for more specific explanation, she made two important clarifications: "I'm scared of music and art class" and "I'm scared of learning." Music and art were two related arts classes she hadn't yet attended–new teachers, new experiences, and the fear of the unknown overwhelmed her. And the fear of learning itself? Well, aren't we all afraid of that. As exciting as the world of knowledge and experience is, the magnitude of information–what we don't know and have yet to learn–can make us feel so small and fragile.
It seemed appropriate one morning on the drive to school to share a little bit more with Lainey, especially when five seconds of car silence stimulated her already growing anxiety and she asked me, "Please keep talking about school, Mommy. I'm scared." I asked her if she wanted me to tell her a story about the scariest time in my life, when I too was "scared of learning" and cried every day.
I told her about Nella's birth. How when they told me she had Down syndrome, I cried because I was scared. I didn't know anything about Down syndrome, and I was scared of learning.
"Do you think Nella's scary?" I asked Lainey. Her anxiety broke for a moment while she laughed and answered "No."
"Of course not," I replied. "It's just that I didn't know anything about Down syndrome, and I had to learn. I cried every day for a while, but every day it got better, and pretty soon I stopped crying because I forgot about Down syndrome. I learned that it wasn't scary anymore. I know school seems scary now, but I promise it will get better."
When I picked up Lainey from school on Thursday–the same morning she cried, afraid of music class–I watched as she held the hand of the safety patrol who walked her to my car. She tried to conceal her smile, but her attempts were futile. She climbed in, threw her backpack on the floor and proudly announced, "I like music. It's not scary." And yesterday? She hugged me tight before class and marched right in, no tears. No tears, all day. My my, how she has grown.
We catch her playing school now with her stuffed animals and little pool critters–arranging them in story circles, asking the little cow to hold the door, reminding the octopus he needs to raise his hand.

Oh, Nella's about to get in big, big trouble for goin' in for a swipe. The five seconds that followed this picture when Lainey found out she wrecked her class line? Yeah, I didn't photograph that.

It's a tiny window into the happenings of her classroom. "Please walk quietly," she'll say after she takes ten minutes to line them up perfectly. She calls them by her classmates' names. She talks about star charts and morning snack and borrowing crayons from Jillian. And can I just say, I'm thrilled she gets to experience this right now.
Sister bloomed.
II. Fred's
I've written about Fred's on Tuesday nights before. I call it Tuesday Night Church because God is there. In fact, I think it might be his headquarters. Now that Fred's is closing for a month for renovations, I realize how important this evening is for me; how important these friends are in my life.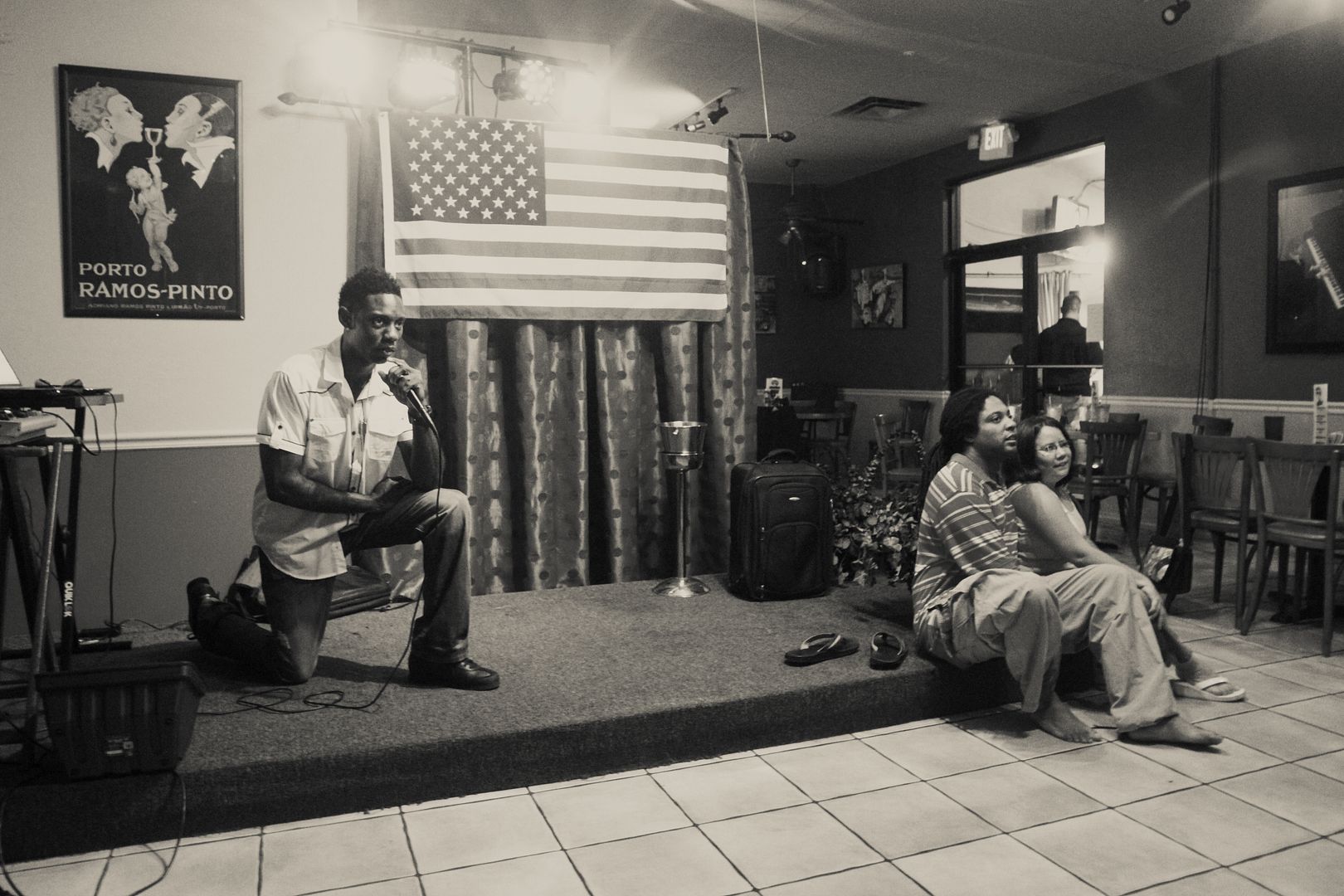 I started going for me. I think acceptance of anything challenging in life is a forever journey. For me, adulthood special needs is where I focus on preparing my heart, and when I heard about Fred's special needs dance night, I knew it would be good for me. I needed to be there–to learn and embrace. In thinking about the future and embracing my daughter's special needs, I have submerged myself in a mix of acceptance, research and advocacy. For Down syndrome, the focus of all three of these areas seems to be the very positive message of progress. We want the world to know we've made great strides in this community. That Down syndrome looks like inclusion and college and independent living. Down syndrome looks different in 2012 than it did in 1950. I am so thankful for this fact. It is inspiring and motivating and says a lot about dreams. If you build it, they will come. If you believe it, it can happen.
I believe the progress in our community is directly related to this mindset–wanting more for our children, finding new ways to educate, studying the science and psychology behind how our children learn, raising standards.
There is a part of me that worries though. I worry that this message of "Look what Down syndrome looks like now" can be misinterpreted to "Accept my child BECAUSE Down syndrome looks like this." Because she could very well go to college or drive a car or speak well or live independently. And the level of advancement any child makes in life should, in no way, be related to the level of respect, love and dignity she deserves.
I want my child to be accepted because she is a human being who deserves to be loved and respected.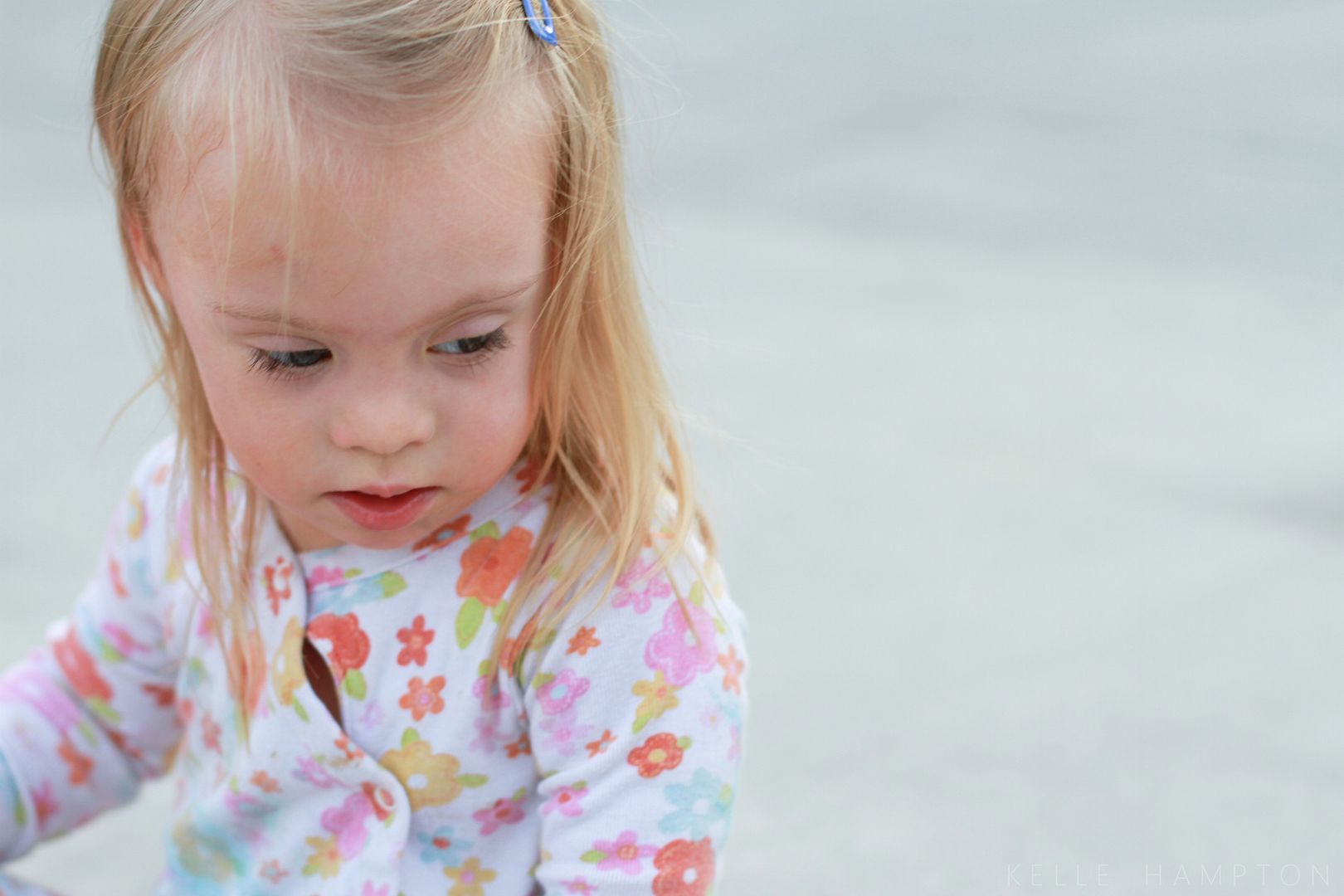 It is only natural for me to be inspired by the bright future of individuals with Down syndrome. To hear stories of twenty-year-olds in college or thirty-year-olds who are married and living on their own and to grasp on to that hope for Nella—to share those stories with the world to demolish existing stereotypes.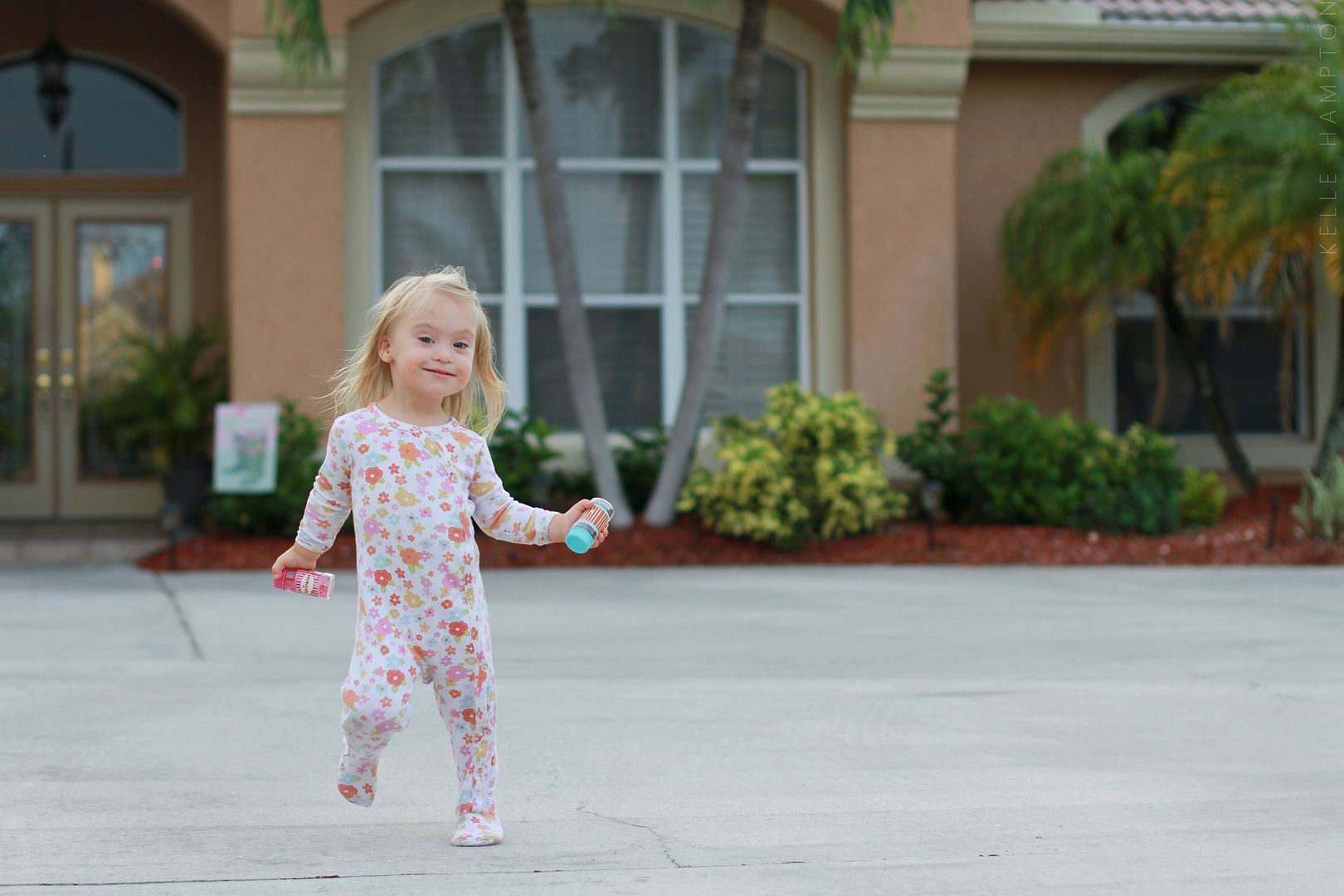 Assumptions dwell among this community. If parents are fighting for answers and spending hours researching how to break down more barriers, they're accused of not accepting their child's diagnosis. If others seem to be content with their child's speech and motor delays, they're accused of settling for low standards.
We need both—high expectations and progress as well as acceptance of our children, loved just the way they are.
So I started to go to Fred's to stretch that part of me that wants to accept all of this. To see people for who they are, regardless of what they have accomplished. Sure, Nella is part of it, but it goes beyond that for me. It goes beyond Down syndrome too because there are individuals with many different special needs at Fred's—some who speak well and text fifty words a minute on their cell phones and some who don't speak at all, who communicate with their heart and their eyes and yes, sometimes their hips (Dude, the dancing. I can't even explain the dancing. You've seen Dirty Dancing? Yeah. There's some of that goin' on).
I look at every one of these individuals and imagine that they could be Nella. Or Lainey. Or me. And I want to know what that feels like. When I first started coming, my goal was to make each of them feel special. I asked them what their names were, what they liked to do, I made sure no one was dancing alone, I high fived and bumped hips and exerted every ounce of energy I had to spread compassion like it was my job. Sometimes, I'd go home so emotionally exhausted. It was work. Good, satisfying work, but work.
What's happened the past few weeks though is that it doesn't feel much like work anymore. These people truly have become my friends. Instead of coming thinking "I'm here to be compassionate" or "I'm here to grasp some big meaning of life," I just show up and let the spirit of Fred's-on-Tuesdays do what it does best. Let go and drink it in. My laugh lines have grown deeper. My hips have become more fluid. Hell, I lost my voice last week after hollering "Whooooohoooo!" through every measure of Party Rock. I'm enjoying myself and thinking less about embracing special needs because they're kind of a moot point once the music starts.
We talk a lot. I'm really getting to know them—where they work, where they grew up, who likes the doo-wop bands, who likes the "sexy sexy" songs, and who's in love with whom (I'm deeply engrossed in one of the on-again, off-again romances, and I'm ashamed to say I've been carrying messages back and forth between them, secretly rooting for this couple to get back together).
I don't even really know why I go, but I know I need to be there. It's knowing God.
*****
Alright, last outline point.
III. A New Friend
It's interesting how this happened. A couple months ago, a few of you left comments that you found Enjoying the Small Things by way of another blogger, Glennon Melton who writes at Momastery.com. So I check this chick out and realize I've read some of her pieces on the Huffington Post, and I really dig what she has to say. I drop her an e-mail to thank her for her beautiful mention of Nella's birth story, and we start writing back and forth. Meanwhile, I'm reading deep into her blog, and I am riveted. Moved, intrigued, completely awestruck by the way this woman is using every ounce of herself–her past, her vulnerabilities, her strengths, her story to GRAB people and help them. And help herself. Isn't that what writing is really about though? We write to help ourselves.
And then she tells me what a funny thing it is because her family is moving to Naples in a matter of weeks. And during this time of planning out how we'll get together to meet, I get more and more e-mails from readers. Do you know Glennon Melton? Have you ever heard of Glennon? You two have to meet.
So we did. Four hours in a coffee shop talking about everything. Writing, kids, God, books, husbands, travel, dreams, people, love, blogging, messy houses, school, parents, ourselves. Sbe is everything her writing portrays her to be–honest, real, good, vulnerable and funny as hell. If you don't already read her, you should.
And I have to hurry and post this because our families are meeting each other today. Our kids, our husbands. This feels so very meant to be.
*****
Oh, that felt good. Three subjects, one post. No more blockage.
*****
Friday Photo Dump:
Look…Baby's growin'.
There's an official shelf for Nella to sit on.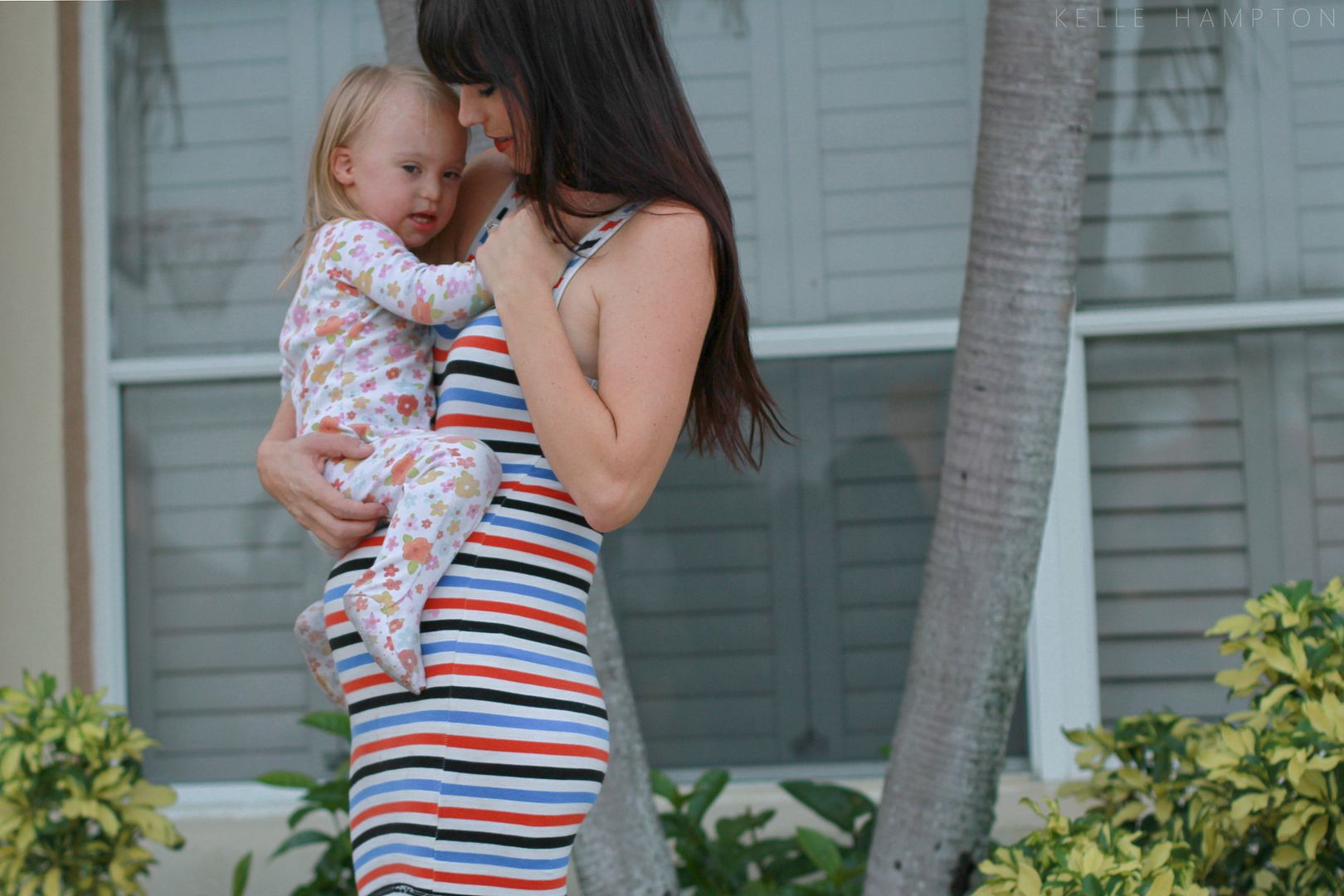 *****
I'm excited to have one of our sweet Etsy shops back in the spotlight this month (pun intended). We have several strands of Bubblewish lights in our home–in both of my girls' rooms, draped across our entry way and headboards during the holidays, and a light-free star strand scalloped across our shower curtain. Bubblewish twinkly lights are a whimsical addition to any room and add a dream-like glow with a touch of personality.
Bubblewish will be adding some new fall and holiday strands to the shop soon. Check it out!
*****
Saw my first shooting star last night. That was pretty cool.
Happy Weekend. Sorry for the crazy long post.