The following post is in response to this month's earlier post, dealing with Down syndrome and welcoming your questions. We are honored to be able to share the things we are learning about Down syndrome on this blog and invite you to join us in making efforts to raise awareness for the value and acceptance of individuals with Down syndrome in our culture.
Q: Are there different degrees of Down syndrome? Is it a diagnosis that has a "spectrum?"
A: Down syndrome affects every child differently. I look at this no differently than the fact that every child, regardless of chromosomal make-up, develops and learns differently. Just as there is no test to determine what Lainey will know and be able to do at thirty years old, there is no test to determine what Nella will be able to do. Bottom line, as always: We take one day at a time, celebrating our children's unique growth and ways of learning and providing support in the areas where they need it.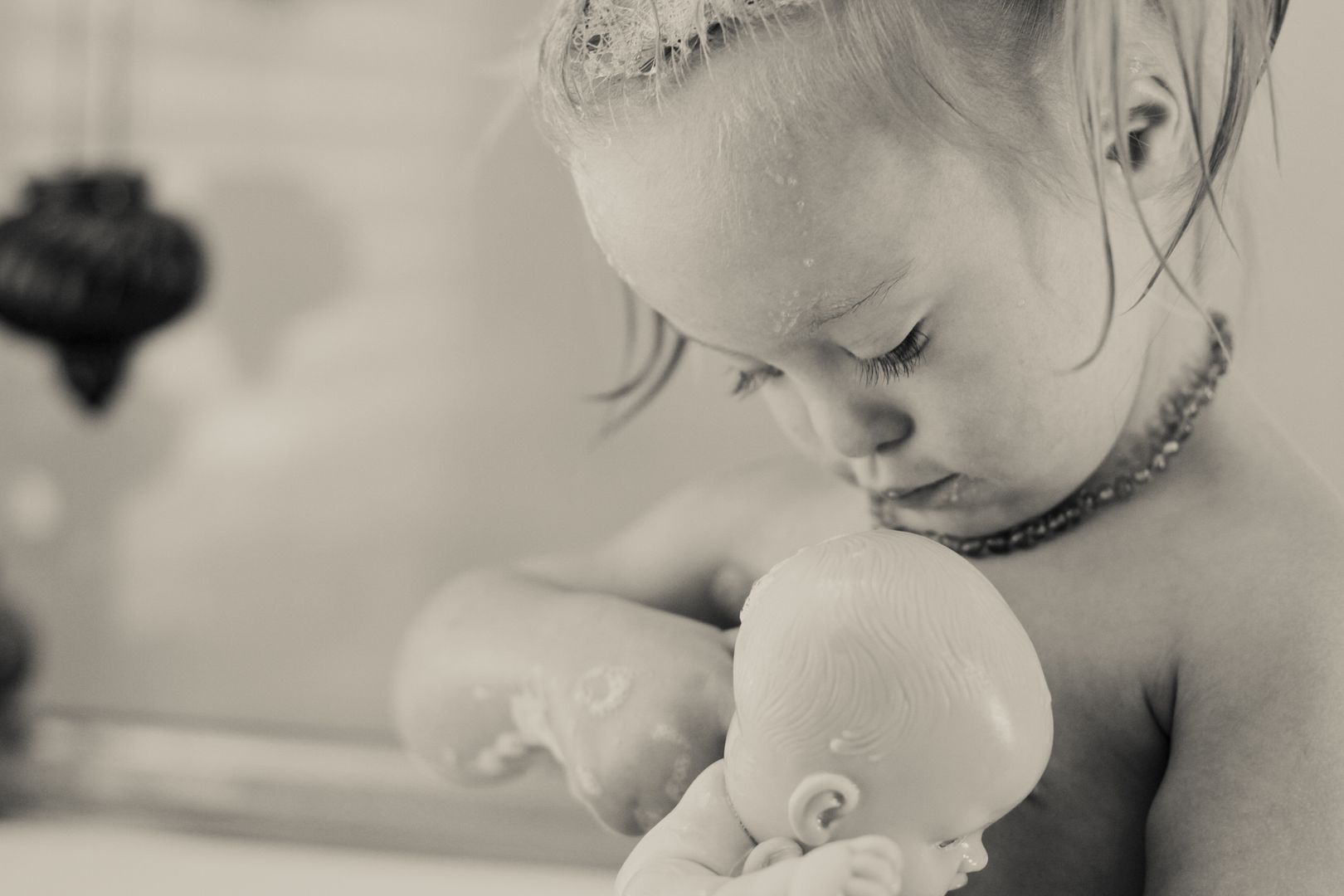 Q: What day-to-day (or weekly/monthly) things do you do that have to do with Down syndrome? Do you do therapy? Is there a "plan?"
A: We currently have in-home therapy once a week for physical therapy and occupational therapy. Nella's received these therapies since she was three months old. In O.T., we are currently working on varying play with familiar materials (taking the same toy and using it in different ways), puzzles with no picture matches (having to match shapes), lacing cards, using crayons and pencils and imitating symbol strokes (line down, line across, etc.), and beginning to use little scissors.
In P.T., we are working on jumping, stairs, lots of balance exercises (uneven surfaces), tricycle, ball throwing, catching, kicking, etc. For both P.T. and O.T., I love that our therapists incorporate real life activities as much as possible. I've walked into our kitchen before to find our O.T. and both girls in aprons, working on pouring, measuring, scooping, stirring, etc. I am thankful for our resources–trained care-providers who support our everyday efforts with their expertise. And I am also aware that, as parents, our role in educating our children (typical or not) and providing them experiences for their skills to evolve is the most critical element in their development.
Q: I am curious about Nella's speech. What does she say? Does she talk a lot?
A: Again, every child develops differently and at varied paces. While I am happy to talk about Nella's speech progression and what we do to promote it, remember that her verbal development isn't necessarily directly related to our strategies; most of it is due to genetics just as every other child's ability to do certain things is related to the intricate structures within their brains that make them who they are. If you see a child with Down syndrome who isn't as verbal, it certainly doesn't mean his/her parents aren't using speech development strategies at home. One of the physiological traits of Down syndrome is short term functional memory which means language, listening, following instructions and understanding consequences are more challenging for our babies. When I find I need extra help in understanding these issues and how they relate to parenting Nella, I always start by asking trusted friends within the Down syndrome community who are further along on this journey. They share with me the things that worked best with their children and direct me to other resources that can help.
Also, I am not a speech therapist. The things I share that I've found to be succcessful are only based on my own experience with my own kids.
Nella has recently made some noticeable strides in speech, pointing out pretty much everything she wants and using 3-4 words to describe it ("Mama, pretzels please." "Mama, shoes on. Walk, please." "Lainey, come find me!"). I would estimate that she has around a 100-word vocabulary of expressive language (more for receptive) but is continually learning new words as we introduce things to her and ask her to repeat us. We talk to her just like we talked to Lainey when she was Nella's age, describing all of our routines as we perform them, asking Nella lots of questions and giving her time to respond ("Nella, do you want to go bye-bye to Target? What are we going to see there? Do you want to bring your grocery cart? Go get your shoes on, please."). We are currently focusing on a lot of everyday tasks and giving Nella directions, inviting her to be part of the conversation.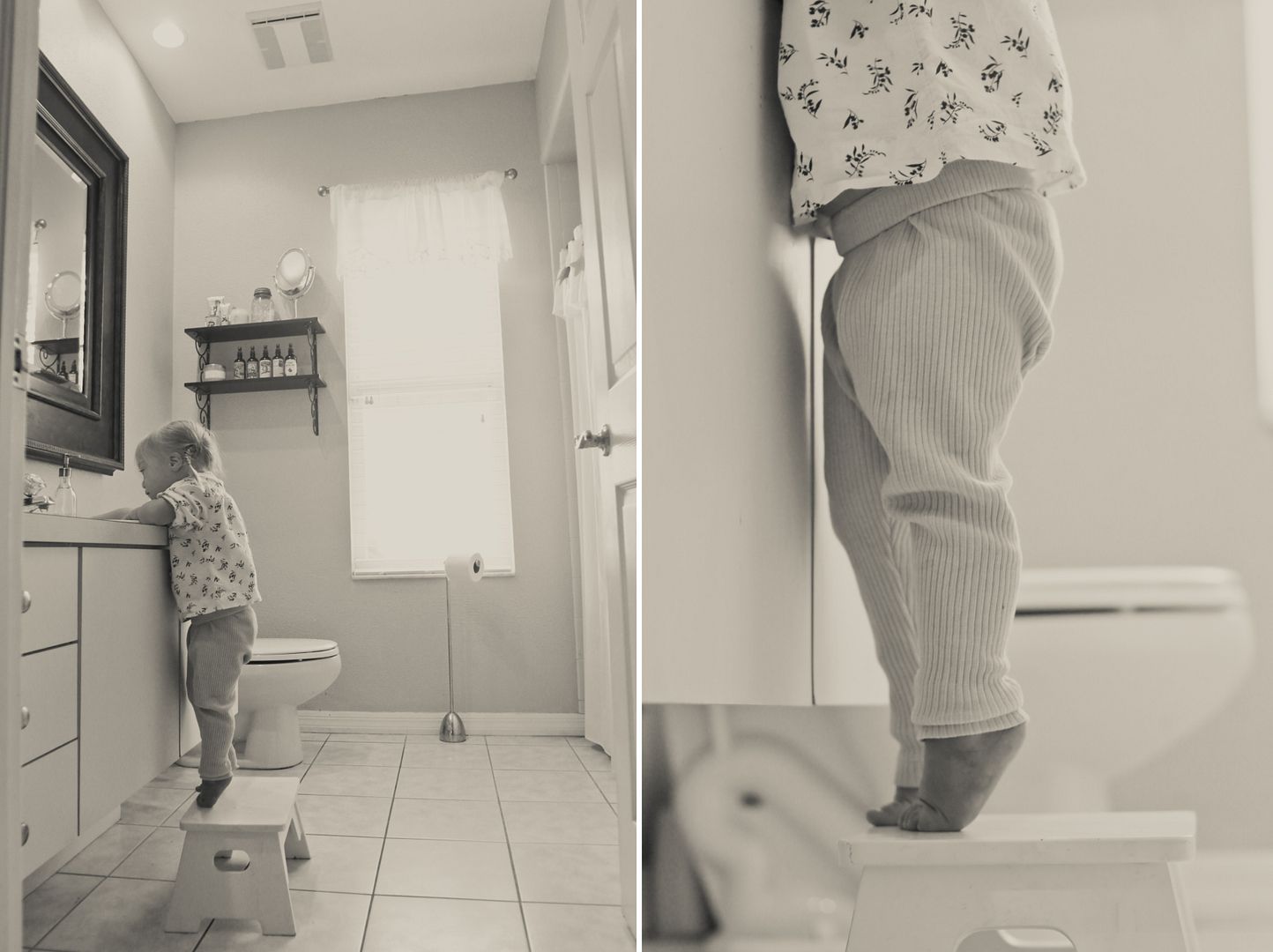 For example, for bedtime we'll ask her to pick out pajamas, go get her toothbrush, wash her hands, etc. and she's very good at repeating our instructions and running along to follow directions. She's currently loving the opportunity to respond to questions with words, such as, "Nella, what pajamas do you want to wear, the pink ones or the red ones? (Nella says "pink.") "Oh, pink. Good choice!"
We speak to Nella like we speak to Lainey. We make jokes, we use big words and complex sentences, and we are constantly talking to our kids, even if they might not understand everything we say. While flash cards and sit-down word instruction is fantastic for early literacy (which is important!), I find that the most important thing we can do in engaging our children in conversation is to talk, talk, talk to them and give them as many opportunities to express themselves and respond to verbal cues as possible.
I'm quoting my dear friend, Elizabeth (physician, D.S. mama and researcher) on this issue: "Nobody can ever promise you that any sort of therapy or intervention can make your child into a super-talker. Or they can promise (some folks do, and it's usually expensive…..) but they're not telling you the truth. Might be that you work as hard as any mama could possibly work, and your child still isn't at the level you would want them to be. But I can promise you this: if you DON'T talk with them, don't expose them to language and writing and music and listening, they aren't going to make progress. End of story."
Success for us is not measured in how many words Nella can say. Verbal development varies in so many ways in children, both with and without Down syndrome. We have friends with children who communicate in other ways, and it is always an inspiring thing to see the ways in which parents and children lovingly communicate with each other and with the world around them, even if it isn't with words. I am both grateful for Nella's progress and yet aware of others' circumstances and continually learning from those around us.
Q: Our 10 month old daughter has Down syndrome, and I wonder when I should talk to our 3.5 year old son about it. I feel like he wouldn't understand it now, but I don't want him to be unprepared if someone outside our family says something insensitive to him about his sister. Any advice?
A: Families choose to talk about Down syndrome with their children in different ways. For me, it was important to at least give Lainey a basic age-appropriate description early on because I wanted her to know why Nella had therapists coming to work with her and why we decorated wagons and wore "Nella's Rockstar" t-shirts for the Buddy Walk. We started with what we know–reminding Lainey that every child is different. We talked about children we've seen or know who have wheelchairs, wear hearing aids, have peanut allergies, take medicine for asthma, etc. We talked about all the things that make them special and unique as well as the things that make Lainey special and unique–she has blond hair, she is tall, she is really good at drawing, she has a hard time with jumproping, she knows lots of words but is still learning to read, etc. With that introduction, we told her that Nella has things that make her different too. She has something called Down syndrome and it's part of her body and who she is. With Down syndrome, we explained, sometimes it takes Nella a little longer to learn things and she might need extra help to do the things that come easy for Lainey. At Lainey's age, this is a sufficient explanation and, to be honest, I don't know that Lainey will ever look back and think "I remember the day they told me about Down syndrome." Learning about her sister's differences is a gradual process and part of Lainey's everyday life, just as learning about her own differences is or those of the people around her. Mostly, we look for opportunities to teach all of our children about the greater theme of compassion and recognizing people for their unique abilities and character. We do this through modeling behaviors, reading books that introduce themes of acceptance, and talking to our children when necessary about how we treat people around us. It's such a wonderful challenge we all share in parenthood–establishing the foundation of character for the adults our children will be someday.
Q: I am curious about what you think about juggling politically correct terms. When my 93-year-old grandma recently said "retarded," she didn't mean anything offensive or negative but was just using the terms she knows. How important is it to say the politically correct word and how much is about the tone/attitude being portrayed?
A: There is a kind way to inform people about the use of the word "retarded," and there is a holier-than-thou way in which you can make an uninformed person, who just needed a little information, feel horrible. I follow my instinct on when and how to address people when they use the word "retard" or "retarded." While I support politically correct terminology, I've never been one to jump into conversations, constantly correcting people. However, I do feel it is important in kindly educating people about the way the word "retarded" used loosely affects families of children with disabilities. I'm also more sensitive to other words casually thrown around that suggest negative stereotypes, having "worn the shoes" of a family affected by a slang term.
I personally grasped my relationship with the word retarded early on, described in this post: "…the word "retarded" comes from a Latin word that means "to make slow." In music, a variation of the word refers to a beautiful "slowing down" of pace at the end of a composition. And, if you remember the story of the tortoise and the hare, you'll recall who won in the end. I'm just sayin'." The understanding of this word's true purpose and definition, and the separation of my child and who she is with any words someone might use to describe her, has helped me keep "retarded" from being too personal. With that said, when I educate people about this word, I remember that I am representing not only my own child but many others in this community.
Note: In 2010, Rosa's Law was passed, which is a United States law that replaces the words "mental retardation" in legal literature with the term "intellectual disability."
For more information about Down syndrome, please see a list of specific Down syndrome resources available on NDSS website HERE.
As always, thank you for wanting to know more about Down syndrome and for being part of our journey and that of many others, just by reading.
*****
We're happy to welcome back Tea Collection as a sponsor this month. I love this company not only for their well-made products but for their mission in using "uniting the world" as inspiration in designing their clothing. As co-founder and chief creative officer, Emily Meyer says, "Travel opens our hearts and minds. The clothing we create at Tea transforms the foreign world into a smaller, friendlier and more familiar place. We believe that we bring a little bit of that world home to you. Everything we create – our products, images, words and ideas – is inspired by going there and being here. And by our passion for exploring different cultures. We are awed by the unique beauty and diversity of people around the world. As we celebrate and share our discoveries, it reminds us how small the world is and how alike we all are." Can I get an Amen?
Check out Tea's current collection of Nordic-inspired designs. All sale items are currently 20% off (until October 31st) using code TRICKORTREAT. We love to check out Tea Collection's destination inspiration page with beautiful printable coloring activities as well (color and frame this owl print!)

On Nella: Lunefeld Playdress (currently on sale and an extra 20% off with code TRICKORTREAT) and Cozy Rib Knit Leggings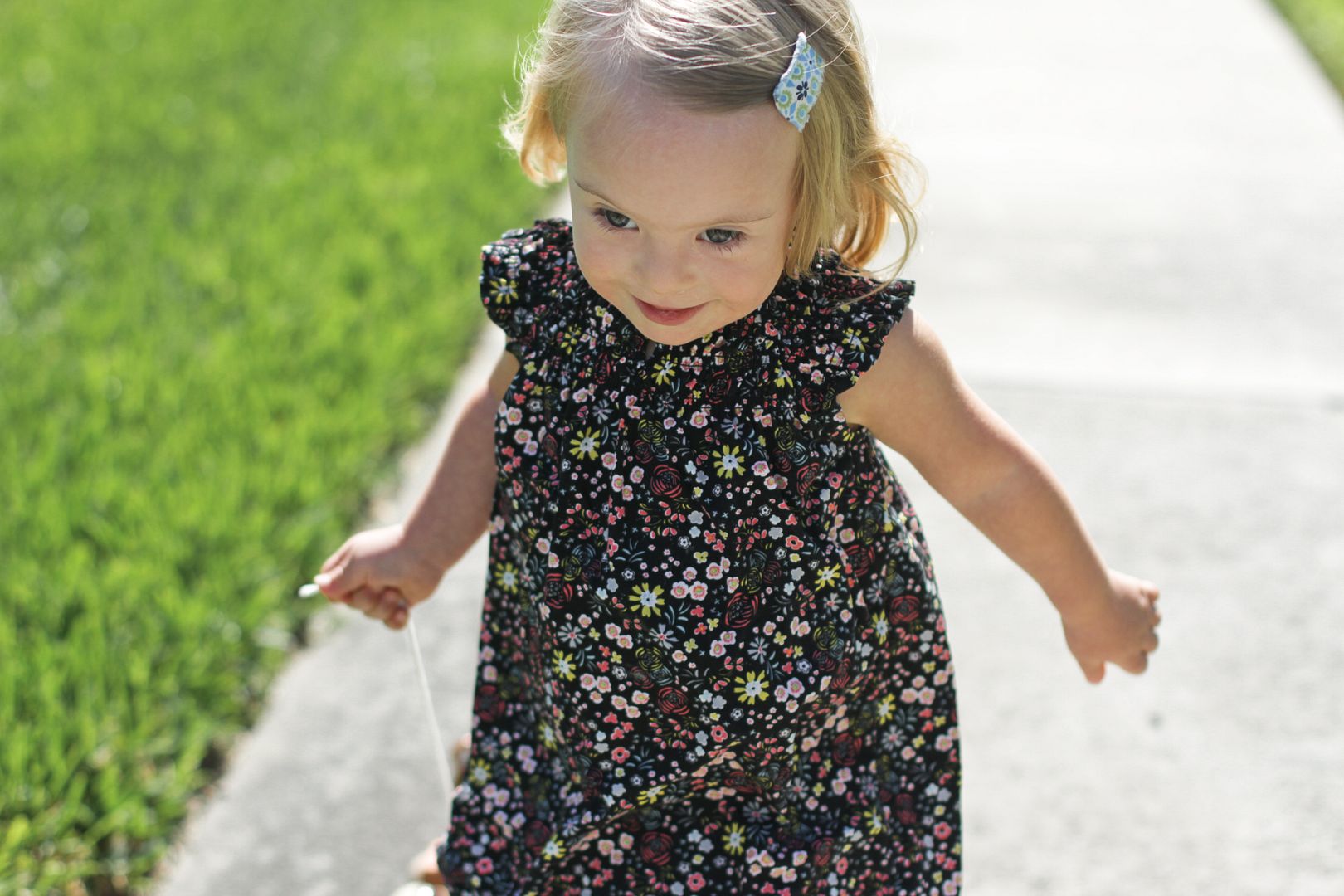 *****
If you're local, come join us at Fred's (on Immokalee Road in the Sam's plaza) tomorrow night. We're gonna party like it's 1999, and we're wearing costumes. As the Black Eyed Peas would say, tomorrow night's gonna be a good, good night.