Our curtains finally flutter, brought to life from their motionless slumber by November breezes our open windows usher in.
I've just returned from a solo bike ride where my overactive brain was hushed by the sound of wind and the occasional cracking from an acorn that lined up perfectly beneath my tires.
In observing different gratitude projects circling social media this month, I've been thinking about its very complex meaning. So many of the things we are grateful for have inverses: having a home vs. not having a home, being healthy vs. being ill, having a job vs. being unemployed, etc. But gratitude is more than an I'm-so-glad-my-life-is-better-than-that-person's-life list. In fact, it shouldn't be that at all. Being exposed to the inverses of good fortune is a wonderful catalyst for gratitude. I can't help but kiss my babies' cheeks and feel thankful for their health when I hear of mamas huddling over sick babies in hospitals; and witnessing storm damage, gas lines, and crowds of hungry people gathered in the northeast this week certainly makes me thankful for food and power and a structurally sound home. This is only one facet of gratitude though, lending to the very important awareness component of its meaning; but it doesn't seem a very humble definition. The true depth of gratitude comes when you move beyond awareness and find ways to do something for someone else–to bring gratitude to other places in the world. I still make lists of things for which I'm grateful. I still need stories of "not having" to sometimes remind me of what I do have. But I'm learning more to breathe gratitude and to find ways of practicing it hidden in corners beyond the obvious check-lists of health, jobs, home, things, etc.
So right now, I'll string them both together–enjoying little moments right here, right now and finding ways to help make someone else's "right here, right now" a little better.
Enjoying…
Walk friendly weather.
More Kitchen Time this Month
…which reminds me, fellow blogger and friend Meagan Francis at The Happiest Mom has launched The Kitchen Hour, a great way to connect and inspire moms during the time when we're preparing dinner for our family. The Kitchen Hour offers podcasts you can listen to while you cook, bringing tips, recipes and fun inspiration for connecting your family right to your kitchen. I was honored to be part of Meagan's first podcast and look forward to seeing how this grows!
Tights and Weather that Permits Them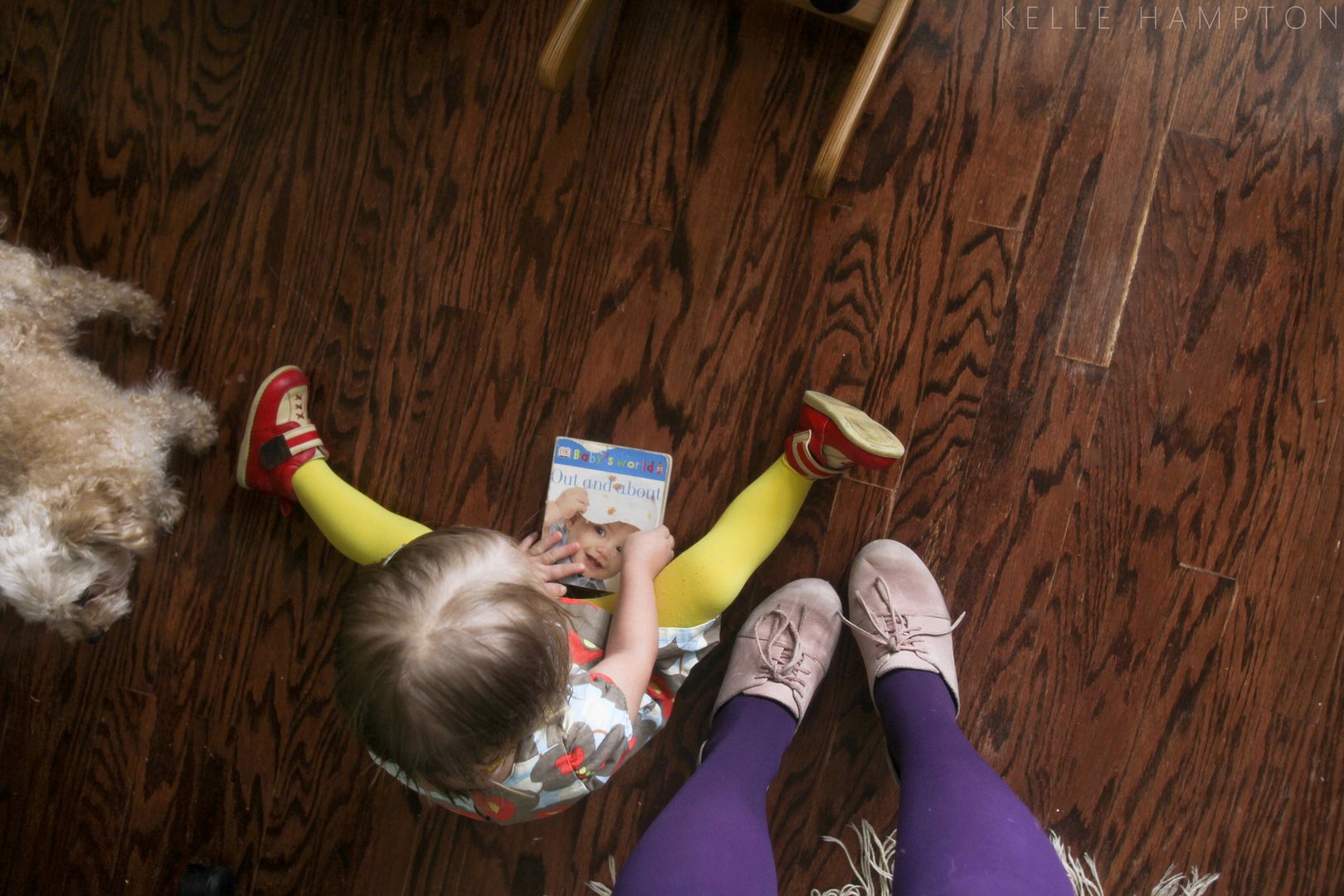 Finding Nella "Playing Car"

(line up chairs and grab a tupperware top steering wheel)
Slowly Creating a Space Nella and Baby will Share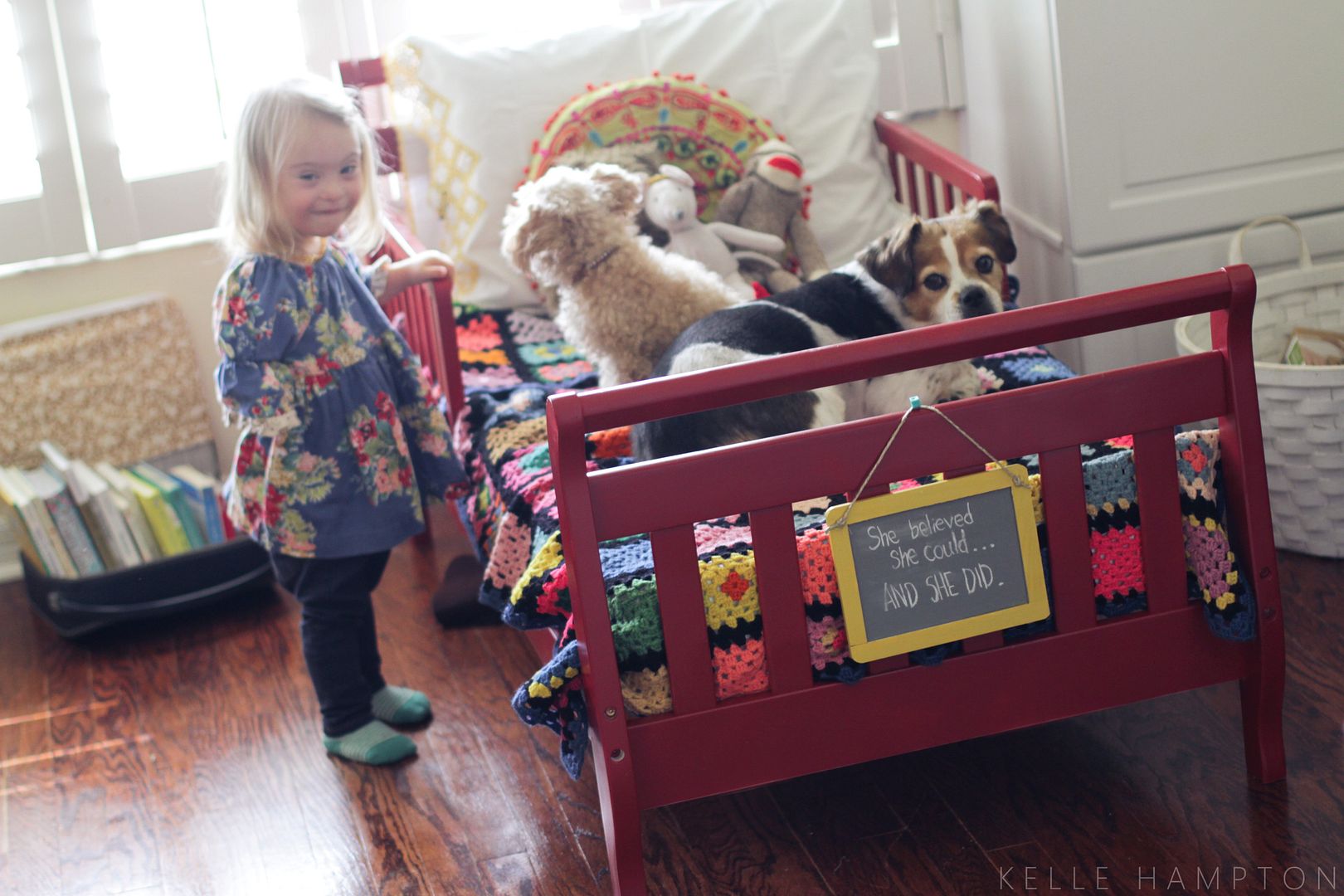 Inexpensive Decor Ideas
(inspired by Land of Nod catalogue: a cardboard letter and some yarn)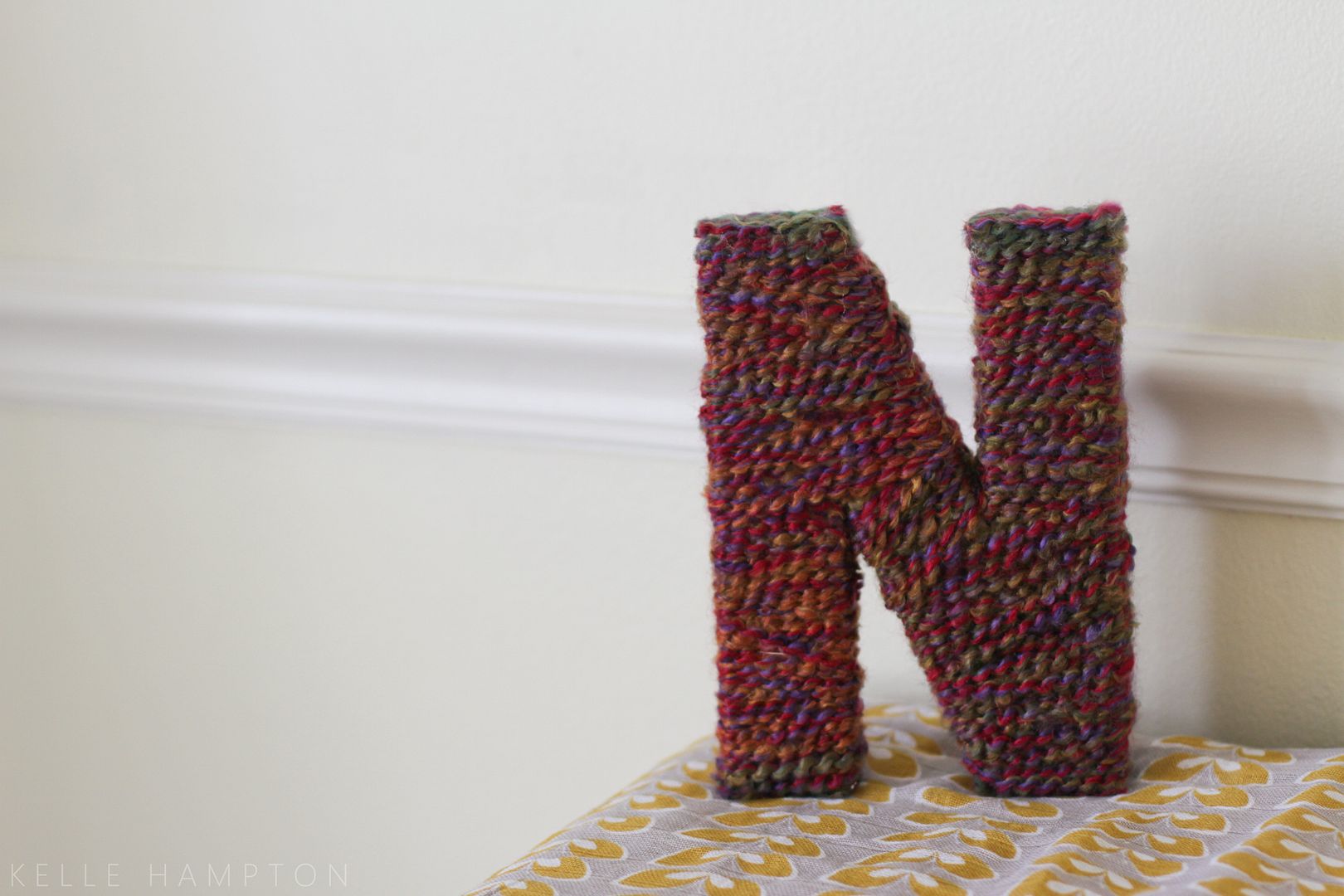 Watching Little People Explore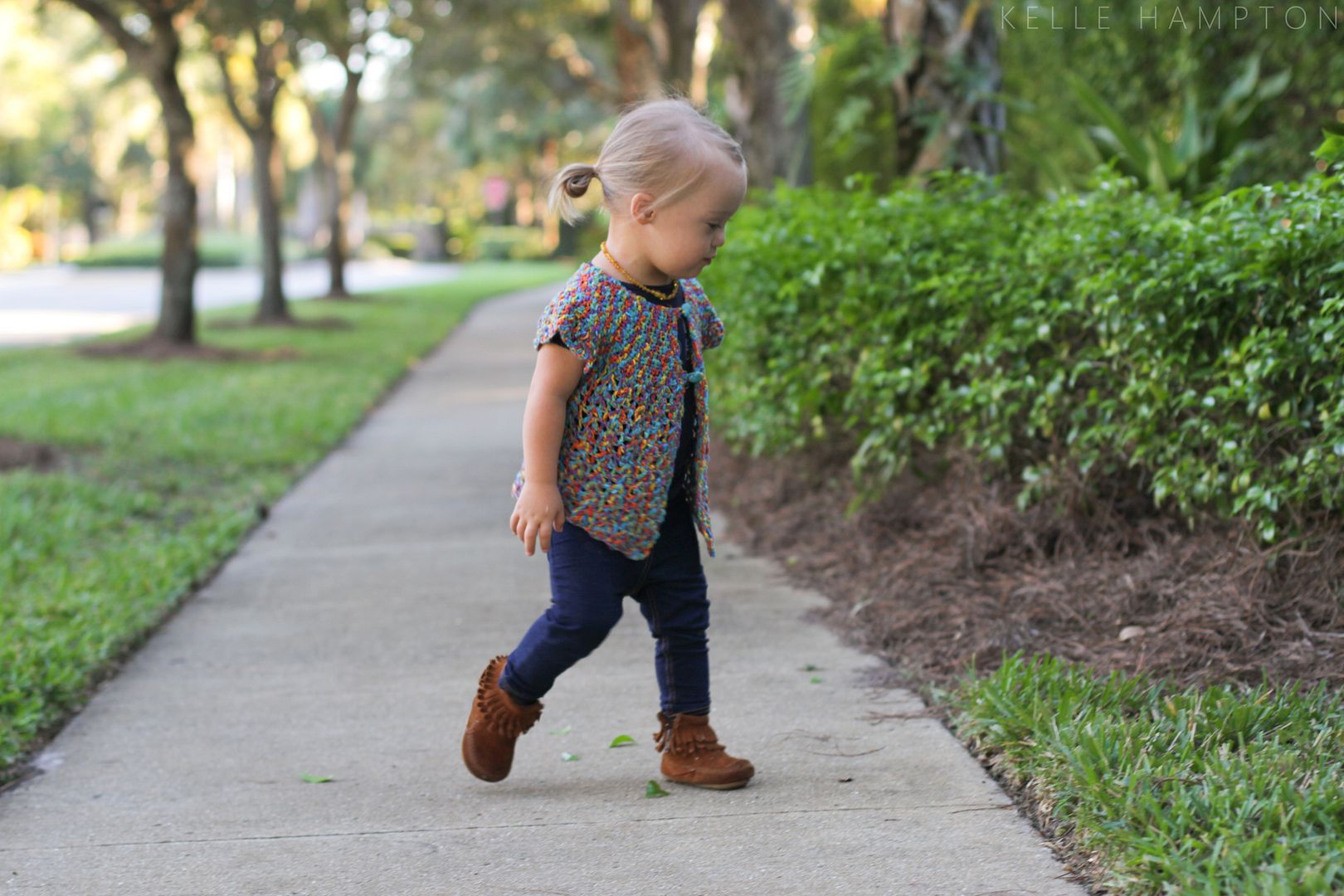 Things that Make YOU Happy: (#enjoyingthesmallthings on Instagram)

*****
And ways in which you can help someone else enjoy little things and big things right now:
Ultimately, I know we are once again going to be impressed with the resilience of NYC and surrounding areas because they overcome…that's what they do. But they need help. To assist in Hurricane Sandy efforts, I've asked some friends in those areas to help direct efforts where it is most needed. Some of the most affected areas in NYC are Far Rockaway, Staten Island, Long Beach, Oceanside, Red Hook and Breezy Point.
You can donate your help in the following ways:
* Text REDCROSS to 90999 to quickly and easily donate $10 (will be deducted from your phone bill).
* Text STORM to 80888 to quickly and easily donate $10 to the Salvation Army.
* Text HUMANE to 80888 to quickly and easily donate $10 to the Humane Society (Humane Society is working to rescue animals that were left behind and to provide shelter for them).
Or you can make specific donations in food and supplies that are most needed, and they will go directly to places in specific areas affected by the storm:
* The items on this Amazon Wish List go directly to Staten Island Sandy Relief.
* The items on this Amazon Wish List go directly to Moms New Jersey Sandy Relief.
* For Far Rockaway Recovery, click here.
* See New York Times list of ways in which you can help.
And thank you to the compassionate readers who helped kindly inform where help is needed!
*****
Darkness creeps in earlier now–more time to burrow into our nest and enjoy family.
*****
The fabulous Shop Ruche is returning in sponsorship this month, offering their incredible collection of affordable, vintage-inspired and unique products for both mama and child.
Shop Ruche has been one of my favorite online stores for some time now, and whether I'm looking for a particular item for an event, a gift for a friend, a seasonal wardrobe addition or a unique find for baby, Shop Ruche is guaranteed to have something great.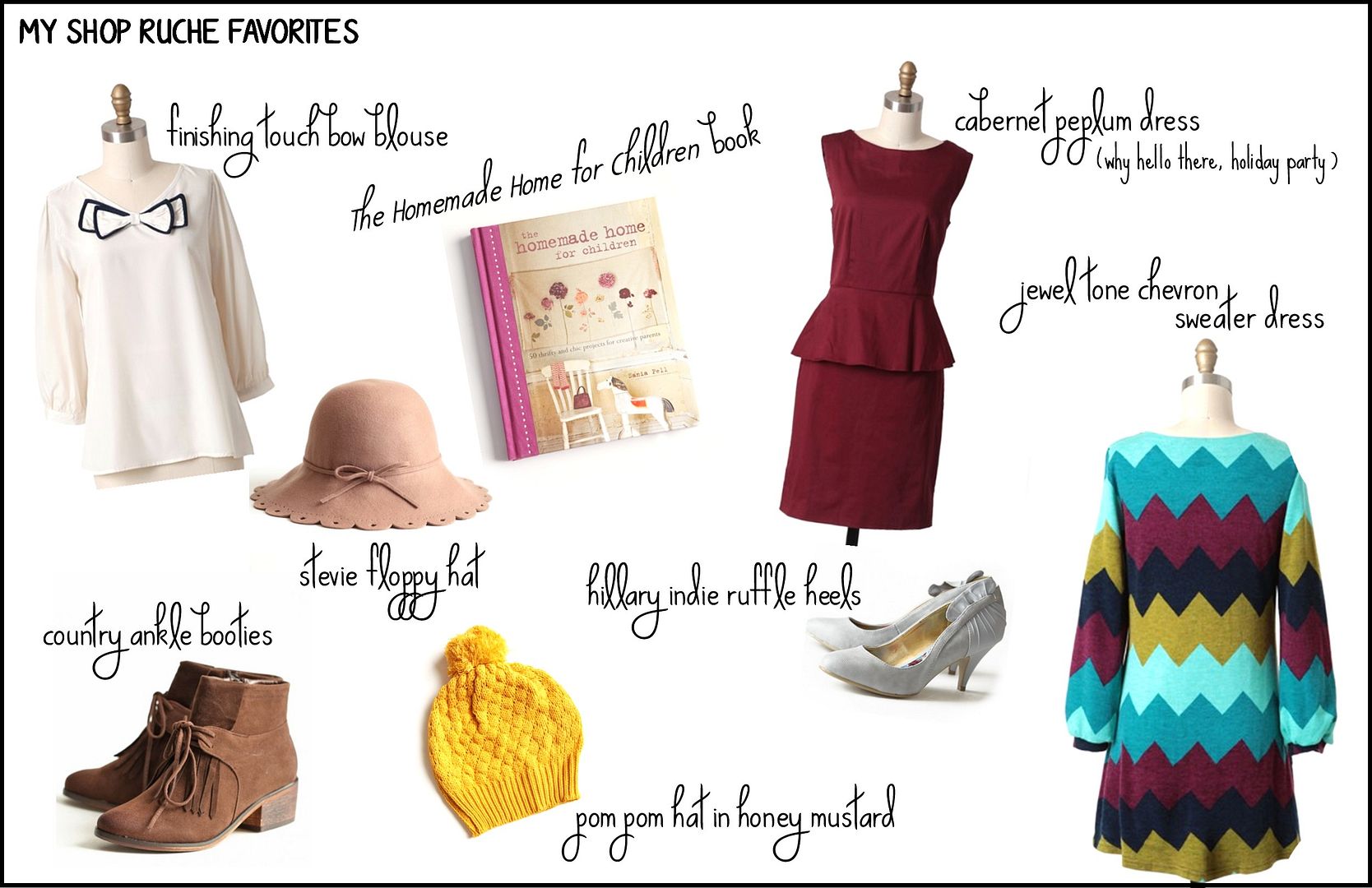 Favorites: Finishing Touch Blouse, Homemade Home for Children Book, Cabernet Peplum Dress, Stevie Floppy Hat, Hillary Indie Ruffle Heels, Jewel Tone Chevron Dress, Country Ankle Booties, Pom Pom Hat in Honey Mustard
Check out their new winter look book, launched today.
And, Shop Ruche is offering readers a great discount on their children's line this month. Buy anything from Shop Ruche Children and use code KELLEHAMPTON15 for 15% off (offer runs through November 7, 11:59 PST).
*****
What are you enjoying?
How are you feeling grateful right now?
Don't forget to vote tomorrow.