There's something about the first holiday gift for me. Usually purchased this time of year, it initiates a little burst of holiday enthusiasm and a settling feeling of "I did something to get this ball rolling." And by ball, I mean shiny Christmas ornament with glitter on the outside and cheer on the inside. I'm all for letting November be November and giving Thanksgiving its time to shine. But that's part of the fun of November for me–doing little things here and there that lead up to a more relaxing and fully enjoyable December. Hence (holla for the word hence), the first gift. Wrapped and waiting. Every time I open my closet doors I see it way up on the shelf, and it makes me smile.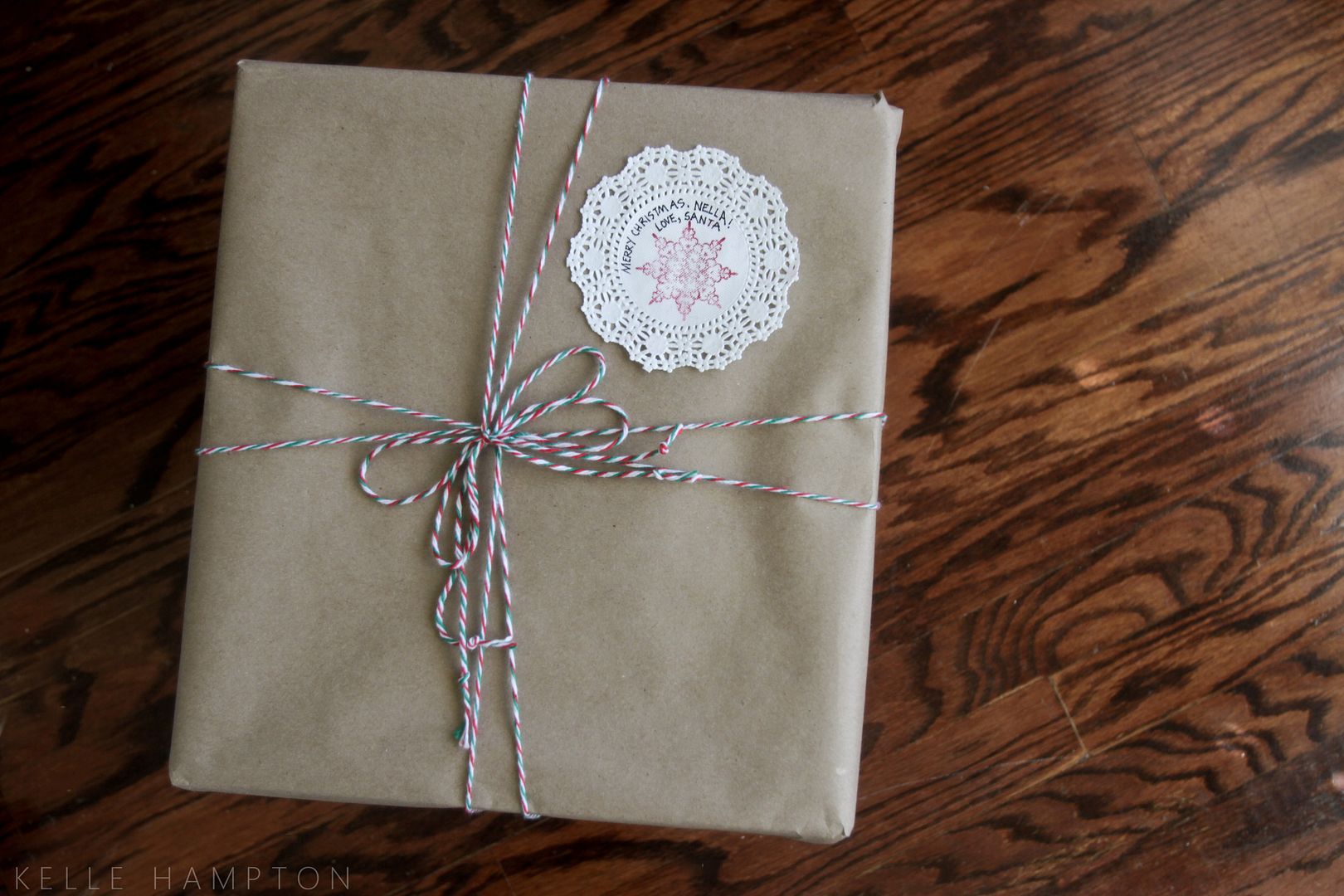 Last year, I finally did Christmas right and this year, we want to simplify even more. I bought almost all of my gifts online last year, and I took the time to search for well-made toys that would A:) Last, B:) Really mean something to my girls, and C:) Not take up a lot of room in our home. I look for free shipping deals. I keep an online wish list throughout the year of things I really love for my girls, and I use it to guide both my own gifts for them and to answer questions when grandparents ask what they want. After years of buying Christmas gifts, I've realized less is more–hard to do but feels good when you stick to it. I'd rather have a few really nice things that will last for my girls than a bunch of junk for them to open and forget about later.
Things I Like to Buy for Them: Nice baby dolls (never gets old for them) and baby doll accessories (a good stroller, a few cute clothes, cloth doll diapers, bottle, etc.), toys that encourage imagination, educational toys and books, puzzles, crafts and art supplies, wood and felt toys
Things I Steer Away From: Oversized things that will get in the way (we have a good kitchen set and a nice wood easel, and two "big" toys is enough our house can handle), cheap plastic (although those little dress-up click clack shoes will always be a fave), things with little parts that will get lost
I clean out their toys this time of year as well–sort through the things we don't use to donate to Goodwill. I'm getting better at this every year, and I'm finally getting the hang of simplifying my girls' rooms and belongings for not only an easier life (it stays clean!), but more appreciative children.
So, on to the first gift. We have a thing with baby dolls. My mom has had a thing with baby dolls for years–she can talk for an hour about makes and models of dolls, where they are manufactured, how well they're made. And my all time favorite gift memory from my childhood is when my sister and I received new baby dolls Christmas morning, delivered to our front door by a nurse (neighbor my parents bribed) in her hospital scrubs. They were wrapped in receiving blankets, and we proudly reached out for them like real mamas. (They were also filled with this jelly-like substance to make them heavy, and three days later we broke them open and cleaned out the jelly, shoving it in the door pockets of our Chevy Citation while our oblivious parents drove to Grandma's…but that's a moot point).
We've had several different ones throughout the years, but most of our dolls have been cheap things Brett excitedly comes home with from the grocery store because he does that sort of thing. But this baby? I saw her in the Magic Cabin catalogue and fell in love. Designed in Sweden (I'm speakin' my mom's language now), the Rubens Barn dolls have soft-sculpted bodies and weighted bottoms to make them feel real. Nella's going to love hers.
There are a number of Rubens Barn dolls to choose from–both babies and kids and girl and boy dolls. And I love the cloth bottle and pacifier set (the little mouth opens on the doll). One comment from this post will be randomly chosen to receive a free Rubens Barn doll, reader's choice, courtesy of Magic Cabin. You can find Magic Cabin on Facebook, Twitter and Pinterest as well. We love their well-made toys that encourage imagination.
We're also simplifying our wrapping this year. I'm usually tempted by beautiful wrapping paper and rows of pretty ribbon in craft stores, but I am loving the simplicity and cost-effectiveness this year of parchment paper, baker's twine, paper doily tags and $1 stamps.

The baker's twine is actually a $10 giant skein of fine yarn. It lasted us through all of last year's crafts and North Pole Party (coming again this year!) and we have gobs left for this year.
*****
My favorite IG pic this week: A moment Nella and I shared where I danced her to sleep, serenaded by classical music. Our night weather finally qualifies for cozy fleecy jammies…I like.

Instagram is a free phone app. You can find us at etst on Instagram.
Magic Cabin Rubens Barn doll winner announced in Monday's post. Tell me four things…
1.) What's streaming from your MP3/radio/CD player/record player (so many means of listening these days) right now?
2.) Last thing that made you smile.
3.) What you're looking forward to right now.
4.) Last thing you bought for yourself.
Mine:
1.) James: Rhodes, Piano Recital
2.) Nella and Brett playing the blanket throwing game
3.) I'm going to the symphony tonight…alone.
4.) A cinnamon crisp bagel, Panera