This weekend we were caretakers of Tom, the class turtle. He's not real which is a good thing because I'm certain he wouldn't have survived three days with us if he was. He's a stuffed puppet, but to Lainey, he is more than real. He has feelings.
Tom comes with a journal in which you are to record his adventures and tape pictures. And being that we are this far into the year, many kids have already taken him home meaning Lainey had read through every journal entry and stared at every photo. Translation: my kid had high expectations for Tom's stay with us this weekend.
It started Saturday morning when Lainey asked to go to Dunkin Donuts.
Deep in a lazy morning haze, I answered, "Not this morning. I'm going to make pancakes."
"But Mom–Tom," Lainey argued. "He wants donuts." She held up the turtle so that his googly eyes were staring at me. And you can't really argue with a stuffed turtle.
We made it through Saturday evening convincing Lainey that our little weekend home routine was "super fun" enough for Tom's adventure log. But by Sunday, she wanted more–something that involved buckling Tom into a carseat and going someplace. So we headed downtown because the beach was a little chilly and Kilwin's Ice Cream on Fifth was second best.
I remembered the stroller which never happens. And the fuel light wasn't blinking when we started the car which also never happens. Both girls let me do french braids, no one cried to wear a pair of flip-flops that didn't fit, and Lainey didn't have a meltdown over sock seams that didn't line up with her toes, so really we were off to a good start. Lainey carried Tom and walked next to the stroller while Nella sat inside and turned around every five minutes to smile and flash her "this is fun" face. It was good. Like "Three kids? Of course I can handle it" kind of good.
Three ice cream cones later, we walked to a nearby street opening where locals and tourists shared fountainside benches and tables–a Fifth Avenue gathering place for anyone looking to enjoy a good sunny Sunday morning. I unleashed the girls and let them run free in the opening while I stretched out on a bench and watched, lulled into a good motherhood trance by the warmth of the morning sun and the sounds of my girls laughing as they chased each other. For twenty minutes, the girls played chase, running up and down the slight incline of a wheelchair ramp in front of our local theatre (stage, not screen), tossing Tom the Turtle back and forth as they ran. I marveled at how far Nella has come–running steadily, cautiously slowing down with the incline and picking up speed when she reached the bottom again. Everything was perfect.
(before I proceed–everyone's fine in the outcome of this story, so don't hold your breath)
And then I heard Lainey scream. Blood-curdling, shit-just-happened, National Defense Alarm scream. The kind of scream that sends a mama bolting off her bench without her brain even telling her that's what she's supposed to do. She's shrieking "NELLA! NELLA! NELLA! NELLA FELL!" And I could hear a muffled Nella yelling close by but couldn't see her. Until I looked into the line of bushes edging the wheelchair ramp.
I saw feet. Straight up in the air. Two little moccasins kicking from a bush. I repeat, a bush.
Look, I drew it for you because, believe me, the image is important.
I had to pull Nella straight up by her feet to retrieve her from the bush, and the whole time Lainey is losing her mind in fear that her sister's really hurt. Two kids screaming in the middle of Fifth Avenue, people everywhere, and a pregnant mama hoisting a toddler by her feet from the bushes. I kissed and consoled Nella, her face a little scraped up, her feelings hurt more, and promised Lainey it would be okay.
Here's where it gets more interesting. Because more seems to preceed interesting in my life quite a lot. Lainey lunged to hug Nella (both kids still crying) and in the process, got her earring stuck in Nella's hair.
Oh, you thought the first round of screaming was entertaining?
Shit just got real.
"MY EARRING! MY EAR! MY HEAD!"
Their heads were attached and both were pulling to get away, still traumatized from the first round of injuries but now exacerbating the situation–and the screaming–by a hundred billion percent. The screaming. The SCREAMING. Seriously. It was out of control, not to mention their heads were glued, an earlobe was stretching beyond its capacity to stretch, and I was about to give birth from a squatting postion on Fifth Avenue in front of a hundred people.
I attempted careful precision of head/hair separation, but it didn't happen that smoothly. There was a yank, more screaming, an earring went flying, Lainey's right ear joined Nella's cheek in Things That Were Bloody, and then–oh yes, there's an "and then"–Lainey realized Tom the Turtle was missing.
Cue third round of screaming.
"TOM!! TOM!! MY TURTLE'S GONE!"
Tom apparently went down with Nella in the bush, so now it was my job to crawl on all fours on the cement, eight-and-a-half months pregnant, in the middle of downtown Naples, two kids still screaming, and search the bushes for a blasted class turtle.
And I found him. Cowering under a bush.
Never did find the earring but I did tap into this amazing sense of I-Can-Do-It-ness as I carried Nella over one shoulder while pushing a stroller with a whimpering five-year-old six blocks up Fifth Avenue to our car.
It's like Marathon training, right? You have to condition before adding another kid to the roost and, silly me, I hadn't been practicing.
Nella has a nice chafed face. And we keep laughing and reminding her of her battle scars and the story that earned them.
"Did you fall in a bush, girlie? " we ask her. "Was that scary?"
And she smiles and says, "Bush. I cry."
And a few pics from the less interesting but every bit as lovely parts of our weekend:
playing with the lizard who snuck inside with our firewood

Panera cookies (Tom asked for them, of course)

Taking Tom to visit his "real cousins" at the pet store.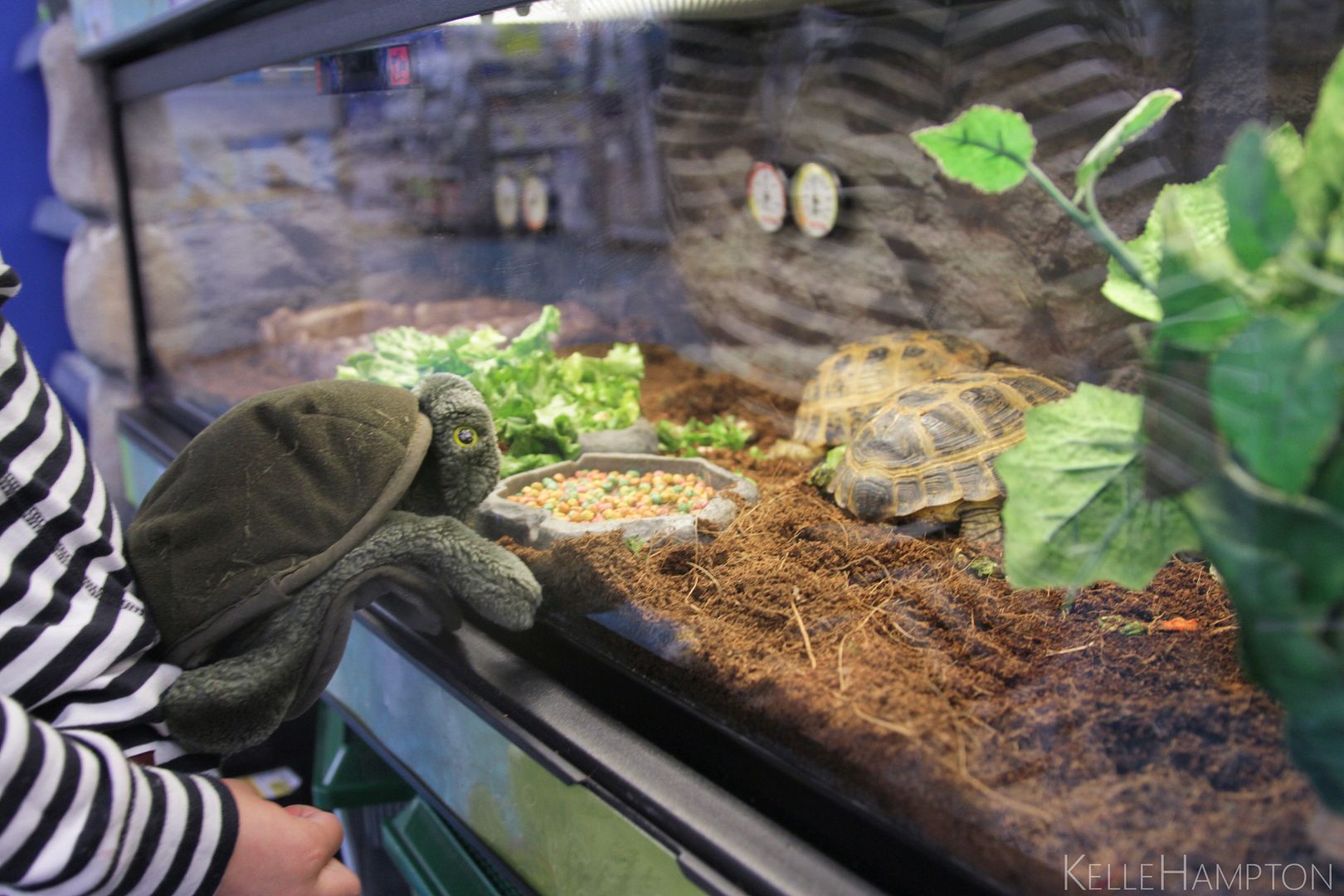 Nella's all WTH trying to figure out what Lainey's doing with the cucumbers on her eyes. But then…

Love the way she adores and copies her big sister. For every single thing. She's learned so many things through Lainey.

Loving this quote to start the week:
"Though we travel the world to find the beautiful, we must carry it with us or we find it not." ~Ralph Waldo Emerson
Happy Monday.