So the perks of crazy nesting breakdowns are that things actually get done. Even if a week after the baby comes, I go back to not caring about laundry piles or drawer knob smudges. That entry way project I suddenly obsessed over earlier this week? It happened. The devil would have broke free if it didn't, of course. Regardless, the transformation makes this mama very happy.
As I get older, I'm realizing two very important things about our home and how it makes us happy. I find that "too much stuff" clutters not only our home but my brain, and that if I don't really love something, it needs to go. Obviously, the latter could be considered a luxury when it comes to bigger items. We'd all love to have our dream kitchen, our dream couches, our dream dining room table. But there are so many easy and inexpensive ways to make our spaces represent our personalities and to bring in things we love so that the corners of our home speak our story. Plus, I just flat out like change. It keeps me inspired.
So the entry way. I was done with the muddy color, the big sofa table I've never loved and clunky dark frames arranged too symmetrically on the wall. I wanted something fresh, light, happy and colorful, and I didn't want to spend a lot of money. We painted the walls a fresh color, gave the front doors a nice yellow coat, and donated our table to our local women's shelter and replaced it with a bench from our dining room table–one we only use when we pull the leaves out and entertain lots of people.
Old dark frames were spray painted two different shades of white (Valspar Paint + Primer Spray Paint in white and off white, two coats on each frame).
New photos were ordered and finally, a few inexpensive things were purchased to brighten the space: a welcome rug, some succulents and an orchid.
Voila.
It feels so much happier.
Several of you have asked about how I choose photos for our collages and frames. When I started collecting favorite photos to be included in Bloom, I realized how long the process takes, digging through folder after folder looking for my favorite images. Since then, I've kept a "Favorites" folder on my desktop. Every week, as I download and edit pictures, if there are any I especially love, I move a copy into the favorites folder. Within this folder, there are other categorized folders–family, landscape, still life, color, Florida, holidays, home, motherhood, etc. I've found this makes choosing photos for freelance work or other assignments so much easier as well. I'm choosy with these folders too. I only include photos I love, love, love.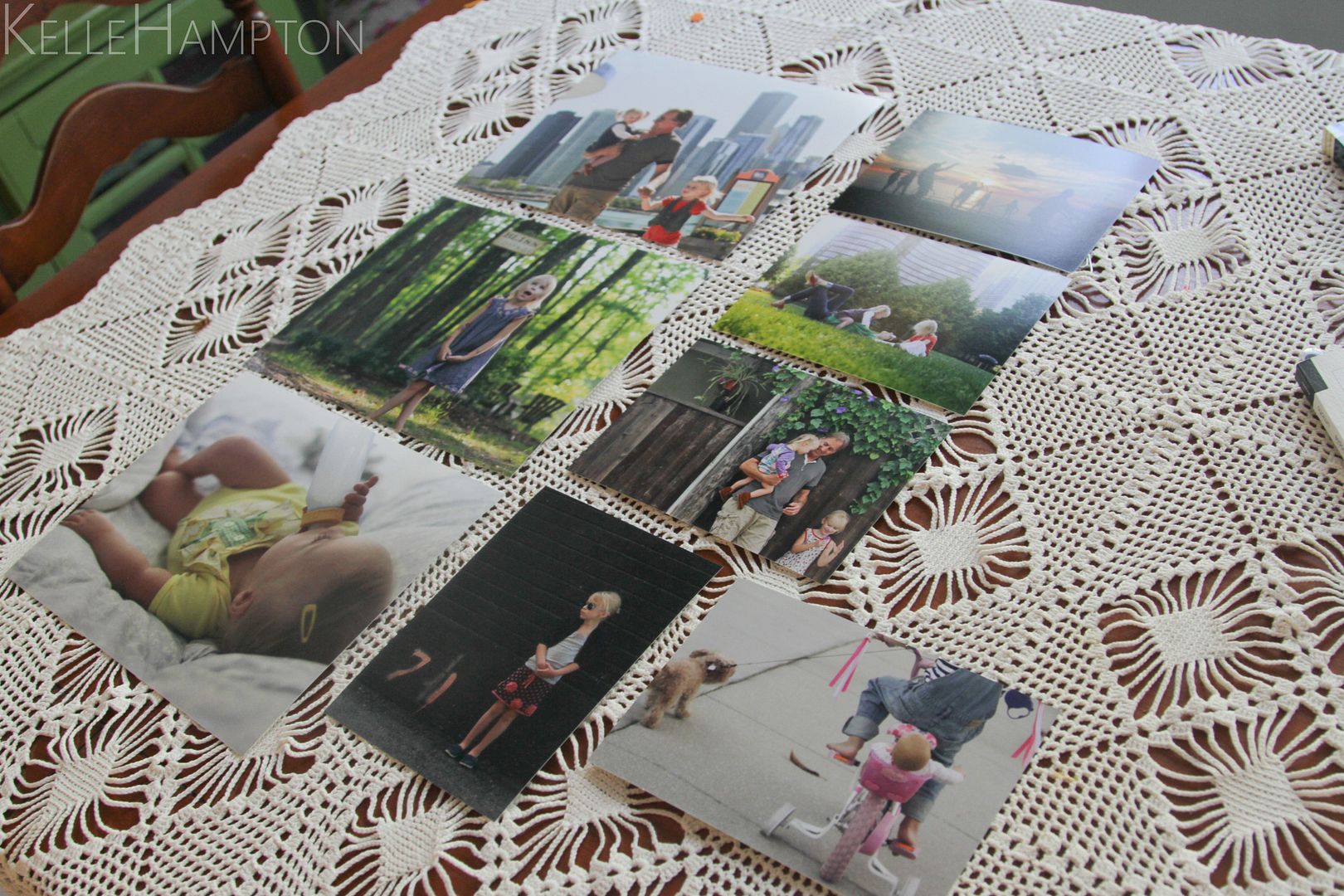 So this was my go-to place for selecting new photos for our wall. Other things I considered were making sure the entire family was represented, mixing up people photos with landscape and still life, mixing horizontal/vertical images and most important, creating a wall that tells the overall story of our family–the people, places and things we love most mixed with important moments. After all, this is the first thing people see when they walk into our home.
Ideas for Mixing and Selecting Photos for a Collage:
A couple other details that add interest to a photo collage:
* Include a few "rounded" edges to soften up a block of rectangular frames. The little octagon mirror and the oval frame were both picked up from Goodwill for a dollar each and included in the spray paint job. I love how they break up the lines a bit.
* Go beyond photos and include other meaningful items in a wall display. Years ago my dad gave me several old brass keys, and they fill in the spaces of a wall collage really nicely.
* Don't be afraid of assymetry. I've only learned this recently but wish I would have thought of it sooner.
Hope that helps.
Have a great weekend.