It was a last minute decision to tack on Mackinac Island to our trip and one that will be filed away in the better decisions of my life drawer–not to be confused with its counterpart, the drawer which houses my tattoo decision, that one box of red hair color back in the day and–oh, choosing to sit on the open deck of Shepler's Ferry on our ride to the island Monday. They had a bottom deck, all cozy and warm with windows for great views, but no. We're adventurous. We like the wind in our hair. So we sat down with three kids and smiled as the boat slowly backed out of the marina. But do you know what happens after slowly backing out? It's called full speed. Thankfully, Dash slept through it tightly wrapped in a blanket, but the girls? Hated it. Hated it. Wind trauma. Enough said.
Redemption comes in the form of the magical island that welcomed us.
Ladies and Gentlemen (trust me, it deserves the introduction)…Mackinac Island.
Otherwise known as the enchanting location from the movie Somewhere in Time and officially the place where I want to spend summers in my imaginary life.
The Mackinac Bridge connects the mitten of Michigan to the upper peninsula and just to the east of the bridge is Mackinac Island–eight miles around, the perfect bike ride distance, appropriate because there are no cars on the island. Bikes and horses, horses and bikes.
Pre-ferry boarding, a little Lake Huron exploring in front of the Mackinac Bridge

Nella was, at first, apprehensive of the horses, their massive size a bit overwhelming, but it wasn't long before she pointed out every single one she saw with an enthusiastic "Ook! Mom! Horsie!" Lainey, rather, chose to point out every pile of evidence from the horses. "Look. Mom. Poop."
The island's energy is nothing short of entrancing, its unique blend of sights, sounds and smells bewitching guests into a relaxed and happy vacation hypnosis. Sweet hints of fudge waft through Main Street, horse hooves steadily clip-clop down paths, fragrant lilac blooms grace every corner and Lake Huron hugs the entire canvas with a different breathtaking backdrop visible from every angle: bridge and water, water and lighthouse, rocky shore and hotel-spattered bluff–all of it beautiful.
We stayed at the charming Island House Hotel, originally constructed as a beach house in 1852 and restored and expanded throughout the century to its present state. The rooms were beautiful and the views exquisite.
Late afternoon, all those adirondack chairs in front are full of folks chatting, looking out at the harbor while a back-up choir of voices echoes from the rocking chairs behind them on the porch. So charming, I couldn't stop smiling.
It felt very Anne of Green Gables. I admit, we're rusty on comparisons because Cousin and I threw out Anne Shirley, the Kennedys, the VonTrapps–none of them sharing anything in common except beautiful accommodations and scenery. That we enjoyed.
Dash is a little too small to ride in a bike trailer, so we rented an extra stroller so Lainey wouldn't get tired, and we walked and walked and walked the island while I pointed and gasped and gushed "this is unreal."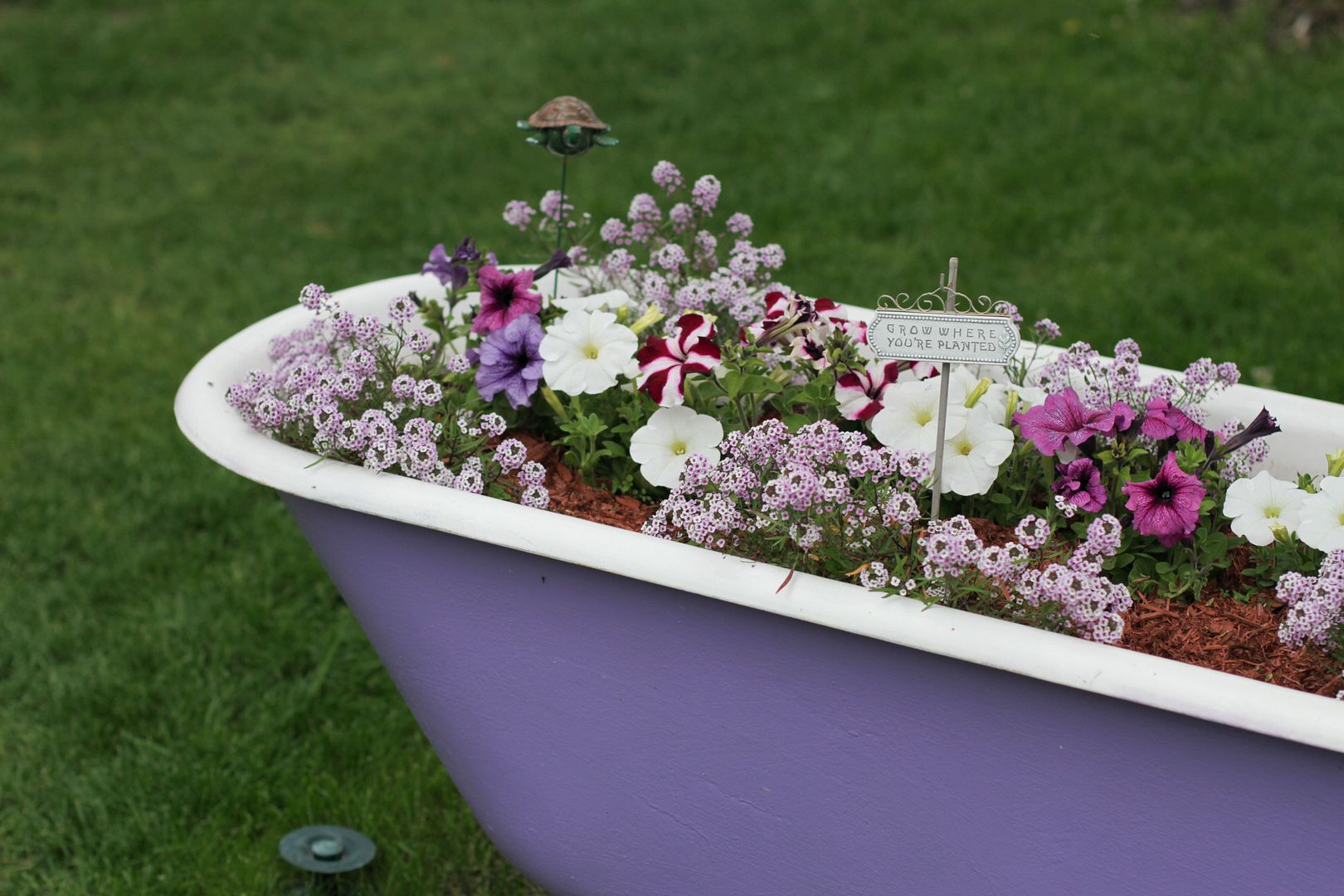 Watching my girls, I connected so much more to the memories of my childhood vacations–to this very place–and realize that every one of those priceless memories took effort and time and my parents' decision to load up and head out. Lots of schlepping.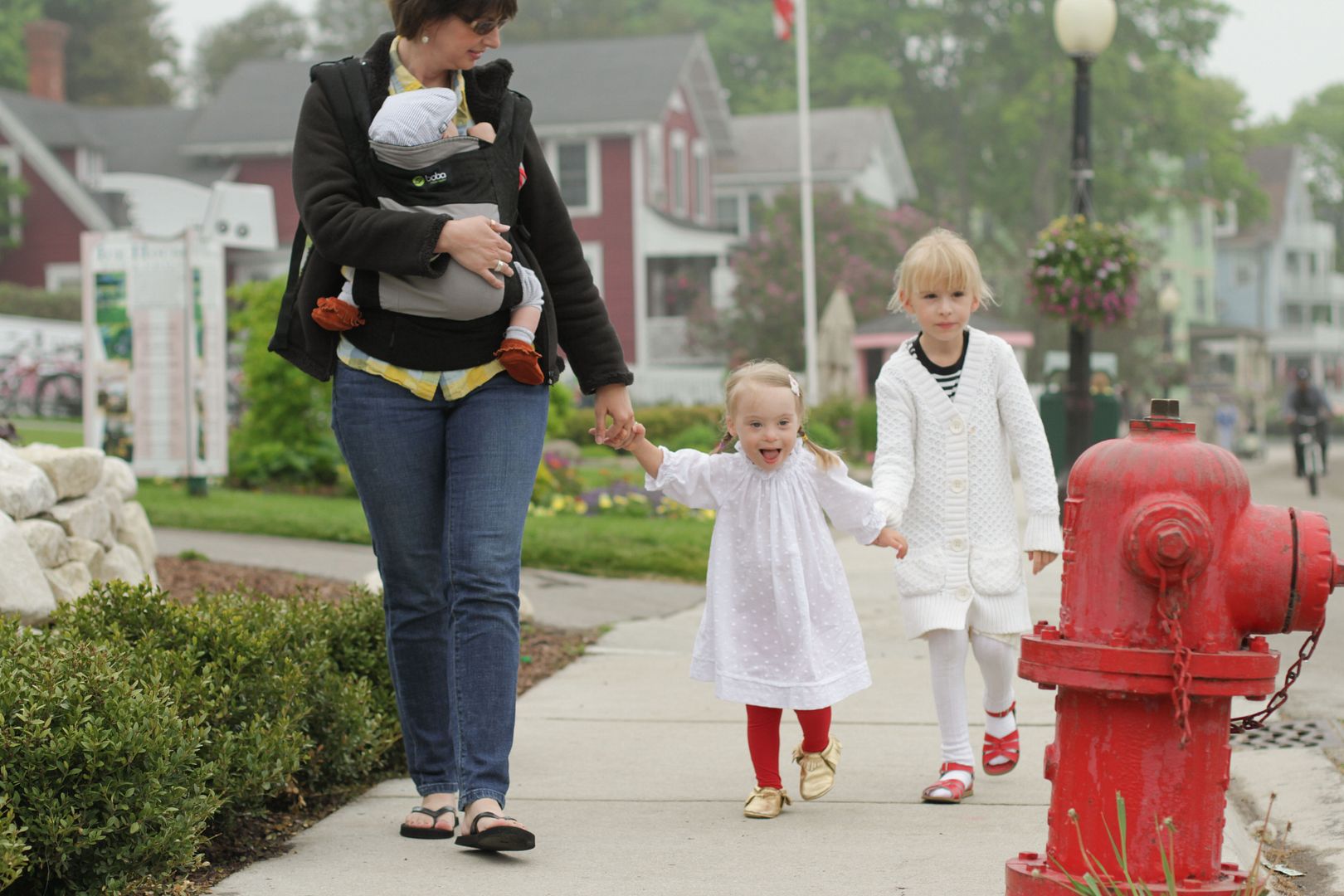 And while the kids really were so cooperative and easy-going, we had our moments. Monday night, adopting the "When in Rome" philosophy, we put jammies on the kids and headed out to Main Street assuming we'd eat, walk, explore and the kids would fall asleep. They did, and it was grand–Lainey hunched over in the stroller, Nella strapped to my back and Dash in my cousin's arms. But then there were four stairs. Four stairs we had to climb at the very end of our journey, returning to our room. We attempted the two-person stroller lift; but as I led the stroller up the stairs holding the foot rest with my hand and my cousin followed with the handles, the stairs seemed to grow steeper and steeper until the stroller was practically vertical. Lainey woke up hollering "I'm upside down!," Dash started crying, we dropped a backpack and there, two steps away from the finish line, we just gave up. Dropped everything and sat on the stairs hysterically laughing, unable to move.
Those memories must accompany the more graceful ones, I am sure of it.
A favorite–the red phone booth outside the Grand Hotel. The girls spent half an hour in and out of the booth. Opening the door, shutting the door, talking on the phone, making faces against the glass.
And the Grand Hotel? Holy Mother of Mackinac. You feel like you've gone back in time.
I gush annoyingly when I'm amazed by beautiful places.
"Are we in a movie? Because I feel like we're in a movie. We are walking in a movie."
Mission Point. We carefully walked along the water's rocky edge, choosing large flat rocks to sit on and scanning the smaller ones for good throwing stones–the louder kerplunk the better.
We also bumped into a blog reader and fell in love with her little Annie. Annie and Nella had lots to say to each other:
Feeling a little incomplete without the daddy here, but it gives us a good excuse to come back. I now feel like it's my life duty to introduce people I love to this place.

Pepper, Lainey's doll of choice to accompany our trip (coming soon to North American Bear)
Feeling grateful, adventurous and full.
Happy Weekend.