Before I move on to the "posty" part of this post, a couple matters of business. First of all, thanks to you, the Be Your Tee campaign met its 2-week goal in just 24 hours. You all swept up 626 shirts in less than a day! What does that mean? It means the $5 per shirt donation to the NDSS increases now. Shirts are still on sale throughout the end of next week, so please continue to share. We're nearing 1,000 shirts sold. This is awesome. You are awesome.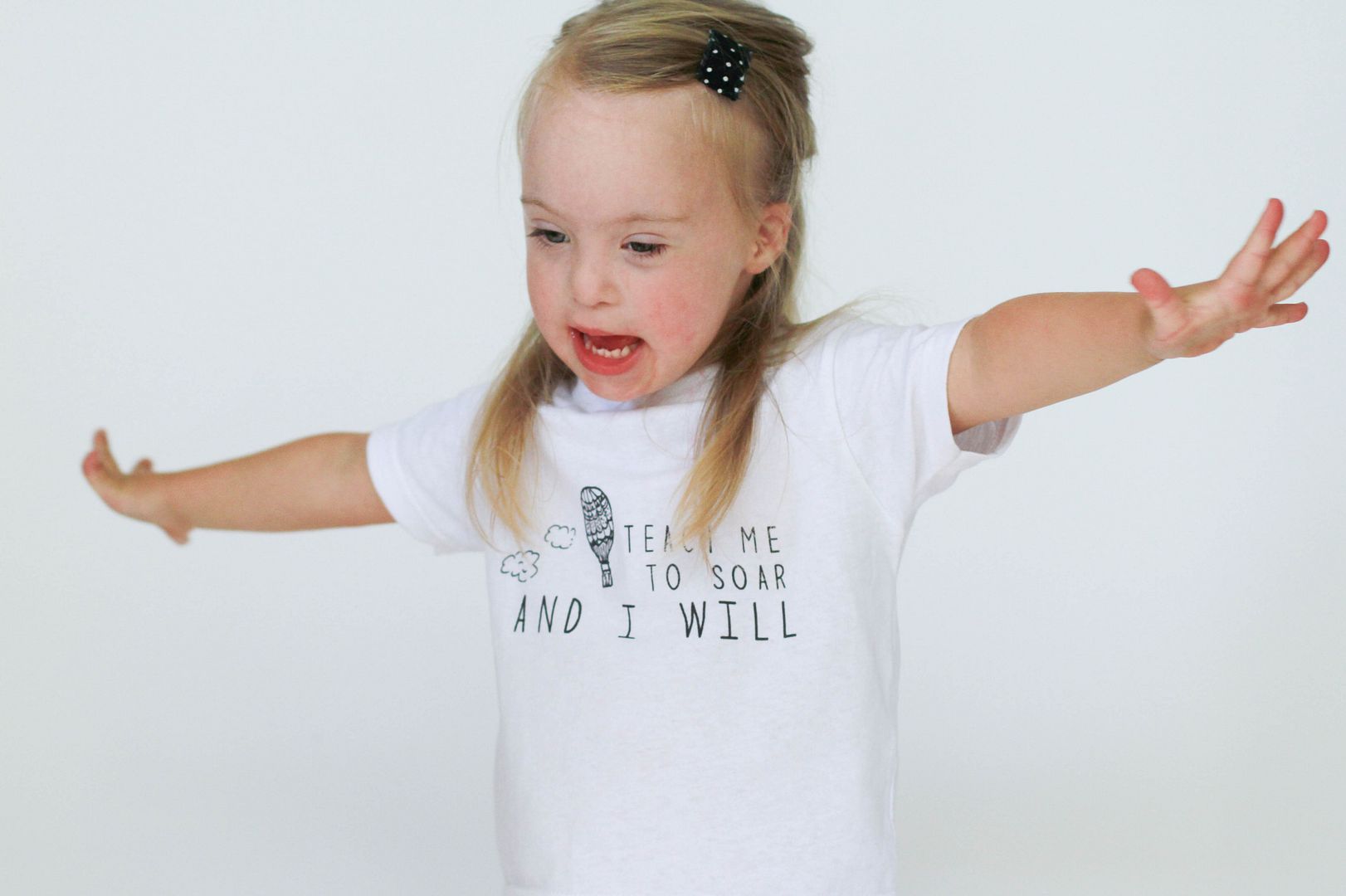 To answer a few questions:
* If you have questions about sizing, a Youth Small is a 6-8, a Youth Medium is 10-12 and a Youth Large is 14-16. In the photos, Lainey is wearing a Youth Small. Nella was wearing a onesie, but I think the 2T tee fits her better. Please direct any specific t-shirt and ordering questions to the NDSS at [email protected].

* I am told that international shipping is available for shirts. See Teespring site for details.

* All shirts will be shipped once the campaign ends (September 30). The NDSS receives at least $5 per shirt (given to them by Teespring when the campaign is over), and the rest of the $15 goes to Teespring to cover the cost of supplies, production and shipping.

*Many of you asked about shirts in larger sizes. As far as teen and adult shirts, I plan to work with the NDSS again with new kids' designs as well as stuff for teens and adults. So patience, grasshoppers.

Proceeding with business, if you're interested, I'm over at All Parenting this week with How to Create a Book-Loving Home and at BabyZone with Please Don't Tell my Son to Man Up!
Okay. Moving on. After Dash woke up in the middle of the night last night, I couldn't go back to sleep. So I wrote today's post at 4 in the morning and then crawled back to bed when I finished. I woke up the second time this morning feeling motivated, grateful and at peace. Plus, it's Book Fair day at Lainey's school today, and who doesn't love Book Fair? They sell sparkly pencils at the check-out.
The posty part of today's post:
************
Dear Uncomfortable Feelings
Sometimes, when things are fine and good and there's no good reason to explain it, I find myself stuck in my head, and when I'm up there instead of out here, it's not pretty. I've felt that way a little bit the past few days, and while we have all these names for it—I'm in the cave, on a funk, Debby Downin', emotionally jagging—it can only be described as a mudslide of thoughts. What started as "I can't believe I did that, what was I thinking?" suddenly snowballs into a nice brew of self-loathing poison. I didn't e-mail her back. I'm so irresponsible. I should be a better school mom. I can't believe I haven't cleaned my bathroom in two weeks. God, how long is it going to take me to finish this? I can't write. I'm messy. I think too much. I care too much. I don't know what I believe about God. I'm too loud. Why can't I be more like her? And if I'm not careful, it can end with a deafening, paralyzing I SUCK. And the worst part of it is that I've read enough self-awareness books to know that "I SUCK" isn't a good place to be, and sometimes I'm silly enough to think I'm bigger than that—that I should be beyond "I suck" days—so then I feel doubly horrible for feeling horrible in the first place if that makes any sense. In equation talk, this is like Horrible2 x Horrible2 = All sorts of Horrible x Pi. Actually, I just wanted to say Pi because it makes me feel math-y, something I've never been—and oh yeah, I wish I was more mathy. See. More horrible.
I have certain proven remedies for specific feelings of mine. For example, if I miss my family and I'm feeling uninspired? Remedy: Watch You've Got Mail and bake cookies with Heidi. If I'm feeling overwhelmed with projects and don't know where to begin? Remedy: Make a prioritized list and cross things off one by one with a fat red marker. If my house is messy and I can't find my mojo to clean it? Remedy: Watch five minutes of a Hoarders episode, and I'm not only feeling pretty good about my house, but I'm gloving up to scrub my floors.
"I suck" is a tough one though. You can't just say to yourself "shut up, you do not" because the latter voice tends to be more David compared to the Goliath of "I suck." There are slingshots and stones though, and I find one of them in my bathtub books—a collection of books I keep stacked next to my tub. There's Pema Chodron and Mary Oliver, Brene Brown and Chopra, The Alchemist, The Power of Now and only recently a dusty twenty-year-old Bible—a book I'm trying to reestablish a relationship with after some previous fall-outs, so we're starting on the basis that it's full of beautiful poetry. Yesterday though, I pulled Pema and attempted an old Bible trick we used to pull when we wanted God to speak to us. We forced him to by opening our Bible and randomly pointing to a verse with our eyes closed, convincing ourselves that God was leading us to the exact words we needed to hear—like the game we used to play where we'd spin a globe and drag our finger along it until it stopped—and that's where we'd live when we grew up.
"Speak to me, God," I'd say. And then I'd open my eyes and read the great words of God meant just for me. And 99.9% of the time, it would be cryptic and unrelated, like "The Amalekites dwell in the land of the south: and the Hittites, and the Jebusites, and the Amorites, dwell in the mountains: and the Canaanites dwell by the sea, and by the coast of Jordan." And then I'd be all, "Um, okay God. That makes perfect sense." (note to self: try to aim at least for the New Testament with this one because Leviticus might leave you confused)
The cool thing about Pema is that when you randomly open to any page and point to a sentence, there's a good chance it will actually be exactly what you need to hear (no offense, Bible). So I tried it yesterday, and you're never going to believe where my finger landed. Page 58: "We have an unfortunate tendency to emphasize our failures." She goes on to say that when we "lose it," we should ask ourselves what it is in us that sees that we lost it. "Isn't it our own wisdom, our own insight, our own natural intelligence?" And when we recognize that, we should celebrate that very fact as proof that we SO don't suck. Hooray! Put your yellow shoes on, buy a balloon, kick up a dance and feel awesome for self-awareness, for the "Start here" space in the game of Being Better. For being HUMAN.
Heidi and I often bond over funny self-deprecating stories, and we've been known to clink beer bottles over tales of "I blew it, how funny is that?" But we've been talking about the danger of too much "I blew it, I suck, how funny is that?" and making sure it's balanced with "How am I going to move towards being better?" Among healthy banter the other night—with a balanced mix of "I blew it," "I nailed it," and "I'm working on it"—I brought up a quote from Lainey's school counselor who, just a couple of weeks ago at a volunteer orientation meeting, reminded parents of what the school aims to teach the kids—that you are only in control of yourself. Your kids, your husband, your friends, the world around you—you can affect them, but you cannot control them. But you can control yourself. So I'm going to take that one thing I can actually control, and I'm running with it. Balls to the walls. What can I do right now to feel better, to be productive, to take charge? I can do the next right thing. And then after that, the next right thing again. One by one. That's doable. I most certainly don't have to figure out everything right now, and feeling a little insecure or unsure is not necessarily something that has to be fixed right now. The next right thing might be doing something nice for someone (a great way to get out of your head!) or going for a walk or coloring with your kids or cleaning one room or making the decision not to tell that gossip or maybe opening up a Pema book to play the "point to the wisdom I need" game.
And since I wrote this, I already feel so much better. Sometimes for me, writing is hugging my feelings. Write it, say it, scream it, kick it, sing it, dance it, release it, kiss it goodbye and thank those feelings, however uncomfortable they may be, for bringing you insight.
And because I'm trying to be better about thank-you notes (but not feeling like I suck for writing them, stamping them and finding them on my dresser two months after I intended to send them), I'll start with a little thank you to my feelings. If it works for Jimmy Fallon, it will work for me.
Dear Uncomfortable Feelings of Insecurity and Ickiness,
I just wanted to send you a quick thank you note for stopping by this week. I guess I have to commend you for your consistency because your occasional arrival patterns have proven you to be a reliable emotion. I noticed your steel-toe boots. Even though you used them to kick me around this week (and honestly, you need to see somebody about why you feel the need to do that), they were still nice boots. I'm looking into upgrading my own boots so I can more efficiently kick you back (I kid, I kid). You know, to be honest, I used to hate you. But I think my hate was really more that I didn't understand you. Don't get me wrong—you're completely unpleasant to be around, and when I'm with you I'm usually only thinking about how long it is before you leave. But every feeling has value, and if I really think about it, you have helped me grow and know myself more. I've learned a lot about you too—what feeds you, what quiets you, what stories from the past have made you who you are—and learning more about you makes your occasional presence more bearable. Jumping too quickly to shoo you out the door when you arrive isn't the kindest reaction now, is it? Sorry about that. Maybe we can work out a relationship—with boundaries, of course—where we help each other more. I had a teacher once who made every student stand up and say something nice about every other student in the classroom, and it was really hard to do for some of the students who weren't very nice. But I think the teacher knew that the exercise was most important for those kids and for the students who were challenged to find the good in them. It changed our perspective. So, if I had to do that about you I'd say that you're really good at helping me be vulnerable. And you are a good motivator. Maybe you could be a motivational speaker someday. Or one of those boxing coaches who screams at people that their punch is weak.
Anyway, I'm blubbering. I guess just…thank you for helping me grow.
Sincerely,
Me

************
I like pictures and ending with happy little things.
So happy little thing #1: Dash is working on his downward dog:
And happy little thing #2: Dude, look at his long legs:
Peaceful, happy, loving day to you and you and you. Adieu.