Like a police lineup, she positions them on the ground to account for all of them–synthetic hair, mostly blond, splayed out against the pavement and mismatched outfits–all of them awful–creating a nice visual pattern across the driveway. Except for the red gingham skinny pants–I'd wear those.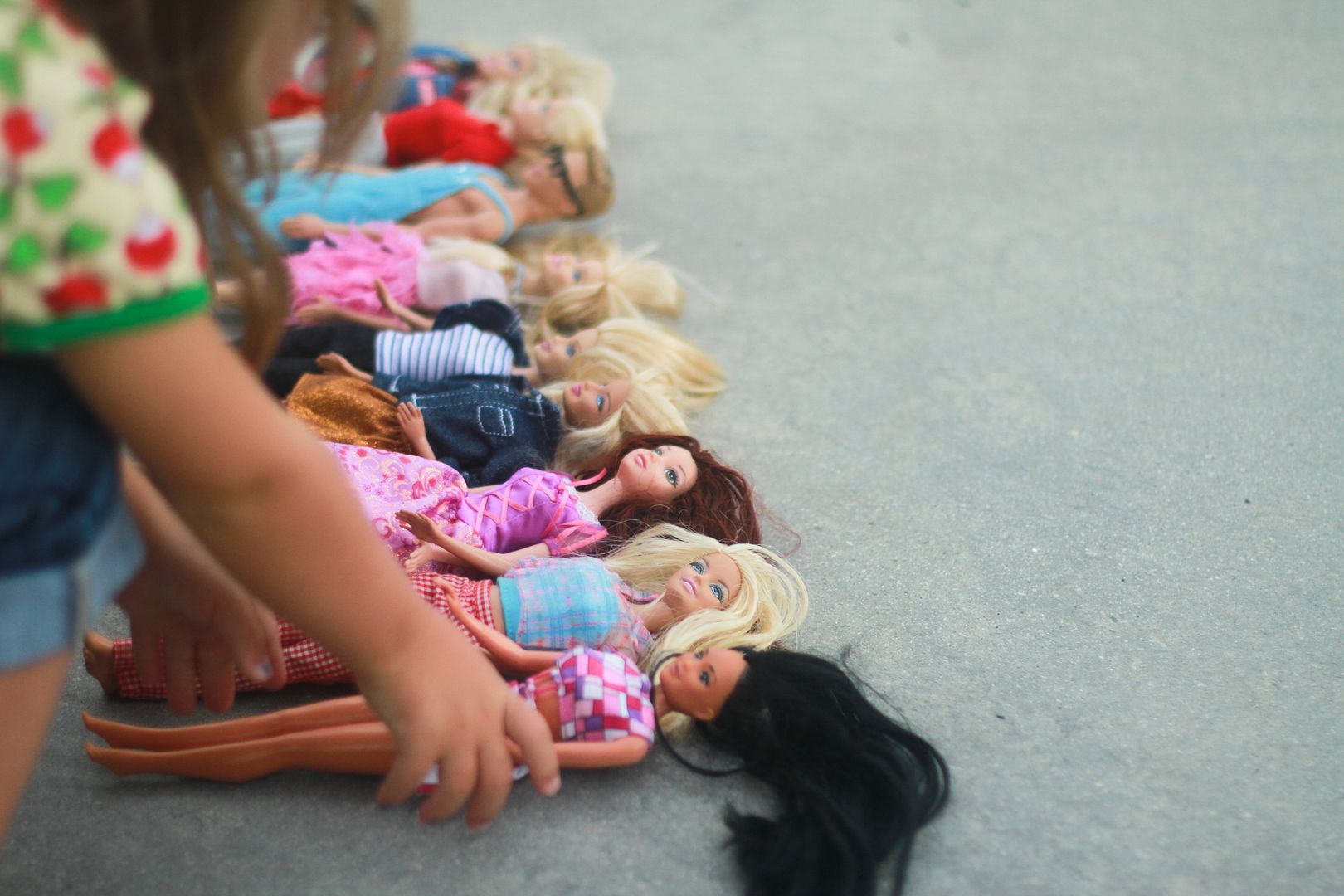 There's Poop, the first real Barbie she named in the parking lot of Toys 'R Us, and Grocery Store, the auburn-haired beauty. Then there's Chocolate Lake, Beek and Joann. Paquel II, replacing Paquel I who fell into the Chattahoochee River (God rest her soul). Ken, the brave fashion warrior (powder blue corduroy coveralls–too short–with tiny pearl buttons? What other guy can pull that off?). And then Barbie, Barbie and Barbie–apparently not yet important enough to inherit a Nella-bestowed name.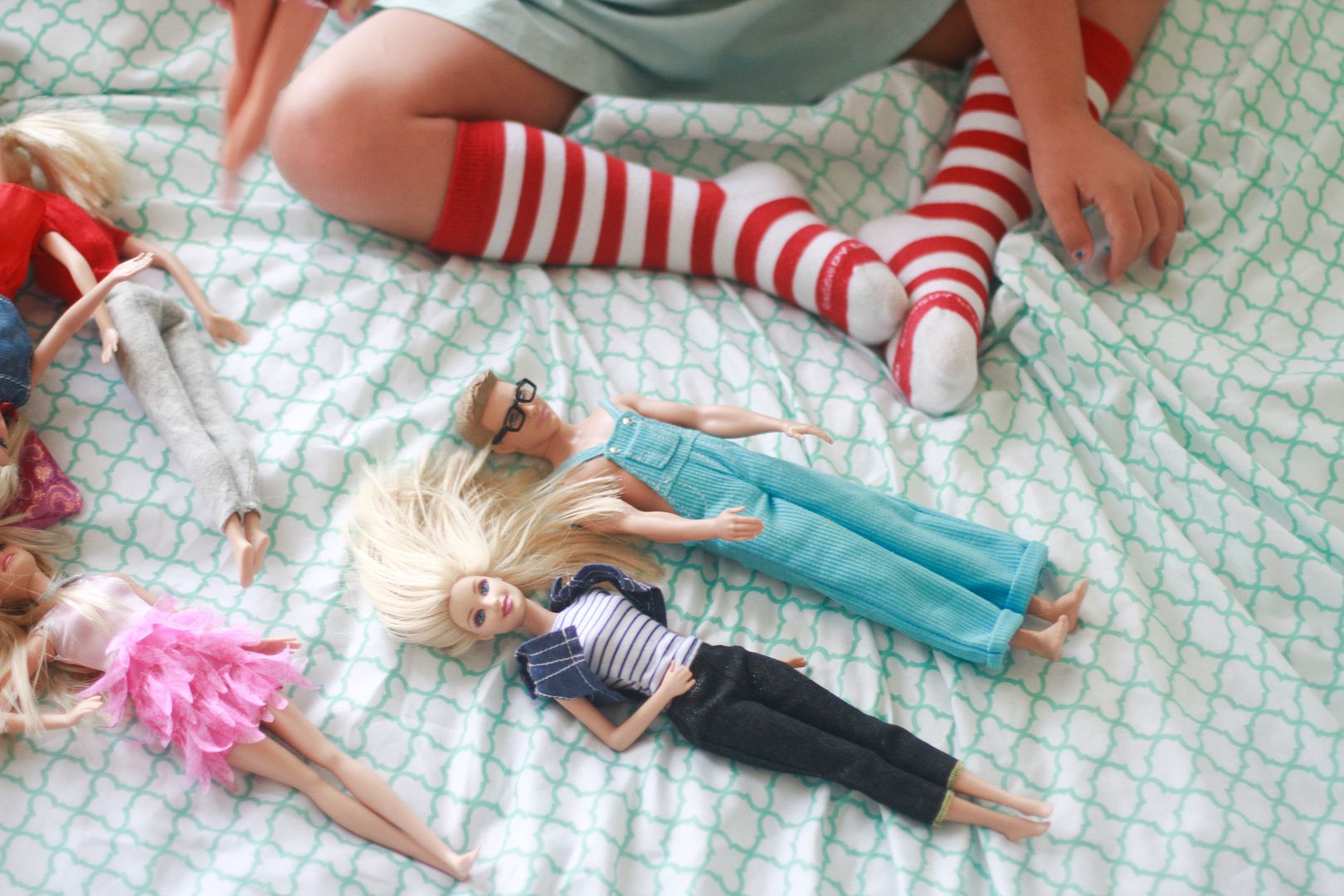 They are members of our family now. They sleep in our beds, join us for meals and get buckled into car seats every time we leave the house. They've seen us naked multiple times–showing up in our showers and crowding our bathtub when we're trying to relax, their bodies floating beneath the suds in such a way that all that can be seen is hair, fanned out in a perfect display even when wet, and boobs–twin peaks, rising above the bubbles. It's the hair that enamors her. Every doll she picks up, she swings. Swings and watches as hair flies left, right, left. Her newest favorite doll, a dollar store Barbie knockoff yet to be named, has the longest hair of all, although it's confined to three hair plugs on a head that's fallen off seven times. Okay, Dash assisted for six of them. She came from a thrift store, crammed with a crumpled mess of tiny clothes in a toy net with eight other Barbies, and of course Nella spotted them right away. They looked like a fish catch all jammed in there, their faces pressing through the plastic netting, and I felt sorry for them, so I gladly spent the $6–a steal really, even considering the matted hair and one cheapo with the loose head.
I'm growing fond of them. Never a Barbie lover for various reasons, I always liked that my kids were more drawn to baby dolls–something homey, cozy, nurturing about them. But here we are, our house swelling with Mattel plastic–flawless figures and arched toeless feet and knees that click-click-click into bends. These perfect dolls in the hands of my perfect girl create some sort of magic–a place where imagination is wild and free, speech is fluent, friends are abundant and real life scenarios are played out with hilarious accuracy, right down to sassy Barbies who talk back and are scolded.
These Barbies have entertained us on road trips, eased apprehension at doctor appointments, kept us company at the grocery store, at the movies, at a friend's house and comforted through knee scrapes and head bumps. They've shown us how to get our hair washed without crying, how to sit in a dentist chair, how to try new foods. If Barbie can do it, you can too.
Through Barbies, I've heard voices I didn't know were in her, phrases I didn't know she could say, and have observed her deep understanding of conversation and inflection and attitude: "No way!" "Mmmm-hmmmm." "Really?" "You're so funny." "Oh my God." "For real?" Fake laugh, fake cry, fake snore. And my favorite, a perfect eye-rolling teenager-ish "O-kaaaaaaaayyy." She is an actress; she breathes life and character into her Barbies and consequently, they breathe life and character into our home.
I scoop a heap of them out of the tub to clean it, I reach to retrieve them when the sliding van door opens and they all fall out, I stretch the pool net out to skim the floating one–the only one she wants, of course. I sigh as I bend again and again to pick up a tiny shoe, a skirt, a plastic laptop the size of a postage stamp. But I know that I'll miss them. When someday I pull the couch back to find Paquel forgotten, no longer played with–her hair entangled with lint, her discovery entangled with memories. I'll smile, knowing the imagination she helped launch has only abounded and the friend that she was has been replaced by many.
Until then, there's a sleepover happening in a shoe box right now. They're getting wild–I must go attend.