I never liked Barbies growing up, but my girl loves them something fierce. So a Barbie party it was to celebrate six years–an easy decision and one that was talked about well before this weekend. "My Barbie party," Nella pointed out every time she saw her invite taped to the fridge. Lord knows I love to throw a party, and silly details like picking balloons and finding a cute party dress satisfy me maybe more than the average bear; but the ultimate goal in planning my kids' birthday parties is always love. I need a good place to let my overflow spill over, and a party celebrating their birth seems a good place. That and I love a good cake. The other part I love about kids' parties is the celebration of friendship. That huddle of kids crowding around the cake, party hats all lopsided, eyes glued to the birthday kid when they're not scanning the cake for the biggest piece with the most frosting; precious little voices all on different notes while they sing, yelling the CHA-CHA-CHA part after every "to you"–and that pause while they excitedly wait for their friend to make a wish and blow out the candles? It kills me. It just feels so…supportive–a celebratory lovefest launch pad for all the years to come. Hey! We're here! Circled around you, smiling, celebrating you because you were born and we're so happy you're here. I hope my kids always feel that–even if it's just a couple of good friends who fulfill their need to be seen, celebrated and perhaps supported someday in their choreography efforts for dances to the latest Top 40 hits at weekend sleepovers. That's all I ask.
Nella is a normal six-year-old who loves her friends but occasionally has a few social quirks that could be A: Down syndrome related, B: personality related, C: a kid being a kid. Since we don't know which it is (there's no stud-finder for that beam), we do our best to cover all the bases–provide her opportunities that present an encouraging, loving environment and yet challenge her to learn, play and exercise good age-appropriate social and communication skills that will prepare her for the real world. Basically, we don't know what we're doing but we sure as hell try to do our best. For a birthday party, that translates to keeping Nella's party on the small side. So we invited a few kids from her preschool class, a couple close friends and hosted the party at our clubhouse to encourage participation (so she wouldn't just run off to her bedroom with Ivy). When it comes to parenting in general, and especially with decisions regarding special needs, there's no map. We simply try our best, and that means lots of times doing things that don't work the first time and then fixing them. For her party this year though, Brett and I both looked at each other when it was over and smiled. We did it! The perfect amount of people, the sweetest space, the right energy, the perfect balance of challenging her and letting her be. It worked. She was beaming. Participated. Ran off and played with her friends–friends she's mostly quiet with in class. Talked. Made things. Answered questions. Pushed Lainey's hands away when she tried to help her open gifts because she wanted to do it herself. And smiled this subtle yet confident grin all through the Happy Birthday song that reassured me in the most powerful way.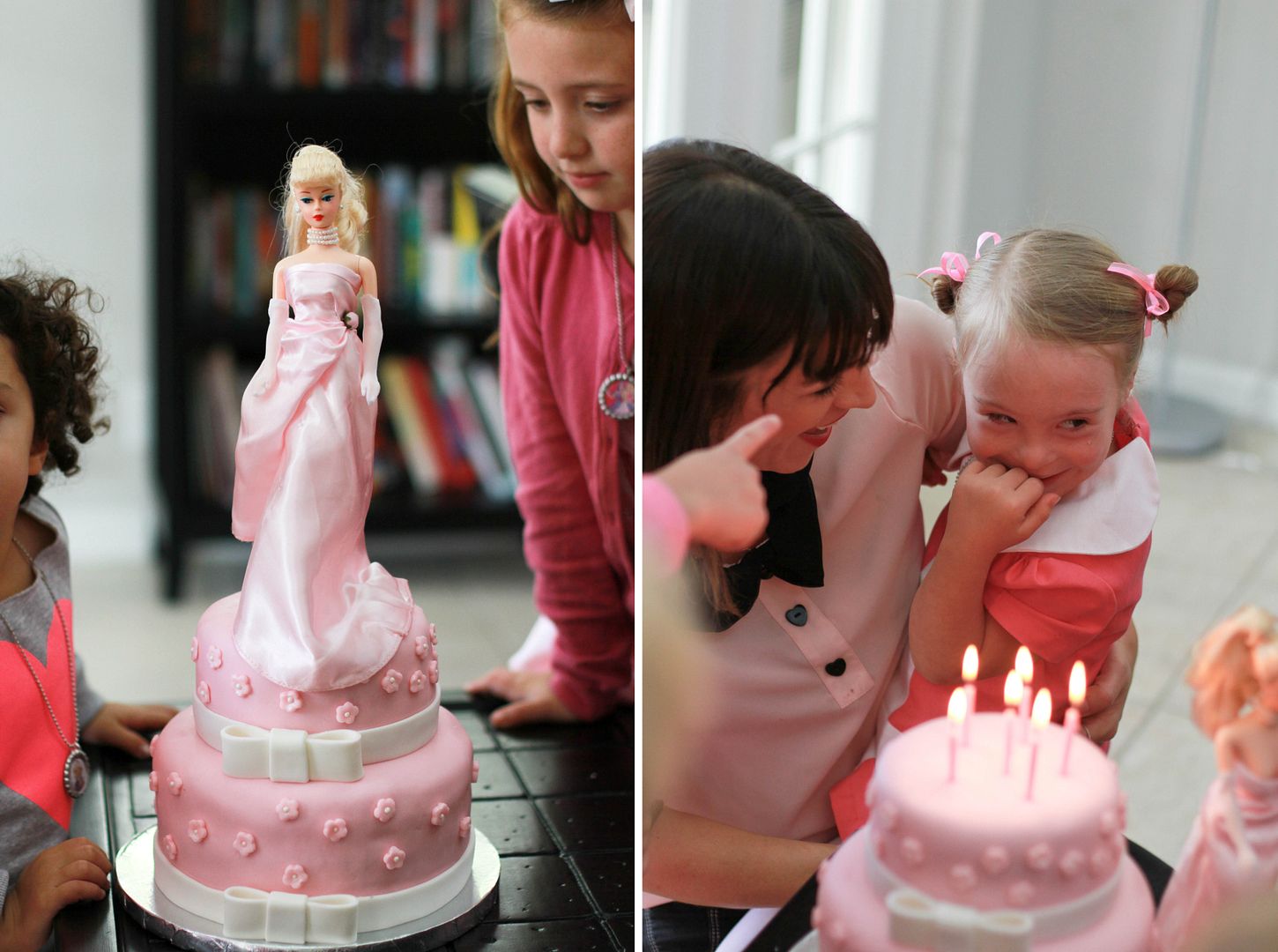 Then again, maybe it was the Barbies who pulled this off. With as much time as they spend with our girl, they've gotta know her pretty well.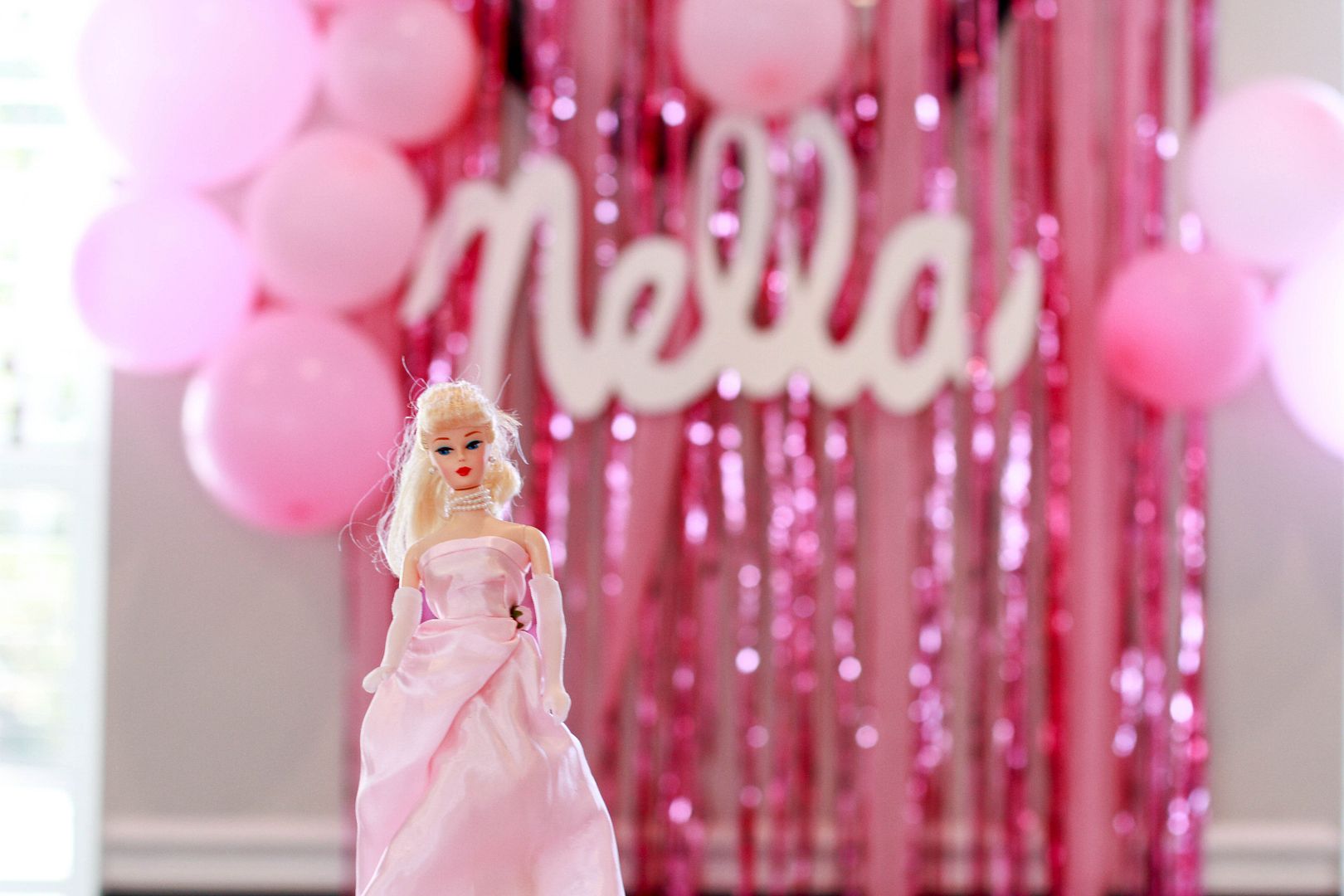 Alright, I'll quit blabbing. Pictures, pictures. I give you…a Barbie party.
Hosted by Nella's bevy of Barbies she named herself: Grocery Store, Poop, Hair, Beekea, Joann, Paquel and Lake.

(I found a cute "Barbie"/retro girl stamp I didn't realize I had in my desk drawer–it worked great to decorate the Pirate Booty bags. I think it's from Joann's.)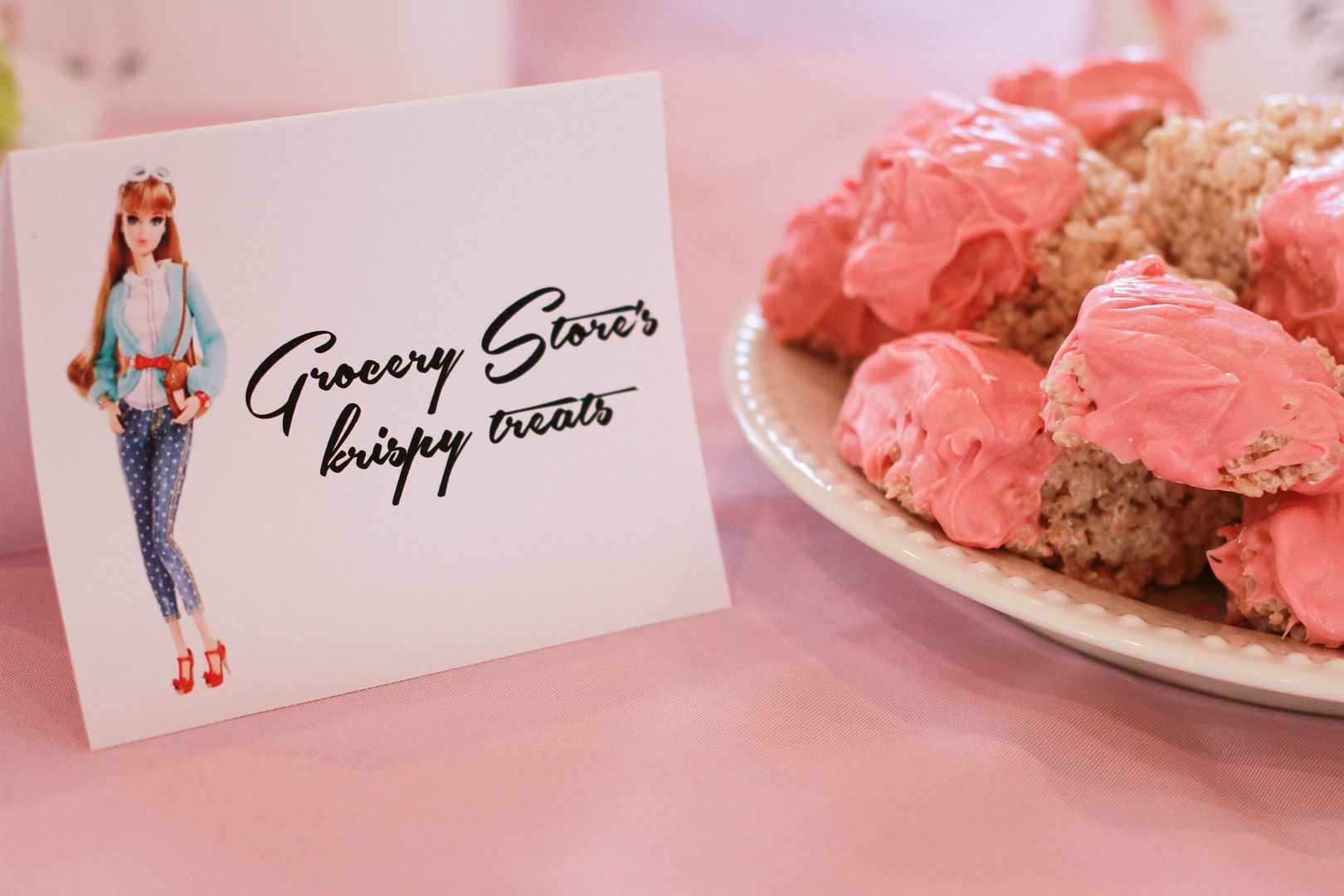 We had three Make Stations.
Bottle Cap Necklaces…

Make Your Own Bottle Cap Necklace Kit and Precut Barbie Images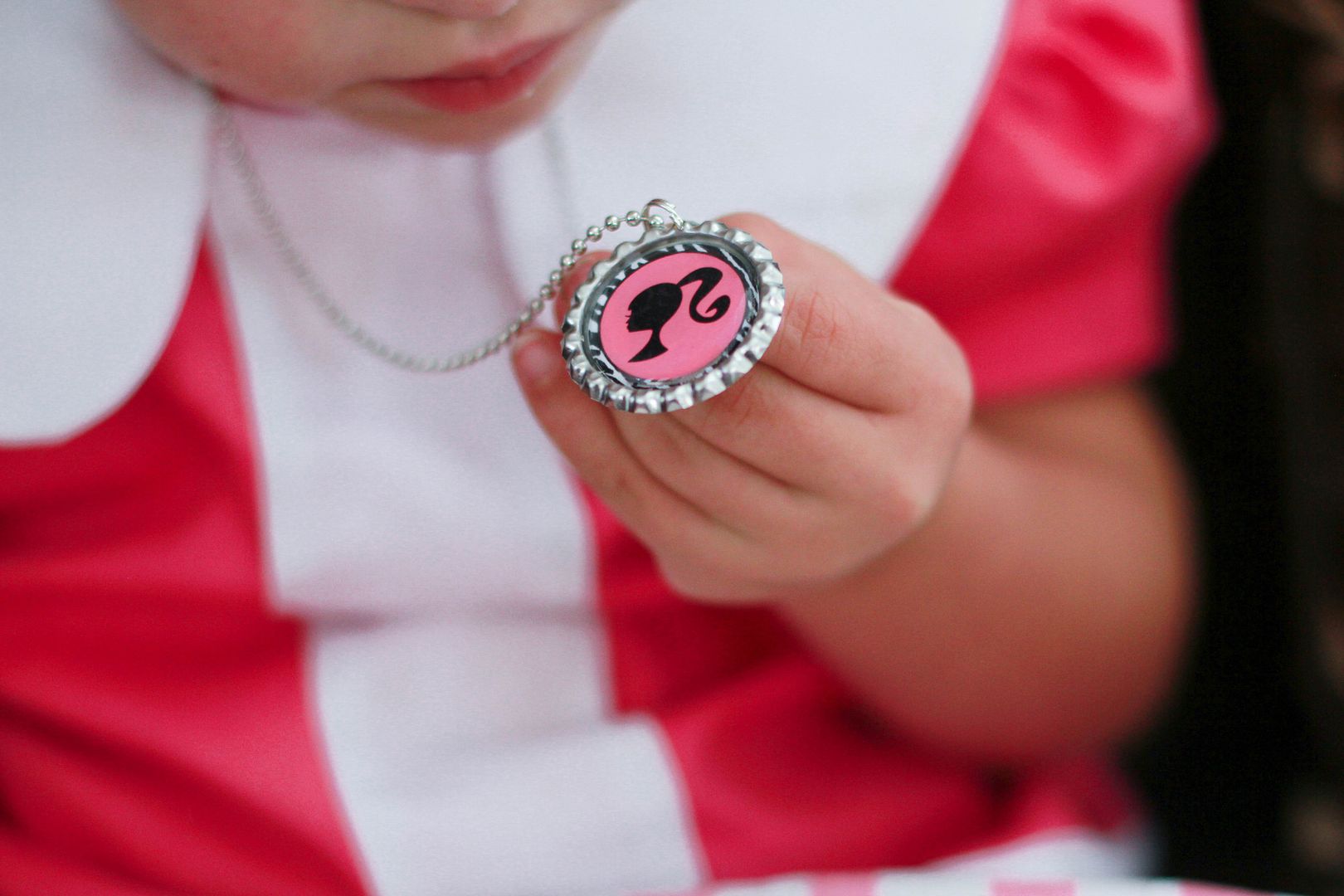 Design your own Barbie dress…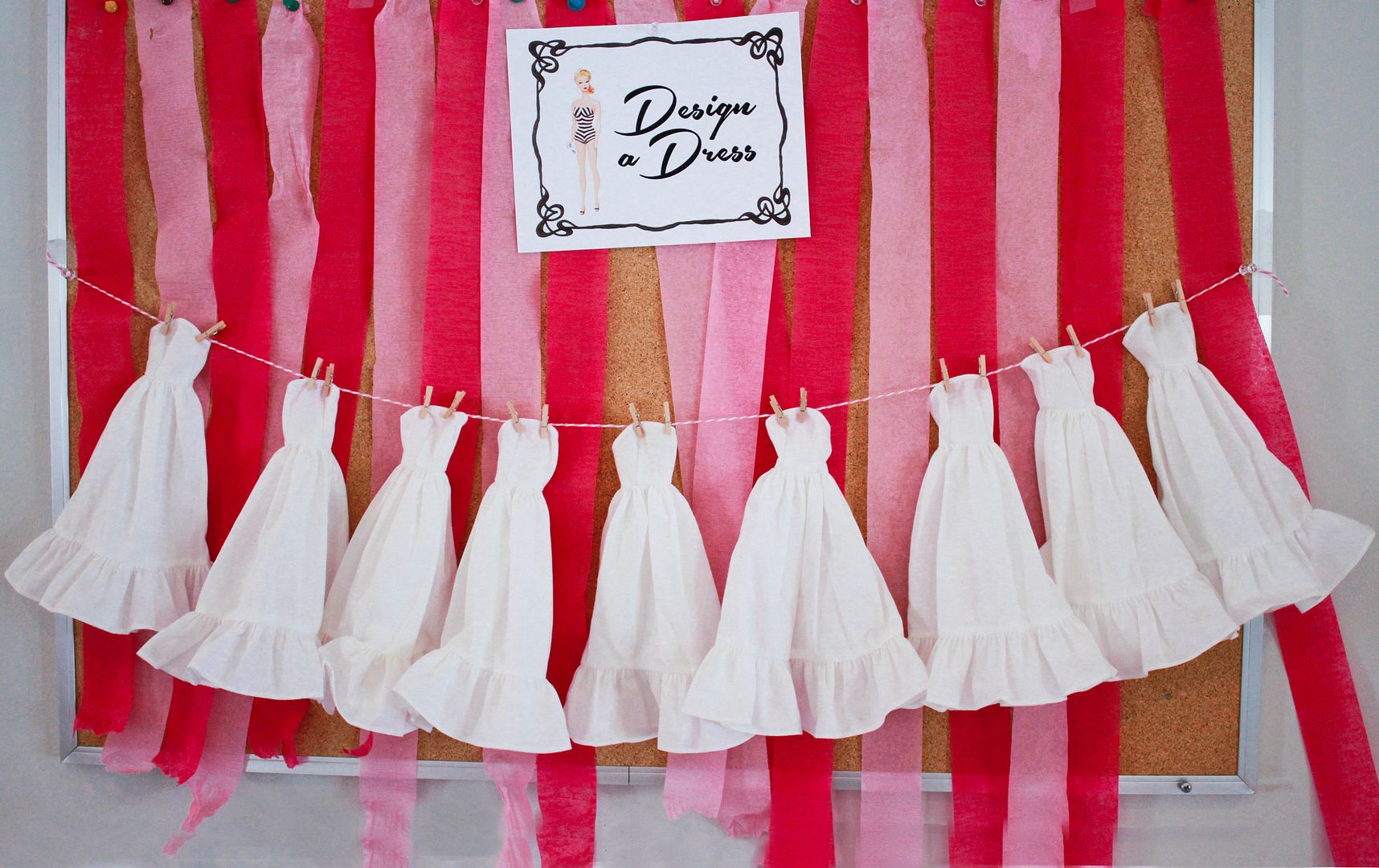 (I fell in love with these white Barbie dresses that were perfect for decorating!)
The girls chose from an assortment of embellishments–fabric flowers, ribbon, sequins, bows and rhinestones–and bedazzled their dresses using Tacky glue.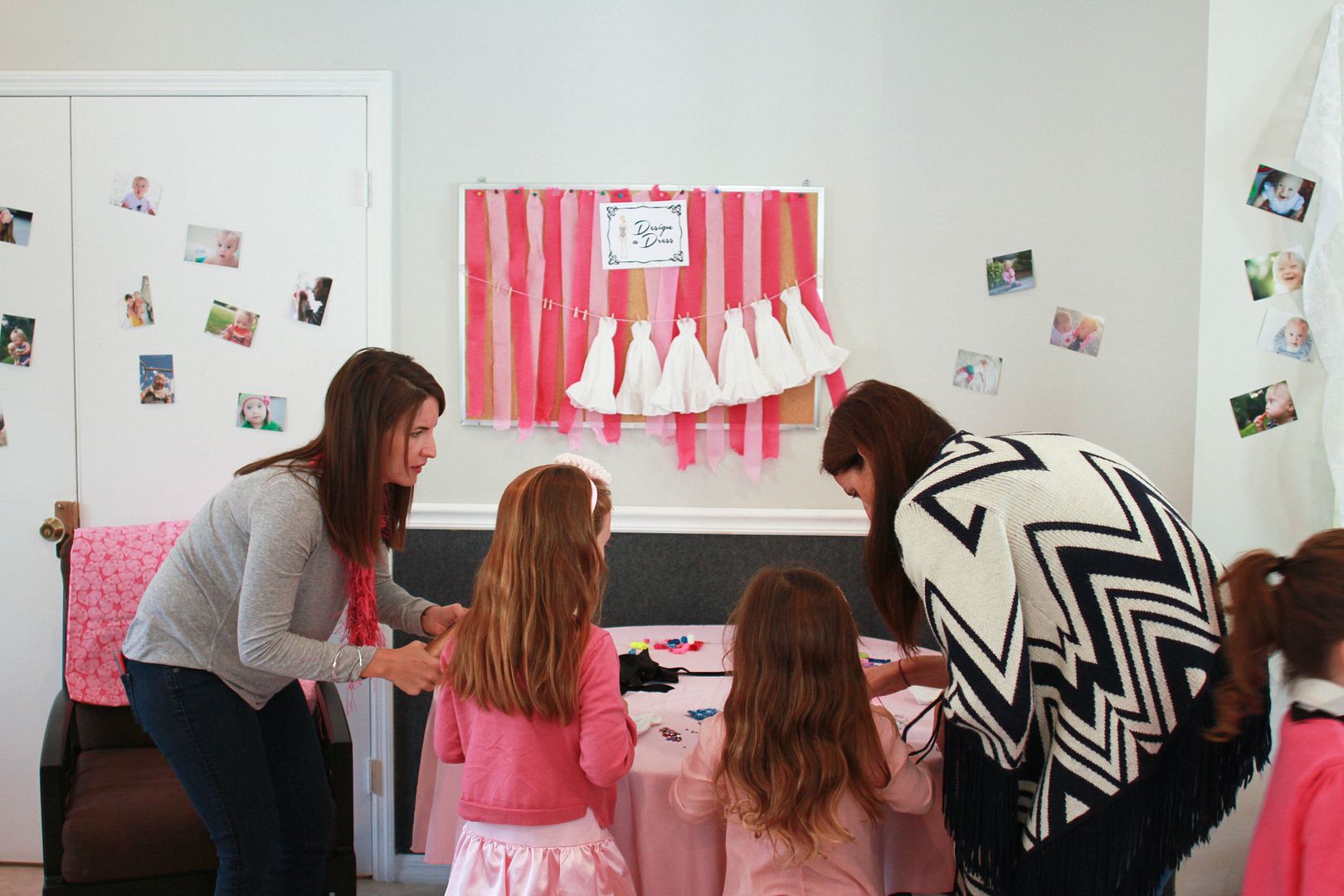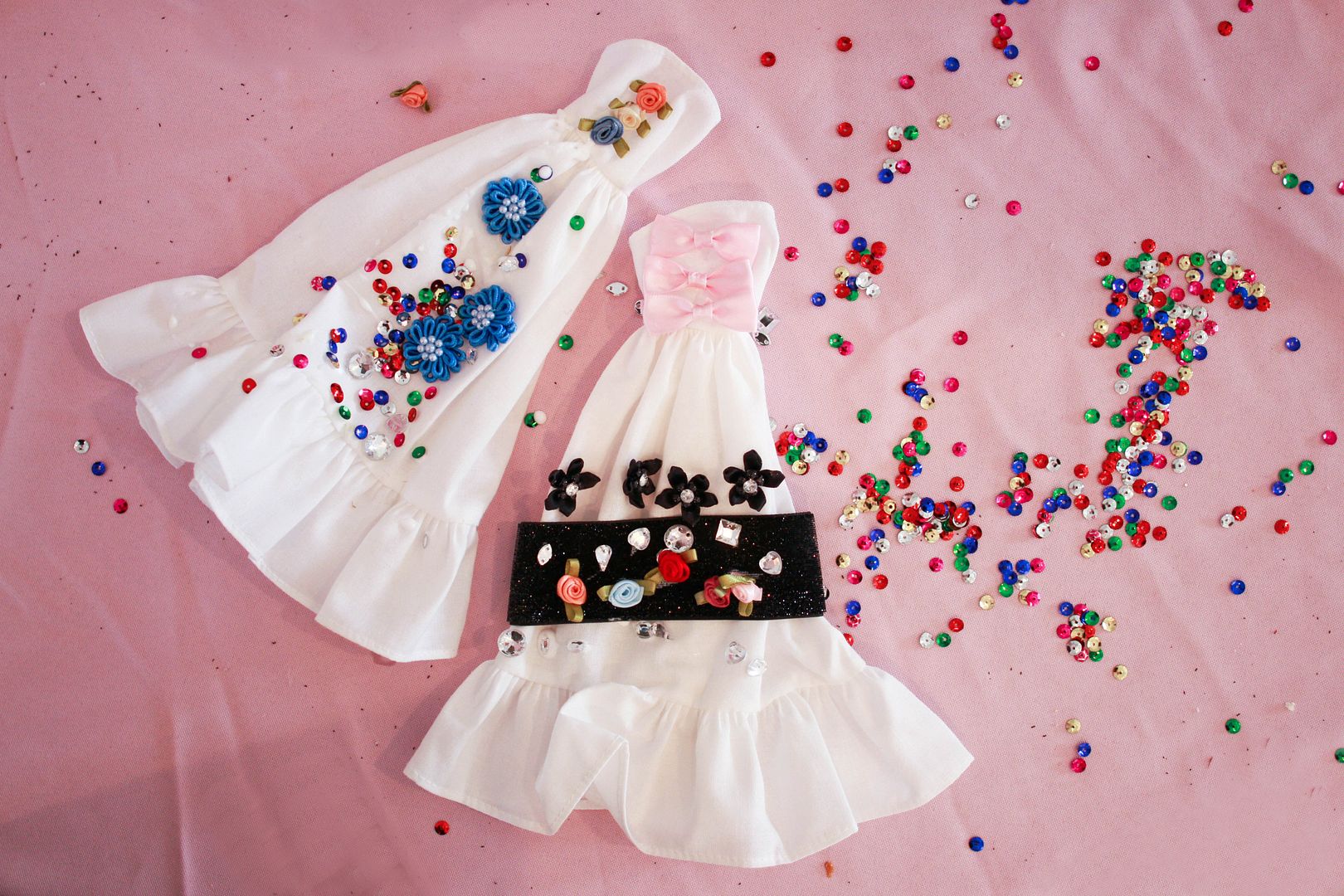 And the Barbie Shoe Find-it Game: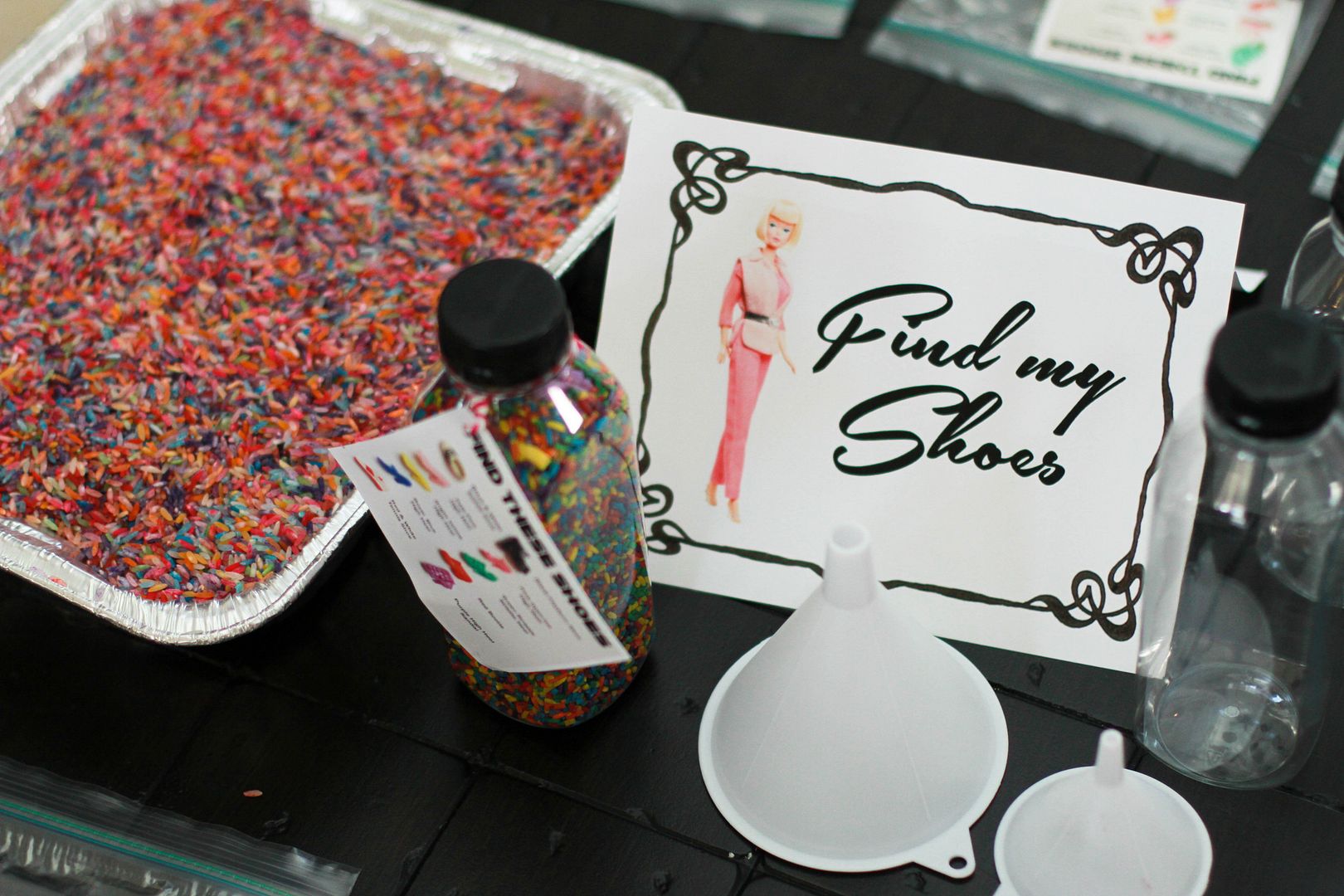 I pre-made bags with ten shoes and a key to make it easier.
The kids loved the rice (all the details on this found here). They played with it well after their find-it games were finished.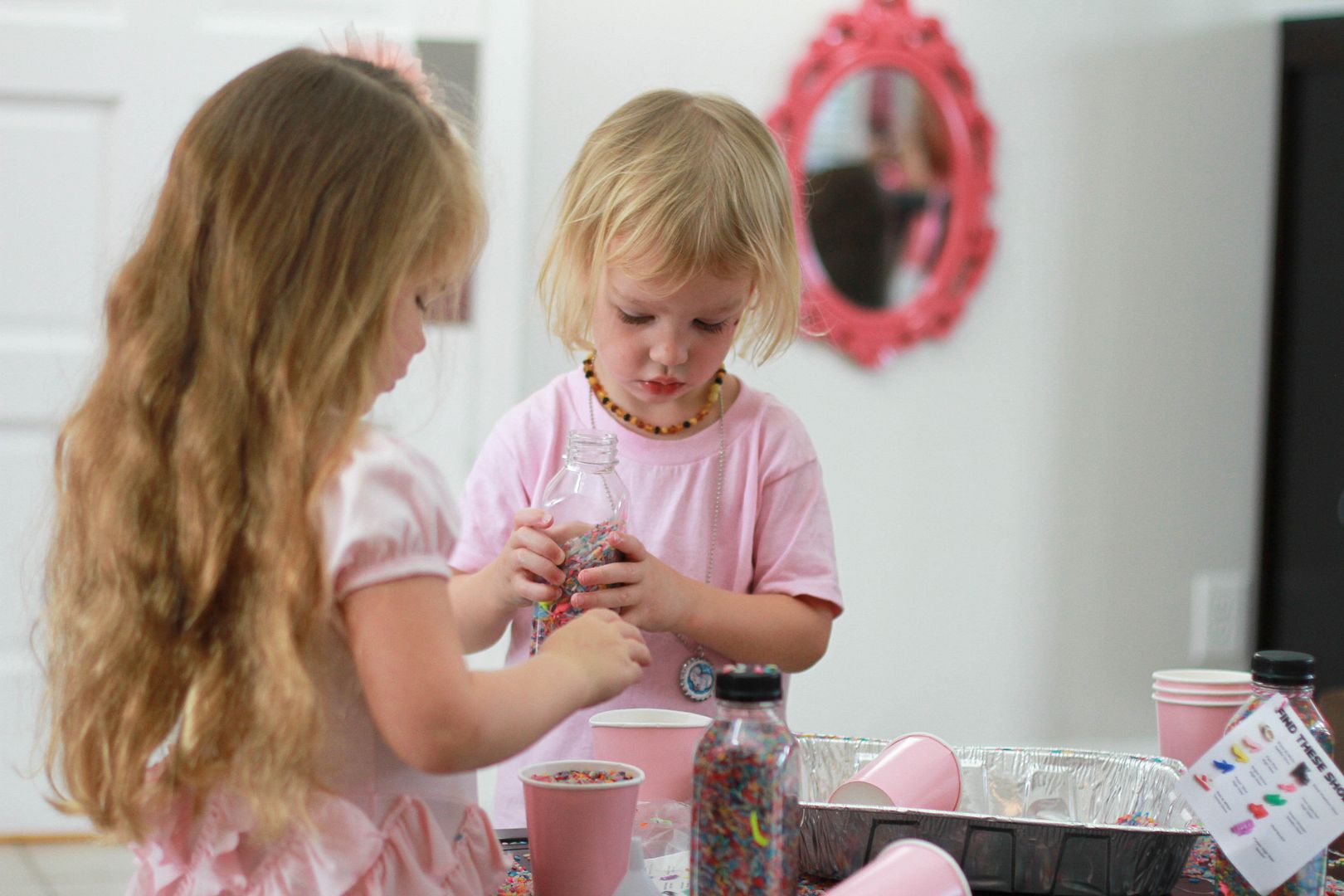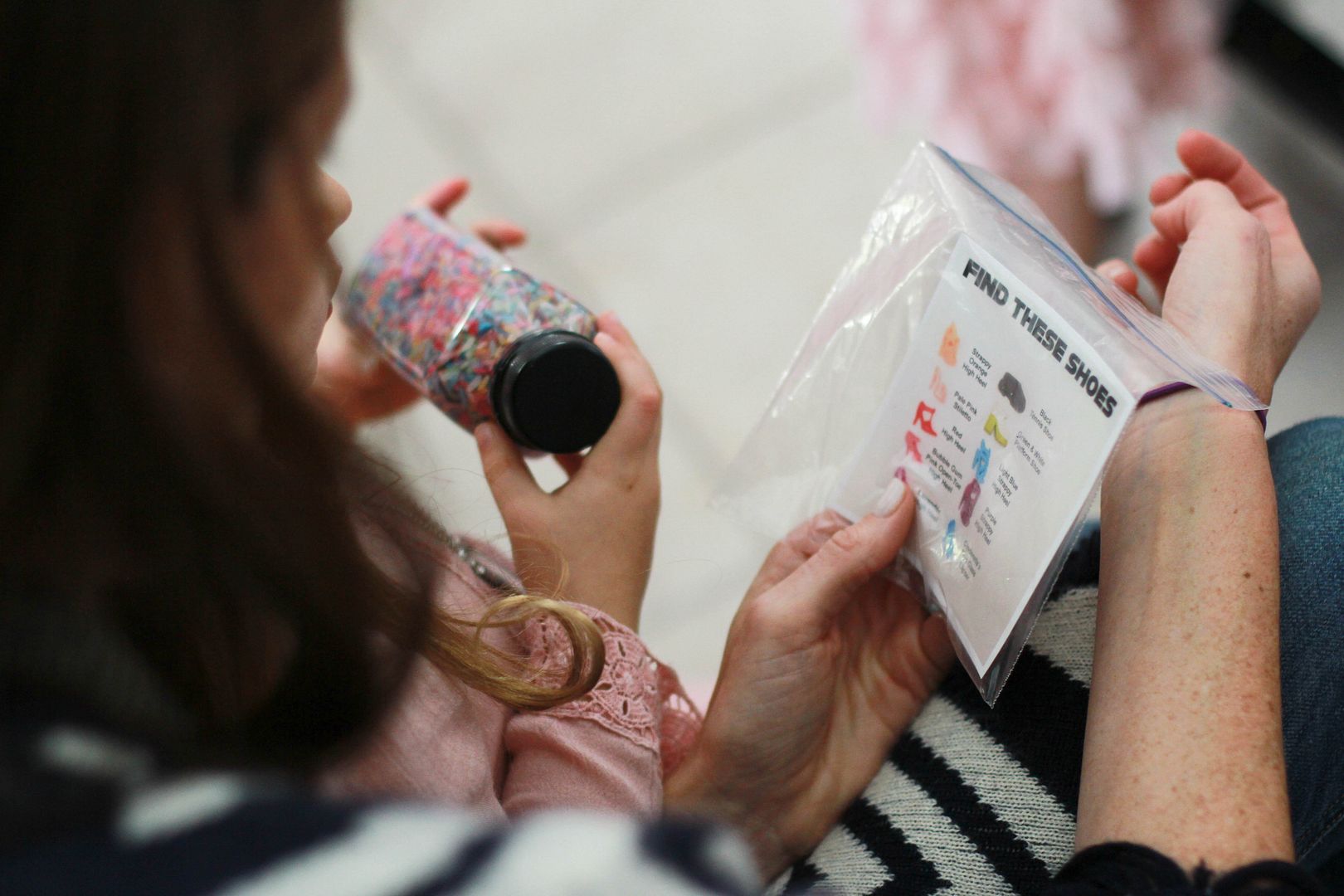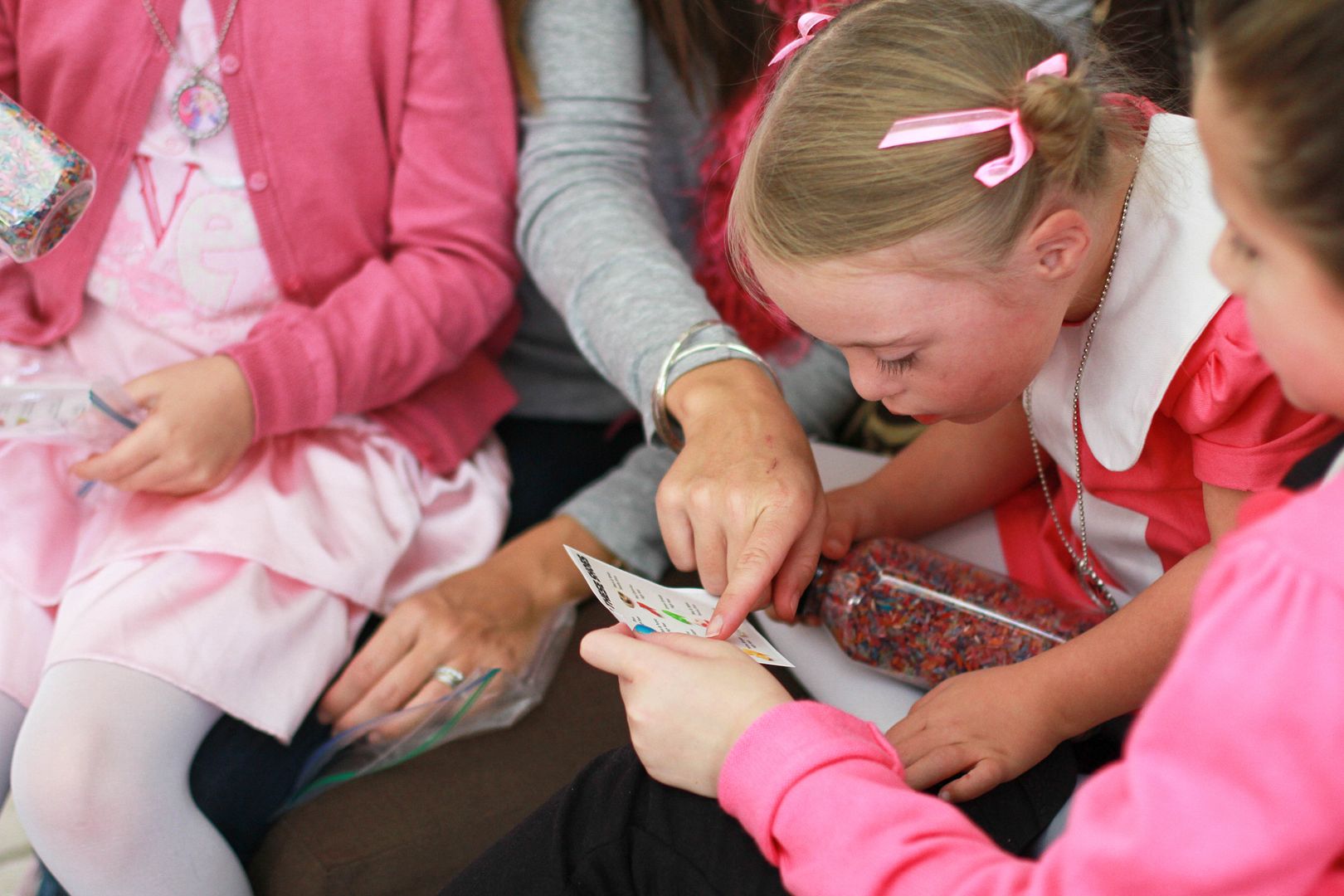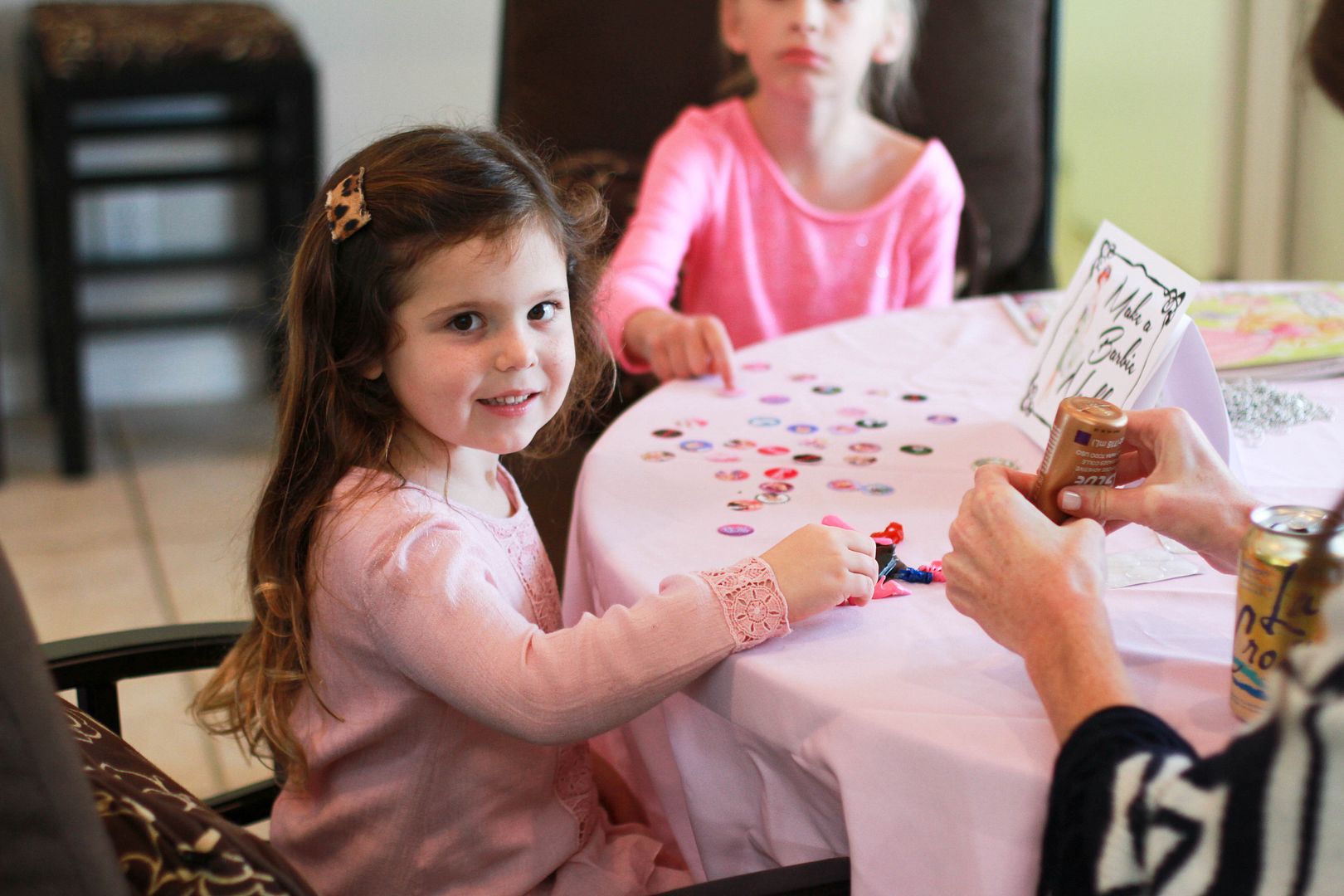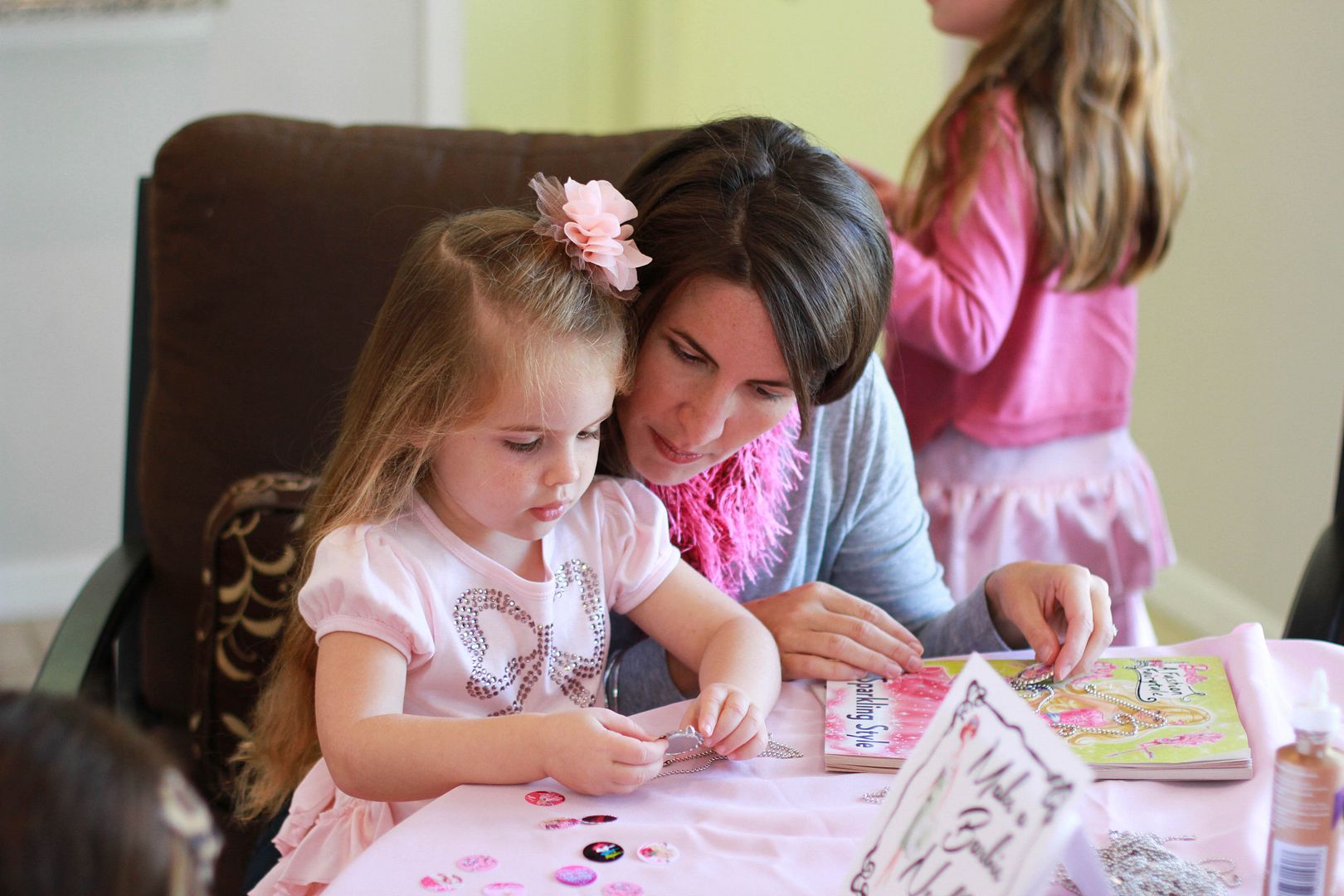 And our Barbie photo box was a big hit too. I saw this on Pinterest and knew Nella would love it. I used two large boxes purchased at Staples (I couldn't find the right size in our garage), and Brett helped me tape them together and use an X-acto knife to cut the opening. I painted it pink, added the Barbie text and taped on a Mattel logo I made from poster board. It wasn't as complicated as I thought it would be, and other than my neighbor admitting she saw me in the driveway and wondered what the hell I could be making this time, it was a piece of cake.
Want to know how to pick it up a notch and get the kids all laughing at a birthday party? Pick me! Pick me! I KNOW THE ANSWER TO THIS ONE!
Let Cake Topper Barbie slip a nip.
Pretty sure it was my kid who did it, but nevertheless…giggles followed and I was all Dear God Would Someone Please Pull Her Dress Up. But not before I took a picture, of course.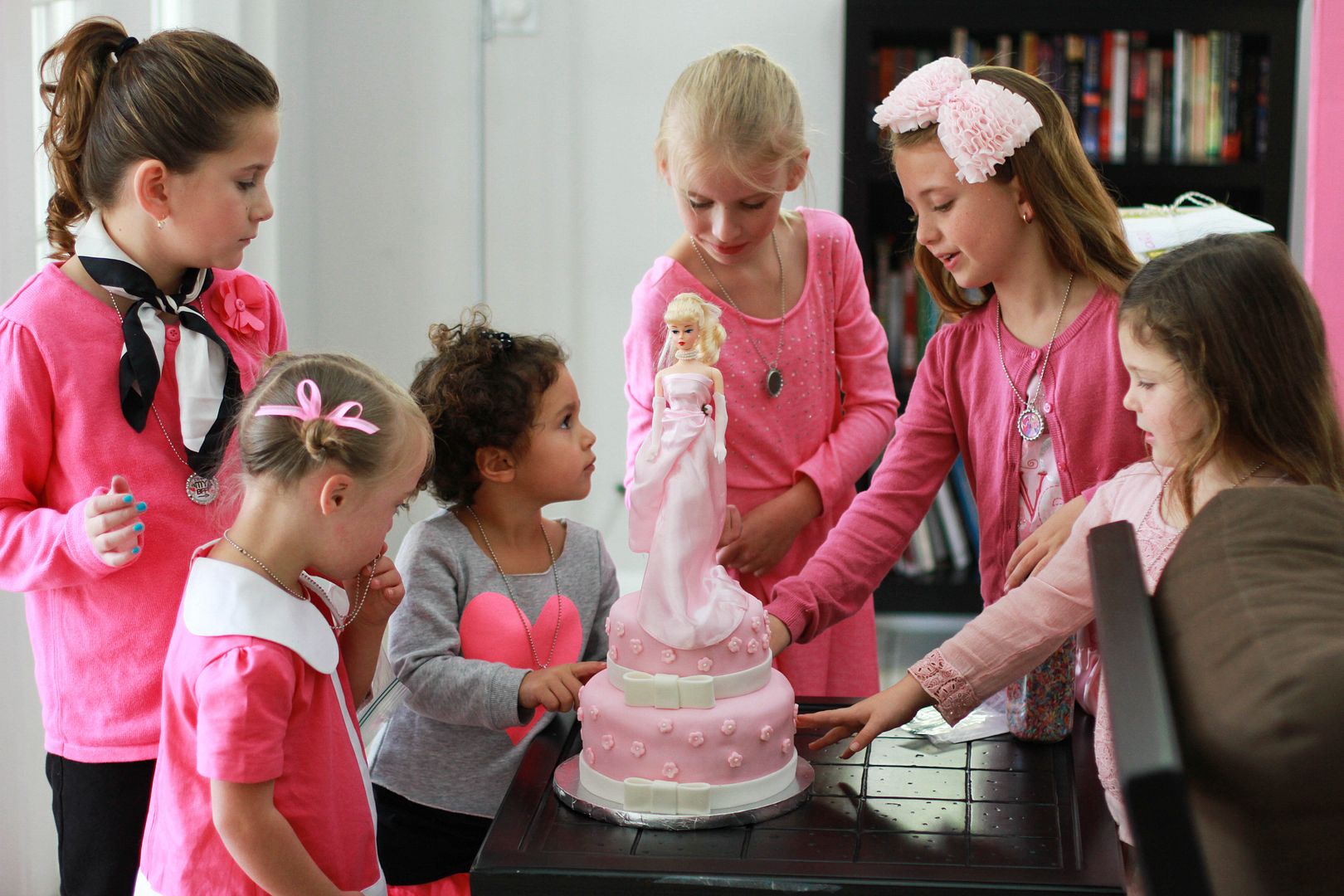 My friend Amy whipped this cake up in her kitchen because she's the real Cake Boss.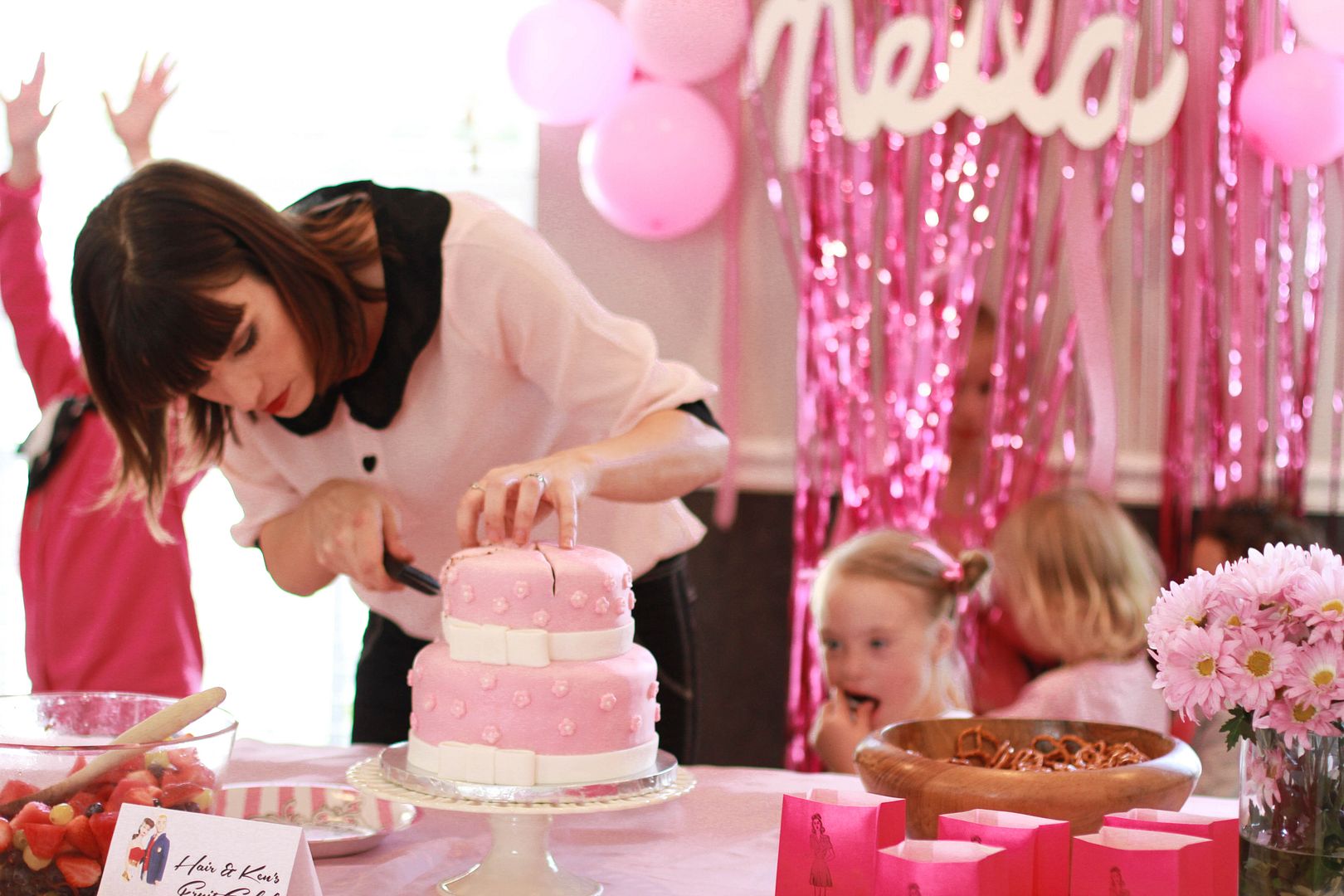 Notice Dash loved playing in the rice so much, he chose it over cake.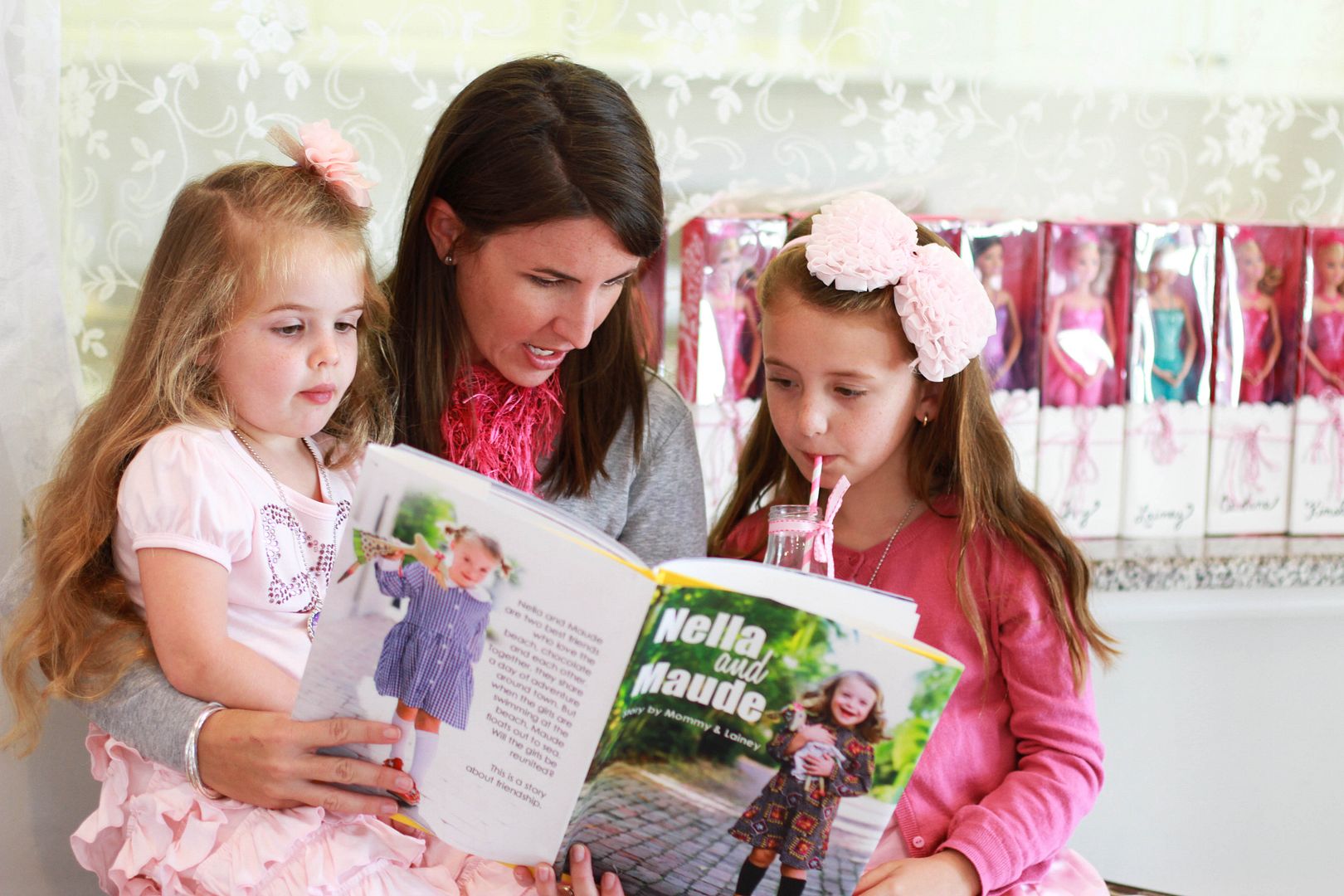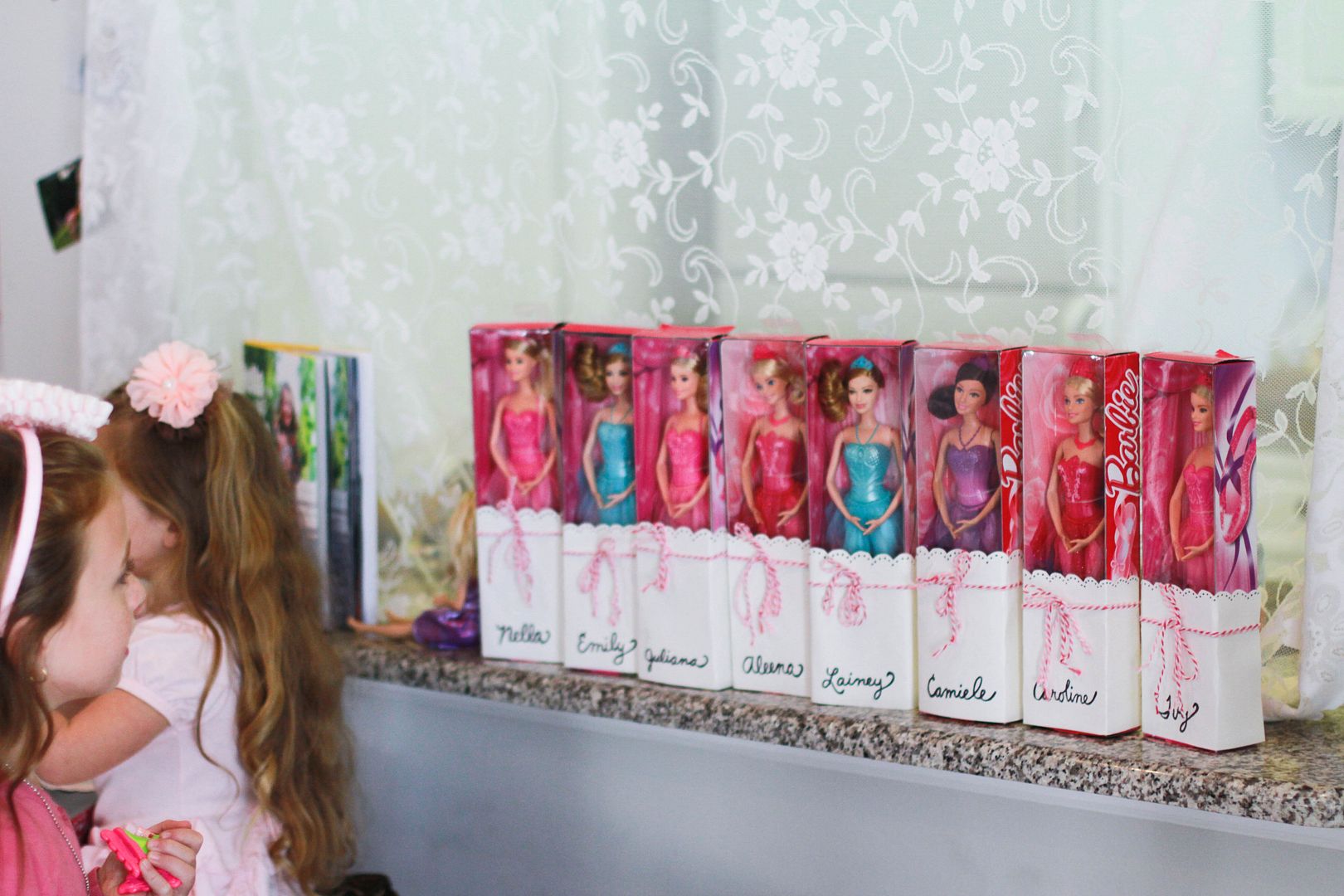 And my sweet friend Kim, right here in Naples, made our favorite barrettes for each of the girls to take home. (she's offering 20% off to her shop with code NELLA20).
I'm a little pink'd out for the week, but we had so much fun and it was really great to see Nella surrounded by her friends, her Barbies and so much love.