Our boy turned three yesterday and in keeping with Things Sentimental Moms Do on Birthdays, I went into the baby folders and stared at pictures of him tiny–literally just sat there staring, trying to connect picture to memory, tiny lips to the way they felt when I kissed them, long wrinkled fingers to the way they fit in my hand, perfect little head to the weight of it resting on my chest–I remember, I remember, I remember like it was yesterday. And here we are, those tiny feet graduating shoe sizes every few months and those long wrinkled fingers stamped with ink from the stamp pad he found in my office this morning. It feels like he tore through these three years, growing faster than any of my kids ever did, talking quicker, investigating further, chasing after anything that hints of adventure. We love his fierceness and celebrated it jurassic style this weekend with a Dinosaur Party.
I had so much fun planning this party, knowing how much Dash and his friends would love it. And decorating was easy as most of our decorations and "nature table cloth" came from foraging our yard–plants and palm leaves. There are lots of pictures here if you'd like a little splash of celebration on a Monday. If you're looking for more specific party inspiration, I saved the details and links of products for the very end of the post.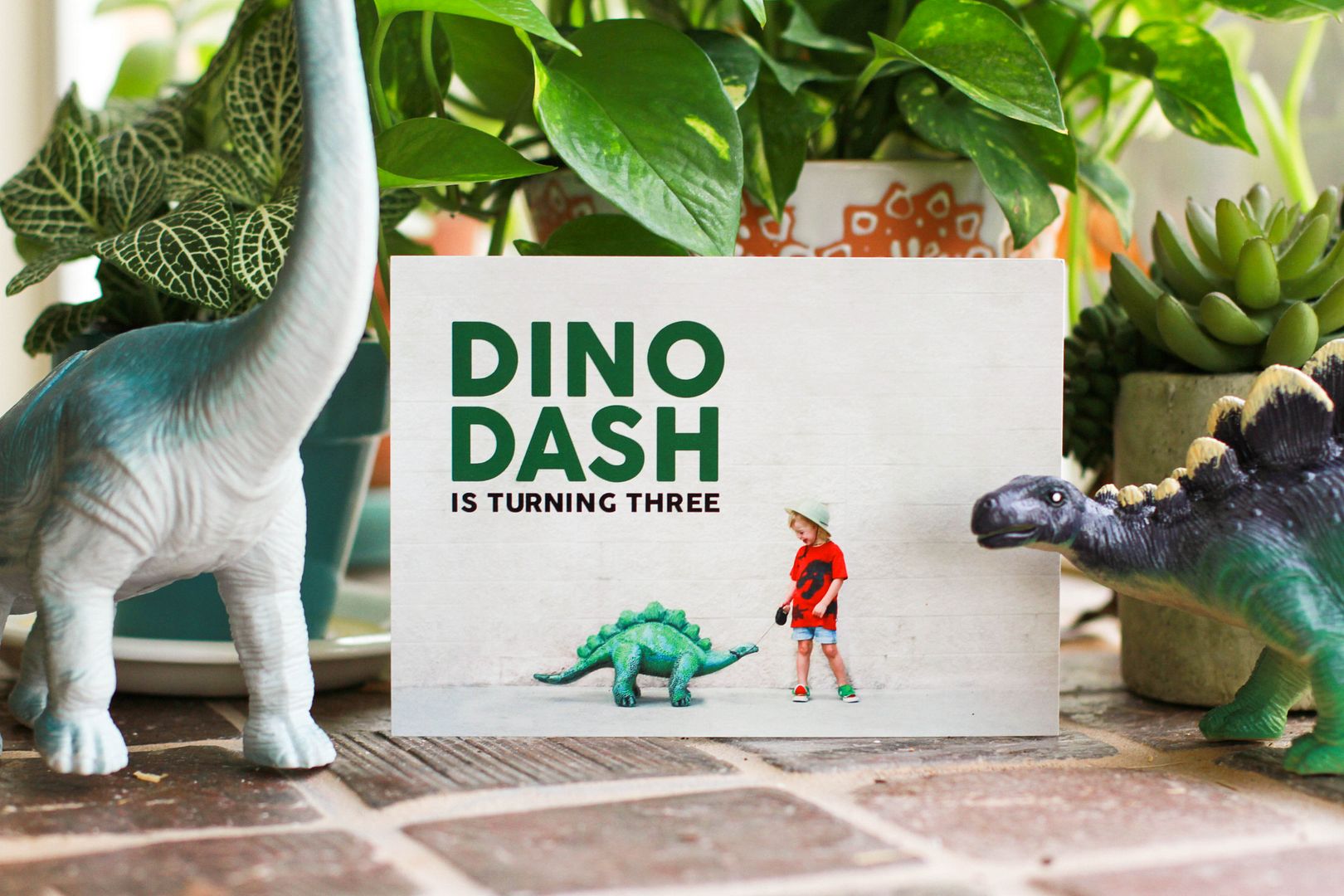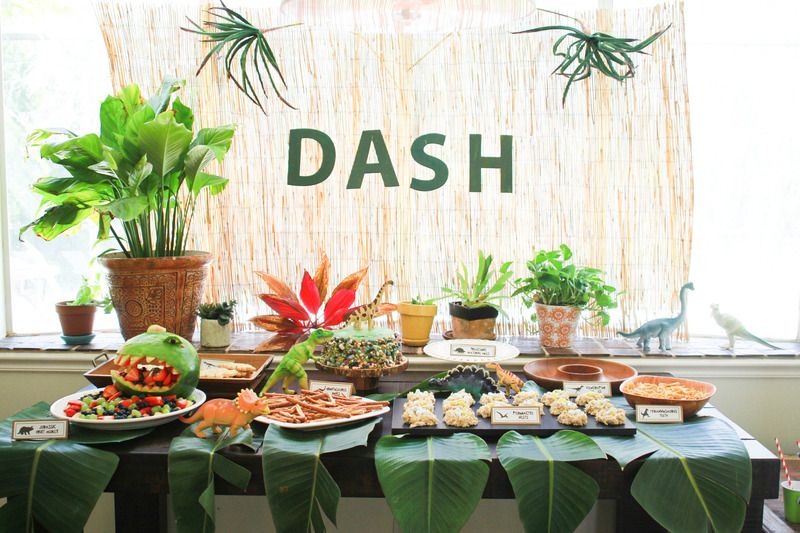 My father-in-law has a very large printer as he prints a lot of his own photography in large scale. He surprised us with this poster size print of Dash, and it made the perfect backdrop for the outside dinosaur festivities.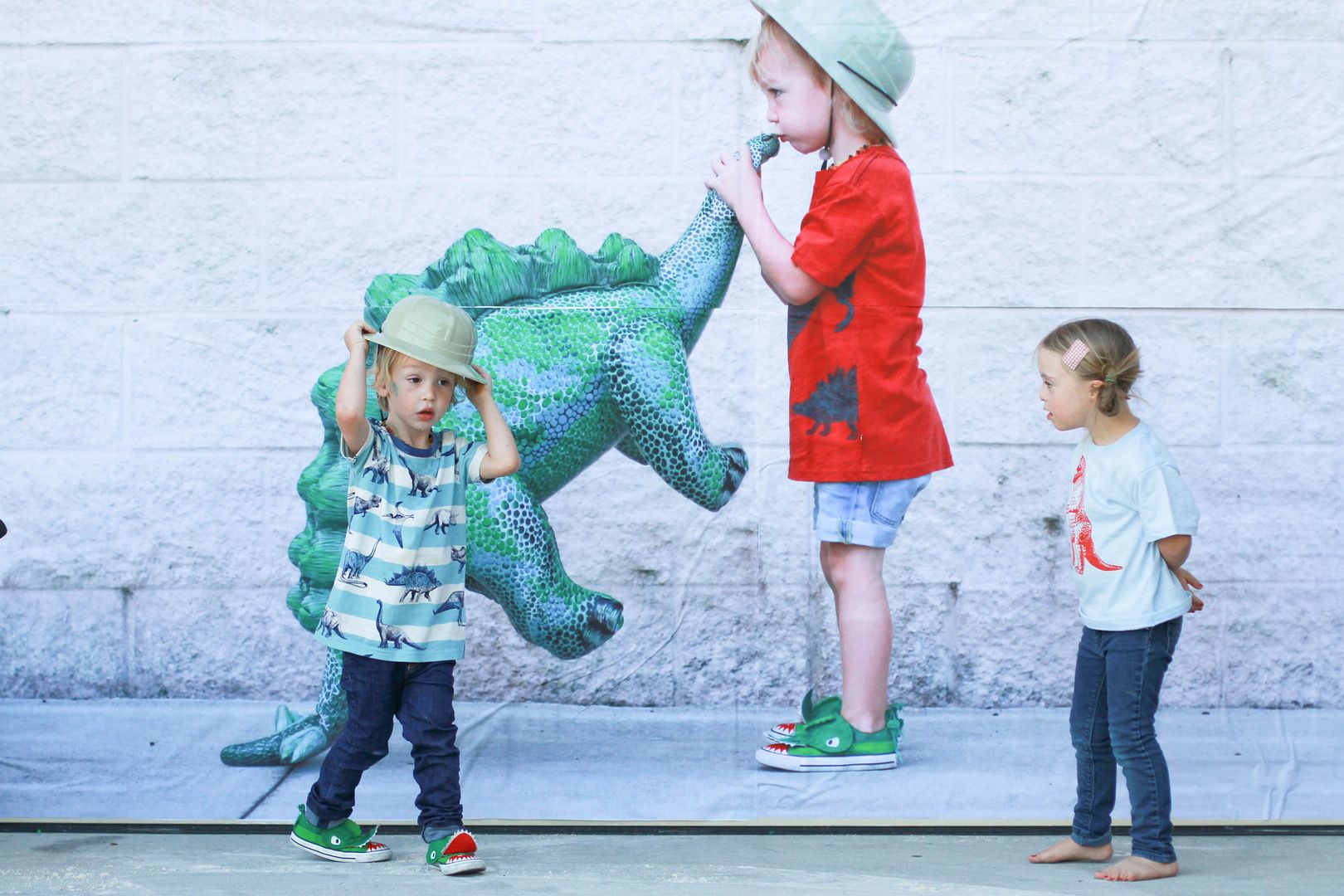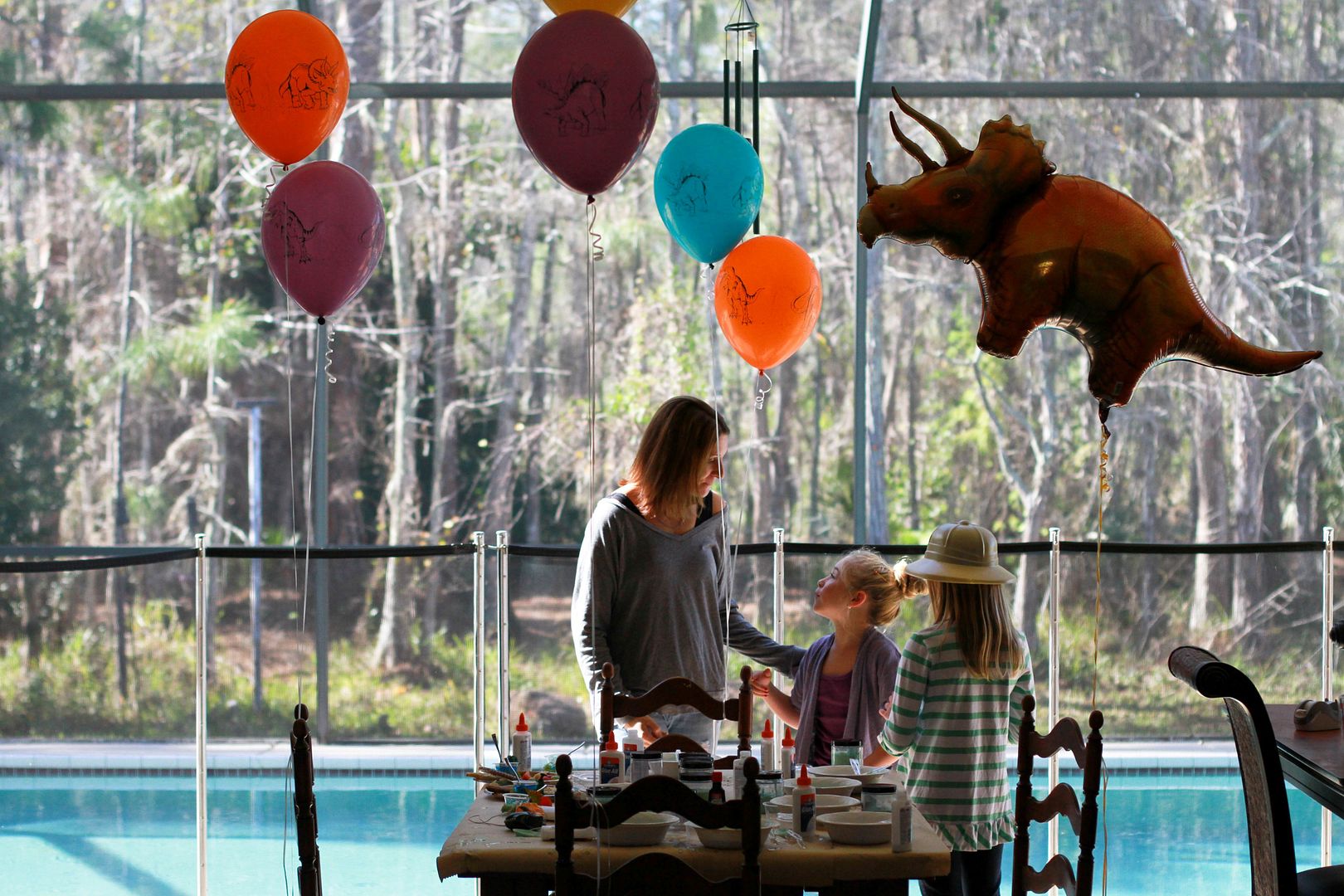 The food was so much fun to make for this, and Pinterest had loads of ideas for cute ways to incorporate dinosaurs. And a late afternoon party gives you a little more flexibility with what you serve–snacks and sweets as opposed to a full lunch. The Bugles were gone in five minutes and the adults kept asking, "Where's the Bugles?" because everyone forgot they existed all these years.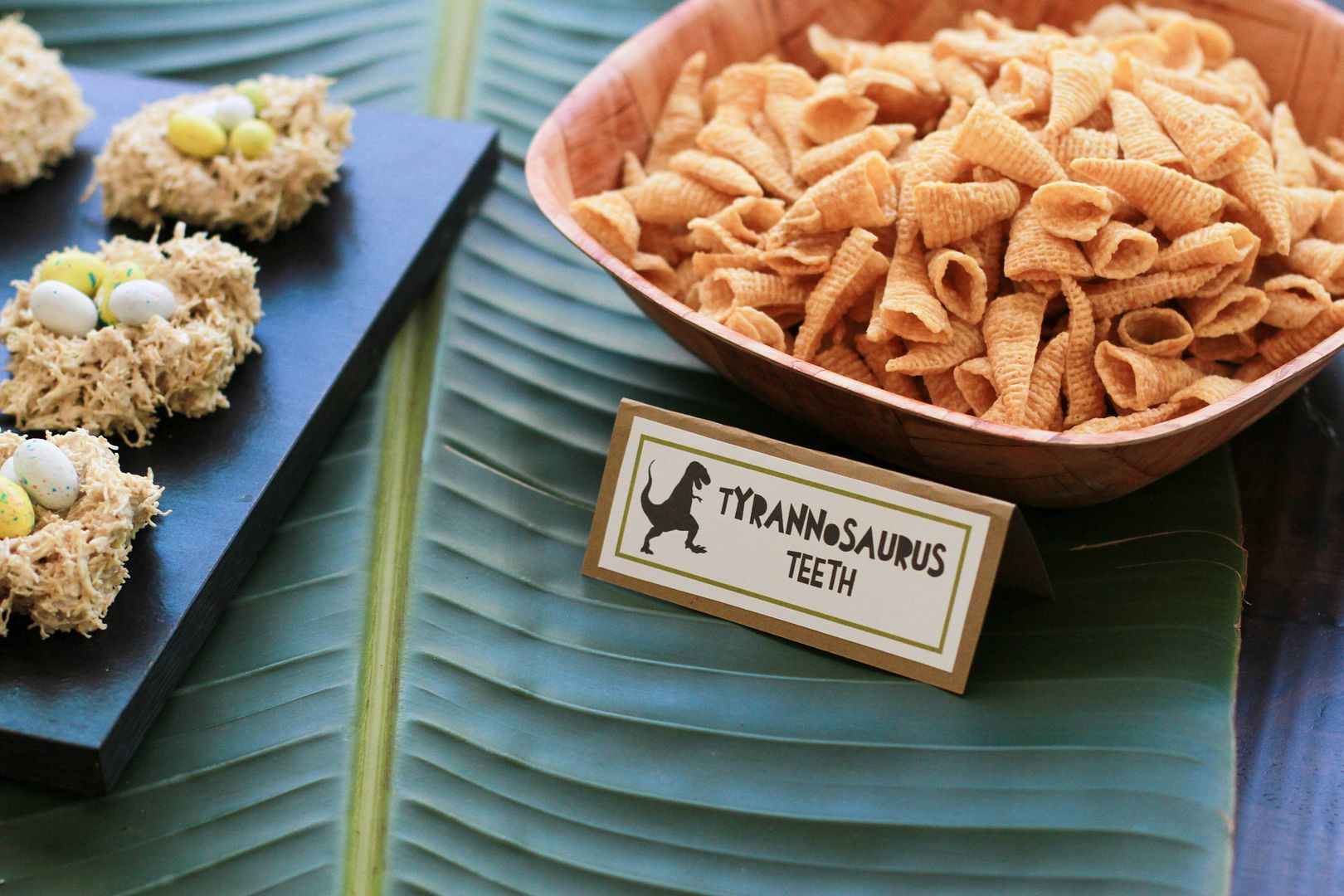 (these nests were super easy to make–a large package of marshmallows, a box of Shredded Wheat–the big squares, torn up–and a stick of butter with some chocolate eggs inside).
My dad came early to help me, and when he asked "What can I do?" I pointed to the watermelon and half-joking suggested, "Think you could carve that into a T-Rex?" And then he did, without even batting an eyelash.
Why yes, I served the kids jello shots. Sans alcohol, of course–and they loved eating them with tiny spoons.
(The cups were super easy to make–just draw some nostrils with Sharpie and hot glue two googly eyes on the front and a strip of card stock cut into scales onto the side.)
Making Dino Snot (directions and printable label here)…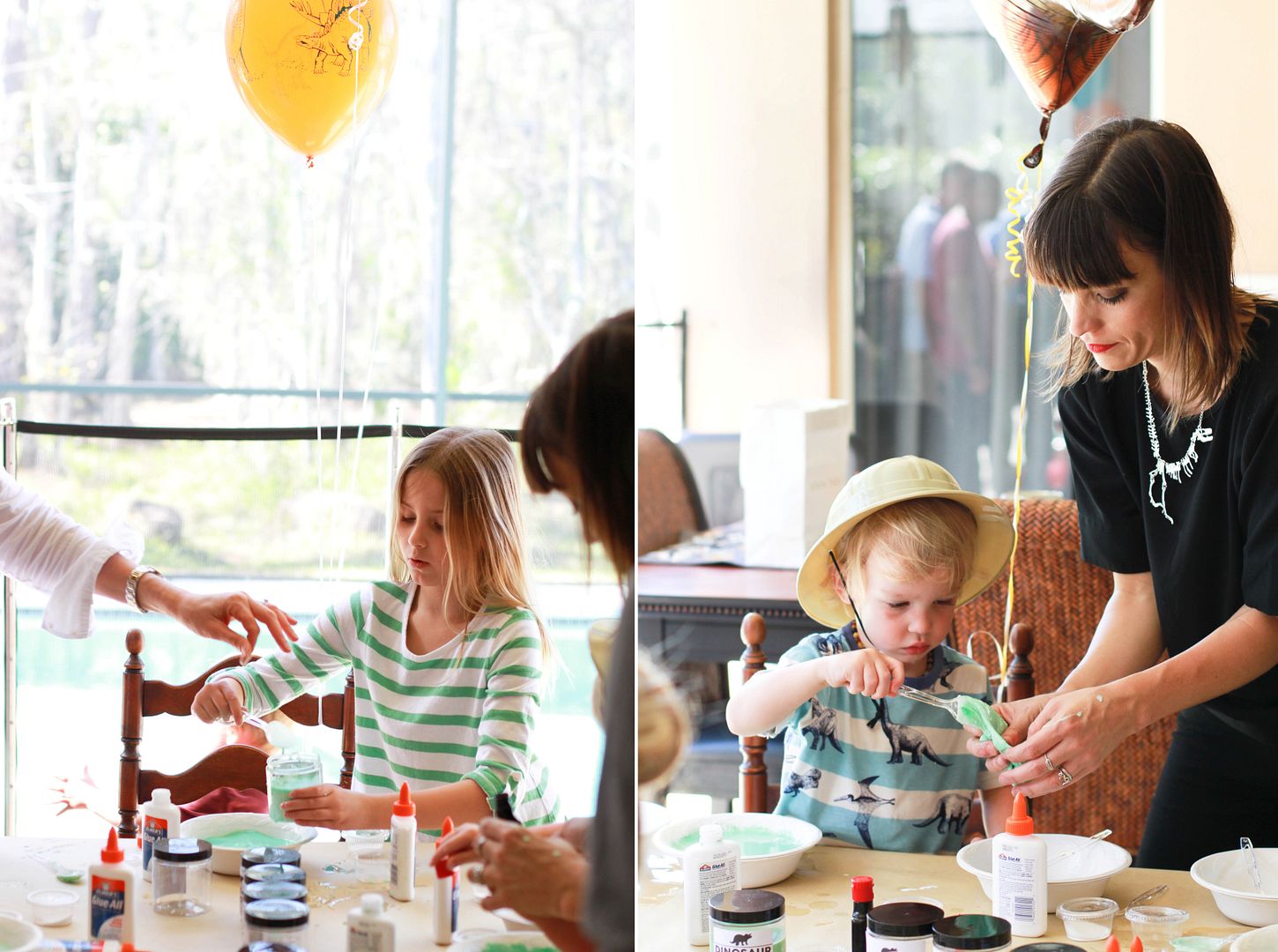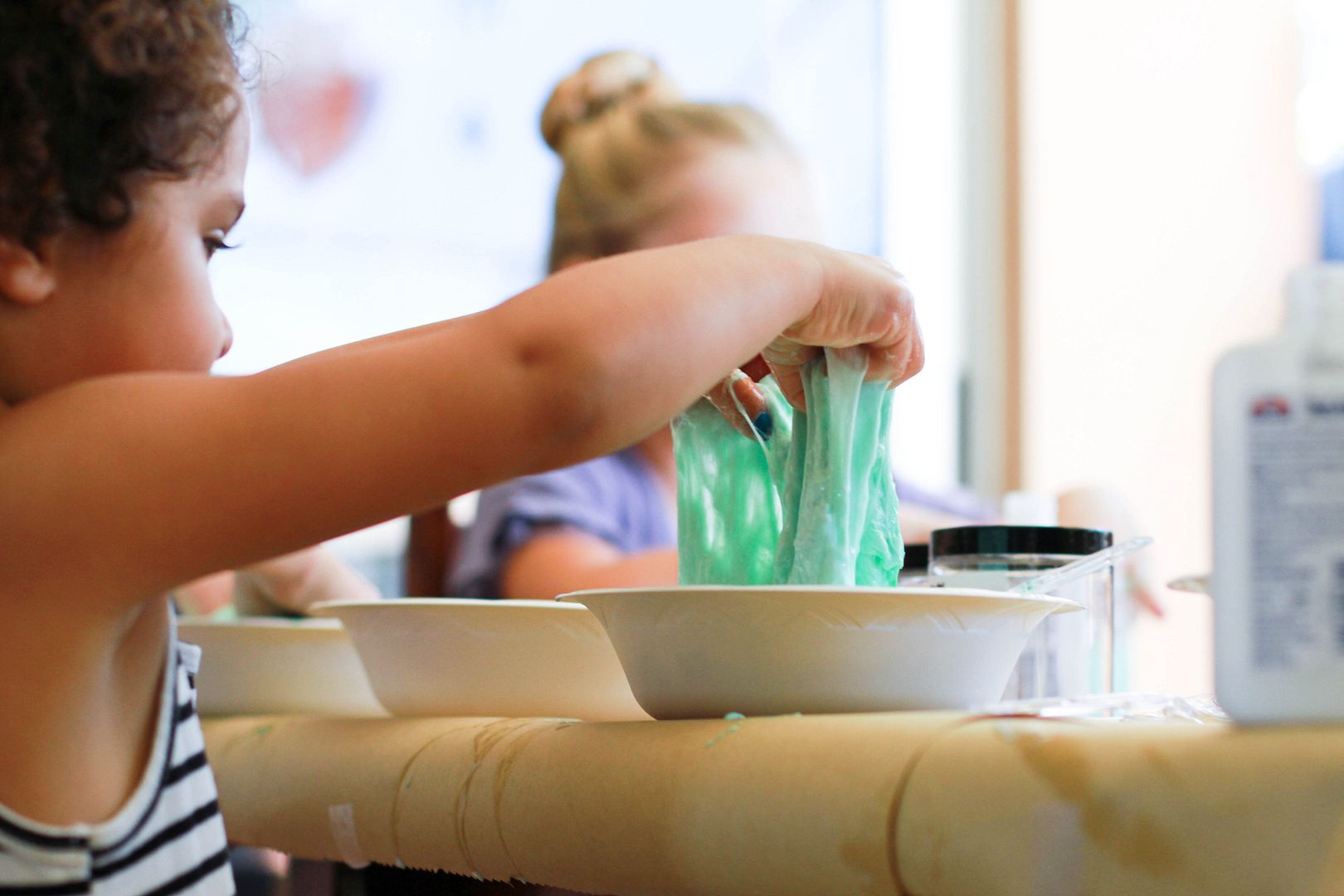 He smiled so big when he first saw his cake. And now I want to cram chocolate rocks on the sides of all my cakes because it hides all the flaws.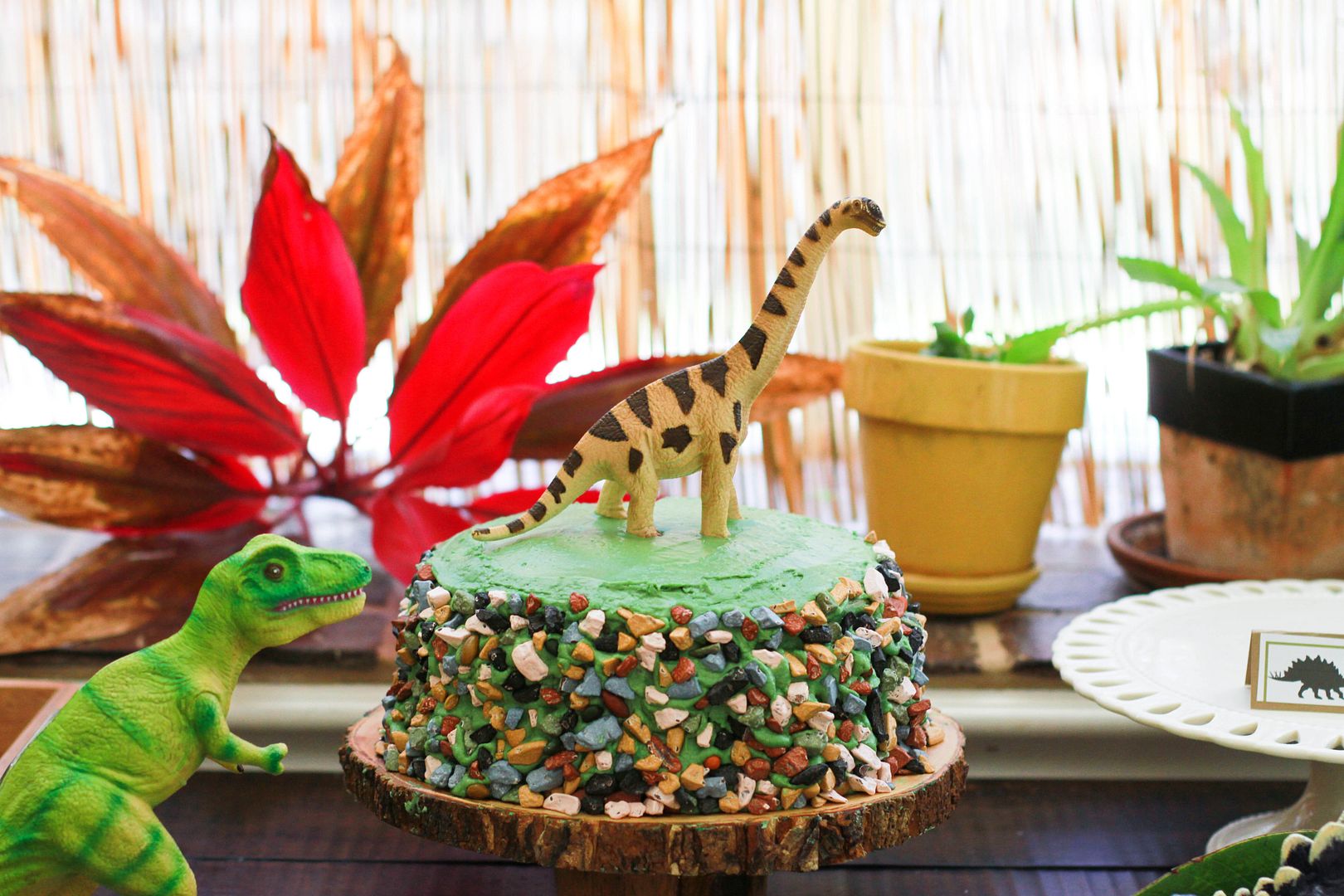 My dad also made these adorable "dinoculars" for all the kids, from PVC pipes.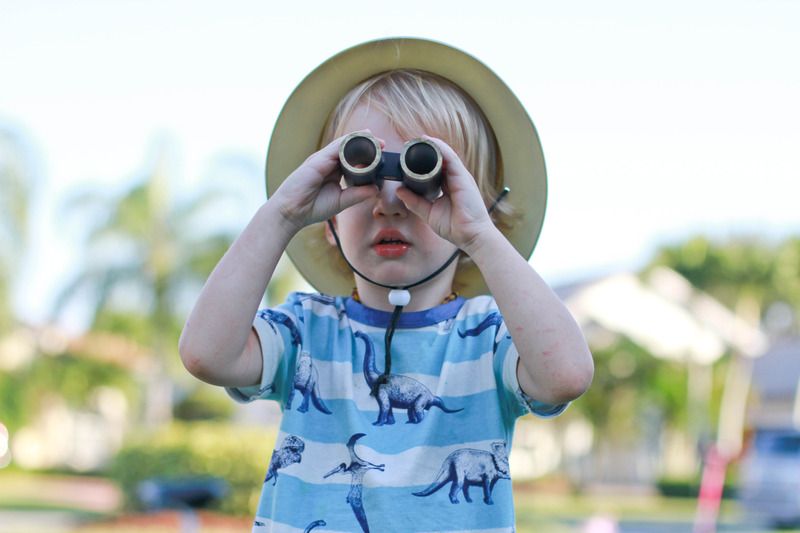 We took the kids for a dino hunt into the woods where 5 inflatable dinosaurs were hidden on the path, including the grand finale, this giant T-Rex balloon that's weighted just enough to make it glide.
Dash loved it, but it took Nella a while to get used to it.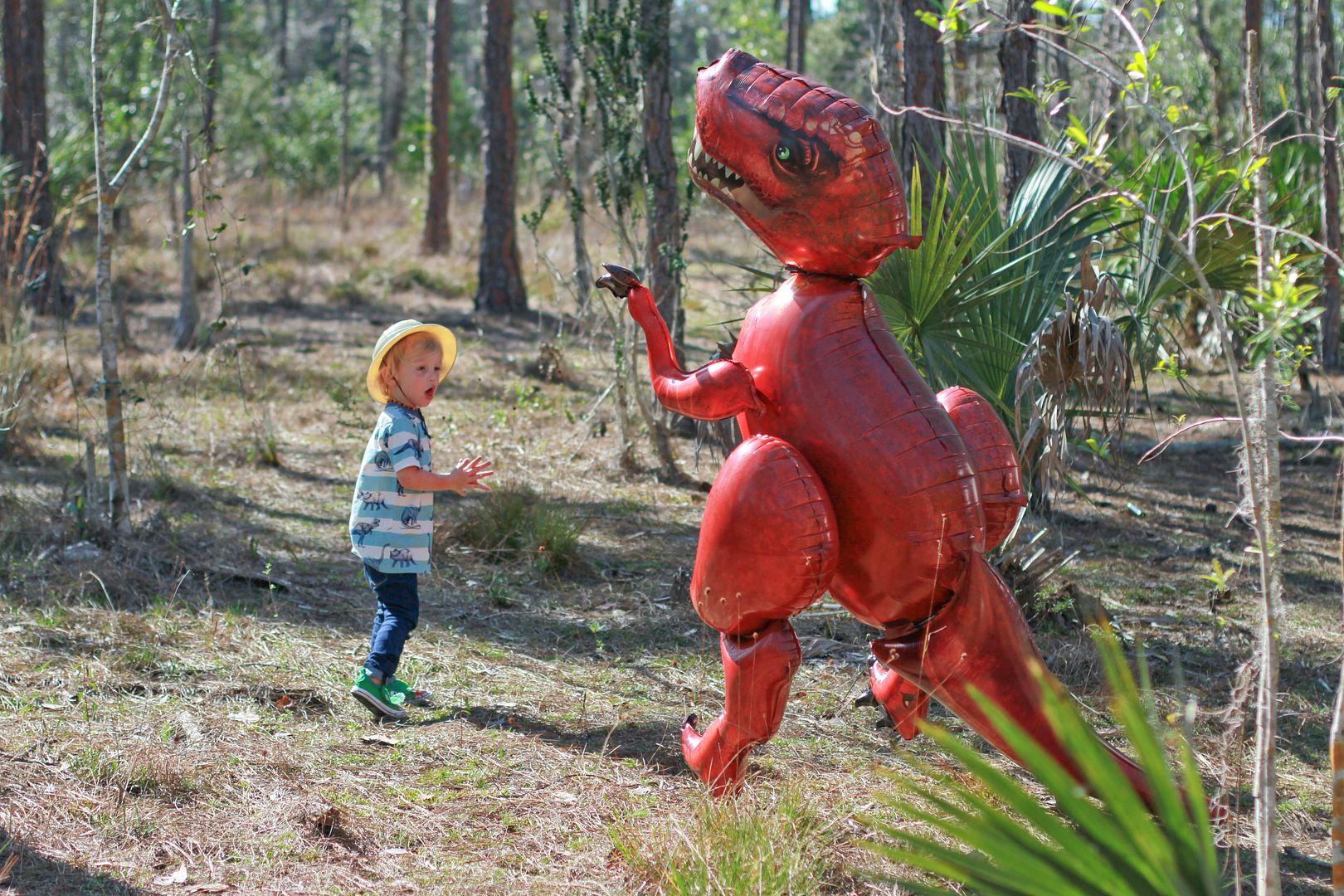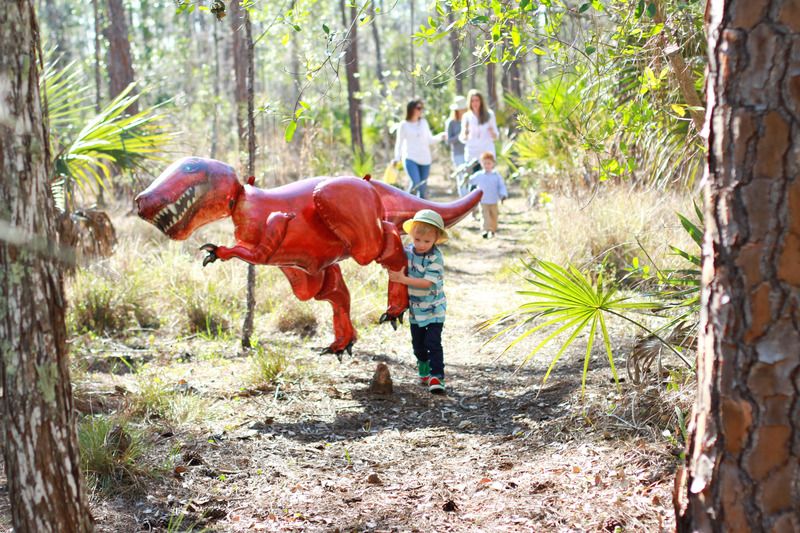 We were roaring (har har–get it, roaring?) from all the fiasco with this thing. First, it's huge which automatically makes it funny. But it MOVES which makes it funnier. And then when the wind would pick up and depending on how it was blowing, it would take it to the sky for a minute (lots of screaming and laughing and imagining how one would react if it landed on someone's windshield while they were driving) or make it RUN. Like fast. It was trucking down the street so fast at one point, I was chasing it and laughing the whole time thinking how hilarious this must have looked to passersby.
Also hilarious? Gary took Nella inside to read books for a little while, and we weren't paying attention to the fact that the dinosaur floated on its own over to the window where they were reading. Gary came out frantically yelling and laughing, "You guys! The T-REX! THE T-REX! Are you serious?!" By the end of the party, she was dragging it around and laughing though so all is well.
The kids' favorite? Digging for bones. My dad built this sand table where we buried a bunch of dinosaur skeletons, skulls and several geodes. The kids were given paintbrushes and shown how to gently sweep and carefully search for bones like real paleontologists.
And Dash thought it was hilarious to make Grandma feed T-Rex.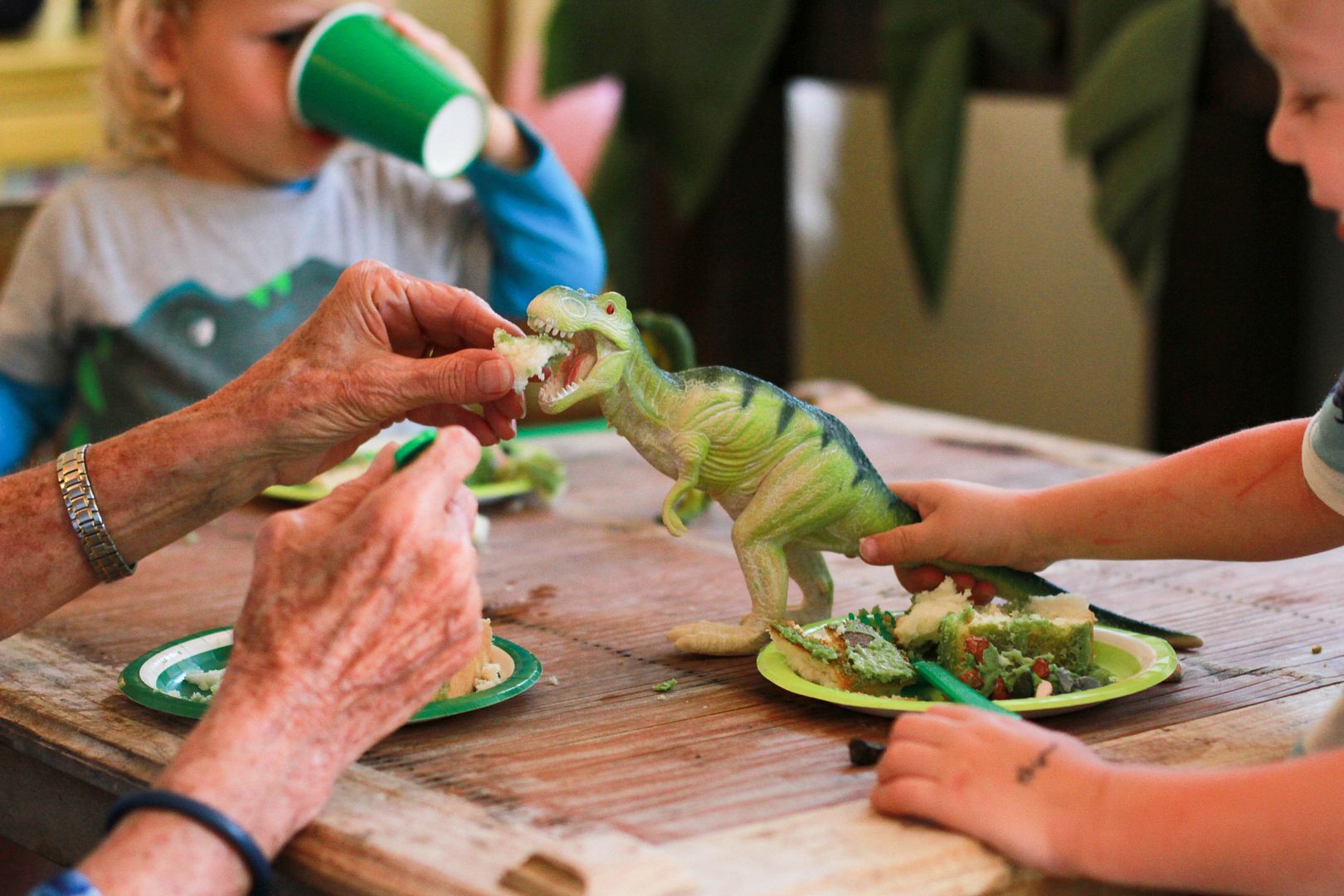 We celebrate and love our kids all year long, but what fun it was to remember three years ago by going back 100 million years to celebrate. Happy Birthday, Dino Dash.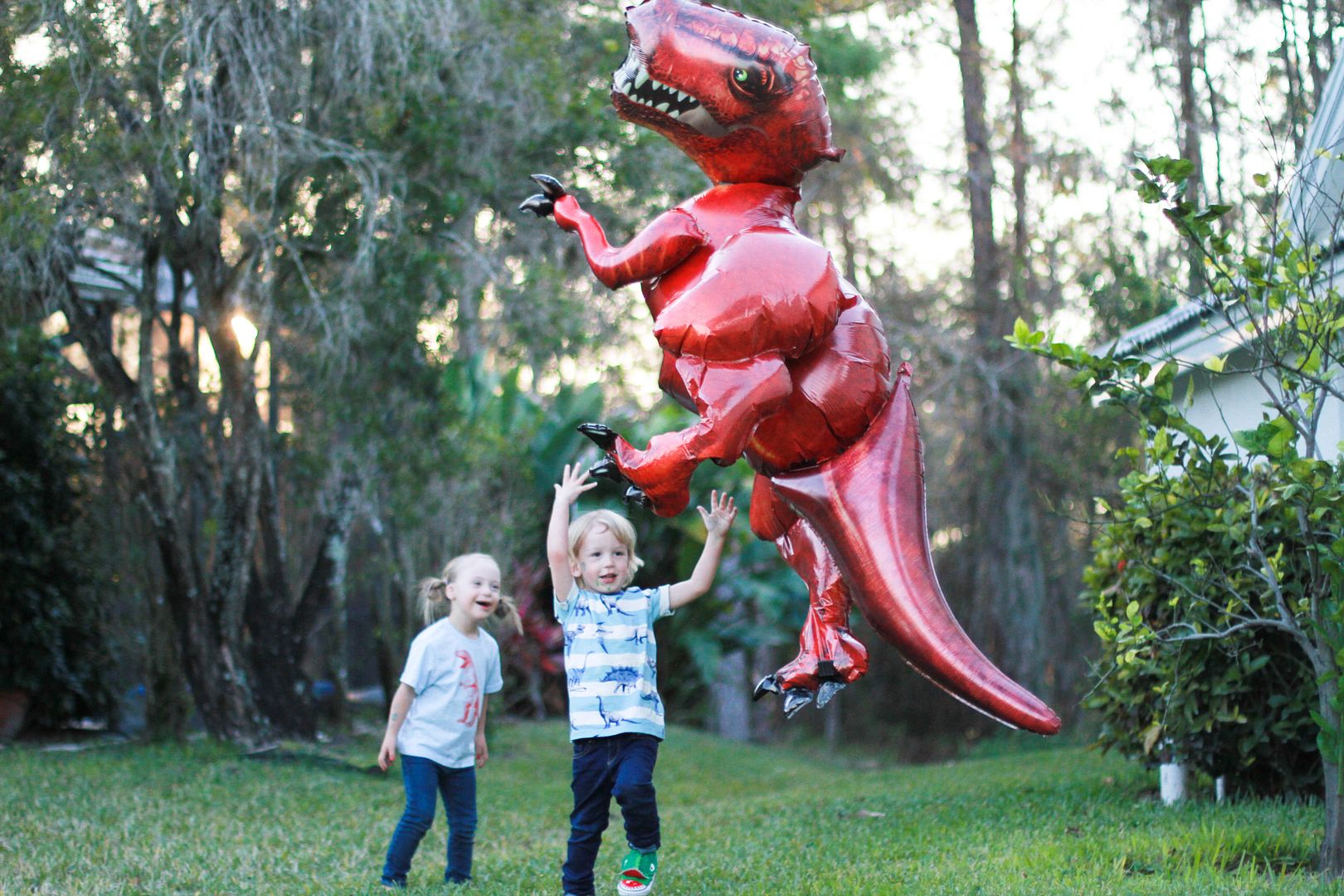 Party Deets:
Food
Dinosaur Fossil Cookie Cutters
Chocolate Rocks for cake
Dino Decor 
Jumbo Dinosaur Set by Learning Resources (We bought this as a gift for Dash and used them in decorating. These dinosaurs are really great quality, a fun size, and Nella and Dash love playing with them.)
Mini Dinosaurs–72 dinosaurs for $8. Fun for favor bags, decorations, etc.
Bamboo Fence backdrop (you can get one for around $10 at Home Depot in the garden section)
Kids Safari Hats
Dinosaur Balloons, Triceratops Mylar Balloon
Dinosaur Bone Dig
12-piece Dinosaur Fossil Skeleton Set
Dinosaur Skulls
Geodes
Dinosaur Hunt in the Woods
Inflatable Dinosaurs: Triceratops, Stegosaurus, T-Rex
Paint brushes–Home Depot
And it just so happens dinosaur prints are trending everywhere this spring.
Dash's Dinosaur Shirt–Mini Boden
Nella's Big Bang Theory Dinosaur Shirt–Happy Family
Lainey's Dinosaur Skirt–H&M
My Dinosaur Bones Neclace
And dinosaur roaring and growling are trending in our home right now…I wouldn't have it any other way.
Thankful for three wild years with our adventurous one.
Happy Monday.