I'm partnering with SLEEP NUMBER® this year to talk about Family & Rest in our home. They are sponsoring a series of posts including this one, and I'm excited to dig in to one of the biggest challenges in parenthood…sleep. 
Considering I'm fresh off a full week of flu in our family and repeated awakenings from all the crying children, you should know that I am so legit when I talk about the importance of rest right now. Rest has teetered many times in a highly dangerous position in our Family Priorities Jenga game, but it's been repositioned to the bottom where it's solid and holds everything up.
I wrote a post earlier last year about rest and all these special things we can do to value it–like spritz our pillows with eucalyptus and lavender and keep our bedroom a sanctuary and take the time to slip into nice pajamas before bed. I don't necessarily get an A+ on adhering to everything in that post, but when I go back and read it, it makes me want to get an A+. I accepted the invitation to expand this into a series of posts with SLEEP NUMBER® because the challenge of restoring our rest habits and creatively exploring what a well-rested family means for us would be really good for us, and I knew without a doubt where this series would begin…in our bedroom.
When it comes to spending money on our home, our bedroom has been the last priority. Spend it on the kids! Their rooms are fun! Their rooms don't cost as much! Besides, our bedroom has kind of turned into the throw hole. People coming over? Don't know what to do with those cords/socks/basket of weird stuff/papers you never signed and have no intention of turning in anyway/attachment to the vacuum that broke off and Lord knows you're never going to fix it? Why, hide it all in the bedroom, of course!
Our bedroom hasn't been touched in a very long time, and while I have loved my big statement headboard (over 10 years old), it's big and dark and echos what our room has been feeling lately–dark and messy and not someplace that says love and comfort and peace. We are thankful we aren't sleeping on boards in a hut, yes. But we also knew it was time to admit that we are the foundation of this family and our home, and our room should be a place we can retreat to replenish and rest. We cannot expect our kids to create positive spaces if the one place Mom and Dad call their own is a hot mess. So over the past couple of months, we've taken everything out of our room and rebuilt our space focusing on comfort, peace and things that make us happy. There are some old things, new things, inexpensive things, splurge things, sentimental things, cozy things, things we made–all combined to create something we really really love now. A place of rest.
Before I get into the details of the room, we sleep more than anything else in this room and are committed to getting the best sleep possible. Our new SLEEP NUMBER® bed is the foundation of our new comfort goals. And they don't mess around with sleep. In fact, when Brett and I went to try new beds and pick out our favorite one, we got a full sleep assessment–like Mission Impossible computer evaluation and all these pressure points on our back identified and mattress adjustments made that fit our personal needs. I like my mattress a little softer, Brett likes his a little firmer–we both get what we want. And we love the results. Our bed no longer says, "Shut up and go to sleep," It says, "I bet you had a hard day. You're important. Shhhh….close your eyes." Okay that was a little creepy,  SLEEP NUMBER® beds don't talk. But if they did, I bet they'd sound like Norah Jones singing you a lullaby. They do have brains though–little technological brains called Sleep IQ ™ technology  buried in the mattresses. Sleep IQ technology collects information about your movements, when you get up, average breathing and heart rate, what time you hit the hay–and it calculates that information to help you monitor your sleep habits. Brilliant, huh?
Finally, we paid a little attention to our own important needs: our new space of comfort and rest.
We tore out our awful dirty carpet and had wood laminate installed. My dad and I built the headboard together with old maple flooring our neighbor gave us. Every time I look at this headboard, I think about that afternoon my dad and I shared together, making it. He had blood running down his leg from a nail that got him–he never even told me. We're still waiting for legs to arrive to hoist the bed up.
My other favorite thing about this room is the photo above the bed. In fact, it's the first thing I planned in this room and everything–the colors, the textures–was built around it. It's a slide I found in my grandpa's slide box–a photo of my grandparents' first Airstrem trailer and their car in the mountains on one of their trips. I had LegacyBox transfer it into a digital file and framed it with Framebridge.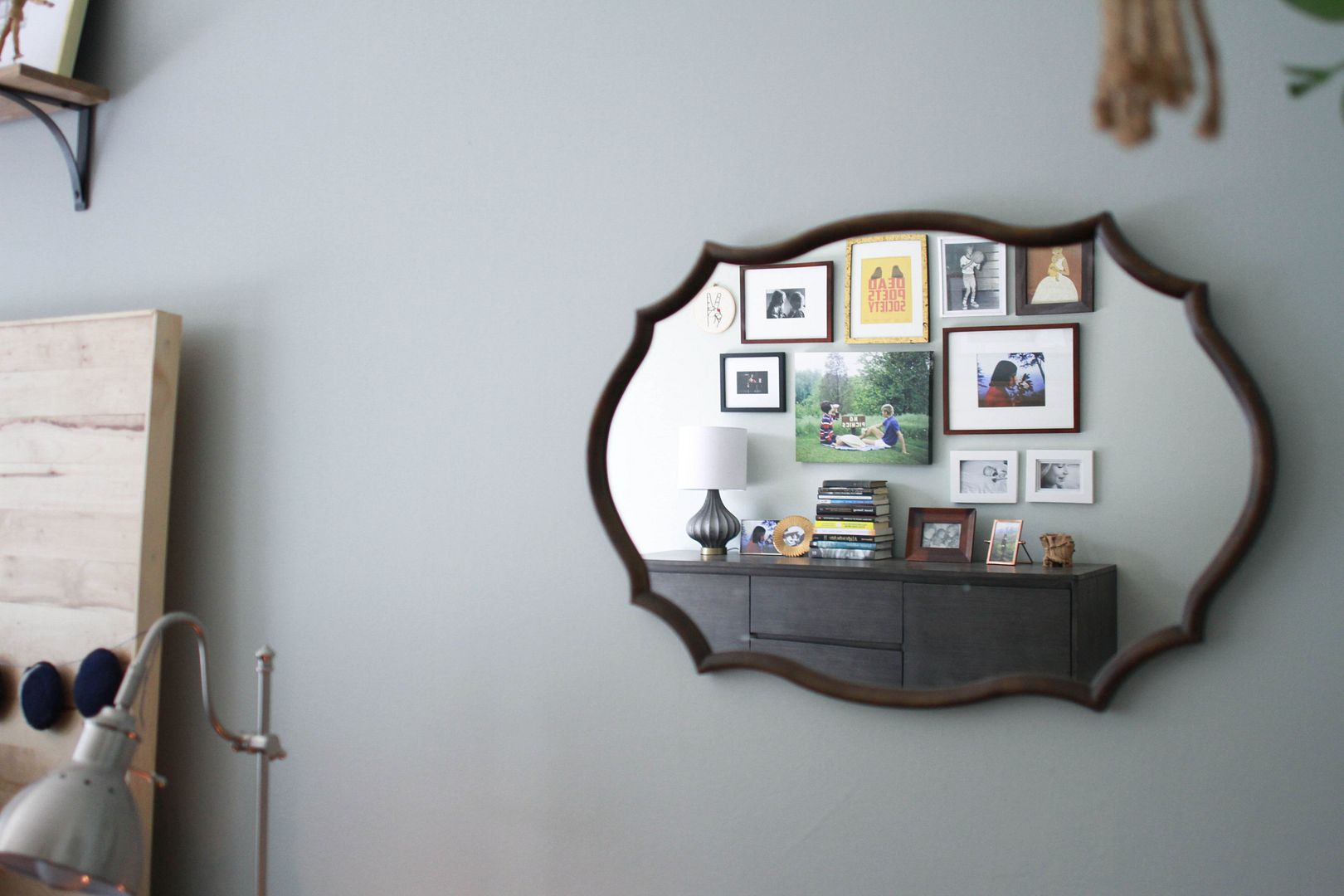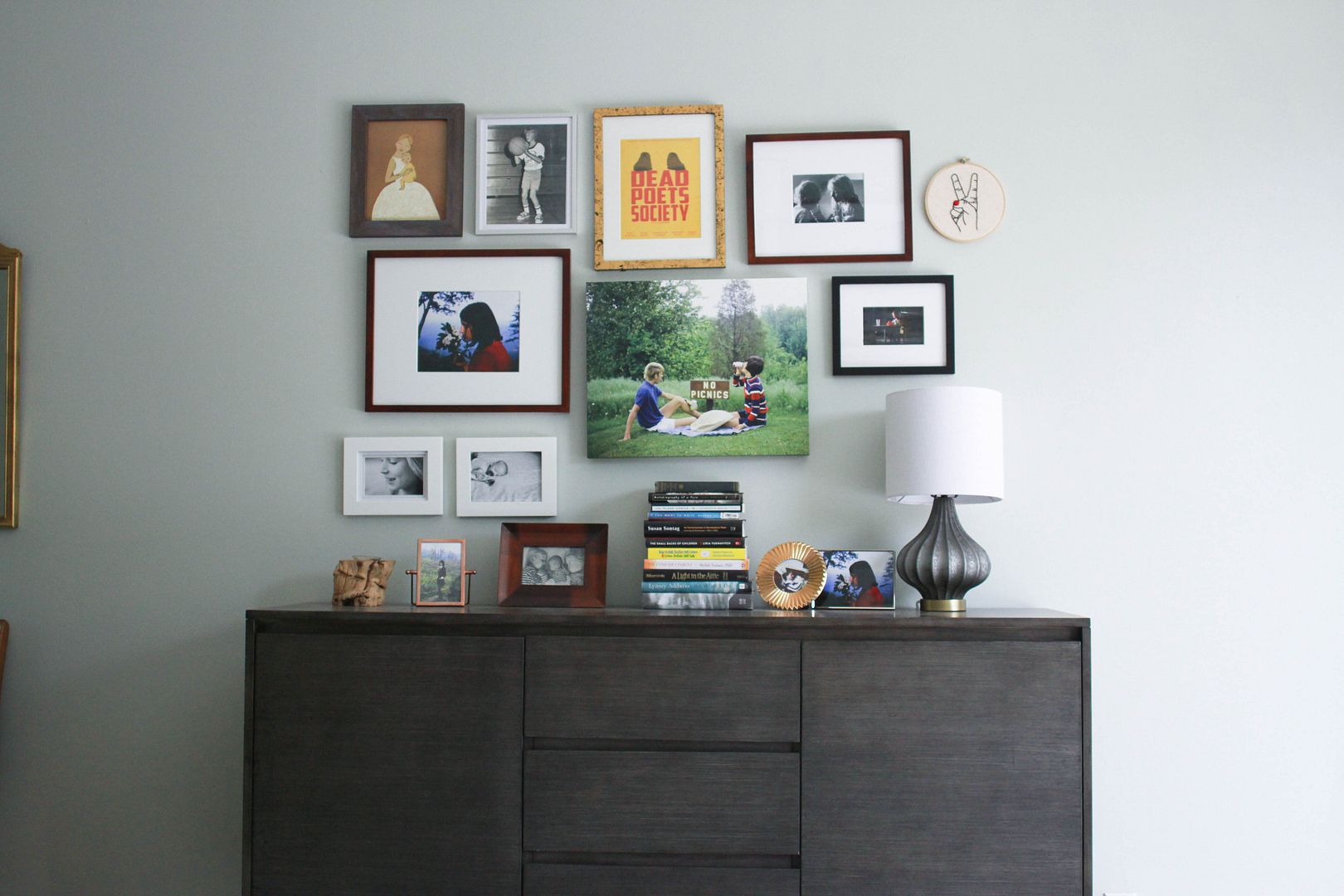 This new space and our commitment to more comfort has already created such a healthy shift–I can't wait to see what follows.
And thank you to SLEEP NUMBER® for sponsoring this post, creating some good momentum we needed and for supporting our goals to be a healthy not-freaking-out-because-we're-so-tired-and-crabby family.