This post is sponsored by Arhaus. 
I store seasonal visions in my head, collected from scenes I've seen in movies, read in books–many from my childhood. When it comes to spring and summer, I see porches like the little boy in Sixth Sense saw dead people. I see them in my head, I see them in neighborhoods, I see porches everywhere–beautiful front porches where little old ladies sit in rocking chairs, sip lemonade and pencil in crossword puzzles. I see the last of the afternoon sunshine trickling in as the breeze picks up and stirs the wind chimes. I see flag bunting draped from railings and twinkle lights dangling everywhere so that these porches are just as magical at night as they are when the first cup of coffee is sipped from their most comfortable chairs. And there are parties on these porches–cocktails late on Friday afternoon, neighbors clinking glasses, little ones dancing, music, delicious ripe summer fruit piled up on platters. And weekend brunches because really, what's a porch good for if it can't host a Sunday brunch? Of course, a porch–unlike a rose–is just as sweet under its other names–veranda, stoop, sun room, lanai. Whatever the case, when the weather gets warmer and the seasons shift into longer days, I dream of life extending into outdoor spaces.
Our outdoor space hasn't been so storybook though. It's been run down over the years and needed a little love to get it brunch worthy. While it technically isn't a "front porch," I leave room in my imagination for dream alterations, and you can sip lemonade, pencil crossword puzzles and pile up summer fruit on platters for neighbors just as good on a back lanai as you can on a front porch.
Here's the fun part–the before pictures. Don't you love Before and After makeovers? Talk about a hook. If I'm watching a show–whether I like it or not–if I see a before picture and know the after one is coming, I'll stick through thirty minutes of boring commentary and dumb commercials just to get to the transformation. Show me the haircut!
On our lanai to-do list was:
1.) Rip out old cabinet, counter top and tile.
2.) Repaint a nice rich color (Sherwin Williams Library Pewter).
3.) Add a rug.
4.) Find a cozy sofa made for the outdoors and durable for kid wear.
5.) Find a statement piece table.
6.) Lots of twinkle lights.
And our hopes for transformation:
1.) Utilize the space more.
2.) Entertain outside more.
3.) Have a place to work, read, chill out while watching the kids swim this summer.
The after photos: (haircut revealed!)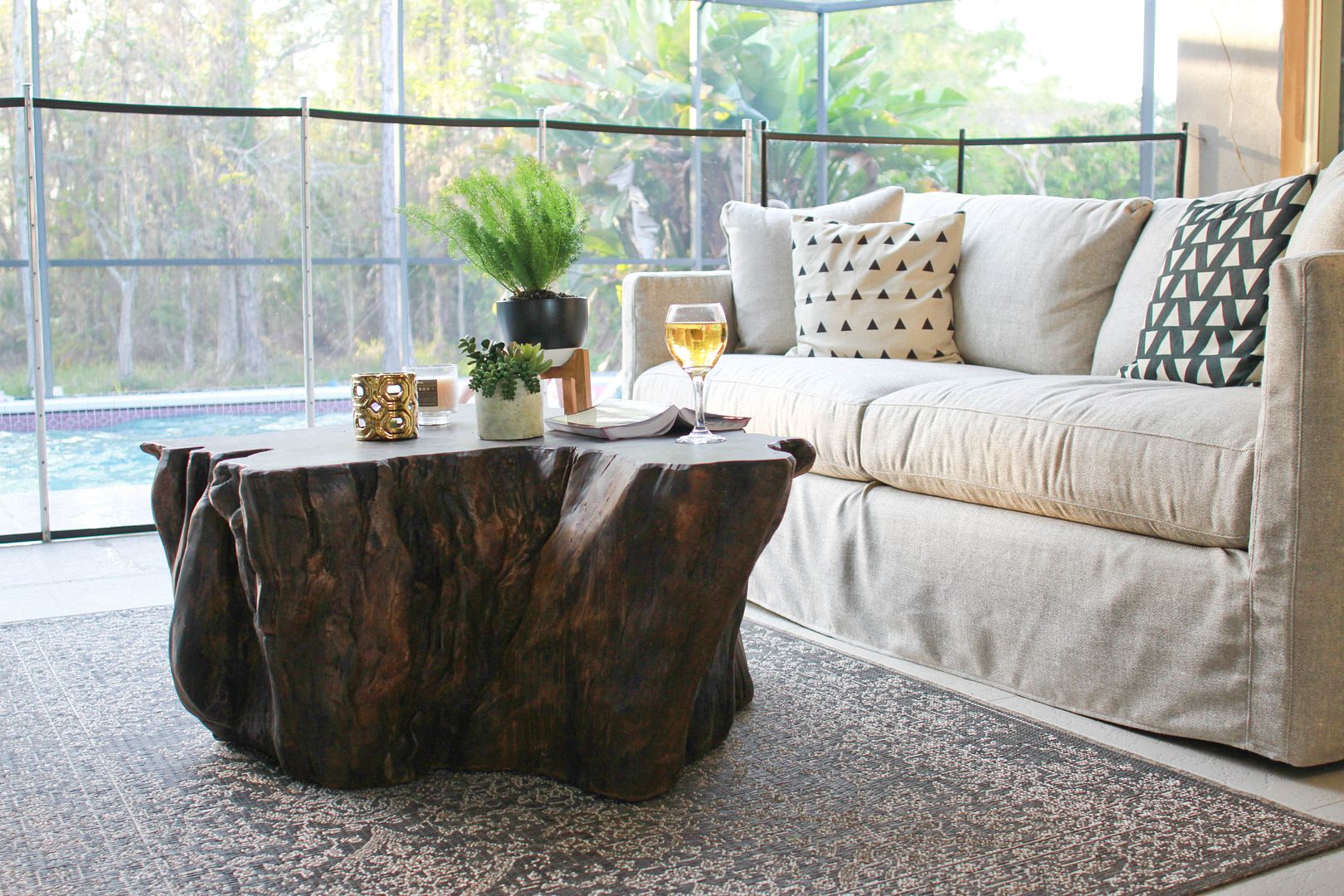 We ended up putting our old bedroom dresser in the spot where the old cabinet was ripped out. It fits perfectly while we wait to get something custom built.
And our two big favorite statement pieces that pull this room together–the outdoor sofa and root coffee table, both from Arhaus.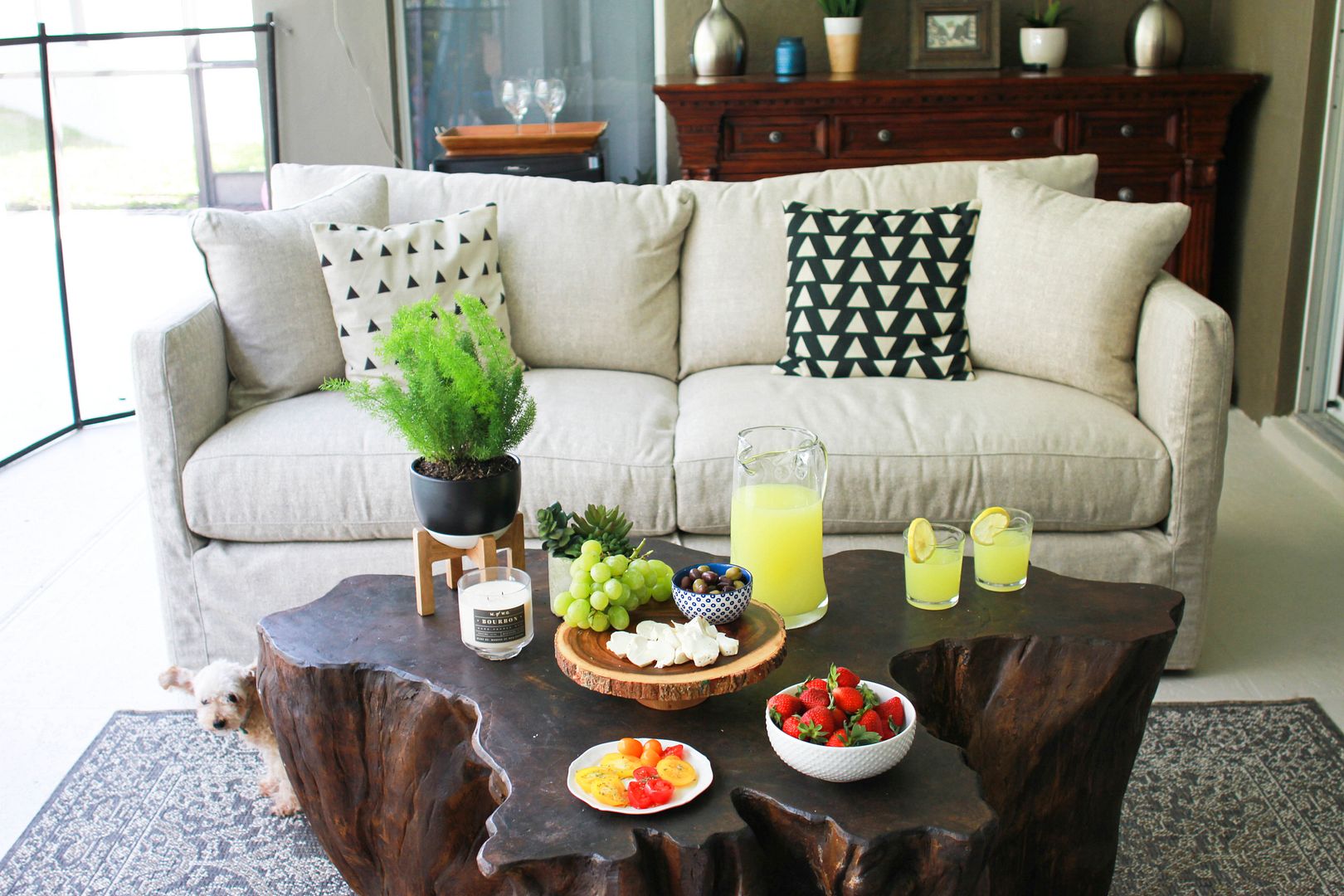 The Spinnaker Outdoor Sofa is an outdoor spin on an indoor classic. It's versatile enough that it can be brought indoors (we love that it looks likes living room furniture!) and yet it's made of weatherproof fabric, so you can lounge in style without worry. Its marine-grade frames, handcrafted in North Carolina with the same wood used to build boats, are covered in Sunbrella®/Outdura® slipcovered cushions that are resistant to mold, mildew and stains–a Florida mom's dream! And it can be customized with over 50 outdoor fabrics.
And the Root Outdoor Coffee Table? We're obsessed. It's made of high-grade mineral composition concrete, cast from a genuine tree root and then hand-finished and hand-polished for a smooth surface. It's an eye-grabber for sure, and the little ones love to lean into the nooks that fit them perfectly. Also–table doesn't budge with their leaning. It's SOL-ID.
Look! A porch party. A lanai lovefest. A sun room celebration. A veranda victory!
And then my dad came over and used his cement drill to hang the twinkle lights. Brett and I sat on that sofa sipping wine the other night, and it felt like we were in a fancy restaurant. All the feels we were hoping with this space–we got 'em!
If you haven't been to an Arhaus, check out their site–so many dreamy, one-of-a-kind pieces for your home–and all of utmost quality. And if you're looking for inspiration for some outdoor spaces this season, check out their new outdoor catalogue.
If you need me, I'll be tackling a crossword puzzle and sipping lemonade out here.
Thank you Arhaus for sponsoring this post and for providing such beautiful inspiration for our new outdoor space.