This post is sponsored by the Genius 3D MAMMOGRAPHY exam, helping save lives and celebrate more and more survivors on National Cancer Survivors Day for many years to come.
This Sunday is National Cancer Survivor's Day. I know we have a lot of holidays for a lot of things, but this one? It's important. Let's talk about those two words for a moment: Cancer Survivor. If you know one, if you are one, you understand the power of that phrase. The way the first word took your breath away when you found out. And the way the second word put that breath back but with a new part of you alive and electric–your gratitude–so big, so overwhelming, it might as well have its own beating heart. Survivor.  You, someone you love–with medical intervention caught it, fought it, maybe still fighting–but here. For another sunrise, another breath of warm June air, another "I love you."
I knew several cancer survivors growing up, my grandma included. It wasn't something we talked about a lot, but my grandpa would sometimes recall the story of the surgeon walking out of the operating room years ago and telling him my grandma was going to be okay. Sometimes he cried when he told the story, even after all those years, his gratitude still palpable. In college, I worked with kids who had cancer, at a summer camp in northern Michigan, run by the American Cancer Association. I saw gratitude in the eyes of every parent who dropped off their child and discovered a kind of resilience and strength I'd never seen before–and in 8-year-olds! They were different–they had been through something, clenched their teeth through blood draws and surgeries, withstood treatments and hospital stays. They were tough but vulnerable. Vivacious yet deeply sensitive.
I think the impact of those two words though–Cancer Survivor–hit me the most the first time I attended a Celebration of Life picnic at the hospital where my dad worked. It's one of the hospital's biggest events all year–celebrated on the first Sunday of every June–and my dad played a big part in planning and emceeing the event until he retired early this year. There was music and food, entertainment, friends, family, and a sea of t-shirts–"I'm a Survivor." 5 years. 10 years. 20 years. Badges of honor. They brought their teams–their kids, their brothers and sisters, their moms and dads, their doctors.  They danced to the band's best cover songs–"Stand by Me",  "I Feel Good" and  "Sweet Caroline"–and they held hands and sang together, raised their voices as loud as they could when the chorus came–Hands, touching hands, reaching out, touching me, touching you. Sometimes–lots of times–people cried, while they smiled and danced and shared the space with other people who understood exactly what this all meant. And at the end, they'd all join together. Find a survivor. Someone you love. Hold their hand and raise it up. Like a champion recognized after a boxing match. And then they'd play "Amazing Grace," and if you never realized what "Cancer Survivor" really meant–if you never knew someone it changed–you did then.

2014: my dad and his brother, my Uncle Dale, celebrating more days to love and celebrate.
Being a survivor might not be my story, but loving a survivor is. And as a woman who shares the 1-in-8 statistic for developing breast cancer in a lifetime, and considering the fact that I love at least a good 50 women, mathematically that's enough of us to make this all of our story. Because "Cancer Survivor" could be any one of us, and if it is, the best chance we have is early detection. Just ask my cousin Mary. She's a 10-year survivor this year. Early detection. She texted me this picture last week–with her daughter on her wedding day. "Here's one reason I celebrate being a survivor this year," she wrote. Aren't they beautiful?
And just this month, one of my dear friends in my little mom group was diagnosed. No signs, no symptoms–just a routine 3D Mammogram at her doctor visit. Detected early and with a treatment plan in action with a positive outcome expected–a new survivor on our team to celebrate. She wears her pink bracelet badge of honor, and we wear them with her because we belong to each other.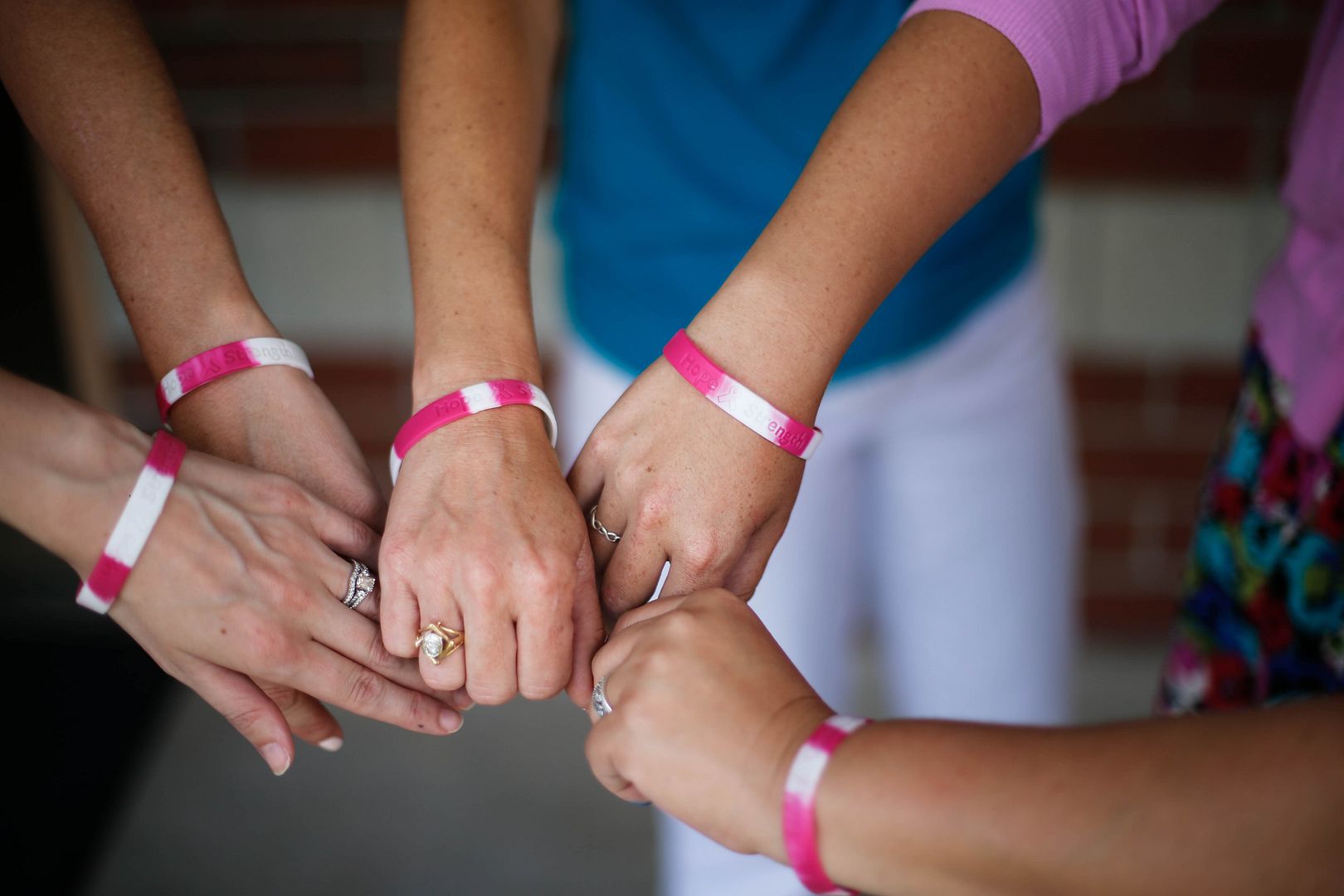 As we honor and celebrate our cancer survivors this weekend, we also honor and celebrate the advances and discoveries the world of medicine has made that allow us this celebration–that breathe hope and more tomorrows for so many. And as women, it's important for us to be proactive and educated about our health. If breast cancer is found early, the five-year survival rate is nearly 100 percent. Being proactive means not only going to get a mammogram every year starting at age 40, but seeking out the most accurate mammogram. The Genius 3D MAMMOGRAPHY exam is the only mammogram clinically proven to detect cancer 15 months earlier than conventional mammograms and reduce callbacks (the dreaded call from your doctor asking you to come back in for an additional mammogram) by up to 40 percent. It has also been proven to detect 41 percent more invasive cancers than traditional 2D screenings.
I had my first baseline mammogram a year and a half ago (I was having armpit pain that turned out to be tenderness from leaning over the crib rail all night to pat Dash back to sleep–go figure). I went because being proactive about my health is so important to me. I love too many people who need me. After the first mammogram jitters, I came out so glad I did it. For peace of mind and responsibility to my body. I remind my mom to get her mammograms, I badger my sister and I promise my friends I'll go with them to get theirs. And come 40, you better believe after toasting with my friends for my birthday, I'll be showing up the following week for my Genius™ exam.
Would I drive an extra mile for a more accurate mammogram? I'd drive to the moon and back if it meant I could kiss my babies to sleep another night or be witness to the women I love teach me more about motherhood and strength.
To all those who have lived and loved through cancer…and to the memories of those we miss who make us even more grateful for more time, more days, more love…Happy National Cancer Survivor's Day.
Take care of each other, take care of yourself.