I realized something last night as I gathered cards that had been removed from Nella's sight word key ring and scattered on the floor. I found "to" and "am" and "little," but "go" was nowhere to be found.
"Who took GO? Where's GO? NELLA! DASH! FIND GO! Your teacher made this for you–you can't throw these all over the floor!" They disperse in search of "go," lifting pillows and bending to look under furniture.
Here's what I realized: I'm having the 7-Week Meltdown. After a baby, it meant that all those perfectly packed diaper bag and well-nested house days started giving way to running out of the house without diapers and fixing blowouts with Taco Bell napkins and tape. After school starts, it means well-stocked lunch treats and organized school supplies shifts into searching for clean underwear in the morning and missing sight word cataclysms.
"I'm drowning," I told Brett last week, "it's just too much–the driving, the appointments, the drop-offs, the homework, the house–it's just not humanly possible to do it all, and yet it all needs to be done." I'm edgy and overwhelmed.
I realize something else though, and that is that this is less about the 7-Week Meltdown and more about the sobering truth of  Week 1,980, what Kelly Corrigan calls The Middle Place. It's about being a parent and a child at the same time–needing and being needed.
My phone dings with a text early last week: "He's gone–how hard he fought."  My dad lost his brother–my precious Uncle Dale. A beloved peg has been removed in our family, and the invincible generation of our parents falls a notch. We are now the grown kids, not the grand kids. I join my cousins in grief and hold virtual hands all week through phone calls, through texts, through tears.
I make dinner, clean rooms, bake muffins, stumble over blocks and dinosaurs and Barbies scattered on the floor. I pick up sleepover friends, throw in a load of laundry, buckle a life jacket before she jumps into the pool with her sister. "Be careful," I remind them.
Later in the week, my phone dings again: "He's here–how long we waited." The photo of my friend's first baby comes through–open eyes, tiny hands, that stretchy little hat I know so well. I remember it like it was yesterday. My friends are just beginning–so many joyful firsts before them.
I go through folders in the backpacks this weekend, tape their art to the refrigerator, briefly read through flyers before throwing them away. We read books, organize clothes, fold up things they've grown out of and tuck them into bags to be passed on to little friends. The introduction of my parenting book is over, and the relentless work of the middle place is here where rewards aren't as shimmery as feeling newborn baby breath on my neck. And yet, they're here, hidden in flower fields…
…and beds laden with sunlight…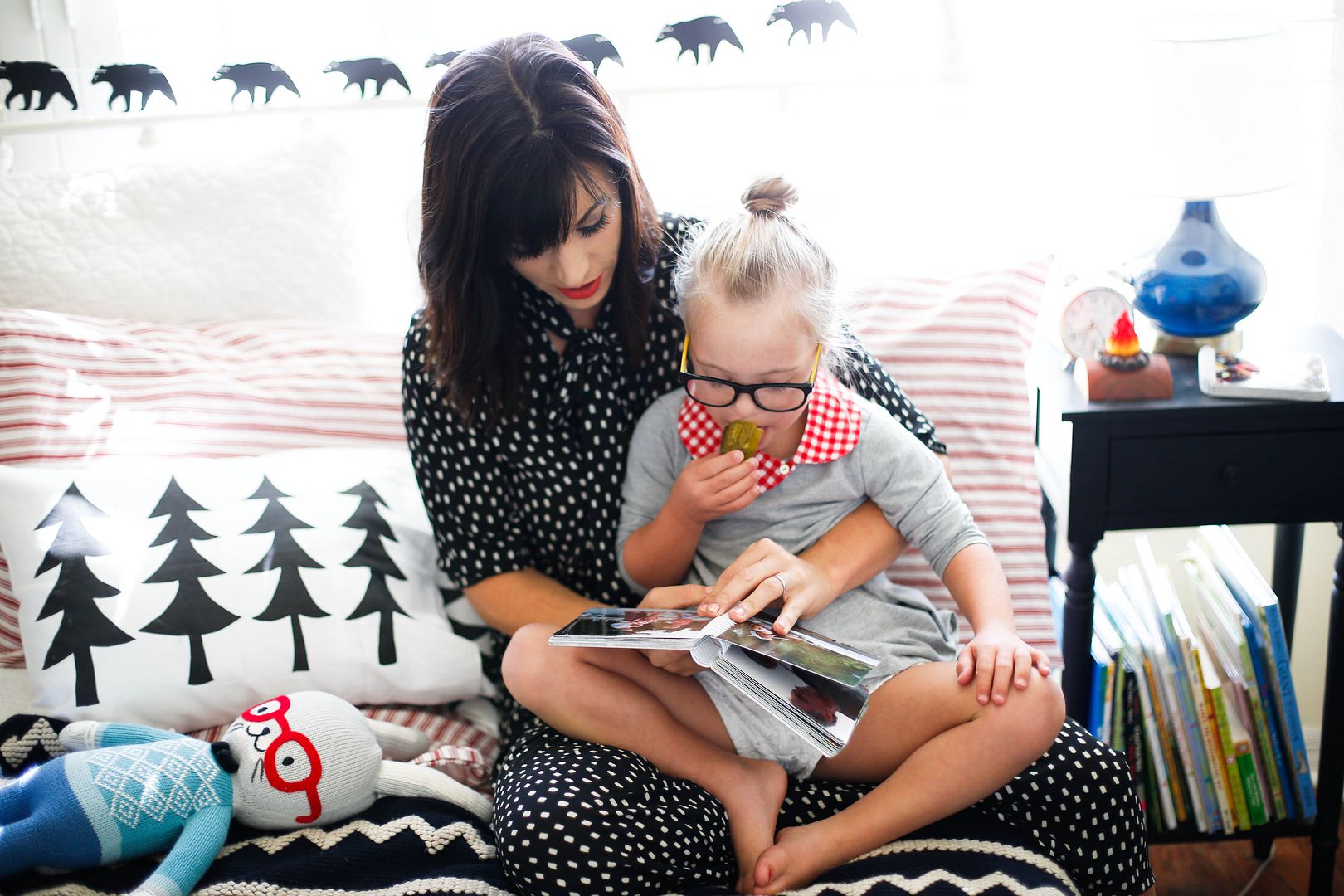 …and Sunday morning muffins.
When I taught fifth grade writing, there was a lot of hype over introductions–that's your chance to grab the audience. Wow them! Pull them in! And conclusions? Your last opportunity to inspire your reader. My students got so good at writing riveting introductions and meaningful conclusions though, that the bulk of their papers–the meat! the words! the backup stories to hold everything in place!–was getting no love. We had to refocus our writing attention to remember that our middles–the most laborious part to write and yet the core of everything we want to say–needed substance, creativity and good stories.
I set my alarm clock for this morning–something I rarely do, but I want a few moments to myself to start the week. I wake up achy–no doubt, the result of pretzeling around Nella who climbed in bed with us last night–and subconsciously shovel coffee into the filter, pour water, push the button, careful not to make too much noise to disturb my sacred hour of alone time. I light a candle, wipe the counter and look down at the floor that hasn't been vacuumed in days, and there it is–a small sight word card, freed from its key ring: "GO". I found it.
I don't have an answer for feeling overwhelmed right now. So I take my coffee into my office and start my day doing what I know how to do–show up.
I order a baby gift. I order flowers. For a welcome. For a goodbye.
Soon, the first of the three wakes up, and I hear Nella shuffling in her nightgown down the hallway to find me. She climbs in my lap and asks to look at pictures on my computer and comfortably settles in as I click through folder after folder–pictures of babies, toddlers, vacations, holidays, play dates, ordinary days–and the darkness fades outside. I feel her breath on my neck.
I will find time to make space for myself. I will wake up early, light candles and pour coffee. Call friends, get away, rest, read books, explore hobbies, remember I have a name outside of "Mom." But right now, as another Monday begins with the weight of my girl on my lap and a slideshow of memories before me, I'm feeling grateful for this exhausting, demanding, infinitely beautiful middle place. Let it last, let it last, let it last.