I had a trip last week with Ruby's Rainbow, and–not that you doubted or anything–but I thought you should know, being that it's December, I take my holiday spirit duties pretty seriously. I bring my festive to the road. Like I make room in my carry-on bag for twinkle lights and reindeer socks, and heck yeah I pack Christmas plaid. There are four of us in one room, and I take the liberty to jingle the place up before we even choose our beds, dangling a long strand of twinkle lights across the headboard.
"Oh my God, you did not bring your own twinkle lights," my friend Heather announces as I complete our hotel bed display.
"Like you're surprised? Wait, there's more." I pull out a Mistletoe Fir travel candle and two pairs of Christmas socks I brought to give away. "Here, pick one. Wear them."
No efforts are needed to ignite the cheer for the rest of the trip as the people we meet stir up every drop of good feeling I have inside (more on that next year), but I do strategically choose a festive shirt for my flight home–if you must know, a Christmas plaid long sleeve shirt with a subtle ruffle on the sleeves and neck so that, tucked in, it looks a little bit like a leotard. Basically, I am Kristi Yamaguchi in Christmas on Ice, and I'm proud of it. Also, I stop at Hudson News to pick up some magazines for the flight home and settle on three Christmas covers so that, judging by the stack of magazines I walk out with and my outfit, I am not in any way, shape or form nailing my life goal of "tone it down." And then–yes, it gets better–I hear the lady on the loud speaker announce last call to board my flight. So I run. You know it, this is going to turn ugly. I gallop like Vixen trying to get that sleigh off the ground, and I am wearing heeled boots, ladies and gentlemen. Also–important not to forget: CHRISTMAS PLAID LEOTARD. I am *this close* to my gate, right in the main hallway, and it happens. I slip. And I go down hard. Kristi Yamaguchi bombs the double lutz, and the crowd is watching. The magazines go flying–Martha Stewart to the left, Good Housekeeping to the right, Women's Day flung far in front of me. I am sprawled across the dirty airport floor in a fall that had to be epic entertainment for anyone who saw. My right knee is throbbing, my right elbow took one for the team, and my pride? Shattered. And while I am down there, staring at the tile, it hits me: "You are on the ground. You are awkwardly hugging the floor in a packed airport, in heeled boots, and you are wearing Christmas plaid." There's only one way to recover: Get up, and make eye contact with no one. So I get up, scooping my holiday magazines off the floor and pretending nothing hurts because somehow falls feel less embarrassing if no one gets hurt. It's why we start mumbling, "I'm okay, I'm okay–ha ha–I'm fine" to people who attempt to assist, even if we're bleeding out.
I make it to the jet way and, while digging for my ticket, I drop the neck pillow that was hooked around my purse because YES, I TRAVEL WITH A NECK PILLOW. The jig is up, guys. I am not a classy flier.
"Here, I got it," I hear, and turn to see a nice-looking man behind me who hands me my clearance pilled-out neck pillow with tiny styrofoam balls falling out of a small hole.
"You're having a heck of time there, aren't you?" he says with a smirk. "I saw you wipe out."
Jesus, just let me die.
Moral of the story? Jessica Klein wrote a whole thing about Poodles vs. Wolves. Grace Kelly was a poodle. Cate Blanchett is a poodle. Poodles are born poodles and exude grace and class wherever they go. But wolves? Wolves can never be poodles, no matter how bad they want to be or how hard they try. Spoiler alert: I am a wolf.
But I am a festive wolf, a happy wolf–a wolf who can at least shove some of my wolfness under the rug with a good smear of red lipstick and some well-hung twinkle lights. And yes, I said well hung.
On that note, here. I call this one "Wolf Holding Poodle." Because little sister is as sure as hell a poodle as I've ever seen. She don't need no lipstick.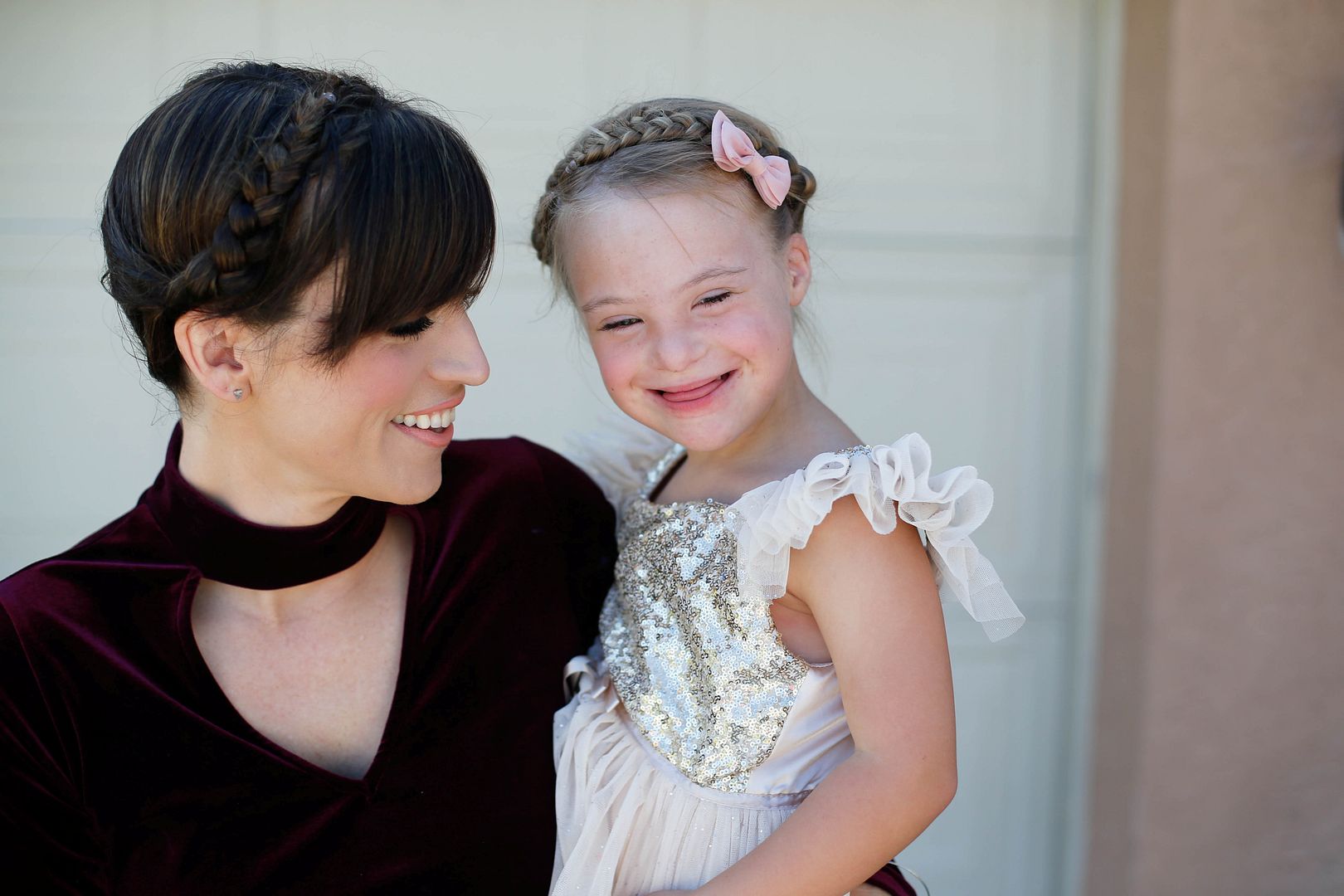 Like everyone else in the world, we've been very busy this month. We're getting ready for our annual North Pole party this weekend and scurrying around (the good kind, not the stressful kind) with holiday tasks, but I always love to exhale some love and gratitude in this space for little moments we've been loving–things I want to remember.
Thanksgiving Day: I peeked into the girls room to see my kids crowded around Gary, playing with Barbies. I could overhear the rest of the family laughing in the kitchen, smell all good Thanksgiving-ish things and have had enough exposure to life's heartache to grasp how special these moments are but not so much heartache to make them hurt. And I took a little snapshot in my mind and made note of how good it feels to be in this moment, right here, in life.
Every time I make a pie, I text a picture to my mama and wait for her "that's my girl!" reply.
Heavy Lounging is our theme this month:
And the Family Tree Lighting.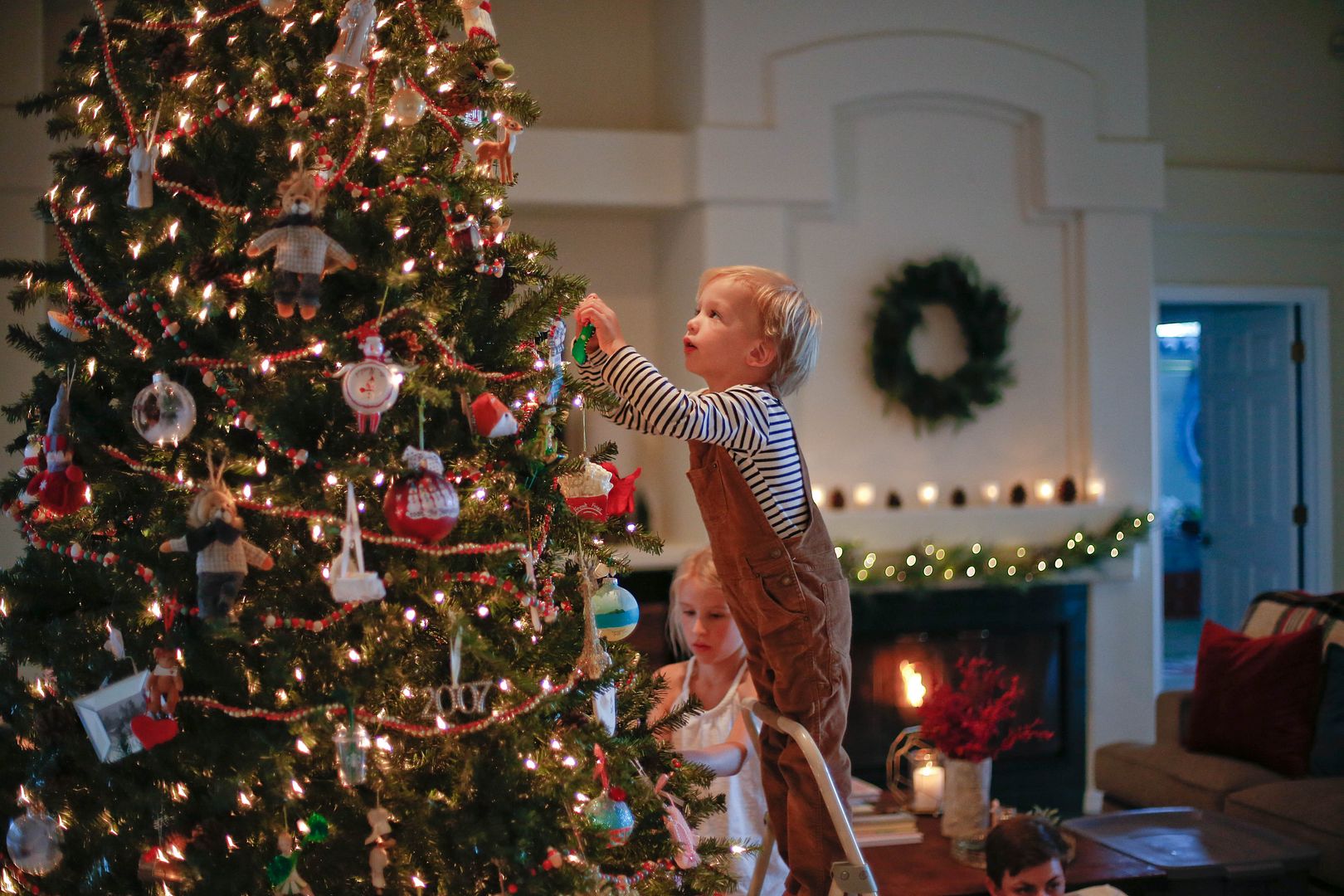 We read Cynthia Rylant's Christmas in the Country the other night, and I love how she described pulling out the ornaments to put on the tree: "Each ornament reminded me of my whole life." As much as I tell myself that some year we will go all out on a color-themed tree with big beautiful bulbs and a coordinated display of ornaments, I know I will never part from our hodgepodge collection of family treasures. The reindeer with the broken foot, the ballerina that's been glued together three times, the tiny cradle with "Baby's First Christmas" rubbed off after ten years of little ornament handlers. Our whole lives and all our stories are collected on this tree, and we like the way they twinkle.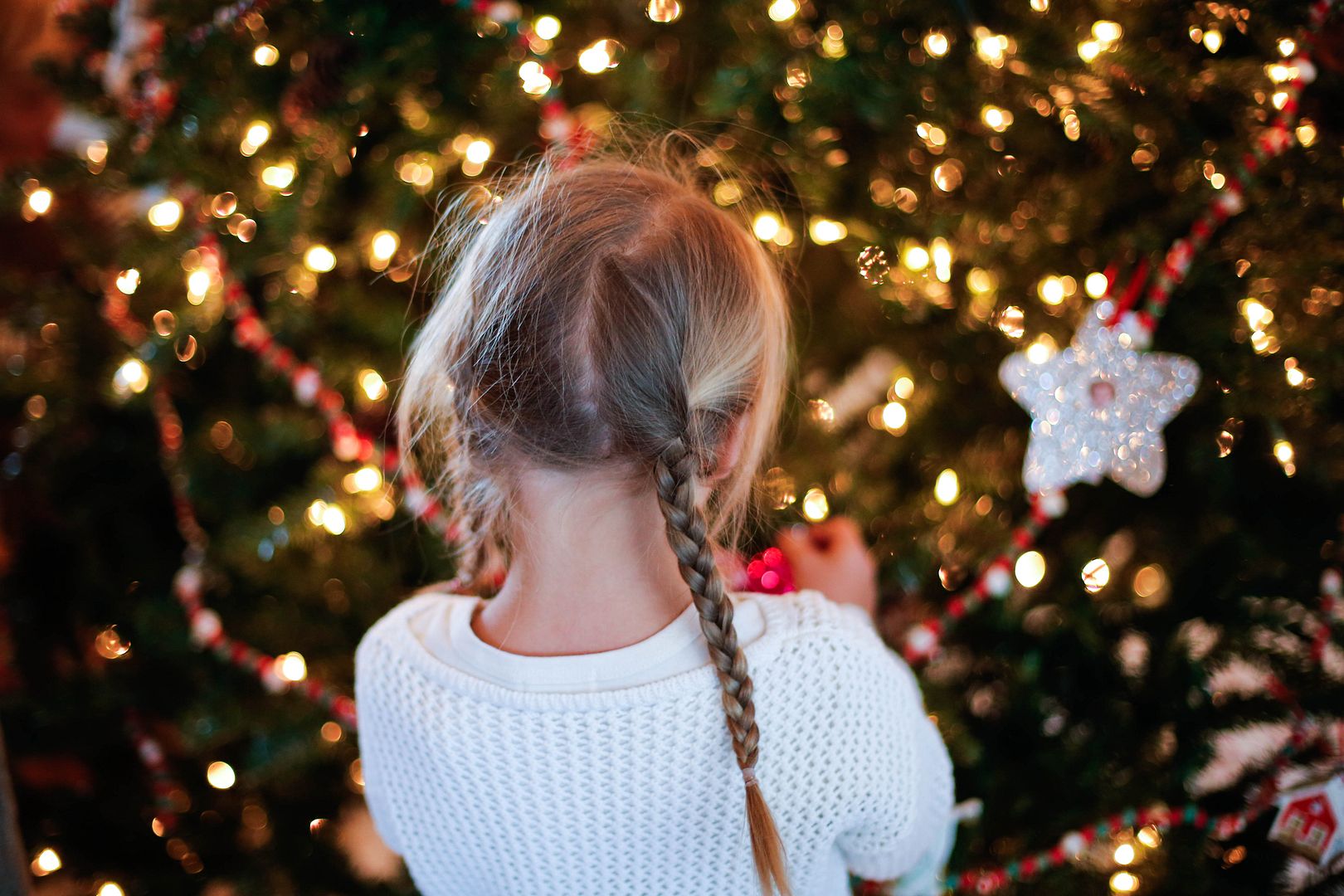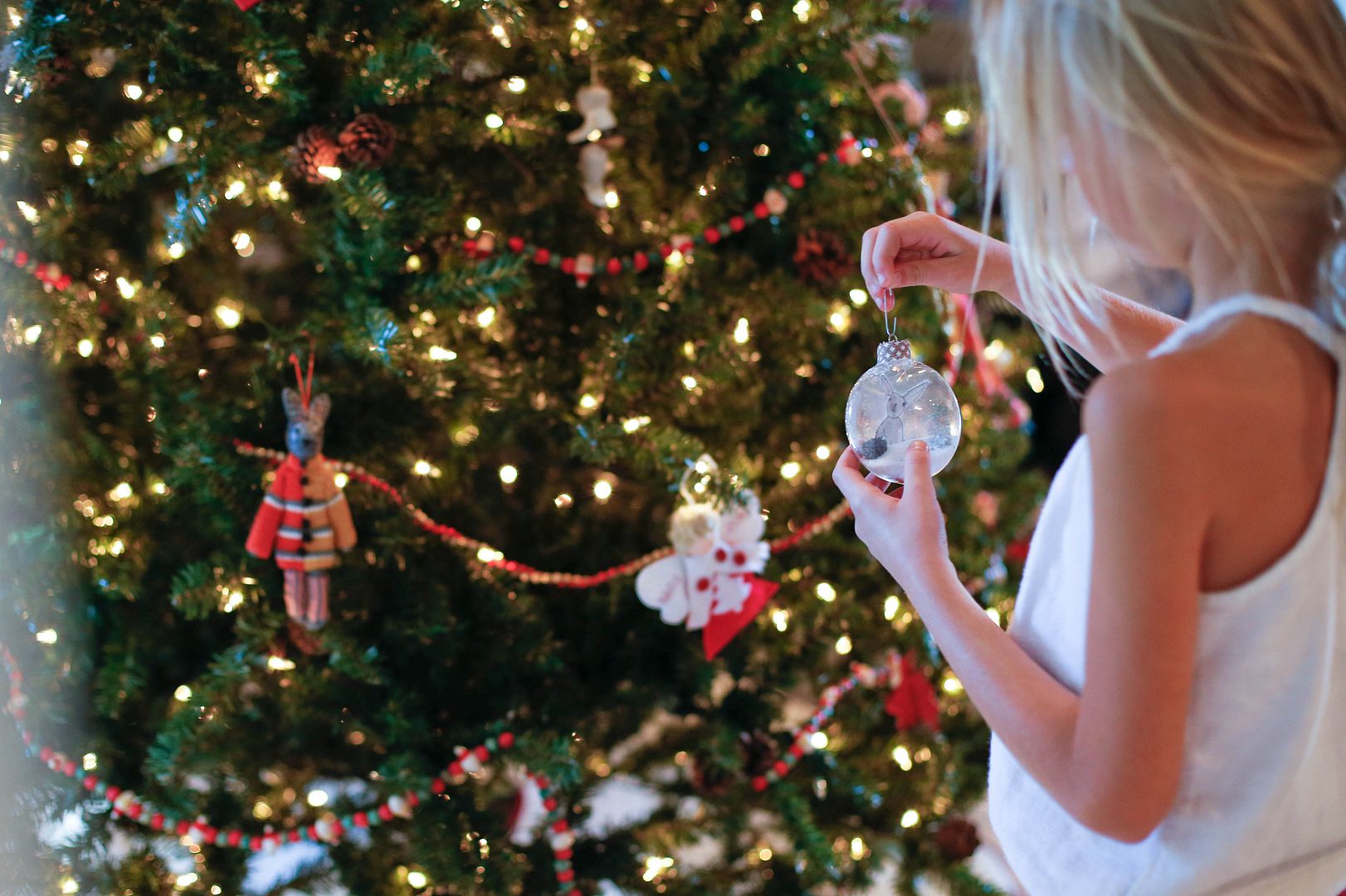 Everything looks sweeter with a Christmas tree in view.
But sleeping babies with Christmas trees? Cannot be topped.
Finally, one of my favorite annual holiday traditions–The Nutcracker.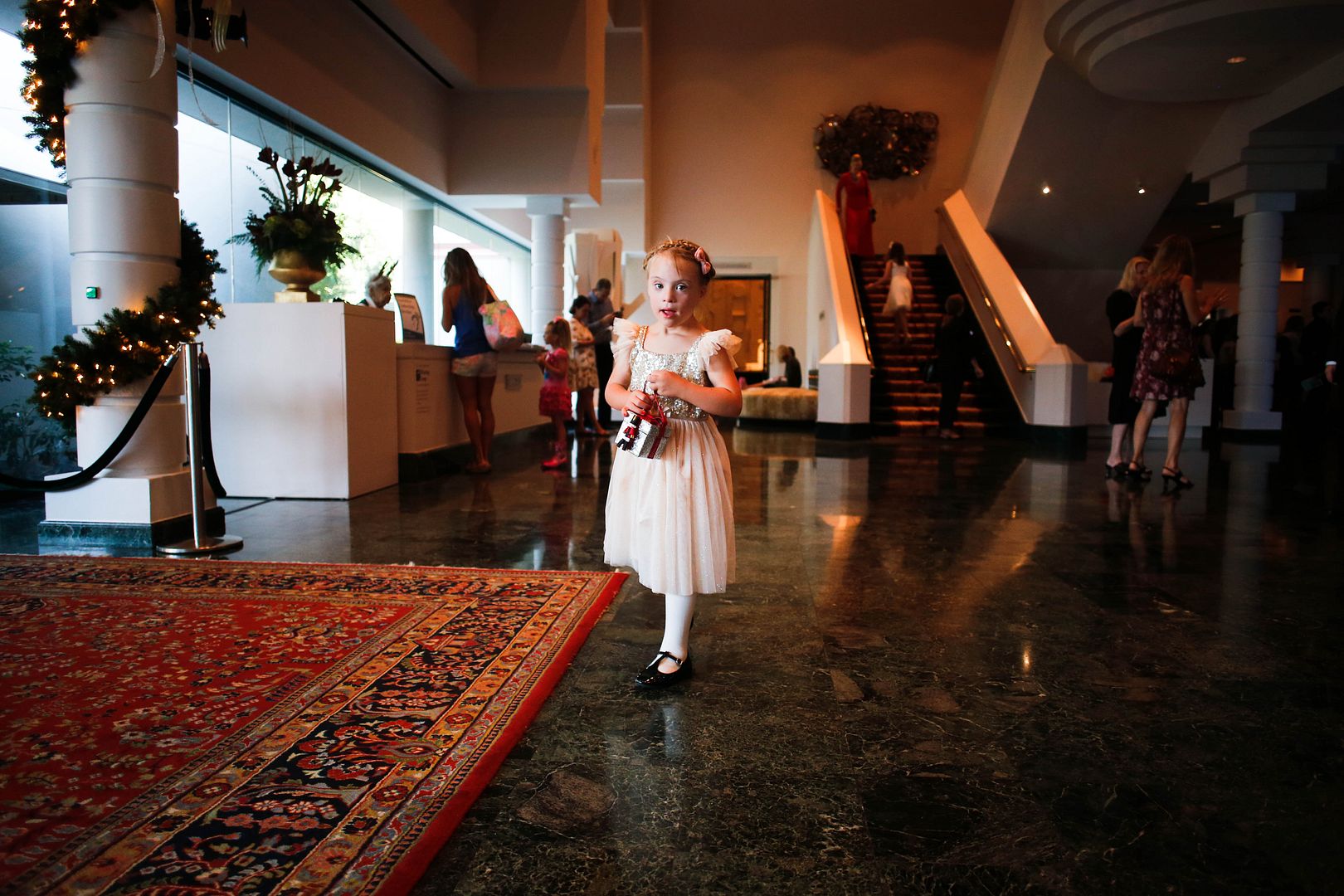 We get all fancied up, have lunch at the Ritz (a wolf at the Ritz–imagine that!) and then head to the ballet. Lainey brought a friend this year, and the whole day was simply holiday heaven.
Poodle, Wolf, Poodle, respectively.
Nella loved having her own purse, filled with tissues and Chapstick and TicTacs…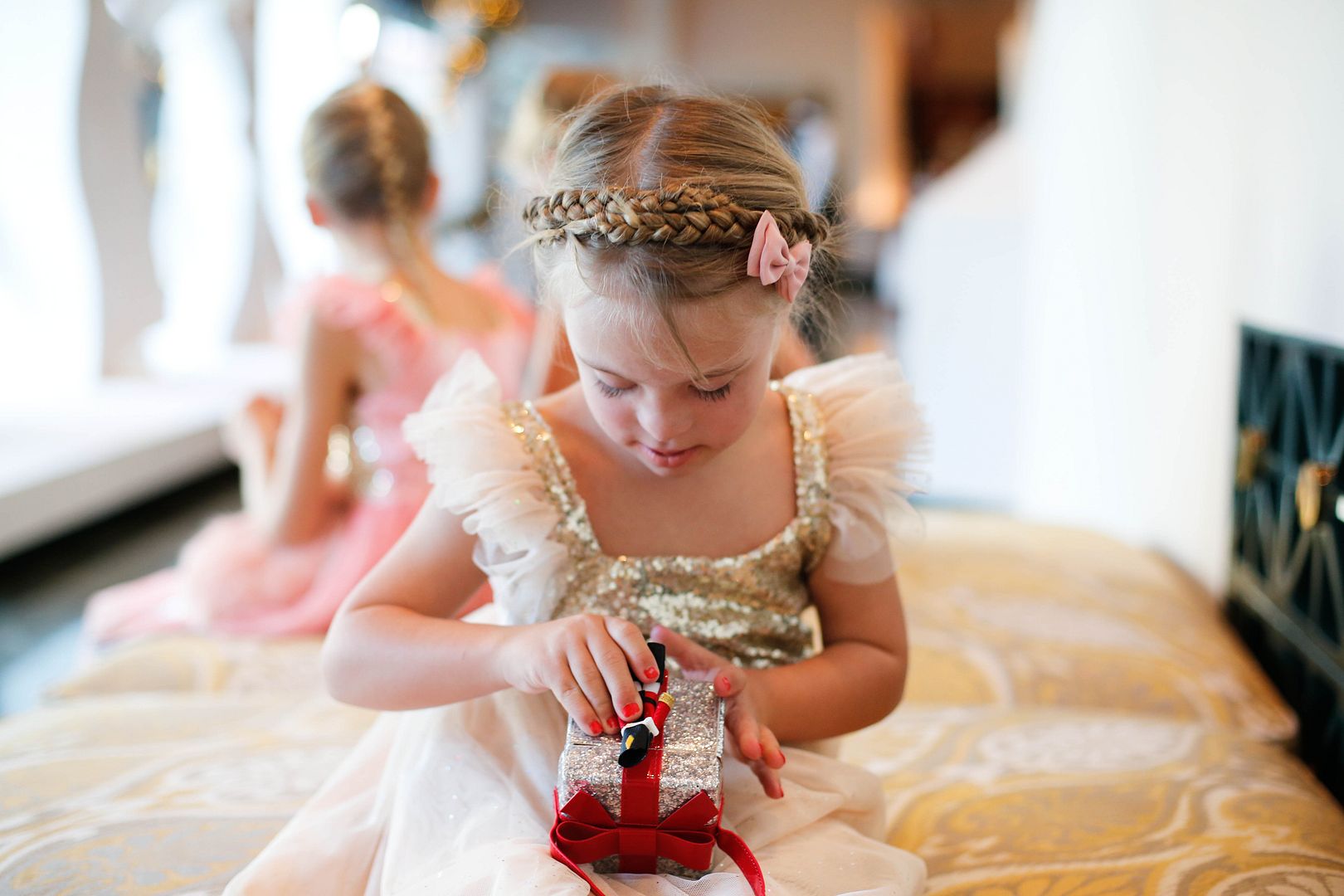 …but we did have to hear the rip of the velcro closure open–oh, only about 72 times throughout the performance. When the usher lady started turning her head every time the purse opened, I finally had to pull the loud whisper, "NELLA! Stop opening your purse!"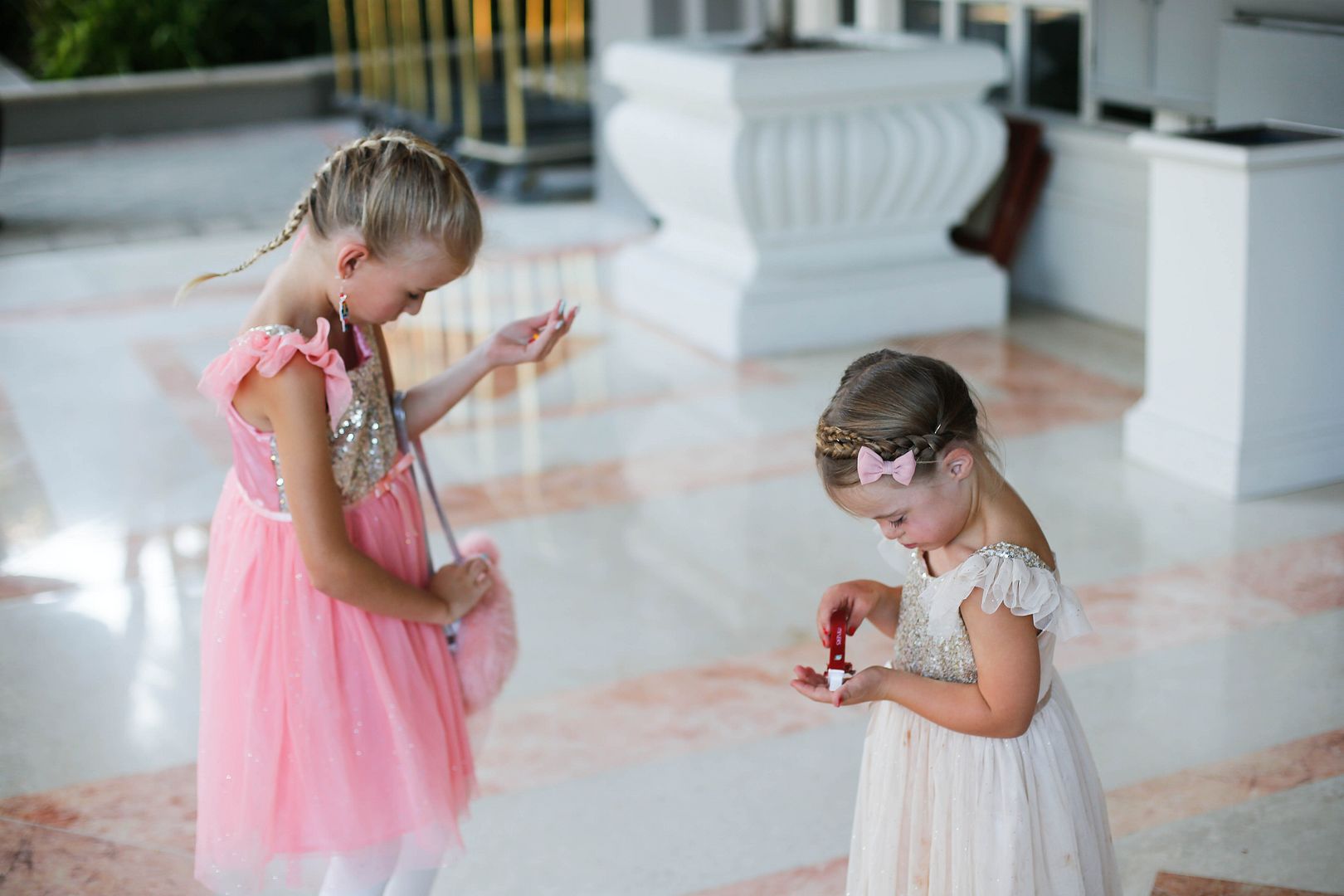 Lainey took this picture, and I love it:
Decembers are definitely my favorite.
Is there a point to this post? No.
But if there was, it would be something like…Wolves may fall hard. But the Christmas wolves sparkle on. There. That'll do.