This Sleep Number sponsored post is the last in a series celebrating our family's balance of rest and sleep.
Since Nella could talk, she's been the first one in our home to ask to go to bed. "I want to go night-night," she says, often accompanied by whining, begging, pulling on our arms and leading us to her bedroom where she climbs into bed and sighs as if she's been waiting for this all day. Unlike many kids, bedtime is not a dreaded end of fun to be avoided but an invitation to a happy place of rest and dreams, and I get it. I too retreat at the end of the night and sigh a little–I love the hug my bed provides at the end of the day.
In December, it's even better. During a month that often spills a little more on our to-do list and threatens to make us a bit more wiped out at the end of the day, bedtime is not only a welcoming escape but a common theme of magic in holiday stories. There's "sleep in heavenly peace" in Silent Night, "visions of sugarplums" for sleeping children in 'Twas the Night Before Christmas and Clara's magical bed that takes her to the dream world of the Sugar Plum Fairy in The Nutcracker. Countless Christmas children's books depict little ones nestled in their beds next to the warm glow of twinkle lights and candles, and thousands of moms follow the theme with the hunt to find the perfect Christmas jammies for their family.
Even the story of Jesus' birth is centered around the humble beginnings of his very first bed–a manger–made comfortable, at least from the depictions in nativity recreations, from tufts of hay and a good cloth swaddling. So it is no wonder that we up the ante on our bedtime routine in December. Make havens of our bed. Drape garland over headboards, string twinkle lights across the bunk beds, stack Christmas books on the nightstand. We add a little magic and wonder to our night traditions and put in a little extra effort at the end of the year so that the last words trump all the nights of the year that weren't as purposeful–that were rushed or ended differently than we had hoped. In December, we try our best at night to say: In this bed, dreams are made; in this home, memories are cherished; in this family, you are loved.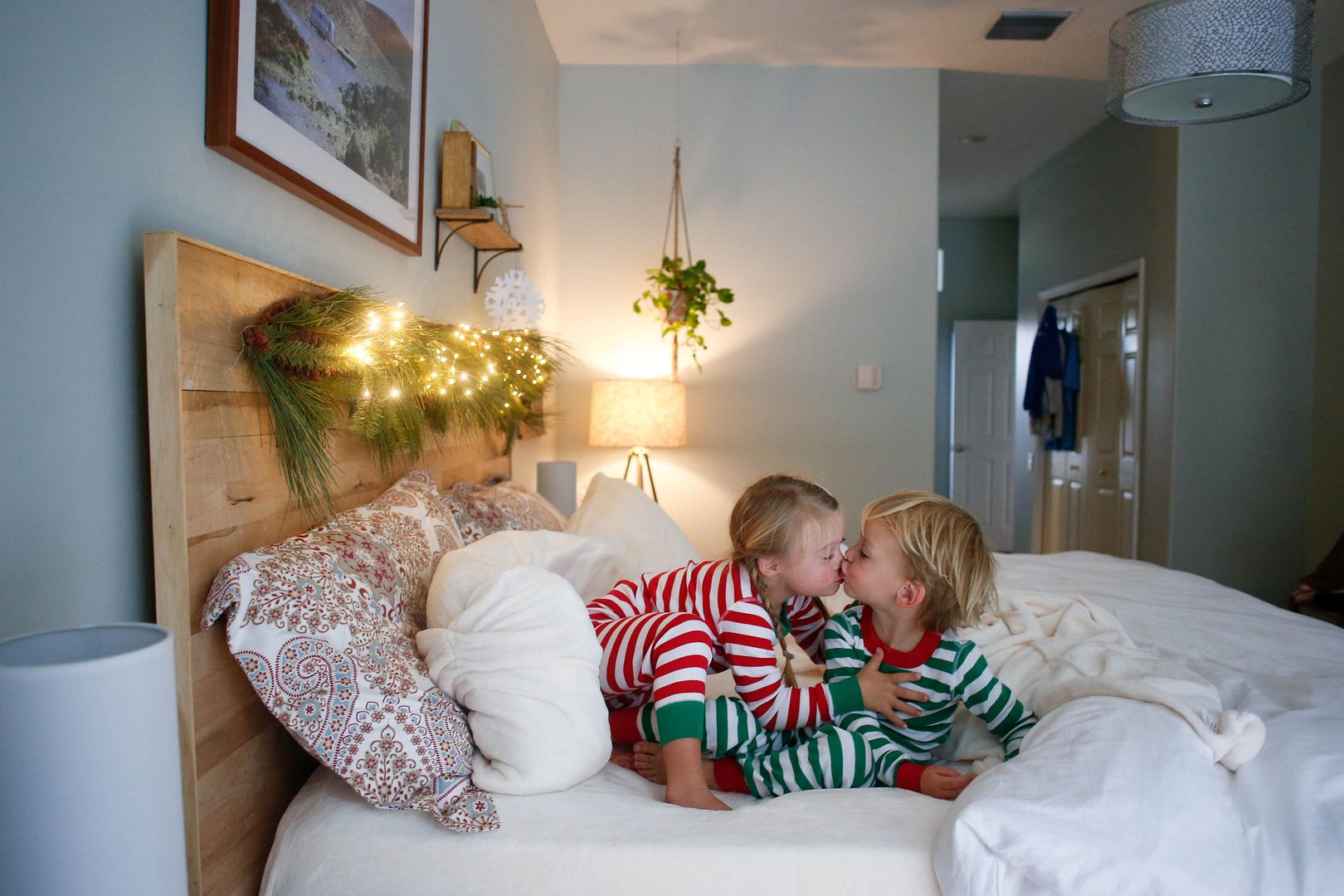 With three kids, a "silent" night isn't too realistic, but we do inject the "all is calm" thought into our night routine as much as possible. A few fun ways we do that?
"Christmas Walk" Tradition
In December, we often wind down before bed with a special moon walk outside. We bring a flashlight and walk the sidewalks in our neighborhood to see everyone's light displays and Christmas decor in their yards. Sometimes we load up in the wagon and bring cocoa. Sometimes we only make it a a few houses down before returning. Either way, it's a fun way to enjoy a shot of family time before settling in for the night.
Holiday Books in Bed
Every night in December, we read a different Christmas kids book before bed and have turned it into an advent tradition of unwrapping a "new" book each night (tradition and list of our favorite holiday books can be found here). We all pile up in our bed to read them, or in the kids' bed, or sometimes someplace fun like a fort or a blanket under the stars in the front yard. I love that it demands a commitment to slowing down, focusing on family and making bedtime a purposeful ritual.
Add Some Twinkle
One of my favorite places to decorate for the holidays is in our bedrooms. These beds are our  little kingdoms of rest, and I love that they get a holiday makeover in December, giving our sleep ritual a little extra magic. A simple garland added to the headboard, twinkle lights, a few bottle brush trees on the nightstand–it doesn't take much to transform a bedroom into a Christmas dreamscape.
Tickle the Senses
Our senses hold some powerful relaxation triggers, and the holidays happen to be a sensory wonderland. Pour a few drops of balsam & fir or peppermint oil in an atomizer in your bedroom. Give your kids foot rubs with gingerbread scented lotion before bed. Listen to Christmas stories on audio book with all the fun sound effects of jingle bells and winter wind blowing. For northern colder states, winterize your bed with an electric warming blanket or fuzzy winter soft sheets.
Spritz your pillows with spearmint pillow spray, and make a big deal about the magic of sweet dreams it brings.
Go to BED!
The holidays hold so many opportunities for family memories and togetherness. You definitely want to feel good to make the best of them. So, as much as you'd like to stay up until 2 to finish wrapping those presents or whip up some cinnamon rolls past midnight for a special breakfast in the morning, pace yourself and spread things out as much as you can so you're not up all night Christmas Eve and zombie-ing through priceless moments Christmas morning. Your bed is your friend. It wants you to have the best holiday you possibly can with your family. So listen to it when it says, "Come to me." Not all beds are created equal. If your mattress isn't a haven or a relaxing, comforting place, you seriously need to check out Sleep Number. All of their beds adjust and conform to individualized needs—and can even track your sleep habits and patterns using SleepIQ technology. Tell Santa.
We've been thrilled to partner with Sleep Number in this series of posts dedicated to rest and sleep. Our Sleep Number bed is definitely a symbol of peace and rest for me, and I love both the comfortable nights of sleep I've enjoyed in it as well as the countless family huddles it's supported–for stories and hugs and love.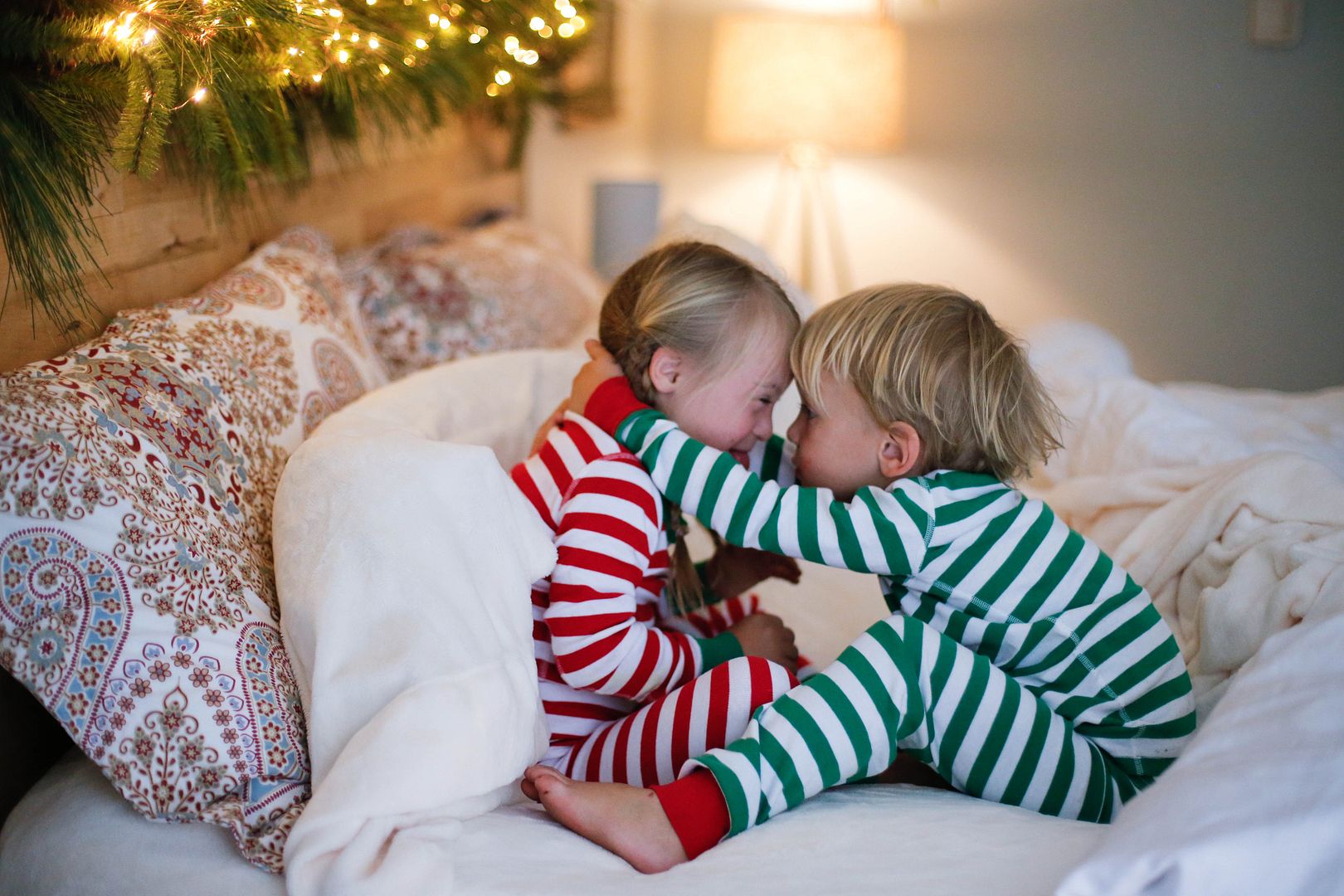 If you're in the market for a new mattress, head to a
Sleep Number store
to discover a whole new shopping experience that digs into the nitty gritty details of what your body specifically needs for the best rest. We took our entire family when we picked ours out, and everyone had a turn at analyzing comfort needs.
Sweet dreams, friends.