Oh hey, Christmas friends. I'm drunk on cocoa and sugar high'in from marshmallows and cookies, but I'm here. In red plaid jammies if you must know.
We had our sixth annual North Pole Party this past weekend and, after editing all the pictures, I'm feelin' the feels. Why is it that December brings out so many feels? It's like a month long push on a bruise–the hurts are hurtier; the goods are goodier. We let those feelings come to the surface as they may in December, and we throw parties to celebrate all of it. Six years in now, this little North Pole party holds some nostalgia. It's hard not to look out at the crowd of kids listening to the Christmas story and remember every one of them when they were in that same spot six years ago–chubbier cheeks and imaginations unshackled by all that the world tells them that is possible. At the same time, it is such a celebration of growth and change and a solid reminder to be grateful–all these kids, all these mamas, all these years. We're healthy, we've grown in numbers, we're bound by friendship and love.
So, here we go. Some holiday cheer for you–kids and jammies and Christmas and cookies.
Wait. Quick. Go make some cocoa. With marshmallows. I'll wait.
….
….
Back? Now light a candle. And you'll need some Christmas music, so I took the liberty of making you a playlist of our absolute favorites.
Click play.
Welcome to the North Pole.
I am unwilling to try any other Christmas sugar cookie recipe because I can't imagine this one being topped. It's Better Homes & Gardens cookbook recipe (page 200 in mine–the page is all crusted with flour and falling out of my book). I roll out the dough pretty thick so that they're soft and chewy, and I pull those feckers out of the oven when they are just barely brown around the edges. Our frosting might not be the smoothest/prettiest frosting, but it tastes so much better than the royal icing recipes I've seen that make picture perfect cookies. I don't measure. I just soften a stick of butter, add a shit ton of powdered sugar, a teaspoon or so of vanilla and then enough milk to get the consistency I want. It sets enough to be able to stack cookies and yet your teeth can still sink into it.
Also, I'd like to throw out a big Thank You to our hot cocoa bar for staining Dash's brand new white Hanna Andersson jammies. Hoping Oxy Clean pulls through for me.
We do an ornament station at the party, and I've found that these work great as a self-run craft station. Cover a table with butcher paper. Put all the supplies out. Write step-by-step directions on the paper. (porcelain ornaments, Michaels–as well as the minis, currently 70% off)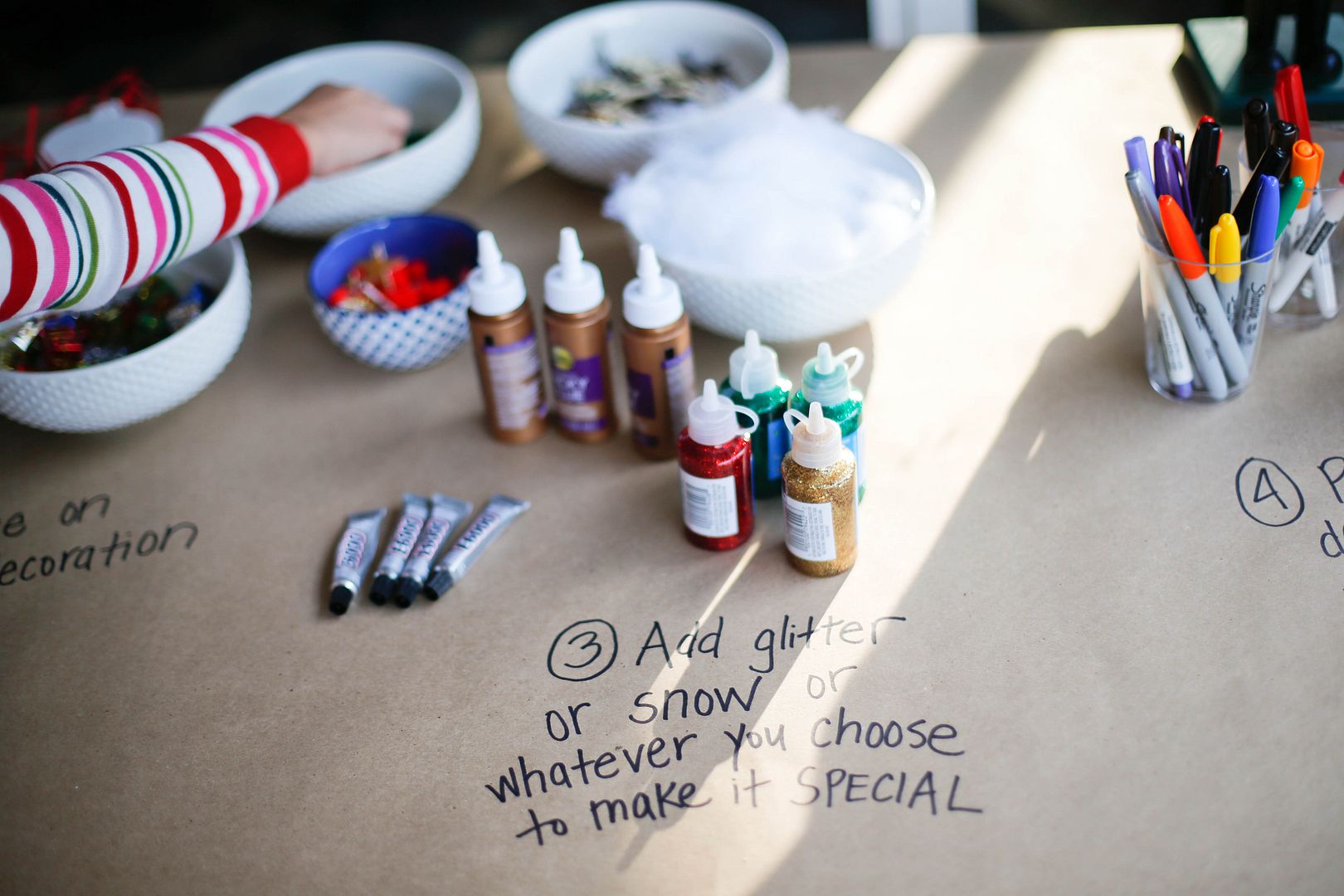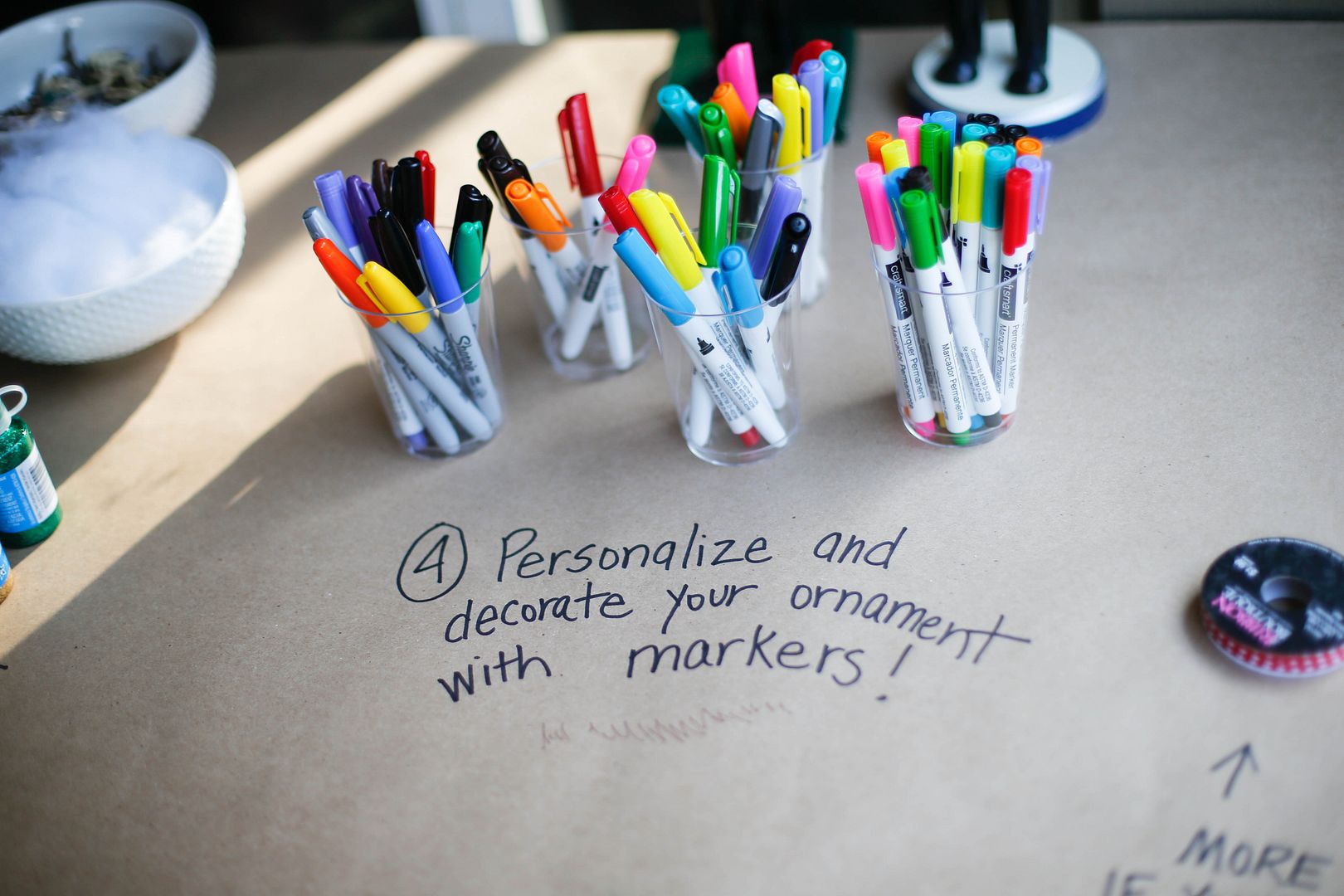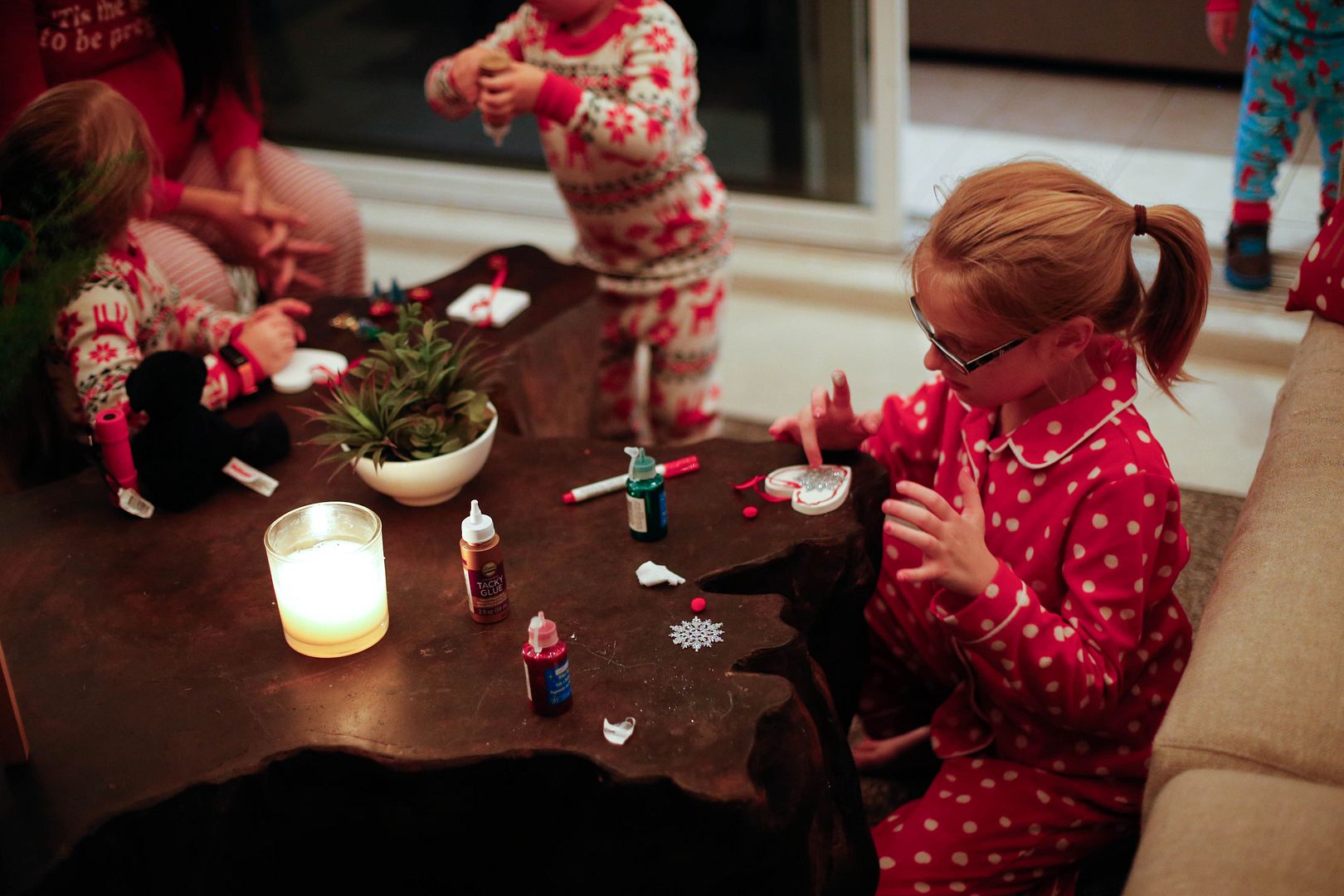 These adorable hot cocoa ornaments (Target) were the take home treat and made the cutest garland.
Brett sets up our beach tent in the front yard every year and strings Christmas lights all over it. We put blankets under it, and it makes the perfect gathering spot.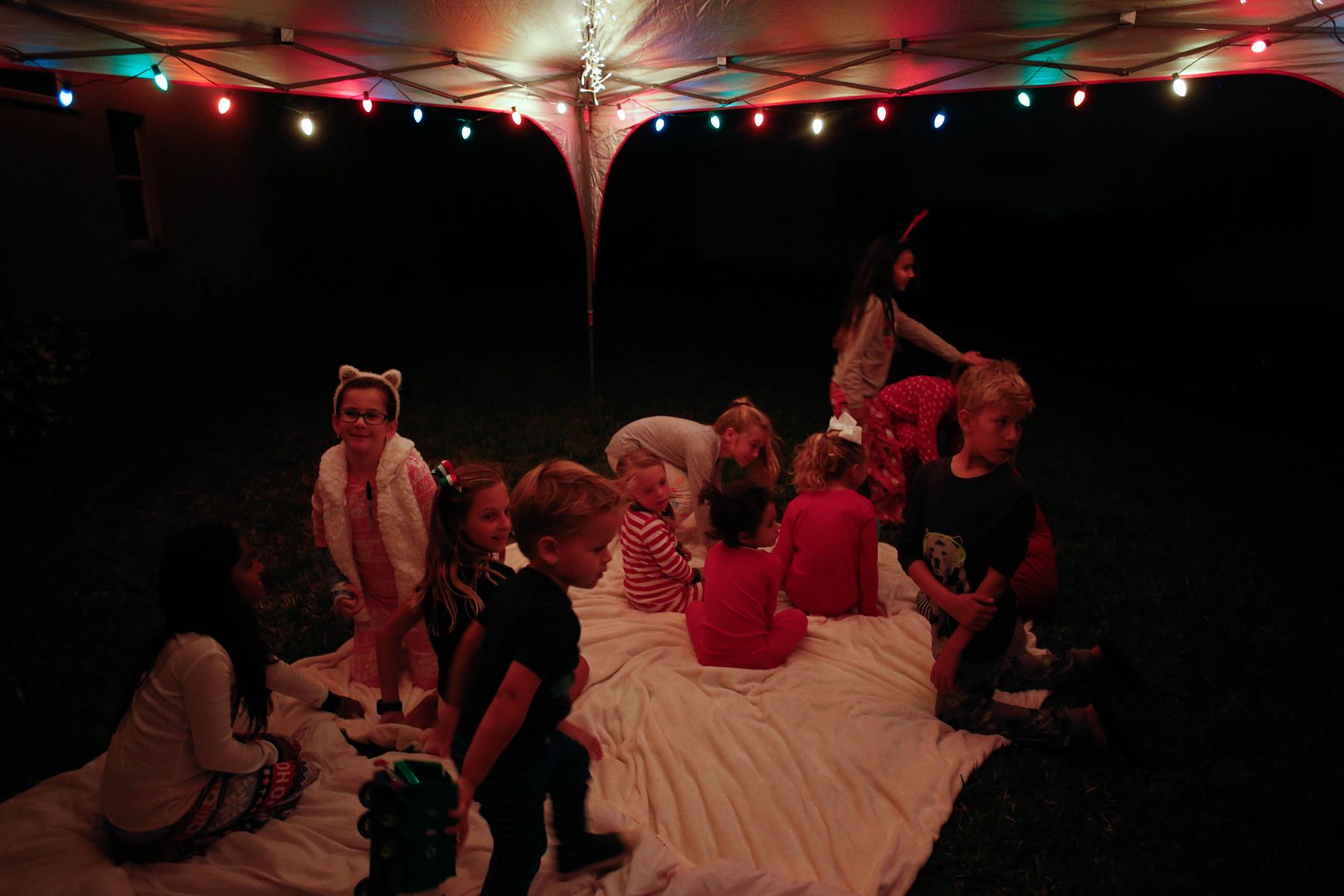 I remember driving to the hospital, a week before I delivered Nella, to hold these these twin boys.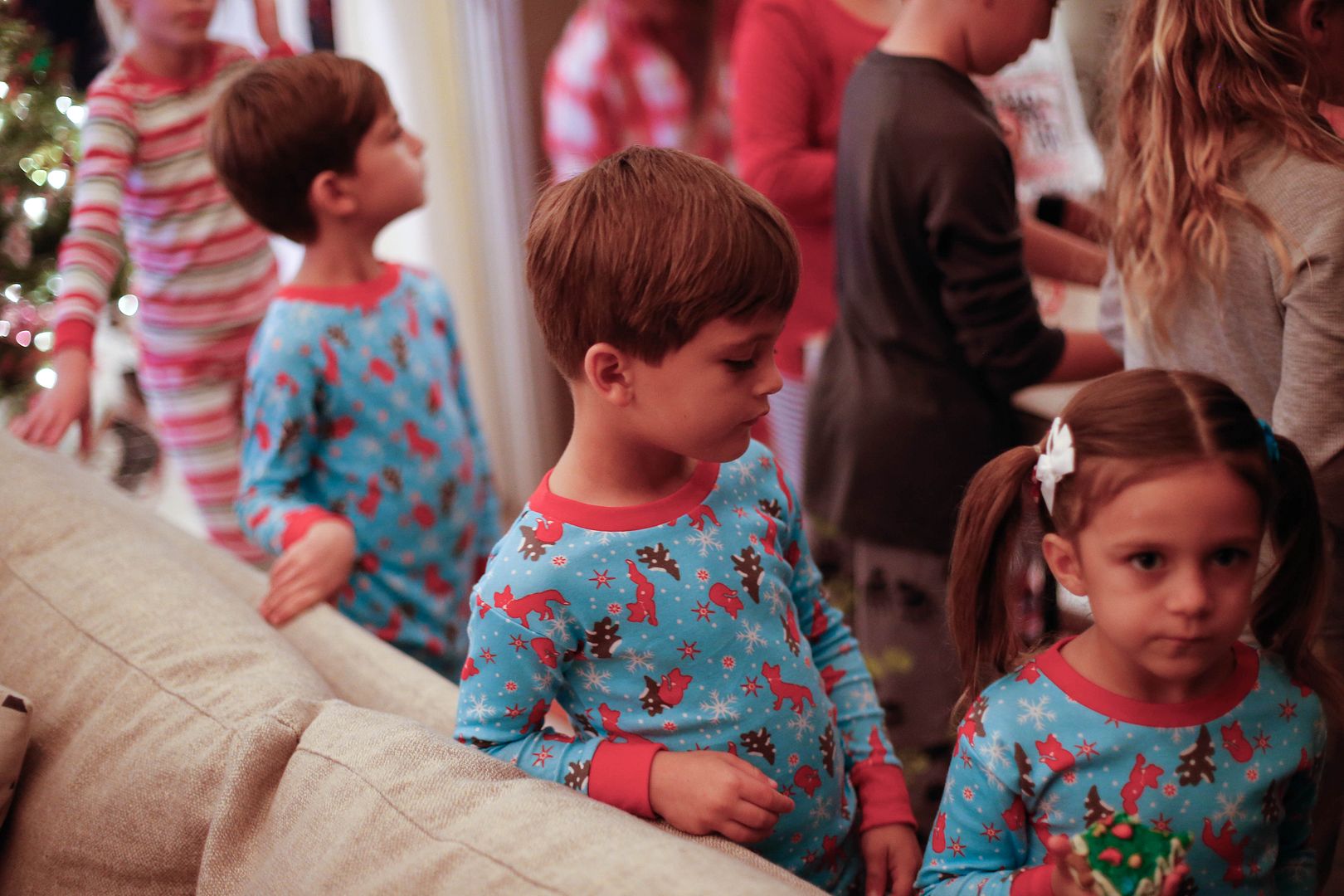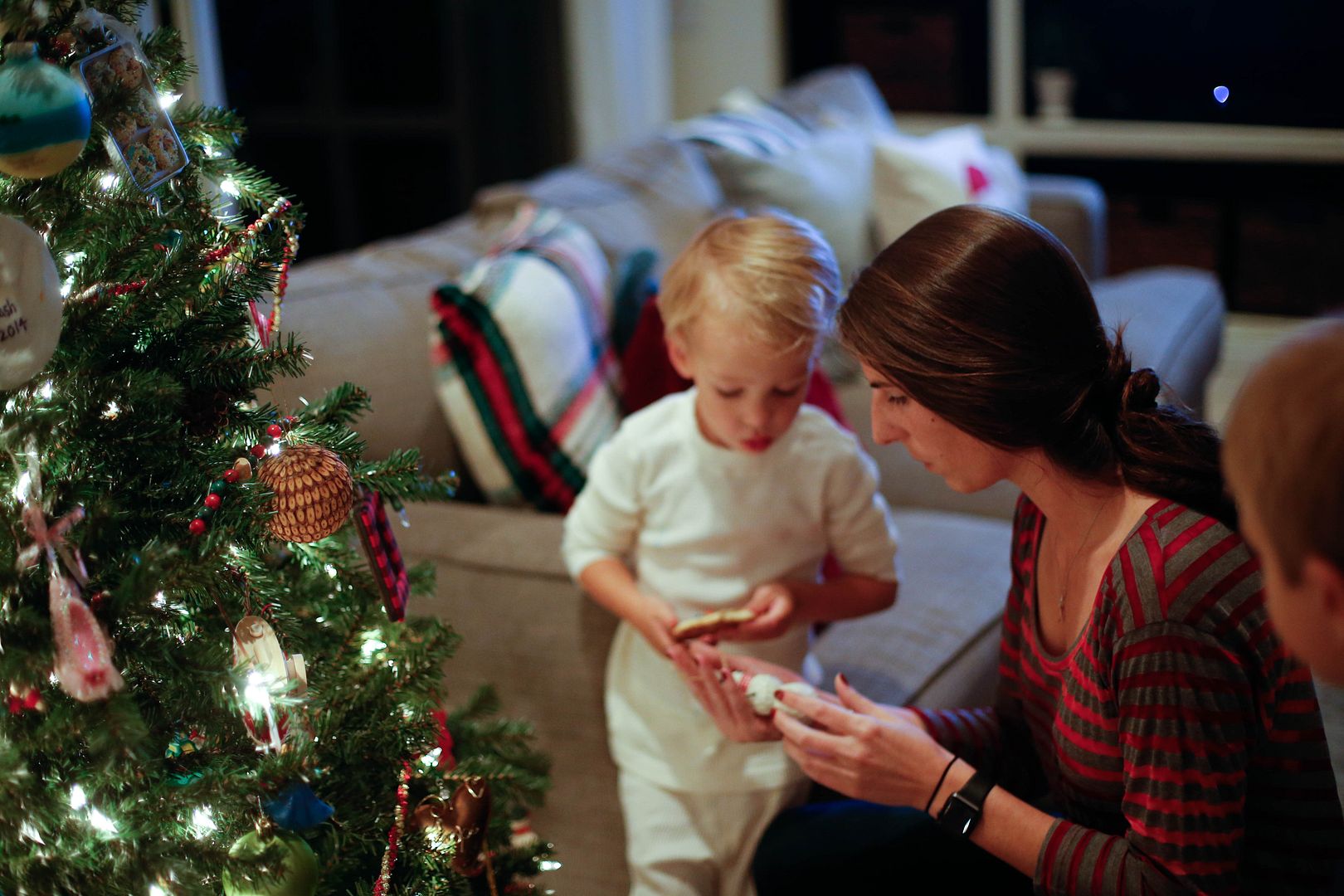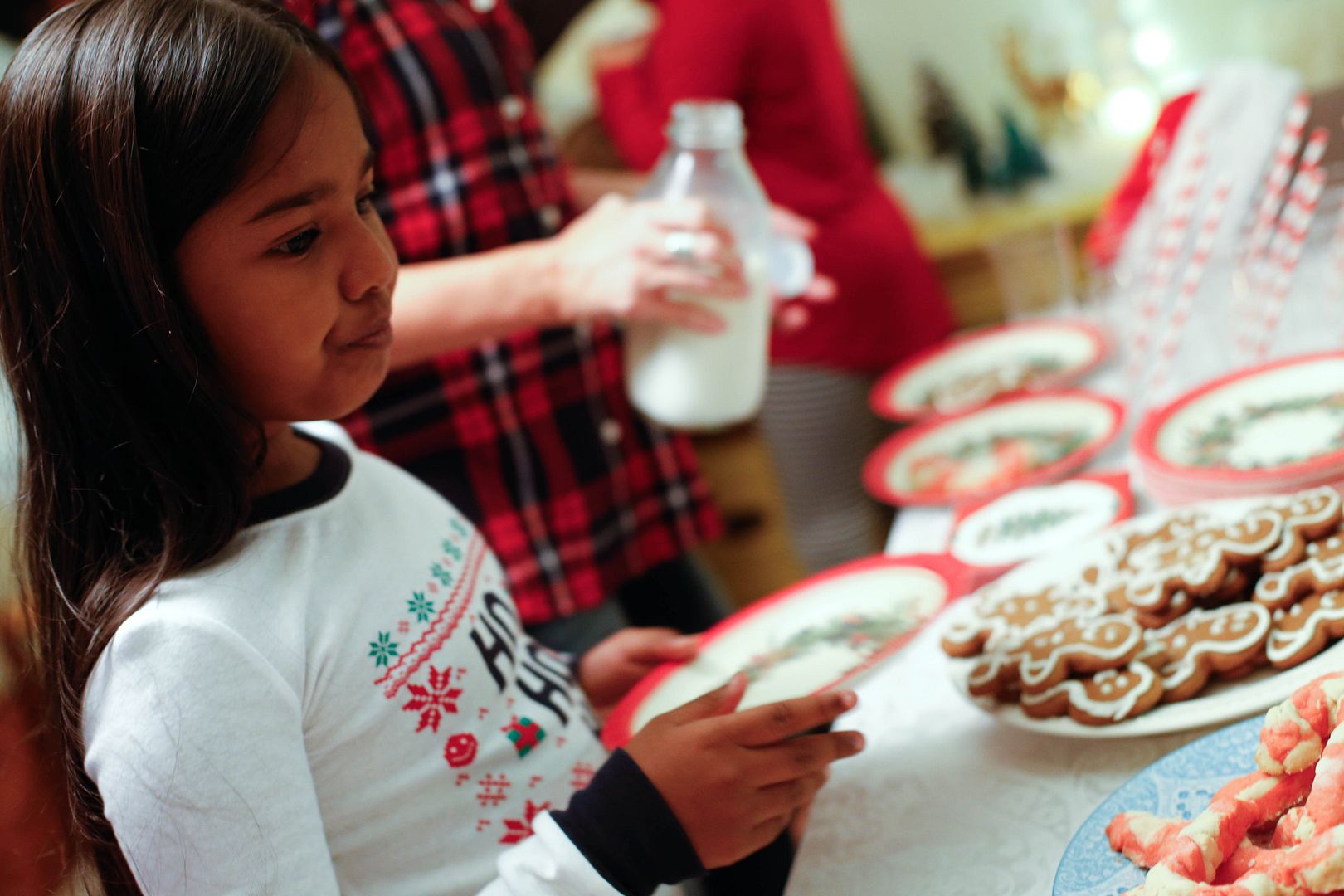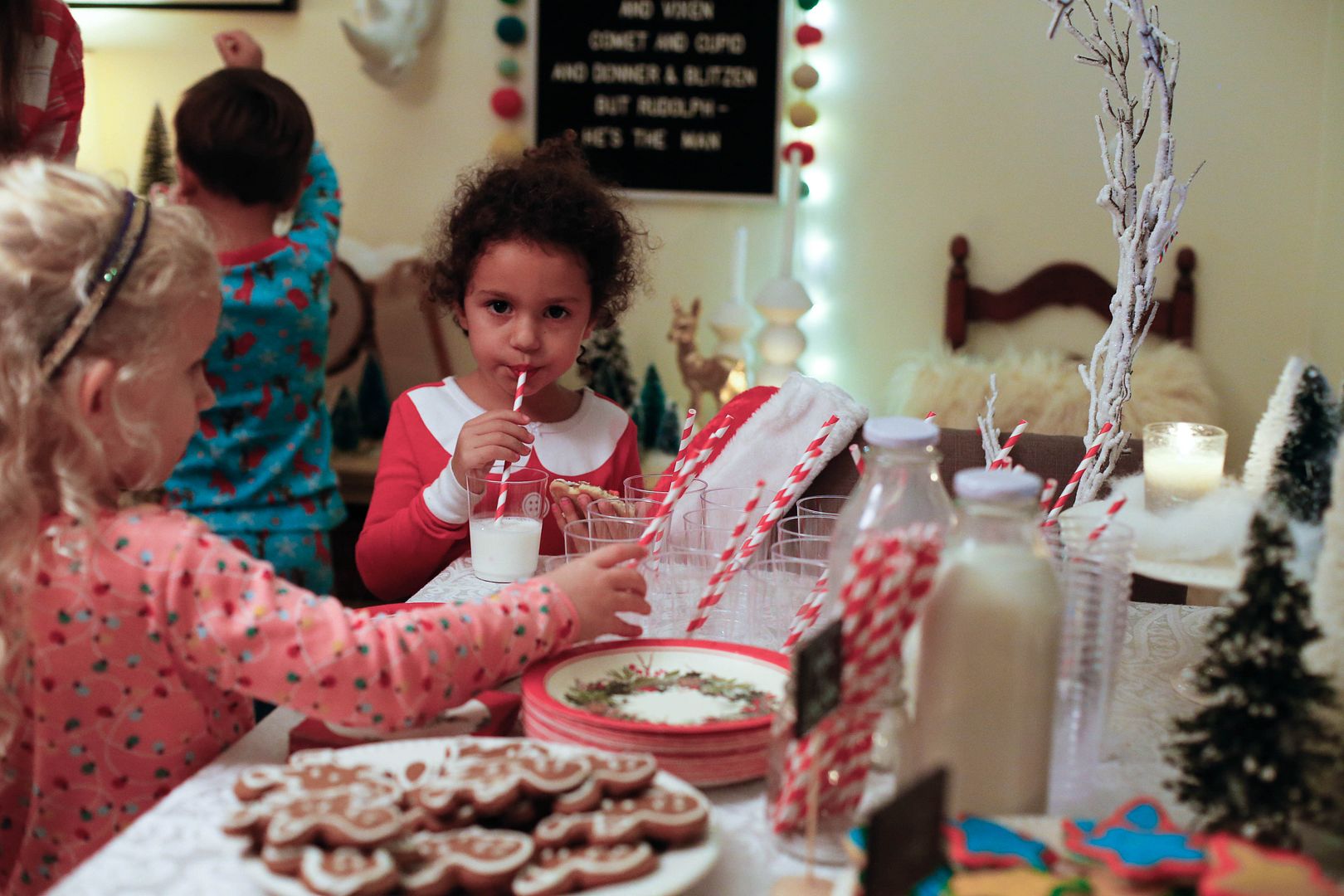 Little finished ornament projects drying. Swoon.
We do an outside scavenger hunt in the dark every year, but we switched it up a bit this year so it didn't get too redundant. Two hundred candy canes were hidden along our street, and the kids ran with flashlights to find them all.
My dad read a Christmas story to the kids again, and all I can think watching him is "You will remember this forever."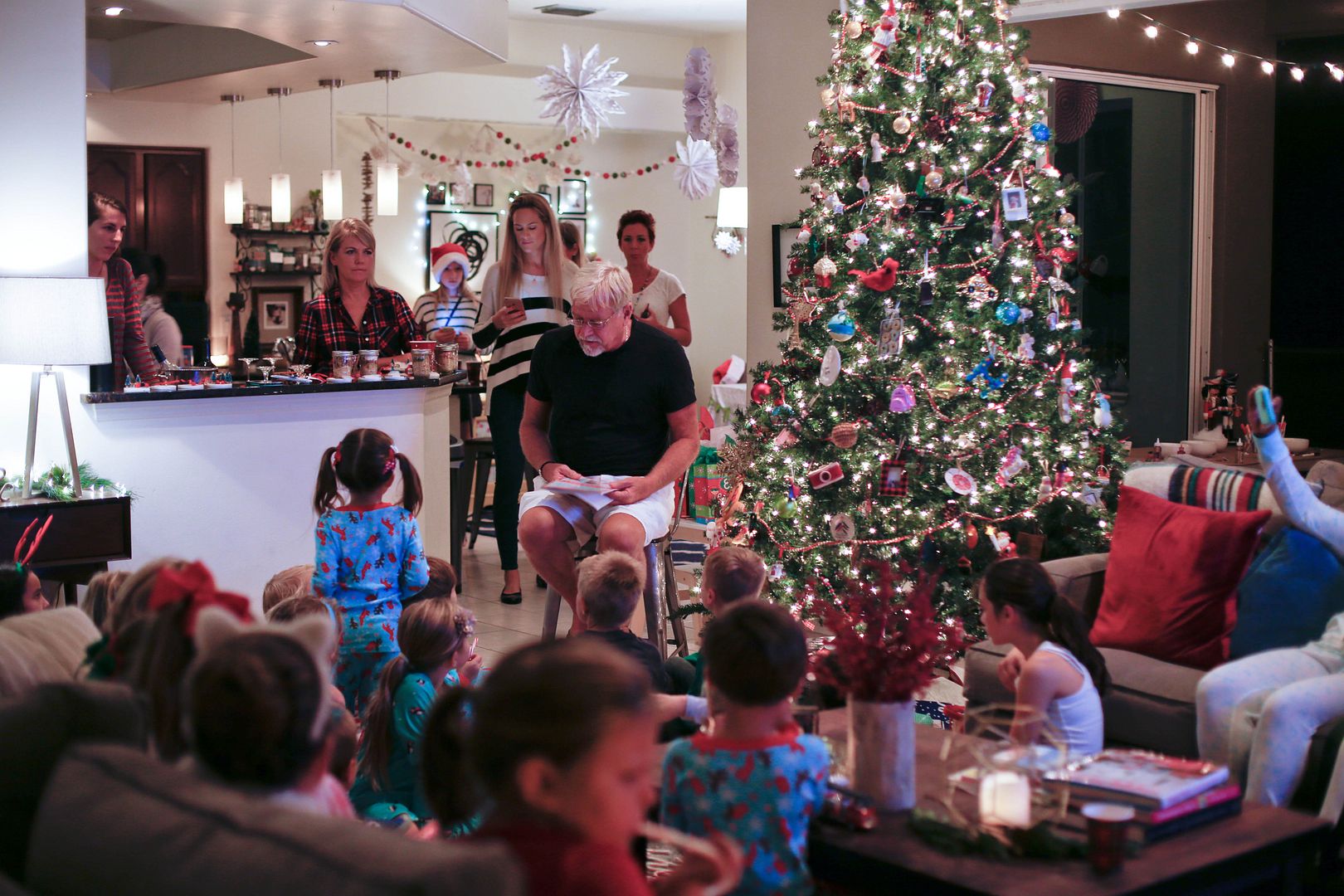 My favorite thing about this year? Nella fitting in. In past years, she's kept her distance, often choosing to go read alone or hang with an adult away from the crowd. Not this year. Sister found her place. Ran with the kids on the scavenger hunt, weaseled through the crowd to get her cookies, sat with friends under the light tent, laughing and drinking it all in.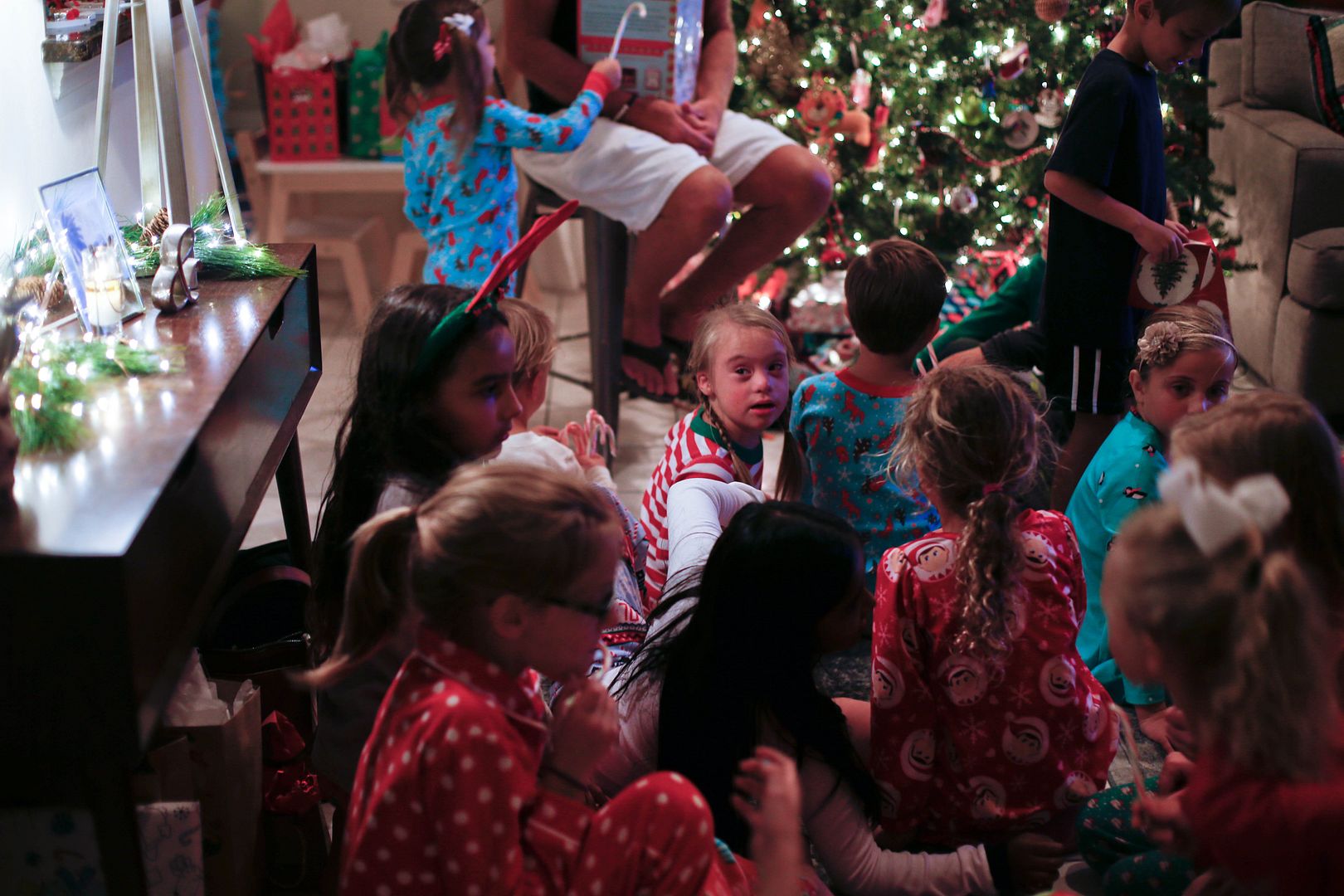 So many times throughout the night, my dad, Brett and I all found each other and whispered, smiling, "Look at Nella. She's so happy."
And that, my friends, is Christmas.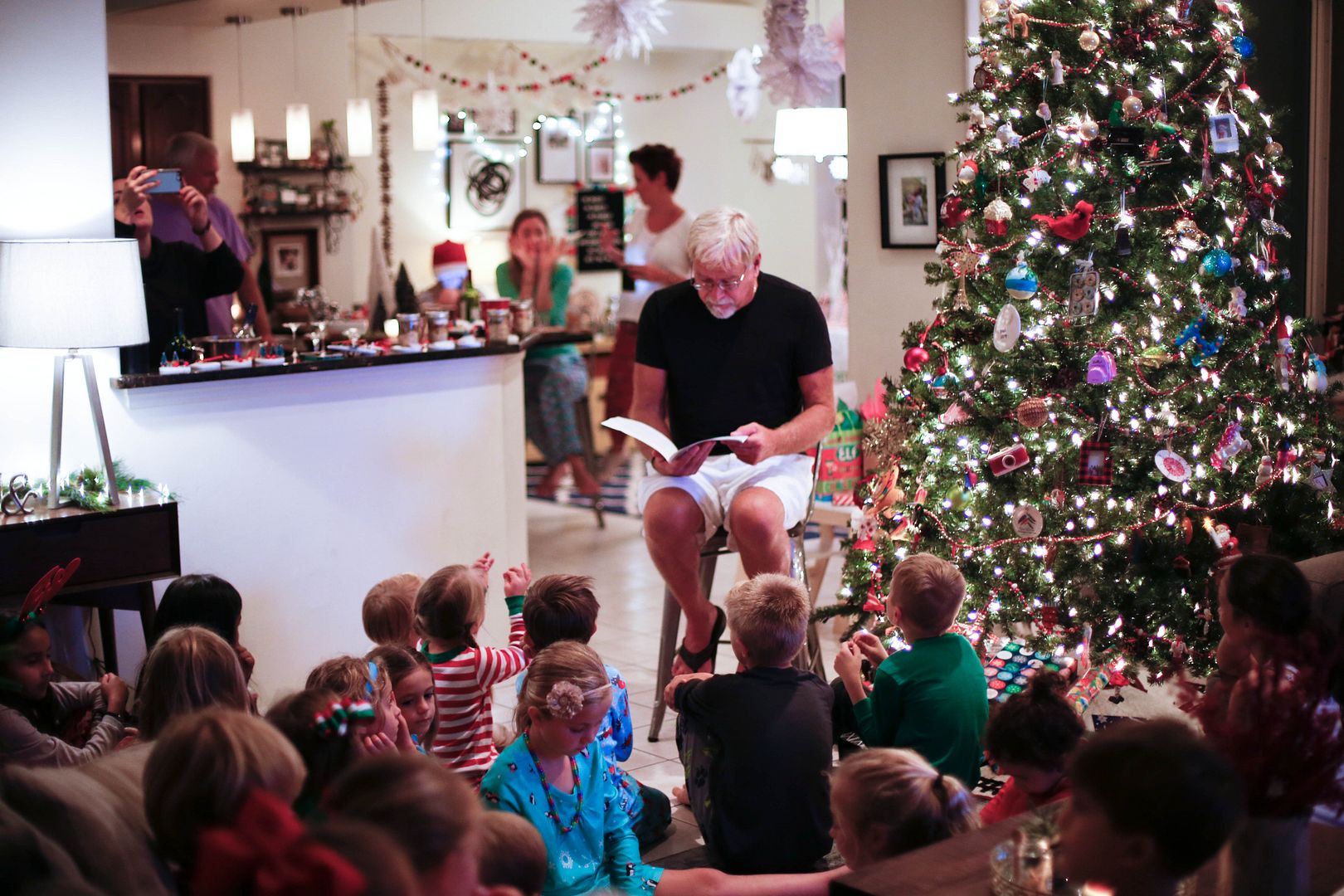 Also, I should share that a kid gift exchange with 24 kids of different ages and genders is a shit show, and that I fail miserably at orchestrating it, but that's half the fun. Because the adults all laugh amid the chaos and say, "This is a mess. We should never do this again." But we do. And we will. Because tradition.
I love this night, I love these kids, I love these memories.
(Party aftermath…Dash grazing the leftovers).
To see past years' parties–North Pole Party Archives: 2015, 2014, 2013, 2012, 2011.