Seven years ago, right now, I was lying in my hospital bed, holding tiny Nella, waiting for the sun to come up. I needed light and the promise of normalcy that the hustle of day time brought, and my hope laid in sun. It soon came, brightening the hospital room and warming the tone, and not long after, I found it in the night as well–light, not dependent on the time of day or the carefully crafted plans I dreamed up for what my family would look like.
This girl's been nothing but sunshine, and we celebrated these 7 joyful years and everything she is with a Florida-themed birthday party this past weekend, full of foliage, flamingos and friends.
Some new friends from her kindergarten class joined us this year as well as friends we've known since she was tiny, and watching her take her place in her little village made me so happy. This year, she's bloomed socially in a remarkable way, and where she used to quietly hide behind us or shy away from interacting with larger groups, she's now owning her space, comfortable and confident to shine her little light on her own. It's my greatest wish for her–always own your space, girl; shine your light. You got this.
Celebrating sunshine and the hope of a bright tomorrow…I bring you, a little Florida party.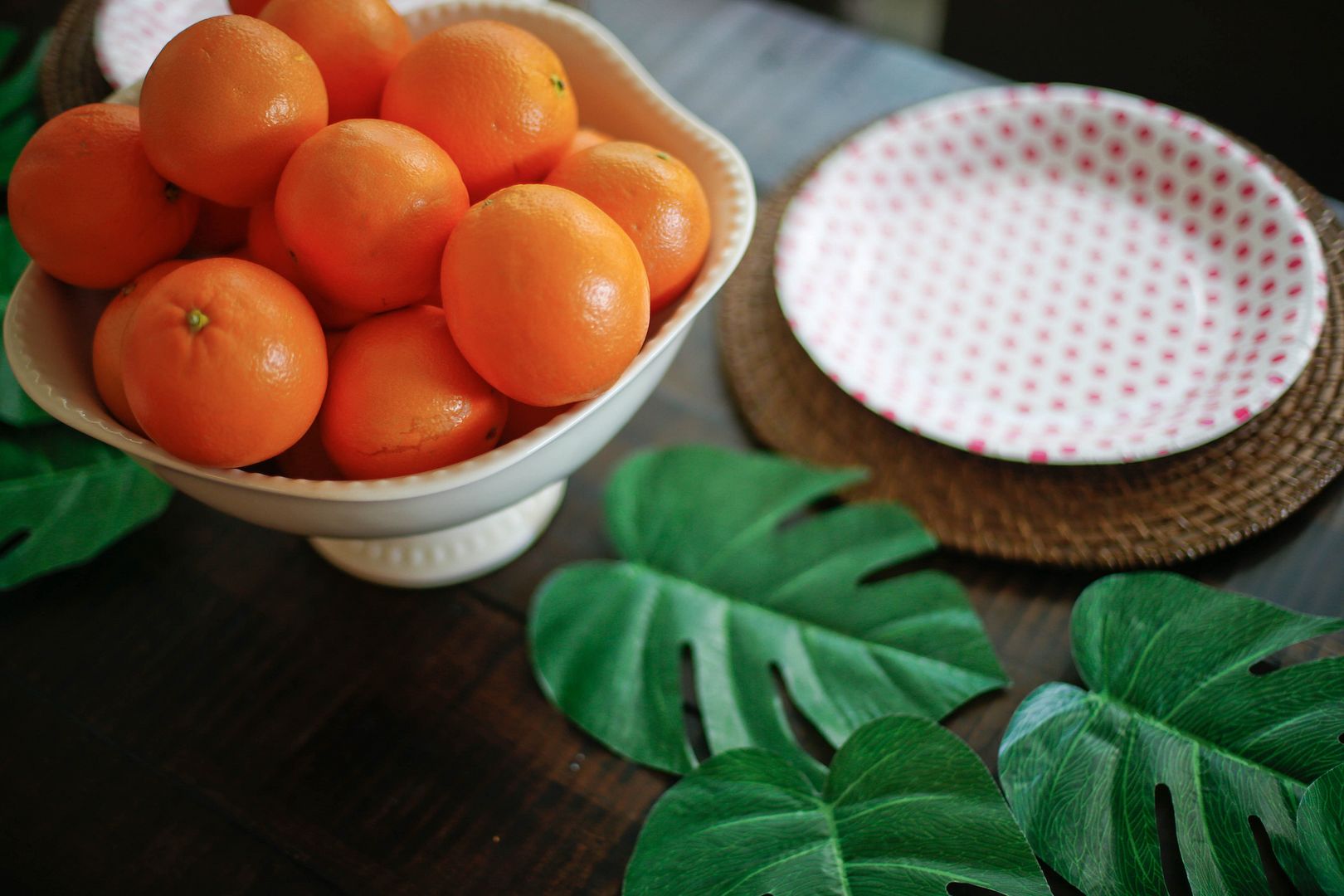 We didn't have to do much for decorations–some cut paper palm fronds, a bowl of oranges, a few yard flamingos and a gathering of houseplants.
Afternoon birthday parties are great for offering a few snacks rather than a full lunch.
These cute dolphin fruit cups were a hit, but Dash pulled all the Swedish Fish out of their mouths and ate them before they were served.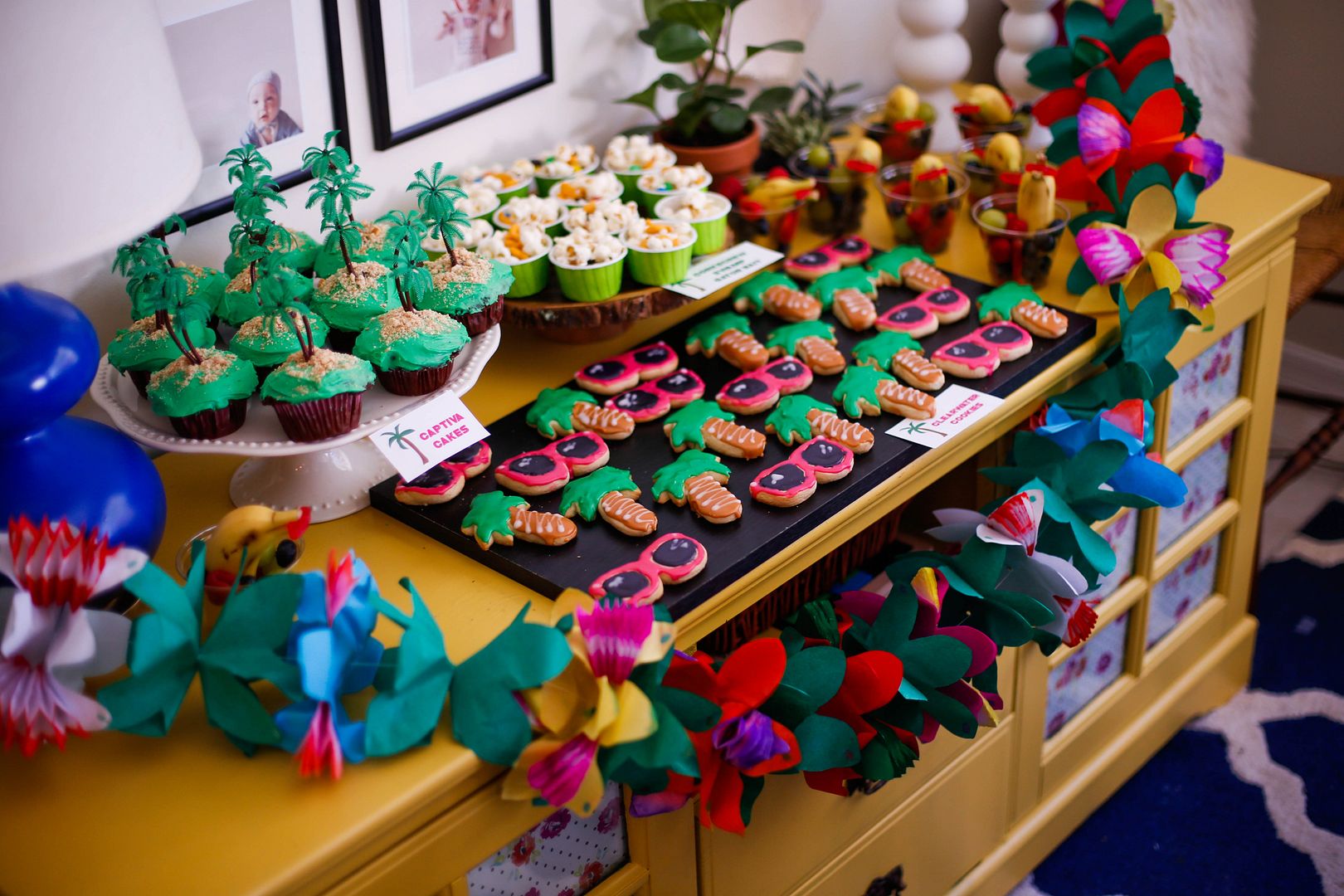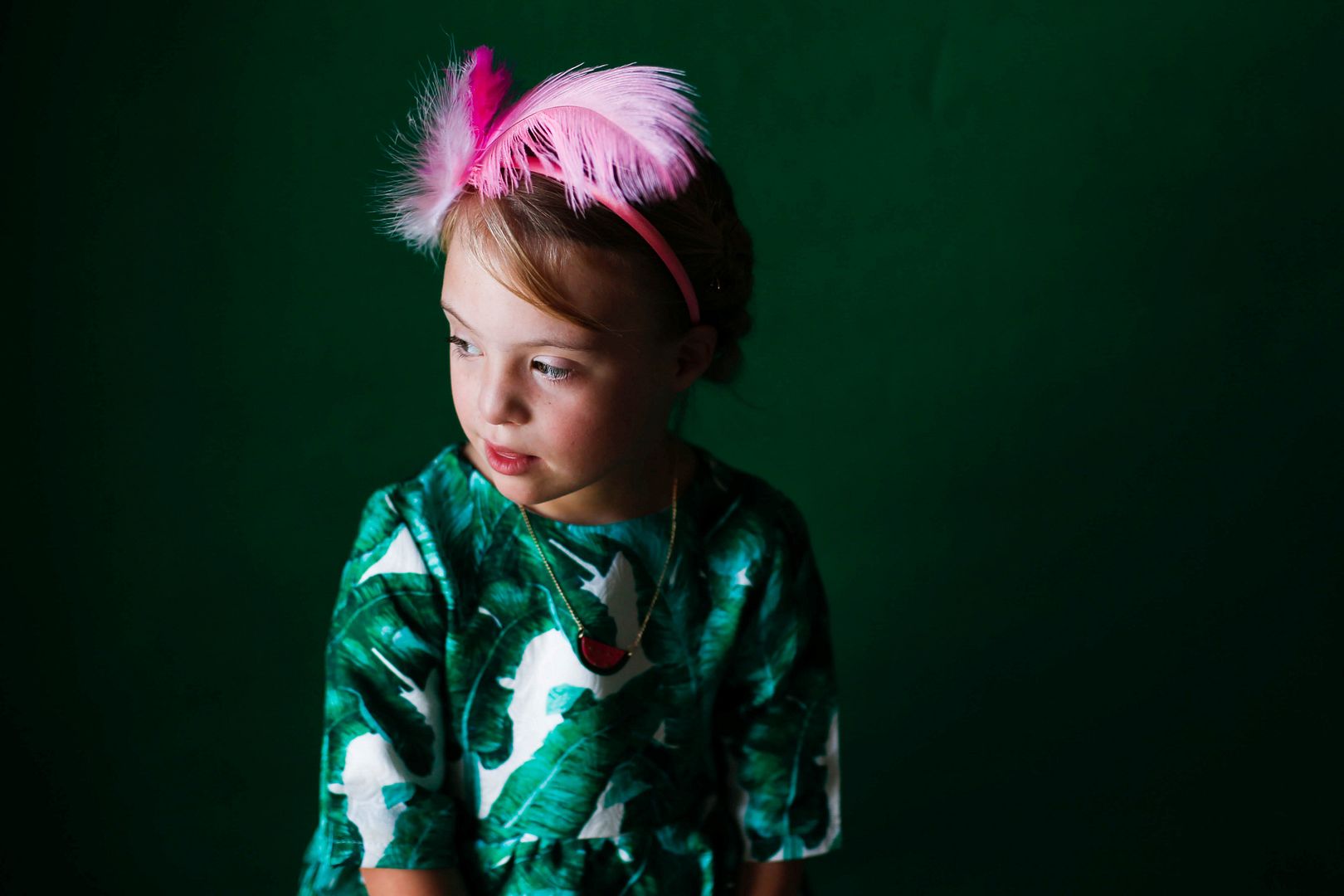 I made flamingo fascinators for all the girls with this 12-pack of pink satin headbands. I hot glued these large pink feathers along with some smaller ones (multi-color pink pack at Michael's) to a stiff white felt circle I cut out, and then hot glued to the headbands.
Nella's dress is from a shop called That Mia Life on Etsy, but for some odd reason, the shop link isn't working.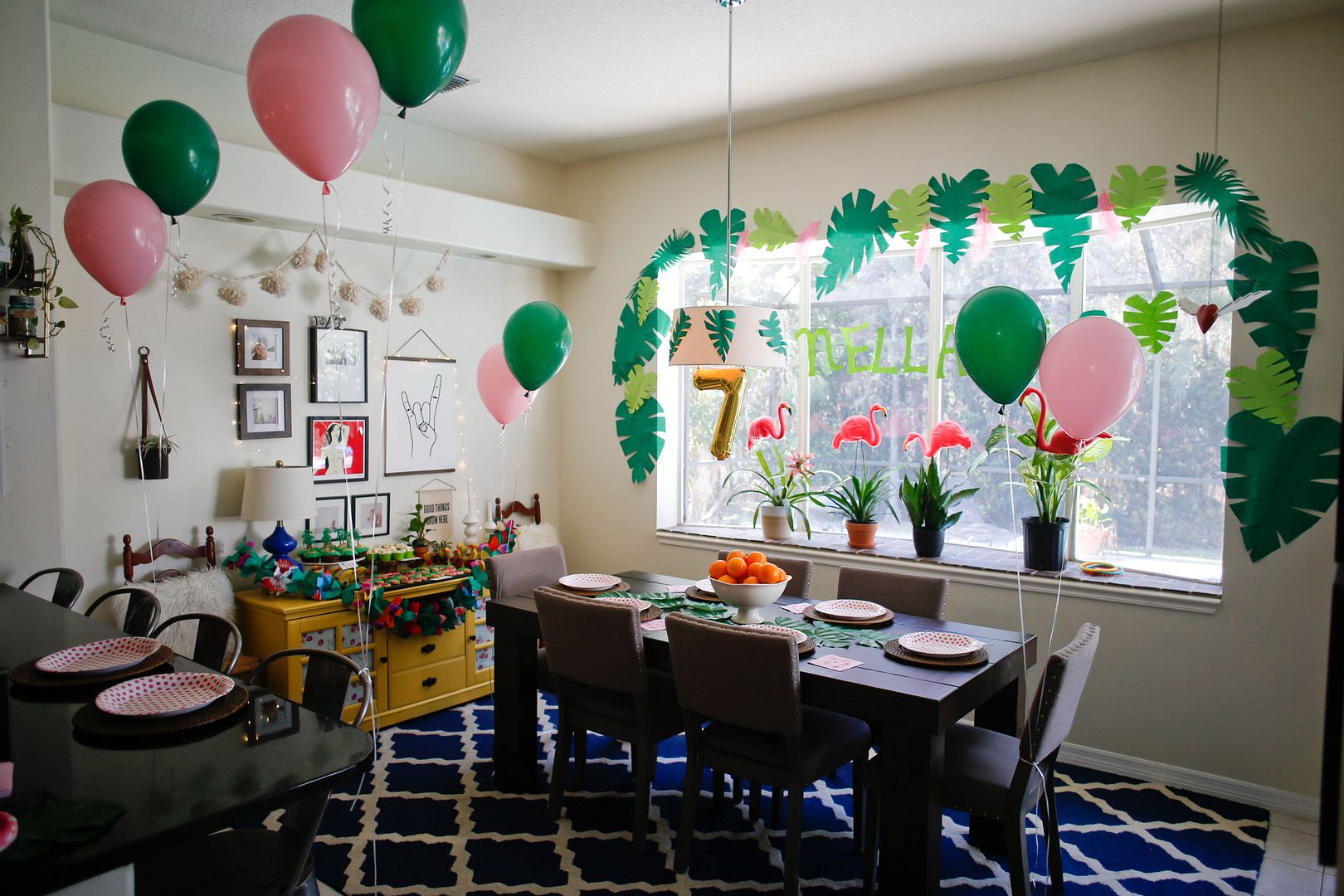 (These plush flamingos are from Amazon, but after I bought a bunch at $4 each, I went back to get one more, and the price went up to $10. Grrrr.)
We had two Make Stations–Hand print Flamingo Canvases (thank you, Pinterest) and Ocean Bottles, and one Game Station–The Jellyfish Toss.
I pre-painted flamingo heads and legs on flat 8 x 10 canvases, and the kids created their bodies with a pink paint hand print, and then added their names with scrapbook letter stickers. They turned out so cute.
We made little oceans in a bottle with clear plastic juice bottles filled with 2/3 mineral or baby oil and 1/3 water dyed with a few drops of blue food coloring. The kids chose some tiny shells and plastic ocean animals to add to their bottles as well as a little blue glitter for the sparkle lovers.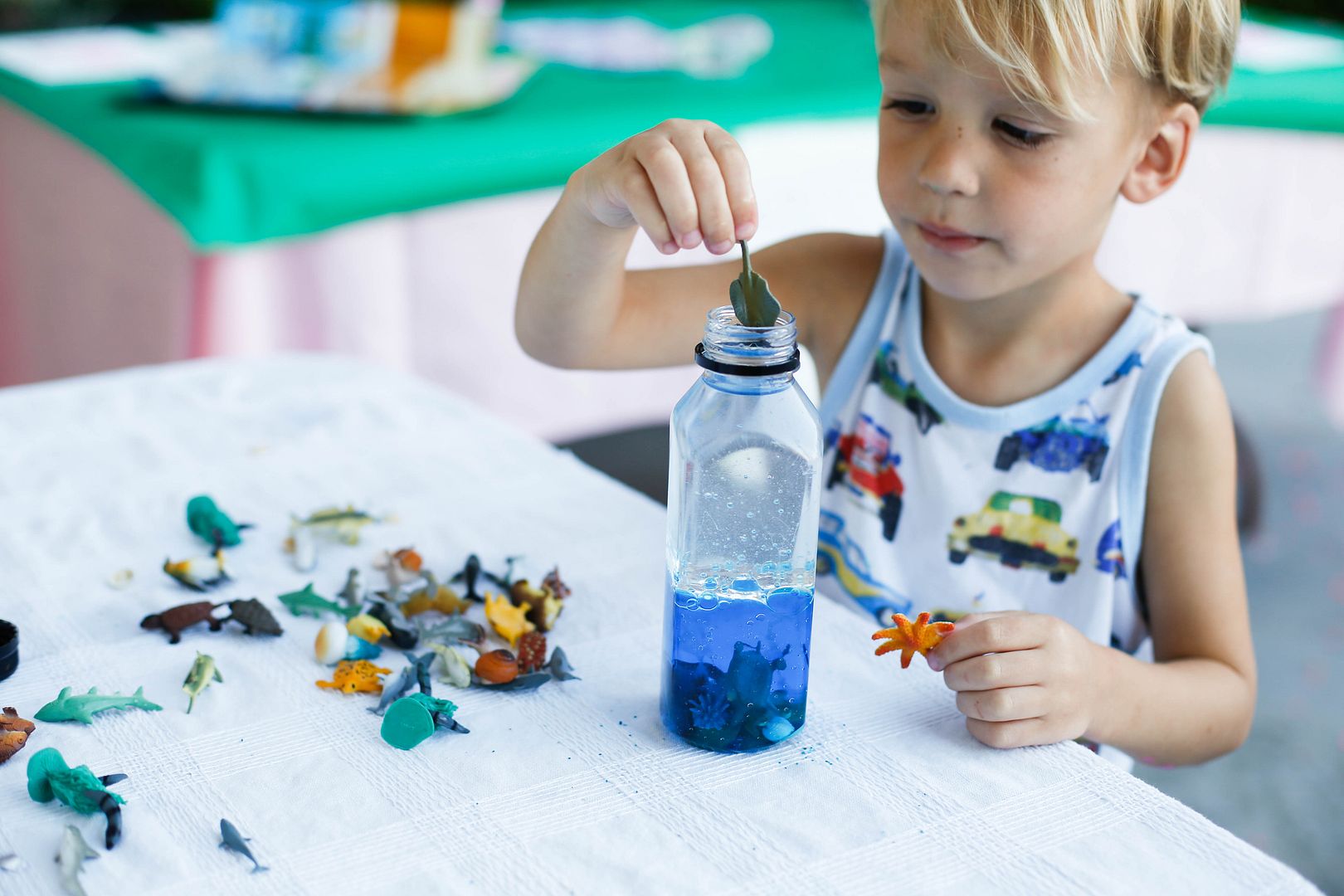 When you tip the bottle, you get that lava lamp bubble/ocean wave effect.
We added some Florida flair to a good old carnival ball toss by adding aquarium rocks and these fun rubber jellyfish to fish bowls.
The jellyfish were a hit and prompted a follow-up game of fling-a-wet-jellyfish-at-your-neighbor that was definitely a party favorite–screaming, giggling kids running from flying jellyfish everywhere.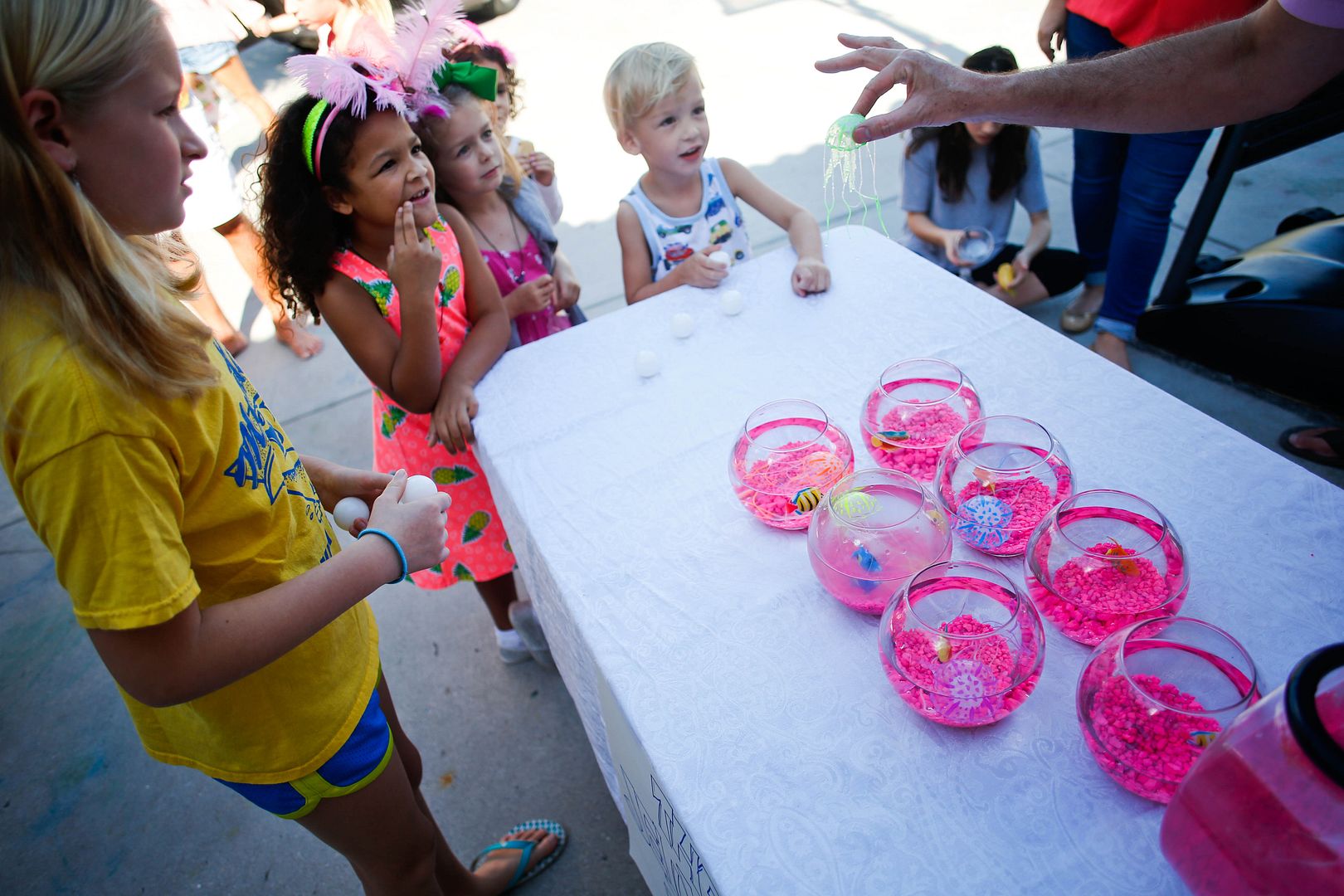 (Moment of silence please for the tail end of her fits-on-hip era. Thank you. Carry on.)
And the moment her friends all sang "Happy Birthday"? Heaven. She loved it. All smiles.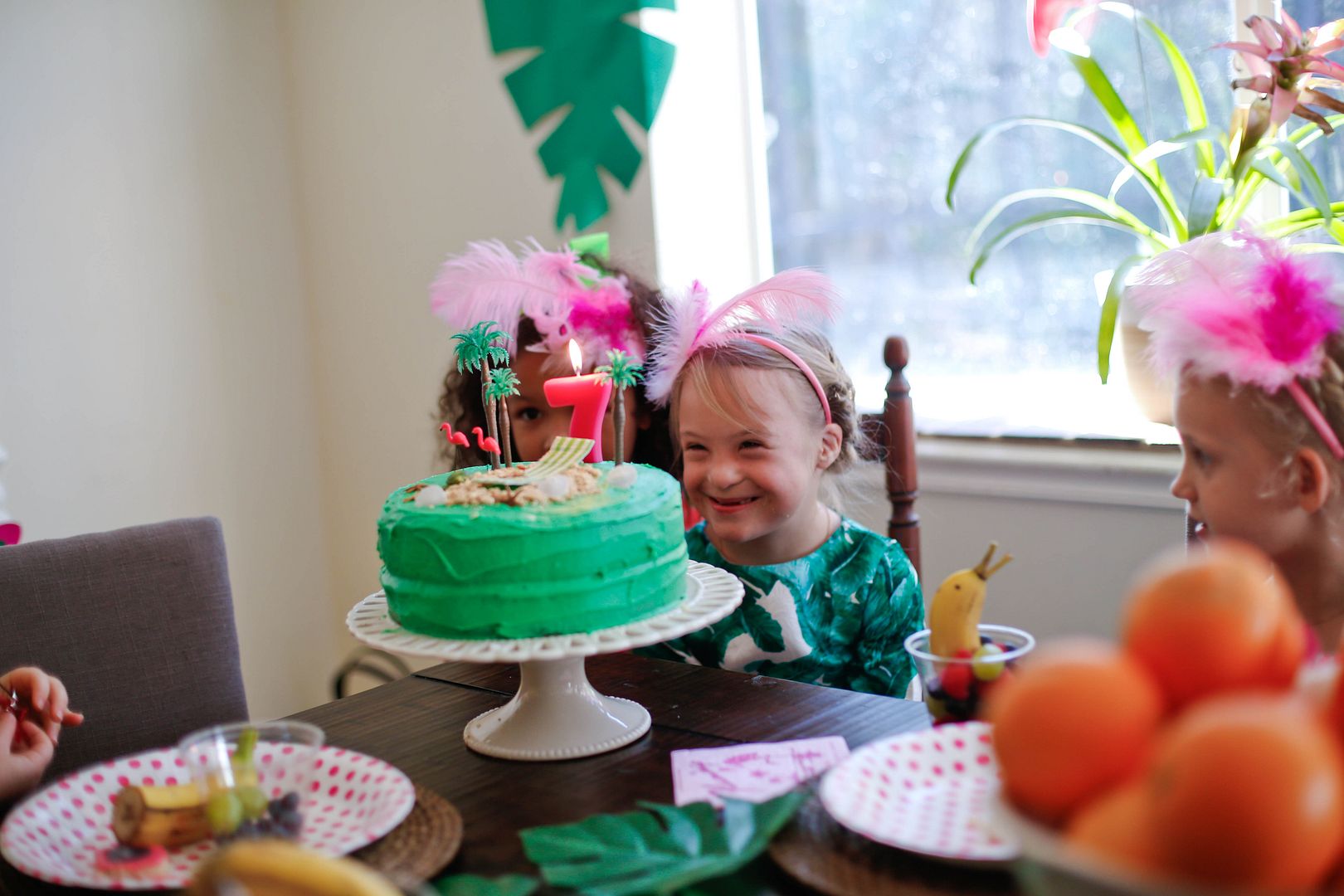 Her smile got so big at one point, she just put her hands over her mouth to contain it.
Our Barbie population grew so huge this weekend, they put on their own Women's March down our hallway and throughout our living room.
And Sister was happy. Surrounded by love. Offering her voice, her hands, her spirit to this little community of friends. It's a gray morning here today, but the sun shines bright in our home.
We played this little birthday video at a family brunch yesterday morning, and what a joy it was to watch Nella take it in. We surprised her with some birthday messages from family and friends far away and a special treat from the stars of one of her favorite shows, The Fresh Beat Band. I think she's watched this over 30 times now. I can't wait to make one for Lainey and Dash for their birthdays this year as well. As always, we are so grateful for the light each of our children brings and love the opportunity of birthday celebrations to reflect on that love.

(video songs: "8 (Circle)" by Bon Iver and "Turn to Stone" by Ingrid Michaelson)
Thank you for all the kind words and birthday messages so many of you sent yesterday. While birthdays are for celebrating life, this one also brings our celebration of how Down syndrome has affected our lives in so many beautiful ways including the opportunity to share this journey. Thank you for learning with us these past seven years. Much love.