Hear ye, hear ye, I have the cutest accessory for your girlies this summer, and it's so much fun to make. I was searching for some fun statement piece necklaces for the girls to wear with t-shirts and tanks this summer and was hoping to find some cute literary characters like Anne of Green Gables (Lainey started watching the new Netflix series with me and likes it!) or great women icons like Frida Kahlo. I decided I'd make some myself because I had a vision that incorporated my long infatuation with Shrinky Dinks. This is definitely my favorite thing we've made with them yet. In fact, I've fallen so much in love with these, I've turned my dining room into a Shrinky Dink necklace factory, wore one of the necklaces to drop Lainey off at school this morning and left with three orders for more.
We started with Frida Kahlo and Iris Apfel, and I LOVE how they turned out.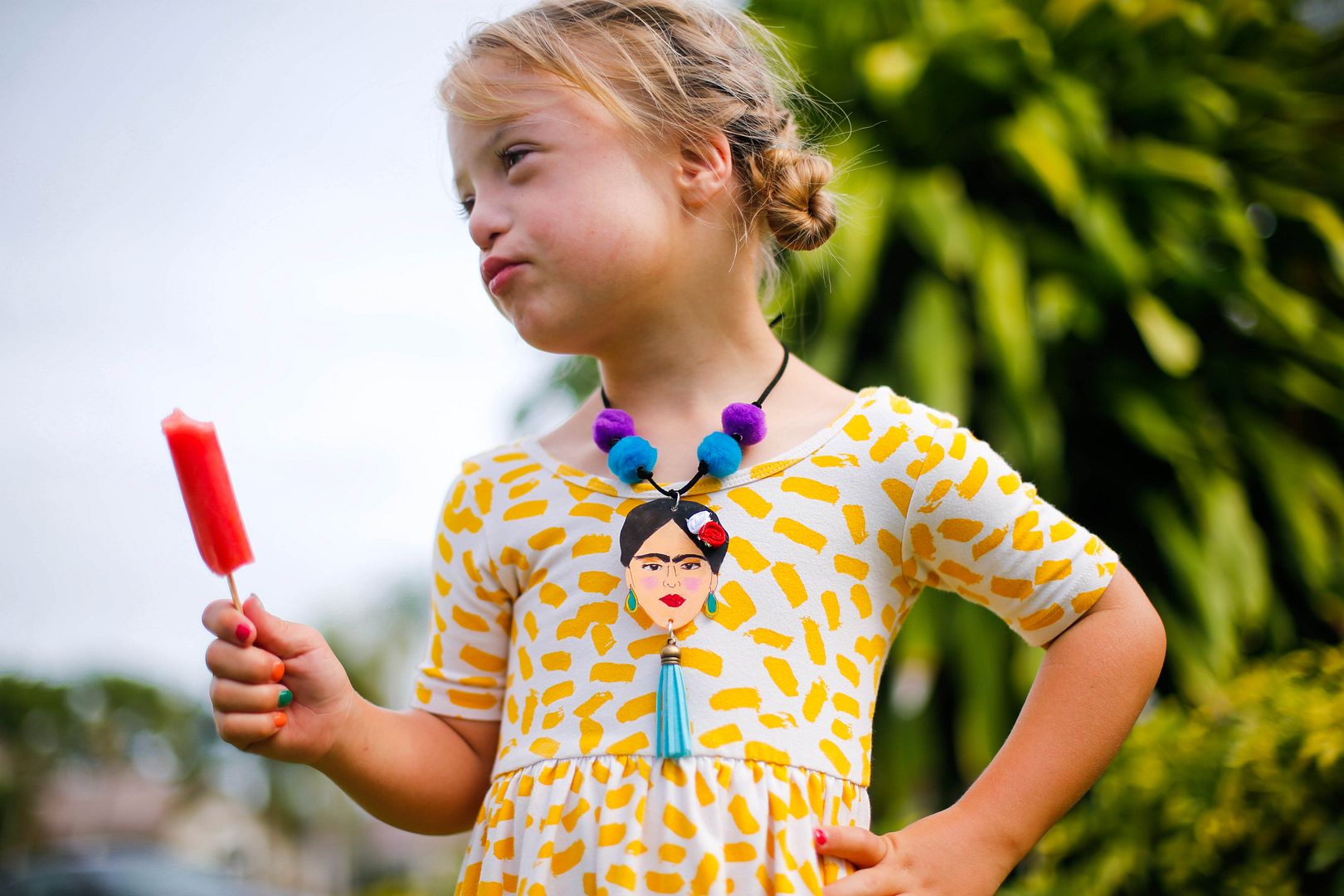 Then, I couldn't stop.
Anne of Green Gables:
Audrey Hepburn:
…and a list of summer treats:
Okay. Here's what you need.
We use the 8×10 Shrinky Dinks Rough & Ready sheets because one pack lasts forever and makes tons of charms.
Other supplies (all available at Michael's)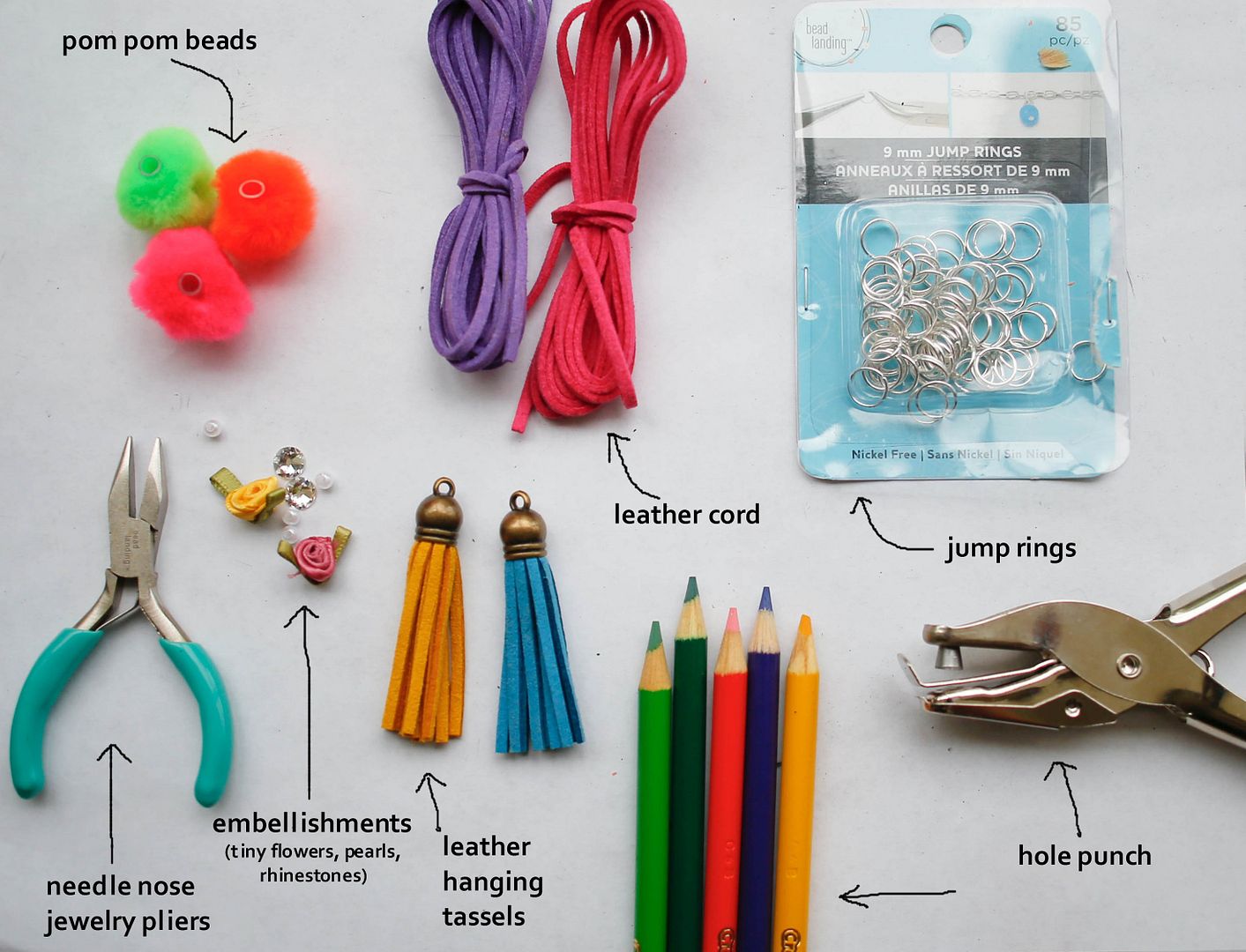 The pom pom beads have plastic tubing that runs through the middle, so you can string them. The leather tassels come in a pack of 8 for about $5. The little embellishments like flowers, pearls and rhinestones can be hot glued on your charm after it comes out of the oven and adds some fun 3D detail.
We wanted fun oversized charms to make a statement, so I drew our faces about 6 inches high. I pulled up several illustrations on the Internet to look at for drawing guides, but it's much easier to make a recognizable likeness of a figure who has iconic features. Also I drew my illustrations on paper first–easier to erase mistakes–and then, once I was happy with it, placed the Shrinky Dink paper over it and traced it.
We punched holes at the top of our charms for a necklace jump ring and one at the bottom for charms where we wanted to add a tassel (the bomb pops are earrings).
Here's the trick with Shrinky Dinks. DO NOT INTERVENE when they're shrinking. I think I've advised before to watch them closely and intervene if they're not curling right, but after several trials and errors yesterday, we got it down to perfect charms when we let those baby go. I do stay close and watch them with the oven light on (they only take about 1 minute to shrink all the way), but the only time I stepped in was at the very very end when they were already shrunk and just needed a dish towel lightly pushed on them to flatten them perfectly.
The opportunities are endless. For kids, illustrated books hold so many favorite literary characters that are easy to trace. One of my favorite children's illustrators is Julie Morstad. Her book Today is one of our family's favorites and is brimming with the most darling illustrations that are begging to be turned into jewelry. So we did just that.
(Let her curl up…she'll fix herself!)
Simply obsessed with how this little lady charm turned out.
Cannot wait to accessorize Nella's little red gingham dress with this.
I love the way Iris looks on this stripe tee.
Family and friends have now requested Betty White (for the Golden Girls lover), Ruth Bader Gindsburg, Little Bear, Olivia, Madeline and Kevin Spacey.
Ima be busy. Happy Friday!