I need you to know that I poured my heart into this post. I've made lists and recommendations for many things, but this one took more time and thought than all the others. This is my holy grail because I do not take my love of children's literature lightly. Kids' books are my treasures.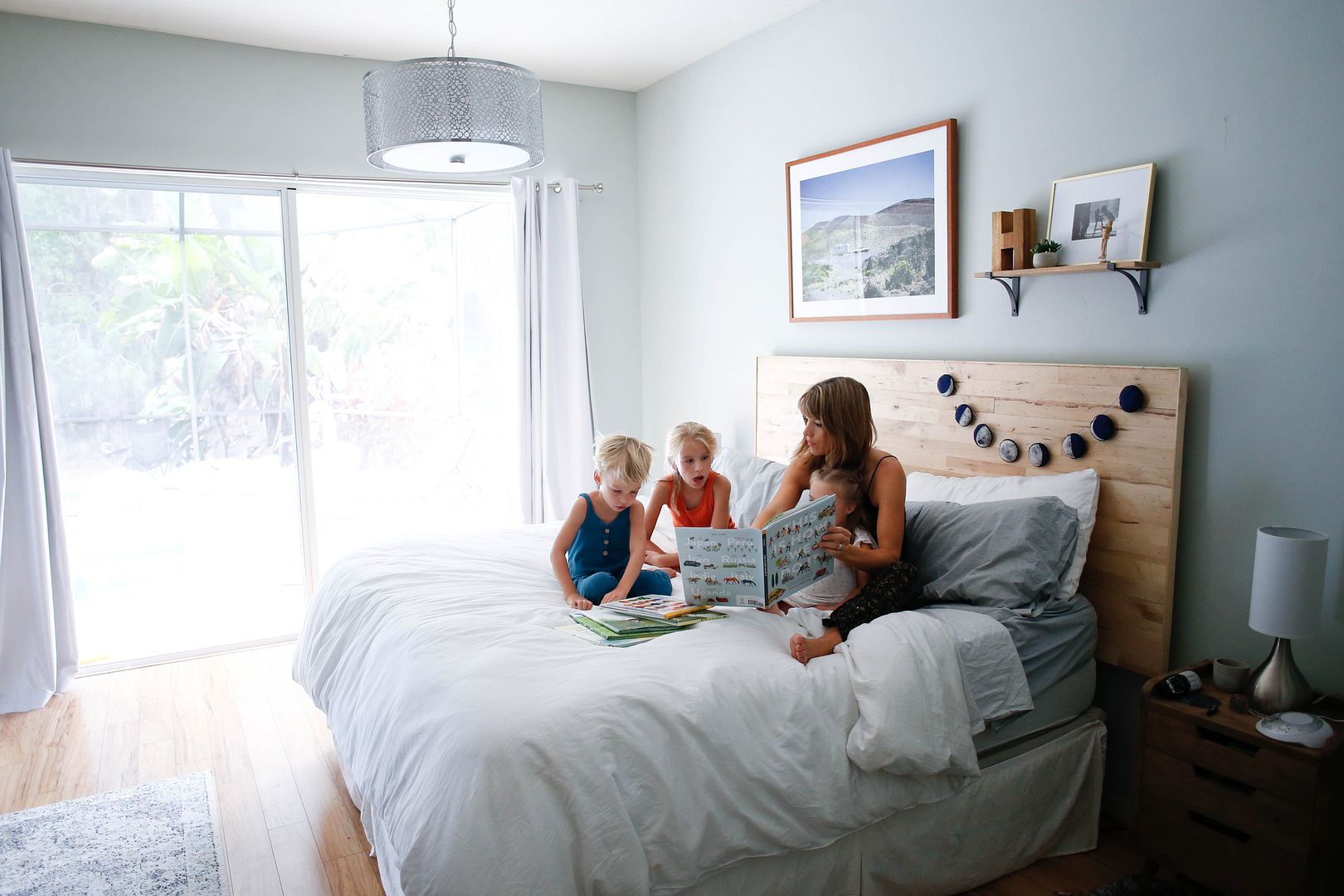 I collect and cherish them like people collect and cherish jewelry or music boxes or snow globes, and I buy them for me as much as for my children because not only do I love words and books, but I love art and have been getting lost in children's book illustrations since my mom introduced me to Jessie Wilcox Smith and Eloise Wilkin as a child.
I've been told the process of editing a children's book is more arduous than editing a 22-chapter book for adults because when you're dealing with simplifying big themes into a short stretch of words, that choice of words is critical. Picture books allow us to get lost in stories, to imagine worlds beyond ours, but they also have the power of introducing big life lessons and important social themes in ways children can understand and remember. Many of the books on my list do just that.
And then the illustrations–giving us an alternate and perhaps even more intimate way of entering a story. As Maurice Sendak said, "An illustrator in my own mind – and this is not a truth of any kind – is someone who so falls in love with writing that he wishes he had written it, and the closest he can get to is illustrating it. And the next thing you learn, you have to find something unique in this book, which perhaps even the author was not entirely aware of. And that's what you hold on to, and that's what you add to the pictures: a whole Other Story that you believe in, that you think is there."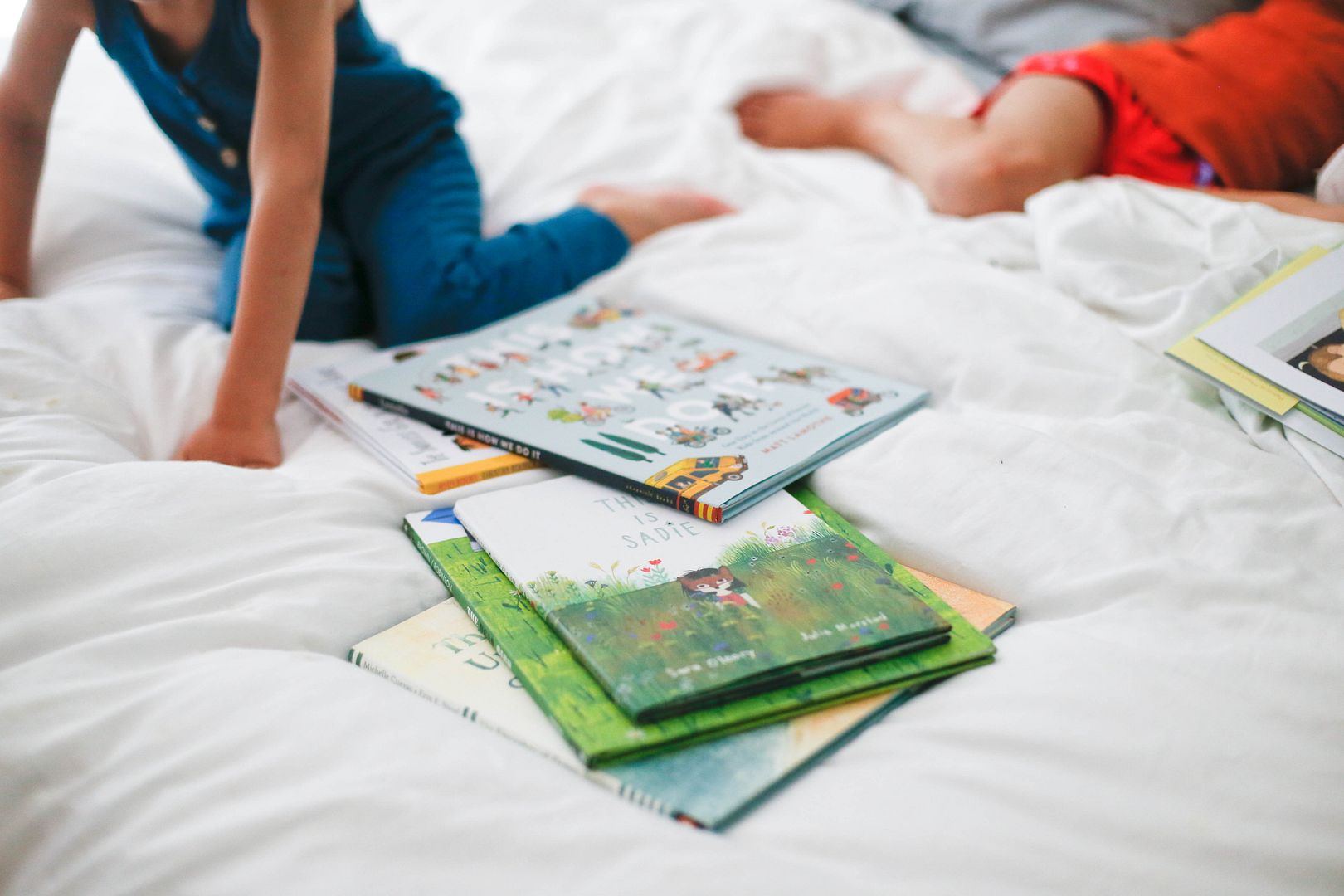 As my kids grow and we weed out things we don't need anymore, their libraries are the toughest place for me to pare down–how do you choose only the best of the best when every one of them is a treasure in its own right? This list is the group of books I'll never give away–the ones we'll keep displayed, revisit and eventually pass on to grandkids (who am I kidding, I'm keeping them all for myself). I could have easily made it a list of 100, and I know I'm leaving out some other greats. Some classics like Dr. Seuss are so well known and loved that I didn't even bother putting them on here–they're a given. I did try and include as many new books I've discovered over the past five years that I feel are timeless. Honestly, making this list was like choosing names for my kids. I picked three I love but still have a place in my heart for Tru, Henry and Sawyer and Edith, Penny and Millie.
With no further ado…our top 50 picture books for kids (randomly ordered):
1. All the Places to Love by Patricia MacLachlan. This is the book I fell in love with before I had kids and the book I knew would become my "one." Mike Wimmer's paintings are warm and dreamy and make you feel the freedom and delight of childhood, and I love the theme of collecting and cherishing all the special places that make us come alive. In our copy, I keep a list of what those places are for our family from our Isles of Capri to the dock at the lake in Michigan, but we continue to add places as we experience new memories together. I love to buy this book for baby showers as well and write a letter in the front about what this book means to us and how we love to share it.
2. Kiki & Coco in Paris and Lulu & Pip by Nina Gruener and Stephanie Rausser. This is Nella's favorite book, and it's no wonder why. Every time I recommend it to a friend (and I've recommended it to many), they text me after they receive it, "Oh my God, this book! I can't stop looking at the pictures!" The photography is so dreamy and brings to life such a precious story about a girl and her doll. We love this book so much, we did a project to recreate the theme in our own version, Nella & Maude.
3. Today by Julie Morstad. This book is simply charming. Julie Morstad is one of my favorite illustrators–her pictures can stand alone with very little text, but the words in this book are just enough to give young readers guidance in making fun choices, something every kid loves to do (remember going through JC Penney and Speigel catalogues as a kid, circling your favorite thing on the page?)–from choosing a favorite ice cream treat given a spread of adorable illustrations of popsicles and sundaes to choosing which pajamas to wear, what to eat for breakfast and what to do on a rainy day. Delightful.
4. This Is How We Do It: One Day in the Lives of Seven Kids from Around the World by Matt Lamothe. We just discovered this book, and I'm obsessed with it and love the concept behind it. With beautiful illustrations and simple text, this book profiles seven different kids from around the world and presents what they eat, how they dress, what their families look like, how they play, learn, etc. in page spreads that compare them all to each other (more alike than different theme, again). The end is the best though–a two page spread of the night sky they all share. Informative, insightful, delightful.
5. Let's Go Home: The Wonderful Things About a House by Cynthia Rylant. I want to crawl into the pages of this book and live there. In one word, this book is COZY. Cynthia Rylant (another favorite, but are you tired of me saying that?) dissects a home and digs in to each and every room and the magic that happens there from toy-filled bathtubs made for long bubble baths in the bathroom to the best room in the house, the kitchen, where yummy things are baked and friends sit and talk. I feel like this book is a secret gem no one talks about, and I know that because when I googled it, one of the only images that came up among buy listings is an old blog post I wrote about how much I loved it. Think quilts and cinnamon rolls and cozy fires and lemonade with friends on the front porch, things we all need a little more of.
6. What Do You Do With an Idea? by Kobi Yamada. The first time I read this book to my kids, I teared up.  It's challenging to present a powerful concept adults have taken years to understand in a way that kids can relate and feel it, and this book does it perfectly. It's a book about confidence and the incredible things that can happen to our ideas when we listen to them, feed them and don't let the world squelch them. It's a great book for teens and adults as well.  Also check out the follow-up book What Do You Do With a Problem? which presents the idea that if you ignore problems, they will grow, but if you face them, you'll find they might not be near as bad as you imagined.
7. This Is Sadie by Sara O'Leary and also Where You Came From and When You Were Small. I have every children's book Sara O'Leary has written, and there's no way I can pick a favorite. I stumbled upon her books when I found Where You Came From in our favorite children's book store off the charming Main Street in Rochester, Michigan and loved them so much, I came home and bought the rest and then Internet-stalked her. She's written more books since then and with one of her latest, You Are One, she wrote me to tell me that she asked the illustrator to include a baby with Down syndrome in the book (it's beautiful, by the way). This is Sadie is a wonderful celebration of a child's imagination and creativity (and illustrated by Julie Morstad so winner-winner-chicken-dinner).
8. The Seven Silly Eaters by Mary Ann Hoberman (illustrated by Marla Frazee). I don't always love rhyming books, but this one is perfection–such a blast to read aloud…and funny! There's a delightful twist at the end of the book, and every mom will relate to poor exhausted Mrs. Peters, brought to life by the cheerful illustrations of the one and only Marla Frazee.
9. Everywhere Babies by Susan Meyers (illustrated by Marla Frazee). I love just about every book Marla Frazee puts her hands to, and this one is extra special. Little ones love books with pictures of babies, but this one captures everyone's attention. The text is simple, but the illustrations pull you in and you'll find yourself scanning every detail on the page. The unspoken magic though lies in the diversity Frazee presents in her drawings that represent all kinds of families from biracial and same sex couples to single parents.
10. Mrs. Muddle's Holidays by Laura F. Nielsen. I discovered this book when Nella was a toddler, and I felt like I found my literary soul sister. Mrs. Muddle loves holidays like I do! She does rain dances for the first shower in April, hosts a roller skating parade to celebrate the birthday of the roller skate inventor, bakes birdseed cookies for the First Robin Day. I want to be Mrs. Muddle when I grow up. She looks for every opportunity to celebrate life in meaningful ways and brings so much joy to those around her by doing so. This book will make you smile and encourage you to have fun with the calendar.
11. Stellaluna by Janell Cannon. What is it about Stellaluna? It has the kid book "it" factor–everyone loves it. You get completely sucked in to the story, rooting for this little bat to find his mama, and the illustrations bring it all to life in the most charming way. And of course, I love any book with a deep underlying theme of more alike than different: "How can we be so different and feel so much alike?"
12. The Rainbabies by Laura Krause Melmed. The Rainbabies brings to life one of those crazy far-fetched dreams you wish could become real–tiny babies that fit in the palm of your hand. And Jim LaMarche takes something that could be a little creepy and spins it into pure magic (do a Google image search for The Rainbabies, and you'll see what I mean)–tiny babies in colored tights! And paisley dresses! I discovered this book when I took children's lit in college and became so obsessed with Jim LaMarche's drawings (the light!), I researched and started ordering everything he illustrated.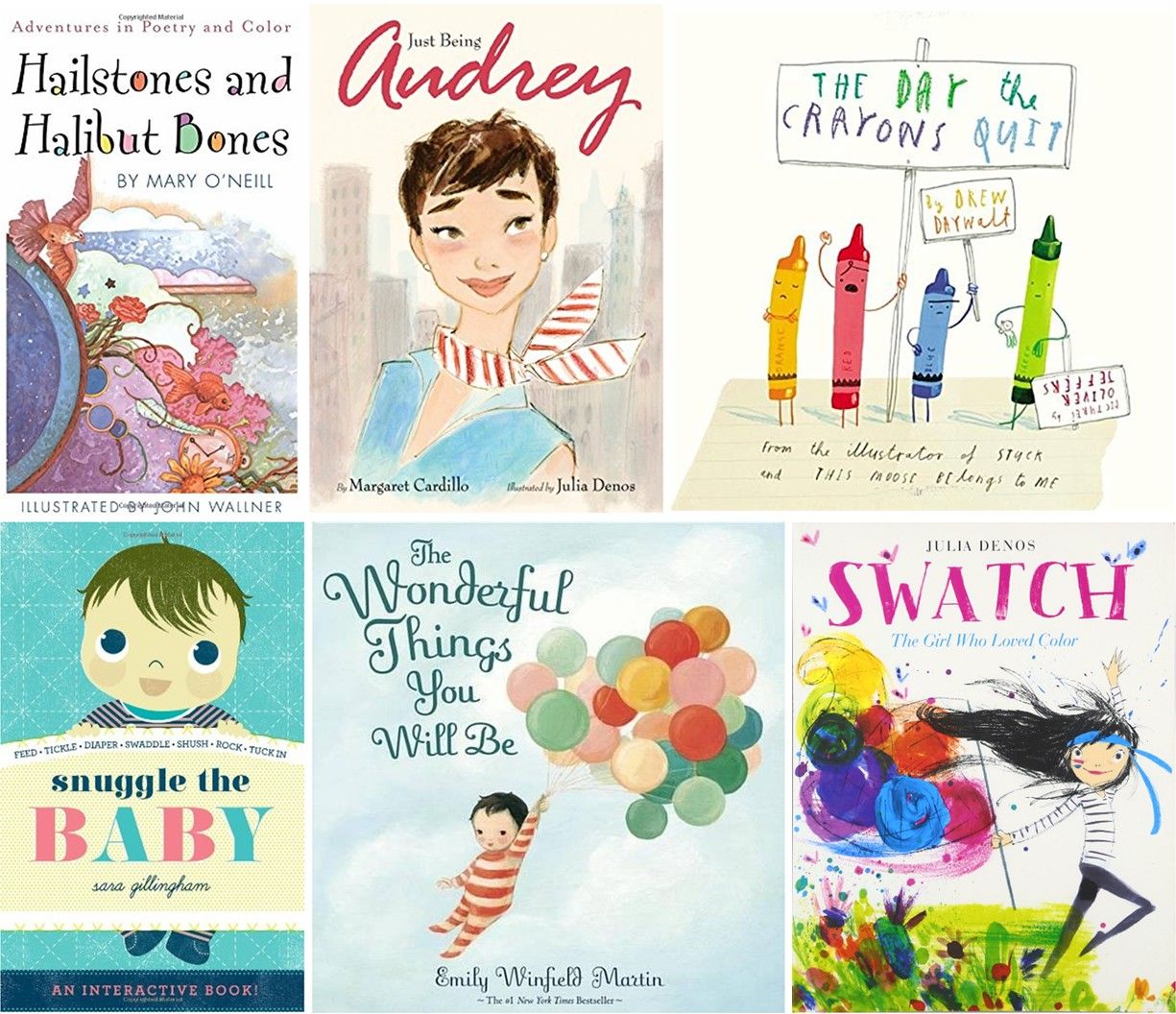 13. Hailstones & Halibut Bones by Mary O'Neill. This book is the perfect introduction to poetry for kids and a descriptive example of how colors aren't just something we see, they are things we feel, hear, smell and taste ("If you stand in an orchard in the middle of Spring, you can hear pink sing, a darling, whispery song of a thing."). Reading this book aloud is a beautiful sensory experience, and when you're finished, you're all going to want to write your own color poem. I used this book a lot when I taught fifth grade to get the kids to have fun writing freely.
14. Just Being Audrey by Margaret Cardillo. A darling biography of the life of Audrey Hepburn, this book pairs facts about her life and the things that made her a determined, successful woman with sweet colorful illustrations. It's a little work of art, and I love seeing it show up on so many bookshelves in pictures of little girls' and boys' rooms alike. Plus, the author is a real life friend of mine as she used to live in Naples, and our books were published around the same time.
15. The Day the Crayons Quit by Drew Daywalt. Oh the imagination and creativity inside Drew Daywalt's head. Kids will absolutely love the way he personifies all the crayon colors and the imaginative story behind what happens in a crayon box (Orange and Yellow aren't speaking to each other because they both think they are the true color of the sun and Blue is exhausted from coloring all those bodies of water). Hilarious–you will smile through the entire thing.
16. Snuggle the Baby by Harry N. Abrams. This is one of the best interactive books I've seen (think Pat the Bunny but better) that fosters little kids' nurturing instincts. The simple text in the book invites kids to diaper, swaddle, feed and care for the sweet baby cutout in the back that can be tucked into all the little pockets throughout the pages. All three of my kids love this book.
17. The Wonderful Things You Will Be by Emily Winfield Martin. The illustrations in this book kill me. They remind me of a modern day Eloise Wilkin–capturing the sweet wonder and innocence of childhood. Similar to the theme of Dr. Seuss' Oh, the Places You Will Go, the text of this book celebrates all the wonderful things a child will become, making it the perfect book for baby showers and birthdays. A timeless classic with pictures so pretty, you could buy a second copy just to cut the pages out, frame them and decorate a child's room with them.
18. Swatch: The Girl Who Loved Color by Julia Denos. Another book celebrating colors–the whimsical illustrations in this book (from the illustrator of Just Being Audrey) capture the wild spirit of little Swatch who attempts to tame colors that cannot be tamed. And the color descriptions will roll off your tongue with delight…"rumble-tumble pink".
19. You Were the First by Patricia MacLachlan. Read this book to your oldest child, and I dare you not to cry. Every parent needs this book for their firstborn, no matter how old they are. A touching and important reminder of just how special those first milestones are–and how nobody can steal that title of "you did it first". Firstborn needing some extra love after those high expectations we hold for them? Read them this…they'll feel it. (plus it's by the author of my favorite book, All the Places to Love)
20. The Book of Mistakes by Corinna Luyken. This book was just published in April, and it's a work of art, celebrating the creative process and how accidents can inspire us and mistakes can transform into our brightest ideas. The minimal text guides the real prize here–the illustrations that invite you to follow along the artist's process, mistakes and all. A definite WOW book.
21. Double Happiness by Nancy Tupper Ling. Not only is this a great book for kids dealing with moving to a new place, it's wonderful for any life transitions, reminding us how to create and notice happiness around us when it's hard to find. In poetry form, this book tells the story of two kids moving to a new home who make a happiness box to fill with objects that help them make the transition.
22. Where the Wild Things Are by Maurice Sendak. There are so many new wonderful books I wanted to include in this list that I knew I'd be leaving some beloved classics out, but I had to include Maurice Sendak. He was a wordsmith, a true artist, and this book takes both young and old on a journey through imagination and stands as a classic that will forever represent the magic of childhood. "Let the wild rumpus start."
23. The Other Side by Jacqueline Woodson. I wanted to include some important social issues on our list, and while there are several great ones dealing with race, this is my favorite. Woodson paints such a beautiful story with her words and relays the history of segregation appropriately for kids while emphasizing the powerful theme of friendship and sameness with the two little girls in the story. The last line, though: "Someday somebody's going to come along and knock this old fence down."
24. All My Friends Are Planets: The Story of Pluto by Alisha Vimiwala.  I recently discovered this book by way of @kaleidoscopeca on Instagram (the BEST source for kids' book recommendations, by the way), and it's brilliant–pairing scientific facts about Pluto's loss of its planet title with the theme of inclusion and the story of how he no longer felt part of a group because he was different. Powerful.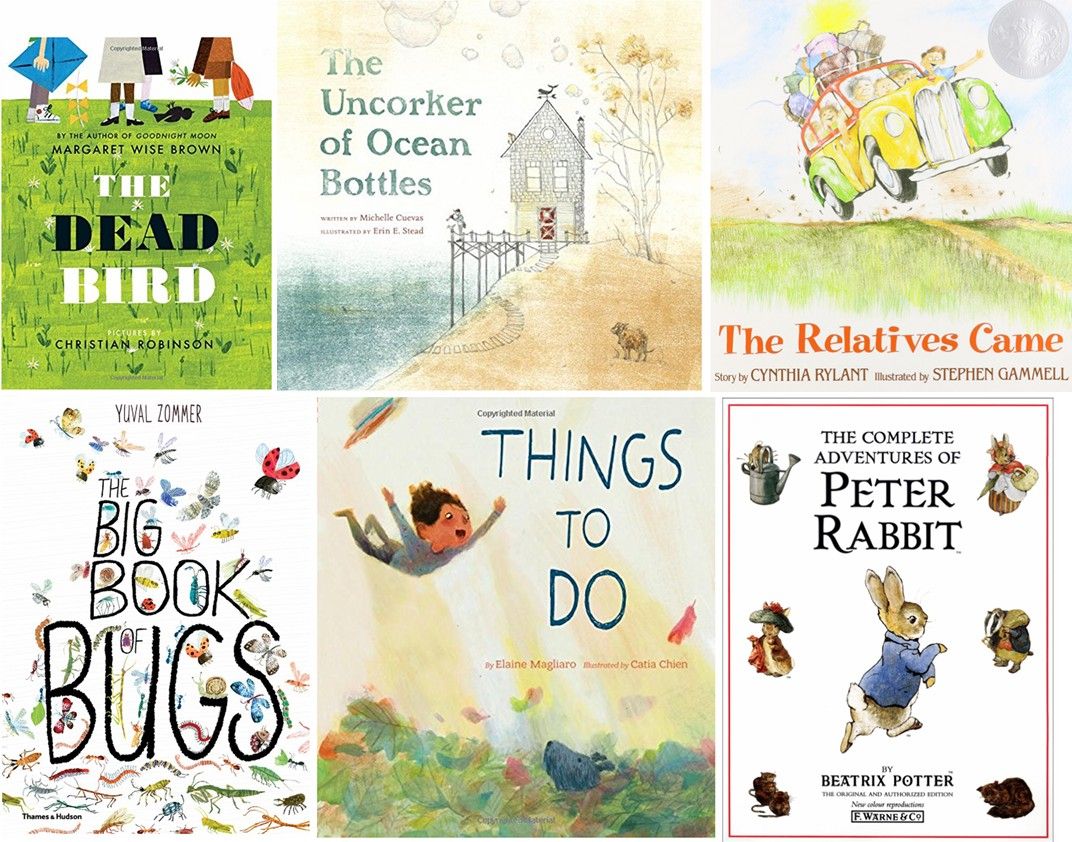 25. The Dead Bird by Margaret Wise Brown. I didn't discover this classic (from the author of Goodnight Moon and Runaway Bunny) until it was reillustrated for a contemporary audience and published again last year, and though the title is a little straightforward Debbie Downer, it's a beautiful story that presents the reality of dealing with death in nature in simplistic terms children can understand.
26. The Uncorker of Ocean Bottles by Michelle Cuevas. This book tells the story of a man who lives alone and takes very seriously his job of uncorking messages in bottles and delivering the messages inside. It has all the elements of a good story–a little mystery, inviting illustrations, and the words–oh, the words! They're spun together to create magic: "Sometimes the messages were very old, crunchy like leaves in the fall. Sometimes the messages were written by a quill dipped in sadness." This is a new addition to our library this year, and it's a treasure.
27. The Relatives Came by Cynthia Rylant. Another Cynthia Rylant book (she's so good!), you can feel the celebration of the family reunion in both the story and the illustrations. And I'm jealous…they have a rainbow colored station wagon.
28. The Big Book of Bugs by Yuvan Zommer. This non-fiction book will keep your little bug-lovers busy for hours. It's packed full of informative facts about every kind of bug you can imagine, the illustrations are breathtaking, and little "Can you find.." prompts will up the fun factor and have you digging through detailed illustrations to find that hidden praying mantis on the page.
29. Things to Do by Elaine Magliaro. Ah, the literacy lessons and word patterns in this books, presenting a buffet of beautiful adjectives and juicy verbs that help kids learn how to recognize and write good sentences. And, it gives a great take on perspective: "Things to do if you are rain. Polka dot sidewalks. Freckle windowpanes. Whoosh down gutter spouts. Gurgle into drains. Patter 'round the porch in slippers of gray."
30. The Complete Adventures of Peter Rabbit by Beatrix Potter. This book belongs in every nursery and every child's room, and when you're weeding out books as your little kid turns into a big kid, this book stays, okay? Through college. In fact, it should be lying on the coffee table of every frat house in America. And then first apartment, first home and finally recycled with the first kid. It's timeless. It's happy. It's kittens in pinafores and geese in bonnets, and how can that not make you feel good? Besides, the character names alone–Jemima Puddleduck, Tabitha Twitchet, Mrs. Tiggy-winkle? I mean, come on.
31. Good Night, Yoga & Good Morning, Yoga. You don't have to be a yoga fanatic to love this book. In fact, it introduces yoga to kids in such a simple pleasant way, you'll all want to try the poses even if you've never done them before. Paired with sweet poetry and easy-to-mimic illustrations, this book is great for encouraging a fun before-bed bonding routine. I've found Nella with this book open in front of her while she practices her tree pose, and I love it.
32. Julia, Child by Kyo Maclear. There isn't a book Julie Morstad's illustrated that I haven't fallen in love with, and this one's no exception. It pairs her delightful illustrations with the story behind Julia Child. I love our library to be stocked with books about strong determined women (and men!).
33. The Smallest Girl in the Smallest Grade by Justin Roberts. I love this book so much–a wonderful creative telling of how, no matter how small we think we are, we can use our voice to stand up against injustice. Although Sally is the tiniest girl in her grade, she finally learns to speak up about the bullying she sees at school, and it makes a difference.
34. Cloth Lullaby by Amy Novesky. A story of resilience, the power of creativity and how art can carry us through grief. This book tells the story of French artist Louise Bourgeois and her relationship with her beloved mother who taught her so much about art. When her mother dies, Bourgeois finds comfort in making art and finding ways to repair her heart: "I came from a family of repairers. The spider is a repairer. If you bash into the web of a spider, she doesn't get mad. She weaves and repairs it." A heartwarming lesson for anyone dealing with grief.
35. If I Wrote a Book About You by Stephany Aulenback. When I first read this book, I thought, 'YES! YES! That's how I love my kids! She captured how much I love them!" A mama uses the rays of the sun, the branches of trees, the sprinkles on a birthday cake to write love notes to her child. The simple illustrations and color palette in the story are so soft and sweet, and kids will love finding words hidden in the pictures.
36. Amelia Bedelia (the original) by Peggy Parish. Another classic from my own childhood. It's been republished and has many spin-offs now, but you can still buy a version of the original from 1963. Kids are always amused and delighted by Amelia's literal interpretations of the English language (draw the drapes, dress the chicken). When I told my sister I was working on creating a list of my 50 favorite picture books and was having a hard time whittling down classics from my own childhood, she said, "You got Amelia Bedelia, right? You have to have Amelia."
37. Happy Dreamer by Peter H. Reynolds. Another book that captures the theme of Dr. Seuss' Oh, the Places You Will Go, this one specifically celebrates staying true to ourselves and not reigning in our dreams despite what the world may tell us.
38. Sugar Cookies: Sweet Little Lessons on Love by Amy Krause Rosenthal. This book feels extra special after reading Amy Krause Rosenthal's letter about her husband in the New York Times before she passed away earlier this year. Thankfully, she left us a wealth of her words for children. This book is like a poetic picture dictionary that tells little stories through baking about all the wonderful characteristics we want our children to have–compassion, authenticity, consideration, etc.
39. Eloise by Kay Thompson. Another classic I had to include. The wild spirit and outspokenness of Eloise is a childhood treasure, not to mention the dream of living in New York City's Plaza hotel.
40. Lately Lily: The Adventures of a Travelling Girl by Micah Player. This book will plant seeds of wanderlust for the tiniest of readers. The illustrations are charming and combined with the storytelling, capture the spirit of adventure and discovering the world around us.
41. Miss Nelson is Missing by Harry G. Allard Jr. and James Marshall. This book is all kinds of nostalgic for me as it was published the year before I was born, and I think every elementary school teacher I had read it aloud. A cute humorous lesson about appreciating what you have.
42. The Invisible Boy by Tracy Ludwig. This book is for every little quiet kid who feels overlooked or not included. A precious story about kindness and feeling included.
43. Home by Carson Ellis. A picture treasure, put this book on your coffee table. It celebrates all the different places we call home and how unique and special each one is.
44. If I Had a Little Dream by Nina Laden. A book about appreciating the beauty and joy in the world around us–it combines lyrical poems with darling illustrations in a simple color palette of pinks, browns and blues. A feel good book about love and beauty.
45. All The World by Liz Garton Scanlon. That Marla Frazee's at it again with these pictures. This book is my life mantra–an invitation to love and enjoy our world from tiny treasures like finding seashells to the biggest gifts…like loving the people we've been given.
46. Miss Moon: Wise Words from a Dog Governess by Janet Hill. Kids love dogs. Kids love dogs with cool names. Kids love dogs who are treated like people in a story. I just discovered this book this year and was mesmerized by both the charming illustrations and the creativity buried in this book. Every dog pupil has a name in this book (Cora Lace, Sister Effie, Victor, Storm, Pippy, The Count, Baron Rupert the Third, Finnegan Elliot Woodward–the names alone will have you diving right in), and kids will be humored by all of it.
47. The Adventures of Beekle: The Unimaginary Friend. For every child who ever had an imaginary friend. This book tells the story from the imaginary friend's perspective as he sets out to find a child who will choose him. A brilliant tale of friendship and belonging. A must for every child's library.
48: Sonya's Chickens by Phoebe Wahl. I fell in love with Phoebe Wahl's art before I found this book, and I don't know what I love more–the pictures or the story. Another great book for dealing with death in nature, this story beautifully ties together the reality of loss with the circle of life and interconnectedness of everything on earth.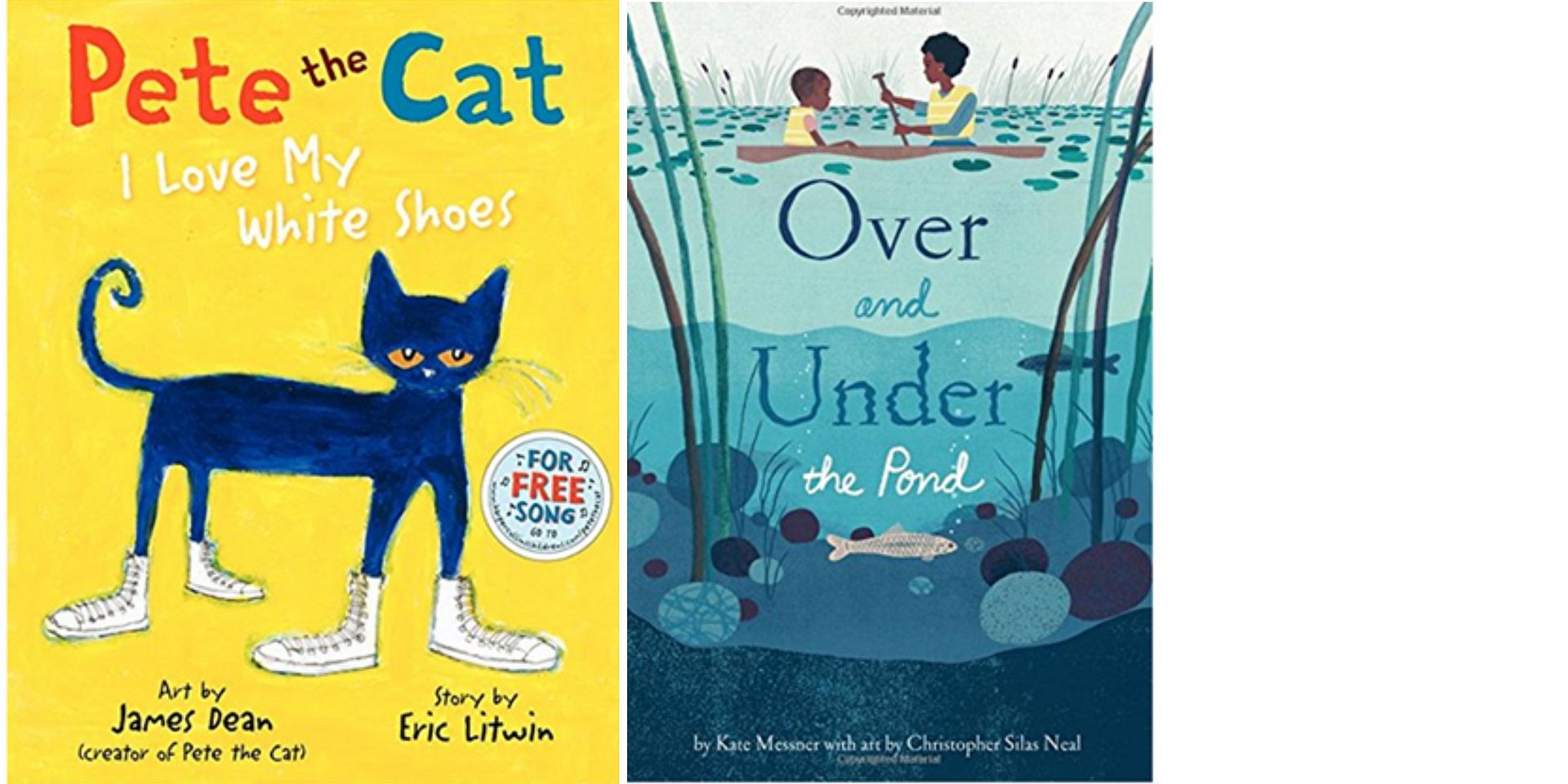 49: Pete the Cat: I Love My White Shoes by James Dean and Eric Litwin. I'll be honest, every time my kids bring me this book to read, I think, "Dear God, please pick a different one" because I'm so tired of reading it, and Pete doesn't really do anything for me. But Nella and Dash love it. They love the repetition and jump in to read with me on all the parts they know. Also, this is what Heidi says about Pete: "Is it just me or or does Pete the Cat come across as, like, you know–a skater dude living in his parents' basement? Because he's a little too laid back for me, if you know what I mean." Let's just say we exaggerate this theme greatly when we voice Pete in our read-alouds.
50: Over and Under the Pond by Kate Messner as well as Up in the Garden and Down in the Dirt and Over and Under the Snow. Gorgeous illustrations and descriptions of what happens under the surface of a pond that create such beautiful imagery with words (light-dappled leaves, whirligig beetles that loop and twirl like skaters, sleepy dragonflies that rest on the water…it's like nature poetry). An absolute delight to read aloud.
…and if you want this all in a simple list without my blah-blah-blah explanations and gushing, here you go:
1. All the Places to Love
2. Kiki & Coco in Paris and Lulu & Pip 
3. Today
4. This Is How We Do It: One Day in the Lives of Seven Kids from Around the World
5. Let's Go Home: The Wonderful Things About a House
6. What Do You Do With an Idea? and What Do You Do With a Problem?
7. This Is Sadie and When You Were Small
8. The Seven Silly Eaters 
9. Everywhere Babies
10. Mrs. Muddle's Holidays
11. Stellaluna
12. The Rainbabies 
13. Hailstones & Halibut Bones 
14. Just Being Audrey
15. The Day the Crayons Quit
16. Snuggle the Baby 
17. The Wonderful Things You Will Be
18. Swatch: The Girl Who Loved Color
19. You Were the First
20. The Book of Mistakes
21. Double Happiness
22. Where the Wild Things Are 
23. The Other Side
24. All My Friends Are Planets: The Story of Pluto
25. The Dead Bird
26. The Uncorker of Ocean Bottles
27. The Relatives Came 
28. The Big Book of Bugs
29. Things to Do 
30. The Complete Adventures of Peter Rabbit
31. Good Night, Yoga & Good Morning, Yoga
32. Julia, Child
33. The Smallest Girl in the Smallest Grade
34. Cloth Lullaby
35. If I Wrote a Book About You
36. Amelia Bedelia
37. Happy Dreamer
38. Sugar Cookies: Sweet Little Lessons on Love
39. Eloise
40. Lately Lily: The Adventures of a Travelling Girl 
41. Miss Nelson is Missing
42. The Invisible Boy
43. Home
44. If I Had a Little Dream
45. All The World
46. Miss Moon: Wise Words from a Dog Governess
47. The Adventures of Beekle: The Unimaginary Friend
48: Sonya's Chickens
49: Pete the Cat: I Love My White Shoes 
50: Over and Under the Pond and Up in the Garden and Down in the Dirt and Over and Under the Snow
For all things kid lit, check out @kaleidoscopeca on Instagram–. Also, I stalk Chronicle and Tundra Books for new releases as they are my favorite kid book publishers and always choose the best gems to put into the world.
If you're appalled  I left off a gem that can't be ignored, please tell me in the comments. There's nothing I love more than discovering a new children's book.