This post is sponsored by Marshalls.
The sun has slipped past the top of the trees in our back woods, suddenly shifting the light in our dining room from bright and energizing to a dim calm, a sign that the day is quickly fading. Some days I welcome this fade–when there's not as much to do and the day's been kind to us, but tonight the light shift makes me anxious. There's still so much do, and I'm well behind, exhausted from kids and too much decision making and a brain that started too early this morning–4:30, to be exact. Brett's offered to run out and pick up something for dinner, and I'm relieved.
"Where do you want me to go?" he asks, handing me a stack of wrinkled take-out menus from our junk drawer. "Go ahead–pick something out."
It's one more decision I don't feel like making, and to be honest, I'm too tired to even know what I want. "You know what?" I suggest, "Pick anything. Don't even tell me. You know what I like. Just surprise me."
He accepts the mission and leaves the house, and something funny happens while he's gone…I wake up a little. Something inside me gets excited, not just because food's involved, but because I'm about to be surprised. What's he going to bring home? The possibilities are endless. Well, actually they aren't because–duh–Brett will choose Mexican food 10 times out of 10. But still, there's something about that element of surprise.
Have you ever wondered about the amazing possibilities that come from shaking up the most predictable parts of your day? I mean, there's a reason our kids get excited about summer bucket list jars with folded pieces of paper holding the next adventures written on them rather than just listening to us announce what we're going to do for the day…because surprises are fun. Out-of-the-box, forcing us to give up a little of that control we hang to and experience the freedom of letting go. And we have the power to make our life more adventurous just by making the choice to change up our routines. Order that thing you can't pronounce on the menu even though you don't really know what it is.
So you can imagine my excitement when Marshalls reached out to me with this adventurous partnership idea–to encourage people to do just that: Choose Surprise.
Short story: I'm taking a trip with my best friend to a mystery location. That's right, our bags are packed and ready, and we have no idea where we are going and won't find out until we arrive at the airport in two days.
Longer story: First of all, I totally love this idea, and everyone I've told about this trip and how it works has had the same reaction: "A: This is brilliant, and B: I need more of these kinds of things in my life."
For this partnership, Marshalls is teaming up with Pack Up + Go (a travel agency that specializes in creating surprise destination trips) to highlight what makes Marshalls special–the fact that, because they have new brand name and designer fashions arriving several times a week and every store is different, you never know what you are going to find inside…but you can be confident that you are going to love it. Every time you walk in the door at Marshalls, it's a surprise (maybe that's why I stop by there so often…the thrill of finding something new!).
So here's how it works. Heidi and I filled out a travel survey of things we like to do, places we've recently traveled to and generally the kinds of adventures we enjoy on trips. It's out of our hands now. We know we are traveling somewhere in the United States and that we won't have more than 4 hours of in-the-air time to get there. And we know what to expect for weather and were given a pack list.
So, to Marshall's I traveled with a gift card, my pack list and my adventurous spirit ignited because…Mystery Trip! Here's where the fun part really kicked in. Because the entire theme of this shopping experience and this trip is getting out of our box, changing things up, and surprising ourselves, I got a little adventurous with picking things out for the trip. I mean, if it's a colorful, cultural city we're visiting, I might want something more wild and vibrant. A dress? A romper? Heels? Fun sunglasses? Why not?
I've been a Marshalls fan for years and love their surprising selection of high-quality, on-trend designer merchandise at amazing prices. But what I really noticed shopping for this trip is that they truly are a one-stop-shopping spot for travel planning. Suitcases, purses, sunglasses, fashionable clothes, shoes, snacks, beauty items and all the travel accessories you need from neck pillows and ear buds to those cute little shampoo bottles.
Everything I'm bringing on this trip is from Marshalls, and I had so much fun putting it all together.
Here's what I found…
For the plane:
I fell in love with the shorts romper–it's super comfy and fits like a glove.
Because we do know that we'll be doing some walking and exploring, I want to be able to carry my camera without lugging a camera case. I have a neoprene wraparound case for my camera but wanted a stylish backpack that could pass as a purse. Love this thick canvas one…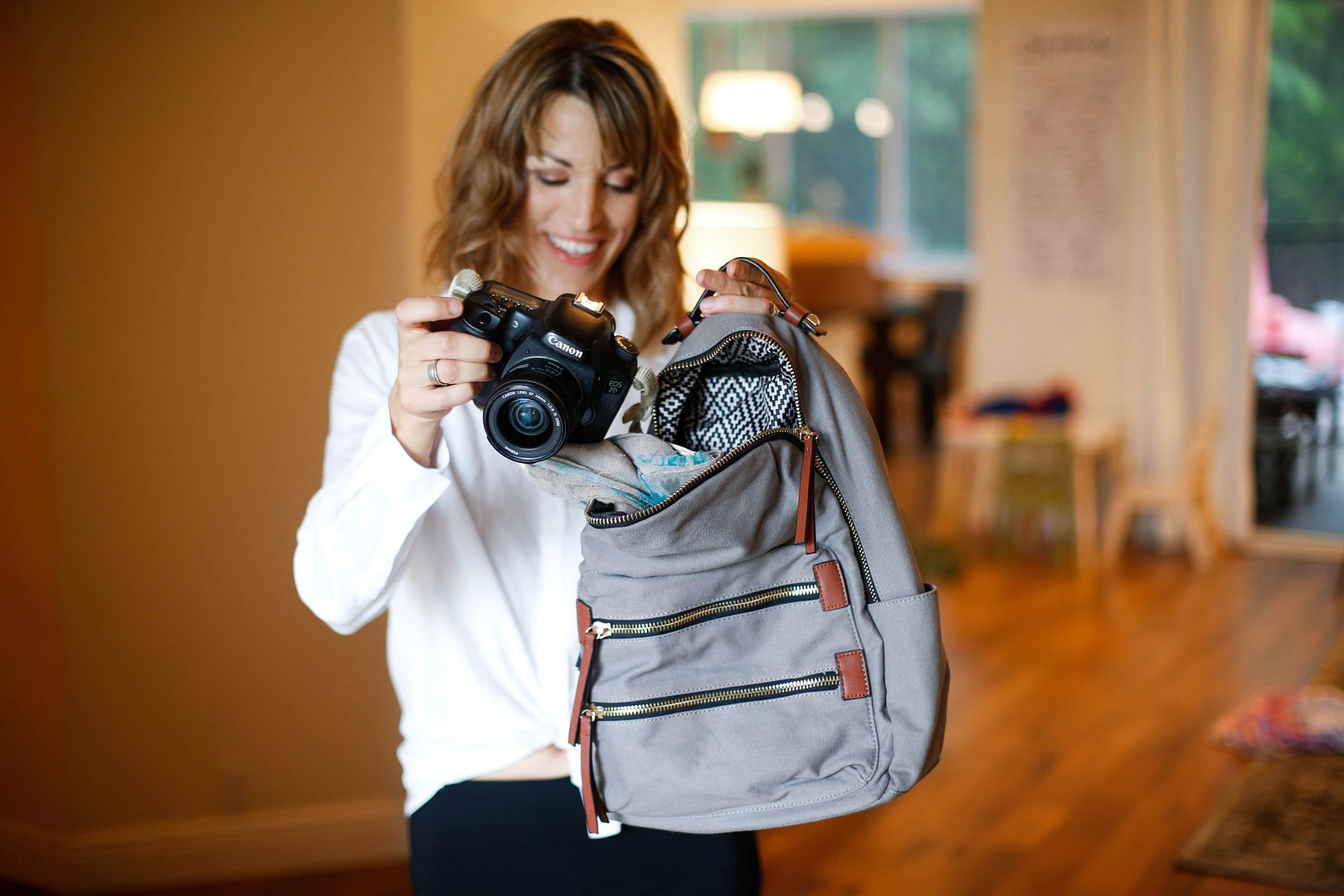 …and this gorgeous soft-as-butter Italian leather clutch that I can slip in the backpack during the day and use as a purse at night.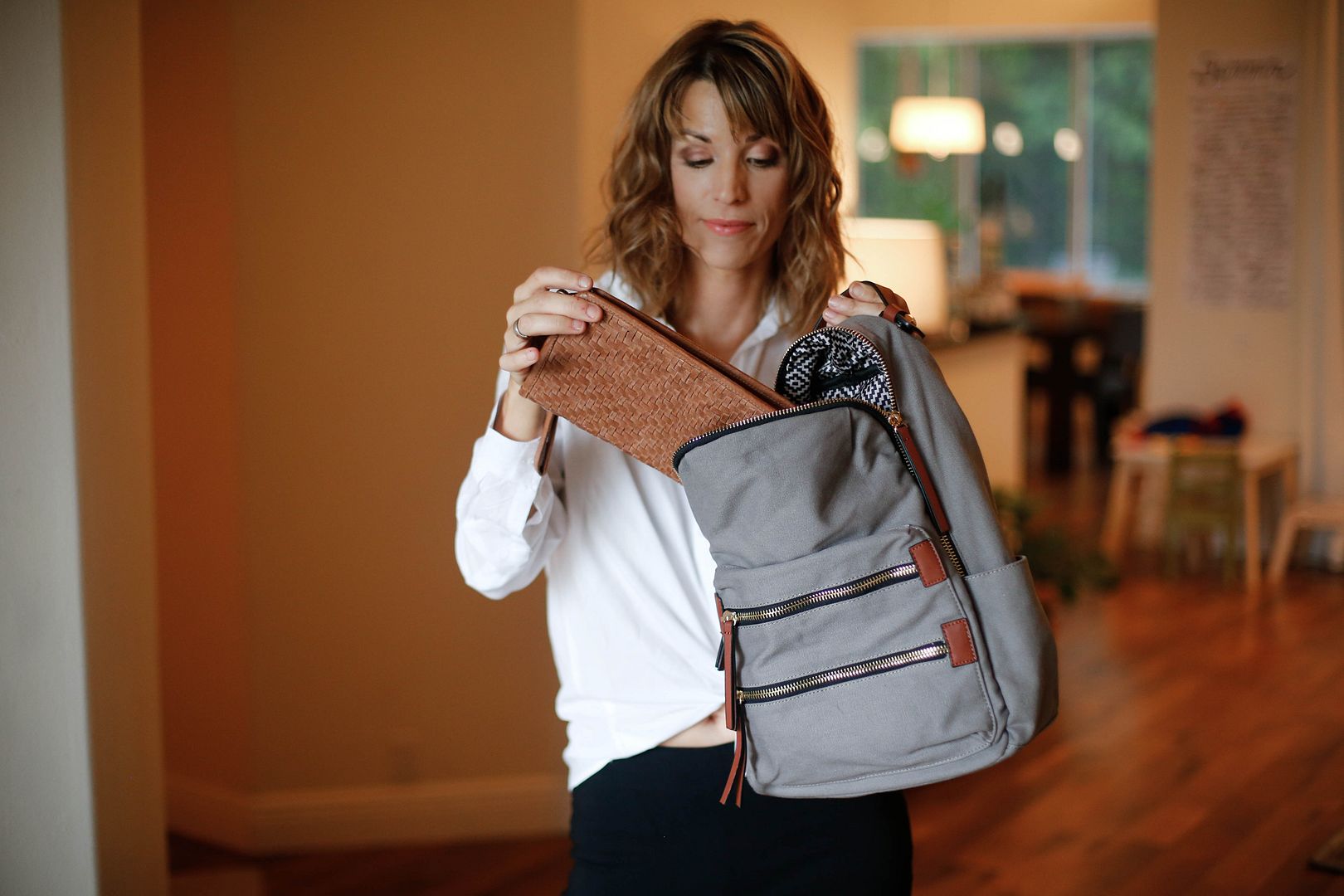 And what, might you ask, do you pack when you have no idea where you are going? Well, we were given a few guidelines so we aren't unprepared, but the rest was all fun and adventure. Marshalls had it all. I will naturally overpack a little, especially because wherever we are going might inspire me in a different way once I get there. Some of what I'm bringing for this bustling city/charming town/seaside village/fill-in-the-blank…(all Marshalls and so many of them major department store brands I already love but at unbelievable prices):
I also stocked up on some beauty supplies (they have top brand name make-up and toiletries!) for the trip. I love to hit Marshalls men's department to pick up a shaving case for my make-up. I like them better than deep purse-type makeup cases because they open flat and I can see my stuff better. I picked up a few fun things like face masks and nail polish too, so Heidi and I can watch a movie and do a spa night in our room after adventuring one day.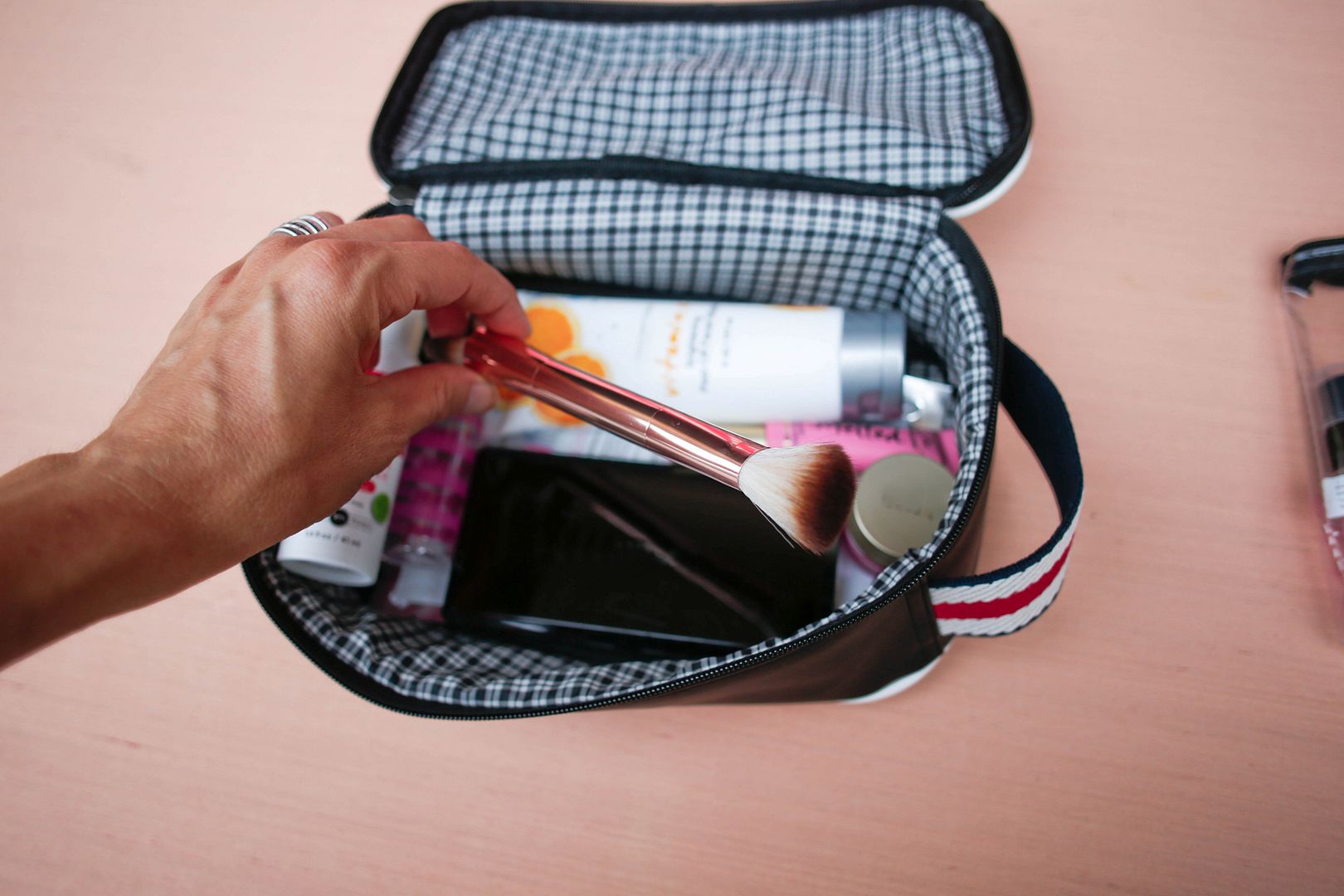 Finally, a few of my favorite packing tips I'm using for this trip:
1. I roll my clothes. It helps me see what I've packed so I stay more organized rather than rifling through piles to get to that shirt at the bottom and it's a great use of space.
2. Zippered bags: Marshalls had a pack of these great zippered mesh bags that I love using in my suitcase to keep my intimates separate and keep my jewelry in. Most suitcases have only one zippered pouch, and I find I need more than that. Also, I tuck a few dryer sheets layered in my clothes to keep things smelling fresh.
3: The Hat Trick. I love bringing a hat on trips, but they can be hard to pack, take up a lot of space and can get easily crushed…but not if you pack it like this: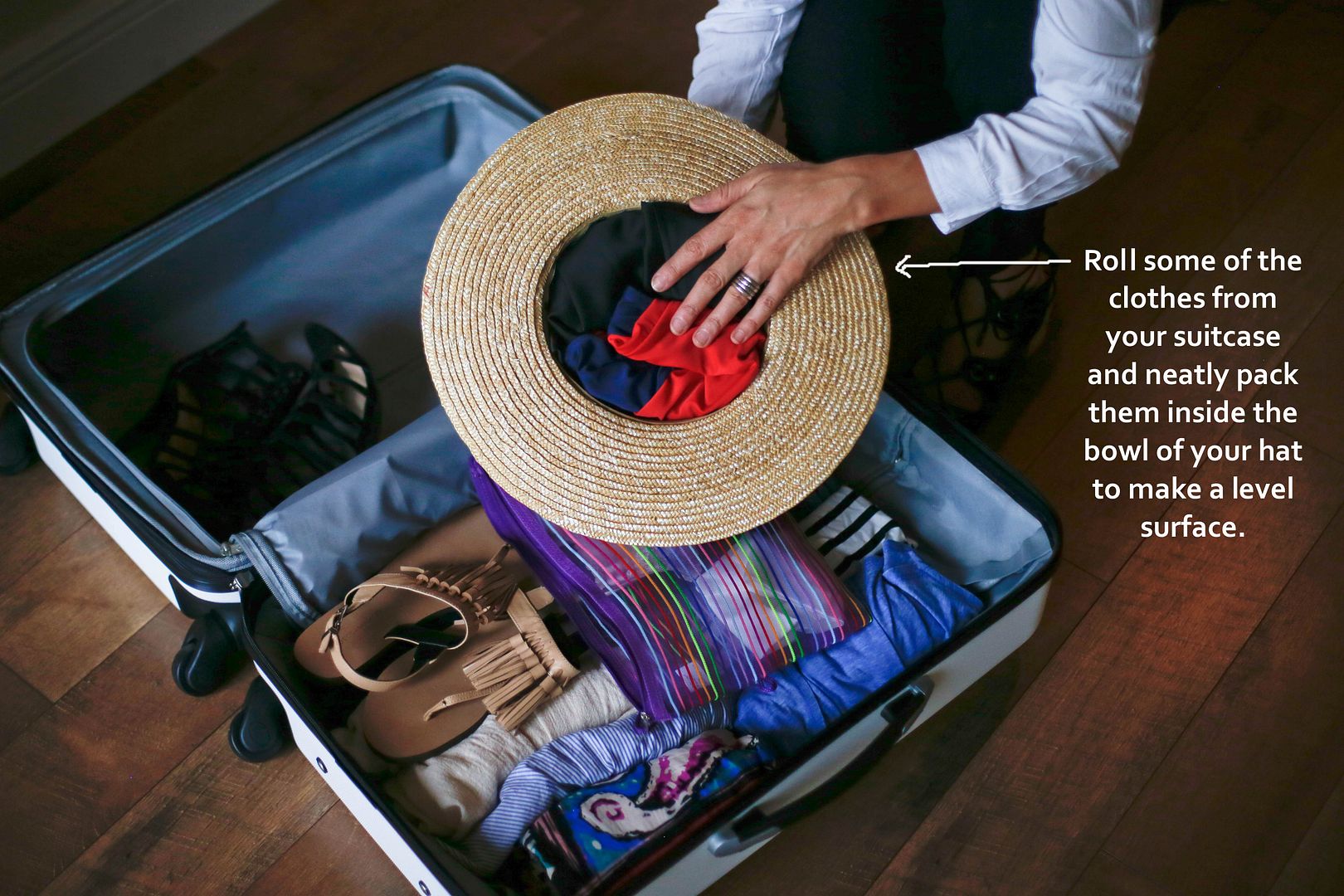 But my favorite thing of all I picked up at Marshalls? My sleek new suitcase and this adorable popcorn luggage tag! Ahhh! Look how cute it is! Never again will I need to check fifteen other black suitcases before finding my own. I'll just look for the popcorn.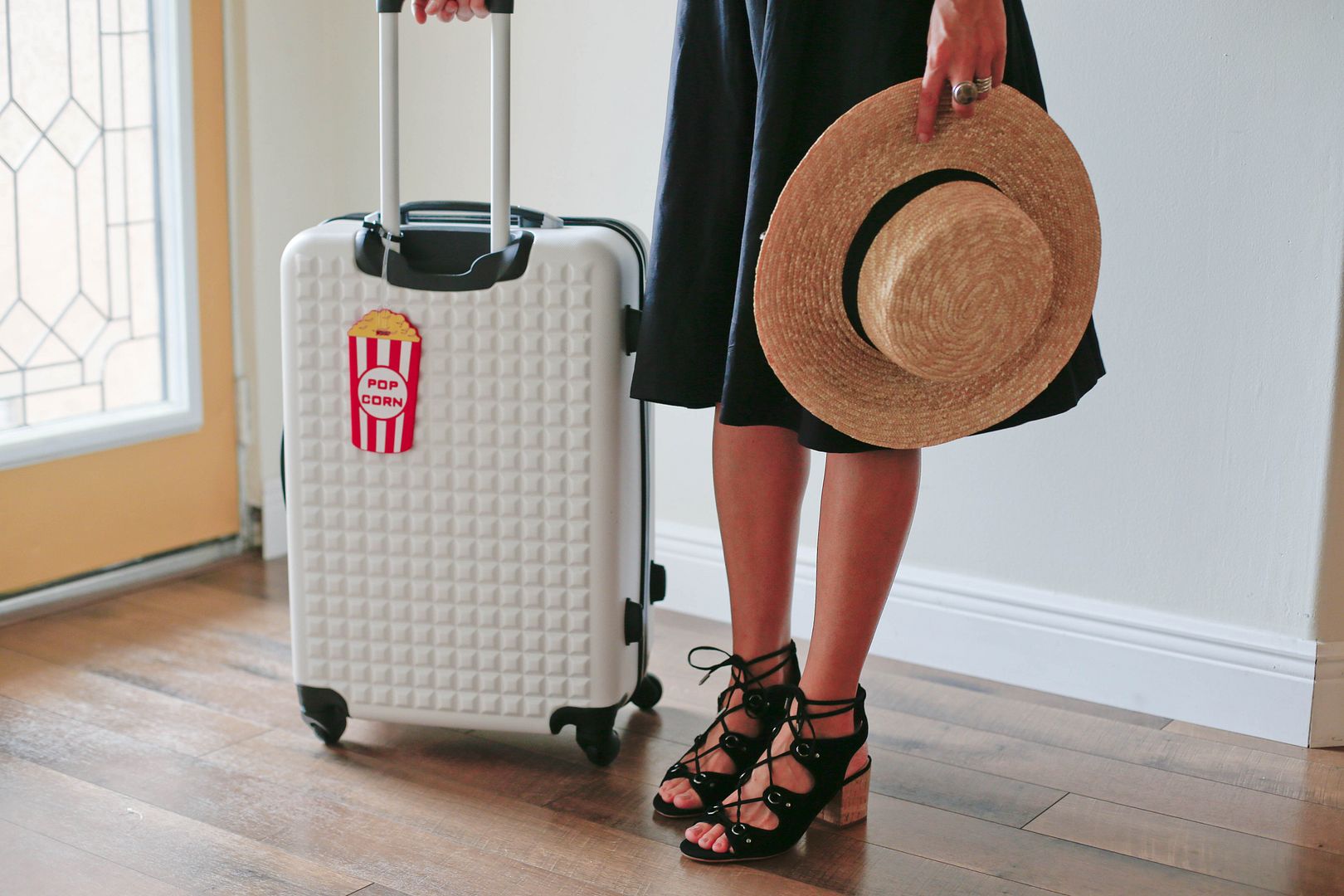 (and yes, hat–Marshalls. Favorite new lace-up sandals: Marshalls)
Walking into Marshalls to prepare for a surprise vacation and finding all these fun things I never expected…well I'm ready for adventure.
Heidi and I have never taken a trip together, just the two of us, that wasn't for a wedding or a retreat or something we had to do. We are both so excited, and even more so because of the surprise element.
We'll find out at the airport, and I'll be sharing our adventures and where we are going over on Instagram and Facebook throughout the trip.