This post is sponsored by Visit Florida.
It should be noted that while I'm writing this, Brett has steel drum music blaring in the house right now like we are islanders. Like we're on vacation. Like this laundry is going to disappear and be replaced with a cabana. It's his new thing–steel drums, 24/7, preferably poolside. The cool thing is, we live in a state where that island vacation feeling is pretty accessible given our climate and our landscape of tropical palms and beaches. And when we want to explore that feeling a little deeper, there are some amazing tourist attractions just hours away. Last week, we kicked off our summer vacation visiting one of those places, Universal Studios brand spankin' new Volcano Bay™ water theme park…and we are smitten.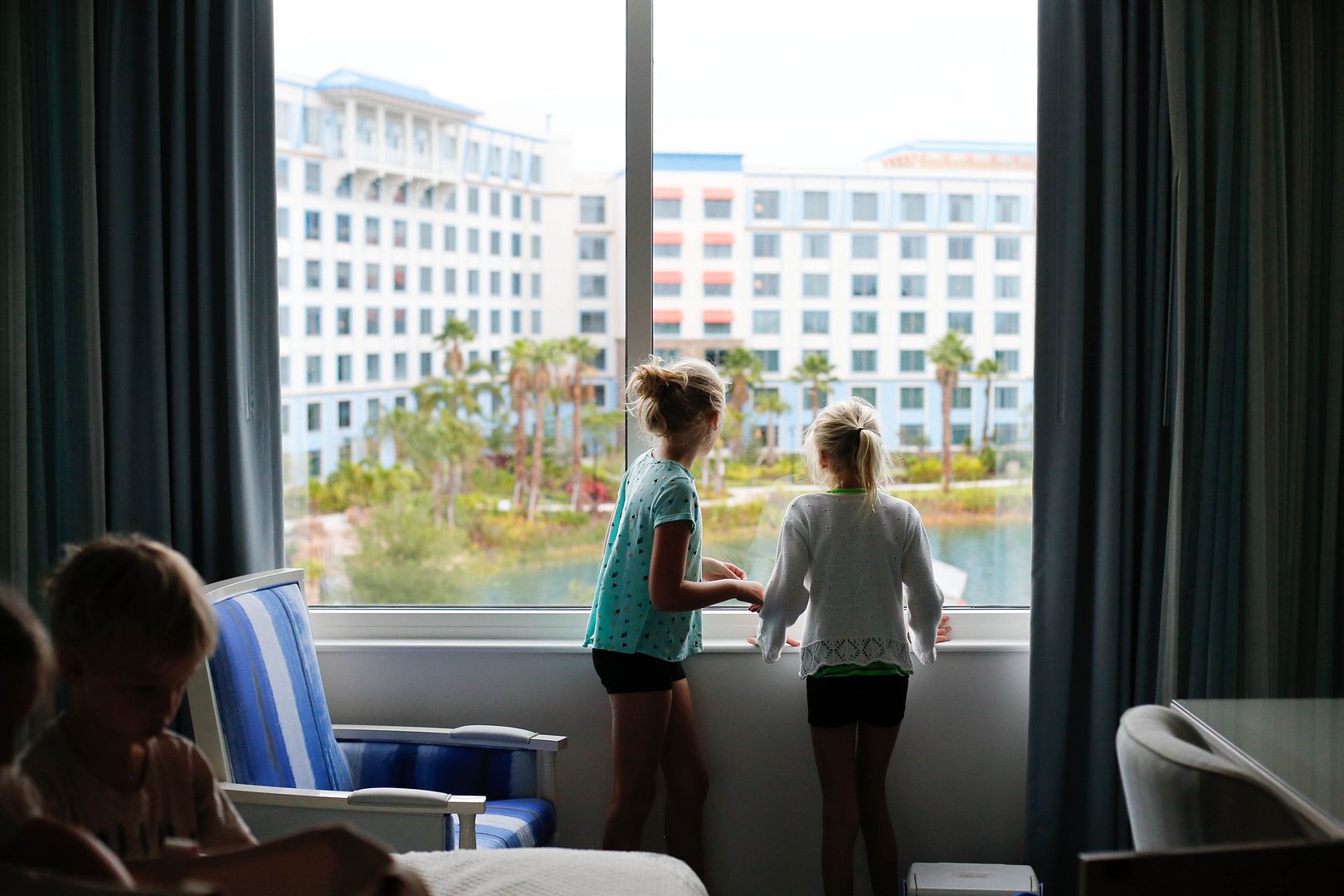 It has everything you want when you're seeking the thrill of a theme park–rides, rides and more rides (18 attractions, to be exact); but our favorite thing about the park is that it appeals to the laid back crowd as well with a huge stretch of beach that faces the volcano (yes, volcano!), two-tiered cabanas and the most incredible lazy river I've ever experienced–waterfalls, grottos and illuminated caves. And there's so much for little kids.
But first, the bus ride. Our hotel shuttle picked us up in the morning, and I don't know if it was the anticipation of getting to Volcano Bay or the excitement of riding a bus, but the kids were giddy.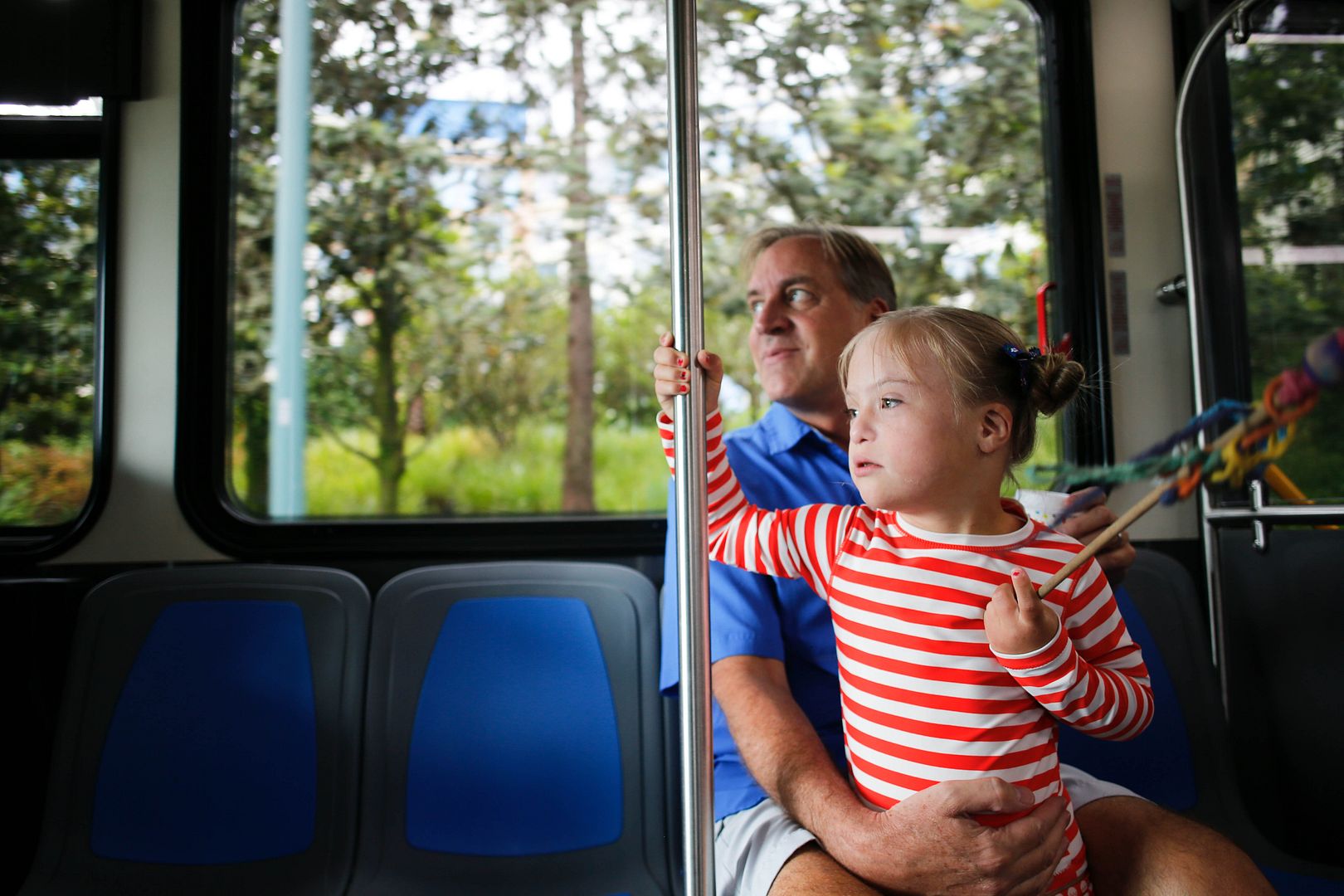 Dash had this funny plastered smile on his face that Lainey and her friend labeled the "bus smile". Numerous times for the rest of the trip, they asked him to show us his "bus smile"–which he did, sending the girls into fits of laughter.
We had talked about the volcano before the trip and had shown the kids pictures, but watching them take it in when we rounded that first corner of the park was such a treat. Nella gasped and whispered, "The volcano!" It's called Krakatau™ and it really is spectacular–completely monstrous with caves hidden throughout that you can swim through, a walking path hidden behind the waterfall and rides built into it including a drop tube toward the summit (none of us were brave enough).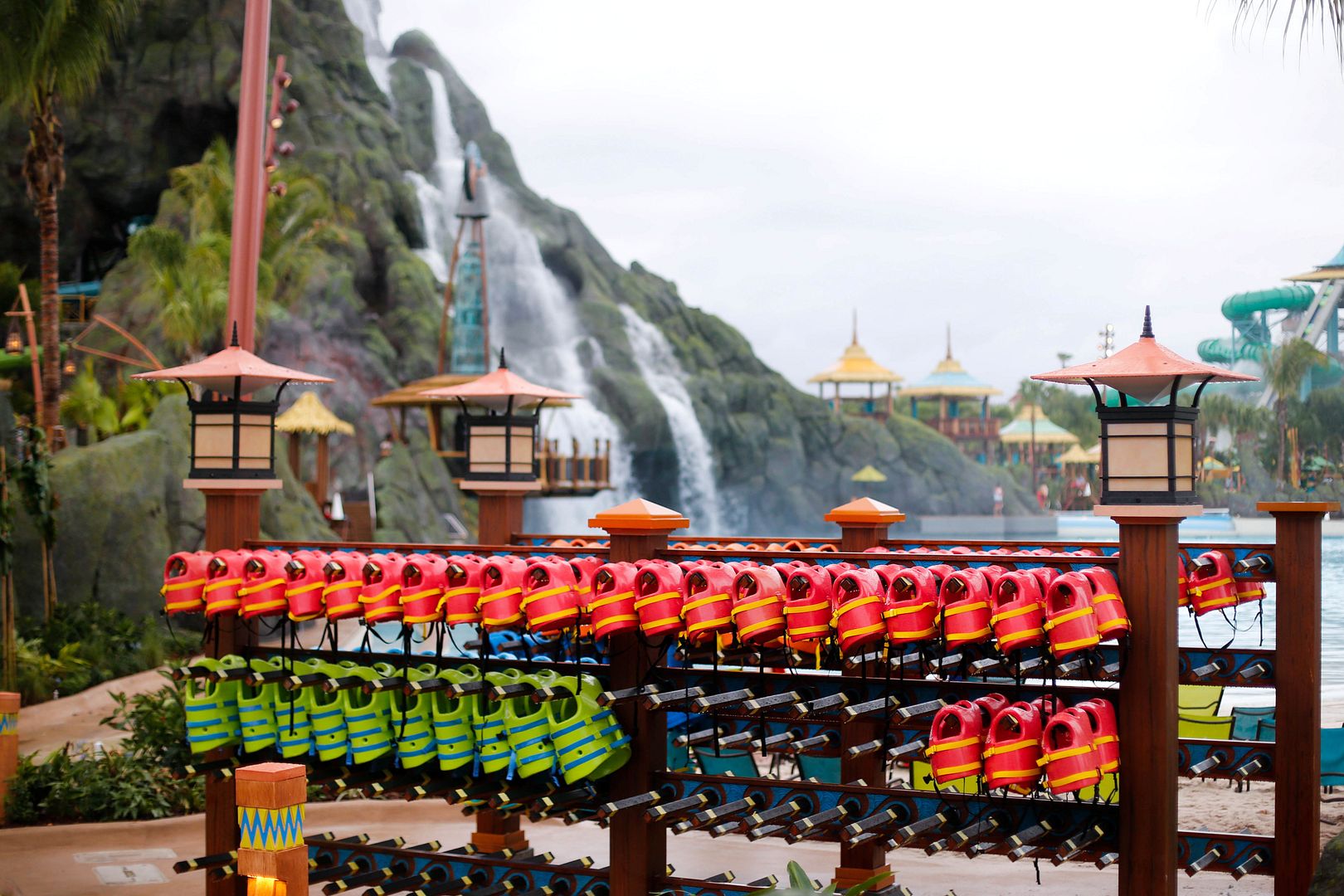 Nella did the sand body test and approves–soft like sugar.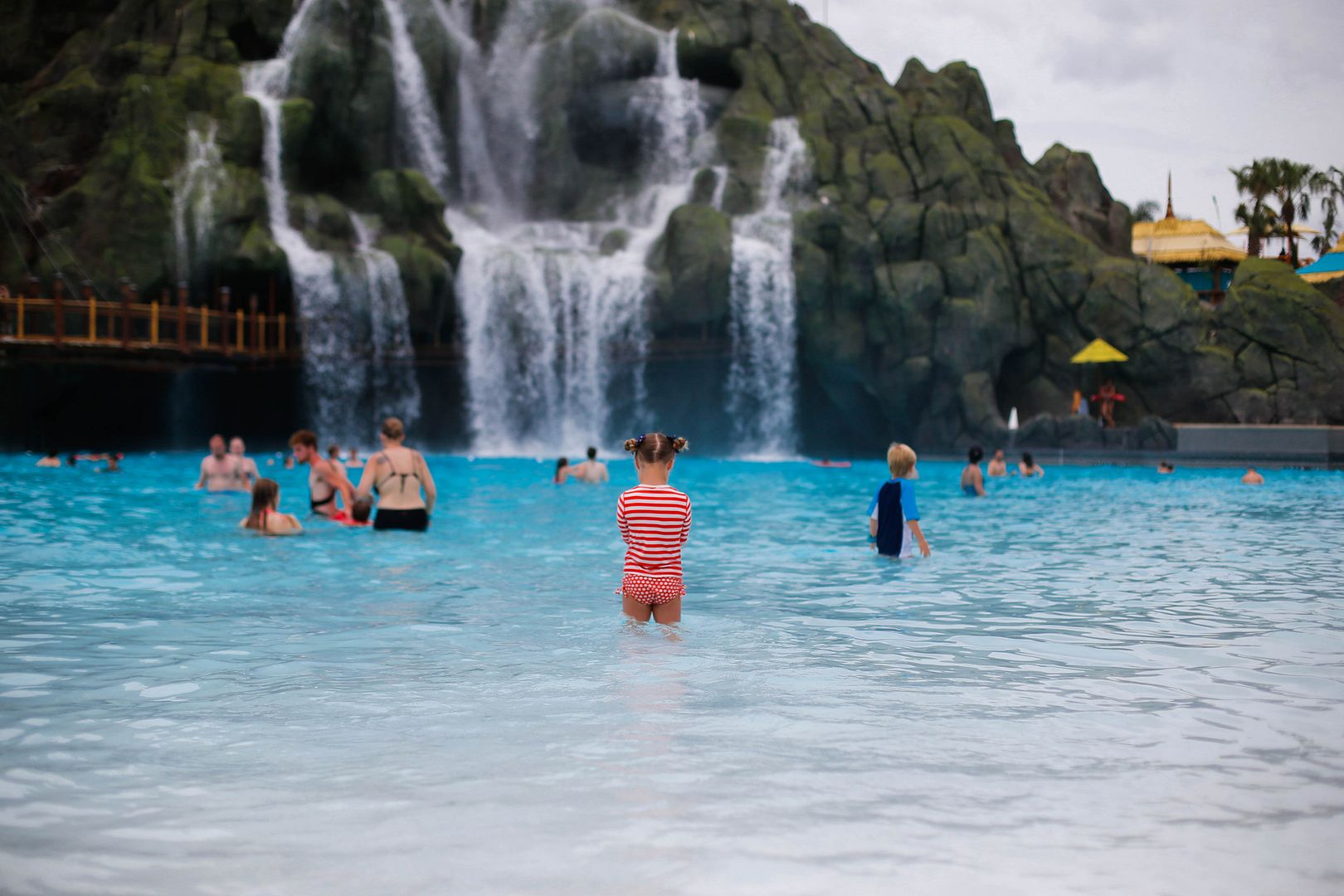 We brought Lainey's good friend Maggie with us, and it was so nice having someone for her to explore the big kid stuff with. Plus, Maggie feels like family and overlooks our craziness.
Favorite things about the park:
The TapuTapu™ bracelet. Everyone gets one for the day when you check in to the park, and not only do they hold your place in line for rides (kind of like a restaurant buzzer), but they allow you to interact with hidden features all over the park so you can turn fountains on, open your locker with it and link up your credit card so you don't have to carry anything. The little kids loved using theirs to activate surprises.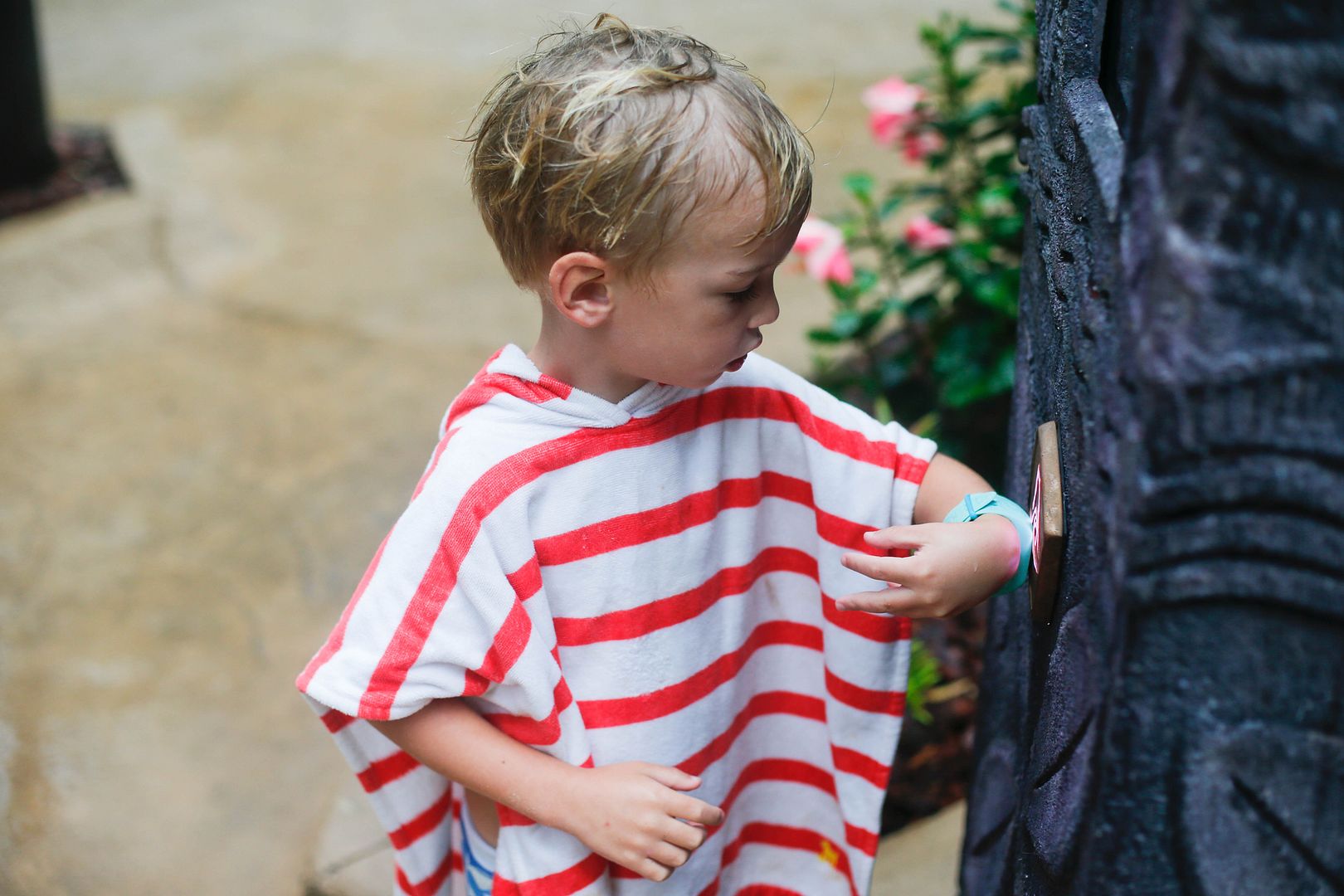 We lost it when Dash walked by this carving and it started making noises. He was mesmerized.
And the park attractions for little ones? After we set up camp on the volcano beach, I left Brett with the kids for a bit while I went exploring. Upon discovery of Tot Tiki Reef and Ranamukka Reef, I texted Brett: "Oh my God. Abandon ship and meet me in the back. The kids are going to freak."
It is there that their bravery soared. In fact, I climbed to the top of a massive water play structure with Nella and Dash, not at all expecting that they'd attempt the slide, but they got in line. Totally out of character for both of them, Dash decided he didn't want to do it while Nella jumped in front of him and, before I could caution her, took off.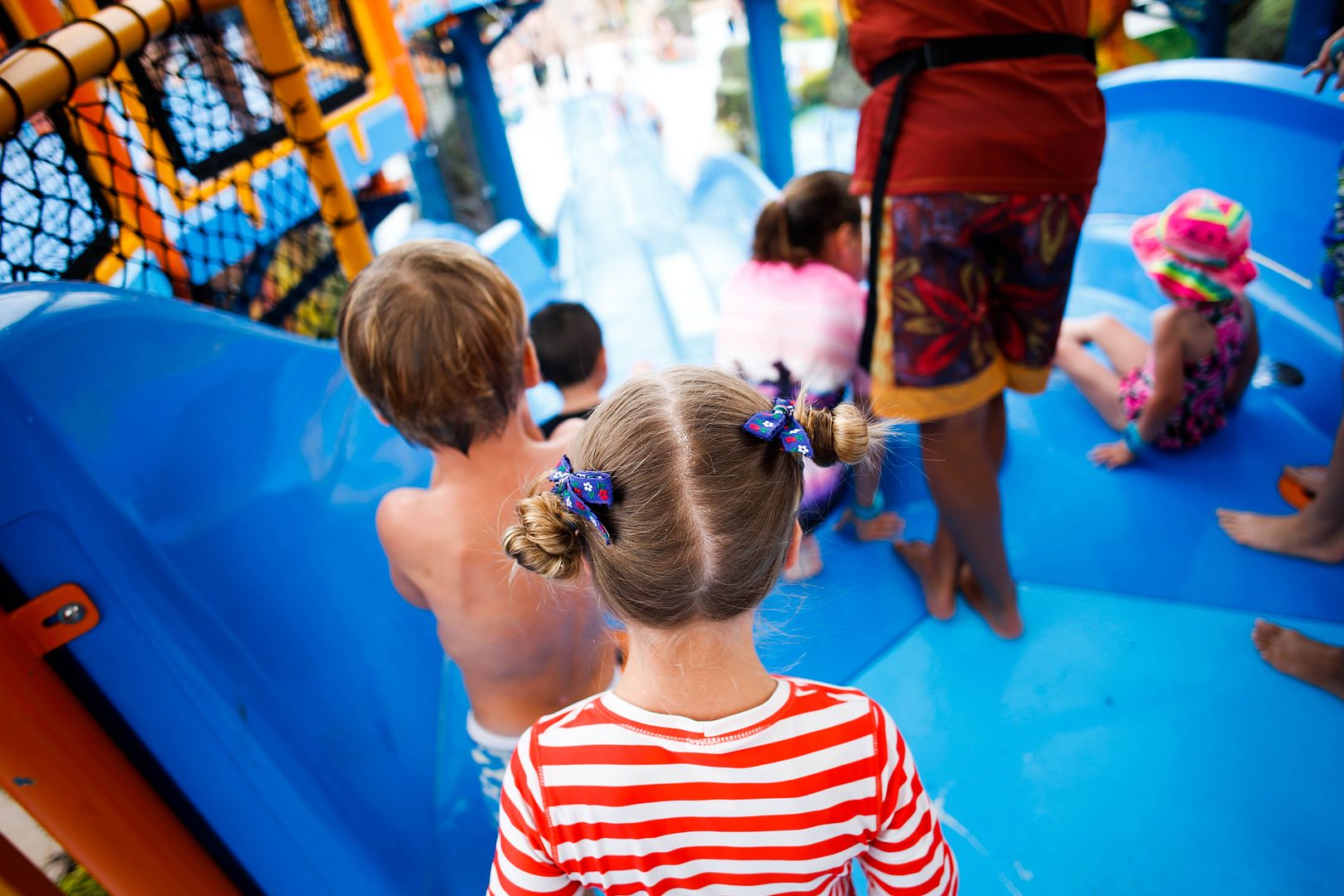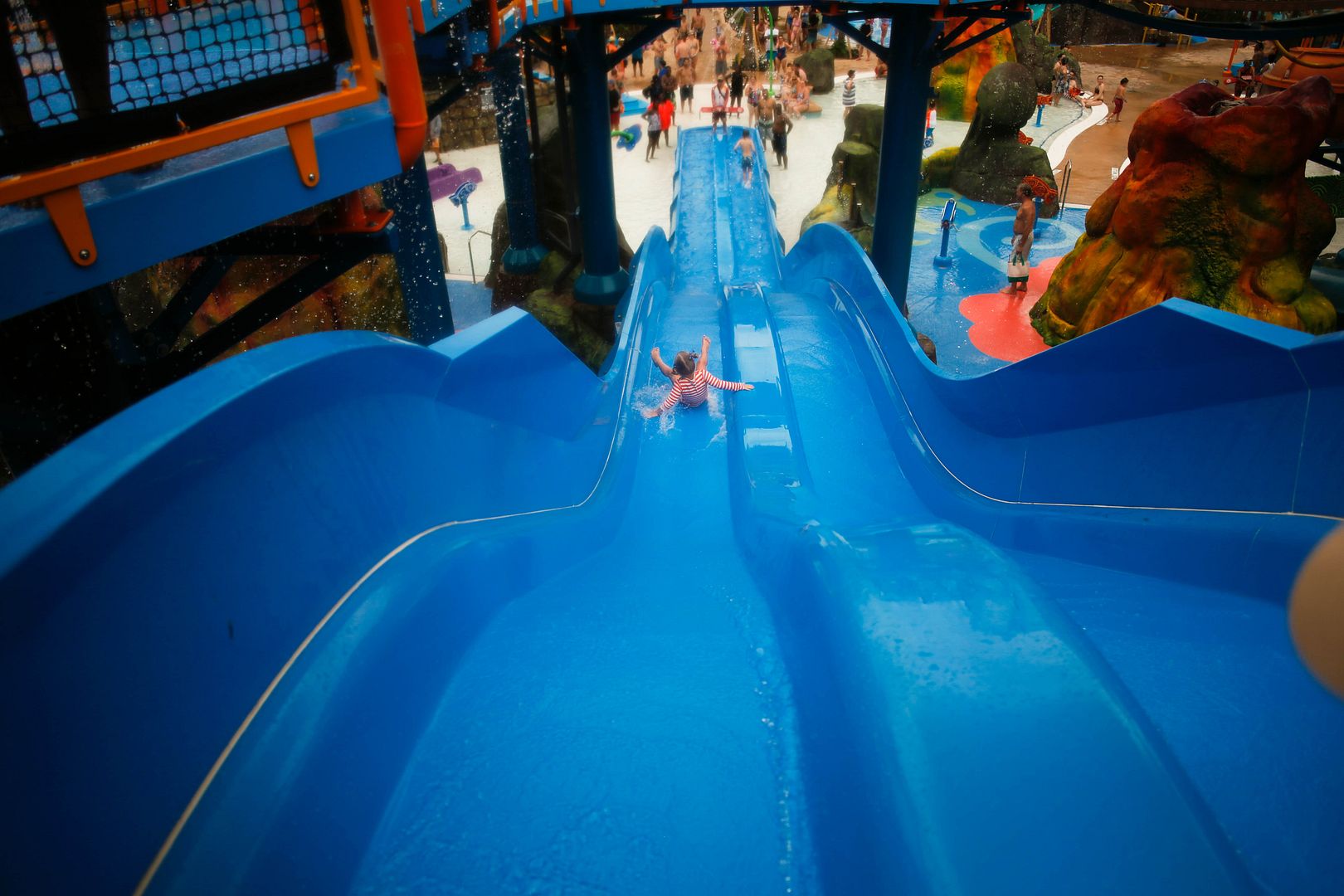 I was dodging kids, running to try and meet her, yelling to Brett at the bottom, "She's coming! She's going down! Did you see that? OUR HESITANT KID JUST WONDER WOMAN'D THAT SLIDE, DUDE!" From there, she was unstoppable.
And her proud smile? Electric–could have powered that whole theme park.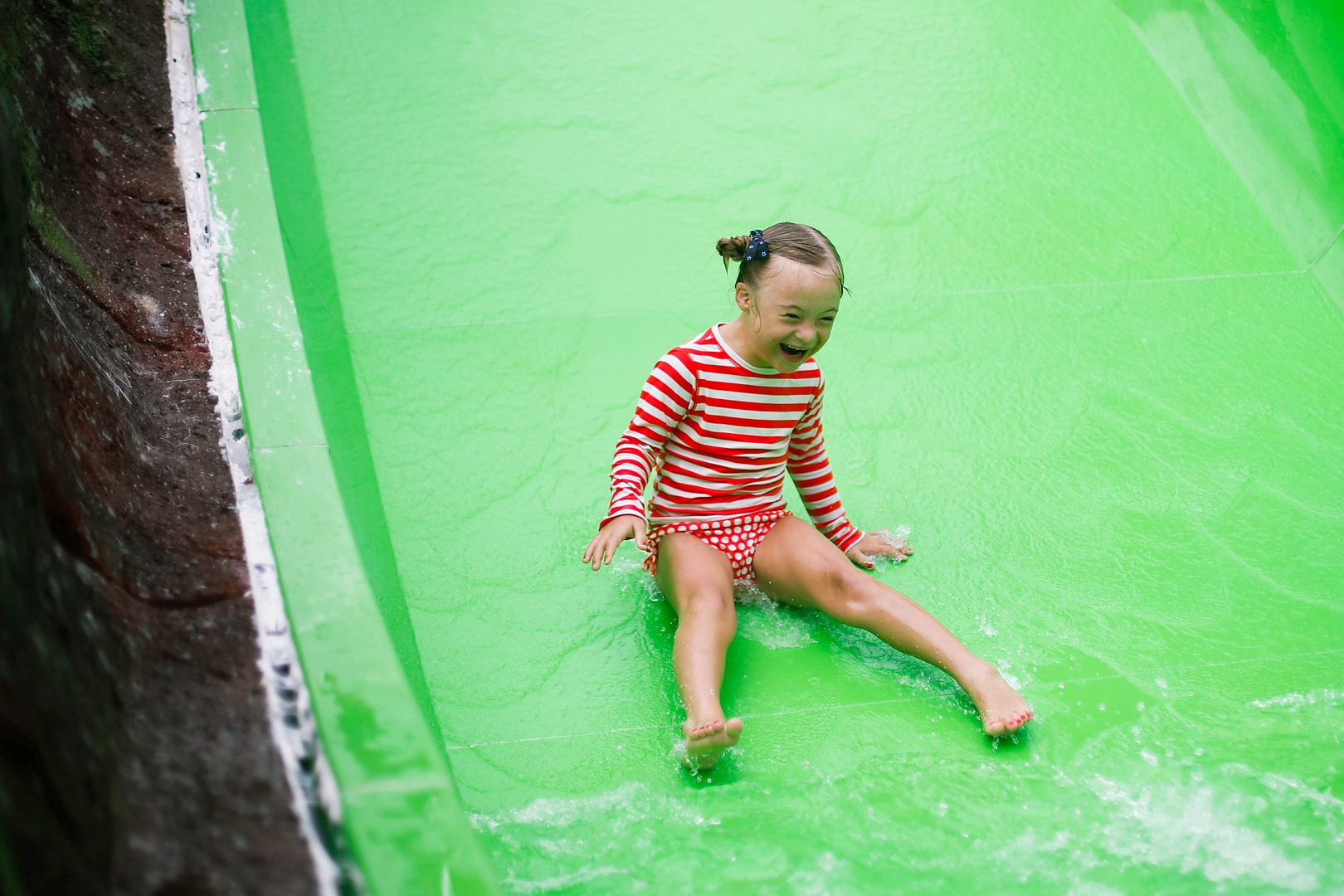 It was raining in Naples while we were gone, but thankfully most of our park day was beautiful.
And when it did rain, we got cozy inside a restaurant for lunch and then explored more of the park in a misty haze that added to the allure of a volcano island.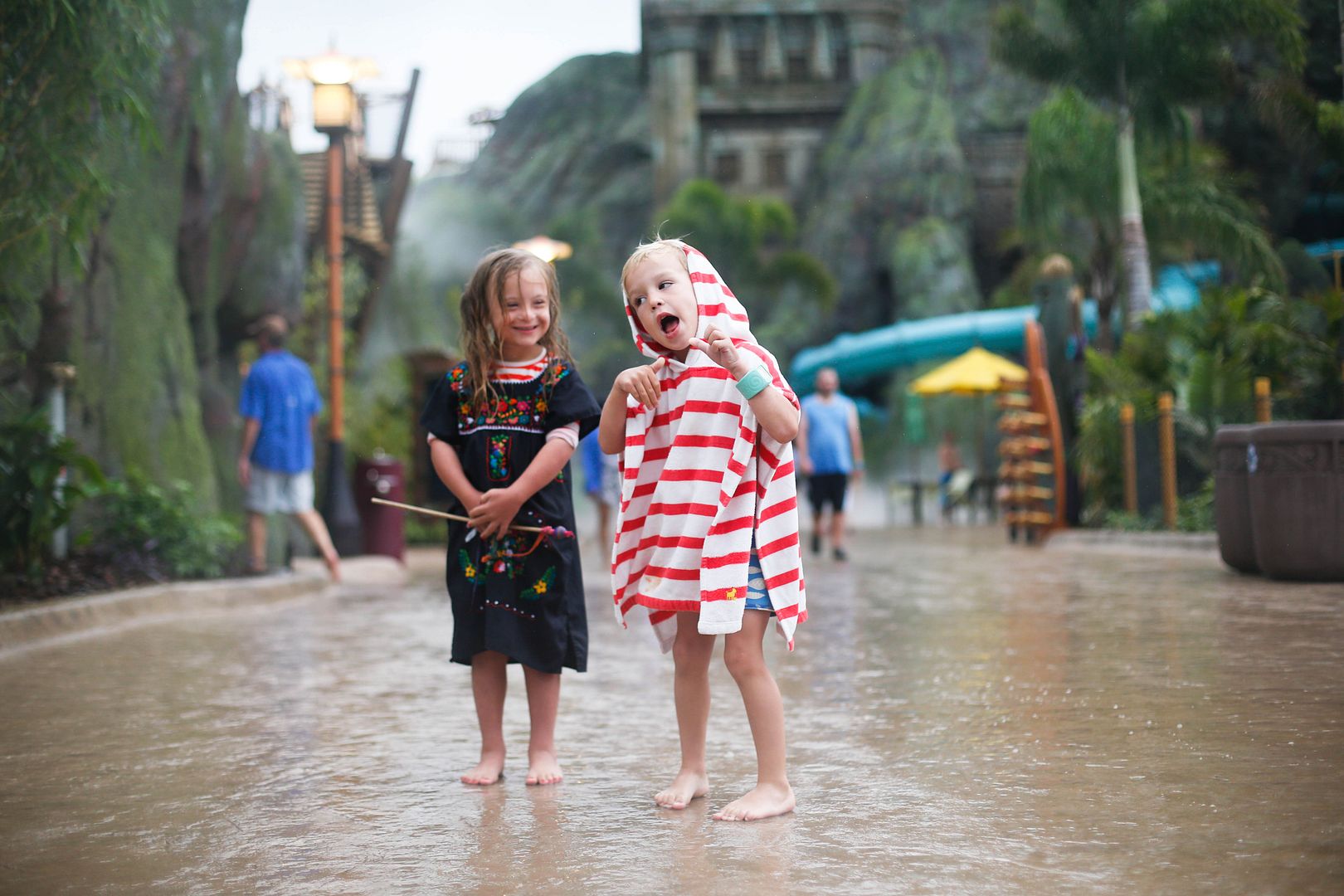 I love this picture:
Another moment of bravery–Nella did not want anything to do with exploring the waterfall, but Brett scooped her up and gently guided her along.
Sometimes you need your dad to help show you that things aren't as scary as you imagine them to be. She loved it.
I didn't brave taking my camera on the lazy river, but the caves were stunning.
We finished the evening exploring Universal Studio's Citywalk™ and Brett found his mothership–Antijitos Mexican Restaurant.
It was the perfect summer kickoff for our family, and the kids are already asking to go back.
Somehow, they're not buying that this steel drum music by our own pool is the same thing.
The best way to sight see Florida in the heat of the summer? Water. Water, water, water.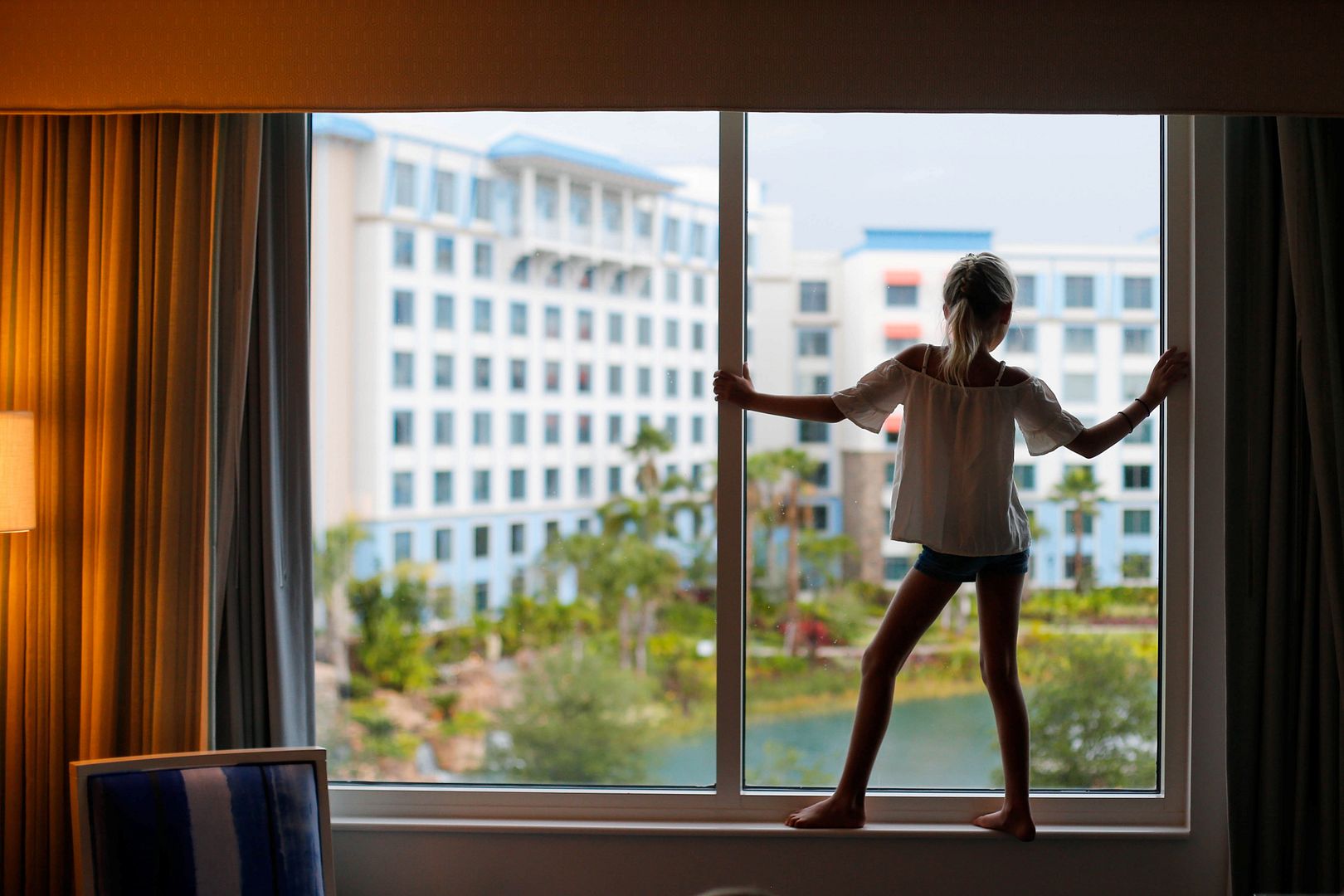 Bonus…water with a view.
This is a sponsored conversation written by me on behalf of VISIT FLORIDA. The opinions and text are all mine.