Hello from Northern Michigan! Where the wifi is spotty but the summer bucket list potential is GOLD. We are on our way home from Traverse City where we spent the day exploring downtown while three children slowly crumbled into reminders of why traveling with kids is haaaaarrrrrd. But they are all sleeping in the back seat right now while I edit pictures of them being cute and making memories, so we are right back to that place where summer endorphins control the brain and packing everyone up in the car to drive two hours to a state landmark is not a ridiculous idea.
So, summer review so far:
We caught our toad (check).
…held a baby chick (my dad has an incubator this year and six little baby chicks hatched right before we arrived).
…caught butterflies in the butterfly house.
…watched falling stars lying on our backs on the dock at night, blew through two bottles of bubbles, braided wildflowers into crowns and napped in the hammock on more than one occasion.
…roasted so many marshmallows, we are all experts in achieving perfectly browned crisp-on-the-outside, melty-on-the-inside goodness.
Dash loved the opportunity to climb inside a fire truck last weekend when the fire station here had a family day celebration.
And our annual summer hit from the bucket list: pizza on the dock.
We found out when we arrived in Michigan that my grandma was vacationing with my cousin in a nearby northern Michigan city, so we had the extra treat this year of another visit with her, this time in our favorite place. She loved the butterfly house…
…and Dash loved giving her a lesson in Snapchat filters.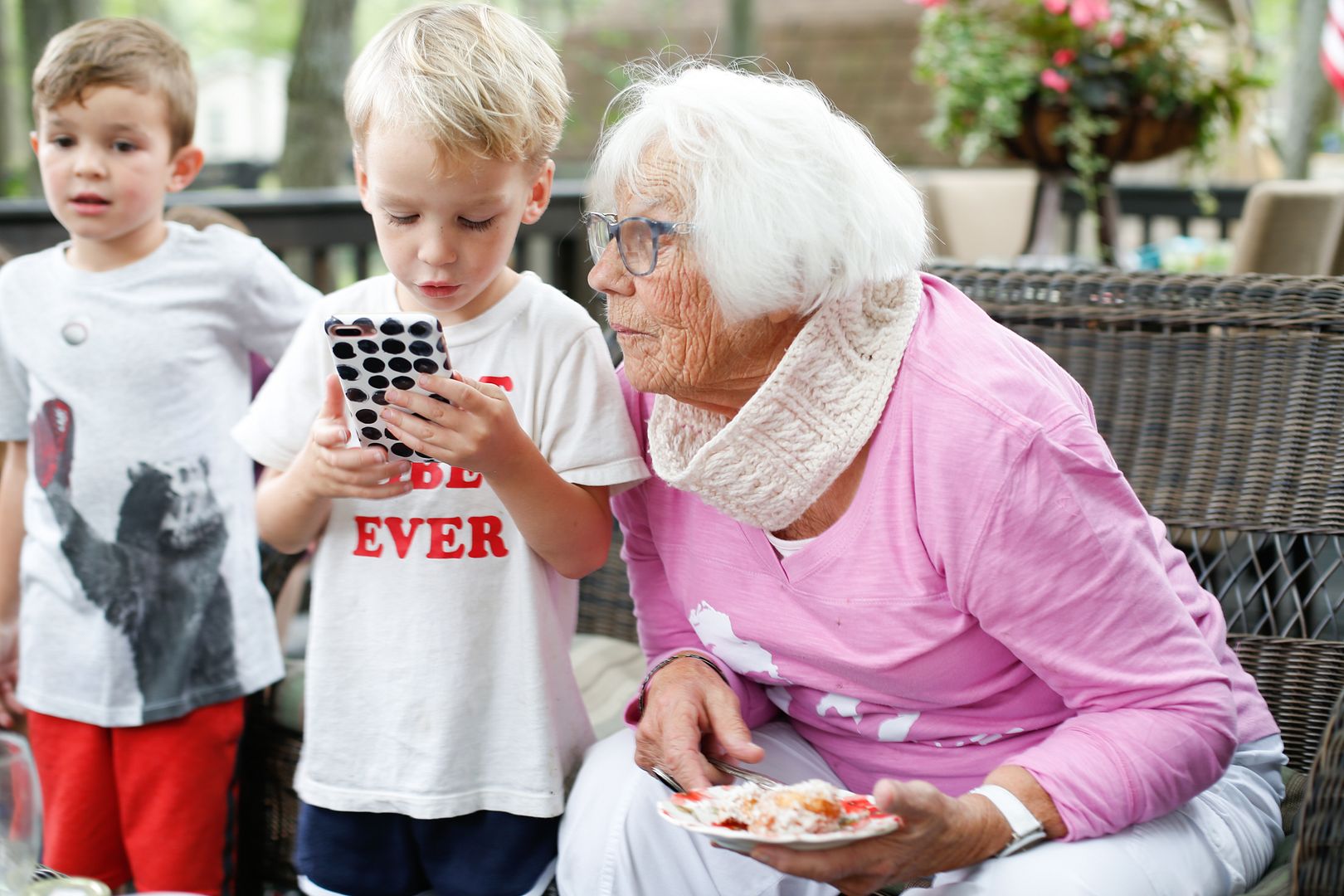 Our Michigan adventures were perfectly timed this year with Gaylord's Alpenfest, a festival celebrating the city's Bavarian roots. Since we're minimalists, we, of course, celebrated with very simple details and subtle enthusiasm.
In other words, DASH GET YOUR TUBA! LAINEY, FETCH MY STEIN!
Not shown in photo: Gary's socks-with-crocs.
My cousin's daughter Peyton is a year younger than Lainey, and we are so grateful that her family lets us enjoy so much of her while we are up here.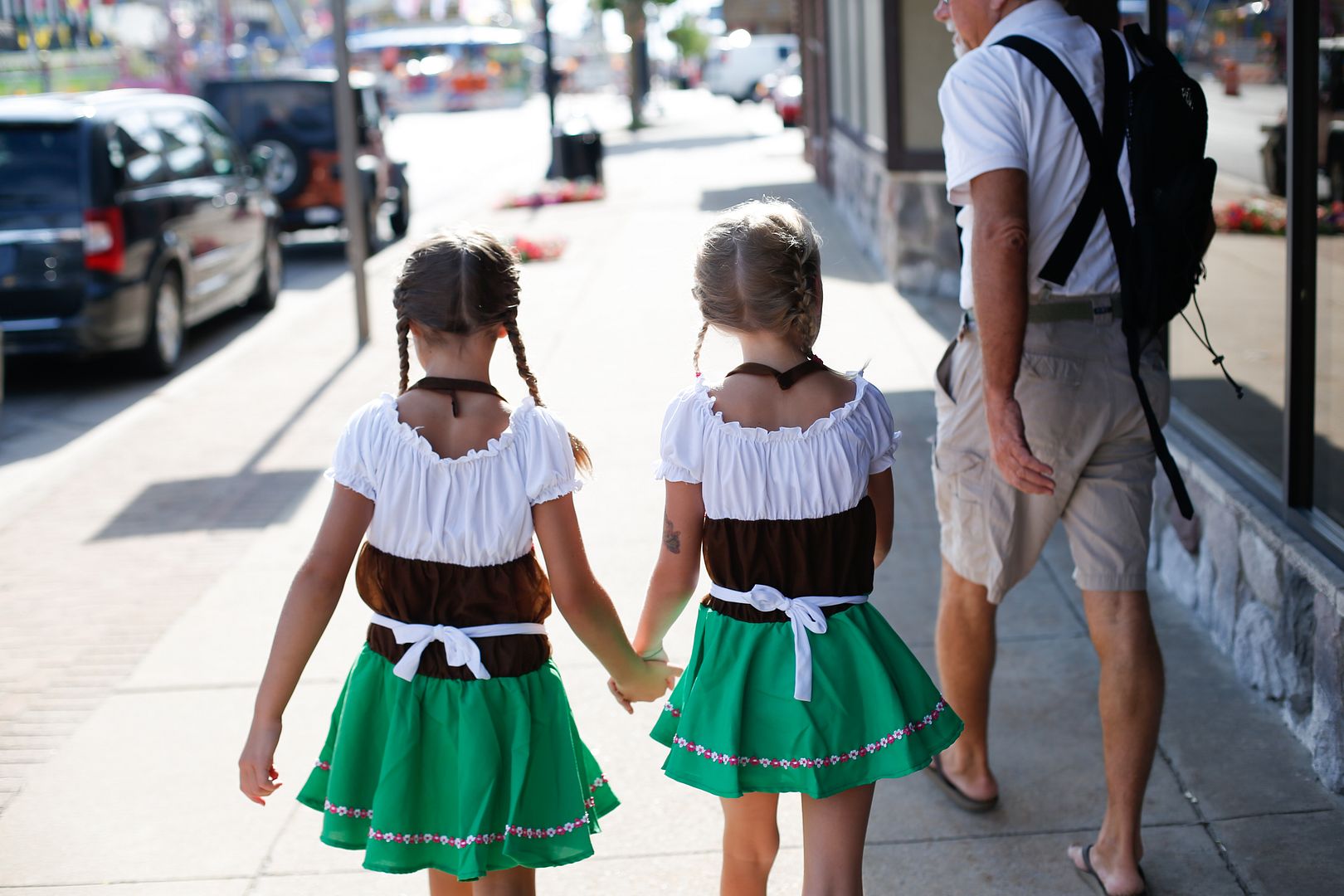 Dash wore that hat the entire night. Even when it flew off on the fun slide, he grabbed it, put it right back on and asked, "Is it on the right way?" A kind gentleman who had a similar hat showed him how you pinch the indentation on the top of the hat to put it on so you always know it's on the right way.
I thought I missed this moment but was so glad when I went through my photos later to see that I had captured it. When Nella and Dash got off the rides, she'd put her arm on his back and lead him to the exit, saying, "Good job, Dash! You did it!" Dash usually fights to be the leader and his adventurous spirit often has him being the one to lead and protect, so it's not often Nella has the opportunity to do this. You could tell she loved having that chance, and his rare moment of timidness allowed it.
Lainey informed me at the end of the evening that the true Bavarian hairstyle is pinned up braids and that our go-big-or-go-home approach missed the mark.
And for some reason, I thought putting real darts in Dash's hands and saying "Go for it" was a good idea. Surprisingly, he did just fine.
We are past "peak" on our summer now, winding in to the last month before we return to school. The free life-loving spirit of summer is still very much alive, but something shifts in the last weeks with the awareness that a month from now, our schedules and responsibilities will be driving the ship again. We're storing the goodness and so very grateful for another season of memories.