This post is sponsored by Hallmark.
In a town with a population of 1,392, it's easy to notice things. It helps that there are less distractions here–unreliable wifi and only a handful of shops, for example–in the little town of Lewiston, Michigan to keep you from noticing the more important things like how many different kinds of birds have visited the feeder, what time is the best light for coffee in the garden and, most important, needs that exist in the town…invitations to brighten someone's day. We've been able to observe and join in on a little of this town's day brightening, and we've learned what so many others in this town have learned–that small acts of caring are contagious.
I'm thrilled to be partnering with Hallmark in sharing stories to inspire more acts of caring in their #CareEnough campaign. Beyond a card company, Hallmark's roots are really in the art of caring–finding ways to spread kindness and encourage others whether it's an "I've been thinking of you" card slipped in the mail to a friend or a meal dropped off to a co-worker who seems to be balancing a little more in her life than she signed up for. As soon as Hallmark approached me about their summer story-telling campaign inspiring others to join the wave of kindness spreading, I knew exactly which story I'd share. The idea is that when you care enough, you can change the world. It begins in small communities, and in the tiny northern Michigan town of Lewiston, a few people have started a wave of caring, and a growing crowd is catching on.
It started downtown where the neglected overgrown median planters weren't doing anything to brighten the mood of the town. Gary heard the Downtown Development Authority was working to improve this and knew he had the skills and experience to help them out, so he volunteered to take them over–replanted them, enlisted the ladies of the garden club to help out, worked toward getting new gabion planters down the town's Main Street and is now committed along with many others who've joined him to making this town a brighter, happier place.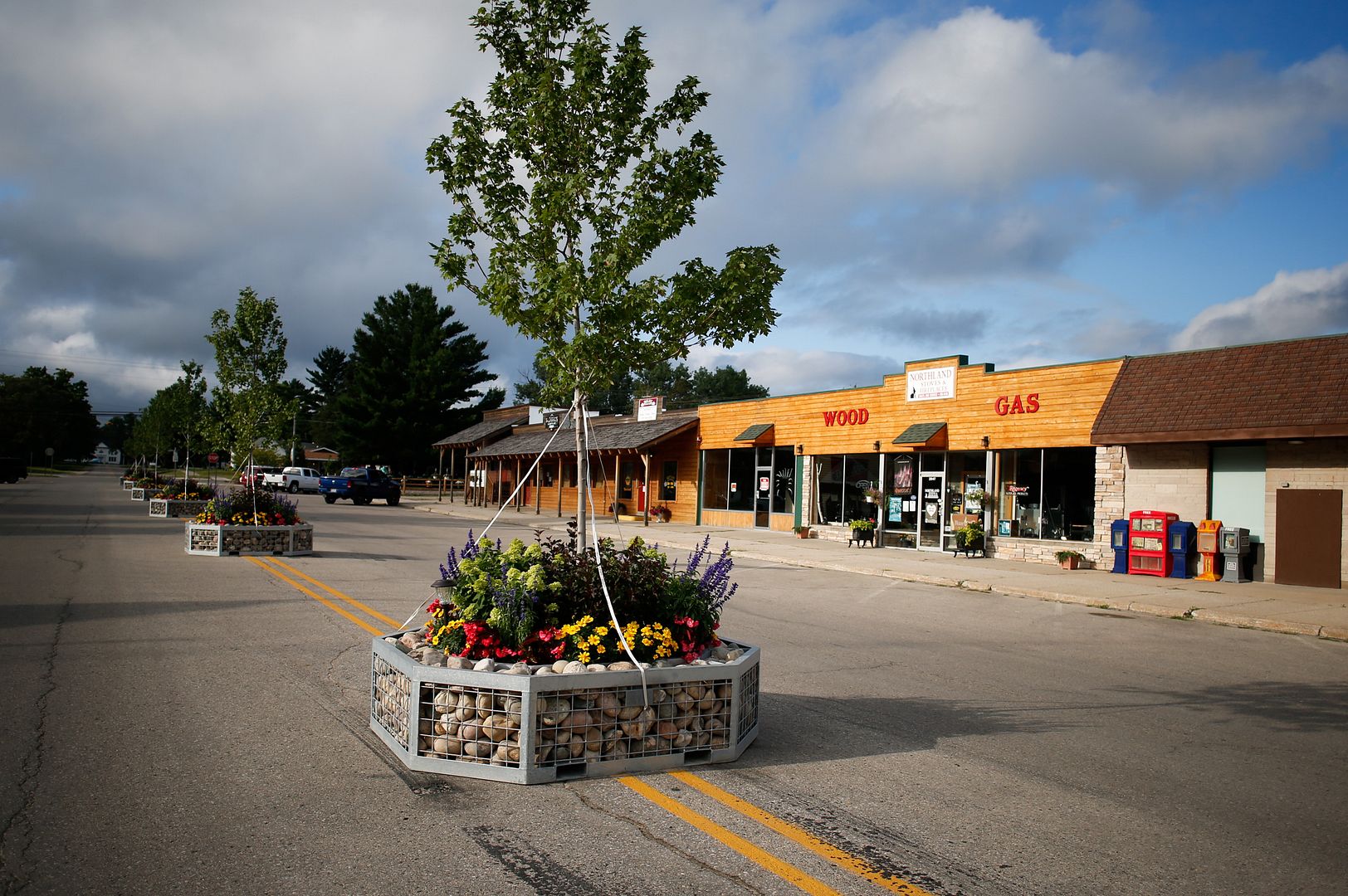 Every morning this summer, Gary leaves early in the morning to water the flowers downtown. It's a 2-hour job, and Dash has joined him many times, learning through the process about the hard work of taking care of plants but more importantly, why it's meaningful.
"Why, thank you, son," he's been told by residents who pass by. "You're making our town a happier place."
"I've lived here thirty-three years," one gentleman said as he watched Dash and Gary water the flowers one morning, "and this is the prettiest this town has ever looked. Thank you."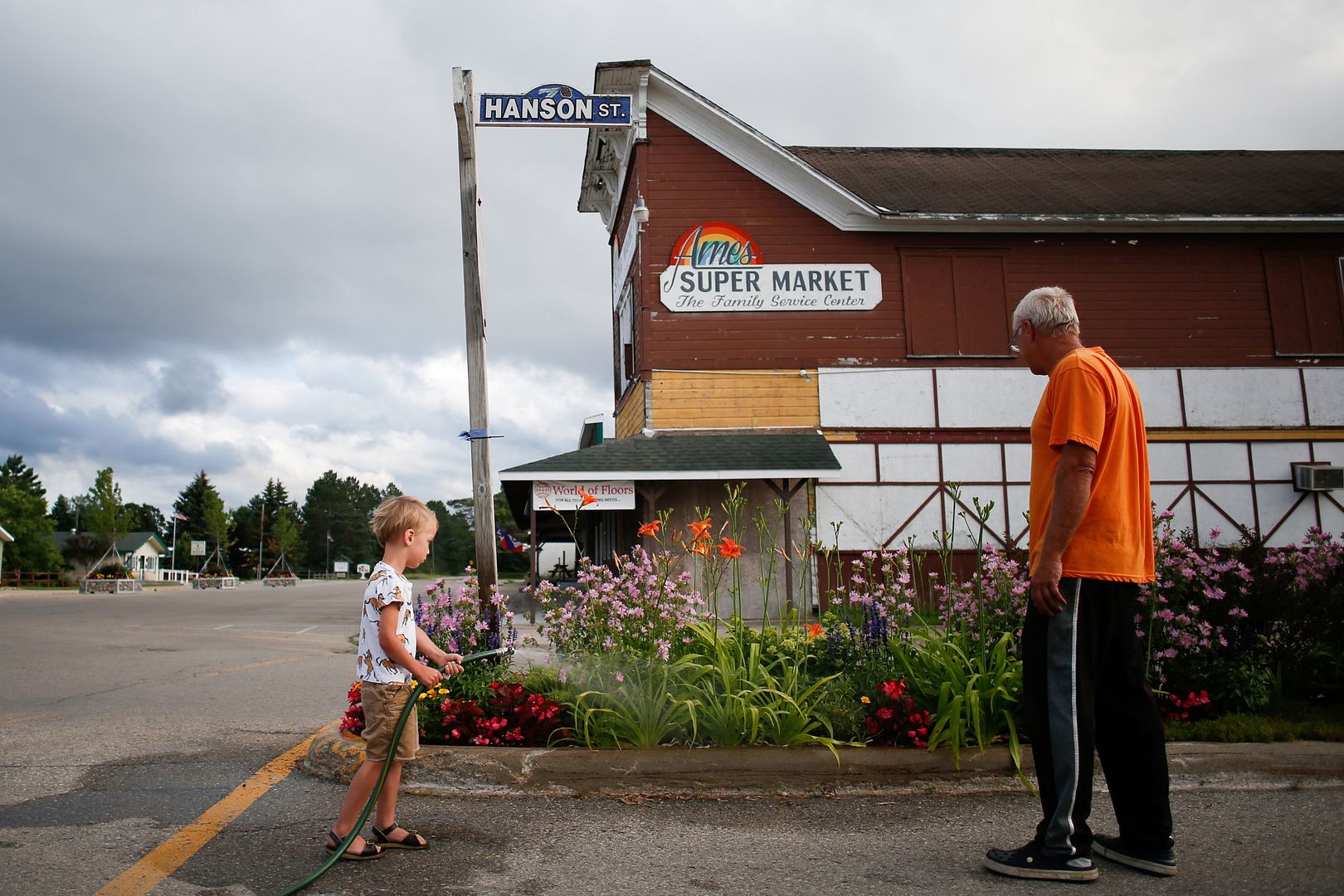 The satisfaction of knowing you're doing something to make someone happy is reward enough for acts of kindness, but what's really remarkable about a simple act of brightening up this town with planting and tending to gardens is how this "Care Enough" initiative has spread to more kindness.
"It's stirred a civic pride in this town," a neighbor who stopped by pointed out the other day, "More people are taking pride in their own properties now. This town is becoming more beautiful; even businesses are picking up their game."
A little caring act spreads some more. After dinner at the town's Hotel restaurant the other night, the waitress came over without a bill. "Your dinner's been taken care of tonight," she told my dad. "Someone at the bar asked if you guys were the ones who had done so much work to brighten up this town this summer, and when I told him you were, he asked for your bill."
A simple act of caring is all that it takes to start a movement. And now, there's an entire force dedicated to caring more in this town.
"We're calling ourselves the RAK Group," Gary's cousin told me at dinner the other night. She and her husband have a cabin a few blocks from my dad and Gary's, and she too has joined the kindness brigade. "Random Acts of Kindness," she explained, "We started a club, and we'll be on the lookout for people who need help in this town–maybe elderly folks who can't maintain their yard anymore or need some chores done. We'll anonymously come in and help them out, leaving a note that says we were there."
I can't help but be inspired by all of this going home. I always leave Michigan renewed at the end of the summer and inspired to slow down and live everyday life a little more attentive to nature and small moments. This year, I'm excited to find more ways to bring some Lewiston love and small town kindness back to my own community.
Caring is a lot like flowers…give them some water, and they will grow. One person's kindness inspires another's.
So many of us have the hearts and motivation to care enough and spread kindness–it's just that we get busy and overstimulated by so many distractions around us. In the quiet of a small town, it's been nice to listen, watch and learn.
We've kept a bucket list of celebration ideas on display this summer to help inspire us to do fun things we might not normally think to do–how great would it be if we kept little bucket lists of kind acts on display to help us remember how fun it is to make someone's day throughout the week?!
* Send a handwritten card to a friend in another town.
* Double what you're making for dinner later this week and text a friend you'll be bringing her dinner that day.
* Buy a pack of stickers and mail them to a friend's child who would love them.
* Pull the neighbor's trash bins up on garbage day.
* Slip a $10 coffee shop gift card into a note for the teacher on the first day of school.
We love brands that sell more than products. Thank you, Hallmark, for being a brand that inspires us to care more and make the world a kinder place.